Whitehorse Fashion Cuisine is Now Open!
Every Wednesday – Sunday. Doors open at 4pm.
Contact us at 561-847-4549 for more info or contact lauren@fashioncuisinegroup.com for event bookings.
Click here to view the 2019 menu
Click here to reserve your table
Join us for St. Patrick's Day!
 
Join us for Happy Hour!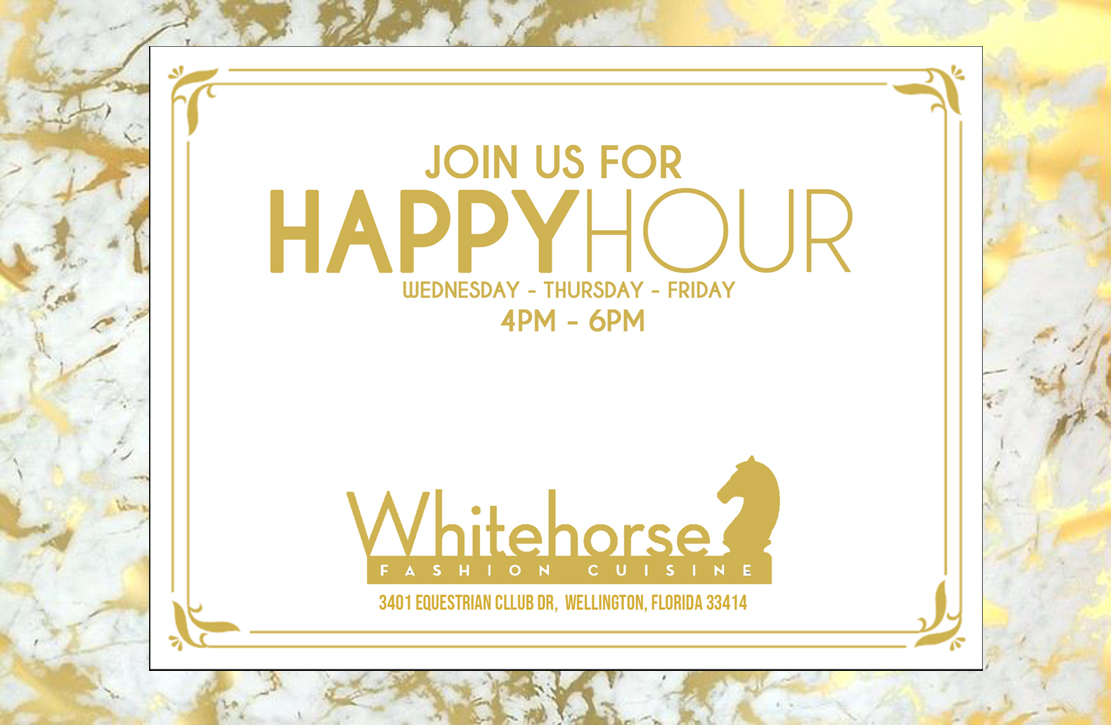 Whitehorse Fashion Cuisine opened for the start of the 2014 season at 3401 Equestrian Club Drive, with well-known Wellington restaurateur Juan Gando and chef Dustin Parfitt at the reins.
The pair are co-owners of a list of successful eateries, including Oli's Fashion Cuisine in Wellington and downtown West Palm Beach.
"Partnering with Juan and Dustin aligns perfectly with our mission to provide a premier experience for our riders and guests," said Katherine Bellissimo of Equestrian Sport Productions. "The Fashion Cuisine brand is synonymous with exceptional service and top quality, and will certainly complement the other luxury brands featured on the property, like Rolex and Gucci."
Whitehorse Fashion Cuisine was specially designed to cater to the horseman's lifestyle.
A casual weekday buffet allows riders and trainers to step directly out of the show ring and into the restaurant for a bite to eat, riding boots and all. An adjacent fine dining room offers a more formal menu with upscale sit-down service, rounded out by a daily happy hour and signature cocktails that are sure to please the spectator crowd.
Whitehorse Fashion Cuisine takes its name from the well-known former tenant, White Horse Tavern, which was once a favorite among locals. After giving the space a thorough renovation, Gando hopes to offer diners the same inviting atmosphere of the earlier establishment with a chic, fresh feel.