VIP Tables at the 2016 Trump Invitational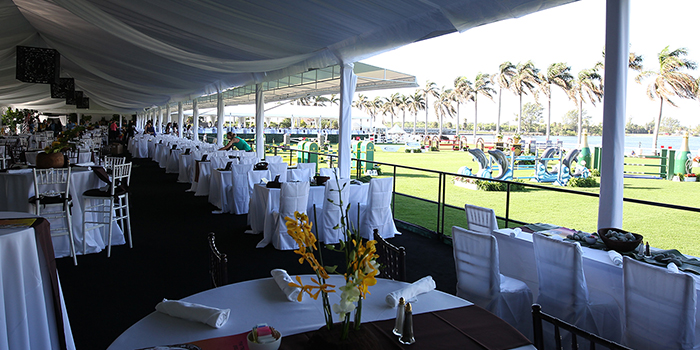 We are thrilled that you are considering joining us for a spectacular day of world-class show jumping at the 2016 Trump Invitational on Sunday, January 3rd, 2016 at beautiful Mar-a-Lago! In its fourth annual year, this one-of-a-kind event will showcase Olympic-level riders in the $130,000 Trump Invitational Grand Prix CSI 2* as well as the sport's top junior and amateur riders in the $10,000 Junior/Amateur Jumper class. A fabulous theme highlights each year's decorations as the VIP area welcomes equestrians and celebrities alike with a gourmet brunch buffet, special drinks, and the opportunity to watch equestrian sport at one of the most breathtaking venues in the world. Ringside tables border two sides of a lush grass jumping arena that is set against the sparkling backdrop of the Intracoastal Waterway.
With your table reservation, enjoy a Seaside Garden Party, Brunch and Cocktails beginning at 11:30am. The Grand Prix will begin at 1:00pm with the Junior/Amateur class to follow.
To reserve your table for this not-to-be-missed event, please click here or below to enlarge and fill out the Reservation Form. Once complete, please return it to the address indicated. For more information or questions, call (727) 678-8677 or e-mail annecaroline@equestriansport.com.