For Immediate Release
Kate Pettersen, and Summer Grace for Jennifer Wood Media, Inc.
Wellington, FL – April 2, 2021 – A busy Friday afternoon at the 2021 Winter Equestrian Festival (WEF) was highlighted by a victory for Shane Sweetnam (IRL) and Indra Van De Oude Heihoef owned by The Blue Buckle Group, in the $73,000 CaptiveOne Advisors 1.50m Classic Series Final on Friday, April 2, in the International Arena at the Palm Beach International Equestrian Center (PBIEC).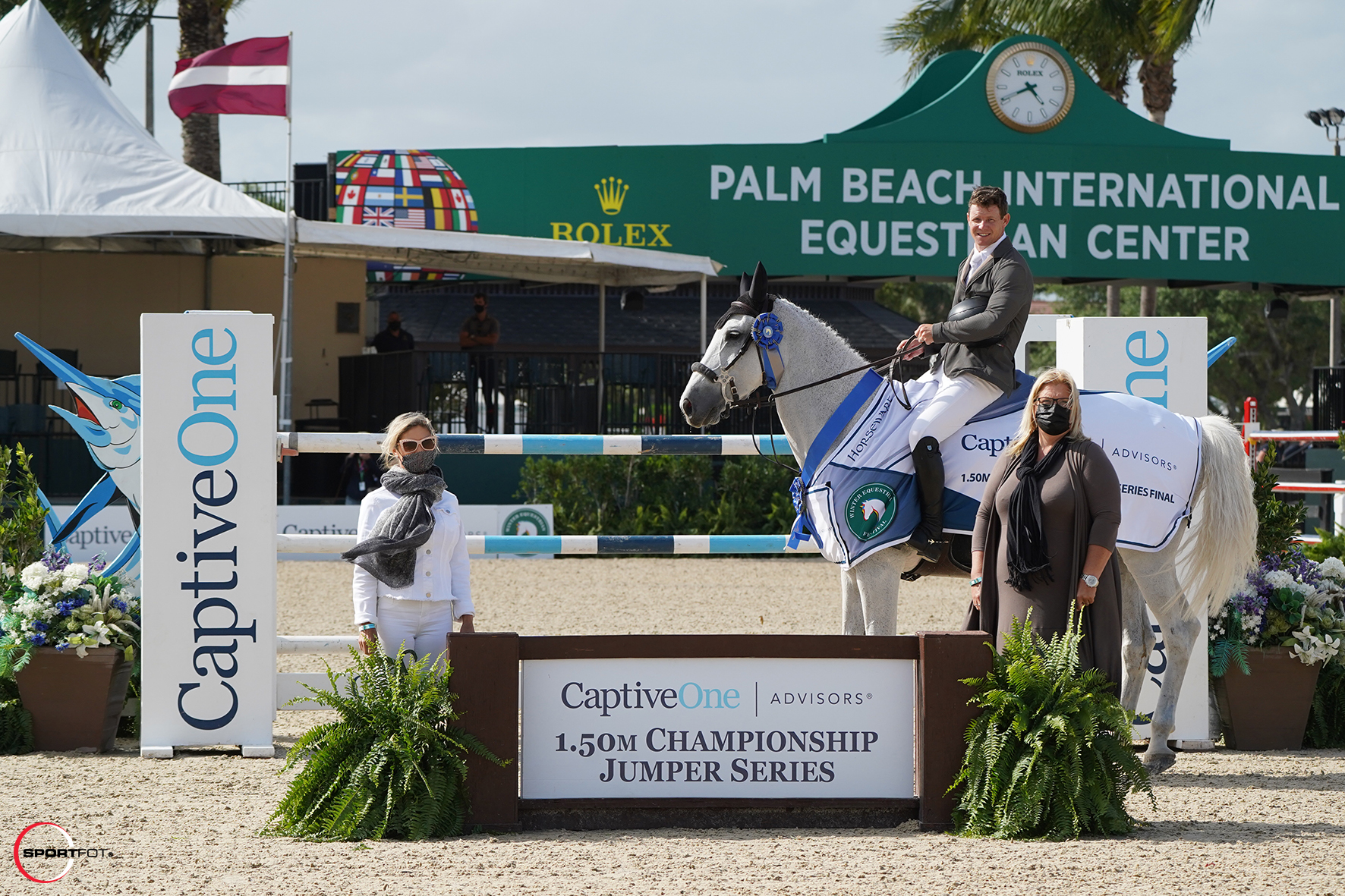 The twelfth week of WEF, sponsored by Wellington Agricultural Services, has CSI4* competition along with a concurrent CSI2* running through Sunday, April 4, the final day of the 2021 WEF. An exciting weekend schedule is highlighted by the $214,000 Wellington Agricultural Services Grand Prix CSI4* and WEF Circuit Champion Parade on Saturday. The week concludes with the $50,000 Wanderers Club 1.45m Grand Prix CSI2* on Sunday.
Hunter competition continues on the grass during WEF 12 at the Derby Field at Equestrian Village with the $50,000 USHJA International Hunter Derby Round 1 on Saturday at 11 a.m. Following that, the top 12 will return for a handy round. All feature classes can be watched for free both live and on-demand on the livestream.
The series final began over a 1.50m opening round track set by Olaf Petersen Jr. (GER) featuring 16 jumping efforts for the 33 competitors who qualified for Friday's competition. From there, 13 horse-and-rider combinations representing five different nations put forth clear efforts to punch their ticket into the jump-off.
First to return for the second round, Erynn Ballard (CAN) piloted Gakhir, owned by Ilan Ferder and Esperanza Imports, LLC, to a clear effort in 40.60 seconds, setting the pace for the remainder of the field. Next to go, Tiffany Foster (CAN) and Brighton, owned by Artisan Farms, LLC, had an unlucky rail at the final fence on course. With the following combination, there was a change atop the leaderboard as Jessica Springsteen (USA) and RMF Zecilie, owned by Rushy Marsh Farm, jumped a clear round in 39.04 seconds.
The overall CaptiveOne Advisors Jumper Series leader was caught by the final jump as Darragh Kenny (IRL) and Scarlett Du Sart Z, owned by Vlock Show Stables, LLC, landed on four faults in a time of 35.58 seconds.
Two riders after that, Adrienne Sternlicht (USA) and Bennys Legacy owned by Starlight Farms, LLC, moved into the lead, stopping the clock at 37.60 seconds. In the end, the 27-year-old rider would land in third position aboard the 13-year-old Oldenburg gelding by Lupicor x Acordia.
Following Sternlicht, the door was left open just a crack and one of the world's fastest Irishmen seized the opportunity. Sweetnam and Indra Van De Oude Heihoef, a 13-year-old Belgian Warmblood mare by Casantos x Action-Breaker, who shaved nearly a full second off the leading time to take over top spot in 35.56 seconds.
Last to go, Eugenio Garza Perez (MEX) and Armani SL Z owned by El Milagro, gave it their best shot and came close. The 24-year-old rider piloted his 13-year-old Zangersheide stallion by Asca Z x Cumano to a second-place finish in a time of 35.70 seconds, less than two-tenths of a second off the leading pace.
"This class was the aim for my horse for the end of circuit," said Sweetnam of his plan heading into Friday's final. "I actually gave her a break and then did two nice classes last week on the derby field. She won one of them, and then her focus was to try to have a good chance at winning this, which she delivered. I'm very happy when the plan comes together.
Watch the winning jump-off round here!
"She has a big heart, and she's super, super careful," he continued. "She really does not want to hit the jumps, and obviously when you're going at that speed in the jump-off, you need a special horse to keep the jumps up. You see the standard of horses in that jump-off, Nations Cup-caliber horses, championship horses; that's what you're up against, so I'm very happy with her.
The win marked one of many for Sweetnam, who had an incredibly successful campaign during the 2021 WEF with victory in the $401,000 Douglas Elliman Real Estate Grand Prix CSI5* during WEF 5, as well as representing his home country of Ireland for a second-place finish in the $150,000 Nations Cup CSIO4* during WEF 8.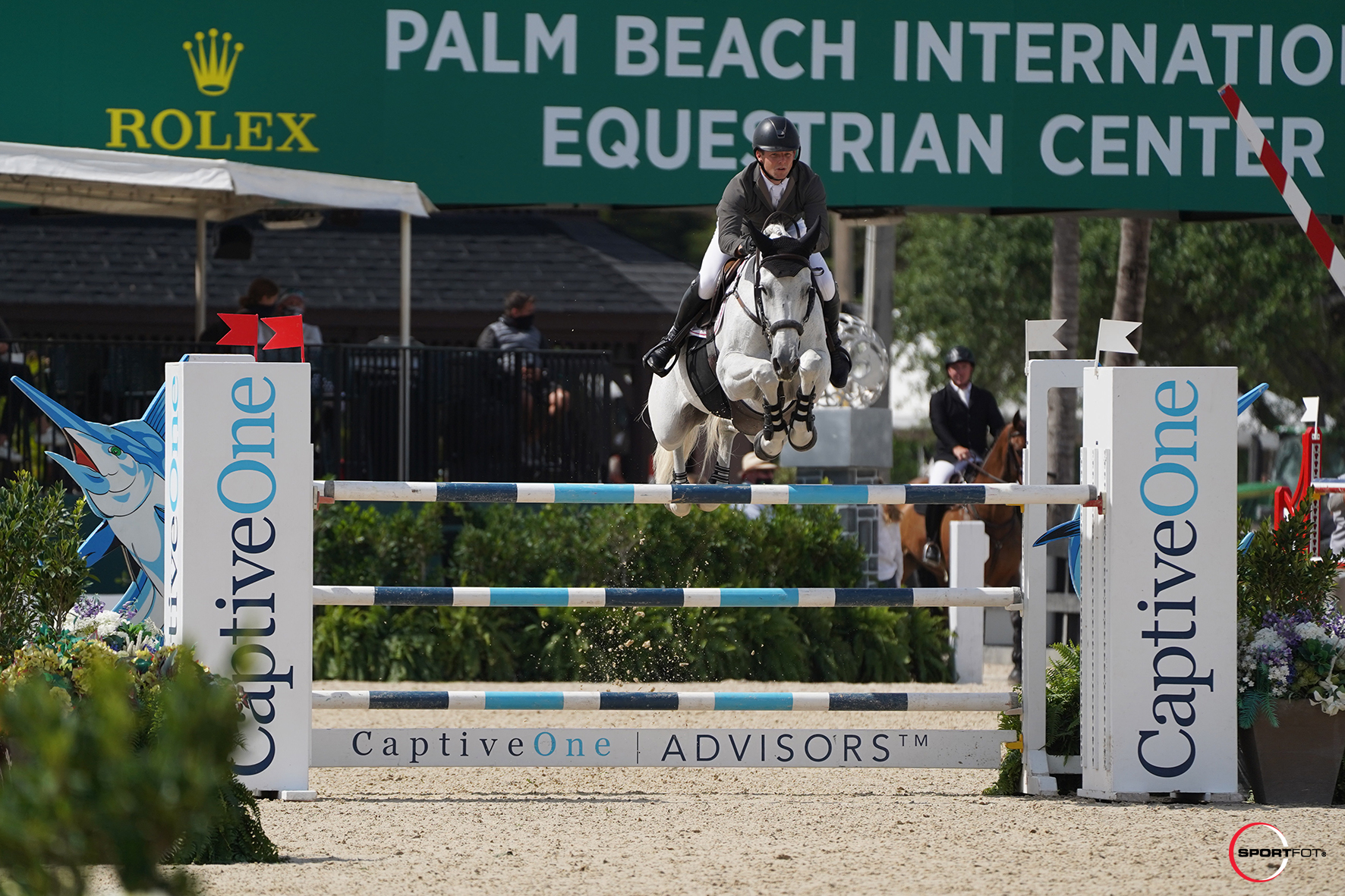 "This is probably the best WEF I've had," he said, "between grand prix wins and being consistently in the ribbons with a good team of horses and owners behind me. This is my last class of the season, so this win is just the cherry on top. It's a great way to finish off."
Sweetnam added, "I think [WEF Show Manager] David Burton, [Equestrian Sport Productions (ESP) President] Michael Stone, [ESP CEO] Mark Bellissimo, and the entire ESP team have done a great job running a brilliant circuit that hasn't been interrupted. As you can see around the world, that seems to be a very hard thing to do, so my hat is off to them for doing that. They've worked very hard for it."
Following the final, Ireland's Darragh Kenny was crowned overall champion of the CaptiveOne Advisors 1.50m Classic Series. In honor of his win, Kenny was awarded a Yacht Outing on the CaptiveOne professional fishing vessel 'Reel Captivating' – with the choice of between a sunset dinner cruise, or day trip deep-sea fishing, for up to six people.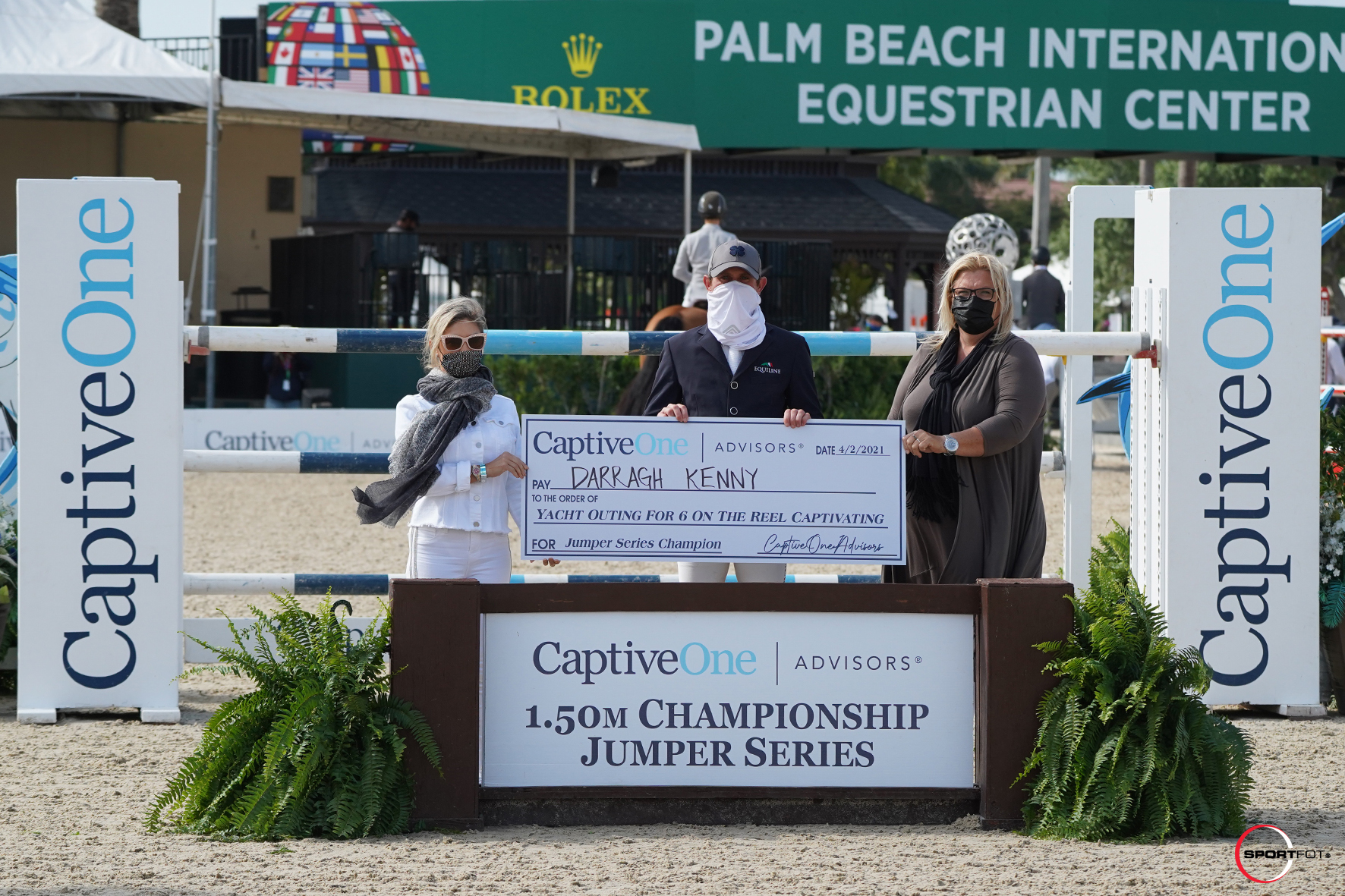 Final Results: $73,000 CaptiveOne Advisors 1.50m Classic Series Final
1. INDRA VAN DE OUDE HEIHOEF: 2008 Belgian Warmblood mare by Casantos x Action-Breaker
SHANE SWEETNAM (IRL), The Blue Buckle Group: 0/0/35.56
2. ARMANI SL Z: 2008 Zangersheide stallion by Asca Z x Cumano
EUGENIO GARZA (MEX), El Milagro: 0/0/35.70
3. BENNYS LEGACY: 2008 Oldenburg gelding by Lupicor x Acordia
ADRIENNE STERNLICHT (USA), Starlight Farms, LLC: 0/0/37.60
4. DICAS: 2009 Rheinlander gelding by Diarado x Cassini I
MARGIE ENGLE (USA), Storm Ridge Capital LLC, Show Horses, Selma Garber & Gladewinds Partners LLC: 0/0/38.81
5. RMF ZECILIE: 2007 Holsteiner mare by Acolord x Canturo
JESSICA SPRINGSTEEN (USA), Rushy Marsh Farm: 0/0/39.04
6. TANAEL DES BONNES: 2007 Selle Français gelding by Watch me van't Zorgvliet x Don Pierre
BRIANNE GOUTAL-MARTEAU (USA), Gerald Ford: 0/0/40.00
7. GAKHIR: 2011 KWPN gelding by Spartacus x Indorado
ERYNN BALLARD (CAN), Ilan Ferder and Esperanza Imports, LLC: 0/0/40.60
8. SCARLETT DU SART Z: 2010 Zangersheide mare by Stakkato de hann x First Bride
DARRAGH KENNY (IRL), Vlock Show Stables, LLC: 0/4/35.58
9. BRIGHTON: 2006 KWPN gelding by Contender II x Quick Star
TIFFANY FOSTER (CAN), Artisan Farms LLC: 0/4/35.76
10. BLOSSOM Z: 2010 Zangersheide mare by Balou Du Rouet x Cleopatra Z
MCLAIN WARD, Wyndmont, Susan Heller and McLain Ward: 0/4/35.80
11. CONFU: 2007 Holsteiner gelding by Contact Me x Cambridge
LAURA KRAUT (USA), St. Bride's Farm: 0/4/36.89
12. GRAFTON: 2006 Selle Francais gelding by Calvaro x Vondeen
HYDE MOFFATT (CAN), Ariel Grange: 0/4/39.36
Laura Chapot and Chandon Blue Are Comeback Kids in $37,000 Gold Coast Feed & Nutrition Classic CSI2*
The $37,000 Gold Coast Feed & Nutrition Classic CSI2* kicked off international competition on the final Friday of the 2021 Winter Equestrian Festival. A full line-up of 68 horse-and-rider combinations prepared to contest Olaf Petersen Jr.'s (GER) first-round track which included a total of 15 jumping efforts set at the 1.45m height. The class saw riders and horses ranging in experience levels but only a baker's dozen of the competitors left all fences standing within the time to earn their spot in the jump-off. Veteran professional Laura Chapot (USA) ended up in the top spot after flying through the timers with Chandon Blue in 33.69 seconds.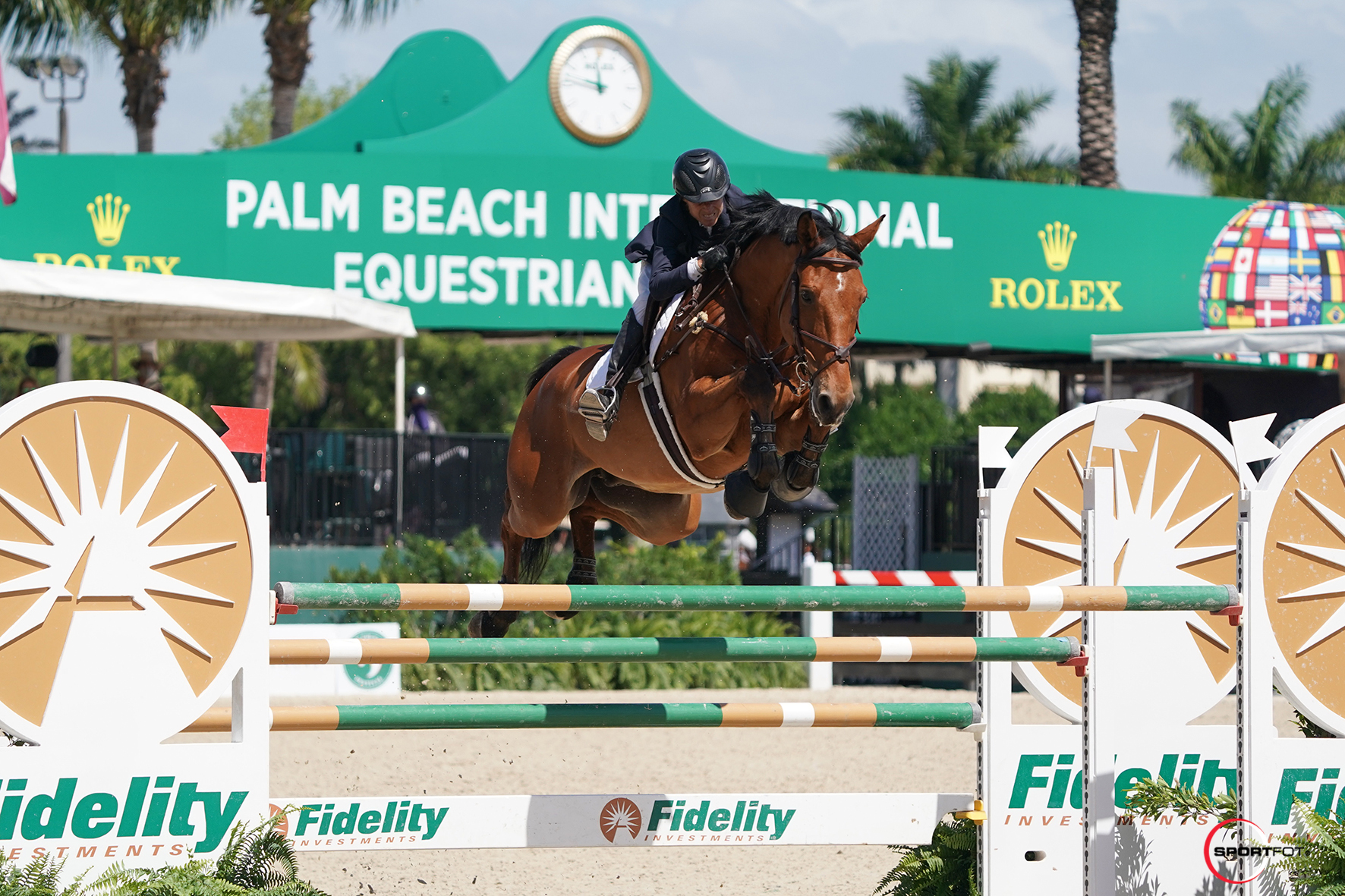 Four entries of the original field were knocked out of the jump-off return by a lone time fault while another 16 fell victim to a single downed rail. Young professional Kelli Cruciotti-Vanderveen (USA) was the first to return and set the early pace as she and her own 14-year-old Belgian Warmblood mare Hadja Van Orshof (Cabrio Van de Heffinck), crossed through the timers fault-free in 37.60 seconds. Cruciotti-Vanderveen ultimately landed the eighth place position.
Great Britain's Jessica Mendoza finished in the final top-three spot with  Casanova 499, a  10-year-old Holsteiner gelding by Clarimo x Wencke. She and Carly Day's gelding put in a clean finish with a time of 34.27 seconds. American ridersclaimed the remaining two positions with Katherine Strauss in the runner-up position and Chapot leading the pack. Strauss cruised to the finish line with Katherine Strauss LLC's 16-year-old KWPN gelding (Aachen x Indoctro) All In after producing a clean effort with an efficient time of 34.22 seconds.
Chapot's efforts with her established partner, Mary Chapot's Chandon Blue earned her the victory when the speedy pair flew through the timers at 33.69 seconds. Chapot and Chandon Blue have celebrated many upper-level victories together in the years since they teamed up and continue to prove to be a successful pair in any venue.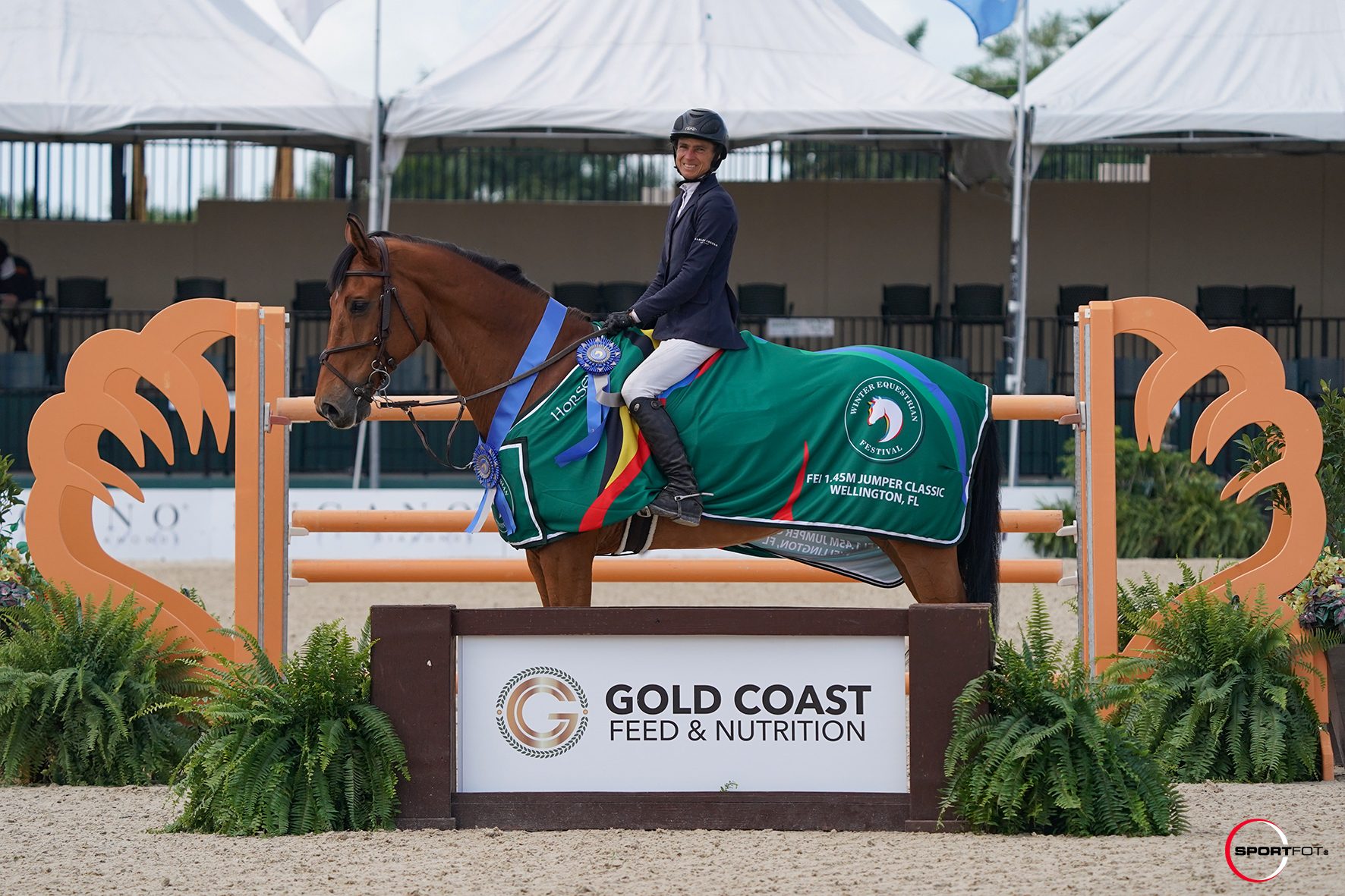 "I got [Chandon Blue] late in life as he was already coming 13 years old, but he had a fantastic year in 2019," said Chapot of the 16-year-old Oldenburg gelding (Chacco Blue x Landcapitol). "I think he won roughly six of these classes that winter."
The pair were not a regular combination in last year's events as Chapot explained that a minor injury kept her mount out of the game for a majority of the season.
"He ended up having a year off which kind of worked out nicely with the COVID-19 restrictions," she detailed. "We were able to bring him back up slowly, and he has been jumping better every time, so I'm really thrilled to win this class today."
She described that she did not chase the win against the string of top competitors today but instead just let her mount ride the track his natural way.
"I didn't want to get caught up trying to chase anyone so I just thought about sticking to my plan and making sure my horse jumped well," explained Chapot. "He is a very fast horse so if we are consistent it is usually enough to end up towards the top. He has a great heart and tries his hardest for me each time out in the ring."
The headliner for the qualifying event, the $50,000 The Wanderer's Club  Grand Prix CSI2*, will take place Sunday, April 4, as the final international event of this year's Winter Equestrian Festival.
Final Results: $37,000 Gold Coast Feed & Nutrition Classic CSI2*
1. CHANDON BLUE: 2005 Oldenburg gelding by Chacco Blue x Landcapitol
LAURA CHAPOT (USA), Mary Chapot: 0/0/33.696
2. ALL IN: 2005 KWPN gelding by Aachen x Indoctro
KATHERINE STRAUSS (USA), Katherine Strauss LLC: 0/0/34.224
3. CASANOVA 499: 2011 Holsteiner gelding by Clarimo x Wencke
JESSICA MENDOZA (GBR), Carly Day: 0/0/34.27
4. BOHEME DE LA ROQUE: 2011 Selle Français mare by Kannan x Medine d'Amaury
GRACE DEBNEY (GBR), Eurl Top Stallions Company: 0/0/34.513
5. MILLIONINMIND: 2007 ISH gelding by ARD VDL Douglas
EMILY WARD (GBR), Steven Barnes: 0/0/34.633
6. CON COLEUR: 2009 Hanoverian gelding by Contendro I x Couleur Rubin
REBECCA CONWAY (USA), Blue Hill Farm, LLC: 0/0/35.513
7. SCATO VAN DE MOLENBRUG Z: 2010 Zangersheide stallion by Scendix x Charisma
JENNIFER WAXMAN (USA), Daniel Bluman and The Scato Group LLC: 0/0/35.764
8. HADJA VAN ORSHOF: 2007 Belgian Warmblood mare by Cabrio van de Heffinck
KELLI CRUCIOTTI VANDERVEEN (USA), Kelli Cruciotti: 0/0/37.604
9. UPPER: 2008 Selle Francais gelding by Diamant de Semilly x Nadir de San Patrignano
DAVID OBERKIRCHER (USA), Southfields Farm LLC: 0/4/34.453
10. BALOTELLI 5: 2010 Hanoverian gelding by Balou du Rouet x Contendro I
MATTHEW BODDY (IRL), Purple Road, LLC: 0/4/34.588
11. ALMA Z: 2007 Oldenburg mare by Chacco-Blue x Pablo
DANIEL CYPHERT (USA), Heathman Farm, LLC: 0/4/35.346
12. GOTCHA: 2011 Holsteiner mare by Stakkato x Cassini I
SIMON MCCARTHY (IRL), Rock Ridge Farms: 0/4/34.236