For Immediate Release
Summer Grace for Jennifer Wood Media, Inc.
Wellington, FL — January 23, 2019 — International competition at Week 3 of the 2019 Winter Equestrian Festival (WEF) kicked off with over 50 horse-and-rider combinations vying for the blue ribbon in the $36,000 Douglas Elliman Real Estate 1.45m Jumpers. After the lead changed hands eight times, Darragh Kenny (IRL) displayed the same talent he did during Week 2 to once again come out on top. The third week of WEF continues through Sunday, January 27.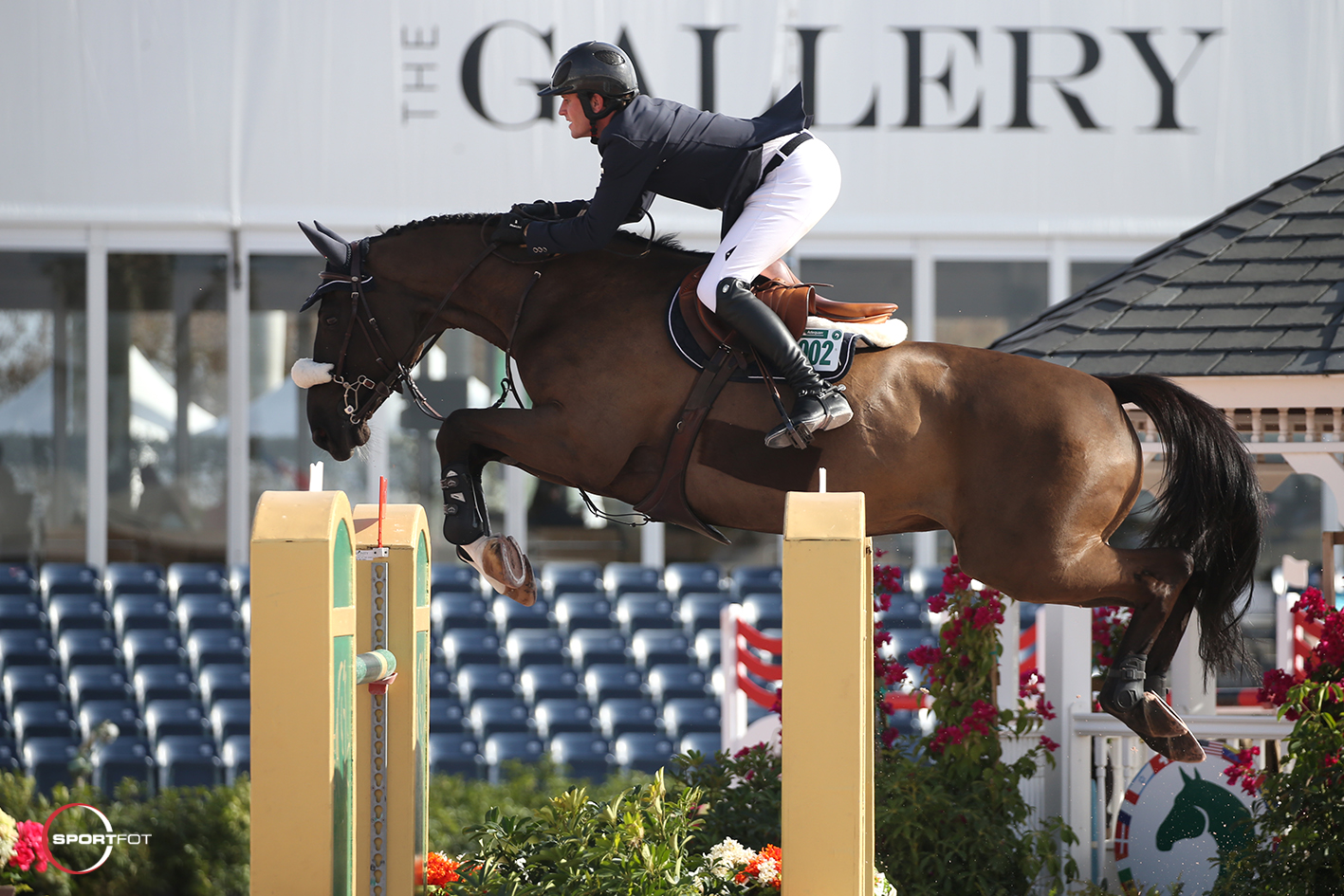 Competition in the International Arena will continue Thursday, January 24, with the third round of the $36,000 Equinimity WEF Challenge Cup now scheduled for an 8 a.m. start.
WEF continues with 12 consecutive weeks of world-class competition through March 31, 2019. The third week of competition at WEF is sponsored by Adequan® and features the $134,000 Adequan® Grand Prix CSI 3* during "Saturday Night Lights" on January 26 at 7 p.m. in the International Arena. The week will also host a variety of other FEI-rated three-star events in jumper divisions, along with top hunter, equitation and national jumper competition.
After a flawless performance by junior competitor Brian Moggre (USA) with MTM Vivre Le Reve, Kenny knew the pressure was on if he wanted to get ahead. Moggre and Major Wager LLC's 10-year-old Westphalian gelding (Ustinov x Chellana) overtook the lead from Brazil's Francisco Jose Mesquita Musa only a handful of rides before. Doing what he does best, Kenny executed a careful and lightning fast round to cut just under Moggre's time of 31.163 seconds with a time of 31.135 seconds.
Unlike his up-and-coming partner, Billy Dorito, that helped secure the win for Kenny in last week's Douglas Elliman 1.45m class, Victoria Vargas D'Agostino's 14-year-old Belgian Warmblood gelding Extra Van Essene (Diamant De Semilly x Sari Van Essene) is no stranger to the International Arena. "This is a very experienced horse, so he knows his job very well," Kenny said. "I jumped around the first phase to see how he felt and he seemed great so then I went quick in the second phase and he was right on it the entire time."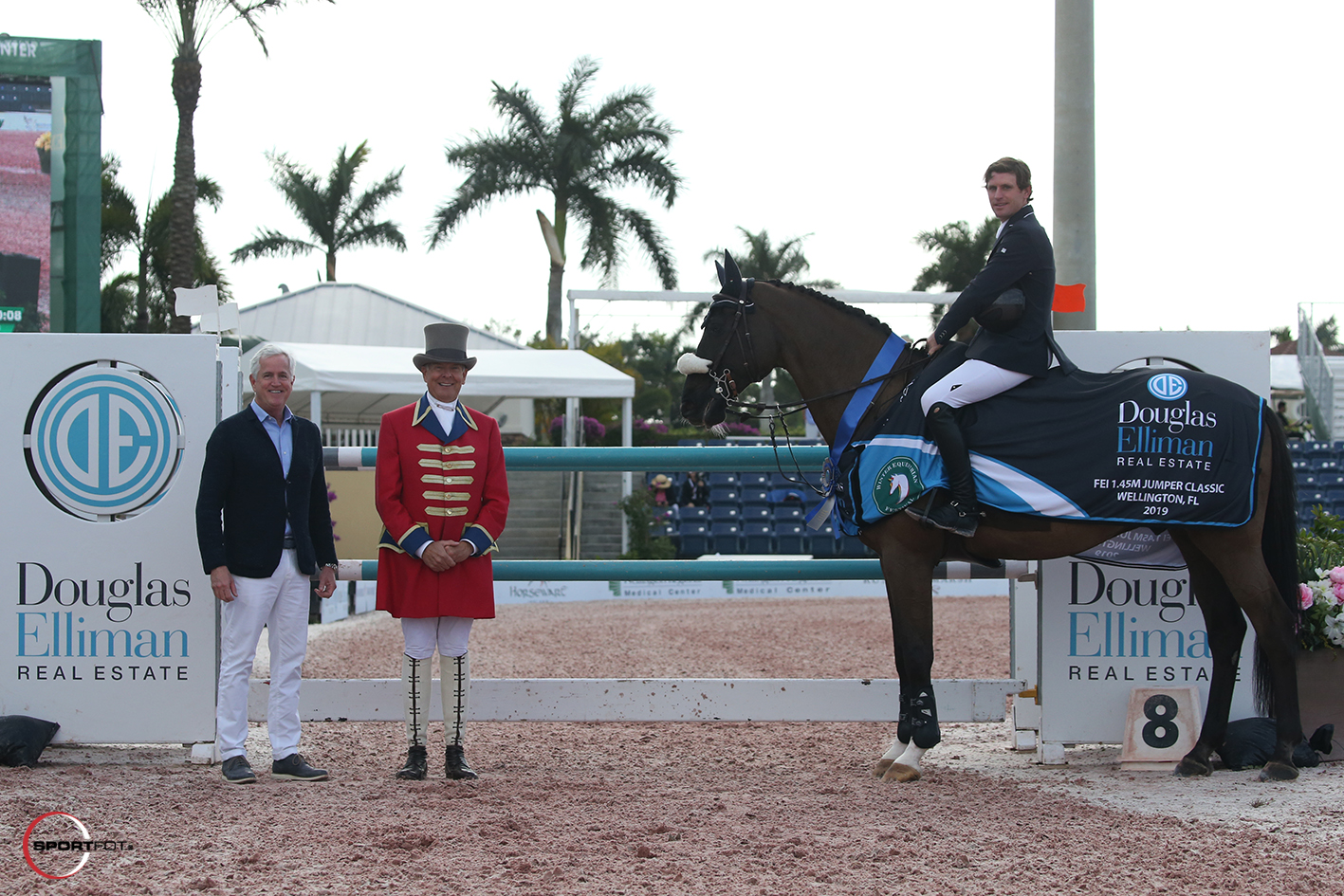 On his effort to overtake the lead, Kenny stated that it's all about the little things.
"I honestly hadn't seen Brian's round, but I knew that the class was very fast," he explained. "When you only have six jumps in the second phase, every little detail counts. I'm very lucky this horse has experience and turns well, which is how we made up a lot of time."
Final Results: $36,000 Douglas Elliman 1.45m Jumper
1 EXTRA VAN ESSENE: 2004 Belgian Warmblood gelding by Diamant De Semilly x Sari Van Essene
DARRAGH KENNY (IRL), Victoria Vargas D'Agostino: 0/0/31.13
2 MTM VIVRE LE REV: 2009 Westphalian gelding by Ustinov x Chellana
BRIAN MOGGRE (USA), Major Wager LLC: 0/0/31.16
3 FILOU IMPERIO EGIPCIO: 2005 Belgian Warmblood gelding by Querlybet Hero x Belle Dame D 
FRANCISCO JOSE MESQUITA MUSA (BRA), Daniel Aguiar Morelli: 0/0/31.62
4 VICTORIO 5: 2006 Hanoverian stallion by Uccello x Graefin
ABIGAIL MCARDLE (USA), Victorio Equine Group, LLC: 0/0/31.83
5 LITTLE LORD 90: 2005 Holsteiner gelding by Lasino x Remini
KAREN POLLE (JPN), Karen Polle: 0/0/32.11
6 CHERI DE PAPIGNIES: 2008 Belgian Sport Horse gelding by Copin Van De Broy x Aimee De Papignies Z
MICHAEL MORRISSEY (USA),QBS Equestrian, LLC: 0/0/32.80
7 EYECATCHER: 2009 Dutch Warmblood mare by Harley VDL x Ninewood
MATTIAS TROMP (USA), Beyaert Farm, Inc.: 0/0/32.97
8 ZIDANTE: 2004 KWPN mare by Cantos x Mirante
KELLI CRUCIOTTI (USA), Serenity Farm: 0/0/33.35
9 FALCO V: 2010 KWPN gelding by Bustique x Watina V
TAYLOR LAND (USA), Pinetree Farms, Inc.: 0/0/33.35
10 COBOLT: 2006 Swedish Warmblood gelding by Cyklon x Selena
LACEY GILBERTSON (USA), Seabrook, LLC.: 0/0/33.43
11 ISHD DUAL STAR: 2002 Irish Sport Horse mare by Quickstep x ISHD First Light
LAURA CHAPOT (USA), Mary Chapot: 0/0/33.53
12 AMEX Z: 2009 Zangersheide mare by Andiamo x Senne
TODD MINIKUS (USA), Bit by Bit Group: 0/0/33.92