Molly Sewell Pilots Western Sky To Victory In The $2,500 USHJA National Hunter Derby presented by Score At The Top
For Immediate Release
October 6, 2020 – The ESP October Show opened up the Fall Series at the Palm Beach International Equestrian Center on Thursday October 1-4. The highlight of the week was Sunday's $24,999 Palm Beach Equine Clinic Grand Prix on the Derby Field. After several competitive rounds, Santiago Lambre of Wellington, FL captured the win aboard his entry Cetano Van Aspergem Z with a 36.47-second jump-off. Very close behind with a jump-off time of 36.576 seconds was Kent Farrington of Wellington, FL and Kaprice, owned by Haity McNerney. Farrington also claimed the third-place ribbon with Jasper, owned by Tanma Corp and Farrington, after they crossed through the timers in 36.917 seconds.
A total of 23 combinations tried the course on the field, designed by Guilherme Jorge. Lambre, who was one of the final trips to compete, was able to secure the lead with the fastest track: "Cetano is one of my best horses. We won earlier this year at WEF during week 3, and then he was second in the four star [at WEF]. He's a good horse, very fast."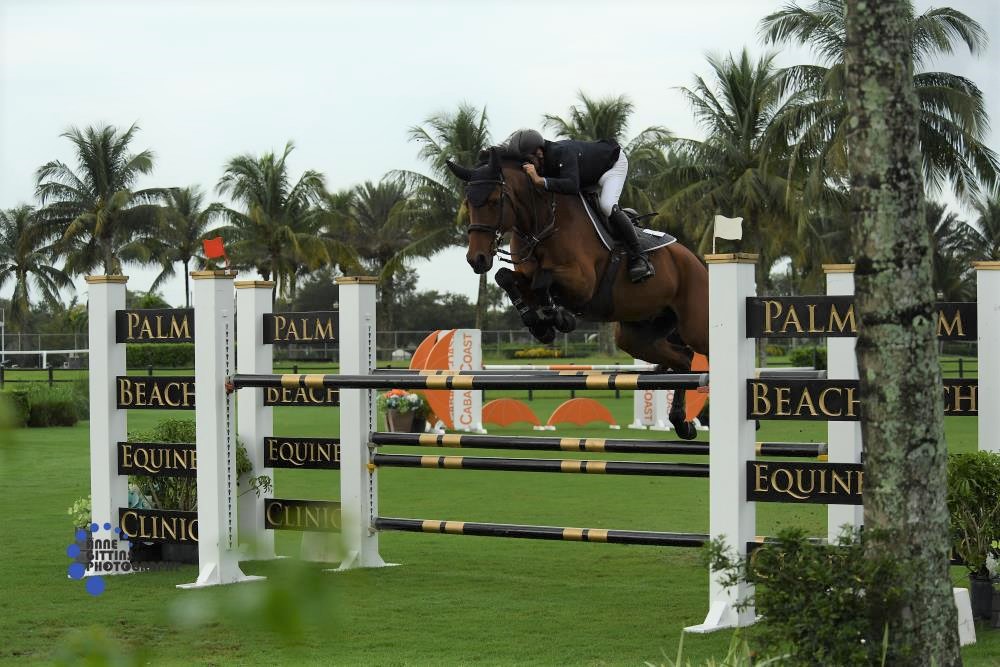 Lambre said he plans to give Cetano some time off before returning to top competition. "We'll jump a few National [Grand Prixs] before competing in some of the FEI competitions here in November." When asked about the close times in today's class Lambre commented, "For me, PBIEC is a great place to prep for the other shows because the competition is not easy. If you can win here, I think you can win anywhere."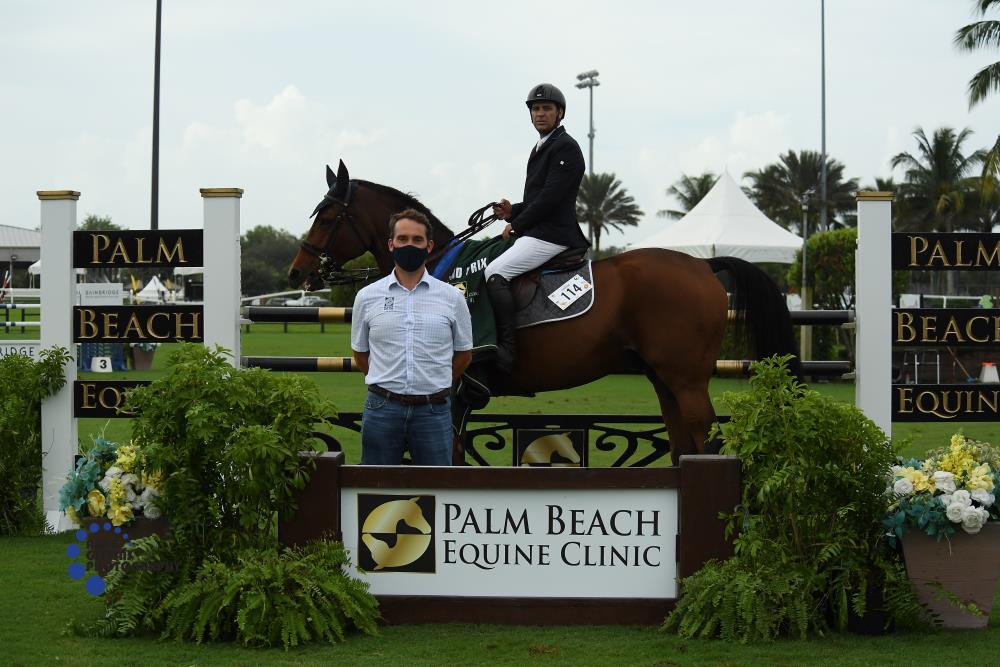 Jumper Highlights
The $1,700 Equiline High Junior/Amateur Owner Jumper Classic occurred next on the Derby Field. Anselmo Alvarado of Wellington, FL and his mount Starinue rode to victory with a 36.079-second jump-off with four faults. Rodrigo Cunha of Miami, FL piloted his entry VDL Hedrick around the course in 36.083 seconds to claim second place with four faults. Vanessa Hood of Wellington, FL took home the yellow ribbon after her 79.606-second course aboard Take Two, LLC's Santauer with four faults.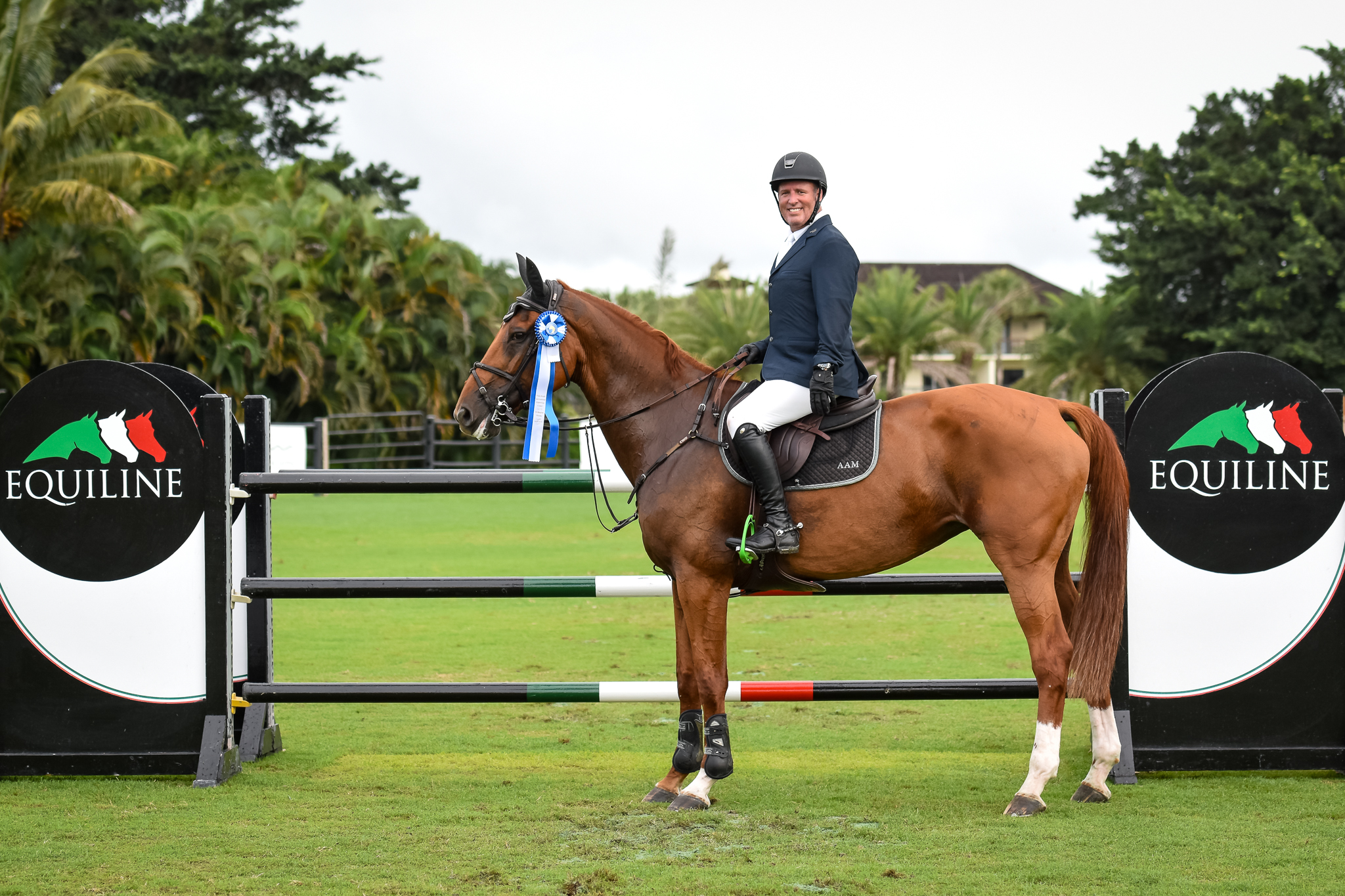 Over in the Van Kampen Covered Arena, the $250 CCTV Agent .85m Classic took place with Athena Lekkas of Palm Beach Gardens, FL and Caton, owned by Bernardo Tosto, clinching top honors after a 35.754-second jump-off. Addison Buetel of Delray Beach, FL took home the red ribbon aboard Alexa Rodriguez's Consil with 75.065 seconds on the clock. Sadie Remington of Loxahatchee, FL rounded out the top three after her 68.737-second, four-fault performance aboard her entry Samuel. 
Vanessa Hood returned to the winner's circle after her 49.923-second jump-off with Fairytale 86, owned by Take Two LLC, in the $1,950 Equiline Medium Junior/Amateur Owner Jumper Classic. Ansley Wright of Manalapan, FL finished in second place with a final time of 46.978 seconds and four faults aboard Diamanto JT Z, owned by Castlewood Farm Inc. Hilary McNerney of Wellington, FL and Billy Penny crossed through the timers in 49.777 seconds and with four faults to claim the yellow ribbon. 
Earlier in the week, competition began with the $3,500 Ford's Garage 1.35m Open Stake at the Derby Field on Thursday. Erynn Ballard of Tottenham, ON rose to the top of the leaderboard with Viga VH Glemhof Z, owned by Terri Brent, after a 40.862-second jump-off. Anselmo Alvarado and his mount Inesse clinched the red rosette once they stopped the timers at 43.68 seconds. Nataly Leibovitz of Wellington, FL captured third place aboard Chupacanra, owned by Floriac LLC, after they finished the jump-off in 48.777 seconds and with eight faults.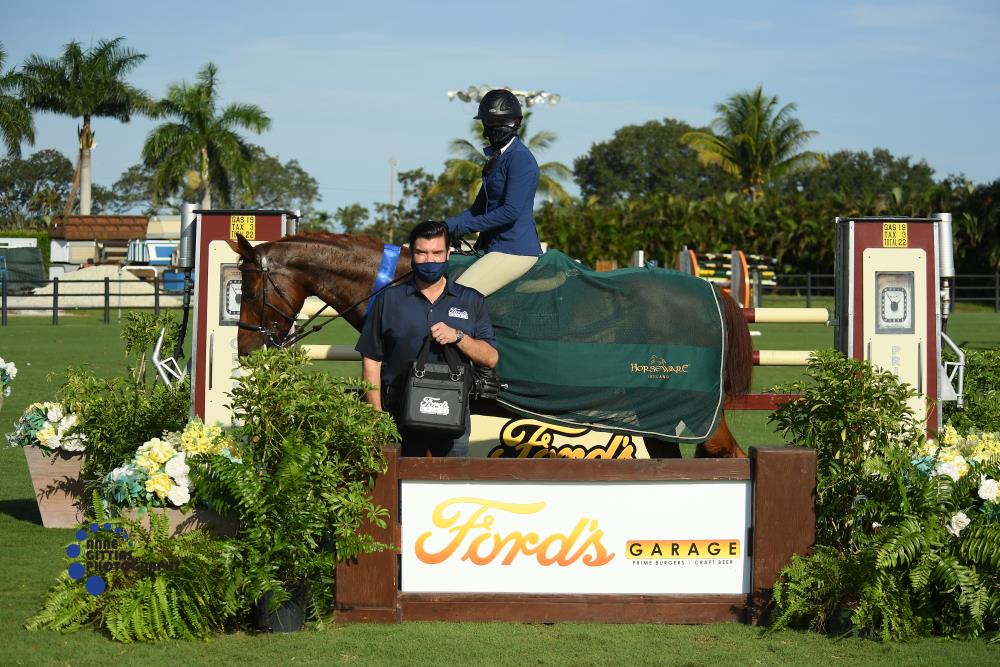 On Friday, Willie Tynan of Wellington, FL bested the field of the $10,000 Bainbridge Companies 1.40m Open Stake with Fancy Girl, owned by Michelle Guardino-Dettelbach, after a 39.178-second jump-off. Eugenio Garza Perez of Wellington, FL and El Milagro's Caracas claimed second place with a time of 39.552 seconds. Sophia Studd of Wellington, FL piloted Holsteins Matina, owned by Marie Botved Studd, through the timers at 40.24 seconds.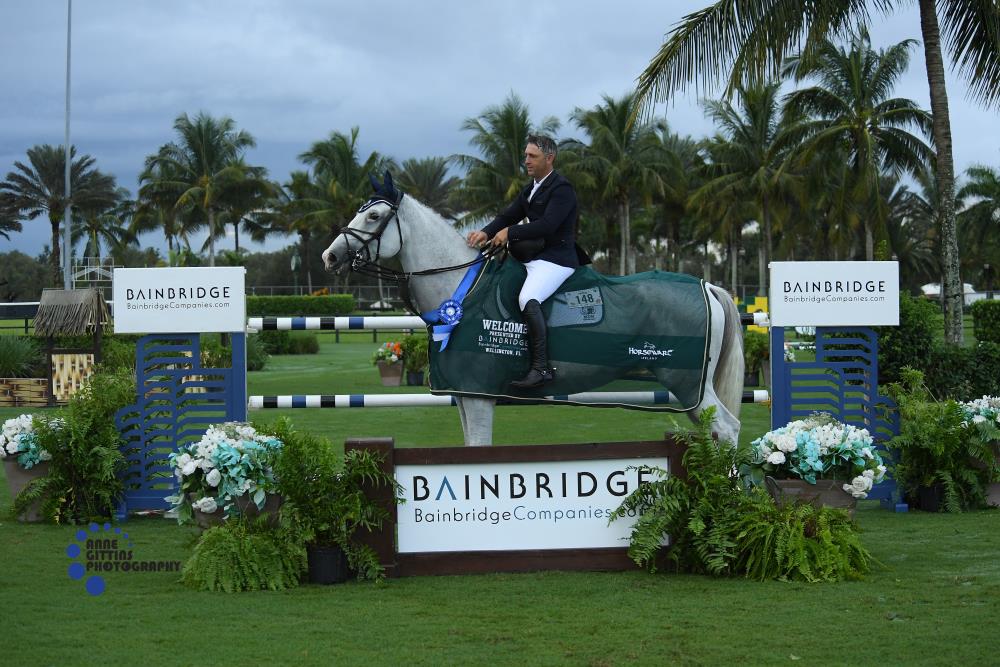 Hunter Highlights
The $2,500 USHJA National Hunter Derby presented by Score At The Top saw some top riders compete on the Derby Field Annex on Friday afternoon. Molly Sewell of Wellington, FL and Western Sky, owned by Kimberly Dunn, jumped to victory after receiving a final score of 178. Amy Momrow of Wellington, FL and Victorino Z, owned by Monty Kelly, were close behind with a combined score of 177.5 to take home the red ribbon. Wellington, FL's Ki-Juan Minors finished in third with Castle, owned by Ulster/GSA after the pair received a final score of 177.
After 13 total combinations contested the hunter track designed by Jasen Shelley, the top riders returned for a second round, where Sewell and "Goldie" ultimately came out on top. When asked to describe her mount Sewell commented, "She's basically the barn mascot. Her owner, Kim has had her since she was two years old I think and she's ten now. Kim rides her at home and Goldie is a total saint with her."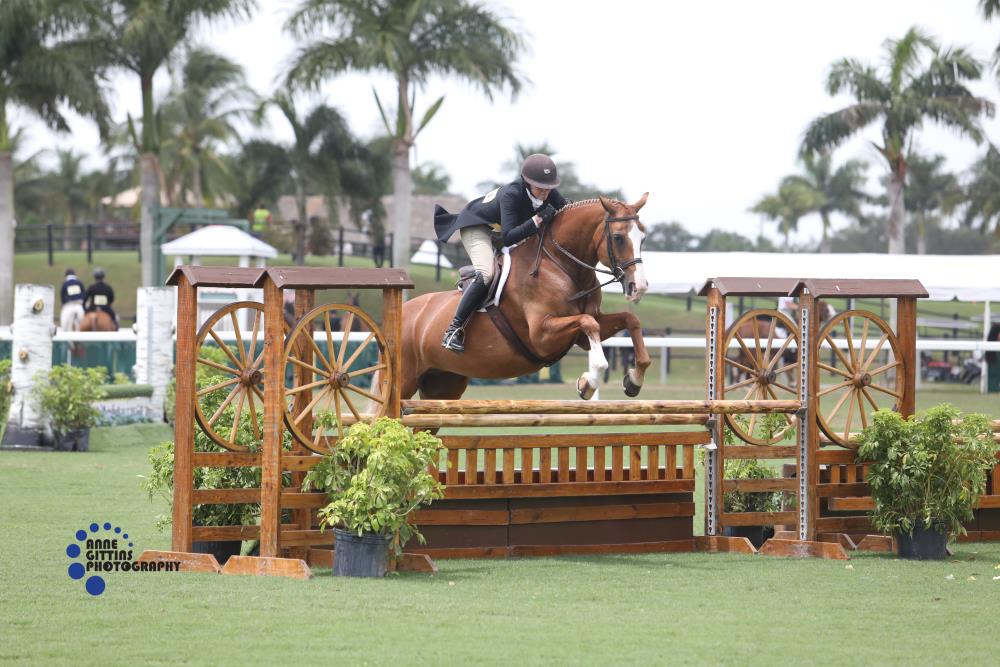 This is Western Sky's third appearance on the Derby Field after roughly a 12-month derby hiatus. Sewell explained, "I've competed her in two of the other ESP Summer hunter derbies and we placed every time and each time we got higher in the standings. She's just starting to get back in show fitness now. She's got an easy schedule. Whenever her owner feels like she wants to go watch her show, she gets to show!"
Looking ahead, Sewell and her team plan to continue competing at the PBIEC grounds until the winter season begins: "We've got a really good group of young horses for this winter coming along, so we've to do a lot of training with them here at PBIEC. It's been a really good prep, I feel like we're really ahead of the eight-ball this year."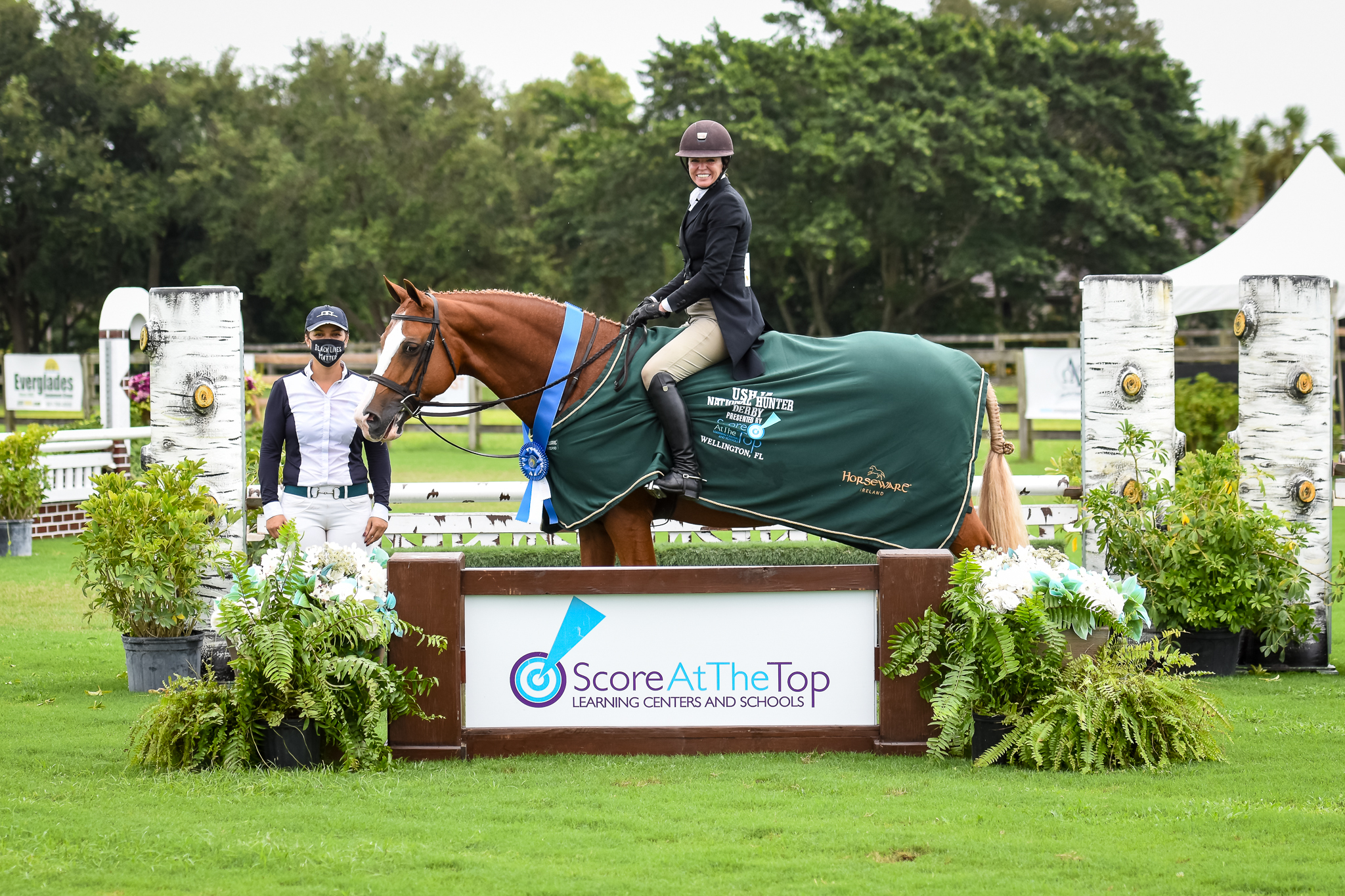 Taylor Cawley of Wellington, FL rode Farnley Corsair, owned by Glade Run Farm LLC, to victory in the $500 Pony Hunter Classic after they received a final score of 160. Maxima Lanasa of Palm Beach, FL and Ready To Roll, owned by Neva Navab, earned a score of 158 to clinch second-place honors, while Cawley retuned for the third-place ribbon aboard Glade Run Farm, LLC's Falling Moon Huckleberry with a score of 157.
The $1,000 Junior/Amateur Owner Hunter Classic awarded the blue ribbon to Emma Vandenhouten of Plantation, FL after she piloted her entry Meaningful to a final score of 163. Rachel Nichols of Jupiter, FL and her mount Lucky For You finished in second-place with a combined score of 159.5. Decision Made was ridden by owner Vandenhouten to a third-place finish with a score of 159. 
Hunter Champions
The Child/Adult Amateur Hunter division presented by Resilient Fitness was bested by Ashley Briggs of Loxahatchee, FL and her mount Glisten, while Julie Burton also of Loxahatchee, FL rode Uppercase to reserve. 
Sophia Masnikoff of Wellington, FL and her entry Heartdancer H captured champion honors in the Low Children's Hunter division, while Ayla Vargas of Palm City, FL piloted her mount IbelieveImHot to reserve champion. 
The Modified Hunter division presented by Ag Maintenance saw Ava Egan of Weston, FL take home the champion ribbon with Qualitat S, owned by Staci Love, while Kate Marra of Delray Beach, FL and Phoenix clinched reserve. 
Chrystal Knight of Wellington, FL was named champion of the USHJA Hunter 2'3", 2'6" & 2'9" division after her efforts aboard Leah Patipa's entry In Luck, while the reserve champion ribbon was given to Randee Cherner of Jupiter, FL and her mount MTM Bazinga. 
The Equitation 12-14 division was championed by Faith Schuttemeyer of Boca Raton, FL and Blackjack, owned by Gabriella Salazar, while Natalie Pedley of Guaynabo, PR rode her entry Coronado Beach to a reserve champion finish.
The ESP Fall Series will continue at the Equestrian Village grounds through Sunday, October 25. Click HERE to view the Prize List for the first five weeks of competition. The Series then moves to the main PBIEC show grounds at 14440 Pierson Rd. on Thursday, October 29. Click HERE to view the November Edition of the Fall Prize List.
No spectators or outside media are allowed on-site at this time, but friends and family can view all classes via our SGL live stream HERE.
To view the full results of the $24,999 Palm Beach Equine Clinic Grand Prix, please click HERE.
To learn more about the safety protocols and procedures at the horse show, please click HERE.
Photo credit ©Anne Gittins Photography and ©PBIEC. These photos may only be used once in relation to this press release with proper credit.