For Immediate Release
Summer Grace and Emily Riden for Jennifer Wood Media, Inc.
Wellington, FL – March 21, 2019 – Fresh off a win in Saturday night's $134,000 Horseware Ireland Grand Prix CSI 3*, Great Britain's Amanda Derbyshire claimed another major victory on Thursday, March 21, at the Winter Equestrian Festival (WEF), this time topping the $72,000 Equinimity WEF Challenge Cup CSI 4* aboard Luibanta BH.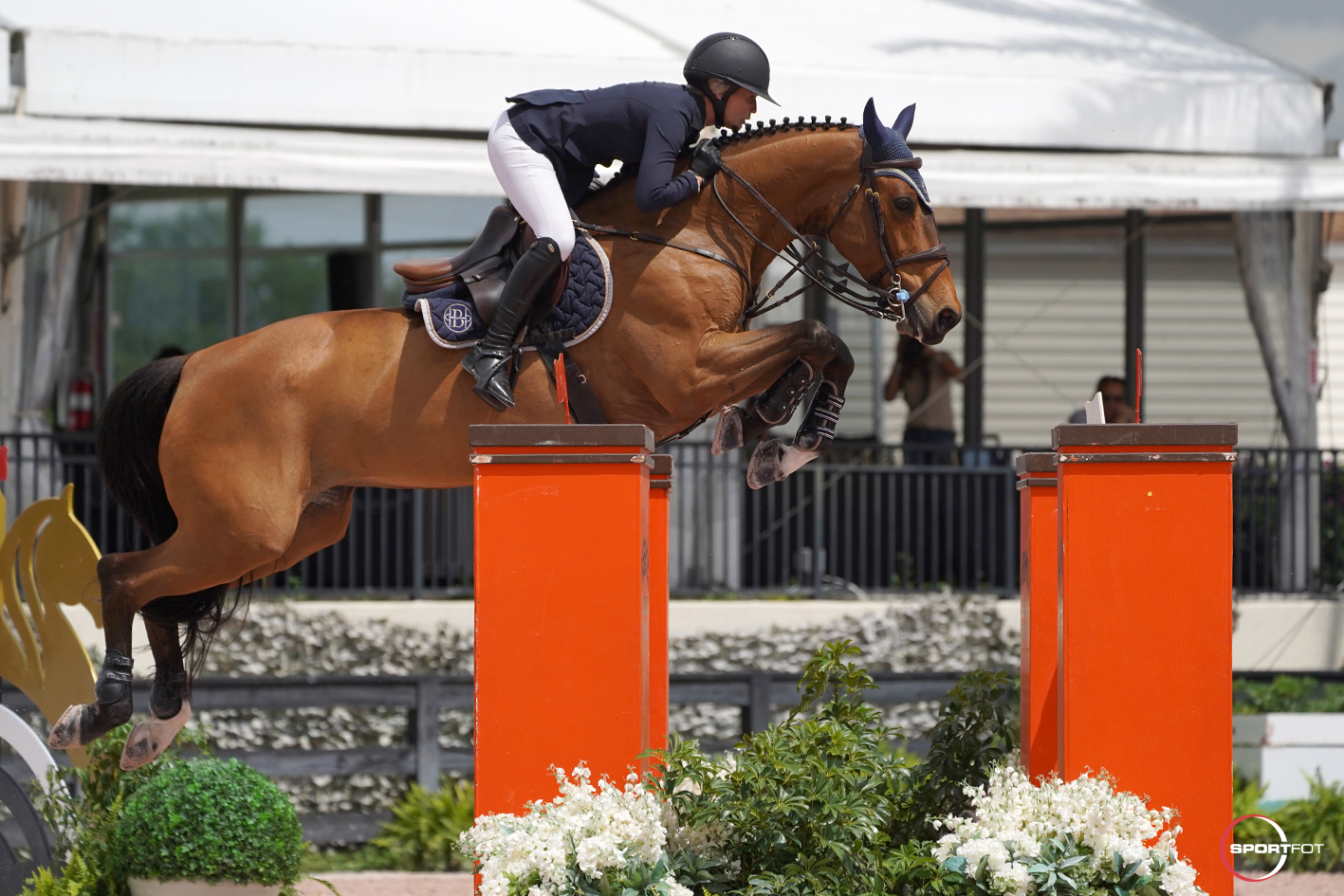 Jumper, hunter, and equitation competition at the Palm Beach International Equestrian Center (PBIEC) in Wellington, FL, continues for one more week, with the 12-week WEF circuit concluding on March 31, 2019. Featured events of Week 11, sponsored by Wellington Agricultural Services, include the George Morris Excellence in Equitation Championship on Friday, March 22, at 5 p.m.; the $209,000 Wellington Agricultural Services Grand Prix CSI 4* beginning at 11 a.m. and the $134,000 CaptiveOne Advisors 1.50m Jumper Series Final beginning at 6:30 p.m. on Saturday, March 23; and the $50,000 Hermès Under 25 Grand Prix Series Final on Sunday, March 24, at 11 a.m.
In Thursday's featured class, 69 entries tried their hand at the track, set in the International Ring of the Adequan® Global Dressage Festival (AGDF) showgrounds by Germany's Olaf Petersen, Jr. Of those starters, 12 qualified for the jump-off round, and 10 elected to return to face off over the short course.
Derbyshire and her mount Luibanta BH, owned by Gochman Sport Horses, LLC, were the final combination to jump off, and when they entered the ring, the time to beat had been set at 42.72 seconds by the sixth entry to return, Switzerland's Martin Fuchs riding Chica BZ.
As she crossed the finish line, Derbyshire herself did not think she had done enough to best Fuchs's time, but the timers would prove otherwise, with her finish time clocking in at 41.81 seconds for the win. Fuchs and Chica BZ, owned by Juri Adolfo, would take second, while third place with a time of 49.78 seconds went to the only other rider to produce a double clear effort, Canada's Susan Horn aboard Balintore, owned by Kingsfield Farm.
"I actually didn't think that I was faster than Martin because I did 10 [strides] in the last line, and I know he did nine," explained Derbyshire. "I was clear up until that point, so I just tried to not get too greedy. I did the number I planned, and it just happened that I was a little faster.
"I did walk the course thinking, 'Wow! It's big today,' but it rode nice for everyone," continued Derbyshire. "Obviously in a tighter ring, it's pretty important to stick to the plan and the track when there are a lot of options on all the bending lines to do different numbers. So I walked my plan this morning, went away for a little bit and did some stuff up at WEF, and came back 20 out, watched a couple, and rode the track that I walked this morning, and it happened to work out well!"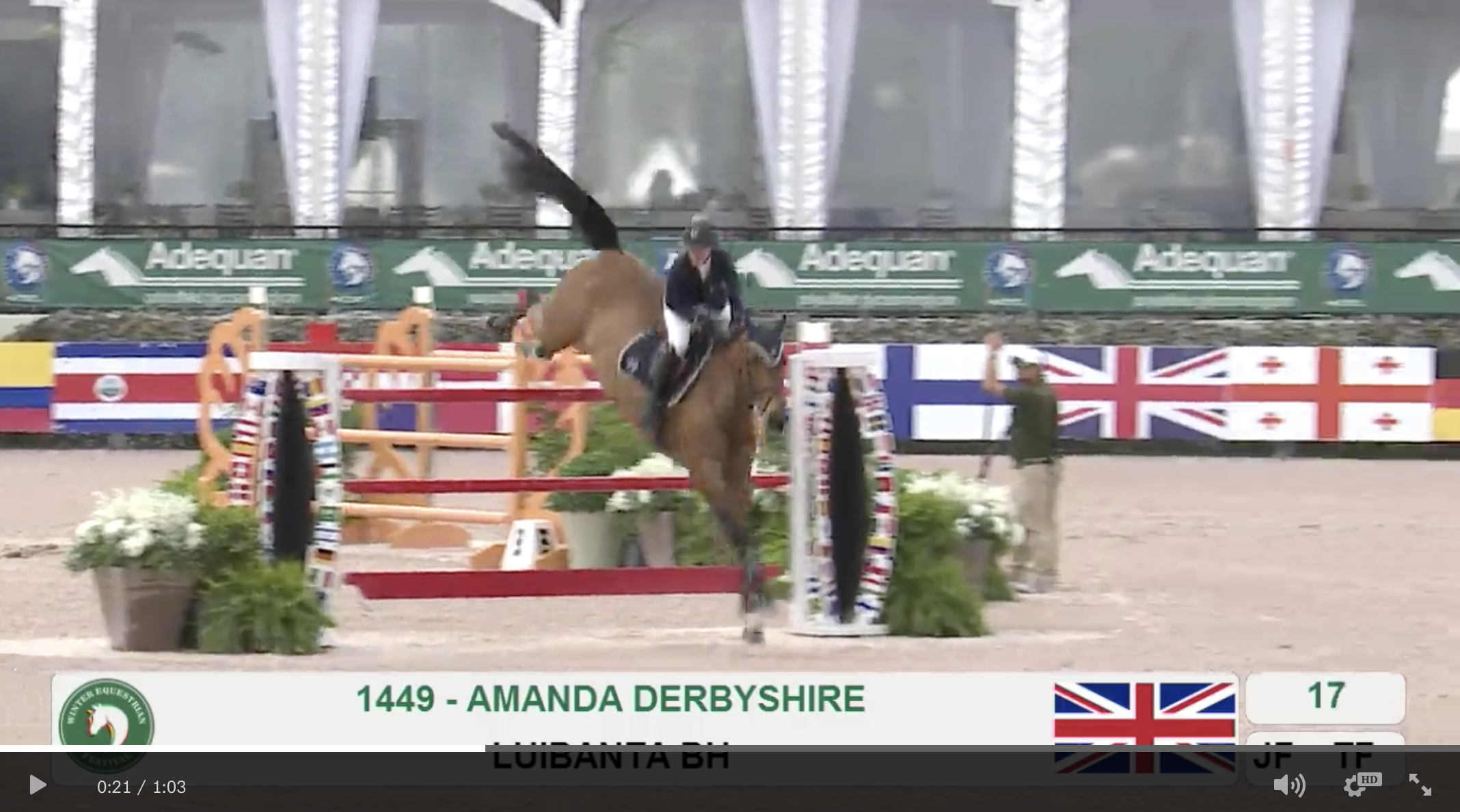 Click here to watch their winning jump-off ride!
Throughout the 2019 WEF season, Derbyshire's plan was to give her horses – including Thursday's winning mount, Luibanta BH, and Saturday's grand prix winner, Roulette BH – a lighter, easier schedule, building them up to these final weeks and to summer show plans following WEF. Now that plan, and Derbyshire's patience, is paying off.
"It feels incredible," said Derbyshire of her two consecutive major victories. "I was missing out on showing a little bit, but finally it paid off that I saved them for the right classes! The horses feel great, and they jumped absolutely fantastic.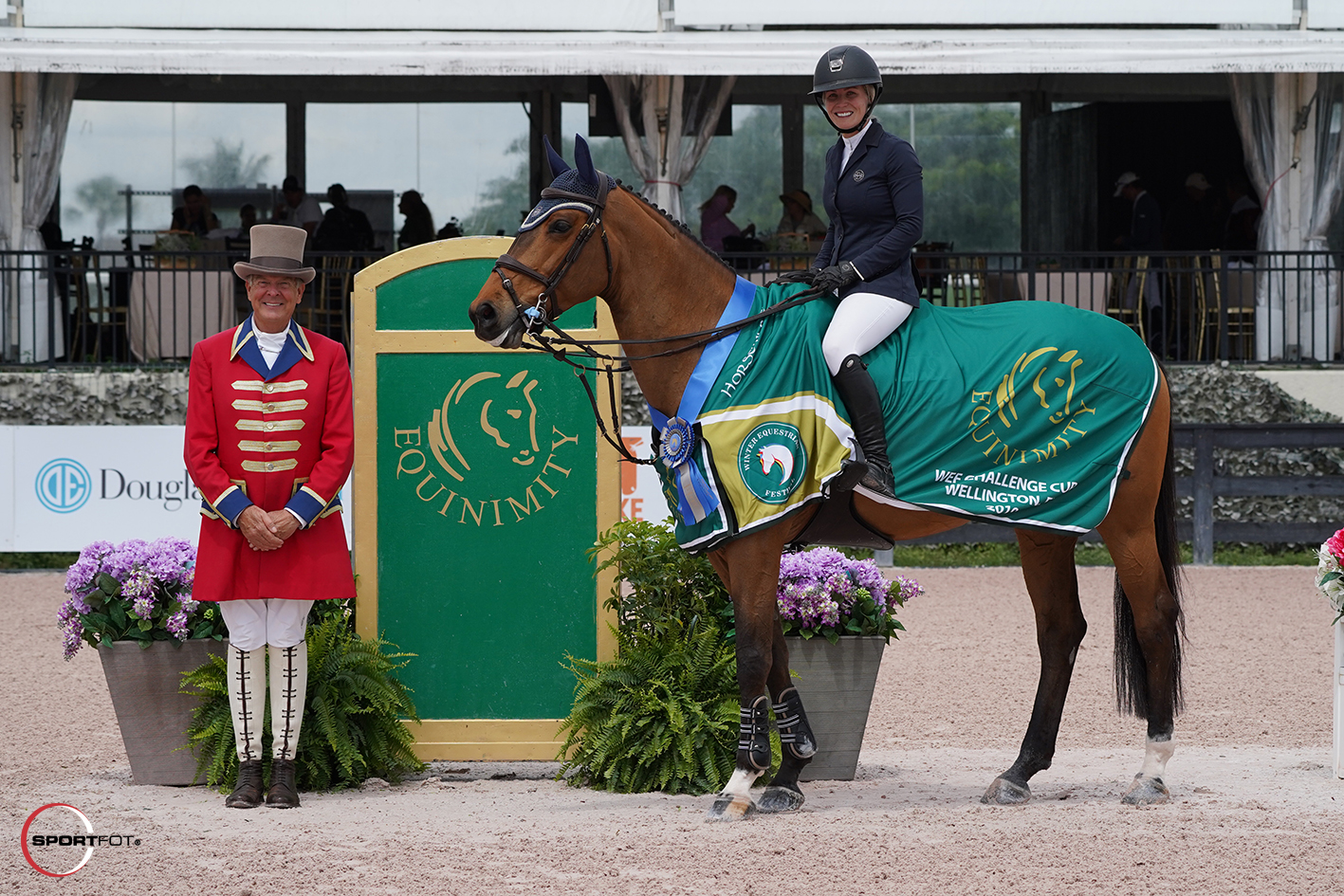 "With this horse, she's always going to jump the jumps, and she's so agile and light," continued Derbyshire of Luibanta BH, an 11-year-old Irish Sport Horse mare (Luidam x Abantos) that Derbyshire rode in the FEI World Equestrian Games™ Tryon 2018 (WEG). "She's always going to look to that next jump, and she's always going to back herself off; that's the beauty of her. She is simply the nicest horse you could ever be around or work around. She's very happy go lucky. After WEG, she's kind of taken it easy, and we've got big plans for the summer – hopefully some Nations Cups."
Final Results: $72,000 Equinimity WEF Challenge Cup Round 11 CSI 4*
1 LUIBANTA BH: 2008 Irish Sport Horse mare by Luidam x Abantos
AMANDA DERBYSHIRE (GBR), Gochman Sport Horses LLC: 0/0/41.81
2 CHICA BZ: 2009 Zangersheide Mare by Canturano Berlin
MARTIN FUCHS (SUI), Juri Adolfo: 0/0/42.72
3 BALINTORE: 2006 KWPN gelding by Vincenzo x Lux
SUSAN HORN (CAN), Kingsfield Farm: 0/0/49.78
4 DIAMONTE DARCO: 2005 GBSH mare by Unbelievable Darco x Unknown
LUCAS PORTER (USA), Sleepy P Ranch LLC: 0/4/40.28
5 TRADITION DE LA ROQUE: 2007 Selle Français mare by Kannan x Oberon du Moulin
MCLAIN WARD (USA), Kessler Show Stables Europe B.V.: 0/4/40.42
6 SIMBA: 2006 Oldenburg gelding by Toulon x Argentinus
BEAT MANDLI (SUI), Grant Road Partners LLC: 0/4/43.26
7 HITCHCOCK VD BROEKKANT: 2007 BWP gelding by Canturo x Heartbreaker
ALISE OKEN (USA), Hi Hopes Farm LLC: 0/4/48.60
8 LINCOURT GINO: 2003 Irish Sport Horse gelding by Gino III x Graf Magna
ALEJANDRO KAROLYI (VEN), Monica Carrera: 0/4/51.20
9 H5 CHAGANUS: 2008 Oldenburg gelding by Chacco Blue x Carthago
EDUARDO MENEZES (BRA), H5 Stables: 0/12/45.01
10 FLEUR DE L'AUBE: 2005 Belgian Warmblood mare by Thunder van de Zuuthoev x Orchidee vh Pallieterland
JESSICA SPRINGSTEEN (USA), Stone Hill Farm: 0/withdrawal
10 LUIS P: 2009 German Sport Horse gelding by Lord Pezi
CHLOE REID (USA), Live Oak Plantation LLC: 0/withdrawal
10 COULASH VAN DE BROY Z: 2006 Zangersheide gelding by Cadence VT Gelutt x Lys De Darmen
JUAN MANUEL GALLEGO (COL), Juan Manuel Gallego: 0/retired
Christopher Payne and Fibonacci Jump to the Top of the High Performance Conformation Hunters
Christopher Payne and Fibonacci picked up another champion ribbon on Thursday for Week 11 of the 2019 Winter Equestrian Festival in the High Performance Conformation Hunters. Four of the best hunter professionals comprised the competitive class but ultimately Payne and Still Water Farm, LLC's eight-year-old KWPN gelding (Carambole x Waomi) proved an unbeatable combination.
Fibonacci was awarded three first places and two seconds in the five division classes and was moved up in the rankings several times after the model. The gelding has only competed a total of five times over the 2019 circuit but has made an impression in the division having earned champion three times and reserve champion twice.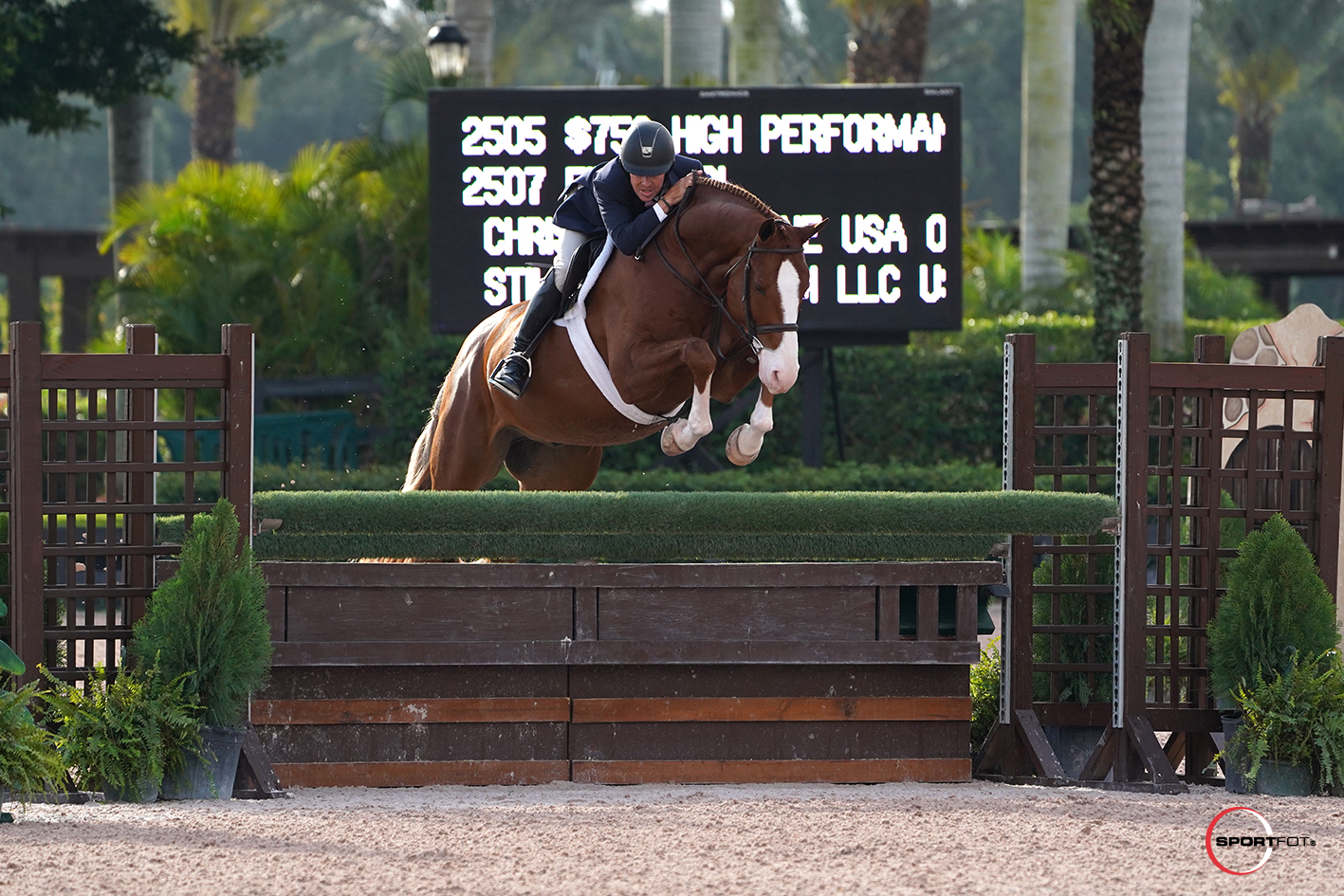 "We were a little slow to get going at the beginning of circuit, so he hasn't shown a lot this year," Payne explained. "He has such a brilliant jump and he's a beautiful mover, but when we first got him, I was a little unsure about competing him in the conformation because he has so much white on him and often that doesn't bode well in the conformation divisions."
Fibonacci's unique coloring does not seem to have swayed the opinion of the judges as Payne said he is almost always pinned first in the model. Originally imported from Europe as a stallion in 2018, the gelding was purchased as an eventual derby horse and Payne looks forward to moving him into those classes in the following months.
"He's a really fun horse to ride and will be great for hunter derbies because he's got unlimited scope and stride," Payne commented. "The thing I enjoy most about him is that he really studies the jump well so when you put the pressure on, he gives you an absolutely amazing jump."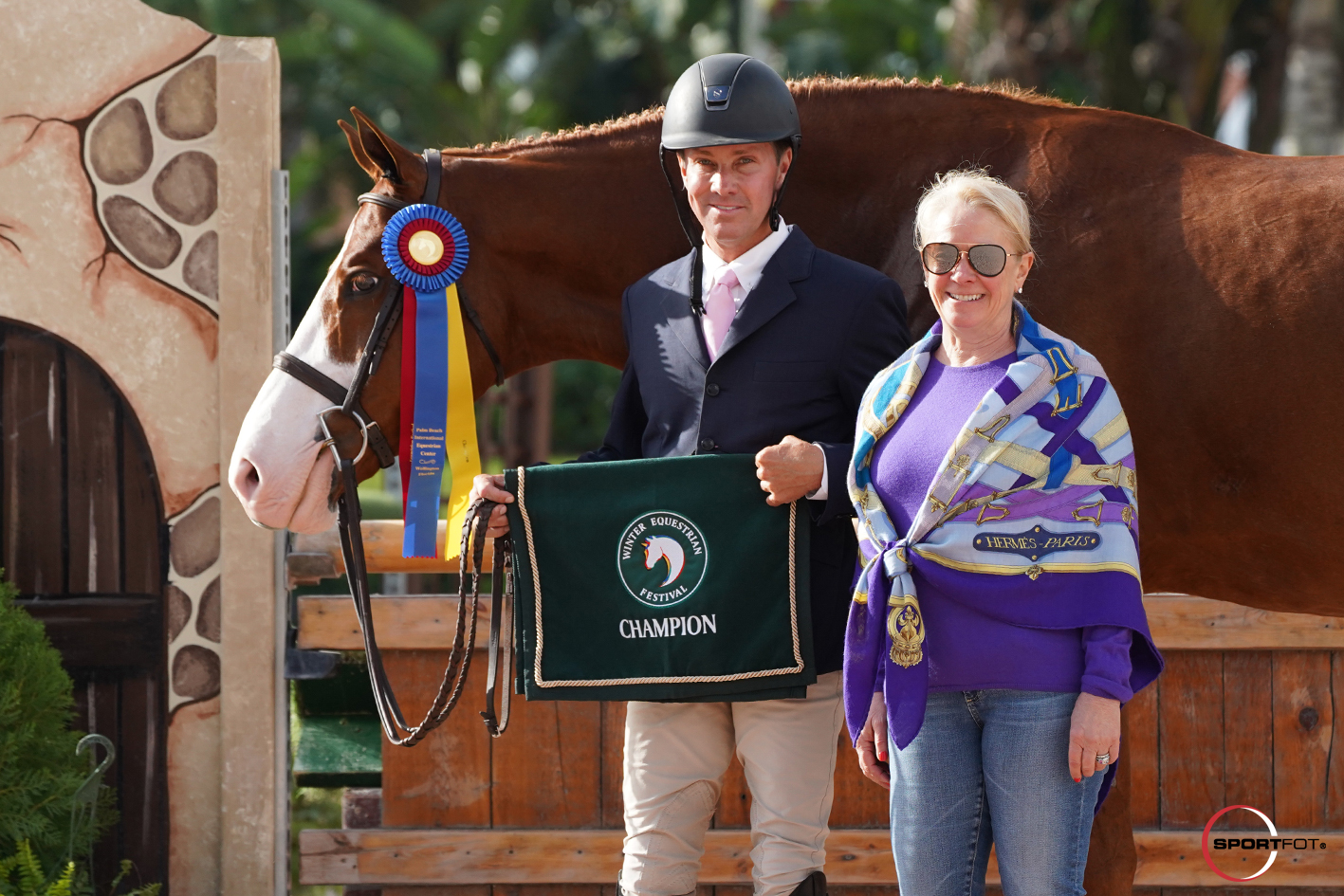 Kelley Farmer won the reserve champion ribbon with Larry Glefke's As Quoted. She and the six-year-old Dutch Warmblood gelding (Zambesi TN x Bybalia SMH) picked up placings of first, second, two thirds, and a fourth for an ending total of 26.00 points throughout the division.
The Champion Equine Insurance Hunter Style Award, presented by Laura Fetterman, was also awarded on Thursday to Scott Stewart and Sports Page as winners of the Green Hunter 3'9" Stake class. The pair were champion in the Week 11 Equine Tack & Nutritionals Green Hunter 3'9" division.
Competition for Week 11 will resume Friday, March 22, with both Palm Beach International Equestrian Center and Equestrian Village hosting top competition.