For Immediate Release
Kate Pettersen and Sabrina Brashares for Jennifer Wood Media, Inc.
Wellington, FL – April 3, 2021 – As the final week of the 2021 Winter Equestrian Festival (WEF) continues, Saturday's feature class led to an exciting finish for Adam Prudent (USA) and Baloutinue, owned by Plain Bay Farm, as they raced to a victory in the $214,000 Wellington Agricultural Services Grand Prix CSI4* on Saturday, April 3, in the International Arena at the Palm Beach International Equestrian Center (PBIEC).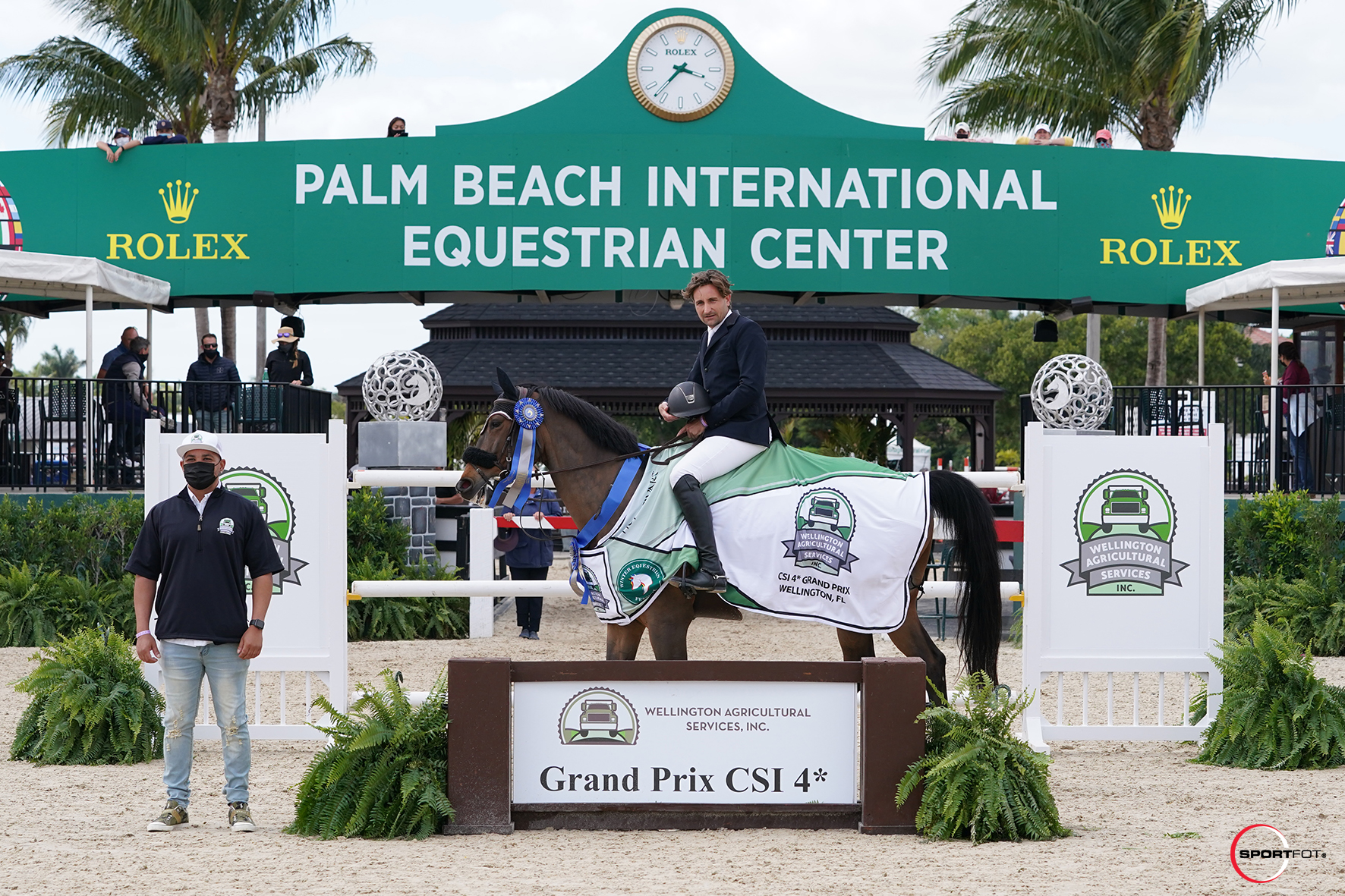 The twelfth week of WEF, sponsored by Wellington Agricultural Services, has CSI4* competition along with a concurrent CSI2* running through Sunday, April 4, the final day of the 2021 WEF. The week concludes with the $50,000 Wanderers Club 1.45m Grand Prix CSI2* on Sunday. All feature classes can be watched for free both live and on-demand on the livestream.
A starting field of 42 horse-and-rider combinations set out over the 1.60m track designed by Olaf Petersen Jr. (GER) with eight pairs, representing four different nations, qualifying for the jump-off round.
First to return, Ioli Mytilineou (GRE) and Levis De Muze set the tone for the day with an impressive double-clear round making 40.20 seconds the time to beat. Multiple changes atop the leaderboard would continue from there as Canada's Jim Ifko entered next guiding Un Diamant Des Forets owned by Eventyre Farms Ltd, to a double-clear finish, besting the leading time in 36.54 seconds.
The next rider found a way to get the job done even faster as Prudent and the 11-year-old Hanoverian gelding by Balou du Rouet x Landor S, produced a double-clear round in a blazing 35.28 seconds.
 Watch the winning jump-off here! Brought to you by Premier Equestrian.
Riding in the sixth spot in the jump-off field of eight, Kent Farrington (USA) and Gazelle, owned by Kent Farrington and Robin Parsky, gave it a solid run. The Olympic team silver medalist guided his 15-year-old Belgian Warmblood mare by Kashmir van Schuttershof x Indoctro to a clear round in 37.37 seconds.
For Prudent, the win marks an even sweeter victory with a horse he has had for almost four years. He and his team at Plain Bay Farm have taken the development of the talented gelding slowly, only moving him up to the four and five-star level this season.
"The horse is very careful," he said. "I haven't really had a chance to go fast yet since this is only my third grand prix jump-off with him. I pushed it to the limit this time and really asked him to perform the best he could. I knew I had a lot of fast people behind me so wanted to really lay it down and take every risk I could, and it worked out quite well."
Ifko and "Monty," a 13-year-old Selle Français stallion by Diamant de Semilly x Papillon Rouge, ended the day in second place to wrap up a very successful 2021 WEF campaign that included wins in the $37,000 Restylane 1.45m Qualifier CSI2* during WEF 5 and the $50,000 Wellington Equestrian Realty Grand Prix CSI2* during WEF 9.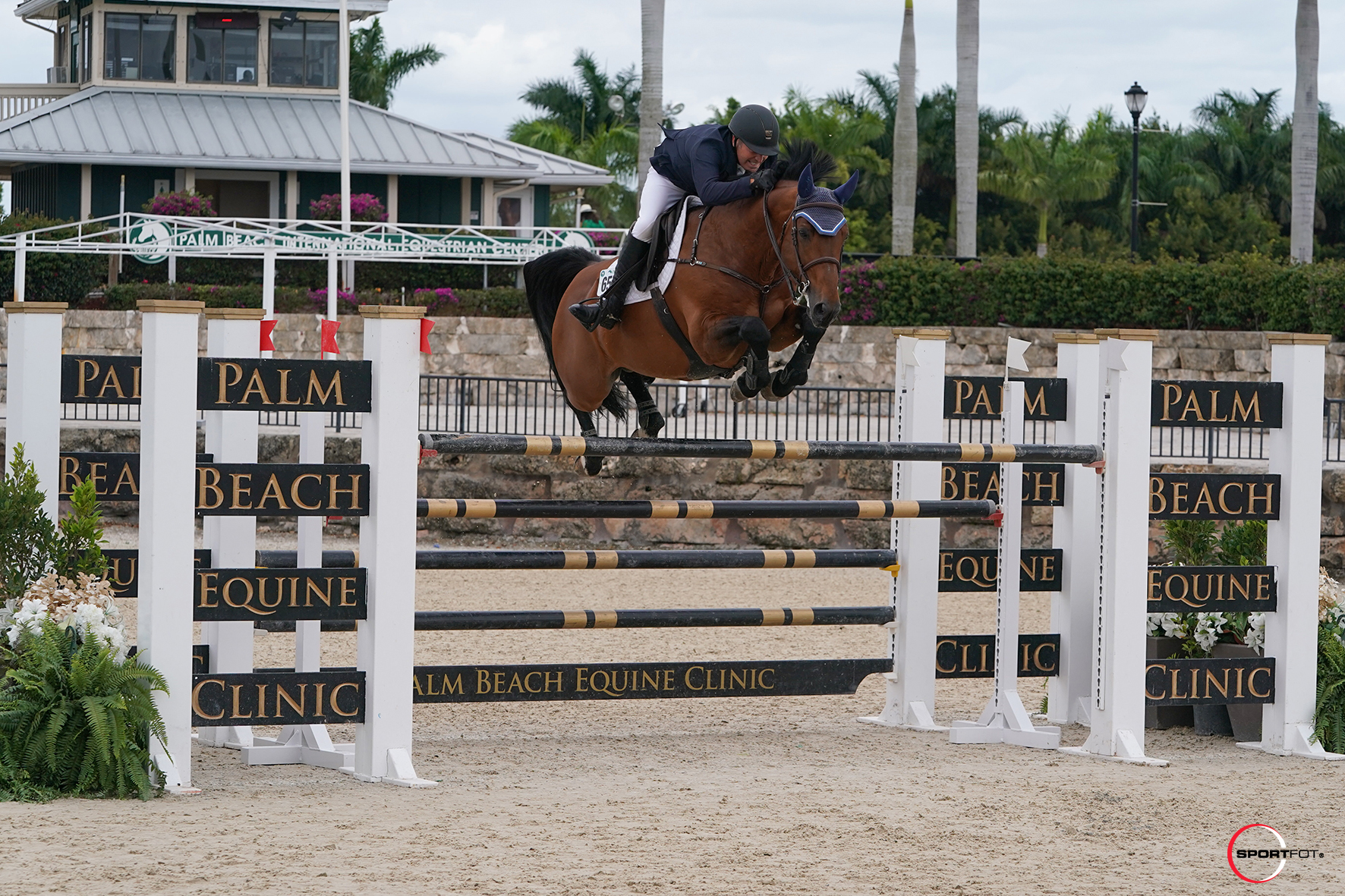 "Monty is a very aggressive stallion when he's in the ring," said Ifko with a smile. "He's a competitor for sure! In the jump-off we maybe had a bit of an advantage in the two lines that were both long nine strides to verticals. He has the ability to run down to a vertical and still leave it up, so I felt confident galloping quickly down both of those lines. Luckily enough, it worked in our favor."
Currently ranked seventh in the world, Farrington finished the day in third place and expressed his high regard for the impressive work of the two riders finishing ahead of him on the leaderboard.
"I went later in the jump off. These two guys went early and went aggressive to try to win, which I love," he said. "I think that is great sport. They both had incredible rounds today, and the jump-off was very open which as Jim said, suited a very quick-moving horse which both of their horses are.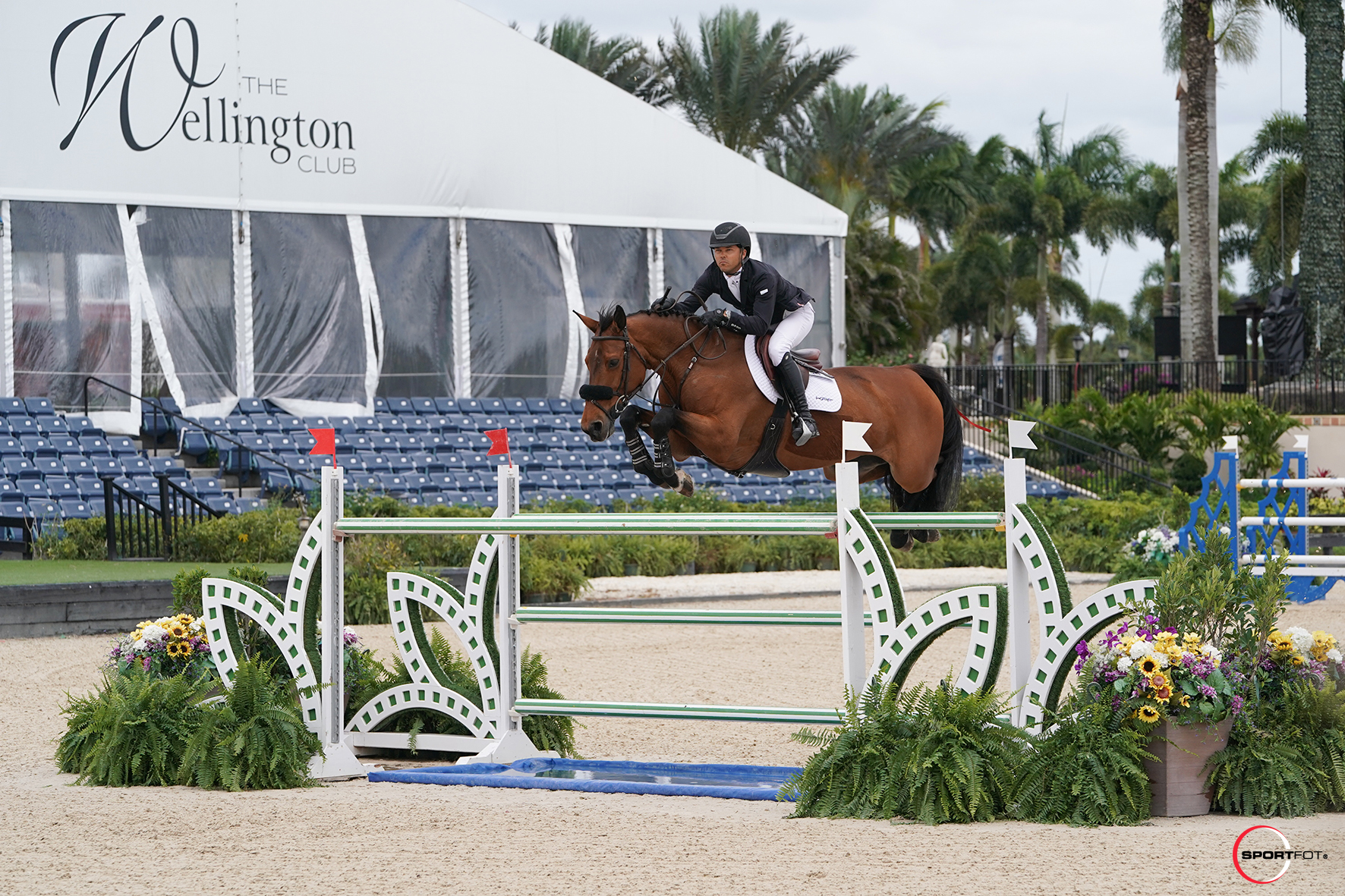 "I think this year we saw more European riders than in the past," he continued. "I think at least five of the top 10 riders in the world are here, which raises everybody's level. I don't think there is an easy class to win during the 2021 circuit, so anyone that has won a class here has earned it. It has been a high caliber of horses and great riding; today was no exception. My mare is 15 years old, and I've been kind of bringing her back up slowly. She was a little rusty here when she started so I'm glad she's back in form and she is shortlisted for the Olympics. We'll see where that goes, but I like to feel like she's on the upswing again so that's a good day for us. I thought Adam had an incredible win. I've known him and his family a long time. They are great horse people, so hats off to them today."
Looking ahead, Prudent plans to give his string of horses at least a month off at their farm in Virginia after a busy winter circuit of competitions. For Ifko, the plan is to return to Canada for a much-deserved break as well. With a similar plan to his fellow competitors, Farrington will stay in Wellington a little while longer and give his horses some time off in the Sunshine state.
Watch the official Press Conference here!
Before the class, Adrienne Sternlicht (USA) was presented with the Overall Martha Jolicoeur Leading Lady Rider Award for her success during the 2021 WEF. A former international show jumper and successful real estate broker, Martha Jolicoeur of Douglas Elliman Real Estate began presenting the award in 2010 to recognize female accomplishments in the sport. Waverly Ernst and Sharon Loayza joined Jolicoeur for the presentation.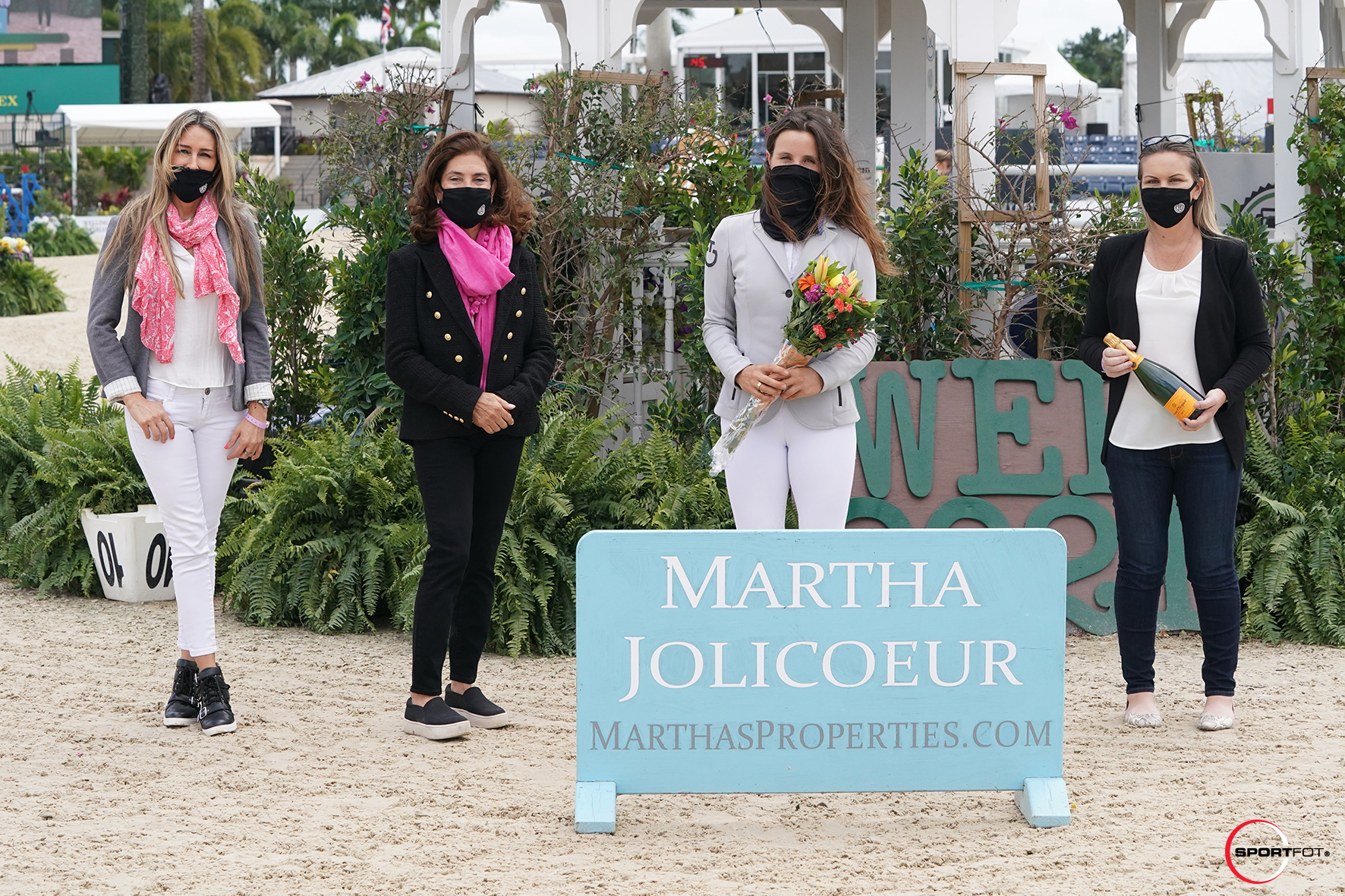 Stephex Stables was presented with The Harrison Cup Perpetual Trophy, which is awarded to the owner whose horses won the most jumper money in all of the open jumper classes held throughout the circuit. Daniel Deusser, Zoe Conter, and Emilie Conter accepted the award on behalf of Stephex Stables, presented by Cayce Harrison, Quentin Judge, and their children Rhodes and June.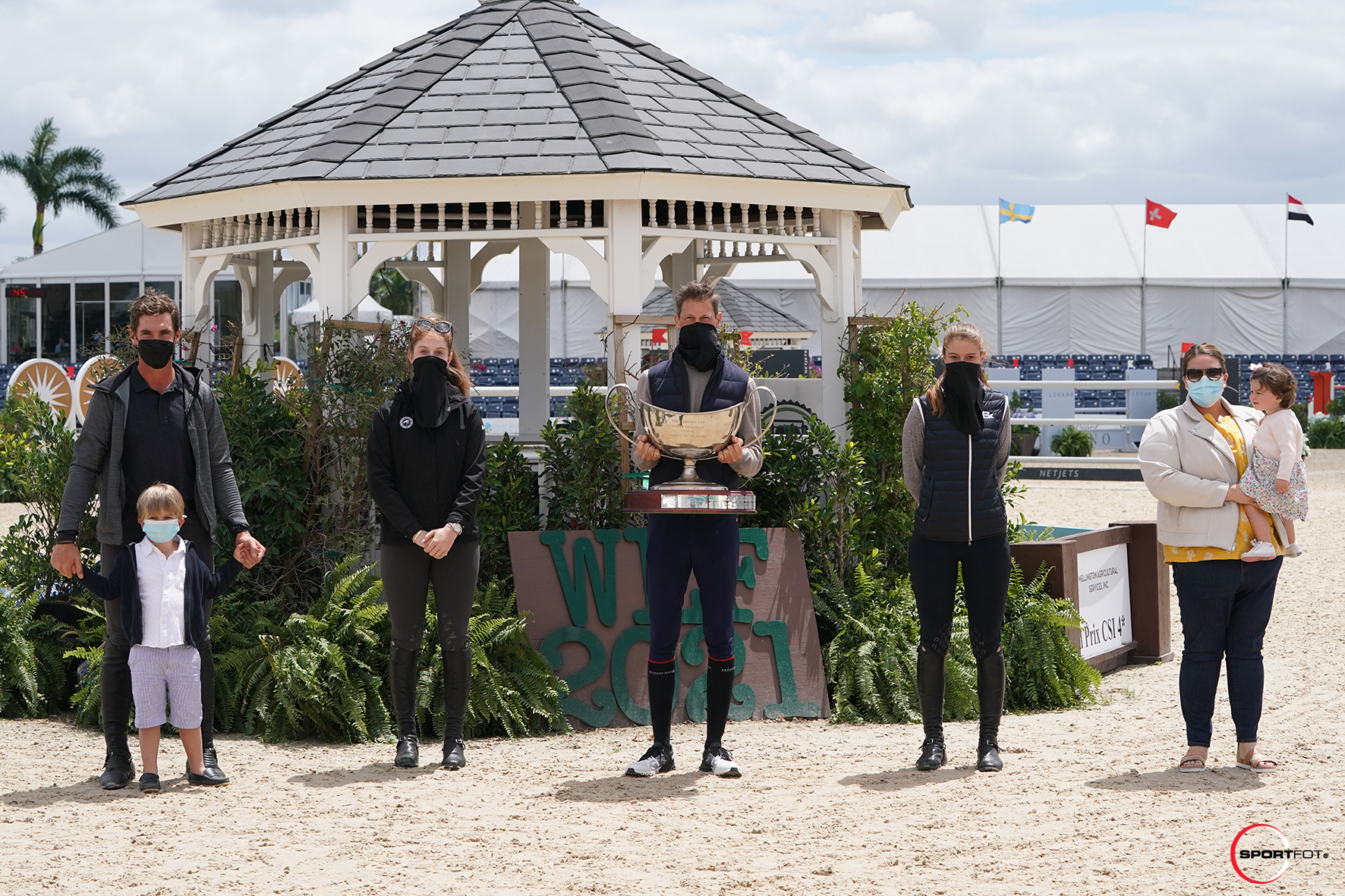 The Simba Run Perpetual Trophy was also presented to Stephex Stables as the owner of Scuderia 1918 Tobago Z, the open jumper who earned the most prize money in classes held at 1.45m or more during the 2021 WEF. Daniel Deusser, Zoe Conter, and Emilie Conter accepted the award on behalf of Stephex Stables, presented by Geoff Sutton and United States show jumper Laura Kraut.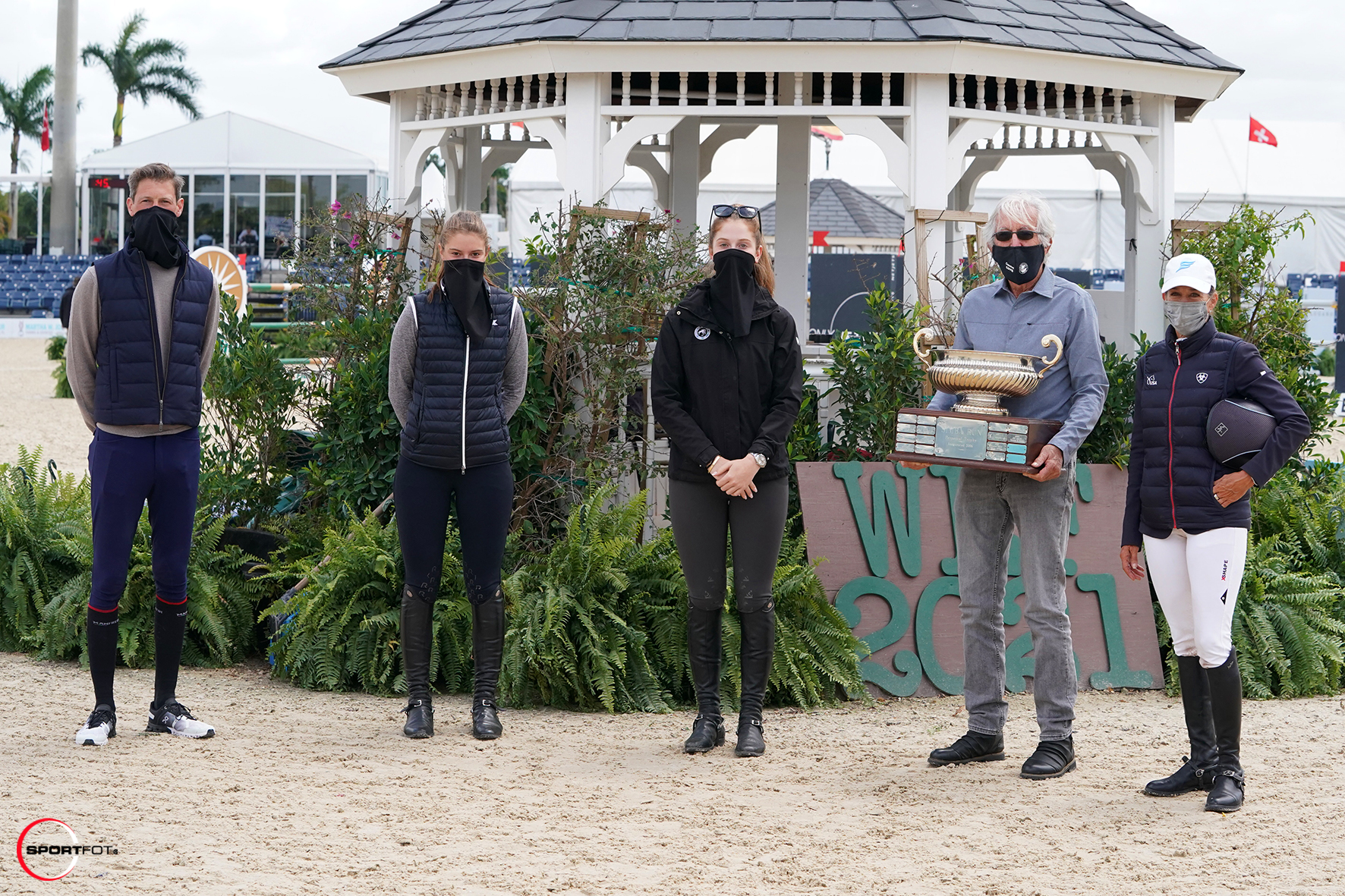 Final Results: $214,000 FEI CSI4* Wellington Agricultural Services Grand Prix
1. BALOUTINUE: 2010 Hanoverian gelding by Balou du Rouet x Landor S
ADAM PRUDENT (USA), Plain Bay Farm: 0/0/35.28
2. UN DIAMANT DES FORETS: 2008 Selle Francais stallion by Diamant De Semilly x Papillon Rouge
JIM IFKO (CAN), Eventyre Farms Ltd: 0/0/36.54
3. GAZELLE: 2006 Belgian Warmblood mare by Kashmir van Schuttershof x Indoctro
KENT FARRINGTON (USA), Kent Farrington & Robin Parsky: 0/0/37.37
4. LEVIS DE MUZE: 2011 BWP stallion by Elvis Ter Putte x Heroine De Muze
IOLI MYTILINEOU (GRE), Elia Construction SA: 0/0/40.20
5. GOLDWIN: 2012 BWP gelding by Emrald x Divine Idylle GTW De Tinmont
LAURA KRAUT (USA), Stars and Stripes: 0/0/40.85
6. LUCIFER V: 2006 Westphalian gelding by Lord Dezi x Grandeur
NAYEL NASSAR (EGY), Evergate Stables LLC: 0/4/36.15
7. BULL RUN'S RISEN: 2006 KWPN gelding by Utopie x Indoctro
KRISTEN VANDERVEEN (USA), Bull Run Jumpers, Inc: 0/8/38.16
8. KASPER VAN HET HELLEHOF: 2010 BWP stallion by Emerald x Hadise Van Het Hellehof
MCLAIN WARD (USA), Poden Farms: 0/12/37.85
9. HILTON VAN DE BREEPOEL: 2007 Belgian Warmblood gelding by Contact Van De Heffinck x Opium
BRITTNI RAFLOWITZ (ISR), ESI Show Jumpers, Inc.: 0/1/81.15
10. CRISTALLINE: 2008 Bavarian Warmblood mare by Cristallo 1 x Caretello B
ADRIENNE STERNLICHT (USA), Starlight Farms 1 LLC: 0/1/81.72
11. VIVA COLOMBIA: 2005 Oldenburg mare by Couleur-Rubin x Landor S
BRIANNE GOUTAL-MARTEAU (USA), Rose Hill Farm: 0/1/82.01
12. VALKYRIE DE TALMA: 2009 Selle Francais by Diamant De Semilly x Cento
RACHEL CORNACCHIA (CAN),Eventyre Farms Ltd: 0/1/82.06
Greg Crolick and Chappy Stay On Top to Win the $50,000 USHJA International Hunter Derby
Hunter riders entered the Derby Field at Equestrian Village one last time for the $50,000 USHJA International Hunter Derby on Saturday of WEF 12. Twenty-seven of the top hunter horse-and-rider combinations entered the two-round class with the hopes of winning the top prize. In the end, Greg Crolick and Carole Chase's Chappy produced two flawless rounds to earn a total score of 374.5 and take home the blue ribbon.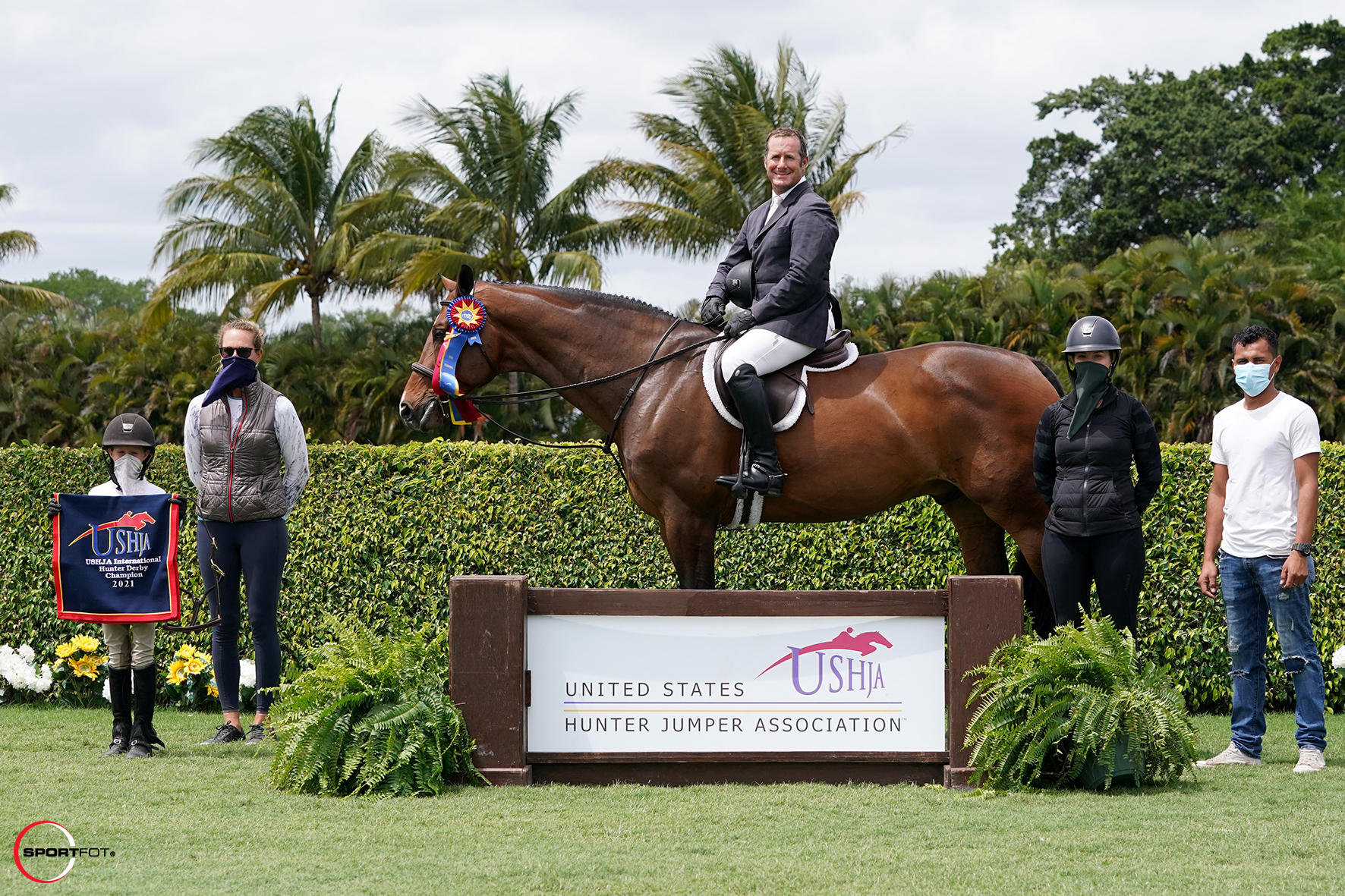 Havens Schatt, of Georgetown, KY, and Ken and Amy Wexler LLC's Cascartini finished with a second place ribbon in the class and a total score of 371.5. Third place was awarded to Elizabeth Towell Boyd, of Camden, SC, and Rebekah Warren's Cassico with an overall score of 370.
Riders were asked to navigate a classic round course, designed by Ken Krome, consisting of 13 fences and offering four high options. After completing the first round, the top 12 combinations returned for the handy course to impress the judges one last time. The 10-fence handy round included a trot jump to a two-stride line and four high option fences.
Crolick, of Clarkston, MI, and Chappy were first in the order of go and produced a picture-perfect first round to earn a high score of 182. The pair held onto the lead for the remainder of the classic round. Last to go in the handy, Crolick and the 10-year-old Mecklenburg gelding by Chacco Blue showed off their style and rideability to earn a score of 192.5 and top honors in the class.
Watch their winning second round here!
"[The course] rode really beautiful," commented Crolick, "were gorgeous, very flowing and very smooth. I just went in there today and had a good round; it felt great.
"My plan was to try to be as handy as I could," he continued, "but also as careful as I could and not overdo it. [I did not want to] lose the lead and hopefully [I would] maintain the lead after the second round. So only doing two high options was my plan and try to be as smooth as possible."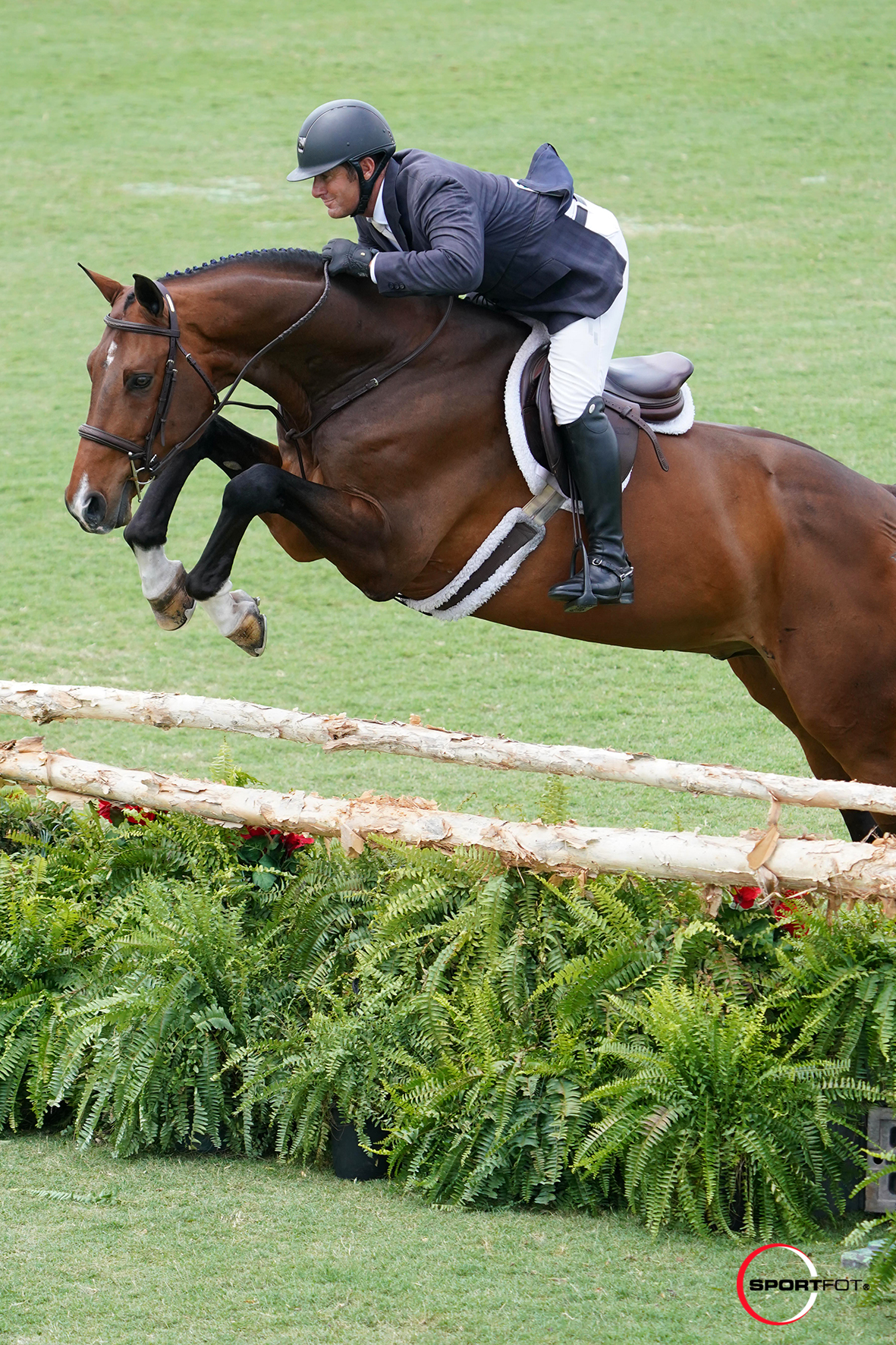 Schatt and Cascartini were second to go and stayed right behind Crolick through both rounds of the class. The duo earned a first round score of 182 followed by the second highest handy round score of 194.5.
"We imported him from Europe in 2019," said Schatt of the Holsteiner gelding. "I started him in the First Year Green right away when he was seven years old. He did well during the summer and then got a skin disease in the fall right where the girth went so he pretty much had all of the fall off because you couldn't put a saddle on him. Last year I started him in the Second Year Greens and then COVID hit, so he has relatively little experience. He is one of those horses that when he is dialed in to what he's supposed to be doing and he's listening to you, he's super brave."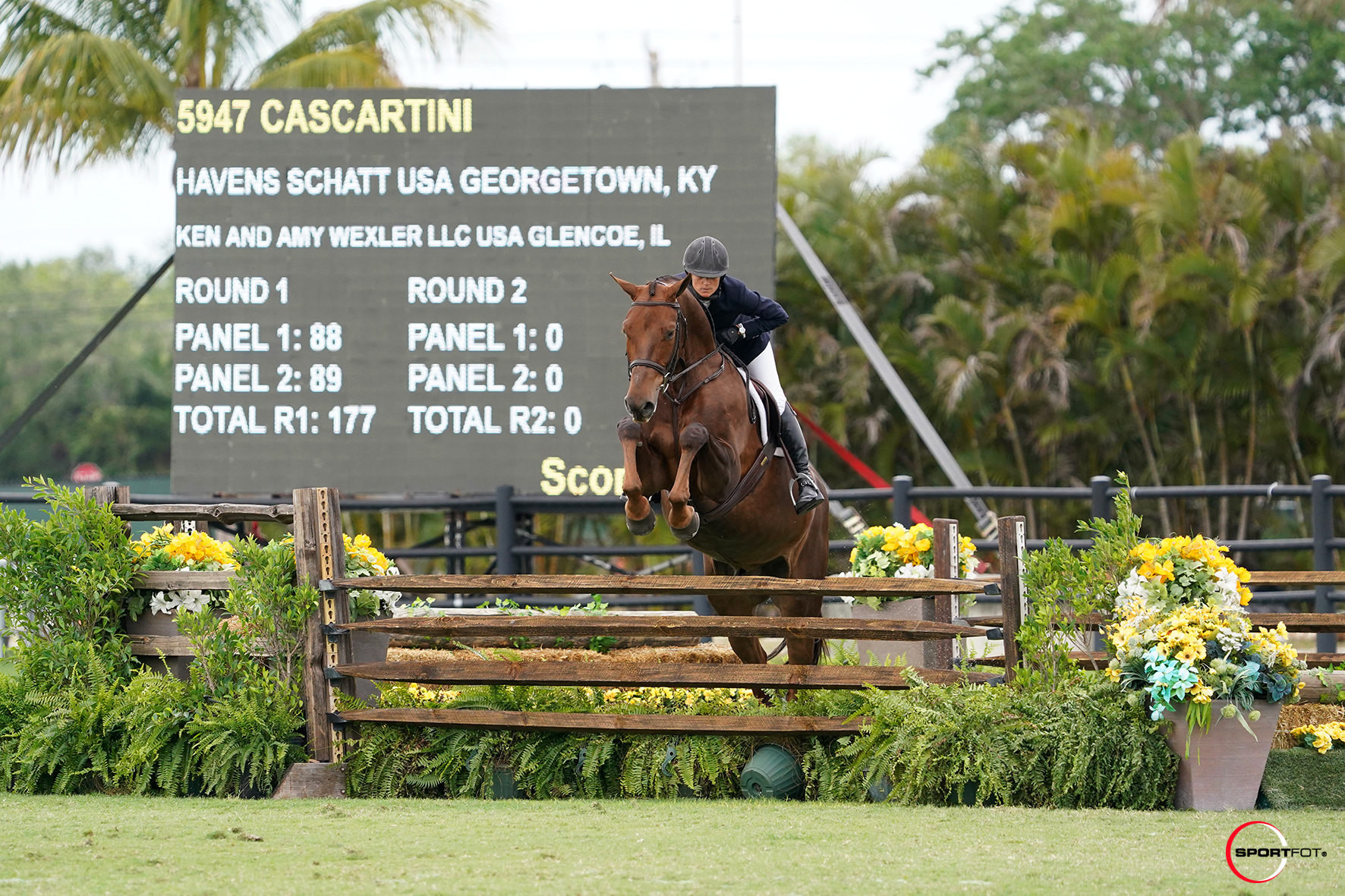 After having difficulties in the last few derby handy rounds that Schatt and Cascartini have done together, the rider wanted to make sure to give the gelding a confident and positive ride. Schatt navigated a slick track, and Cascartini jumped in beautiful form to hold onto the pair's second place position.
"Today I really wanted to try to win the class," said Schatt, "but at the same time I wanted to give him the best experience that I could give him because he has had trouble in the handy the last couple classes. I feel like as a rider with that horse at that stage of the game, I did everything I could to try to gain some points on Greg, which I did gain a few points but not enough."
After a win on the field yesterday, Boyd returned today ready to give it her all. The rider guided Cassico to a classic round score of 177 in the first round to put them in third place. After a more "jumpery" school with Boyd's brother, Hardin Towell, the pair produced an impressive handy round performance for the second-highest handy score of 195.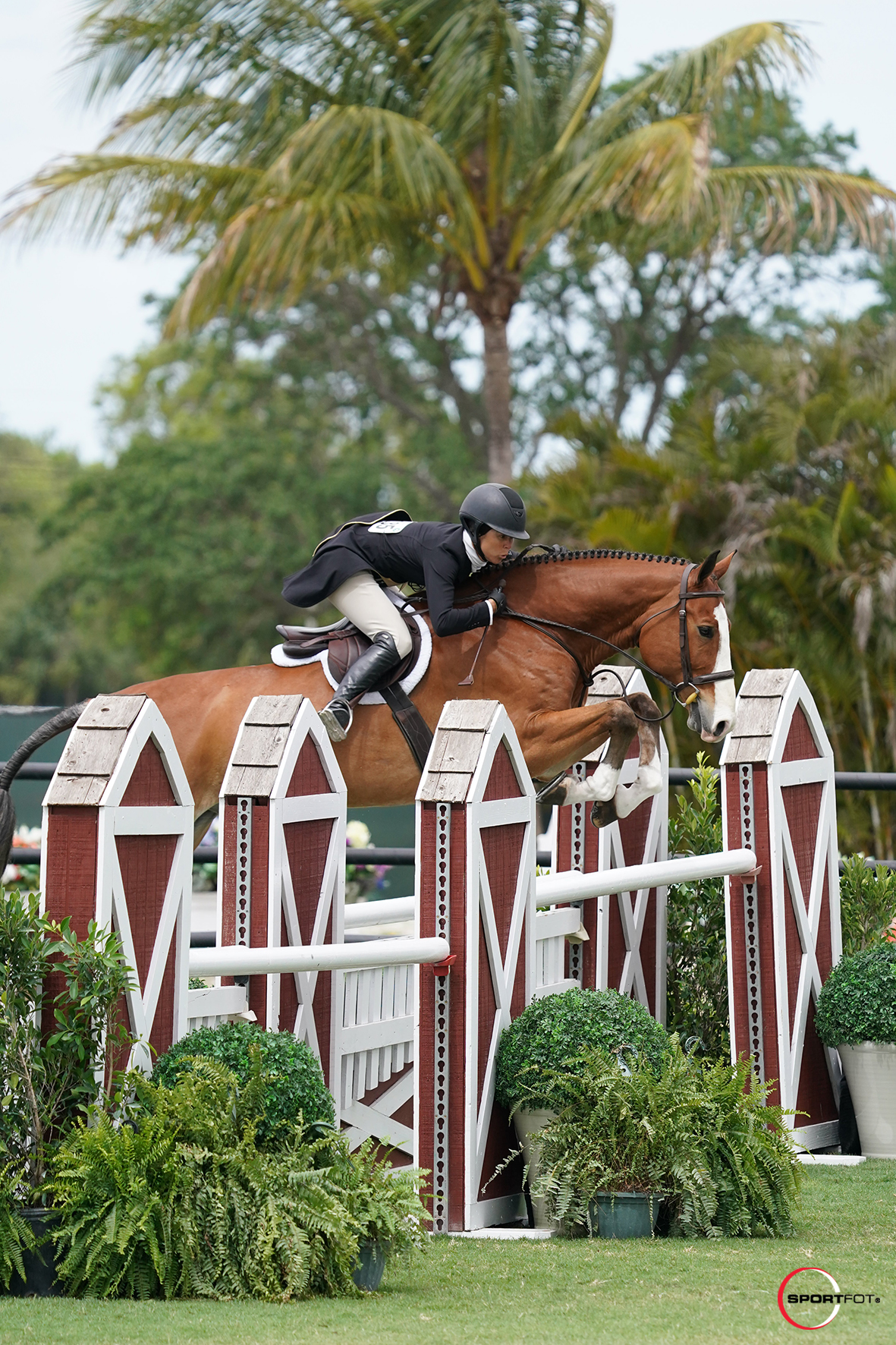 "I'm thrilled with him," said Boyd of the 10-year-old Holsteiner gelding by Carrico. "He's owned by Rebekah Warren, so he's been doing the 3'3" Amateur-[Owners] all season. He's such a good boy to step right up and do this class. It was a fun class. I thought that the trot in to the two-stride was a nice addition, and it was just a fun way to end circuit galloping on a field.
"My dad Jack [Towell] was training the junior hunters today so my brother Hardin came over," continued Boyd. "The schooling was a little different than we usually do. I felt like we were getting ready for the five star!"
With some of the top hunter combinations entered in the class, Crolick was thrilled to finish the season with a big victory.
"It feels wonderful for this big of a win," said Crolick. "You keep plugging along, and you're always on the hunt. You hope, and some days are good, some days are bad. Today was absolutely wonderful. I'm really happy for the client and my sponsors. It takes a huge team to do this. I just want to thank clients, sponsors, grooms, and everybody that goes into it."
Final Results: $50,000 USHJA International Hunter Derby
Horse, Rider, Owner
Round 1 Score, Round 2 Score | Total
1. Chappy, Greg Crolick, Carole Chase
182.00, 192.50 | 374.50
2. Cascartini, Havens Schatt, Ken and Amy Wexler LLC
177.00, 194.50 | 371.50
3. Cassico, Elizabeth Towell Boyd, Rebekah Warren
175.00, 195.00 | 370.00
4. Gabriel, Victoria Colvin, JT Farm
169.50, 200.00 | 369.50
5. Symbolic, Tessa Downey, Bella Kay
170.10, 193.00 | 363.10
6 Addison, Sloane Coles, Catherine Wheeler
167.00, 194.00 | 361.00
7. Testify, Kelley Farmer, Rock Ridge Farms
167.50, 187.00 | 354.50
8. Poker Face, Jennifer Bliss, Harris Hill Farm, LLC
170.50, 179.00 | 349.50
9. Grazie, Alexa Elle Lignelli, The Lignelli Family
167.50, 179.00 | 346.50
10. Mindful, Jennifer Hannan, Kensel, LLC
172.00, 174.00 | 346.00
11. True Blue, Caitlin Venezia, Jennifer Combs
166.25, 164.00 | 330.25
12. Handwritten, Greg Crolick, Jon Cotton
170.50, 95.00 | 265.50