For Immediate Release
Summer Grace and Amanda Picciotto Feitosa for Jennifer Wood Media, Inc.
Wellington, FL – January 21, 2022 – The 2022 Winter Equestrian Festival (WEF) continued to host competition on the Derby Field at Equestrian Village on Thursday, January 21, with the $37,000 Adequan® WEF Challenge Cup Round Two CSI3* during WEF 2, sponsored by Hygain Feeds. The WEF circuit runs January 5 through April 3, 2022, and hosts various levels of rated hunter, jumper, and equitation competition in Wellington, FL. In Friday's feature event, newcomer Eoin McMahon (IRL) experienced his first WEF victory as he and Chacon 2, owned by Beerbaum Stables, emerged unbeatable.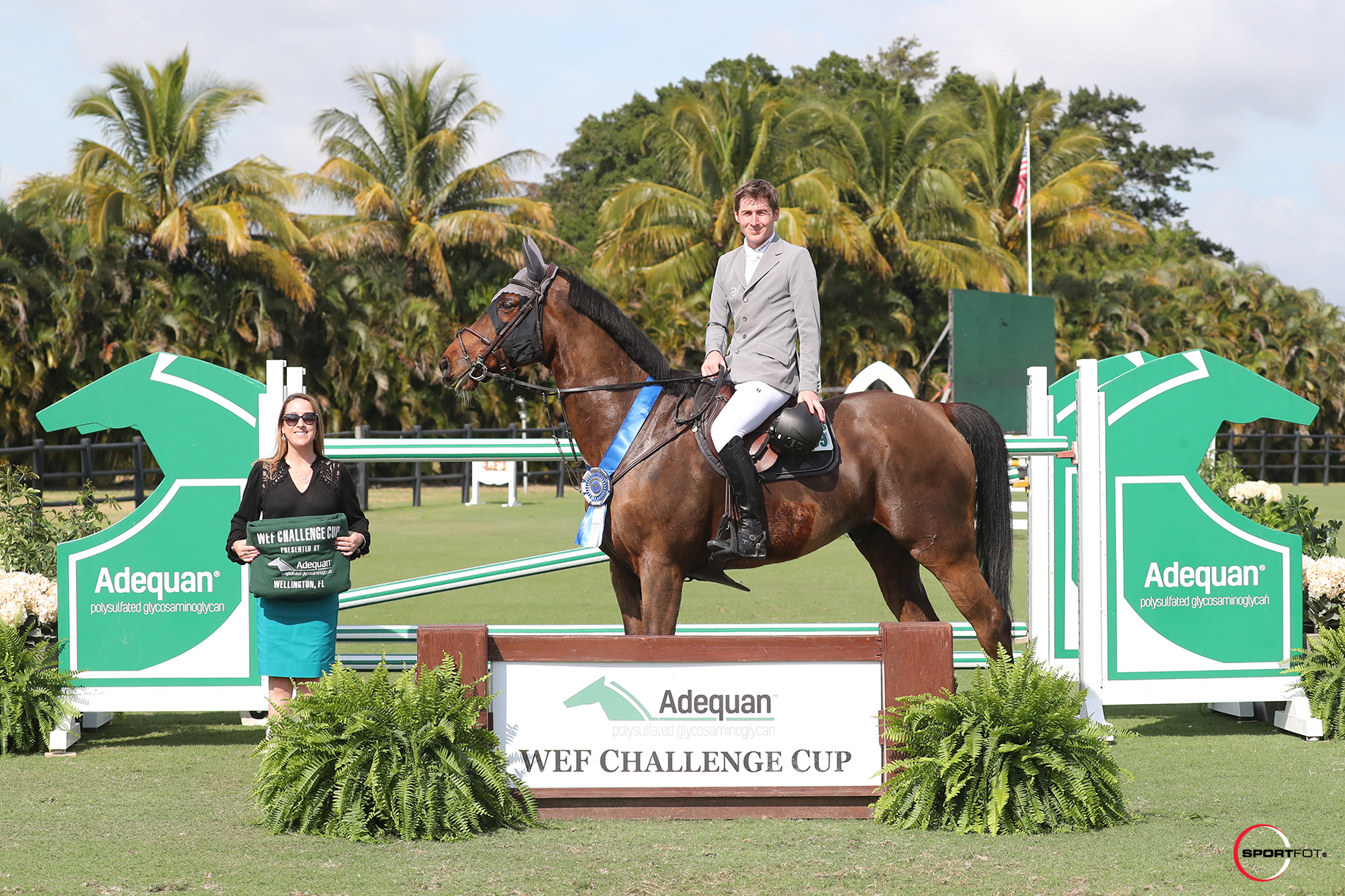 The Adequan® WEF Challenge Cup was the only event of the day held on the grass track and 58 top horse-and-rider combinations showed up to compete over Oscar Soberon's (USA) first-round course. Halfway through, only nine pairings were set to advance to the jump-off, including the likes of Shane Sweetnam (IRL), Margie Engle (USA), and the previous day's $37,000 Douglas Elliman Real Estate 1.45m Classic winner, Daniel Coyle (IRL). By the first round's end, six more entries had joined with a clear trip, making a total of 15 set to see their way around the short course.
Egypt's Nayel Nassar was the first of the comeback field to execute a second clear round with Coronado but Katie Dinan (USA) only allowed for a short reprieve before stealing the lead with Dijon Terdoorn Z. Daniel Coyle (IRL) continued the streak by knocking over three seconds off of Dinan's time to land on 42.58 seconds with Oak Grove's Carlyle.
Coyle ultimately finished out the event in the fourth-place position as Erynn Ballard (CAN), Samuel Hutton (GBR), and McMahon all continued to find areas to shave off time. As one of the final few on to the field, McMahon and Chacon 2 closed all possible gaps and crossed the timers in a blazing 40.29 seconds.
Click to watch the winning jump-off!
"He is a really special horse. I think he is honestly my best horse," described McMahon of the 14-year-old Oldenburg gelding by Chacco Blue x Alonie Z. "We did the European Championships last year and were in the top 10, but with all the cancellations in Europe we decided to be a presence here this year."
The win is the first of its kind for McMahon who has never previously attended a WEF circuit.
"It is amazing here," he expressed. "The facilities are top class, and I have never seen a surface as good as the grass here. The horses just fly on it. Our original plan was not to compete this particular horse until the five-star weeks, but I decided to do him this week simply because I wanted a chance to jump on this field."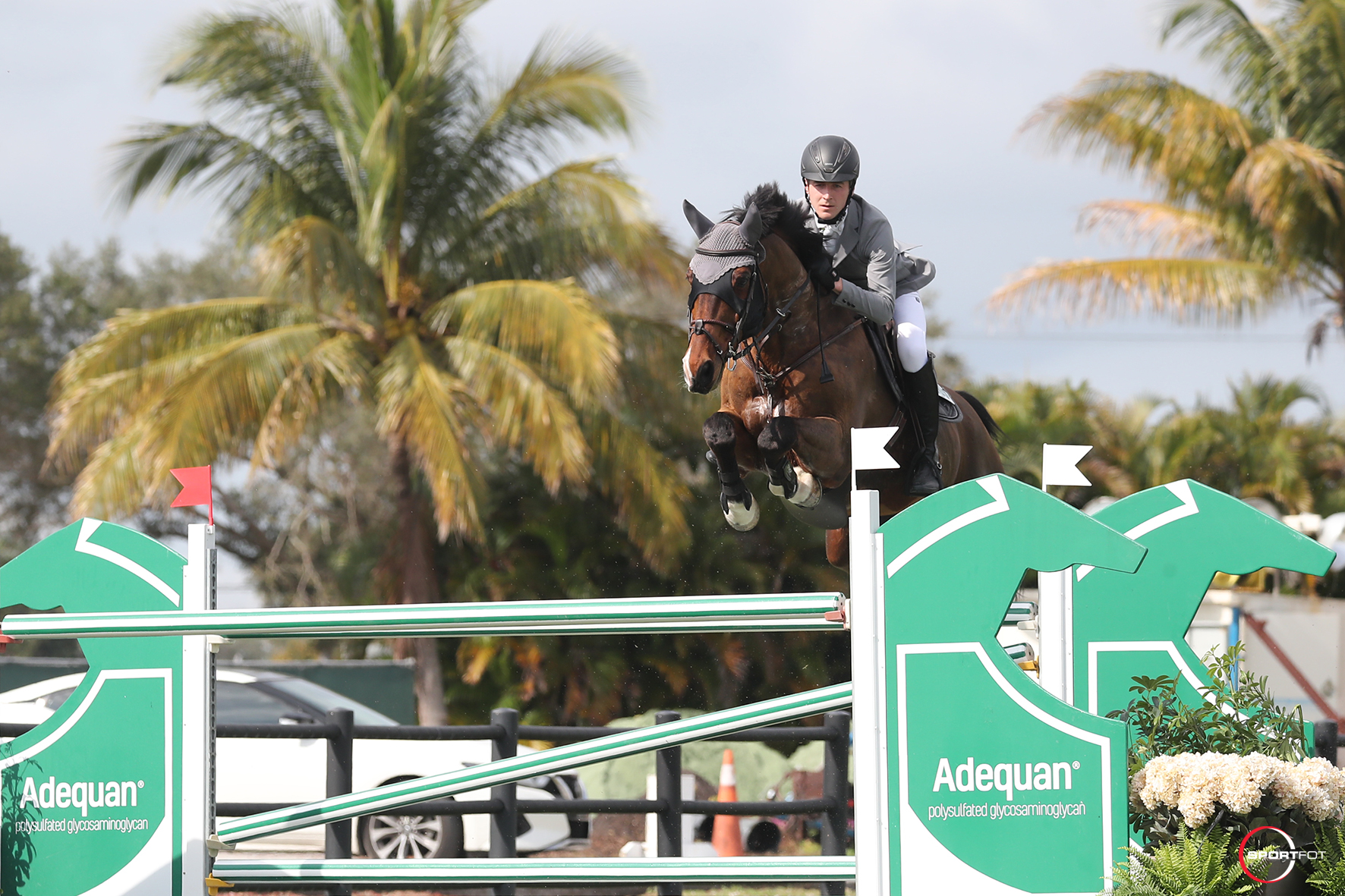 Hutton followed McMahon in the lap of honor after piloting H&M Kirlo Van Den Bosrand, Abdel Saïd's 12-year-old Belgian Warmblood gelding (Cardento 933 x Enotrilla Van Den Bosrand), to two fault-free rounds in 42.25 seconds. Erynn Ballard put Canada on the leaderboard by rounding out the top three with Ilan Ferder and Esperanza Imports's 10-year-old Selle Francais mare (Kannan x Contender) Comedy De Talma with a final time of 42.41 seconds.
Final Results: $37,000 Adequan WEF Challenge Cup II CSI3*: 
1 CHACON 2: 2008 Oldenburg gelding by Chacco Blue x Alonie Z
EOIN MCMAHON (IRL), Beerbaum Stables: 0/0/40.29
2 H&M KIRLO VAN DEN BOSRAND: 2010 Belgian Warmblood gelding by Cardento 933 x Enotrilla Van Den Bosrand
SAMUEL HUTTON (GBR), Abdel Said: 0/0/42.25
3 COMEDIE DE TALMA: 2012 Selle Français mare by Kannan x Contender
ERYNN BALLARD (CAN), Ilan Ferder and Esperanza Imports: 0/0/42.41
4 OAK GROVE'S CARLYLE: 2008 Holsteiner gelding by Casall x Roma VIII
DANIEL COYLE (IRL), Ariel Grange: 0/0/42.58
5 CLIFF Z: 2008 Zangersheide gelding by Canturano x Quasimodo Z
MATTHEW BODDY (GBR), Gotham Enterprizes LLC: 0/0/45.06
6 CONTAGO: 2011 Oldenburg gelding by Cornet Obolensky x Cassandra
EUGENIO GARZA PEREZ (MEX), El Milagro: 0/0/45.15
7 VIVALDI DU THIEL: 2009 Selle Francais gelding by Quincy x Romane Du Theil
AILISH CUNNIFFE (USA), Graylish LLC: 0/0/ 45.65
8 DIJON TERDOORN Z: 2011 KWPN gelding by Diamant De Semilly x Himarra Ter Doorn
KATIE DINAN (USA), Grant Road Partners, LLC: 0/0/46.32
9 COSMONA: 2011 DWB mare by Cosmeo x Bogegardens Apollo
GIAVANNA RINALDI (USA), Anton Marano: 0/0/47.34
10 JACKOFHEARTS: 2012 DWB gelding by Heartbeat x Brasilia S
MARGIE GOLDSTEIN-ENGLE (USA), Gladewinds Partners, LLC: 0/0/47.44
11 CORONADO: 2009 Holsteiner gelding by Cassini I x N-Acorrada
NAYEL NASSAR (EGY), Evergate Stables, LLC: 0/0/48.99
12 DARIUS DE KEZEG Z: 2011 Zangersheide gelding by Darco x Widona De Kezeg
RICHARD VOGEL (GER), Horse Management GMBH: 0/4/41.84

The Future is Bright For Baroness and Luis Fernando Larrazabal Winning the 7-Year-Old Jumpers
Young jumpers started things off in the Mogavero Arena this morning in the DJS $1,000 7-Year-Old Jumpers, sponsored by Lövsta Future Challenge. Luis Fernando Larrazabal (VEN) rode Baroness to a quick double clear effort for the win.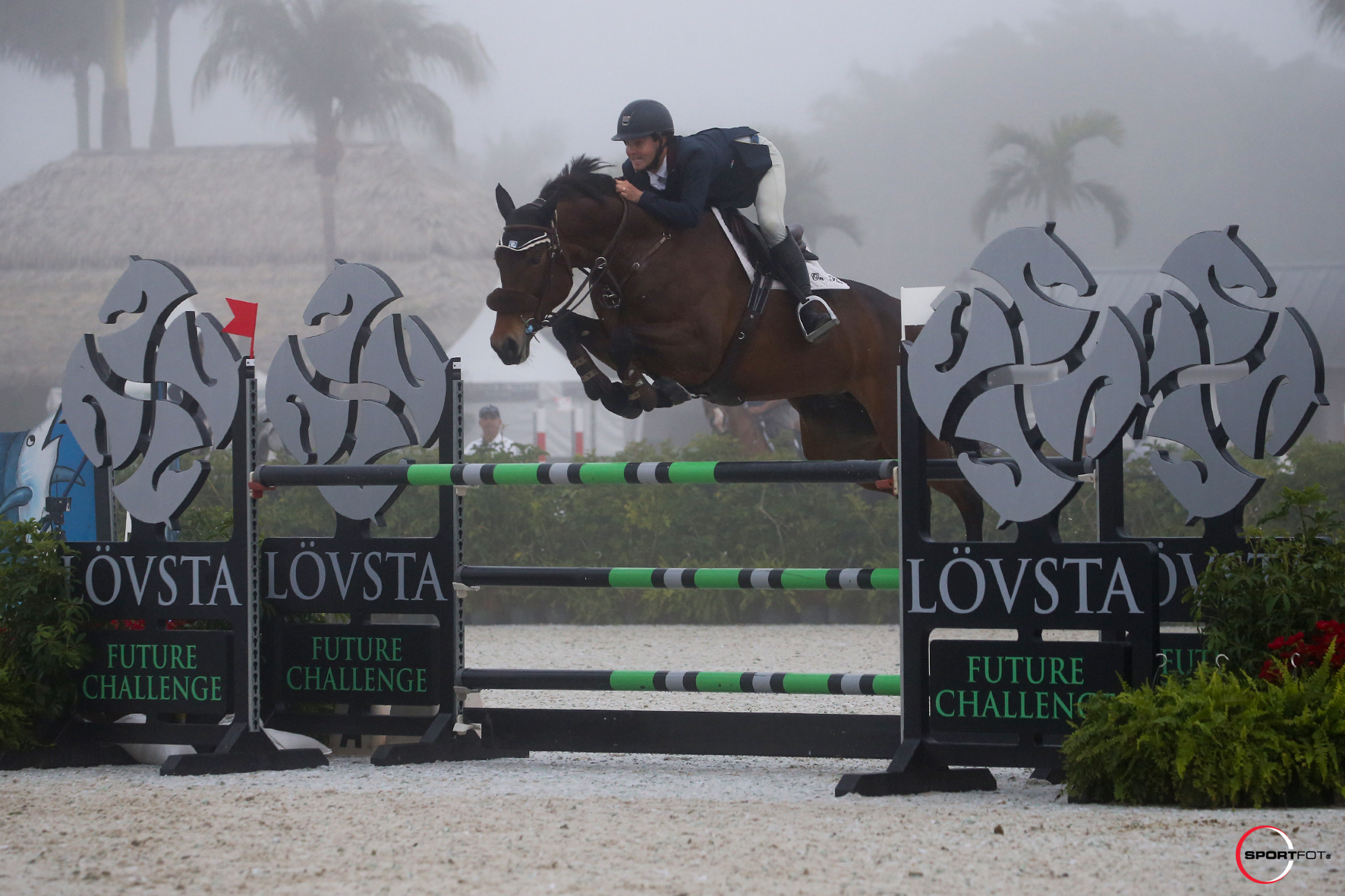 The Lövsta Future Challenge 7-Year-Old Developing Jumper Series officially begins next week during WEF 3 and continues through WEF 9. Horses must compete and jump clear in the first round of the jump-off format class at least two times over the seven weeks of the series to qualify for the $25,000 Lövsta 7-Year-Old Championship class, which takes place during WEF 10.
Today's jump-off format class designed by Ana Catalina Cruz Harris (MEX) proved to be tricky with most rails in the first round falling at the delicate, purple vertical-oxer double combination that was set diagonally across the ring jumping towards the in-gate.
The first clear came from Lillie Keenan (USA) who rode Chansonette Farm's Zangersheide stallion Chili Pepper H M Z by Cornet Obolensky x Caretano Z. They jumped a second clear effort in the jump-off in 43.324 seconds, ultimately finishing in third place. The next clear round came from Mexico's Cristobal Collado who rode Forastero 2, a Holsteiner gelding owned by Enrique Gonzales. Collado and Forastero 2 managed to shave two seconds off of Keenan's time, finishing the short course in 41.056 seconds.
Collado would have to settle for second place as Luis Fernando Larrazabal produced the third and final clear performance with Baroness, going double clear two seconds faster than Collado in 39.332 seconds for the win.
Larrazabal just took over the ride on Baroness after Leeann Ablin bought the mare for him from Gavin Moylan at the end of November. Despite their limited time together, Larrazabal was confident in Baroness's ability from the moment he sat on her.
"Since the first day that I got on the mare, I felt that I had a very special horse," he said. "I'm very, very grateful to my owner that she trusts me, and we were able to buy this amazing mare."
Baroness, a Westphalian mare by Balous Bellini, is already demonstrating her professionalism in the ring.
"This mare is so clever. She gets in the ring, and she wants to do the job," commented Larrazabal. "Even though she's only seven, she isn't afraid of anything, and she knows what she needs to do."
That self-confidence that Baroness seems to already have makes her hard to beat in the jump-off.
Larrazabal explained, "When you have a horse that's very, very fast by herself, it's easy to go quick in the jump-off."
As he's been getting to know Baroness, Larrazabal has adjusted some of his preparation to appeal to his mareish mount.
"She can be a little bit sensitive, so I ride her without spurs, very quiet, and I have a very soft bit in her mouth, and that's what she likes," noted Larrazabal.
As a veteran to the Developing Jumper classes, Larrazabal appreciates the opportunity at WEF to get the young horses experience in the show ring week after week. For Baroness, he is looking forward to utilizing the circuit to continue to develop the mare's talent.
"My goal is to keep her in the seven year old classes, try to compete for the circuit championship, and have her ready for the [$25,000 Lövsta 7-Year-Old] championship at the end of the season," stated Larrazabal.
He continued, "After that, maybe bring her up a little bit up in the summer to jump a couple 1.40m classes to have her as an eight-year-old in the international level next year."
Over in the International Arena, the day started with the $6,000 Bainbridge Companies 1.40m Speed Challenge. Conor O'Regan (IRL) and Ericka Houlihan's Carmen de Bonnieres couldn't be caught. They crossed the timers in a blazing 53.955 seconds, a full second faster than second-place finishers Freedam and Kamille Macussen (USA), who completed in 55.166 seconds. Close behind them was Laura Chapot (USA), this time aboard Calafornia, who finished in 55.202 seconds for third-place. It's a very good week for O'Regan and Carmen de Bonnieres with this win following their very close second place finish in Wednesday's 1.40m class.
Final Results: DJS $1,000 Lövsta Future Challenge 7 Year Old Jumpers
1 BARONESS: 2015 Westphalian mare by Balous Bellini
LUIS FERNANDO LARRAZABAL (VEN), Leeann Ablin: 0/0/39.332
2 FORASTERO 2: 2015 Holsteiner gelding
CRISTOBAL COLLADO (MEX), Enrique Gonzales: 0/0/41.056
3 CHILI PEPPER H M Z: 2015 Zangersheide stallion by Cornet Obolensky x Caretano Z
LILLIE KEENAN (USA), Chansonette Farm LLC: 0/0/43.324
4 D'OLALA SE 1 Z: 2015 Zangersheide gelding by Dieu Merci van T & L
BRITTNI RAFLOWITZ (ISR), ESI Show Jumpers Inc: 4/68.309
5 PERIDONI 20: 2015 Belgian Warmblood gelding by Cassander C
BRITTNI RAFLOWITZ (ISR), ESI Show Jumpers Inc: 4/68.956
6 FELICIE DE COQUERIE: 2015 Selle Français mare by Malito de Reve x Quiniou
KARIME PEREZ (MEX), Ilan Ferder: 4/72.611
7 CALOUBET 11: 2015 Belgian Warmblood stallion by Carracci 2
SAMANTHA SENFT (USA), Samantha Senft: 4/75.086
8 SCHILLINO ROLD TF: 2015 Danish Warmblood gelding by Christian
ROOPE JOKITALO (USA), Tallin Farm – Danish Sport Horses: 4/79.922
9 MAMBA DE L'ETINCELLE Z: 2015 Zangersheide mare by The Big Easy
SUSAN KNOBLAUCH (USA), Susan Knoblauch: 4/81.688
10 LS GEMBALU: 2007 Anglo European gelding by Gemini x Bubalou
PETER LEONE (USA), Lionshare Jumps LLC: 8/71.741
11 FLORA DE RIVERLAND: 2015 Selle Français mare by Malito de Reve x Kannan
SOHNKE THEYMANN (GER), York Story Limited: 8/74.789
12 GREMLIN: 2015 Anglo European mare by Otangelo x Stakkato Gold
ERYNN BALLARD (CAN), Ilan Ferder: 8/77.37

Experience Prevails for Alexander Alston and Tessa Downey in WIHS Jumper Phase
Today's equitation competition was highlighted by the WIHS Equitation Jumper Phase which took place in the Equine Tack and Nutritionals Ring 6. With 62 entries in the class, a California split was done, resulting in two first-place winners. Alexander Alston, from Gahanna, OH, topped the A section with a score of 92 aboard Campreoll. Tessa Downey of Houston, TX, won the B section scoring a 91 with Quite Cassini, owned by Ashland Farms.
The Washington International Horse Show Equitation hosts classes nationwide throughout the year for riders to qualify for the WIHS Equitation Final in October. In the Hunter Phase of the competition, riders tackle a track focused on consistency and rhythm traditional of the hunter ring. The Jumper Phase is meant to challenge riders to guide their mounts over a track with efficiency and accuracy, more akin to a jumper class.
Veteran talent won the day today with both seasoned riders in Alston and Downey riding equally experienced mounts. Both riders were in the top 10 in the 2021 WIHS Equitation Finals.
Alston's mount Campreoll, a 16-year-old Swedish Warmblood gelding by Camarao M, is owned by Missy Clark, with whom Alston trains at North Run. "Brian," as Campreoll is known around the barn, has had a long winning career, which has only continued with Alston in the irons. Together they had top results in all of the 2021 equitation finals.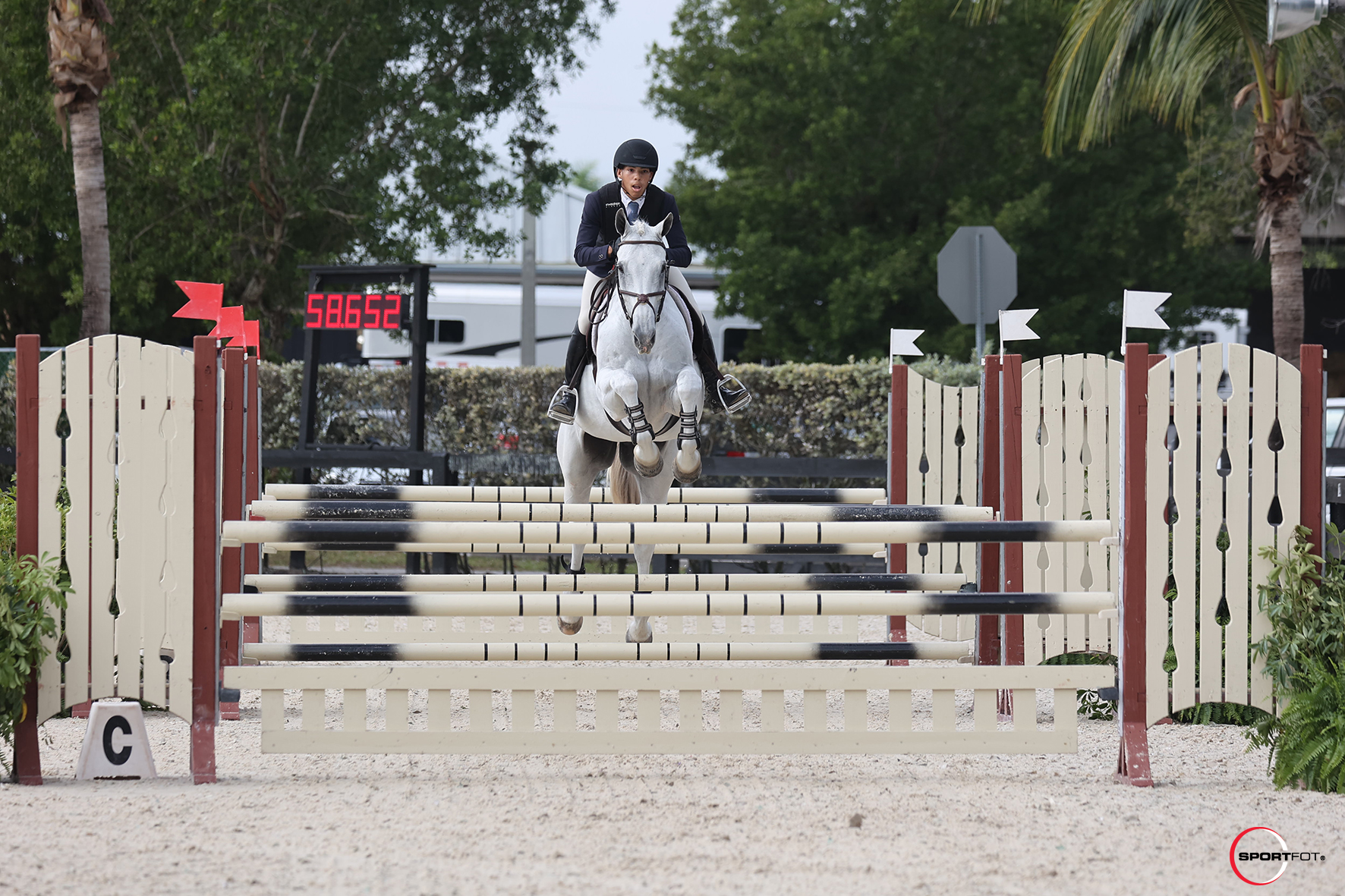 "Brian has had a break since the National Horse Show, so I'm kind of just getting back in the groove with him," said Alston. "He's got an awesome presence in the ring and a really big gallop. He's got all the parts; it's just I have to stick with him."
Both leading riders thought the course was good and challenging. Alston felt like the changes of direction especially suited Brian.
Alston explained, "Brian was very good. He's very even leaded, and there was a lot of different right lead, left lead questions."
Downey felt positively about her first jump and needed to focus more on some of the tighter turns.
"A single oxer off the right, which was the first jump, was definitely better for me on him. I prefer his right lead," Downey noted. "I'd say the harder part was getting him to take that inside turn to a tight eight [stride line], because he's a very big horse."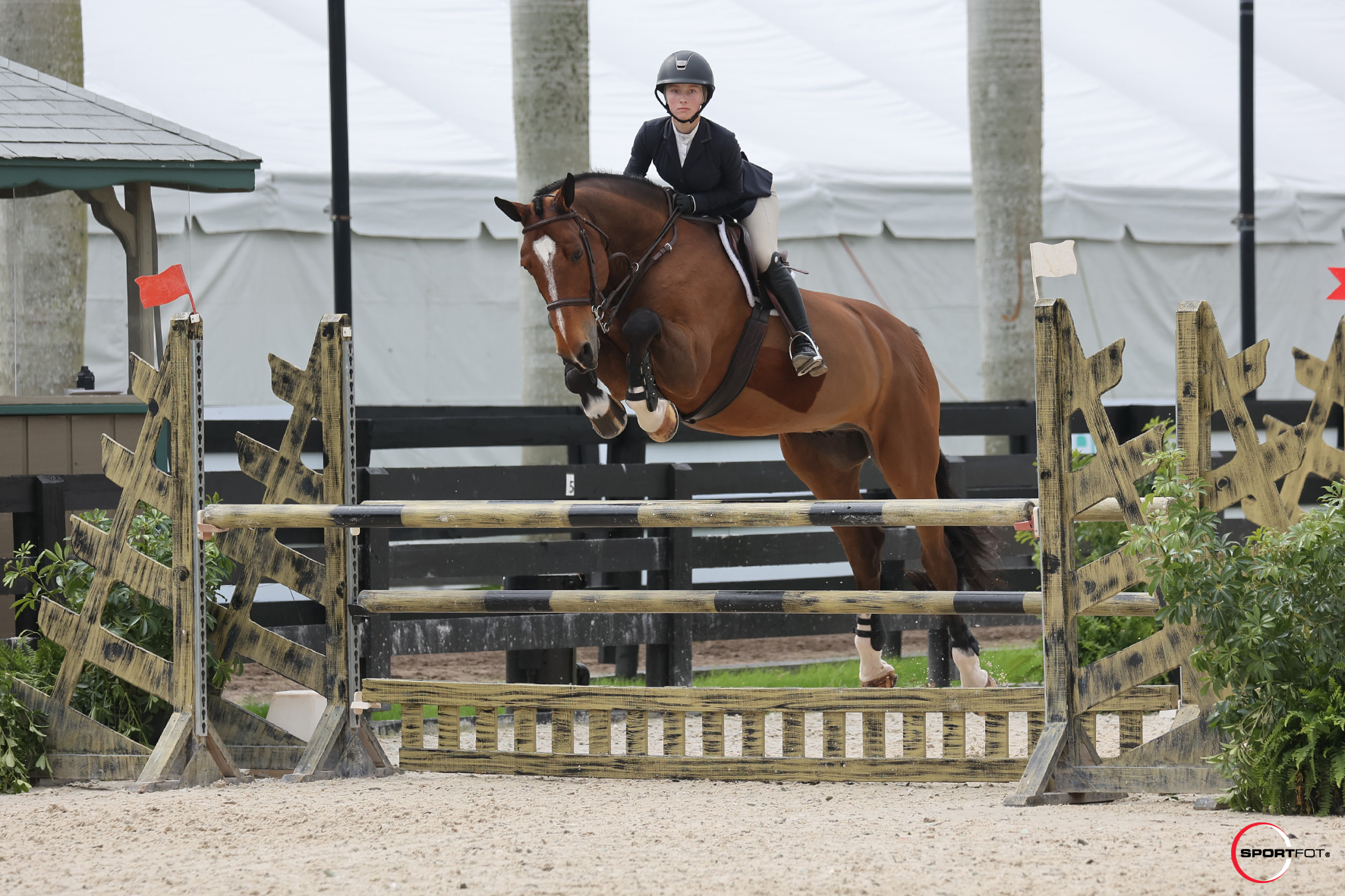 Downey has been paired with Quite Cassini, an 18-year-old Holsteiner gelding by San Patrignano Cassini x Quidam de Revel, since the end of last WEF. Like Campreoll, Cassini has already had a long and illustrious career, which started in the jumper ring. Cassini boasts five-star grands prix, Nations Cups, and the World Equestrian Games on his résumé.
"Scope has never been a question, which makes me feel a little safer when I go in the ring. He likes taking care of people, but he's really good at letting you tell him what to do without taking over," said Downey. "He likes winning, so he really tries to go for it."
Downey and Alston both had busy days competing in hunter, jumper, and equitation rings, but Downey feels like bouncing around from each discipline and each horse is actually an advantage for her.
"I don't think of it as me really having to focus on one or the other; it's more they all help each other," she reflected.
Alston has some trickier mounts to ride this circuit, but with the veteran Campreoll, it's a bit easier.
"I wouldn't say there's much to focus on with him. He's really a 'Steady Eddie,'" he said.
Junior equitation riders will be earning points in the 3'6" equitation classes throughout the circuit culminating in the 15th Annual WEF Equitation Championship held during WEF 12.
National competition continues on Saturday, January 22, with top hunter, jumper, and equitation sport with the "Saturday Night Lights" event beginning at 7:00 p.m. showcasing the $50,000 Marshall & Sterling/Great American Insurance National Grand Prix.
At Equestrian Village, CSI3* international competition continues with the $37,000 CaptiveOne Advisors 1.50m Classic. Under 25 classes get started as well with the $10,000 Hermès Under 25 Welcome and the $1,000 Hermès Under 25 1.40m jumper class.