For Immediate Release
Summer Grace and Emily Riden for Jennifer Wood Media, Inc.
Wellington, FL – February 28, 2019 – McLain Ward (USA) and his FEI World Equestrian Games™ Tryon 2018 (WEG) team gold medal-winning mount, Clinta, topped the $36,000 Equinimity WEF Challenge Cup Round 8 CSIO 4* on Thursday, February 28, at the Winter Equestrian Festival (WEF) in Wellington, FL. Also earning a headline victory at the Palm Beach International Equestrian Center (PBIEC) on Thursday were Laura Chapot (USA) and Out of Ireland, who took the win in the $25,000 ProElite® 1.45m Jumper Classic.
The eighth week of WEF, sponsored by Lugano Diamonds, features the $36,000 Hermès U25 Grand Prix on Friday, March 1, at 7 p.m.; the $150,000 Nations Cup CSIO4* on Saturday, March 2, beginning at 7 p.m.; and the $209,000 Lugano Diamonds Grand Prix CSIO4* on Sunday, March 3 at 1 p.m.
WEG Gold Medalists McLain Ward and Clinta Capture $36,000 Equinimity WEF Challenge Cup Round 8 Win
The 2018 WEG team gold medal-winning duo of McLain Ward (USA) and Clinta outpaced a field of 68 entries to take victory in the $36,000 Equinimity WEF Challenge Cup Round 8 CSIO4*.
With the featured Thursday event held as a one round speed class, the time to beat when Ward entered the ring had been set at 74.63 seconds by Switzerland's Martin Fuchs and his mount, Silver Shine, owned by Willow Grace Farm.
Ward and Clinta, a 12-year-old Oldenburg mare owned by Sagamore Farms, made short work of the course however, shaving more than two seconds off of Fuchs's time to stop the clock in a winning 72.52 seconds. None of the seven final riders that followed Ward would prove able to catch him or Fuchs, giving Ward the win and Fuchs the second-place honor. Finishing in third with a time of 75.33 seconds was Enrique Gonzalez (MEX) riding his own Chacna.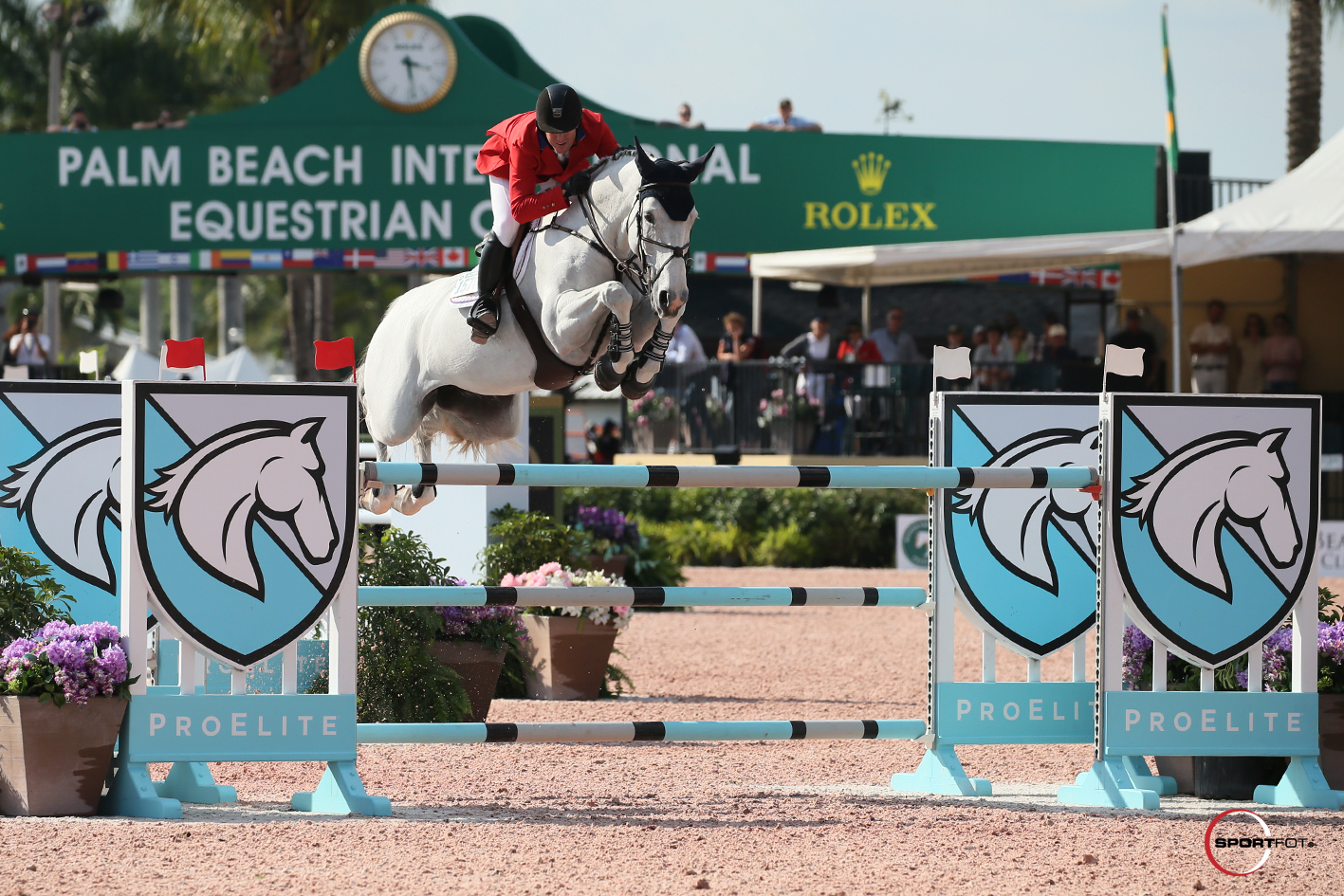 "It was a good track for me because you could stay smooth," said Ward. "There were rollbacks, but there weren't extreme slices. There were no all or nothing turns, which I prefer. I think it actually suits the better riders, because they can consistently deliver a smooth round. Sometimes we have all or nothing rollbacks or inside cuts, it's a little bit up to the gods. So, I liked the course; I thought it was good class.
"Even though it was a fast-enough round to win, I didn't feel like I actually was extreme anywhere," continued Ward of his effort with Clinta. "I picked up a good gallop, and things were showing up out of stride. The thing about her is, she's so careful, you don't have to really setup the verticals, which saves you two-tenths [of a second] at every vertical. By the end of the course that's a lot."
It proved to be more than enough for the win – Clinta's first since enjoying several weeks of well-deserved time off following her success at the WEG and then in Europe into mid-December.
"We gave her almost five weeks of no work, no riding," explained Ward, who is aiming the mare at the FEI Jumping World CupTM Final in Gothenburg, Sweden, the first week of April. "We've just been slowly legging her back up. I showed her a few weeks ago in a couple of 1.40m [classes]. She's a little unfit, but she feels good. She needs to compete a little bit. She's such a quality horse; she needs to kind of get in the ring a little. I don't think her fitness level is quite where I want it by the World Cup time, but there's still six or seven weeks; we try to build up to peak at the right moment."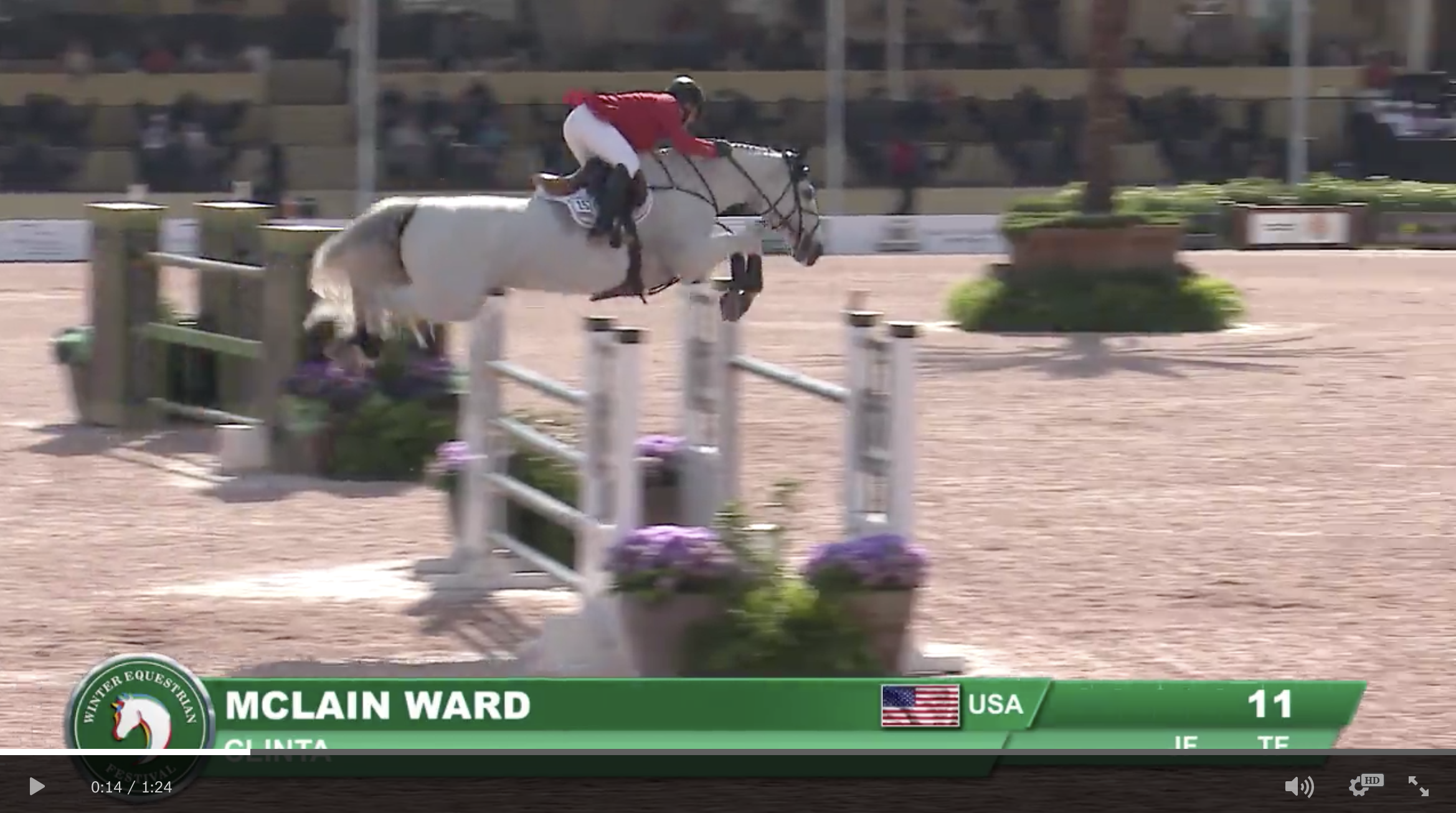 On his way to preparing for the World Cup, Ward plans to compete Clinta in Sunday afternoon's $209,000 Grand Prix CSIO 4* presented by Lugano Diamonds and will likely return the mare to the International Arena during Week 9's CSI 5* competition.
Final Results: $36,000 Equinimity WEF Challenge Cup Round 8 CSIO4*
1 CLINTA: 2007 Oldenburg mare by Clinton x Lord Pezi
MCLAIN WARD (USA), Sagamore Farms: 0/72.52
2 SILVER SHINE: 2009 Oldenburg gelding by Califax x Balou du Rouet
MARTIN FUCHS (SUI), Willow Grace Farm: 0/74.63
3 CHACNA: 2007 Hanoverian mare by Chacco-Blue x Narew XX 
ENRIQUE GONZALEZ (MEX), Enrique Gonzalez: 0/75.33
4 DONATELLO 141: 2011 Westphalian gelding by Diarado x Lamoureux I
ASHLEE BOND (ISR), Little Valley Farms: 0/75.49
5 CHARLIE: 2008 Oldenburg gelding by Gestuet Lewitz x Charlie Z
LORCAN GALLAGHER (IRL), Southern Arches, LLC: 0/76.04
6 CATUNGEE: 2006 Holsteiner gelding by Contact Me x Liatos
CATHERINE TYREE (USA), Mary & Joe Tyree: 0/76.08
7 AMSTERDAM 27: 2010 Holsteiner gelding by Catoki x Acord II
MARIO DESLAURIERS (CAN), Wishing Well Farm LLC: 0/76.91
8 DORYANE HDH: 2008 KWPN mare by Vleut x Indoctro
PETRONELLA ANDERSSON (SWE), Stephex Stables: 0/77.62
9 EVERSE W: 2009 KWPN gelding by Lexicon x Carthago
ROWAN WILLIS (AUS), Dinah Posford: 0/78.55
10 HORTENSIA VAN DE LEEUWERK: 2007 Warmblood mare by Corland x Argeninus
MANUEL GONZALEZ DUFRANE (MEX), Manuel Gonzalez Dufrane: 0/79.90
10 VENUE D'FEES DES HAZALLES: 2005 SBS mare by President x Alcatraz
EVE JOBS (USA), Eve Jobs: 0/79.90
12 MHS ATTRACTION: 2010 Irish Sport Horse mare by Numero Uno x Diamant de Semilly
SERGIO ALVAREZ MOYA (ESP), Alvarez Moya Horses S.L.: 0/80.35
Laura Chapot and Out of Ireland Out Perform 92-Horse Field to Win $25,000 ProElite® 1.45m Jumper Classic
Laura Chapot (USA) and Out of Ireland topped a field of 92 entries to win the $25,000 ProElite® 1.45m Jumper Classic on Thursday in the International Arena.
The large starting field was narrowed down to 11 entries qualified to return to jump off over the Steve Stephens and Nick Granat-designed course, and once onto the jump-off, the early time to beat – and the first double clear effort – was turned in by the sixth to return, Kelli Cruciotti (USA), who tripped the timers in 30.76 seconds to move into the lead aboard Grandy de Laubry, owned by 3 Seas, LLC. Cruciotti's lead would prove to be short-lived however, as Chapot returned next, stopping the clock in 28.81 seconds to ultimately take the win aboard Out of Ireland, owned by The Edge.
With three of the remaining entries proving fast enough to catch Cruciotti, but not quite quick enough to catch Chapot, second place with a time of 29.58 seconds went to Lorenzo de Luca (ITA) and Soory de l'Hallali, owned by Stephex Stables, with a time of 29.79 seconds. Third place was awarded to Martin Fuchs (SUI) riding Faberlys for owner SPCS, and fourth place on a time of 29.84 seconds went to Shane Sweetnam (IRL) and Palina de l'Escaut, owned by Sweet Oak Farm, Spy Coast Farm, and Paul Tracy. The final double clear in the jump-off was Georgina Bloomberg (USA) on Gotham Enterprizes LLC's Tulara Colmine, who finished in 33.55 seconds.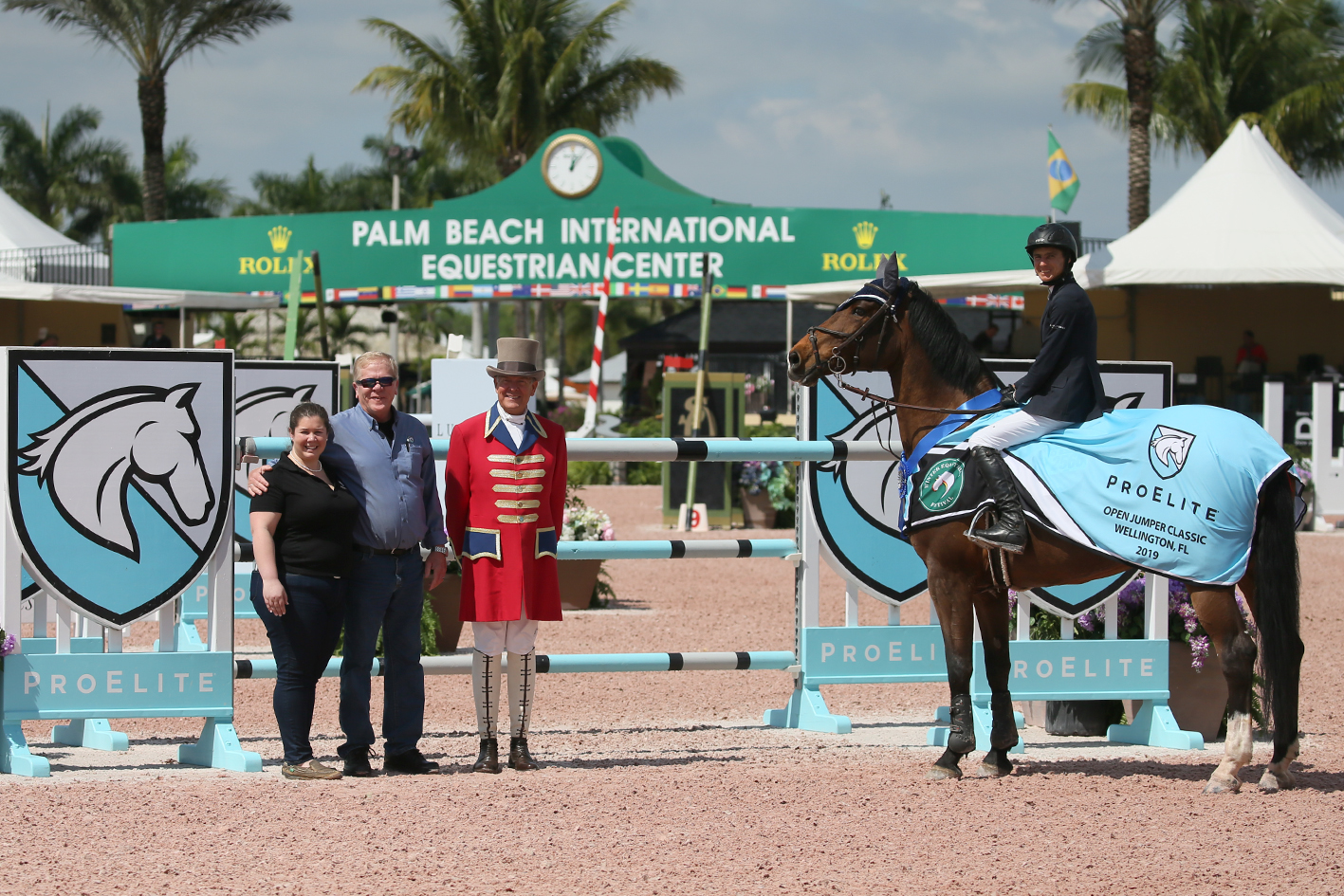 "I think [Steve Stephens and Nick Granat] did a fantastic job," said Chapot. "To have 92 horses in the class and only 11 clear – it wasn't like he built massively, or there weren't any people on the ground or anything like that, I think it was just technical; time was tight, and it kept you thinking the whole way around. That catches people."
For Chapot, who has had the ride on Out of Ireland for five years, the time was not something she really had to worry about.
"From the first day I had her, she's always been very strong-willed and opinionated," said Chapot of the 13-year-old Anglo European mare. "She really has her own style of jumping, but she does try to be very careful, and she's very quick. She's almost deceptively fast. A lot of the time, you'll not think you're going very fast, and she's still winning the class."
The mare's own style that Chapot mentions is one with the mare's head naturally held higher in the air than most horses, but that seems to suit her well.
"That's been her style always," said Chapot. "She seems to find a way to miss the jumps anyway. When I ride her, I just try to think about keeping things smooth because the less you interfere with her, the better she's going to jump – as with most horses."
Chapot will next aim the mare at Saturday afternoon's $50,000 CaptiveOne Advisors 1.50m National Grand Prix before looking to potential national level grand prix events through the remainder of the WEF season.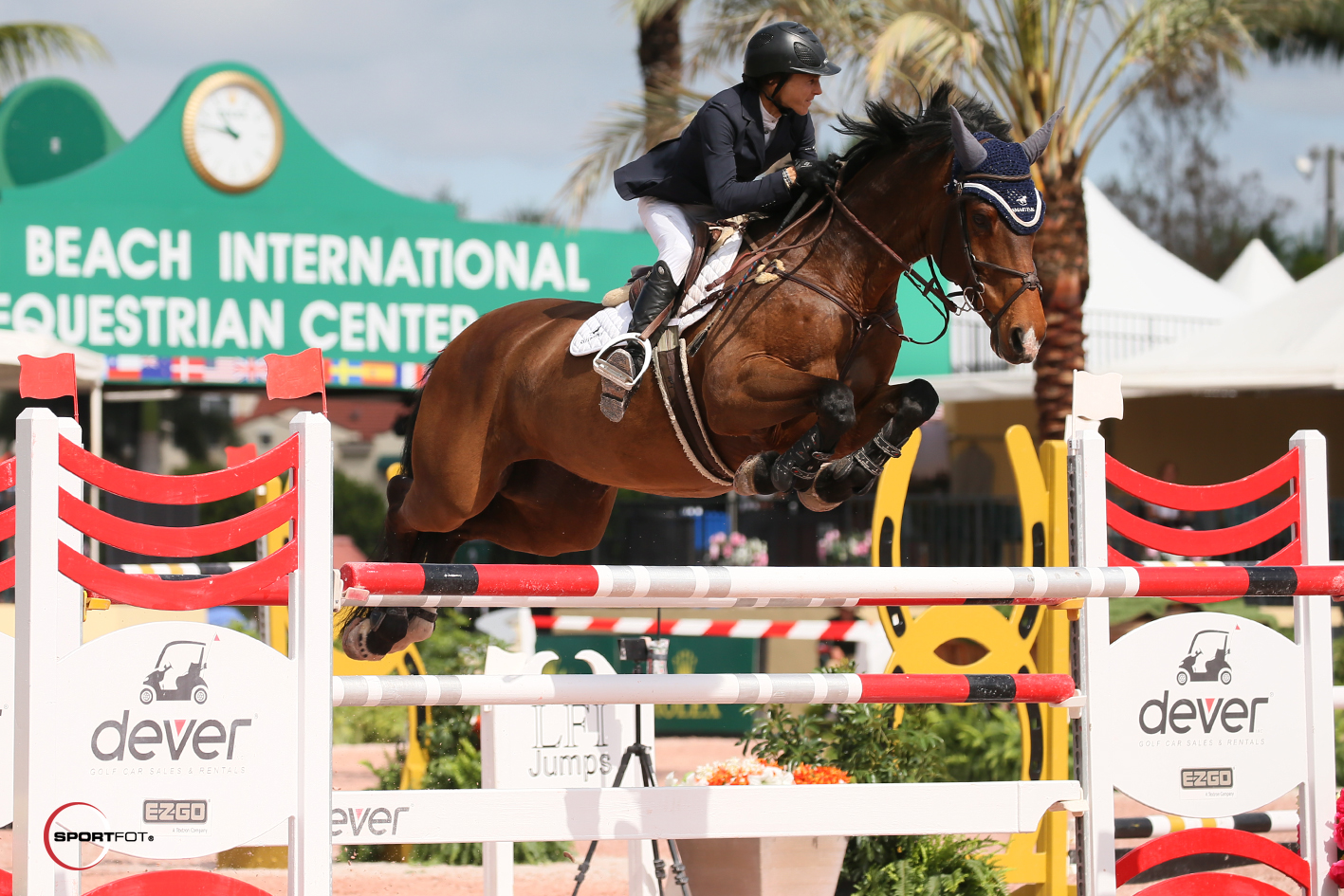 "She's just been sort of edging up to that level," continued Chapot. "She certainly has a lot of ability, it's sometimes just her spirit gets a little bit in the way. She gets a little over the top going; she wants to go fast. So, we've been very careful about always keeping her confidence level very high because she does try hard. I think we'll just keep looking for the opportunities as they arise to keep pushing her up a level!"
Final Results: $25,000 ProElite® 1.45m Jumper Classic
1 OUT OF IRELAND: 2006 Anglo European mare by Lougherne Connaught x Amiro M
LAURA CHAPOT (USA), The Edge: 0/0/28.81
2 SOORY DE L'HALLALI: 2006 Selle Francais mare
LORENZO DE LUCA (ITA), Stephex Stables: 0/0/29.58
3 FABERLYS: 2010 gelding by Cornet Obolensky
MARTIN FUCHS (SUI), SPCS: 0/0/29.79
4 PALINA DE L'ESCAUT: 2009 Hanoverian mare by Perigueux x Gottard
SHANE SWEETNAM (IRL), Sweet Oak Farm, Spy Coast Farm, and Paul Tracy: 0/0/29.84
5 GRANDY DE LAUBRY: 2006 Belgian Warmblood mare by Chin Chin
KELLI CRUCIOTTI (USA), 3 Seas, LLC: 0/0/30.76
6 TULARA COLMINE: 2010 Warmblood stallion by Colman x Quinar
GEORGINA BLOOMBERG (USA), Gotham Enterprizes, LLC: 0/0/33.55
7 HH VENICE BEACH: 2009 Hanoverian mare by Voltaire x Escudo I
ALI WOLFF (USA), Double H Farm: 0/4/30.22
8 CORNETIERO: 2006 Westphalian gelding by Cornet Obolensky x Liberty Life
CARLY ANTHONY (USA), Little Valley Farms: 0/4/30.82
9 CADE: 2002 Belgian Warmblood gelding by Heartbreaker x Darco
ABIGAIL MCARDLE (USA), David McArdle: 0/4/31.21
10 VALENTINO V Z: 2009 Zangersheide stallion by Verdi x Converter
MARIA COSTA (USA), Ravello Farms, LLC: 0/4/32.35
11 FANCY GIRL: 2010 KWPN mare
WILLIE TYNAN (IRL), Michelle Guardino: 0/12/32.30
12 LUCKY STRIKE: 2006 Holsteiner gelding by Lasino x Sir Shostakovich XX
HUNTER HOLLOWAY (USA), Hays Investment Corp.: 1/78.60
Christopher Payne and Holden Out Take FarmVet Performance Hunter 3'3" Championship
More than 40 horse-and-rider combinations competed against each other for the champion and reserve champion ribbons in the FarmVet Performance Hunter 3'3" division during Week 8 of the 2019 Winter Equestrian Festival. Held in the E.R. Mische Grand Hunter Field at the Palm Beach International Equestrian Center on Thursday, Christopher Payne of Cincinnati, OH, was awarded the division's champion ribbon.
Payne was aboard Susan Moriconi's six-year-old Holsteiner gelding Holden On, (Casall x No Lady) a horse that is fairly new to the Performance Hunter division. Despite a lack of experience, the gelding racked up two firsts, two seconds, and one fifth to catapult to the top of the leaderboard in the competitive division.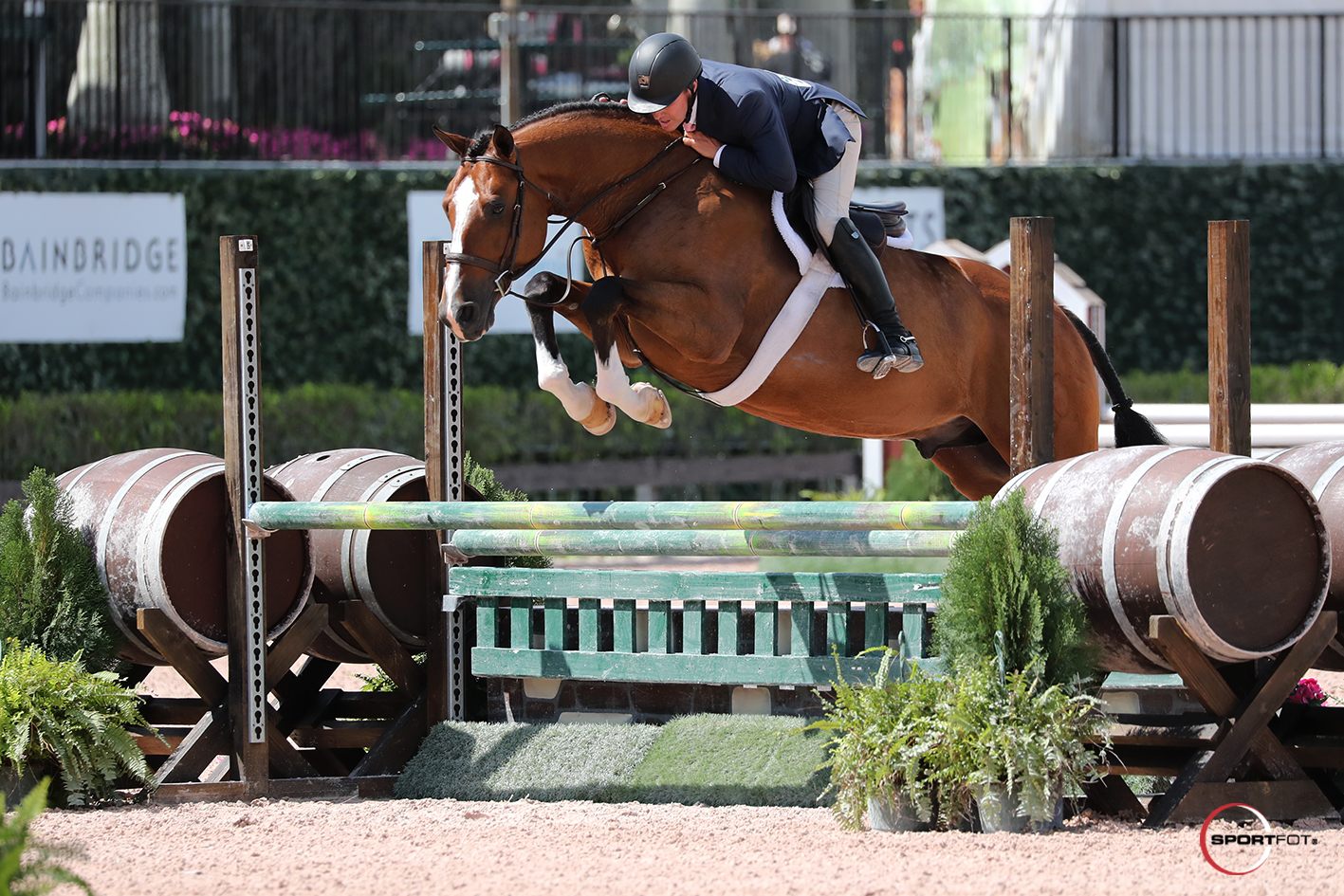 "He really should be in the pre-greens with his level of experience because he really hasn't had much mileage, but because of the time we let him have off after his 3 & 4-year-old year, he is no longer eligible," Payne explained.
"He's only competed at this level a few times, and it was an impressive course especially because it was in the Grand Hunter ring today," he continued. "He has really handled everything well despite his lack of experience, and he's super athletic with lots of scope. A course like today's where he can really lope around and produce a big effort over the jumps is definitely well-suited to him."
Payne was most surprised to secure the victory because of the sheer number of experienced hunter horses his young horse was up against.
"It was a crazy large class," said Payne. "There were a lot of very seasoned horses entered so it was extremely competitive."
The reserve championship was awarded to Argentus and Jimmy Torano of Wellington, FL. Torano rode the 12-year-old Hanoverian gelding (Argentinus x Agenda) for the ownership of Isalou, Inc. The pair took home two first places ribbons as well as two thirds to secure their reserve champion title.
Competition at the 2019 Winter Equestrian Festival will return Friday, March 1, with four-star international jumper competition as well as national jumper, hunter, and equitation features.