For Immediate Release
Jennifer Wood Media, Inc.
Wellington, FL – March 31, 2018 – In the biggest grand prix of the season, it was Margie Engle of Wellington, FL, who was victorious with Gladewinds Farm Inc.'s Royce in the $500,000 Rolex Grand Prix CSI 5* in the final "Saturday Night Lights" event of the 2018 Winter Equestrian Festival (WEF). WEF concludes on April 1 at Palm Beach International Equestrian Center in Wellington, FL, and offered more than $9 million in prize money.
WEF wraps up with the $50,000 USHJA International Hunter Derby Round Two on the grass derby field at Equestrian Village (13500 South Shore Blvd.) at 1 p.m., and the $50,000 Wanderers Club Grand Prix CSI 2* and $50,000 CP 1.50m National Grand Prix in the WEF International Arena, on Sunday, April 1.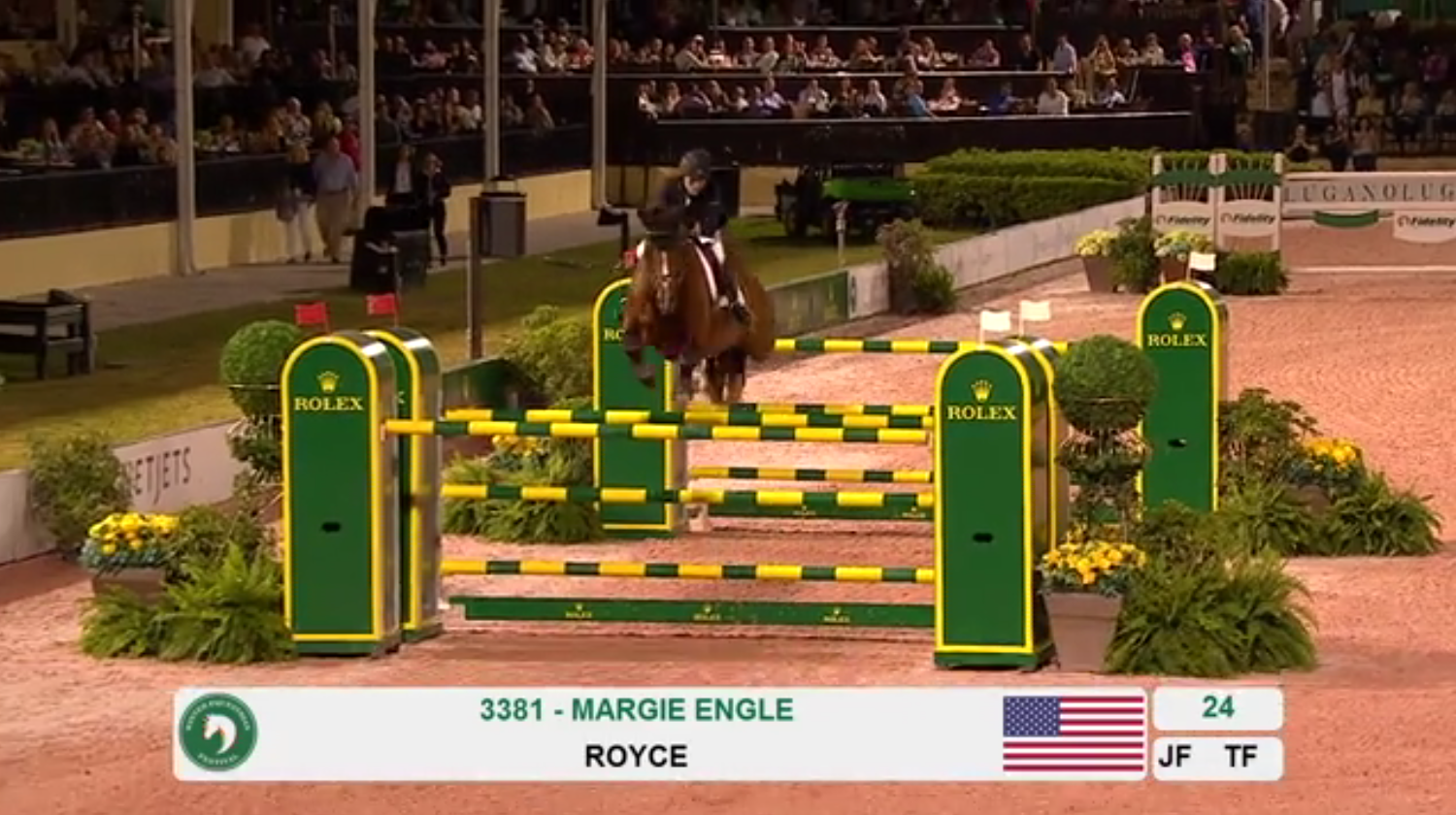 Click to watch the winning jump-off ride for Margie and Royce!
Forty top combinations vied for a chance to win the final five-star grand prix and the biggest prize purse of the circuit. Six were able to find the key to a clear round over a track designed by 2016 Rio Olympic Games course designer Guilherme Jorge of Brazil.
Returning first in the jump-off, Ben Asselin (CAN) and Cool Feeling, owned by Attache Stables, had four faults in 43.09 seconds to finish in fifth place.
The first clear round of the jump-off came from Luis Francisco de Azevedo (BRA) and Comic, owned by Santa Cecilia Stables. They stopped the timers in 42.52 seconds, which held up for second place. Finishing in fourth place was Mexican Olympian Enrique Gonzalez on his own Chacna. They had four faults in 41.47 seconds.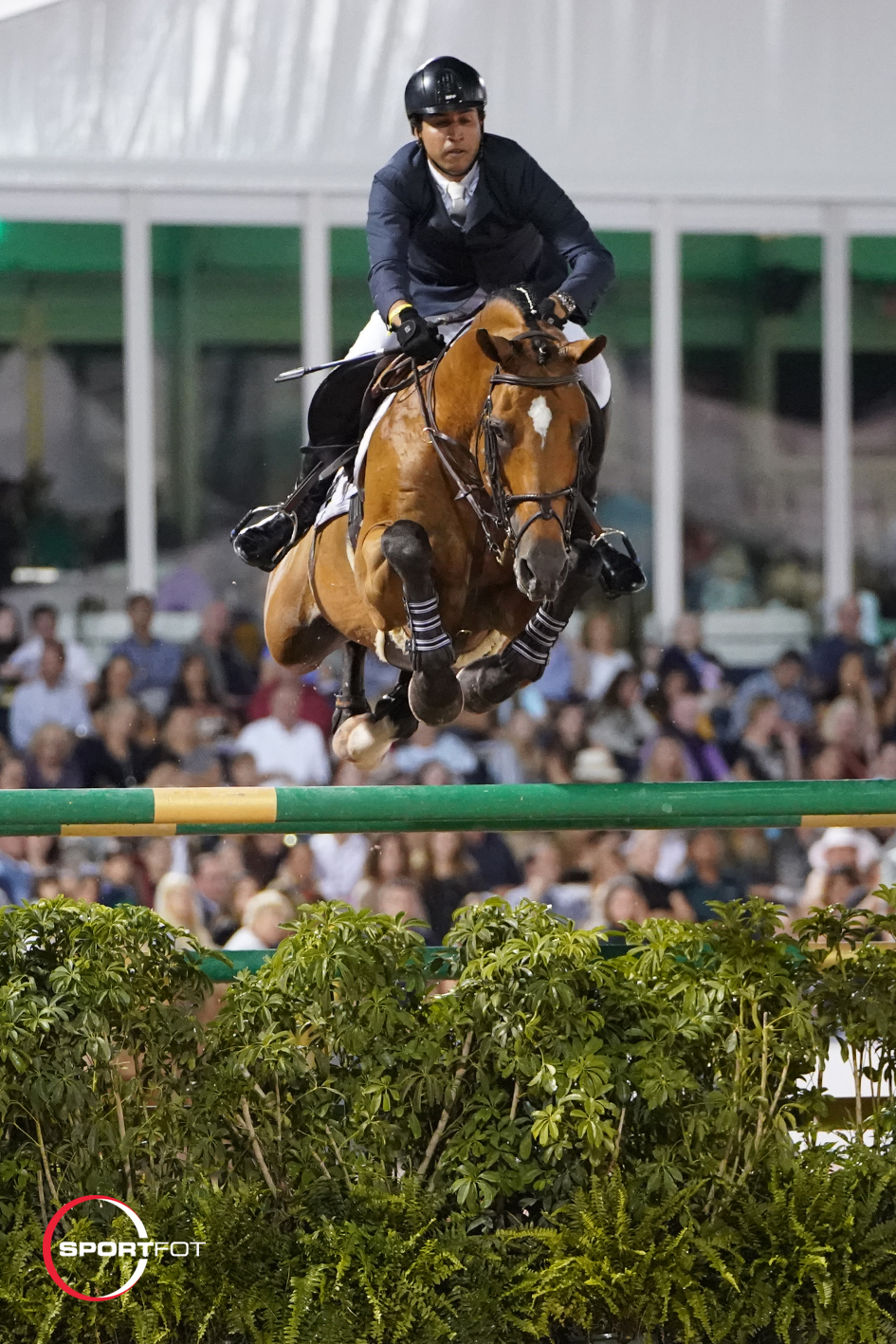 De Azevedo and Comic finished second in the $380,000 Fidelity Investments® Grand Prix during week 5 of the 2017 WEF. Following that circuit, Comic sustained an injury that had him out of action for a year. This week was only his second show back in competition.
"My feeling today is really, really unbelievable because I had a really good result also with this horse in the last season," he said of the 11-year-old KWPN stallion by Verdi x Heartbreaker. "But he had a little accident, and we had a long break. For sure he's not in his best shape now because he's just coming back. But that shows me how special he is, because this is his second show after he was injured. He's second in this grand prix just behind this unbelievable lady. It's a big victory for me.
"We took a long time to allow him to recover because I didn't want to push," he continued. "Our goal is to be on the team for Brazil for the [World Equestrian Games]. We took the option to save him for this season, so I think we made a good decision."
Slotting into third place as the fastest four-faulters were Conor Swail (IRL) and Rose Hill Farm's Rubens LS La Silla, who stopped the clock in 40.17 seconds.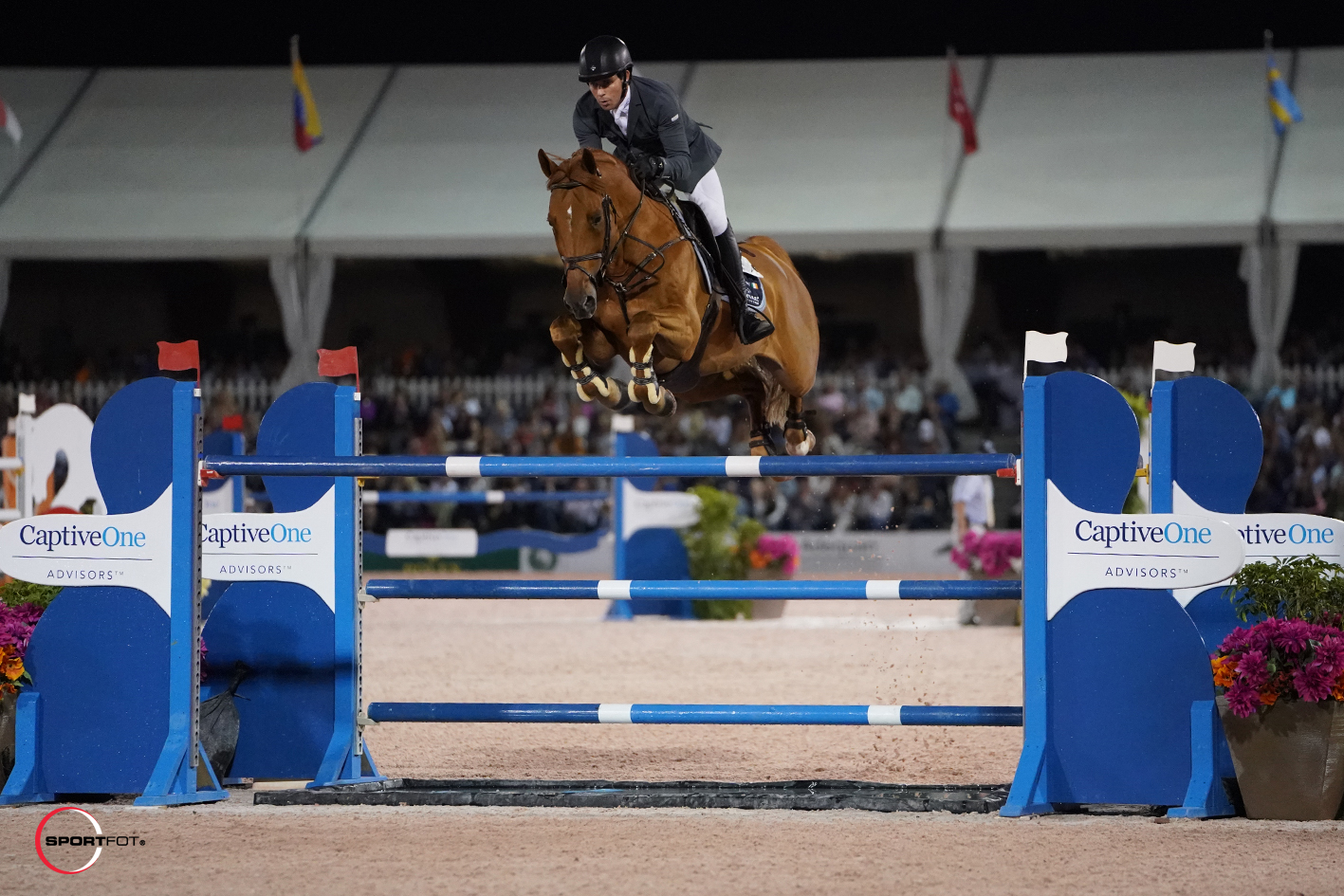 The 12-year-old SLS stallion by Rebozo LS La Silla x Cash has been in Swail's program since his student Vanessa Mannix bought him as a seven-year-old. Swail competed him in the winters of 2016 and 2017, but the horse was sold to the Hymowitz family of Rose Hill Farm last June, and Swail only got the ride again three weeks ago.
"We did the five-star two weeks ago, and then this was my second big show with him," he said. "I'm very, very pleased with how quickly he has returned to top form. I'm really chuffed with how quickly he's getting back into my program. It's such a fabulous result to be third. This is the biggest week of WEF, so I'm thrilled with that."
Engle and Royce were able to speed around the jump-off course to take home their second individual five-star victory in a time of 39.35 seconds.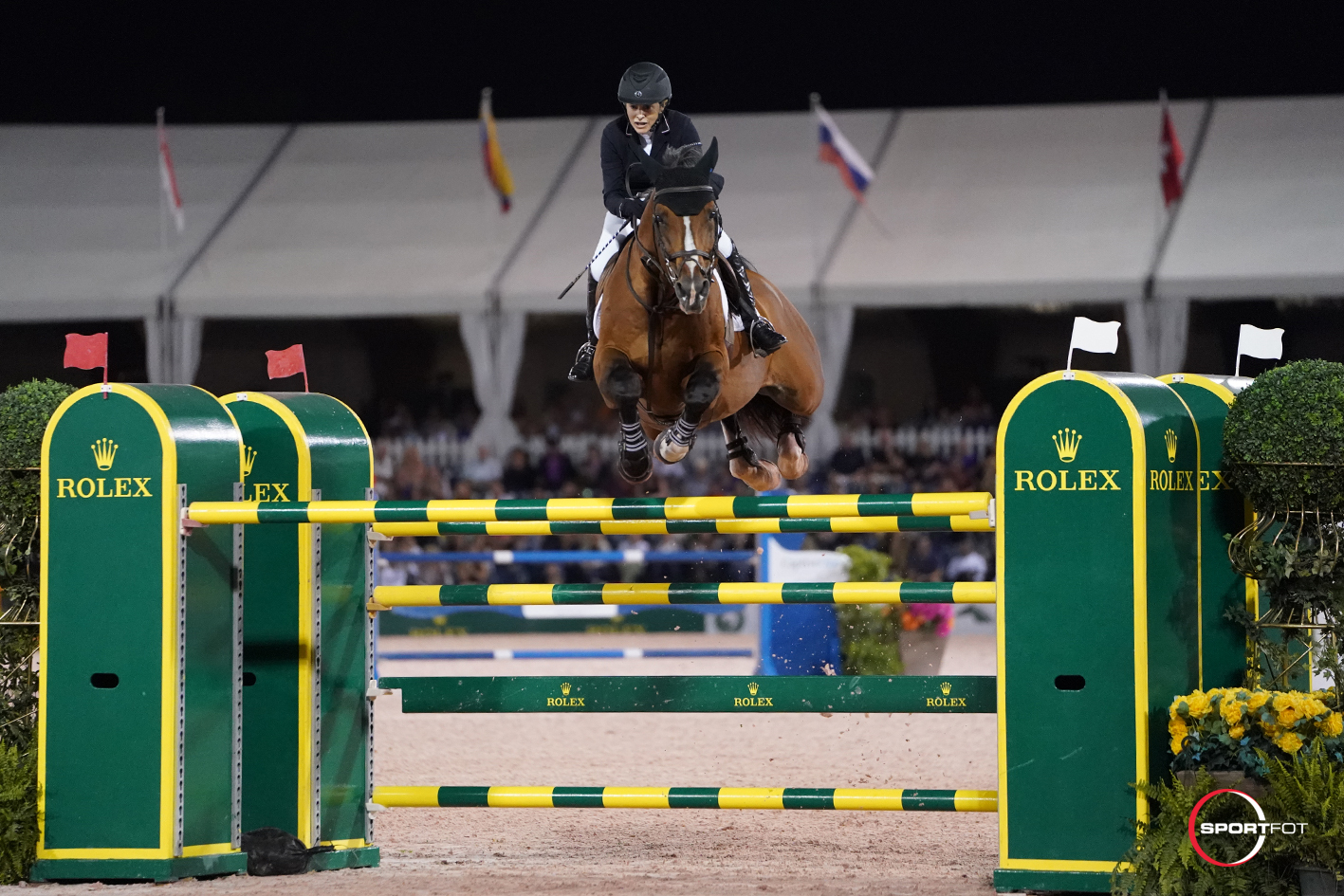 Last into the jump-off to try and catch Engle's time was Olympic gold medalist McLain Ward (USA) and Evergate Stable LLC's Hija van Strokapelleken. They had 12 faults in 40.86 seconds to finish in sixth place.
"Royce gave me a great birthday present today," said Engle, who celebrated her 60th birthday. "It feels great. I saved him just for the five-star grand prixs. Unfortunately, I think it was week seven I got mono, so he got even a longer break. This is only his third week showing here, so he was plenty fresh. When everyone else is getting kind of tired, he was fresh."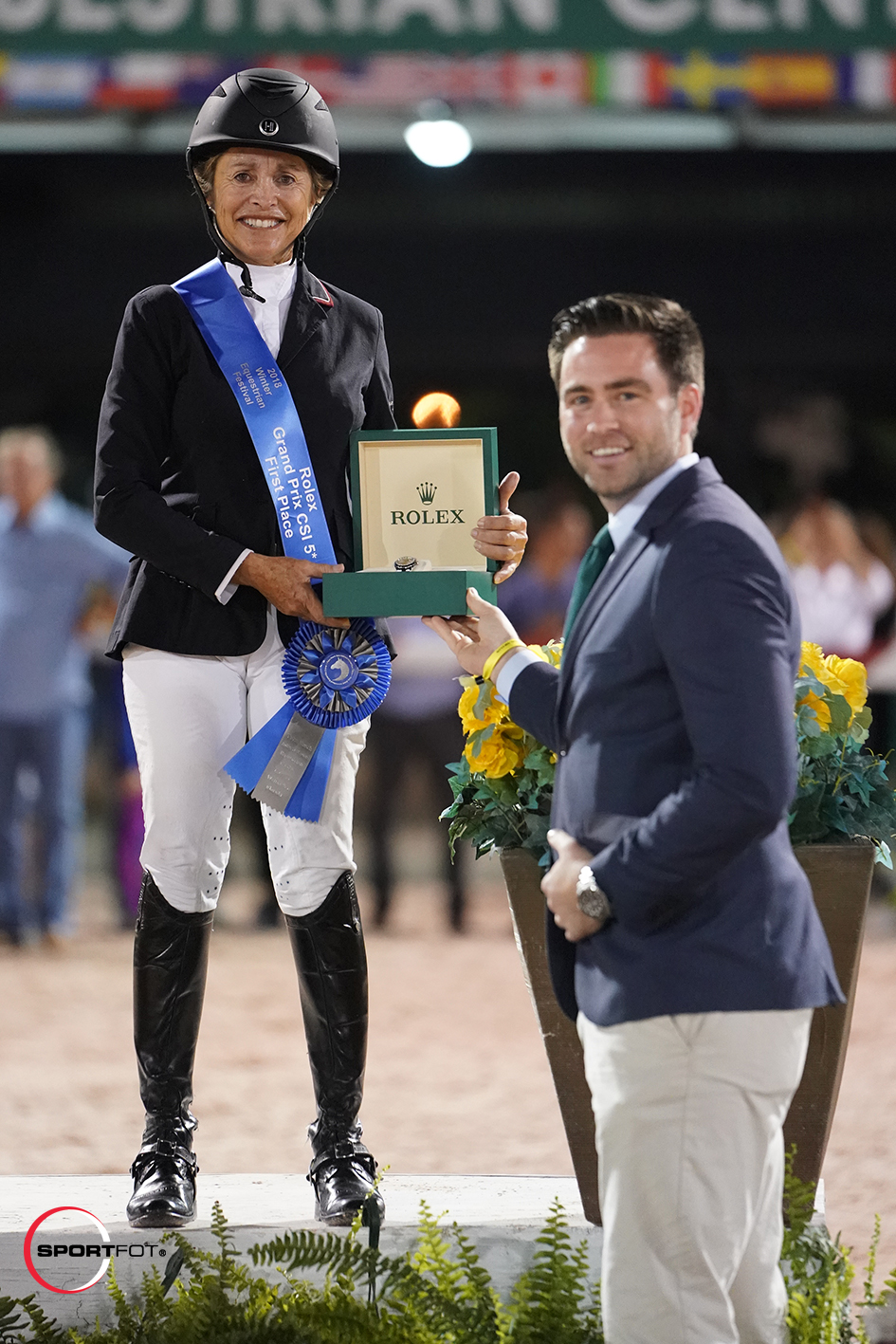 Engle and Royce, a 14-year-old Oldenburg stallion by Café au Lait x Grandilot, began their partnership at the FEI level in September 2010, and the talented stallion took time to develop. While a solid Nations Cup horse, Royce does not have many individual FEI victories to his name, so this major grand prix victory was sweet.
"It's a great feeling," she confirmed. "He's a great horse. All he lacked was rideability. I've had a lot of help between my husband doing the chiropractic, and Lisa Wilcox has been great working him on the flat with the dressage. He's always had raw talent, but the rideability was an issue. Now he's riding great. He just feels like he's getting better and better."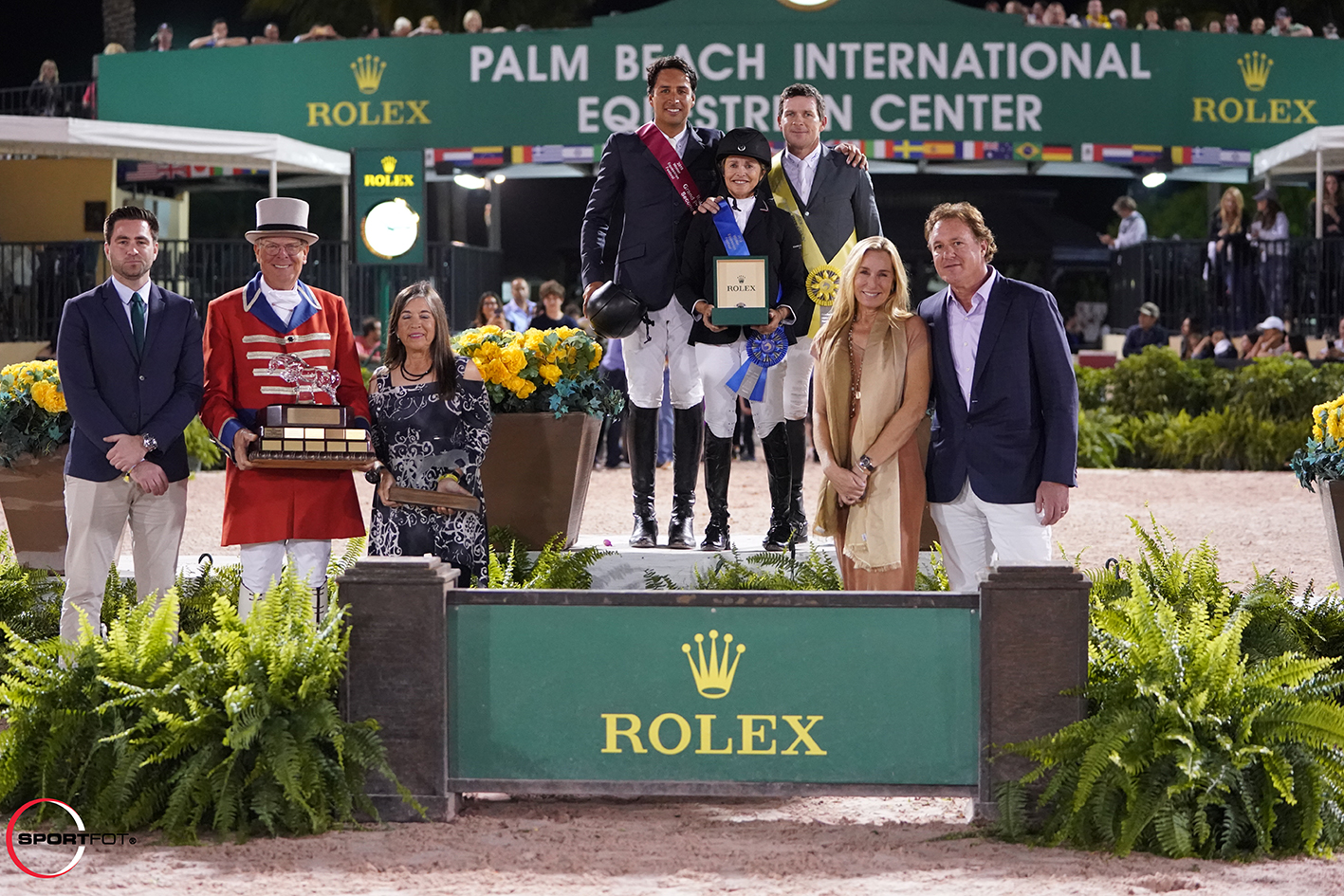 Equestrian Sport Productions CEO Mark Bellissimo was thrilled with another successful season at the Palm Beach International Equestrian Center.
"Once again, I just want to thank Rolex for putting forth what I think was a great circuit," he said. "We want to continue to be a world-class circuit, so we are taking constructive feedback from the riders and will improve the footing in the International Arena. We're also going to think through some other innovative approaches for presenting the sport to a broader audience. We're looking forward to our 12th edition of the Winter Equestrian Festival in 2019 and thank the riders and this group for putting on a great show tonight."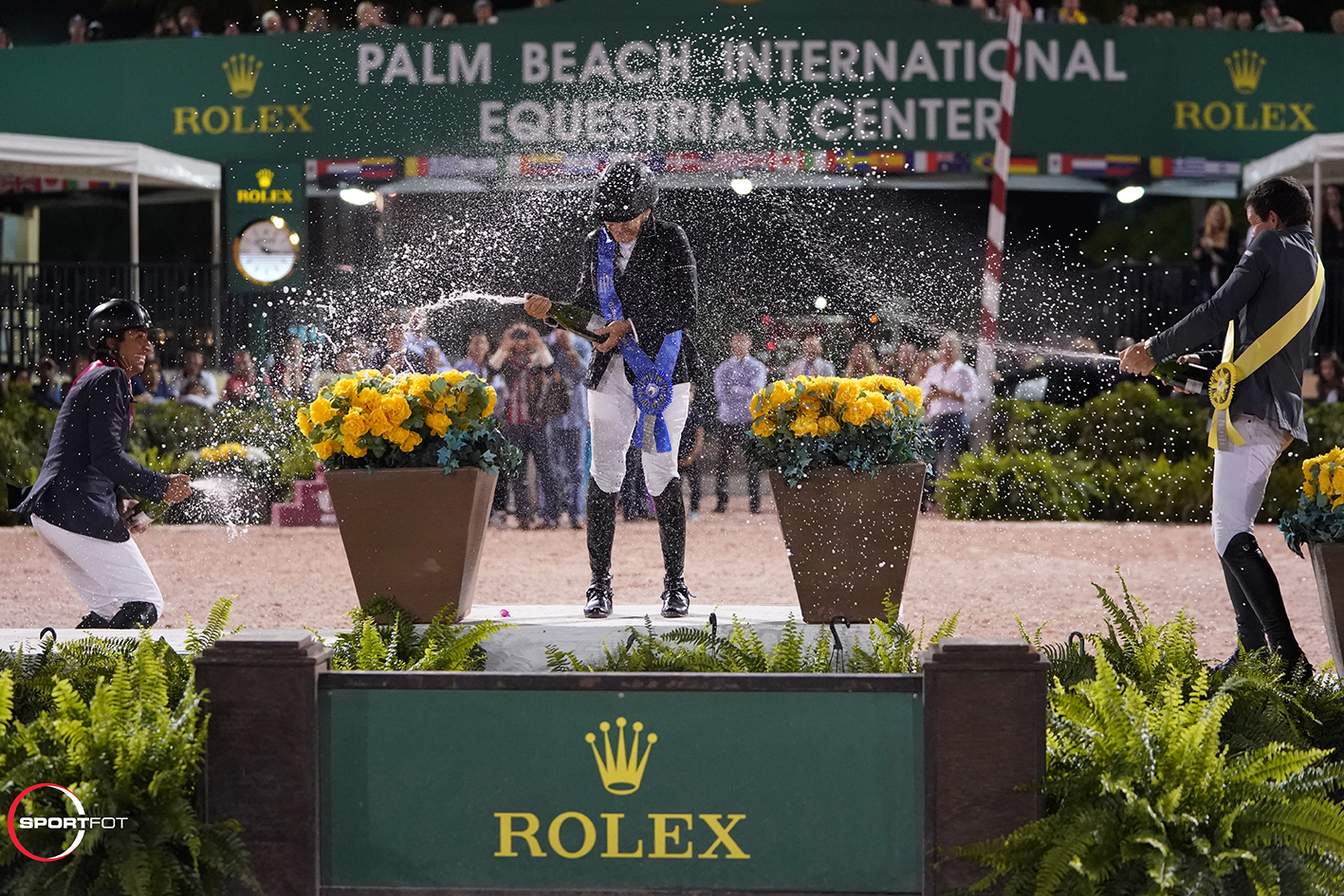 Final Results: $500,000 Rolex Grand Prix CSI 5*
1 ROYCE: 2004 Oldenburg stallion by Café au Lait x Grandilot
MARGIE ENGLE (USA), Gladewinds Farm Inc.: 0/0/39.35
2 COMIC: 2007 KWPN stallion by Verdi x Heartbreaker
LUIZ FRANCISCO DE AZEVEDO (BRA), Santa Cecilia Stables: 0/0/42.52
3 RUBENS LS LA SILLA: 2006 SLS stallion by Rebozo LS La Silla x Cash
CONOR SWAIL (IRL), Rose Hill Farm: 0/4/40.17
4 CHACNA: 2007 Warmblood mare by Chacco Blue x Narew
ENRIQUE GONZALEZ (MEX), Enrique Gonzalez: 0/4/41.47
5 COOL FEELING: 2008 Rheinlander gelding by Cornado NRW x Lancer II
BEN ASSELIN (CAN), Attache Stables: 0/4/43.09
6 HIJA VAN STROKAPELLEKEN: 2007 BWP mare by Calido I x Azur de Paulstra
MCLAIN WARD (USA), Evergate Stable LLC: 12/40.86
7 CETANO VAN ASPERGEM Z: 2009 Zangersheide gelding by Clinton x Ahorn Z
SANTIAGO LAMBRE (MEX), Integrated Services Florida LLC: 1/82.12
8 LIZZIEMARY: 2006 AES mare by Cabri d'Elle x Acord II
DANIELLE GOLDSTEIN (ISR), The Golden Group & Danielle Goldstein: 4/75.75
9 LADRIANO Z: 2008 Zangersheide gelding by Lawito x Baloubet du Rouet
DANIEL BLUMAN (ISR), Over the Top Stables LLC:
10 DARRY LOU: 2008 KWPN gelding by Tangelo van de Zuuthoeve x Nabab de Reve
BEEZIE MADDEN (USA), Abigail Wexner: 4/76.82
11 S&L SAGE: 2007 Belgian Warmblood gelding by Wandor van de Mispelaere x Radiator
DAVID RAPOSA (USA), S&L Farms: 4/78.14
12 CRISTALLINE: 2008 Bavarian Warmblood mare by Cristallo 1 x Caretello B
ADRIENNE STERNLICHT (USA), Starlight Farms 1 LLC: 4/78.55
Katie Jacobs-Robinson and Rocklyn are Victorious in Hunt Ltd. Amateur-Owner Over 35
Ava Lindsay for Jennifer Wood Media, Inc.
Katie Jacobs-Robinson piloted Rocklyn, an entry of Robinson Ridge LLC, to the championship tricolor early on Saturday morning in the Hunt Ltd. Amateur-Owner Over 35 3'6" division. The duo has been together for two years and clinched the win with a blue ribbon under saddle and a first, first, and fifth over fences.
"This is his first championship at the 3'6" height, so I am thrilled," said Jacobs-Robinson of the seven-year-old Zangersheide gelding. "Although it's week twelve, this is really only week three for me. He had a little bruise at the beginning of circuit, so we were out for a bit, but he is back in shape now, and we are happy to be back in the ring."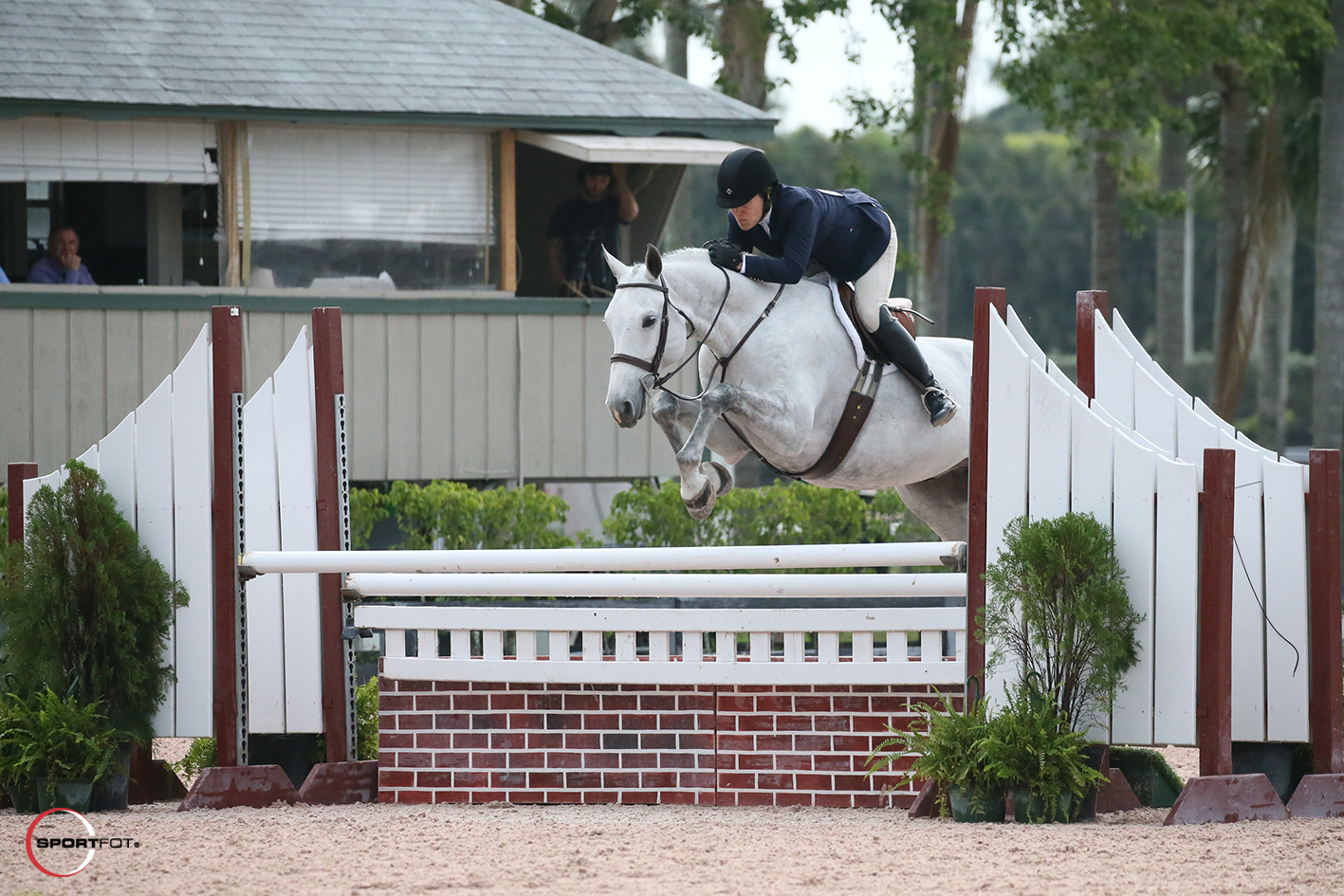 Jacobs-Robinson, of East Aurora, NY, competed with Rocklyn at the 3'3" height last year and has been focusing on giving the young gelding a pleasant and educational experience for his second time here at the Winter Equestrian Festival.
"He is young, so he makes some silly mistakes sometimes," said Jacobs-Robinson. "He is still just a first year horse, so he can spook at something he's passed 15 times, but he tries really hard, and he is always a pleasure to ride. Going into today, I just wanted to get down the lines evenly and make it smooth."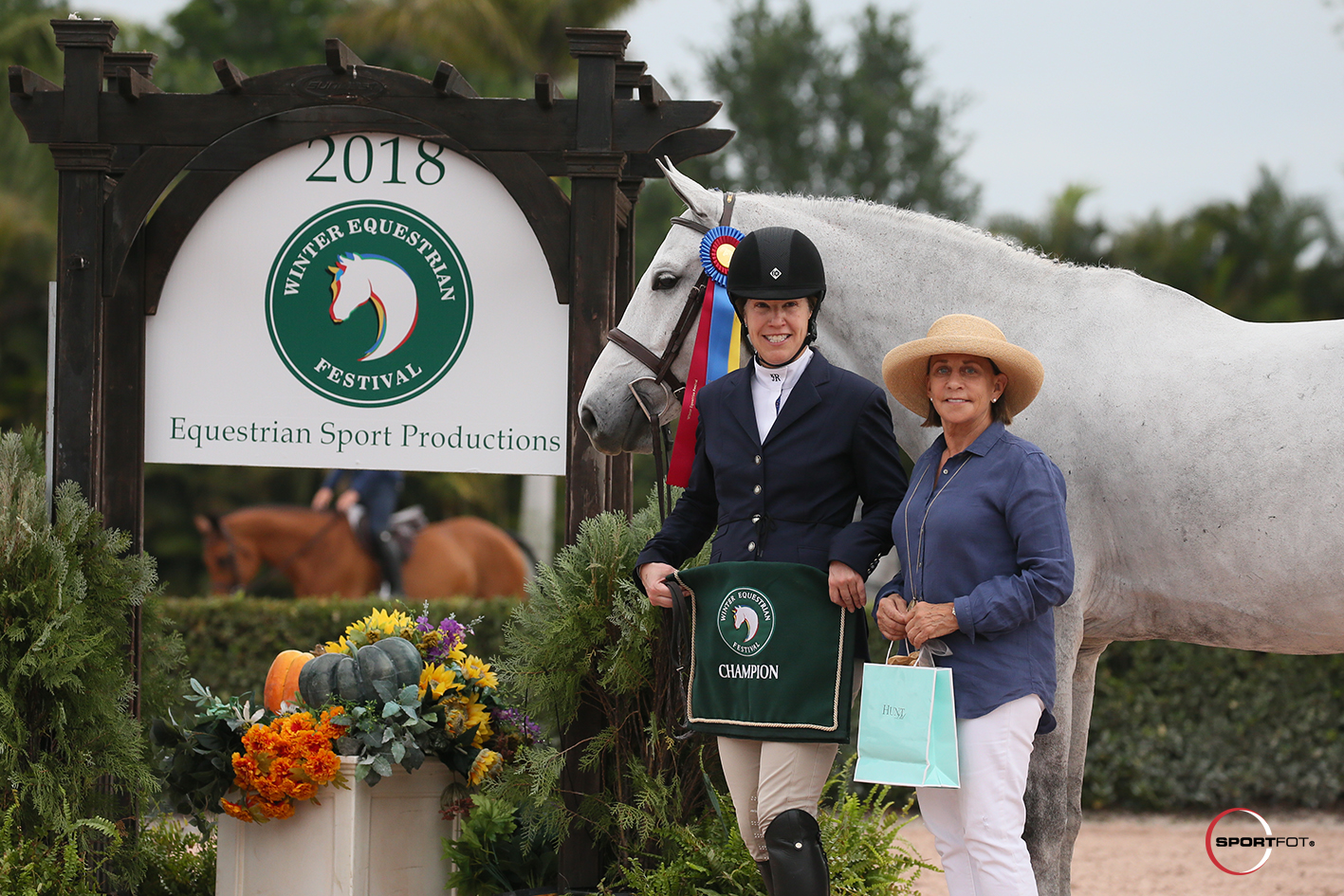 Becky Gochman and Dominik, owned by Gochman Sport Horses LLC, took reserve honors with a first, second, third, and seventh over fences in addition to a second in the under saddle.
The Winter Equestrian Festival concludes on Sunday, April 1.
Photo Credit: Photos © Sportfot, Official Photographer of the Winter Equestrian Festival. These photos may be used only in relation to this press release and must include photo credit.