For Immediate Release
Emily Randolph and Sabrina Brashares for Jennifer Wood Media, Inc.
Wellington, FL – January 9, 2020 – Marcelo Ciavaglia's Winter Equestrian Festival (WEF) debut got off to a strong start on Thursday, January 9, as the Brazilian rider earned a victory in the $35,000 Equinimity WEF Challenge Cup Round 1 at the Palm Beach International Equestrian Center in Wellington, FL.
WEF continues through March 29, 2020, with 12 consecutive weeks of world-class competition and $13 million dollars on offer. The first week of competition at WEF is sponsored by Wellington Regional Medical Center and features the crowd favorite $75,000 Battle of the Sexes, presented by Wellington Regional Medical Center, during "Saturday Night Lights" on January 11 at 7 p.m. in the International Arena.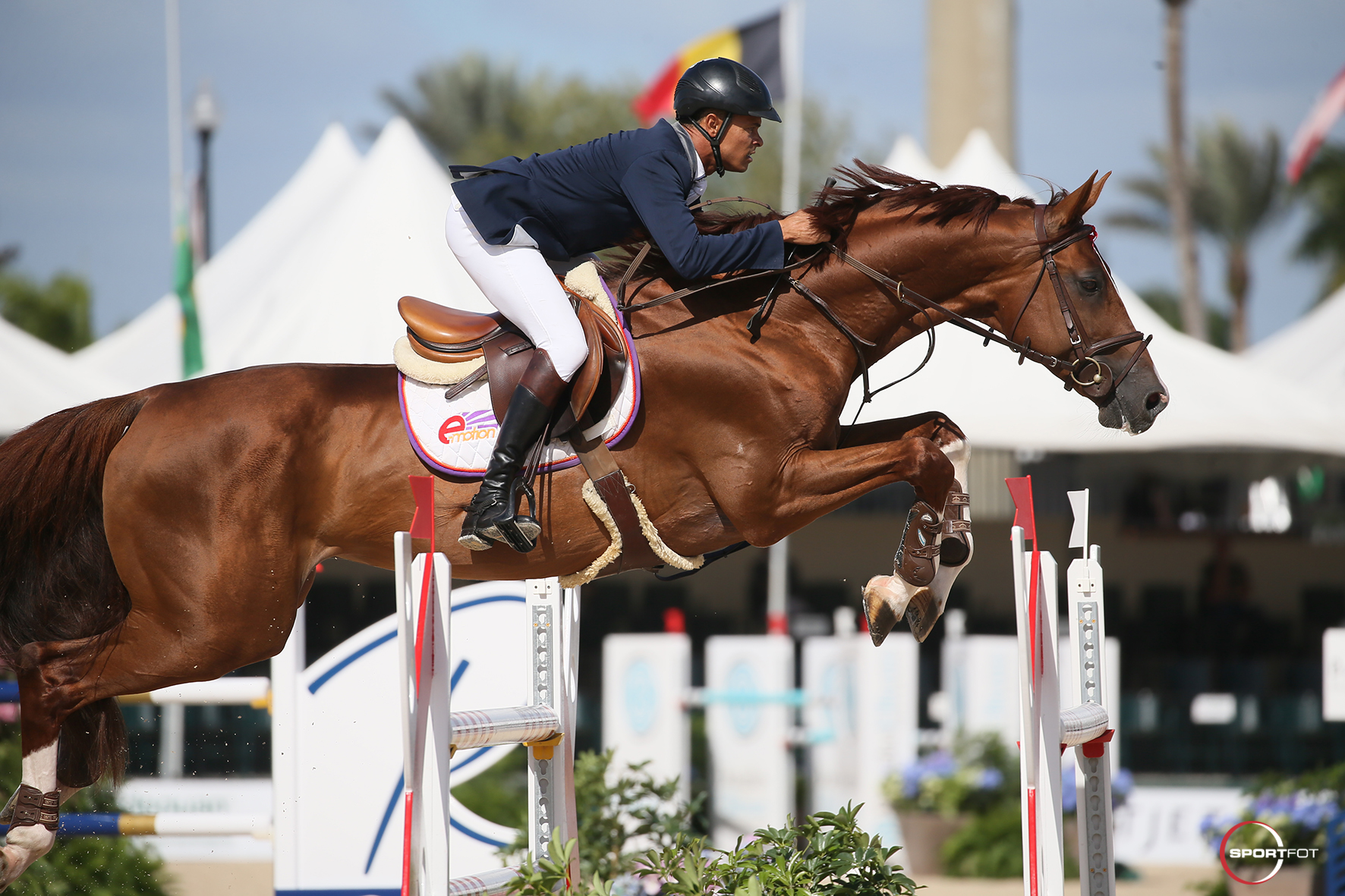 Ciavaglia and his longtime mount, Conto, were the very first of 44 entries to contest Thursday's featured class. As the first of nine entries to qualify and return for the Eric Hasbrouck-designed short course, the pair would prove uncatchable. They posted a double-clear time of 35.069 seconds to secure them the win, while second place with a time of 35.838 seconds went to the USA's Kristen Vanderveen and Bull Run's Almighty, owned by Bull Run Jumpers Six LLC. Rounding out the top three was Canada's Jonathon Millar who rode Valinski S, owned by Wyndmont, to a clear time of 36.006 seconds.
Ciavaglia is no newcomer to success with Conto; he's been riding the 14-year-old Holsteiner stallion (Canto x C-Ingmar) since Conto was four. Ciavaglia is however a newcomer to not only WEF, but to the United States, as this year marks his very first visit.
"The ground is super, super good, and the course rode very well; I like it. It's so modern," said Ciavaglia of Thursday's track. "I like everything – the horses, the people. Here, everybody is so nice with smiles always. I love it."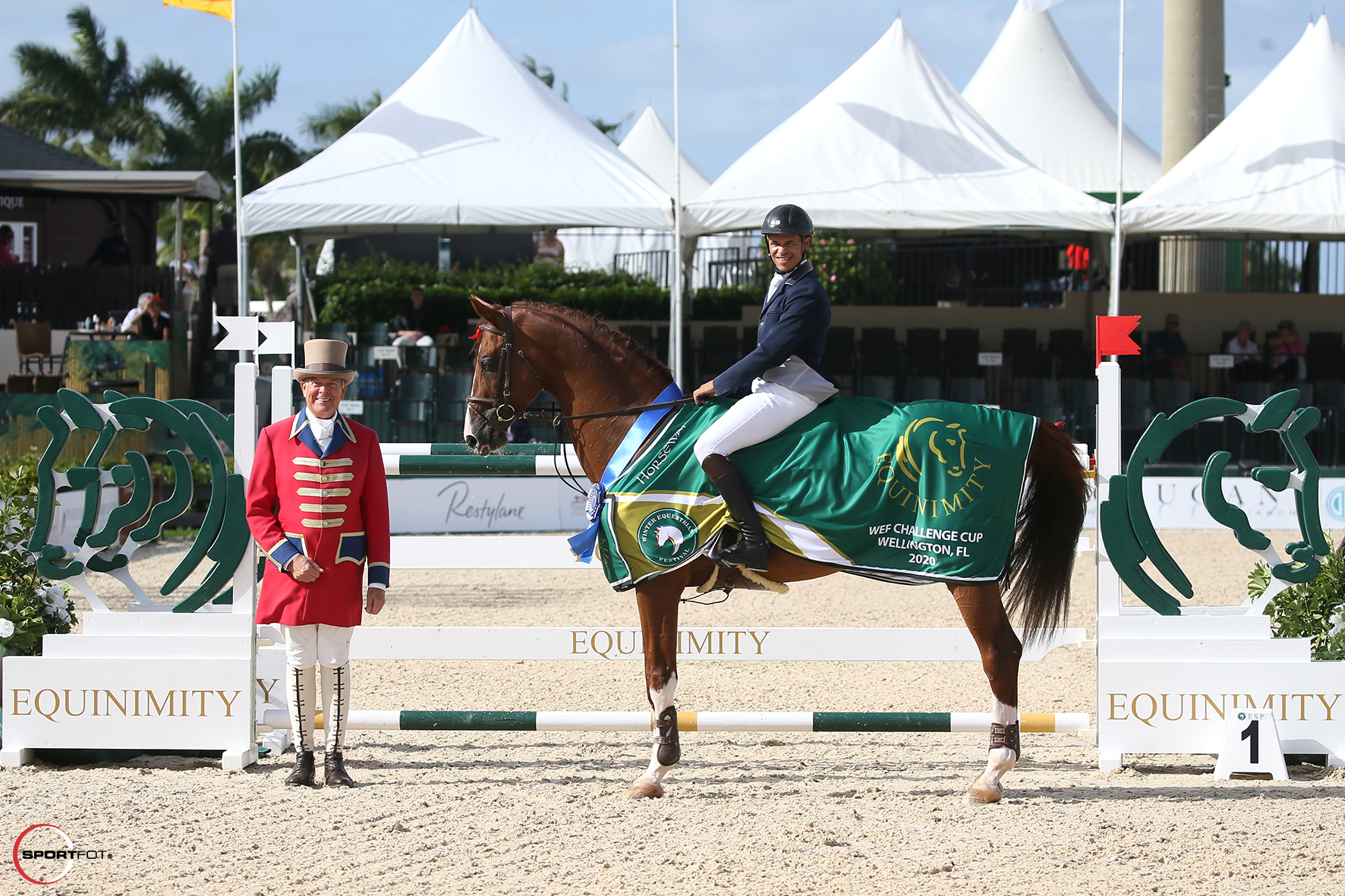 Ciavaglia made the trip to Wellington, FL, at the recommendation of Brazilian show jumping Chef d'Équipe Philippe Guerdat, with his sights set on making the Brazilian team for the 2020 Tokyo Olympic Games.
"Philippe Guerdat asked me to come to Wellington for the Nations Cup in February," said Ciavaglia. "I have one month and a half to put Conto in order for the Nations Cup. I think he's fine!"
Also winning in the International Arena at WEF on Thursday were Erynn Ballard (CAN) and Bente P in the $6,000 Bainbridge 1.40m, and Adrienne Sternlicht (USA) riding Cadans Z in the $8,000 Douglas Elliman 1.45m.
Watch Their Winning Jump-Off Ride
Video courtesy of Richard's Equine Videos
Final Results: $35,000 Equinimity WEF Challenge Cup Round 1
1 CONTO: 2006 Holsteiner stallion by Canto x C-Ingmar
MARCELO CIAVAGLIA (BRA), Marcelo Ciavaglia: 0/0/35.069
2 BULL RUN'S ALMIGHTY: 2008 Hanoverian gelding by Caspar x Quidam de Revel
KRISTEN VANDERVEEN (USA), Bull Run Jumpers Six LLC: 0/0/35.838
3 VALINSKI S: 2002 KWPN gelding by Nijinski x Julius
JONATHON MILLAR (CAN), Wyndmont: 0/0/36.006
4 THE DIAMANT ROSE Z: 2011 Zangersheide mare by Toulon x Jaunty Daredevil
ERYNN BALLARD (CAN), Ilan Ferder: 0/0/39.111
5 BACARA D'ARCHONFOSSE: 2007 Belgian Warmblood mare by Asca Z x Kannan
CASSIO RIVETTI (BRA), Sloan Lindeman-Barnett: 0/4/34.905
6 FASTHER: 2010 KWPN gelding by Vigo d'Arsouilles x Farmer
LILLIE KEENAN (USA), Chansonette Farm LLC: 0/4/35.914
7 MR. VISTO: 2005 Holsteiner stallion by Levisto x Ariadus
LAUREN TISBO (USA), Tequestrian Farms, LLC: 0/4/36.184
8 CASCO 11: 2009 Holsteiner gelding by Caspar x Colman
LAUREN TISBO (USA), Tequestrian Farms LLC: 0/4/39.444
9 IBABCO: 2008 BWP stallion by Nebab de Reve x Darco
SANTIAGO LAMBRE (MEX), Santiago Lambre: 0/retired
10 VALDOCCO DES CAPS: 2009 Selle Français gelding by Numero One D'Iso x Quidam de Revel
CIAN O'CONNOR (IRL), Ronnoco Jump Ltd.: 1/79.377
11 KAYACK: 2010 Belgian Warmblood gelding by Thunder vd Zuuthoeve x Darco
JUAN MANUEL GALLEGO (COL), Juan Manuel Gallego: 2/80.733
12 ATIKA DES HAUTS VENTS: 2010 Selle Français mare by Rock 'n Roll Semilly
KATIE DINAN (USA), Grant Road Partners, LLC : 3/81.251
Christopher Payne and Kate Conover are Champions in 3'6" Green Hunters During Opening Week
Two champions were named in the 3'6" Green Hunter division, presented by Equine Tack & Nutritionals, during opening week of WEF. Section A champion was awarded to Christopher Payne of Cincinnati, OH, riding Solitude with champion honors for section B going to Kate Conover of Ocala, FL, on Heaven's Dream.
Payne and Solitude, a 7-year-old gelding owned by Northernside LLC, earned three first-place ribbons to secure the championship. "He's such a natural athlete," commented Payne. "You get him in striking range of the jump and he gives you such a beautiful effort every time."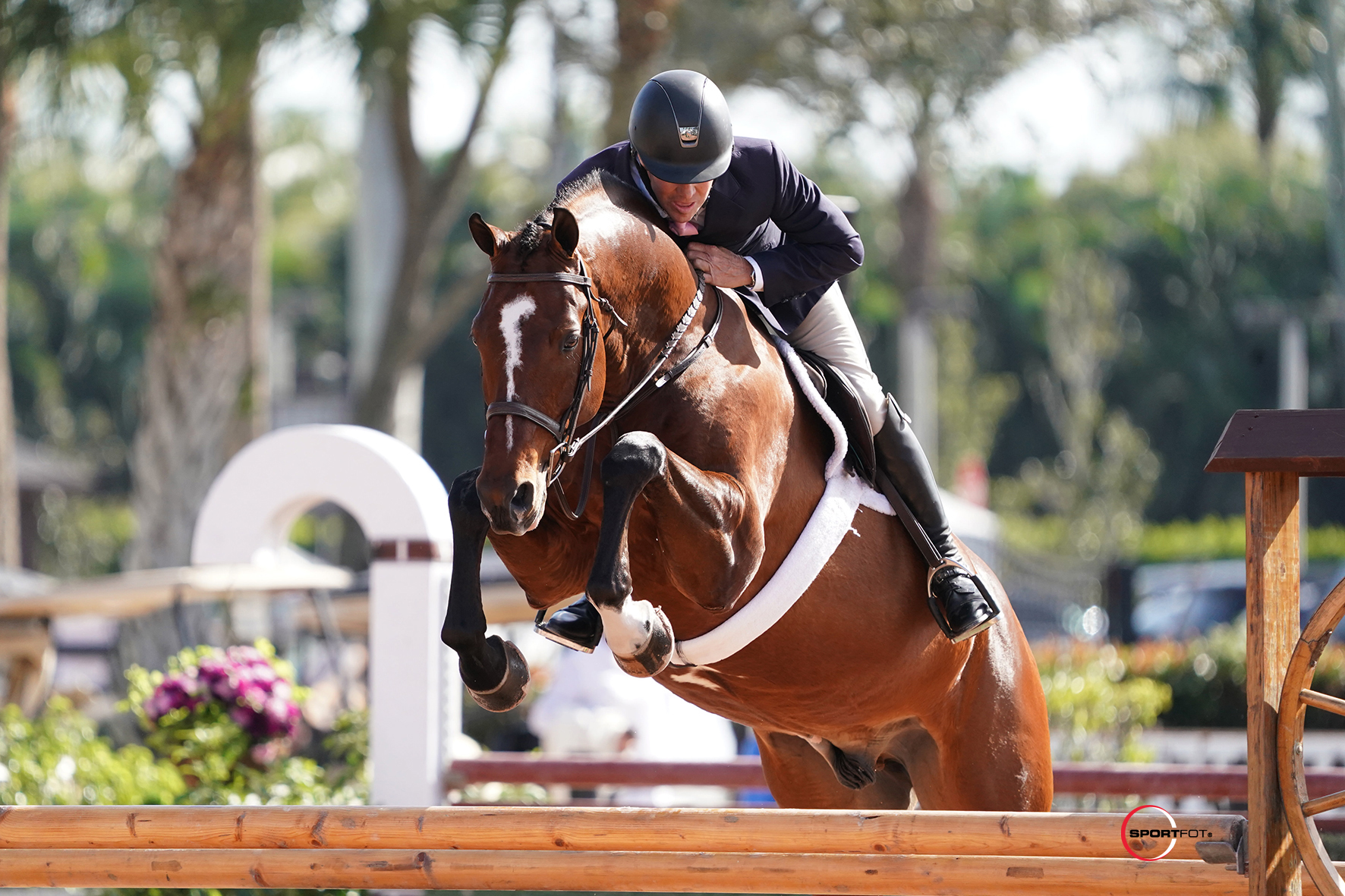 Payne is currently showing the gelding, who was imported in the spring of 2019, to get him ready for owner, Beth Bidgood, to ride in amateur-owner hunter competition at WEF. "She's being nice and letting me do him for the first few weeks to get him settled in at the new height and have some fun."
Conover and Heaven's Dream also proved to be consistent against tough competition, earning two first-place ribbons and a fifth.
Conover was especially pleased with the gelding's performance earlier in the week, as well as their win in the hack, saying, "This was a really competitive division, but we were able to get a piece of everything."
This was a special ride for Conover, who originally imported Heaven's Dream, and was able to catch ride the horse for owner Isabella Griffin. "It's really cool to see horses show here [at WEF] that you found in Europe and put with good customers," said Conover. "But it's also really exciting that I get to ride them as well!"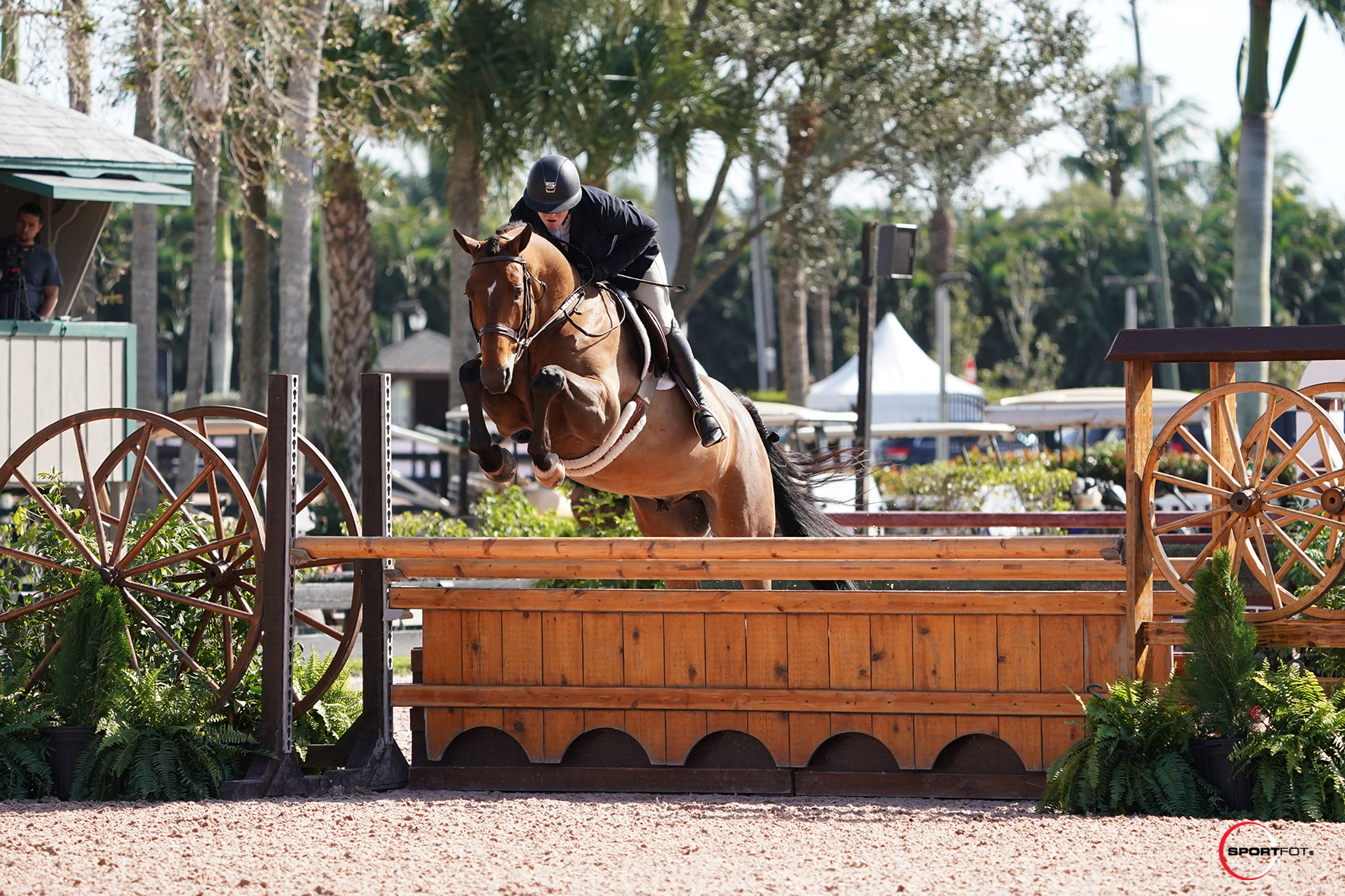 Samantha Schaefer of Westminster, MD, piloted Trademark, owned by Take 3 LLC, to reserve champion of section A with first, second, and fourth-place performances. Reserve champion of section B was awarded to Maria Rasmussen of Milwaukee, WI, riding Business Time for owner Maya Grove. This pair earned a first, second, and seventh-place ribbon.
Competition at the Winter Equestrian Festival will continue Friday with the $6,000 Bainbridge 1.40m Speed Challenge in the International Ring, and the conclusion of the Adult Amateur Hunters in the E.R. Mische Grand Hunter Stadium.
Photo Credit: Photos © Sportfot, Official Photographer of the Winter Equestrian Festival. These photos may be used only in relation to this press release and must include photo credit.