For Immediate Release
Summer Grace for Jennifer Wood Media, Inc.
Wellington, FL – March 28, 2019 – Liza Boyd of Camden, SC, and Tradition were victorious in the final week of the 2019 Winter Equestrian Festival (WEF) as the pair captured the $15,000 USHJA International Hunter Derby Hunt & Go on Friday, March 29, at Equestrian Village at Palm Beach International Equestrian Center. The "Hunt & Go" derby is one of three major events for hunter riders during Week 12.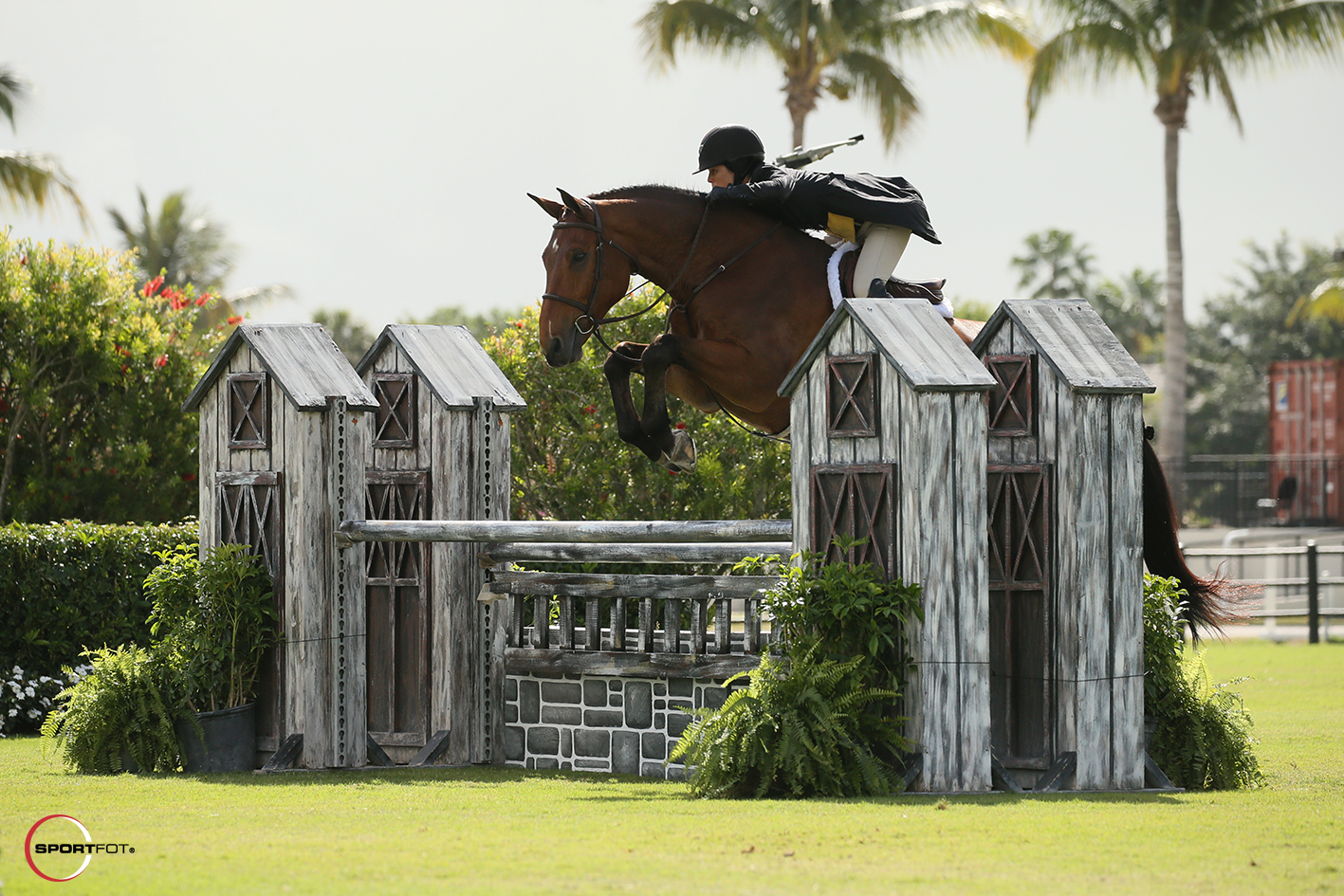 The final week of WEF features five-star level international jumper competition as well as top national hunter, jumper, and equitation competition. The week's pinnacle event, the $500,000 Rolex Grand Prix CSI 5*, will be held in the WEF International Arena on Saturday, March 30 at 7:30 p.m. Hunter derby competitors once again will get a chance at a change of venue as all hunter derbies for the week are being held on the Derby Field at Equestrian Village.
Thirty-five horse-and-rider combinations contested Ken Krome's course, which was designed in the newer Hunt & Go format, on the grass. The Hunt & Go format was only introduced several years ago as a way to shorten the original derby format while still offering a classic and a handy round. Instead of all riders competing through the classic and then returning at a later time for a handy, the course is designed as half classic and half handy. Riders are therefore able to highlight their horse's strengths in both formats.
Krome's course consisted of four high option fences, a trot fence, and a 'bounce' line in the 'handy' portion of the course. Judges panels included Otis Brown and Ann Braswell in panel one, and Robert Crandall and Rob Bielefeld in panel two.
Kelley Farmer and Larry Glefke/Aizlynn Radwanski's Closing Statement were the first pair to head into the ring and took the early lead with a combined score of 333.00 points. She and the six-year-old Warmblood gelding (Mr. Blue x Ursula) finished in the fourth place position.
Ten trips later, Havens Schatt and the SHP Barn LLC's 10-year-old Holsteiner gelding (Cachas x Varese), Spectacular, produced a flawless round including all high options to total 340.50 points combined from both panels for second place. Schatt later returned with Caroline Moran's 11-year-old Zangersheide gelding (Lawito x Palmagora), Mostly Sunny, and earned the third place position with 339.75 points.
As the seventeenth entry into the ring, hunter veteran Liza Boyd piloted Maggie Hill's Tradition to the new lead after totaling 357.00 points with a classic score of 179.00 and a handy round producing 178.00 points. Boyd and the eight-year-old Westphalian gelding (Cornet's Stern x Larix) are no strangers to success in the derby classes as Tradition's second time in a derby was at the 2018 USHJA International Hunter Derby Championships, where he placed third.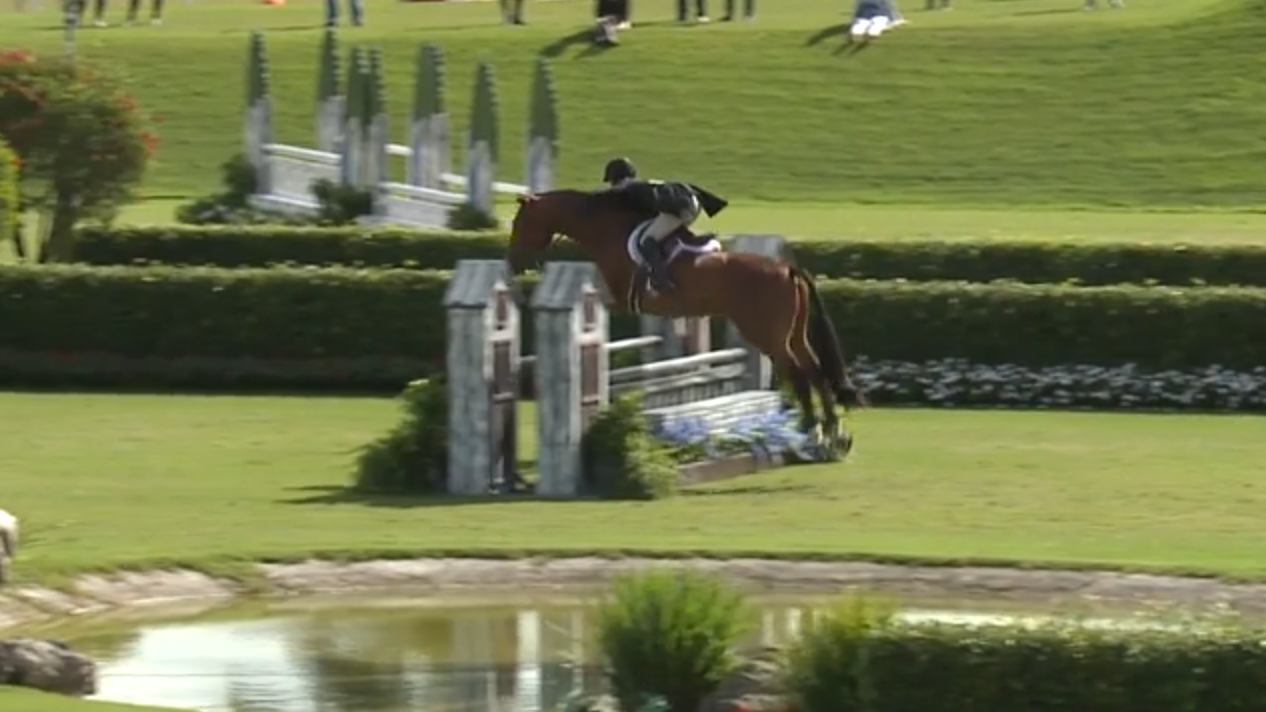 "He was made to be a derby horse I think," Boyd explained. "We purchased him from Scott Stewart as a junior hunter mount for his owner Maggie Hill, but Scott had been telling me for a long time that he had a great horse that would be able to do both the junior hunters and the bigger derbies. Clearly, he was right because he does well with his owner in the juniors, but he is also super brave and can jump the bigger tracks which is exactly what we look for in a derby horse."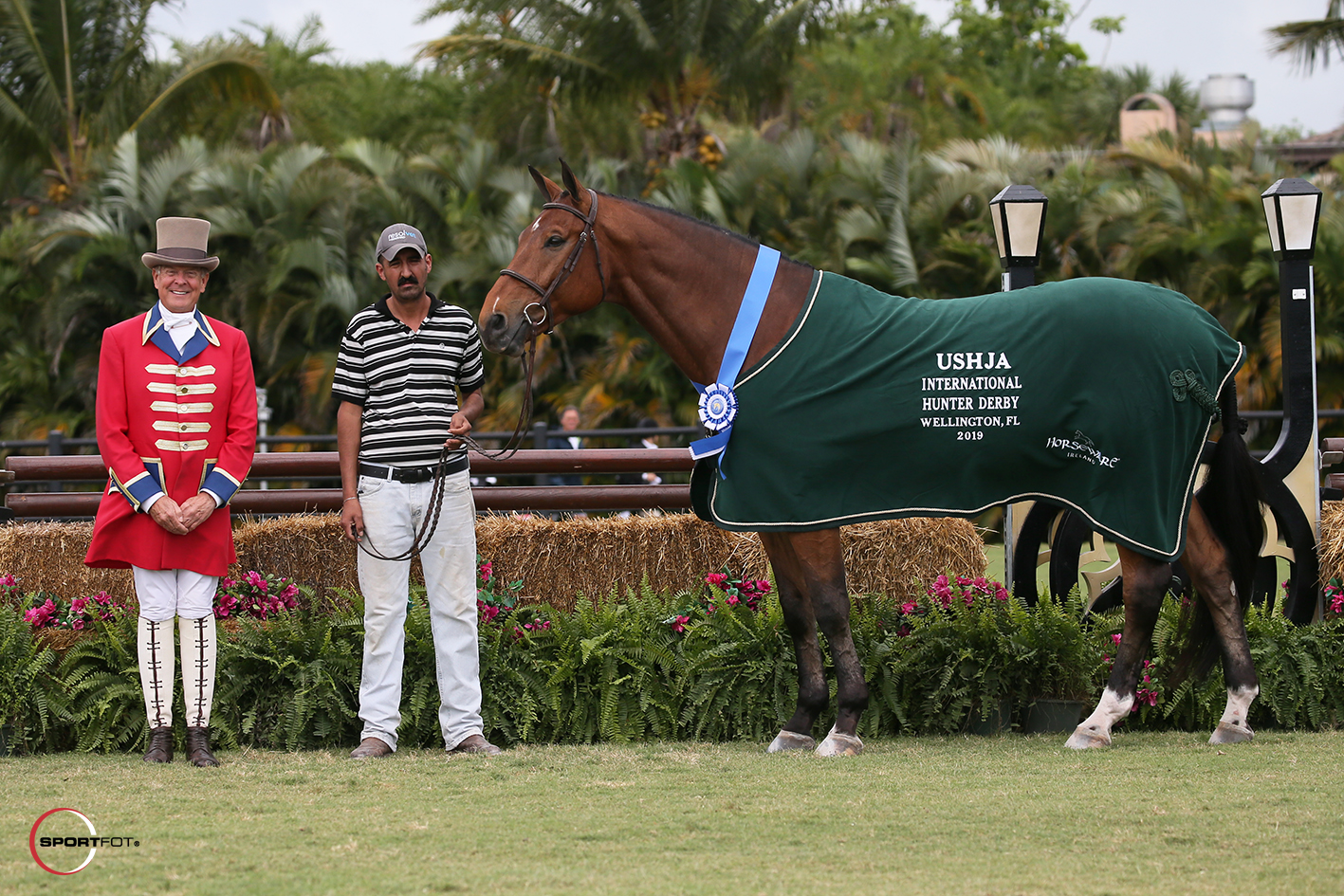 Boyd plans to compete the gelding in the weekend's $50,000 USHJA International Hunter Derby but said she enjoyed being able to use the Hunt & Go format as a way to introduce her horse to his surroundings.
"We haven't had the Hunt & Go for very long in the International Derby Program but I think it's nice to have it once in a while like this," she said. "I think it's so special to be able to have the second round in the bigger derby classes where you are able to come back with a new strategy, but for a day like today it was quite nice because you got to give your horse a tour of the venue and practice both classic and handy round fences."
"It sets both horse and rider up quite nicely for tomorrow's class," she added.
The $10,000 USHJA National Hunter Derby was also featured on the Derby Field on Friday. The class was split into a Professional section with 23 entries and a Junior/Amateur section with 38 entries. Jennifer Hannan and Patricia Fulchino's Uppercut took the top honors in the professional division with a high score of 181.00 combined points for their effort. Havens Schatt once again earned second and third, this time aboard her own Salt Creek for second and Caroline Moran's Happy Thought in third.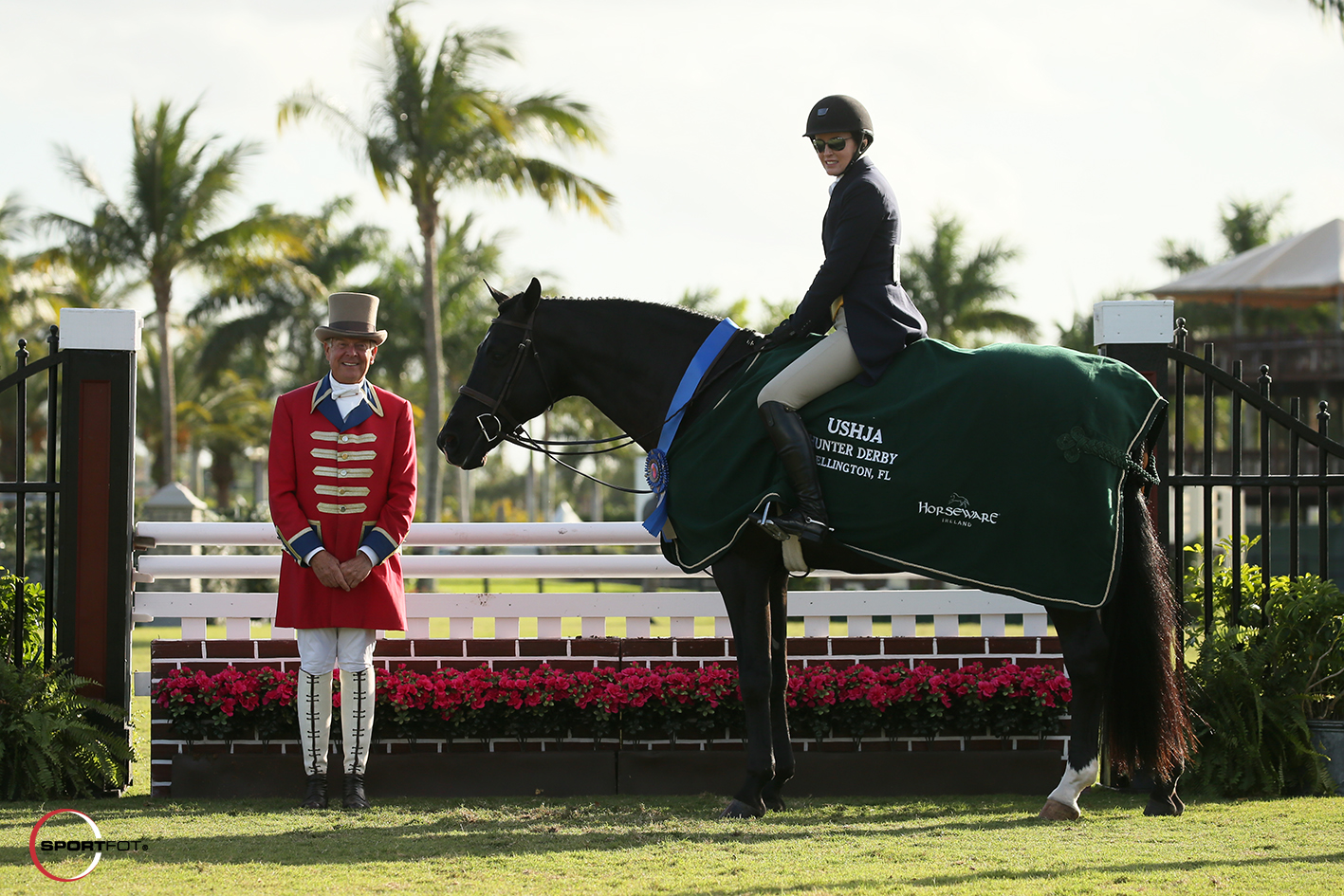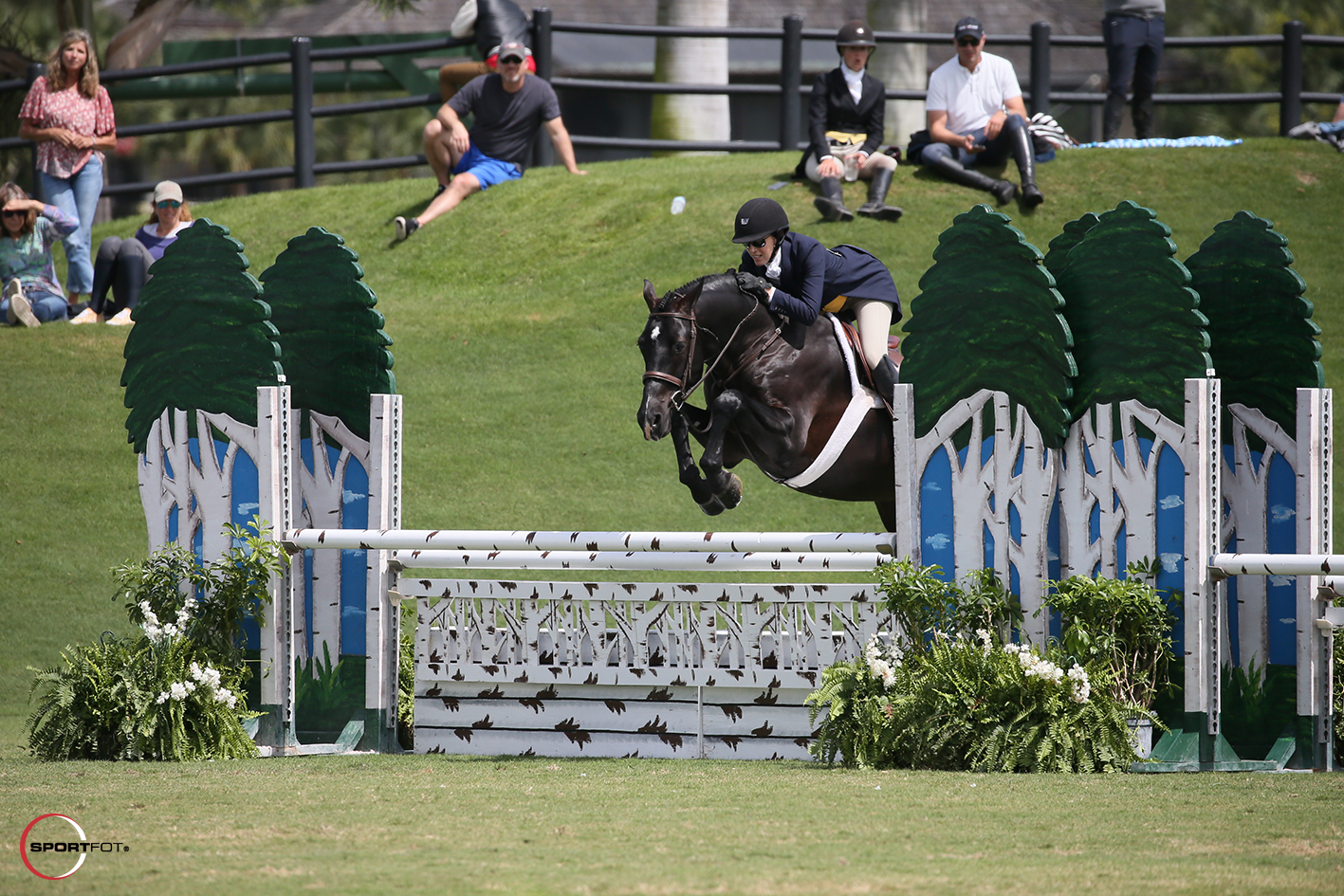 In the junior/amateur section, Coco Fath and Take the High Road, LLC's  Havana came away victorious on a total of 166.00 points. Lanie Walkenbach piloted her own Kennan to second with 165.00 points, and John Yozell and his own mount, Aiden came away with third on a  score of 163.50 points.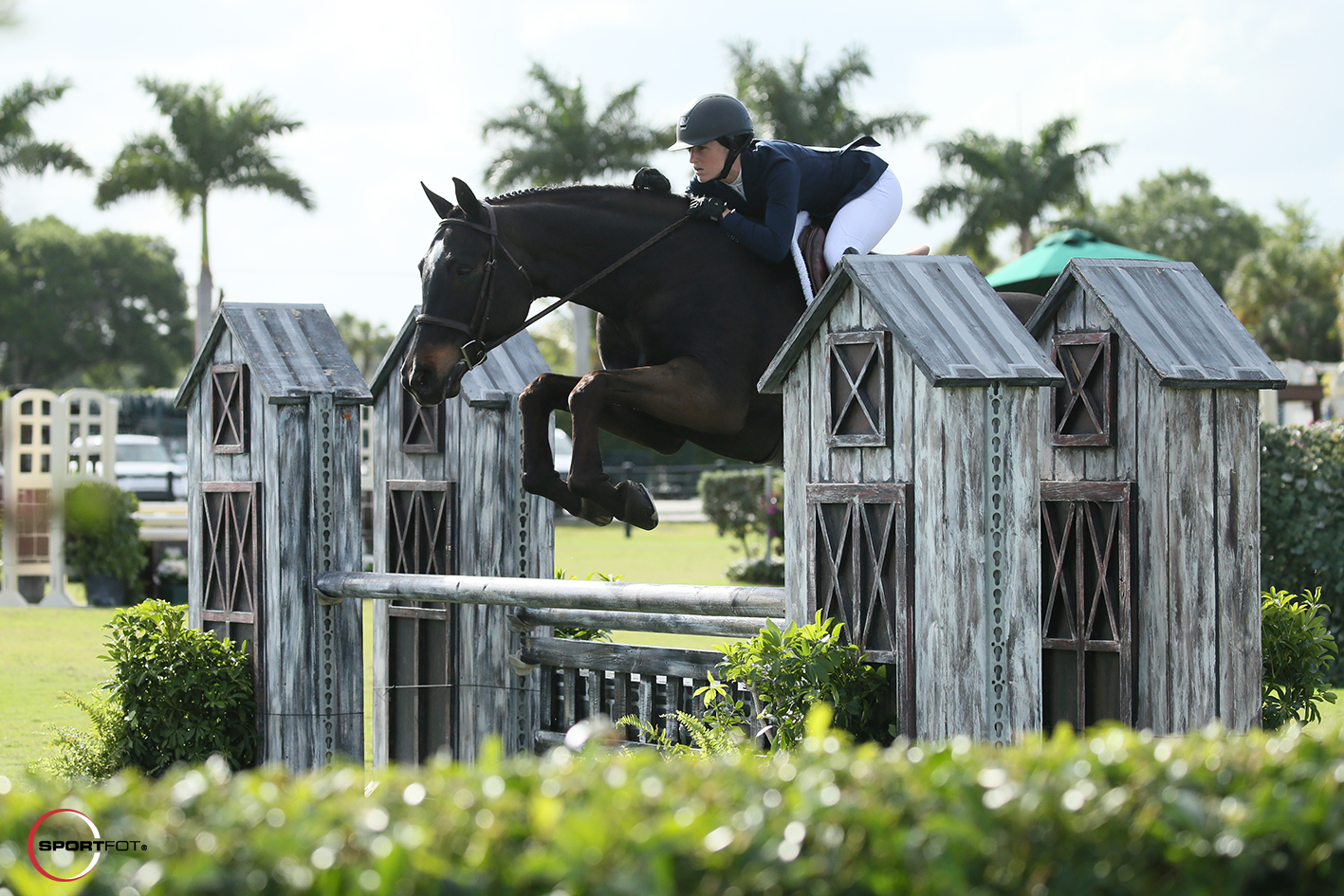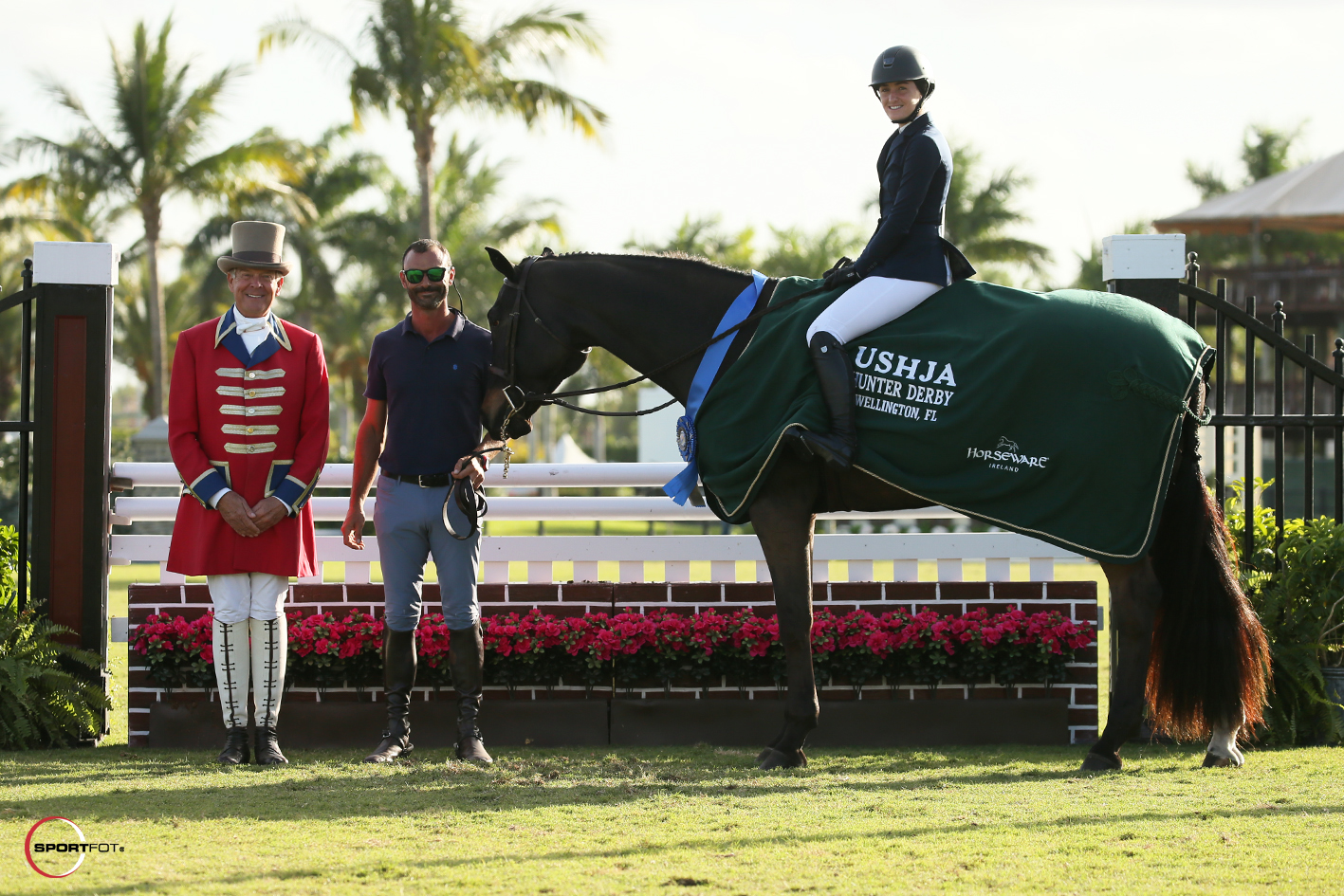 The country's best hunter riders will return to the Derby Field at Equestrian Village on Saturday, March 30, for the first round of the $50,000 USHJA International Hunter Derby.
Final Results: $15,000 USHJA International Hunter Derby Hunt & Go
Horse / Rider / Owner
R1 Score / R2 Score | Total
1 Tradition / Liza Boyd / Maggie Hill
179.00 / 178.00 | 357.00
2 Spectacular / Havens Schatt / SHP Barn LLC
172.00 / 168.50 | 340.50
3 Mostly Sunny / Havens Schatt / Caroline Moran
167.25 / 172.50 | 339.75
4 Closing Statement / Kelley Farmer / Larry Glefke & Aizlynn Radwanski
162.00 / 171.00 | 333.00
5 Probable Cause / Keri Kampsen / Quail Run Partnerships
170.01 / 162.00 | 332.10
6 Diamante / Patricia Griffith / Callie Seaman
164.05 / 168.00 | 332.05
7 No Doubt / Victoria Colvin / Mark Woods
159.00 / 173.00 | 332.00
8 Namely / Kelley Farmer / Larry Glefke & Oakmont Stables
165.00 / 165.00 | 330.00
9 Corallo Z / Greg Crolick / Renaud Farm, LLC
166.00 / 162.00 | 328.00
10 Confetti / Sara Taylor / Sherri Crawford
166.50 / 161.50 | 328.00
11 Fig Street's Duchess / Chaz Harpman / Cynthia Hallman
161.00 / 162.50 | 323.50
12 Carson / Nikko Ritter / Kathryn Haefner LLC
156.60 / 165.00 | 321.60
Francisco Jose Mesquita Musa and Catch Me Imperio Ecipcio Capture 5* Win

Out of the 50 entries that contested Guilherme Jorge's speed course in the $36,000 Bainbridge 1.45m Classic CSI 5*, 15 were able to go clear and put the pedal to the metal to find the quickest round. Of those 15, the fastest was Francisco Jose Mesquita Musa (BRA), who rode Catch Me Imperio Egipcio for owner Daniel Aguiar Morelli to the win. They posted a time of 62.20 seconds, more than two seconds faster than the next competitor.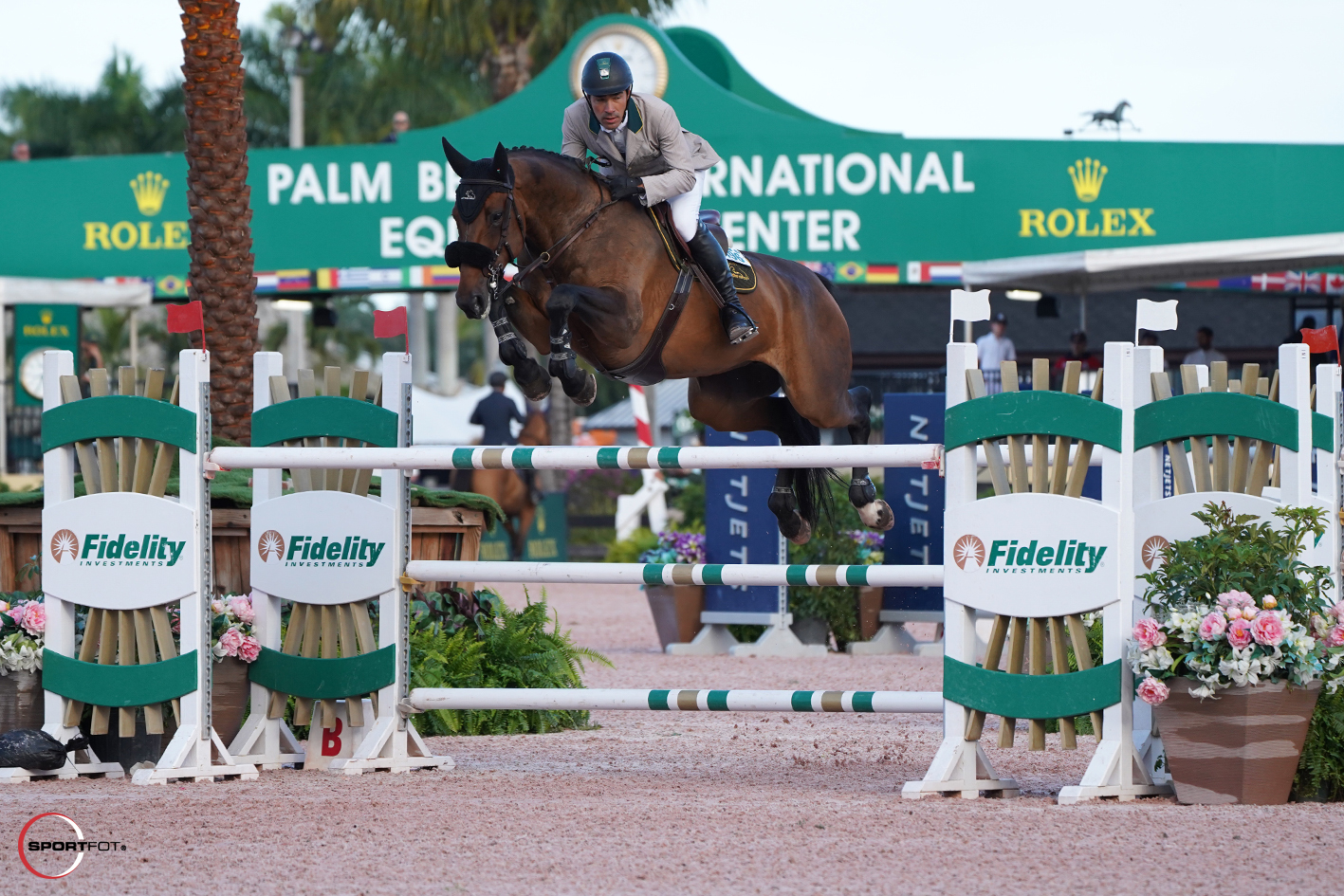 Second place went to Catherine Tyree (USA) riding Mary Tyree's BEC Lorenzo in a time of 64.24 seconds. Margie Engle (USA) and Dicas, owned by Stome Ridge Show Horses, Garber & Gladewinds, placed third in 64.33 seconds. Wednesday's five-star winners, Lucas Porter (USA) and Sleepy P Ranch's Diamonte Darco, were fourth in 65.43 seconds, while Emil Hallundbaek (DEN) and his own Dazermie were fifth.
Musa, who is based in Belgium when he's not in Wellington, and "Catch Me" went 17th in the order and after watching combinations at the start of the class, Musa made a plan for his ride.
"I tried to do less strides and turn quicker. In the middle of the course, all horses had to do the same strides. I think I was faster at the start of the course," he said.
Musa has been riding Catch Me, an 11-year-old Hanoverian mare, for one year. While she is usually his top horse to compete in grand prix classes, his new horse has stepped up to compete in Saturday's $500,000 Rolex Grand Prix while she got to do "the fun class" on Friday.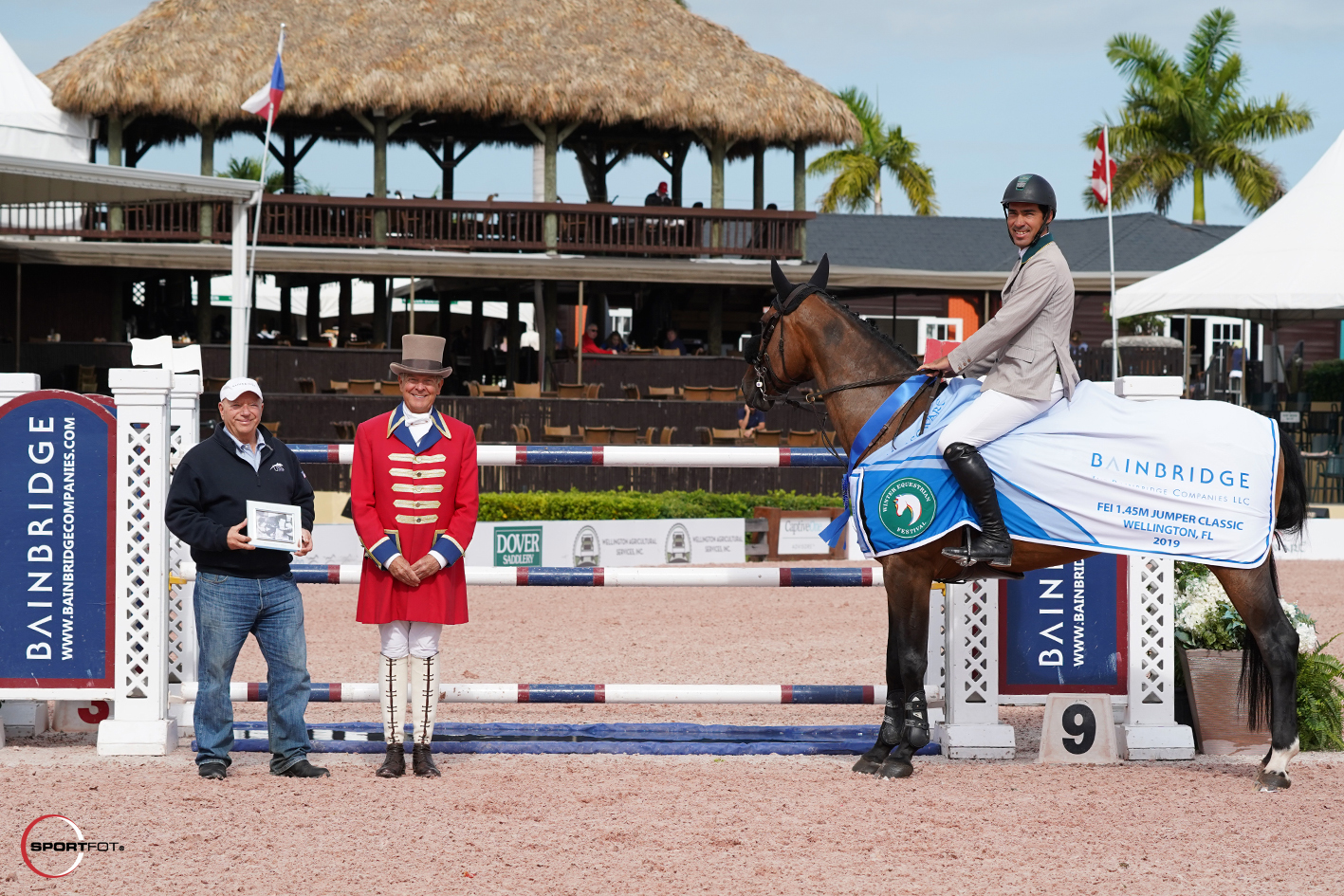 "Now she has a little bit more experience," he said of the mare he found in Germany that was ridden by Holger Wulschner. "She's 11 years old now and a good, good horse. She's very, very easy and she has top technique. She's a pleasure to ride."
Musa won four FEI ranking classes at the 2018 Winter Equestrian Festival, including one five-star class, but this is his first win in 2019.
"I win classes in two-star and three-star, and it's good, but to win in the five-star is much better!" he said with a smile. "There are many, many top riders in this class, and it's great to win."
Final Results: $36,000 Bainbridge 1.45m Classic
1 CATCH ME IMPERIO EGIPCIO: 2008 Hanoverian mare by Contagio x Werther
FRANCISCO JOSE MESQUITA MUSA (BRA), Daniel Aguiar Morelli: 0/62.20
2 BEC LORENZO: 2010 Irish Sport Horse gelding by Livello x Guidam
CATHERINE TYREE (USA), Mary Tyree: 0/64.24
3 DICAS: 2009 Rheinlander gelding by Diarado x Cassini I
MARGIE ENGLE (USA), Storm Ridge Capital LLC, Show Horses, Garber & Gladewinds Partners LLC: 0/64.33
4 DIAMONTE DARCO: 2005 GBSH mare by Unbelievable Darco x Unknown
LUCAS PORTER (USA), Sleepy P Ranch LLC: 0/65.43
5 DAZERMIE: 2008 KWPN mare by Asemie x Hamlet
EMIL HALLUNDBAEK (DEN), Emil Hallundbaek: 0/65.56
6 AMSTERDAM 27: 2010 Holsteiner gelding by Catoki x Acord II
MARIO DESLAURIERS (CAN), Wishing Well Farm LLC: 0/66.78
7 IKEA: 2008 BWP mare by Thunder van de Zuuthoeve x Burggraaf
LILLIE KEENAN (USA), Chansonette Farm LLC: 0/67.82
8 CORRADA: 2007 KWPN mare by Oklund x Loriston
HARRIE SMOLDERS (NED), Copernicus Stables LLC:
9 USA NORMANDE: 2008 Selle Francais mare by Made in Semilly x Urbain du Monnai
MARGIE ENGLE (USA), Paillot Equestrian & Gladwinds Farm Inc.: 0/68.28
10 OASIS SPIRIT: 2010 Irish Sport Horse mare by Cobra
AMANDA DERBYSHIRE (GBR), Gochman Sport Horses LLC: 0/68.78
11 SKARA GLEN'S FLORENCIA: 2010 NRPS mare by Guidam's Willow x Esprit
PAUL O'SHEA (IRL), Skara Glen Stables: 0/69.16
12 SKARA GLEN'S CHANCELLORESS: 2009 KWPN mare by Chacco Blue x Balou du Rouet
PAUL O'SHEA (IRL), Skara Glen Stables: 0/70.64
Chapot and Chandon Blue Do It Again in $36,000 Puissance America 1.45m Classic CSI 2*
The start list of 72 entries was full of top horses and riders, which showed when 19 advanced to the jump-off of the $36,000 Puissance America 1.45m Classic CSI 2*. Eighteen chose to return to contest the jump-off.
The early leader was Fabio Leivas Da Costa (BRA) on Bonne Chance Farm's Randon Pleasure. They set the first time to beat as the pathfinders in the ring in 39.12 seconds.
Da Costa's time held until Lacey Gilbertson (USA) and Seabrook LLC's Baloppi entered the ring. They lowered the time to 38.65 seconds, which would hold up for second place.
One of the fastest pairs on the circuit, Laura Chapot (USA) and Chandon Blue, were the ones who were able to post the winning time of 37.03 seconds. They were able to take advantage of Chandon Blue's large stride to leave out strides in two lines and take their fourth win of the circuit.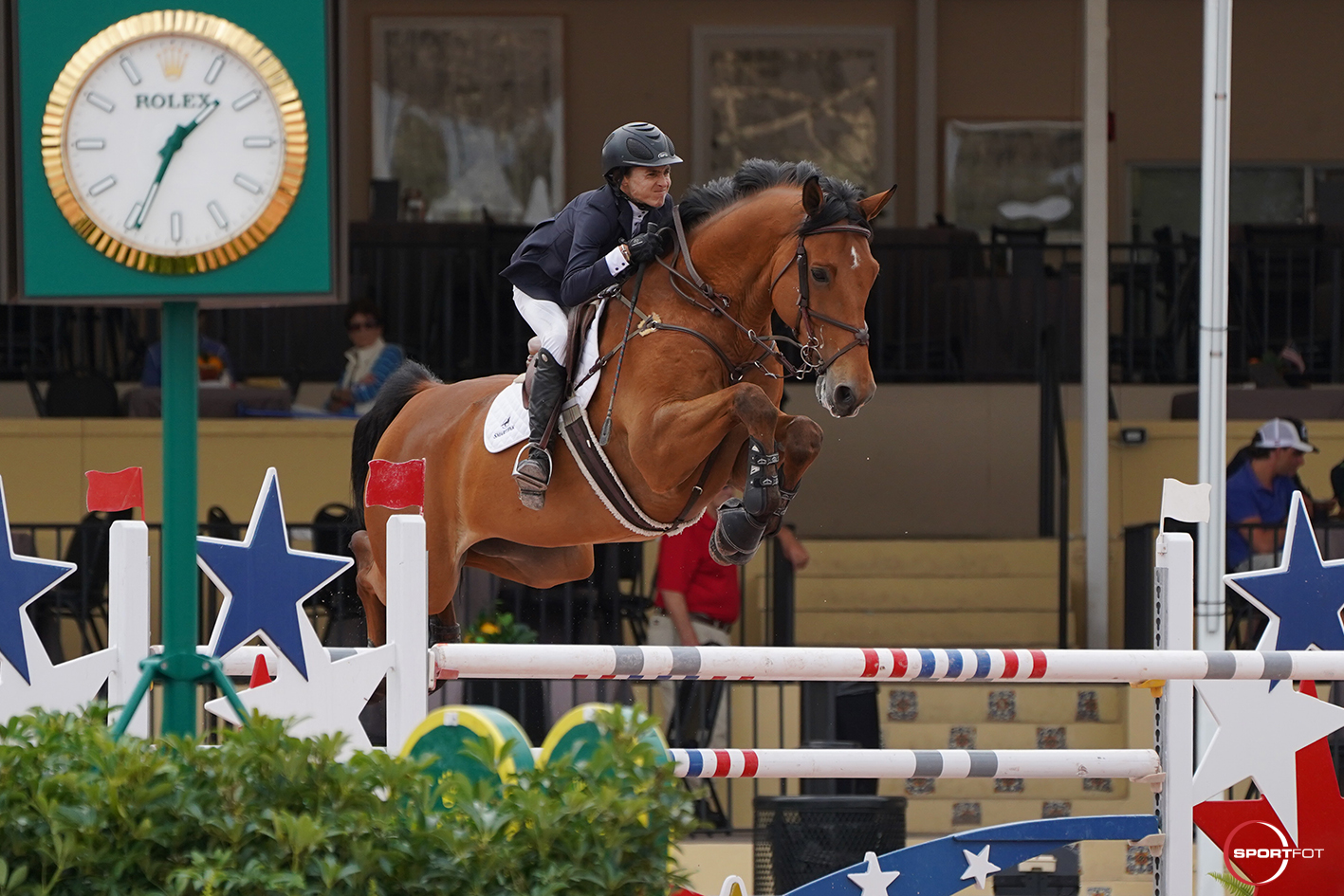 "The first horse was incredibly fast, but it didn't have quite as much stride as my horse. That's where I thought maybe I could have an advantage," said Chapot. "I felt like if I hit the second fence right, I could leave out a stride over him there. My horse was just really on his game for the jump-off. I thought he made a really good turn to the fourth jump. I settled him a bit to the in-and-out and that's the only place I maybe let him take a breath. We left out a stride again to the last fence. My horse is naturally quick, and with that one less stride in both places, I think that's where I had the edge over the second and third places."
Chapot has ridden Chandon Blue, a 14-year-old Oldenburg gelding by Chacco-Blue, since January 2018 and said he is one that is "easygoing and playful" and "enjoys a lot of attention."
That easygoing personality is what makes him an easy keeper when he's not in the show ring. This was Chandon Blue's 13th class at the 2019 WEF (and his ninth top-three finish) and since he's very fit from competing, Chapot likes to keep him feeling fresh.
"I don't have to do a whole lot with him between shows," she confirmed. "On his weeks off, I just try to keep him settled, quiet, and relaxed. He's actually pretty relaxed when he flats anyway. He's a horse who knows when it counts, when we're horse showing or when we're just trotting around the ring. Today he was bucking after the jump in the schooling area and yesterday he would just trot around on a loose rein in the exercise ring."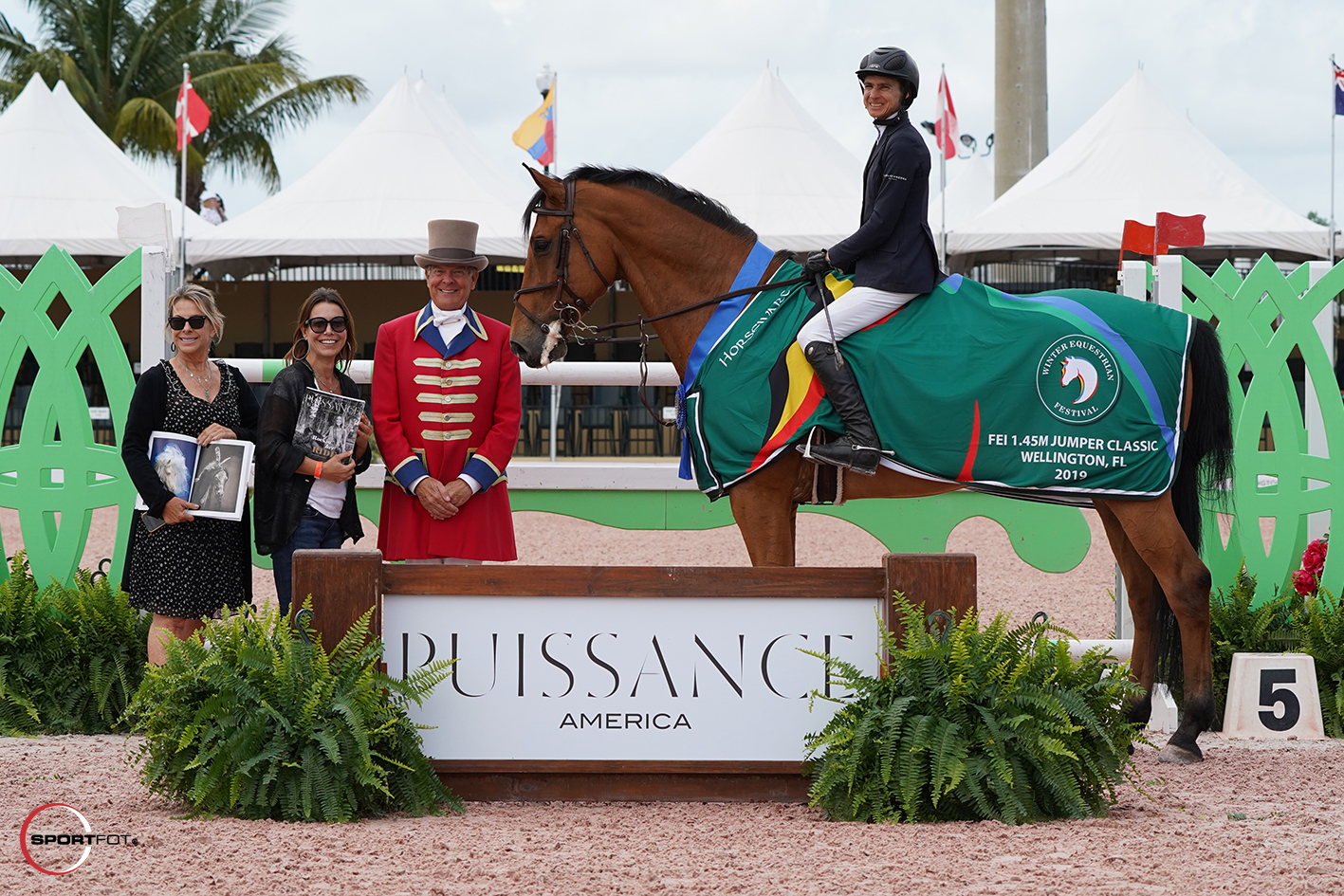 Chapot and Chandon Blue will contest Sunday's $50,000 Puissance America Grand Prix CSI 2* as their final event of the season.
Final Results: $36,000 Puissance America 1.45m Classic CSI 2*
1 CHANDON BLUE: 2005 Oldenburg gelding by Chacco Blue x Landcapitol
LAURA CHAPOT (USA), Mary Chapot: 0/0/37.03
2 BALOPPI: 2007 Danish Warmblood mare
LACEY GILBERTSON (USA), Seabrook LLC: 0/0/38.65
3 RANDON PLEASURE: 2005 Selle Francais mare by For Pleasure x Quidam de Revel
FABIO LEIVAS DA COSTA (BRA), Bonne Chance Farm: 0/0/39.12
4 BERDIEN: 2011 Zangersheide mare by Bustique x Querlybet Hero
MOLLY ASHE CAWLEY (USA), Louisburg Farm: 0/0/40.24
5 FANTASY BB: 2010 KWPN mare by Cardento 933 x Indorado
JONATHAN MCCREA (USA), Candy Tribble: 0/0/40.33
6 VICTORIO 5: 2006 Hanoverian stallion by Uccello x Graf Top
ABIGAIL MCARDLE (USA), Victorio Equine Group LLC: 0/0/41.84
7 VAN GOGH: 2008 Oldenburg gelding by Valentino x Caretano Z
WILHELM GENN (USA), Wilhelm & Patty Genn: 0/0/42.76
8 BALOUTINUE: 2010 Hanoverian gelding by Balou du Rouet x Landor S
ADAM PRUDENT (USA), Plain Bay Farm: 0/0/43.87
9 PRESTIGIOUS: 2007 Westphalian gelding by Con Cento x Corofino
MADISON GOETZMANN (USA), Madison Goetzmann: 0/4/37.85
10 ZAMBIA MYSTIC ROSE: 2008 BH mare
DIEGO VIVERO (ECU), Haras Mystic Rose: 0/4/39.17
11 HELIOS: 2007 Belgian Warmblood by Couleur-Rubin x Grandeur
DIEGO PEREZ BILBAO (ESP, Diego Perez Bilbao: 0/4/39.90
12 ISABELLE: 2009 KWPN mare by Chepetto x Joost
CLAIRE MCKEAN (USA), Claire McKean: 0/4/40.78
The final week of WEF continues on Saturday, March 30, with the $500,000 Rolex Grand Prix CSI 5* at 7:30 p.m. along with top national hunter, jumper, and equitation competition.