For Immediate Release
Ava Lindsay for Jennifer Wood Media, Inc.
Wellington, FL – April 1, 2018 – Liza Boyd, of Camden, SC, piloted S&L Just A Cobbler, an entry of S&L Farms, to the top of the field in the $50,000 USHJA International Hunter Derby to conclude the last week of competition at the 2018 Winter Equestrian Festival, held over 12 weeks at the Palm Beach International Equestrian Center (PBIEC) in Wellington, FL, and awarding more than $9 million in prize money.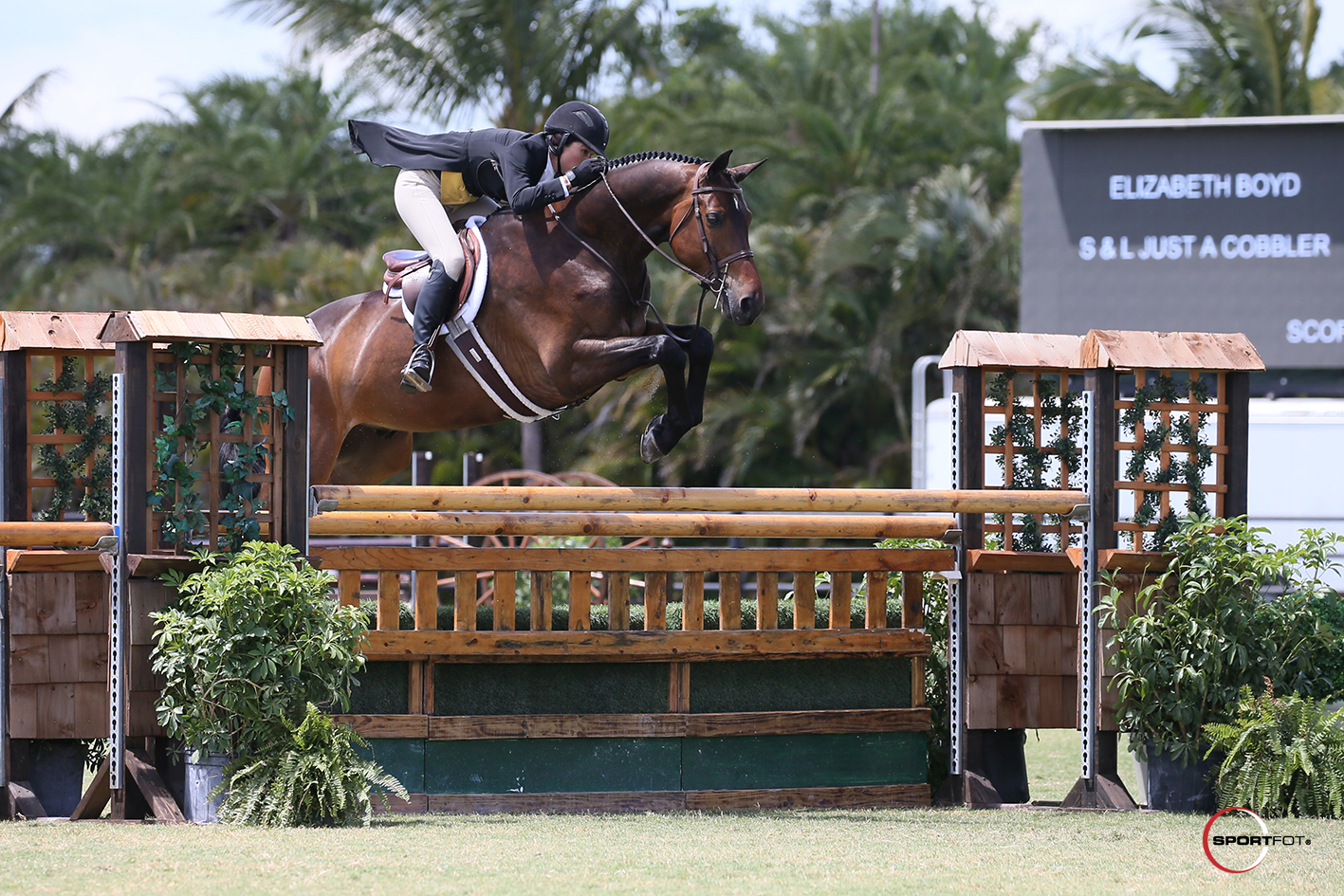 Boyd and her mount of four months bested a total of 39 competitors out on the grass field at Equestrian Village at PBIEC with a total of 391.75 points from the judges.
Conducted in a normal hunter derby format, consisting of a classic round and a handy round, riders tackled Kenny Krome's first course of eleven fences on Saturday to secure a spot in the top 25 for round two. Two panels of judges scored each trip and additional points were offered for high option fences.
On Sunday, the leading 25 returned to the derby track for a handy round, which was also judged by two judging panels with high option points, however, bonus scores were additionally offered for handiness on course.
Boyd and S&L Just A Cobbler sat in sixth place going into the second day of competition with a 180.75 from the judges, which was over eight points less than Hannan Isop and Red Ryder's leading 189. However, this did not faze the duo, as they clinched the leading title with a score of 211 on day two and remained unbeatable with a 391.75 total.
S&L Just A Cobbler is an eight-year-old KWPN gelding and consistent winner in the ring, having won the championship tricolor with Boyd twice in the Green Hunter 3'9" division this circuit as well as a second place in WEF's first-ever $15,000 USHJA International Hunter Derby 'Hunt and Go' during week four.
"This horse is very different ride than we are all used to nowadays," said Boyd. "He is more of a thoroughbred type. I sort of just chuck the reins at him, and if he starts pulling at all, I just let go and he slows down. It reminds me of my childhood days with Monday Morning, and I love it. He is definitely a different ride than Brunello."
Brunello was Boyd's mount to win three consecutive USHJA International Hunter Derby Championships in 2013, 2014, and 2015, leaving S&L Just A Cobbler with a big name to live up to.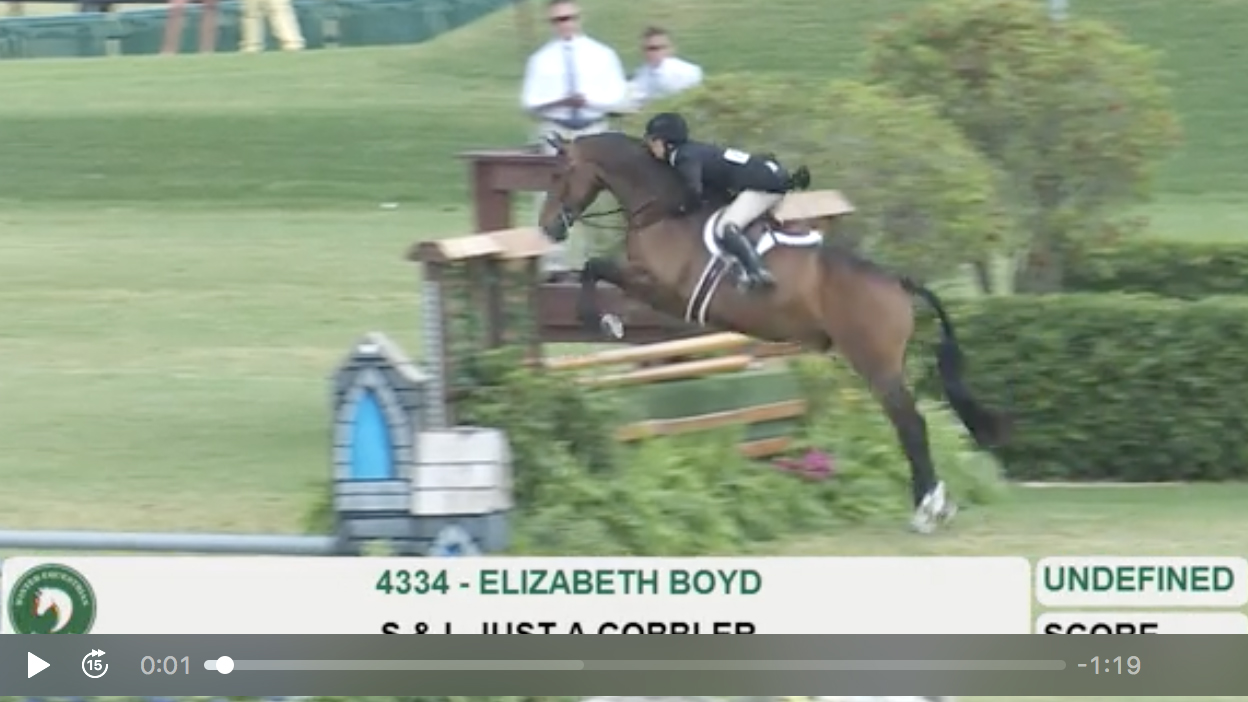 Click here to watch the winning derby round! 
"I feel so lucky to have got him at a stage where he is ready to be very competitive," said Boyd. "I have to give credit to the riders that rode him before me, and I think that he is a good example of a horse that has come through our hunter pipeline from the pre-green division on up. My dad, Jack Towell, and I have always loved Cobbler, and I would always envy him when I would watch him show at places like the [USHJA Pre-Green Incentive Championship]."
In addition to their big finish at the end of the week, Boyd and the young gelding placed third in Friday's $15,000 USHJA International Hunter Derby Hunt & Go on Friday and continued to prove their abilities throughout the weekend.
"He got better and better every day on the field, and I really appreciate that WEF had the Hunt and Go format on Friday for riders and horses to get out on the grass and get used to it. I noticed that the judges were really rewarding galloping [today], and that there were not a lot of places to go inside, or to be too handy, so I think I really wanted to show off a bigger stride. My strategy was to keep moving and make sure that the jumps held him off, so he would jump high."
Jennifer Hannan, of Wakefield, RI, took second-place honors aboard Kensel LLC's Mindful and echoed Boyd's thoughts.
"My horse loves to gallop, so it is actually much easier for us to do a handy-type class like this one," said Hannan. "The course started to get a little challenging by the fourth fence with a very up-and-down vertical at the top of the ring. There was a lot for the horses to look at, but after the trot jump, that's where you could really start to get moving, and the judges were looking for us to do that."
The duo also captured the blue in Friday's derby and followed the same strategy going into today following a first round score of 179, and with a second round score of 205, gave them a 384 total to earn the second-place spot behind Boyd.
Samanatha Schaefer rode In The Know, an entry of Madeline Schaefer, to the third place standing with a total of 383, following first and second round scores of 181 and 202.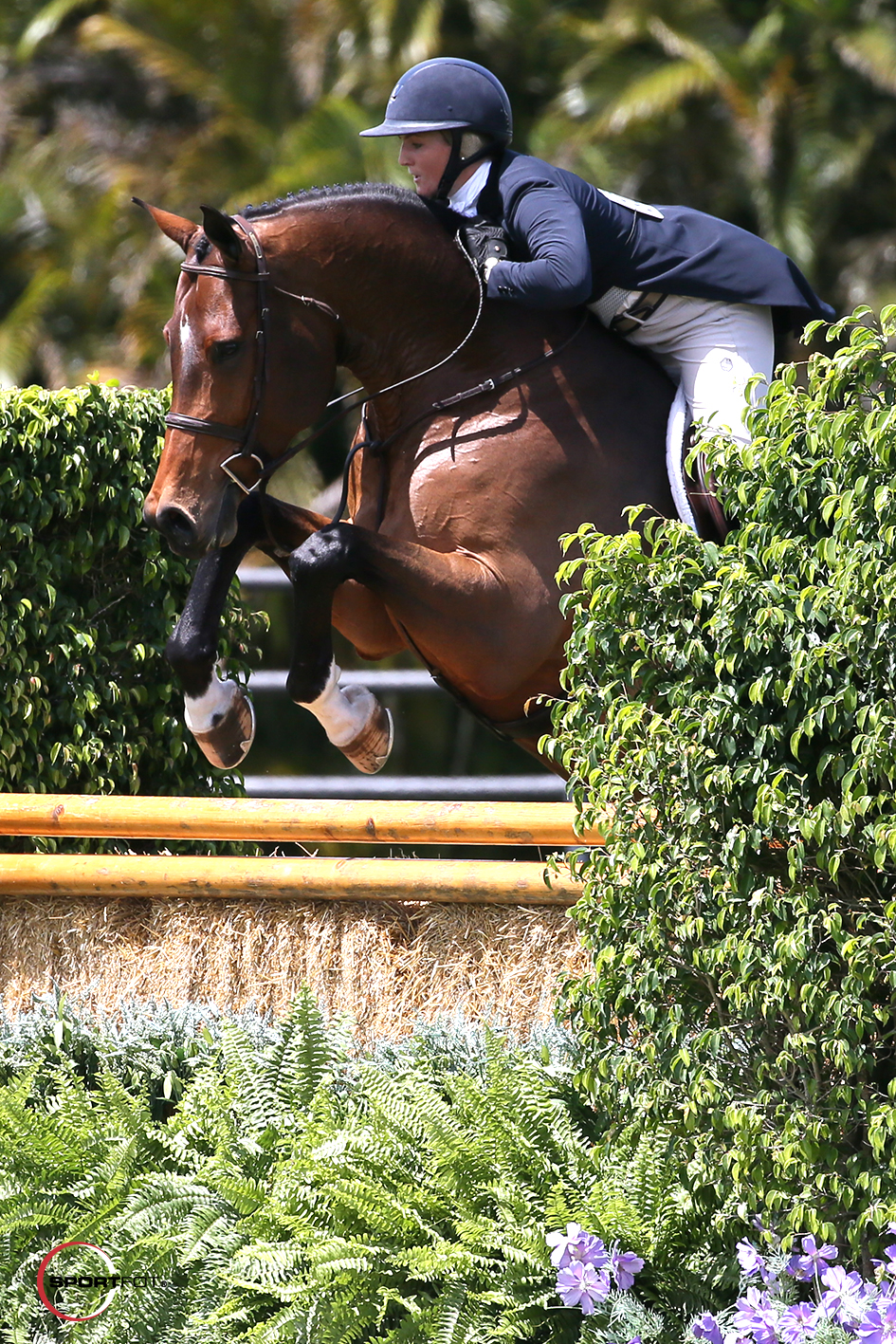 "It is so fun to ride out there," said Schaefer. "I try not to miss any opportunity we get to ride on the grass like this.
"I keep telling Maddie that I am going to give him back, but I'm not going to," said Schaefer jokingly of her sister's horse. "We have been doing derbies for two years now, and he always rises to the occasion."
The three riders were excited about the additional hunter derby opportunities at this year's WEF.
"The horse show has done a great job of introducing new opportunities for us, such as the national hunter derbies on the field, and I would love to see one or two more derby classes next year," said Boyd. "[Ultimately,] it is nice to be able to highlight our derby experience, and the more practice we can get as riders on the bigger fields the better."
Following her memorable Easter Sunday, Boyd plans on donating her winnings to the Epilepsy Foundation, and expressed her gratitude for all the people involved in her big 2018 WEF win.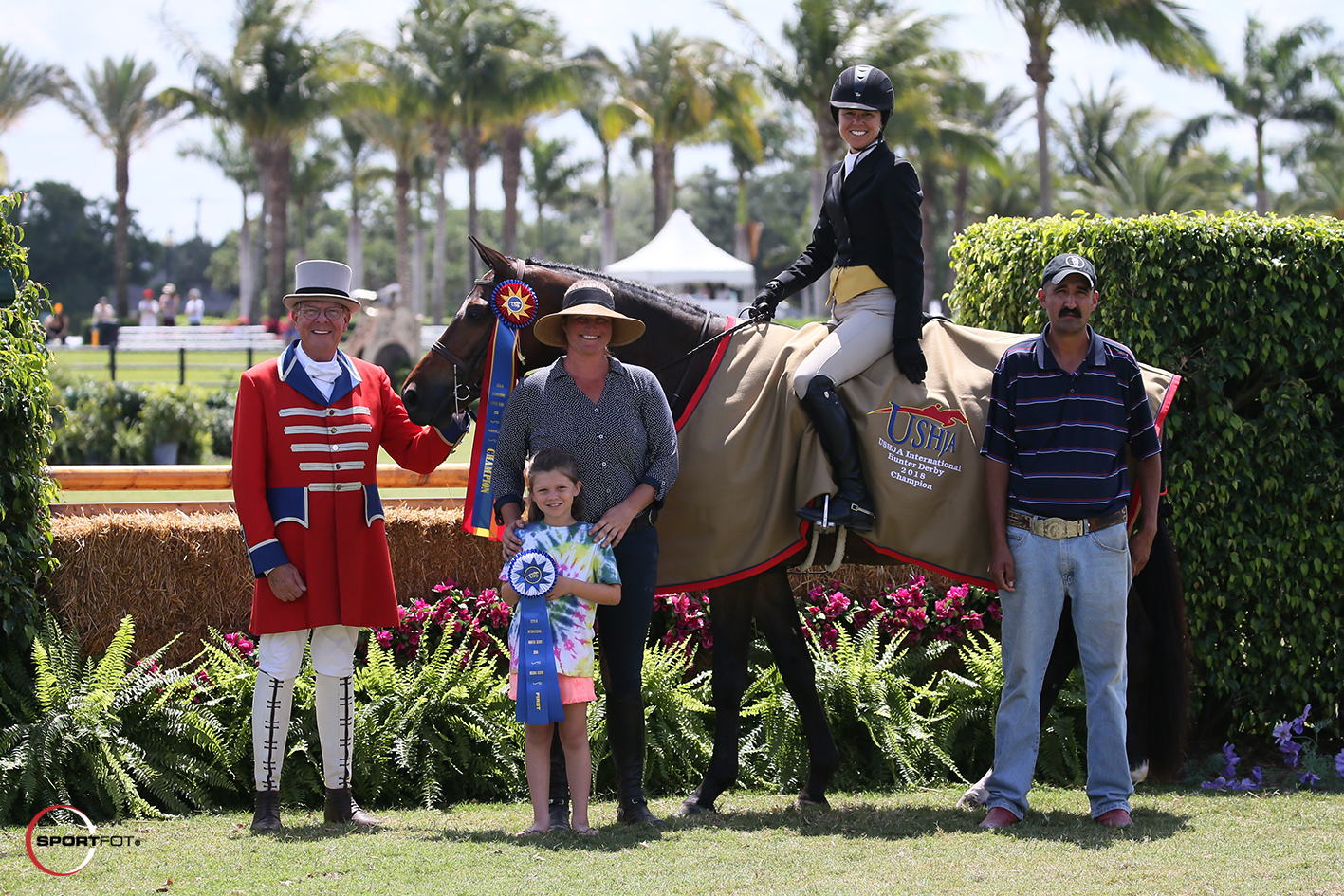 "I'm sitting in the winner's seat right now because of Katie Wood, who works for me, and my dad," said Boyd. "It's a real team. This is a class I have always wanted to win, and I woke up with this special feeling this morning that it was going to happen. I am usually the opposite, so I went into today with a good frame of mind. I think we as riders have to pump ourselves up in different ways, and after many weeks of showing, I had to give myself a goal and something to be grateful for. I'm glad it all worked out the way it did!"
Final Results: $50,000 USHJA International Hunter Derby
1   4334 ELIZABETH BOYD, S&L JUST A COBBLER, S&L FARMS
R1 SCORE                      180.75
R2/J1   93.00  9.00   4.00
R2/J2   92.00  9.00   4.00 211.00 391.75
2   2091 JENNIFER HANNAN, MINDFUL, KENSEL, LLC
R1 SCORE                     179.00
R2/J1   89.00  9.00   4.00
R2/J2   90.00  9.00   4.00 205.00 384.00
3   3462 SAMANTHA SCHAEFER, IN THE KNOW, MADELINE SCHAEFER
R1 SCORE                      181.00
R2/J1   88.00  9.00   4.00
R2/J2   88.00  9.00   4.00 202.00 383.00
4   3596 KELLEY FARMER, EXCEPTIONAL, TODD MINIKUS LTD
R1 SCORE                      188.00
R2/J1   84.50  8.00   4.00
R2/J2   87.00  6.00   4.00 193.50 381.50
5   2211 HANNAN ISOP, RED RYDER, TRACY FREELS
R1 SCORE                      189.00
R2/J1   84.25  7.00   4.00
R2/J2   84.50  7.00   4.00 190.75 379.75
6   1433 VICTORIA COLVIN, CUBA, JOHN & STEPHANIE INGRAM, LLC
R1 SCORE                      177.50
R2/J1   86.00  9.00   4.00
R2/J2   89.00  9.00   4.00 201.00 378.50
7   6982 VICTORIA COLVIN, PRIVATE PRACTICE, BRAD WOLF
R1 SCORE                      177.50
R2/J1   87.00  8.00   4.00
R2/J2   86.50  8.00   4.00 197.50 375.00
8   1435 VICTORIA COLVIN, I LOVE LUCY, JOHN & STEPHANIE INGRAM, LLC
R1 SCORE                      173.75
R2/J1   84.00  8.00   4.00
R2/J2   85.00  8.00   4.00 193.00 366.75
9   2776 SARA TAYLOR, NO DOUBT, ELIZABETH PHILLIPS
R1 SCORE                     178.00
R2/J1   86.50  5.00   2.00
R2/J2   83.50  5.00   2.00 184.00 362.00
10  2662 VICTORIA COLVIN, GELATO, NICODEMUS FARMS
R1 SCORE                      172.00
R2/J1   83.00  8.00   3.00
R2/J2   82.00  7.00   3.00 186.00 358.00
11  2092 JENNIFER HANNAN, CLAIRE KENNA, CLAIRE KENNA
R1 SCORE                     168.00
R2/J1   82.00  6.00   4.00
R2/J2   85.50  8.00   4.00 189.50 357.50
12  4761 KRISTY HERRERA, KENSI, EMILY CHERNEY
R1 SCORE                      166.00
R2/J1   81.50  9.00   4.00
R2/J2   84.00  9.00   4.00 191.50 357.50
Elisa Uribe Claims Her First Grand Prix Win on Final Day of WEF 2018
 Emily Riden for Jennifer Wood Media, Inc.
Elisa Uribe of Colombia earned the final grand prix victory of the 2018 Winter Equestrian Festival (WEF) season, winning the $50,000 The Wanderers Club Grand Prix CSI2* on Sunday, April 1.
 Forty-four entries contested the track for Sunday's $50,000 The Wanderers Club Grand Prix CSI2*, and seven advanced to jump-off over the short course set by 2016 Rio Olympic Games course designer Guilherme Jorge of Brazil.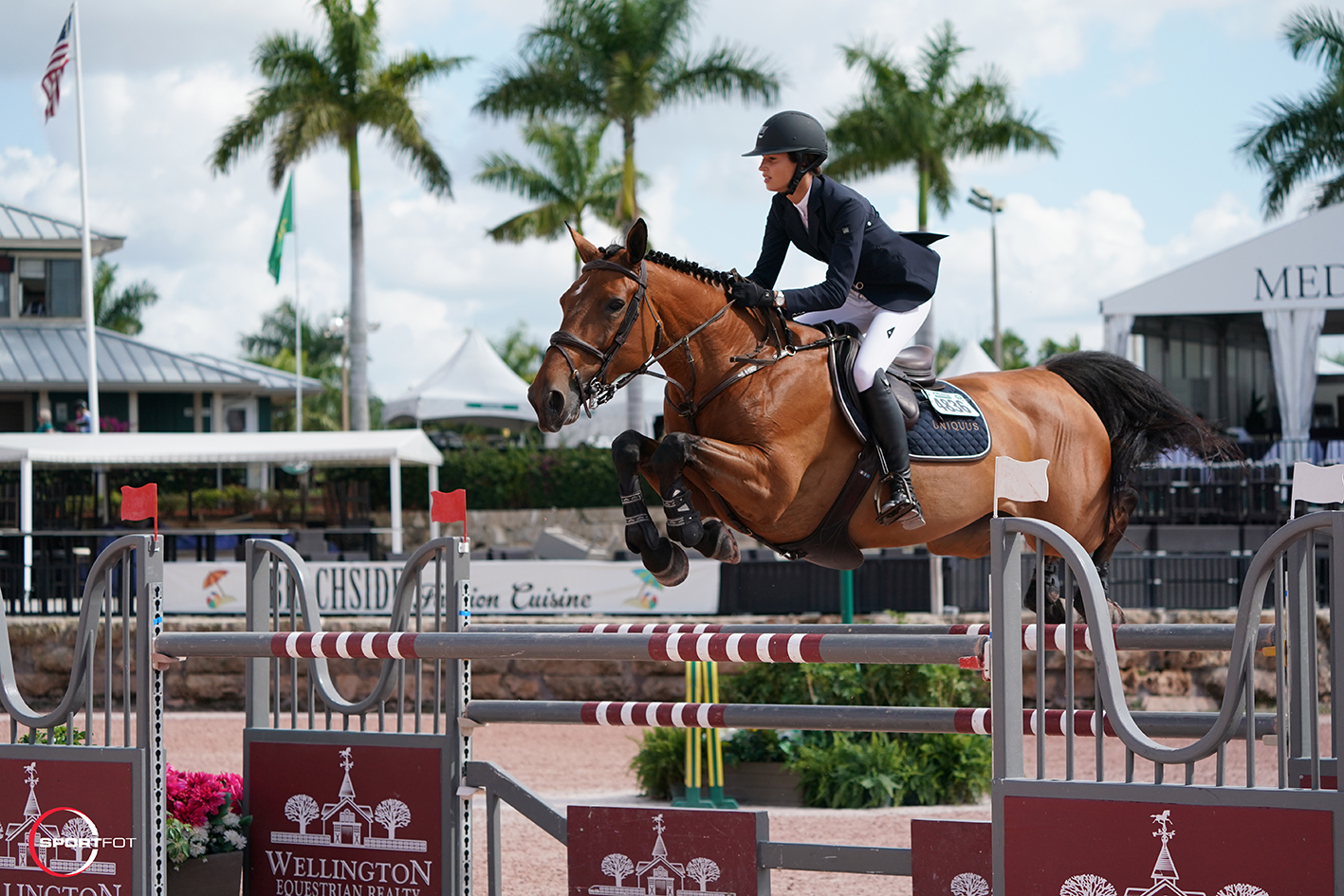 Uribe was the first to return for the second round, and she and her own Havana de la Lande laid down a clear time of 40.15 seconds that would prove unbeatable and would secure Uribe her very first international victory and her first grand prix win.
Finishing in second with a time of 43.45 seconds were Ashley Baker (USA) and Coolmann 7, owned by Grand Slam Farm. With just one rail down in the jump-off and a time of 39.11 seconds, the USA's Mavis Spencer finished in third aboard SHL Sweet Tricia, owned by Sarah Ryan.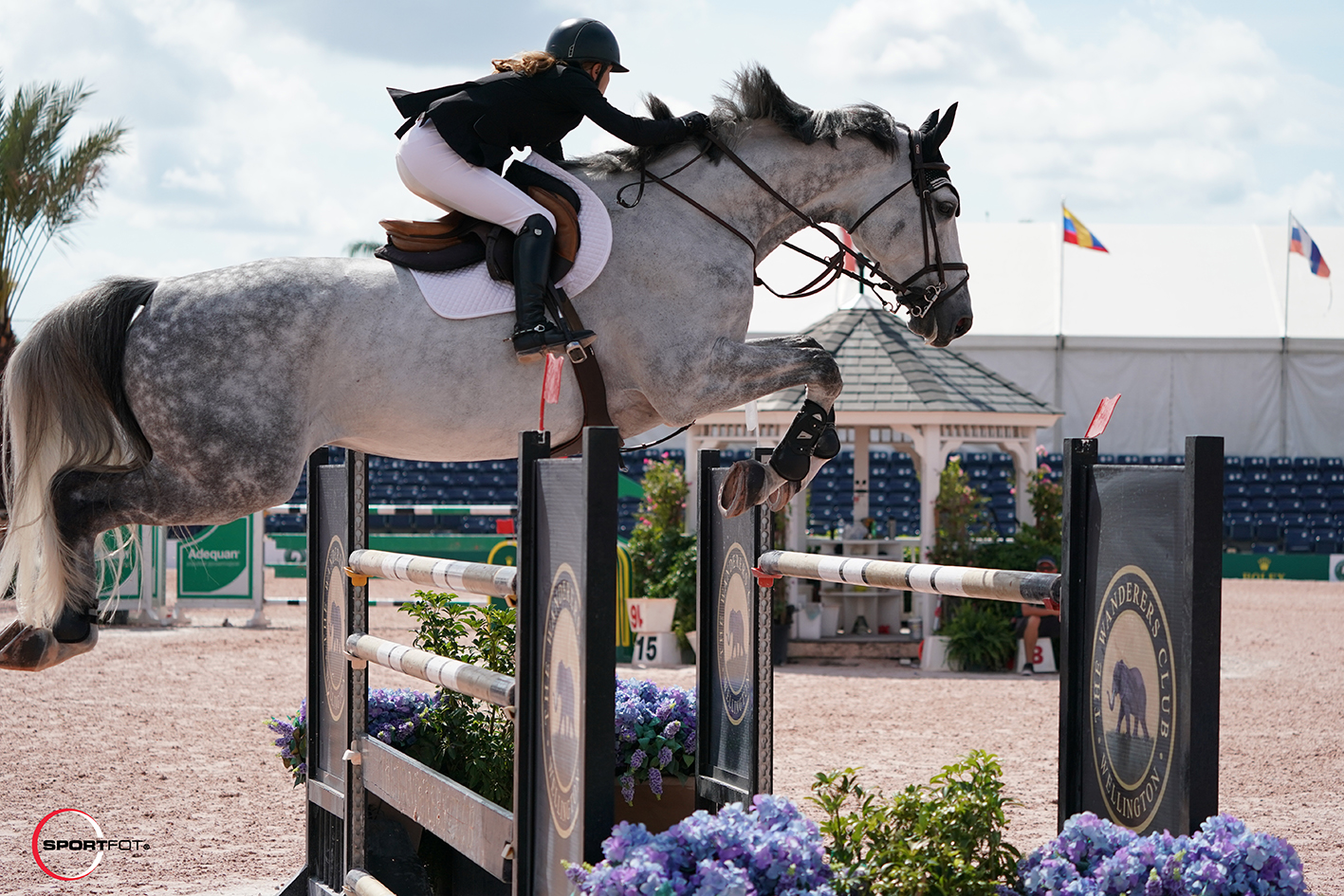 "I'm maybe the happiest person in the world right now," said Uribe, 27, who was immediately joined by excited friends and family, including her husband and trainer, Juan Manuel Gallego (MEX), following her win.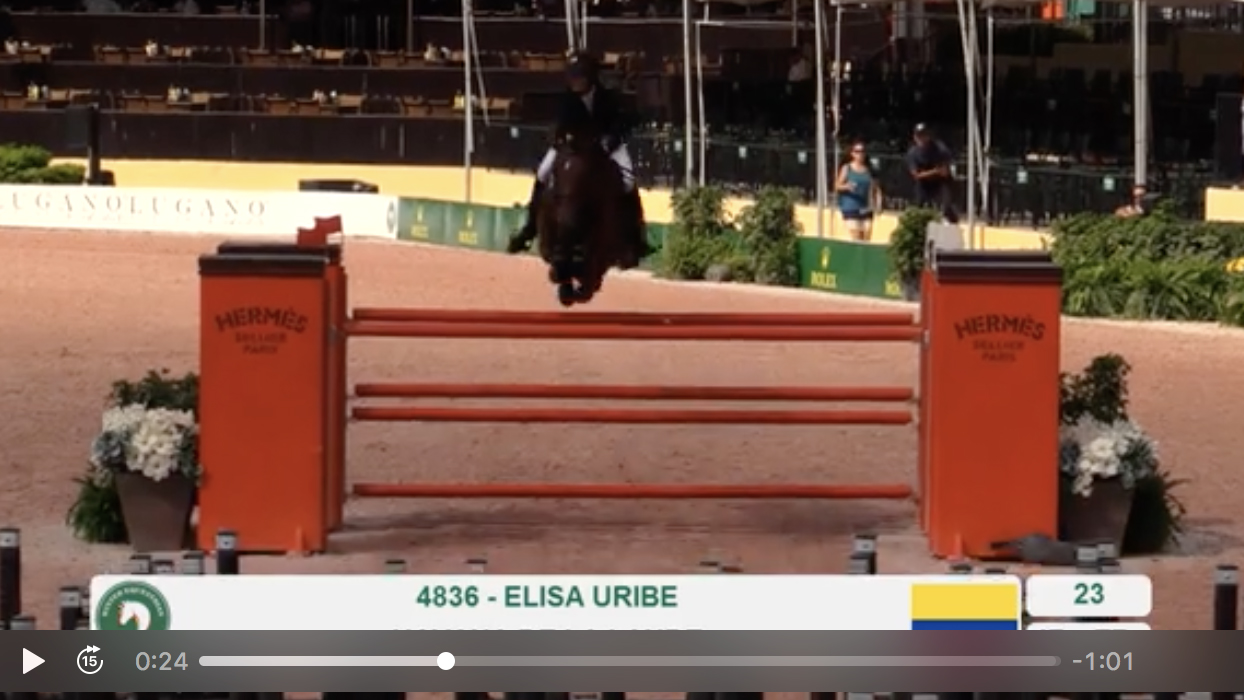 Watch the winning jump-off round!
"Since I first rode her this morning, I knew she was going to be good today!" continued Uribe, speaking of Havana de la Lande, an 11-year-old Belgian Warmblood mare she has owned since the mare was seven. "She has all of the attitude to win. She has a lot of temperament. She's a real mare, but she really tries her best to jump. She's fast; she doesn't lose any time in the air. That's good when you're wanting to go fast, and she doesn't like to touch a rail ever. If she does it, she really gets mad."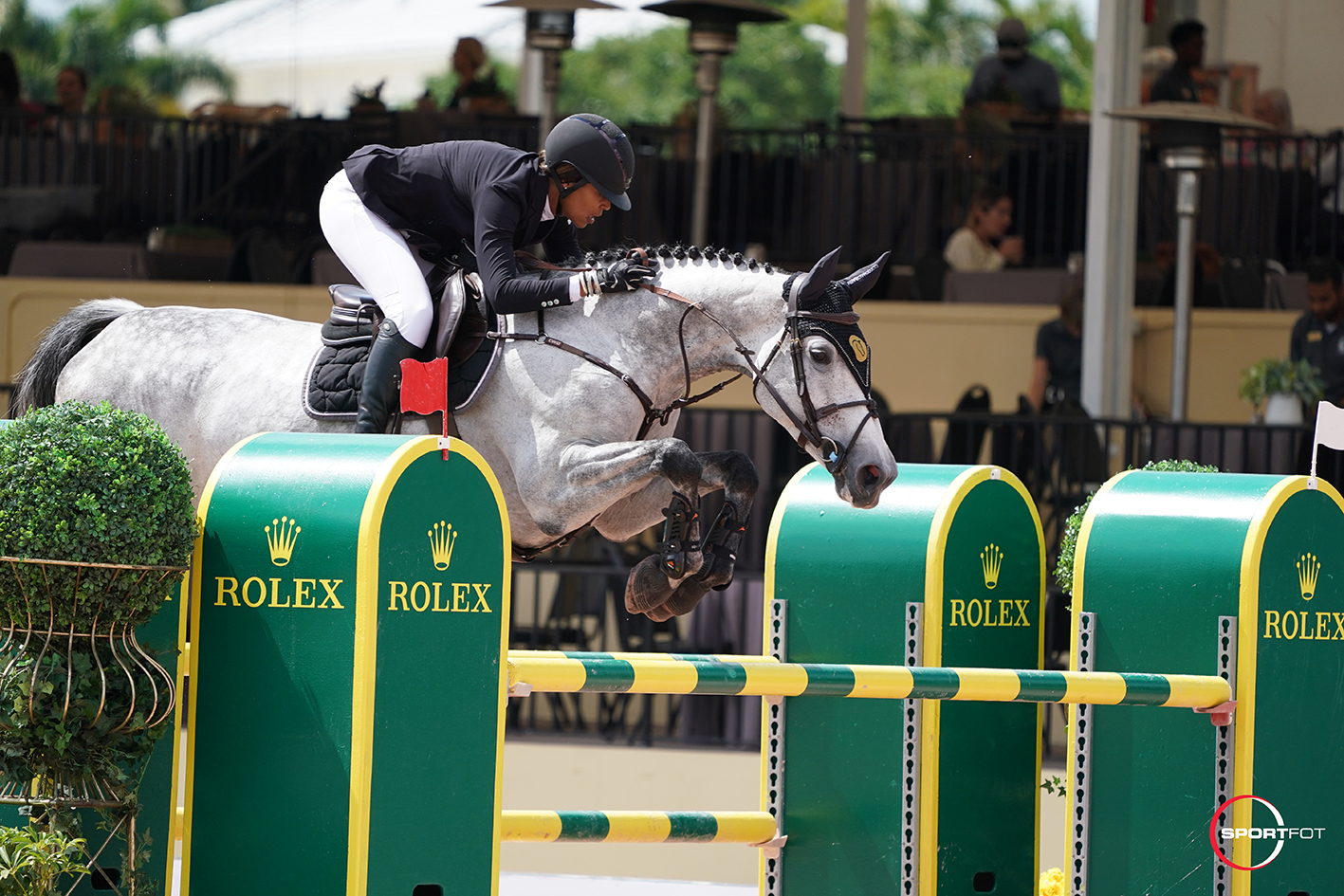 As the first to jump-off, Uribe aimed to go clear and just quick enough to put pressure on the remaining competitors, and that plan proved more than successful.
"I thought I went the best that I could," explained Uribe. "To run a bit more it would have been too risky. There was only one that was a little bit faster than me, like almost a second, but she had an unlucky rail, so I think my plan was perfect."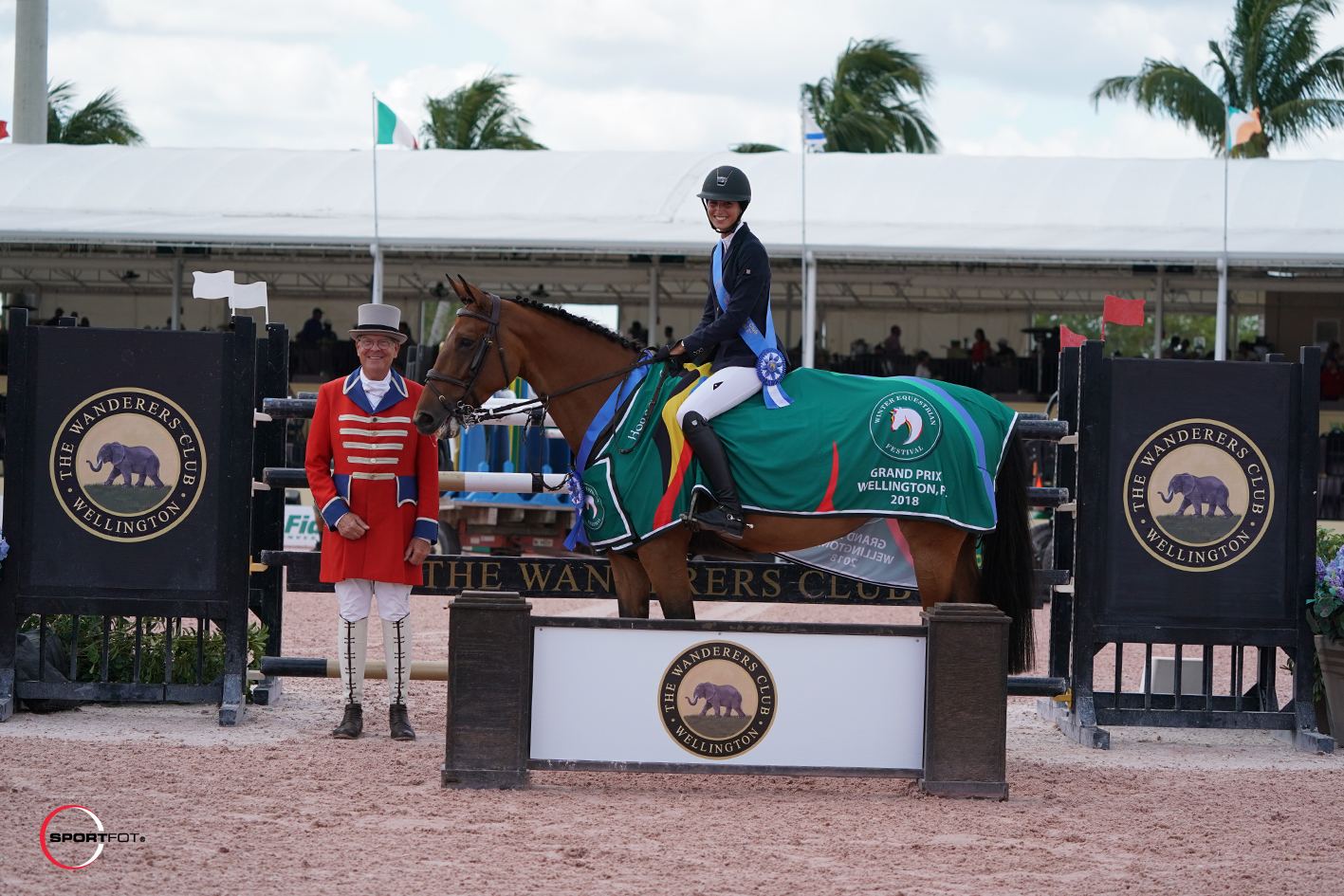 This year marked Uribe's very first year competing at WEF, and now, particularly following Sunday's exciting conclusion, she looks forward to returning. "It's been amazing," said Uribe. "I've really, really enjoyed it."
Final Results: $50,000 The Wanderers Club Grand Prix CSI2*
1 HAVANA DE LA LANDE: 2007 Belgian Warmblood mare by Nabab de Reve x Parco
ELISA URIBE (COL), Elisa Uribe: 0/0/40.15
2 COOLMANN 7: 2007 Holsteiner gelding by Calido I x Acord II
ASHLEY BAKER (USA), Grand Slam Farm: 0/0/43.45
3 SHL SWEET TRICIA: 2009 KWPN mare by Caspar x Tampa
MAVIS SPENCER (USA), Sarah Ryan: 0/4/39.11
4 CATINKA 25: 2009 Oldenburg mare by Catoki x Luxano
VANESSA MANNIX (CAN), Vanessa Manix: 0/4/41.35
5 AANWINST: 2005 KWPN mare by Odermus R x Jackson
JORDAN MACPHERSON (CAN), JEM Stables Inc: 0/4/41.38
6 FIRE AND ICE J: 2010 Westphalian stallion by For Contest x Coronino
LEONIE BOCKMANN (GER), Turniergemeinschaft Brinkmann & Böckmann Pferde GmbH: 0/4/42.17
7 CITIZENGUARD CADJANINE Z: 2002 Zangersheide mare by Canabis Z x Feinschnitt I Z
ELISSA REISMAN (CAN), Taboo Holdings Inc: 0/8/38.00
8 BALOU DU REVENTON: 2006 Oldenburg stallion by Cornet Obolensky x Continue
JORGE MATTE CAPDEVILA (CHI), Jorge Matte Capdevila: 1/75.32
9 ALLEGRO VAN DE DONKHOEVE: 2000 Belgian Warmblood gelding by Mr. Blue x Robin II Z
PAULO STEWART (BRA), Paulo Stewart: 1/75.77
10 VDL CARTELLO: 2007 Holsteiner stallion by Cartani x Lord
CORMAC HANLEY (IRL), Heathman Farm LLC: 4/68.93
11 CANAMERA 2: 2009 Holsteiner mare by Clarimo x Carthago
PETER WYLDE (USA), Kathleen Kamine: 4/70.84
12 END GOOD ALL GOOD: 2009 KWPN gelding by Mr. Blue x Caretino
JAVIER FERNANDEZ (MEX), Patricio Miguel Madero Blasquez: 4/71.05
McLain Ward Rides to One-Two Finish in $50,000 CP 1.50m National Grand Prix
 Lindsay Brock for Jennifer Wood Media, Inc.
 Two-time U.S. Olympic gold medalist McLain Ward ended the 2018 WEF circuit on a high note on Sunday with first and second place in the final event of the circuit, the $50,000 CP 1.50m National Grand Prix. With two mounts in the class, Ward claimed the victory riding Clinta for owner Sagamore Farms and was second aboard Bellefleur PS Z, owned by Susan Heller and Lilly Ward.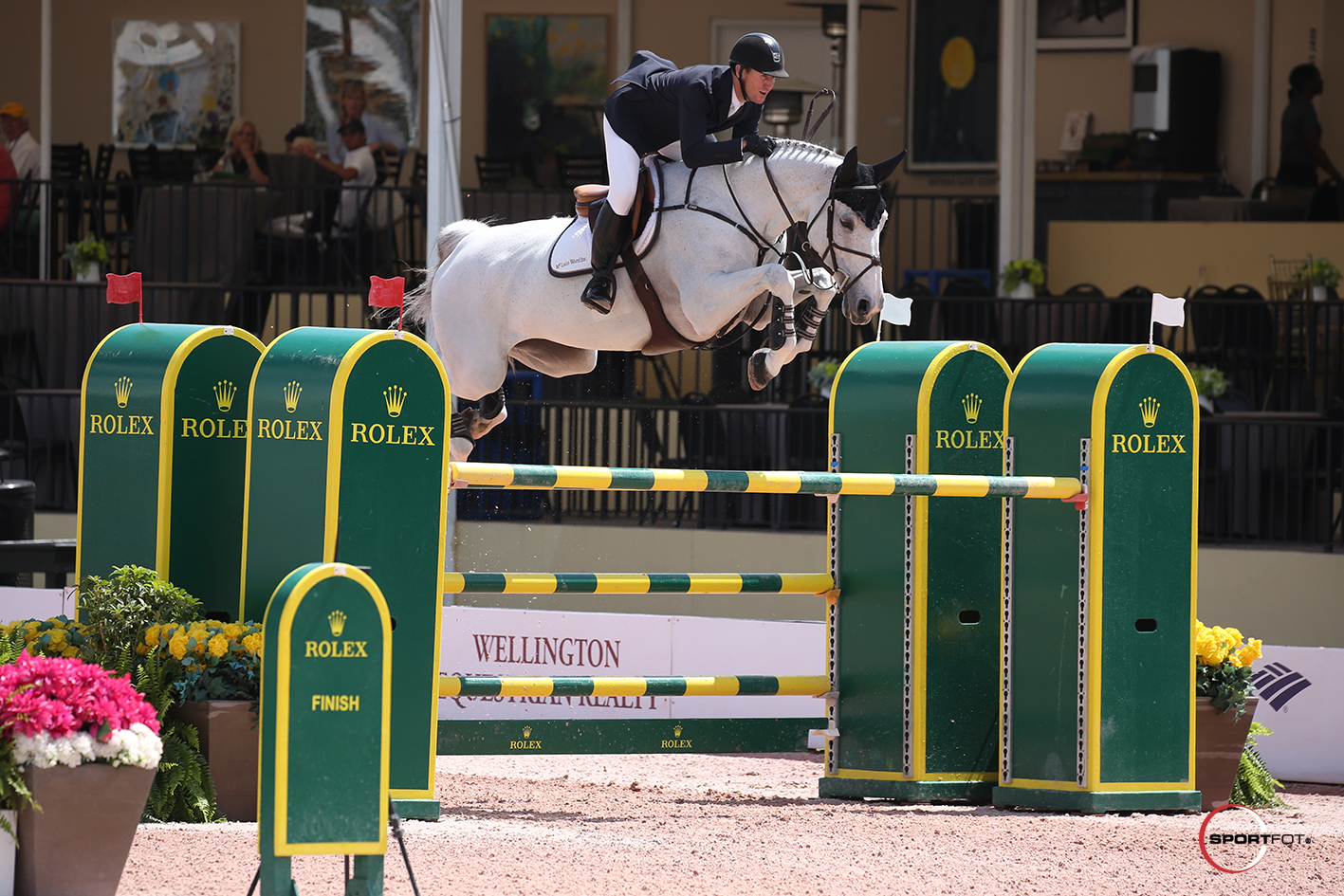 Forty-five horses made up the order for the CP Grand Prix with 14 advancing to the jump-off course designed by Guilherme Jorge of Brazil. Ward first took the lead riding Bellefleur PS Z, a nine-year-old Zangersheide mare by Berlin x Quidam de Revel who had already carried him to several wins this season. They stopped the clock at 34.737 seconds, which was only bested by Ward himself, this time on Clinta. The 11-year-old Oldenburg mare by Clinton x Lord Pezi crossed the timers more than a second faster in 33.696 seconds for the win.
Rounding out the top three, Rowan Willis (AUS) rode his own Shark to a double-clear effort in 35.730 seconds.
Ward added Clinta to his string just a week ago after first watching the horse compete in Aachen last summer and purchasing her from Paul Schockemöhle.
"I went and tried her in July and loved her," said Ward of the mare previously developed by Germany's Philip Rüping. "She's a spectacular horse and I tried to get her bought a multitude of different ways, but it wasn't very easy. They knew they had something special and I actually called them once a week for seven months with a new idea. Maybe the just got tired of me! The Sweeneys and Sagamore Farms stepped up and purchased her in January.
"We have five grey mares now that are all incredible, and one bay one that's not so bad either," joked McLain of his impressive strong at the moment. "I have great support from Double H Farm and the Harrisons, even during a difficult time of losing Hunter, right on down the line to Susie Heller, the Sweeneys and everybody who does everything they can to make our team as strong as possible. You really are building a team now in the sport. You can't do it with one horse."
After securing his first win on Clinta early in their career together, Ward has big plans, saying, "She is the most careful horses I have ever sat on. I think this is one to be a one-two punch with Azur. You can see it in the way she jumps; it doesn't look real."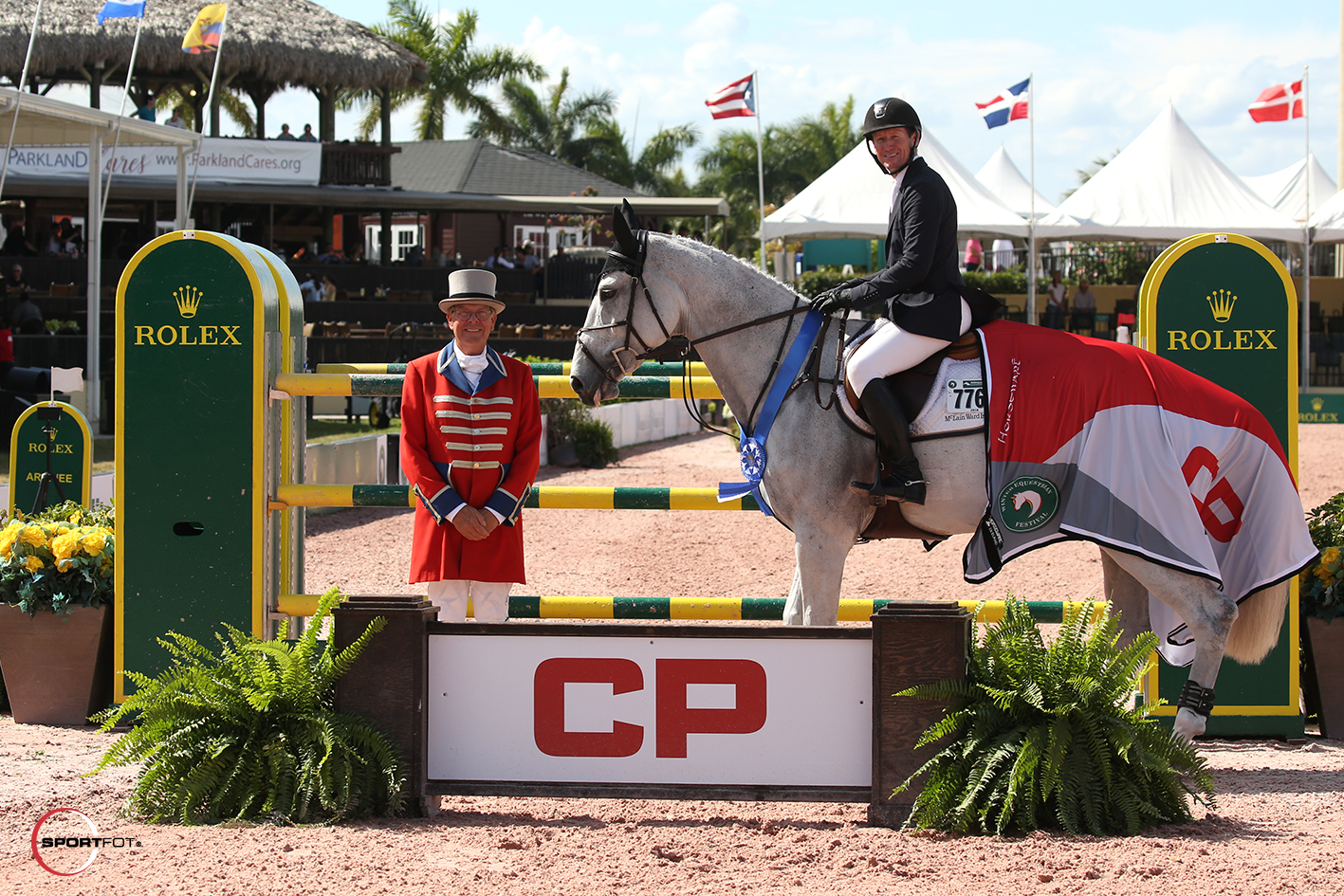 After a week of rest, Ward will travel to the FEI World Cup™ Jumping Final in Paris, France, with HH Azur as reigning World Cup™ champions.
"We had a great season with some new horses that stepped up beautifully and performed wonderfully," concluded Ward. "I could not have asked for more from any horse and I think we leave here with an incredibly strong string of horses."
Final Results: $50,000 CP 1.50m National Grand Prix
1 CLINTA: 2007 Oldenburg mare by Clinton x Lord Pezi
MCLAIN WARD (USA), Sagamore Farms: 0/0/33.696
2 BELLEFLEUR PS Z: 2009 Zangersheide mare by Berlin x Quidam de Revel
MCLAIN WARD (USA), Susan Heller and Lilly Ward: 0/0/34.737
3 SHARK: 2008 AES gelding by Arko x Pilot
ROWAN WILLIS (AUS), Rowan Willis: 0/0/35.730
4 CHACOTE: 2007 Oldenburg gelding by Chacco-Blue x Quick Star
PEDRO MUYLAERT (BRA), Pedro Muylaert: 0/4/34.894
5 CHANDON BLUE: 2005 Oldenburg gelding by Chacco Blue x Landcapitol
LAURA CHAPOT (USA), Mary Chapot: 0/4/35.010
6 ERES TU: 2009 Argentine gelding
LUIS PEDRO BIRABEN (ARG), Claudia Pedrozo & Luis Pedro Biraben: 0/4/37.043
7 CAPTAIN CARUSO: 2006 Irish Sport Horse stallion by Captain Clover x Caruso
CORMAC HANLEY (IRL), Cormac Hanley: 0/4/37.227
8 DUBAI: 2008 KWPN gelding by Cardento x Castello
MAVIS SPENCER (USA), Sarah Ryan: 0/4/37.748
9 BOUCANIER: 2006 KWPN gelding by Ovidius x Joost
THEO GENN (USA), Taylor Reid: 0/4/37.794
10 CRACK ELLE CHAVANNAISE: 2008 SBS mare by Carving
MATTIAS TROMP (USA), Bayaert Farm Inc.: 0/4/39.399
11 USA NORMANDE: 2008 Selle Francais mare by Made in Semilly x Urbain du Monnai
DARRAGH KENNY (IRL), Paillot Equestrian: 0/8/35.688
12 MY PLEASURE: 2005 Belgian Warmblood stallion by Flashlight 16 x Ruebens de Ri d'Asse
JUAN ORTIZ, Stransky's Mission Farms Inc.: 0/8/36.993
The 2018 Winter Equestrian Festival has come to a close and Equestrian Sport Productions thanks everyone for another successful season.
Photo Credit: Photos © Sportfot, Official Photographer of the Winter Equestrian Festival. These photos may be used only in relation to this press release and must include photo credit.