For Immediate Release
Summer Grace and Sabrina Brashares for Jennifer Wood Media, Inc.
Wellington, FL – March 6, 2020 – The ninth week of the 2020 Winter Equestrian Festival (WEF) continued on Friday, March 6, with a second win for Kristen VanderVeen (USA) and Bull Run's Faustino de Tili. They sped to the top of the $37,000 Bainbridge 1.45m CSI5*. Brazil's Fabio Leivas Da Costa and Randon Pleasure were lightning fast to earn the podium spot in the $37,000 Griffis Residential 1.45m CSI2* while Clara Propp and News Day were victorious in the $5,000 USHJA Pony Hunter Derby.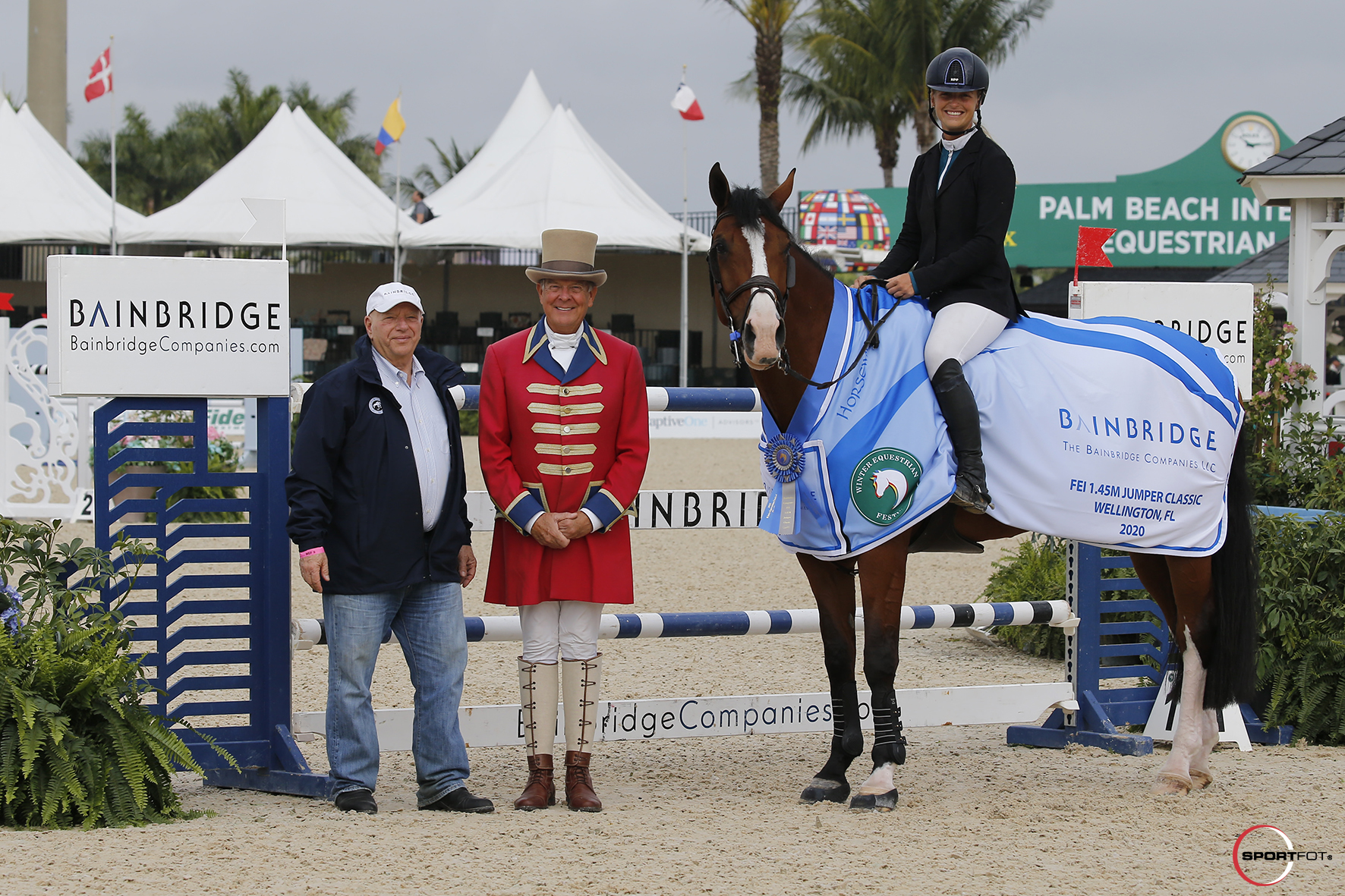 WEF continues at the Palm Beach International Equestrian Center (PBIEC) through March 29, 2020, with 12 consecutive weeks of world-class competition and $13 million dollars on offer. The ninth week of competition, sponsored by Douglas Elliman Real Estate, runs through March 8 and is recognized by the Fédération Equestre Internationale (FEI) as both a CSI5* and a CSI2*. Highlights of the week include the $401,000 Douglas Elliman Real Estate Grand Prix CSI5* on Saturday and the $50,000 Griffis Residential Grand Prix CSI2* on Sunday.
VanderVeen and her veteran campaigner were the fastest of 18 clear rounds out of 43 entries in the 1.45m over a course set by Alan Wade of Ireland. They took over the lead from Lucas Porter (USA) and Hope Street, who had set the time to beat at 59.66 seconds. They would finish in third place. Riding out of the 24th spot in the order, VanderVeen and "Frosty" brought the winning time down to 56.54 seconds.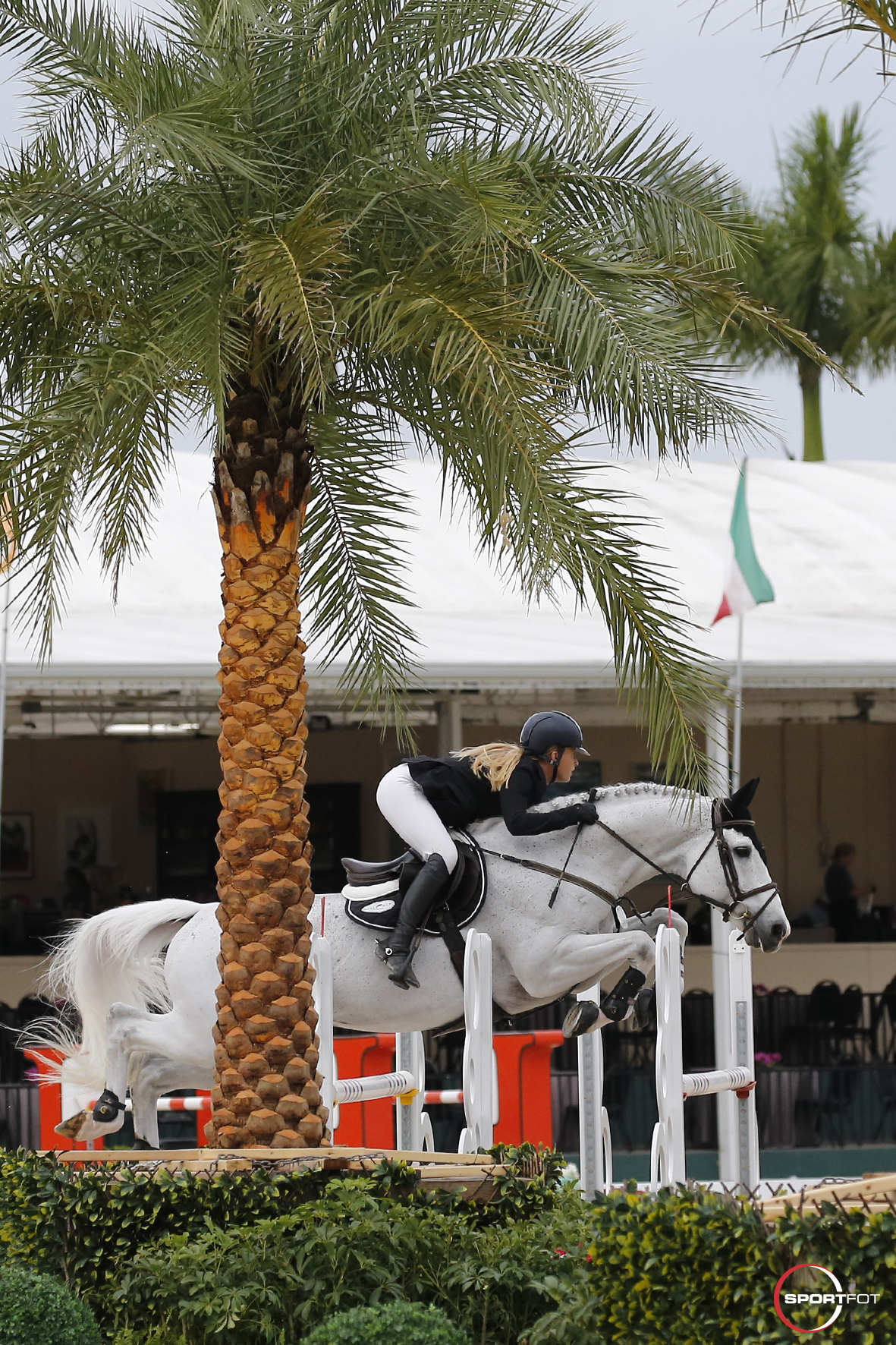 "I didn't see anybody go before me that was really trying to win the class," said VanderVeen. "There were some more careful components, so I was actually a little more conservative than I planned on being! Thankfully it still worked out. He just covers the ground so well and is still quick in the air."
Coming close but just off the pace for second place were Cian O'Connor (IRL) and Baronescha, owned by Reitsportanlage Dagobertshausen GMbH & Co. KG, who finished in 56.65 seconds. Ashlee Bond (ISR) and Little Valley Farms' Boheme de Fleyres were fourth with a time of 60.25 seconds, while Daniel Coyle (IRL) rode Donjo, owned by Ariel Grange, to fifth place in 60.28 seconds.
This is VanderVeen's sixth winter season competing Bull Run's Faustino de Tili, and he has been one of her most successful horses. VanderVeen has kept the 15-year-old BWP stallion by Berlin x Darco fresh for the show ring this year by switching the venues where he competes.
"This is his first week jumping in this ring for this season," confirmed VanderVeen. "He jumped Holiday and Horses [horse show in December] and won both the ranking classes, then he did a couple weeks in Ocala. He's been changing venues, and I think it keeps him interested in the sport."
Along with a change in scenery, a little "me-time" plays a part. She noted, "I took last week off, so he had five days of turnout. He's in great shape, so taking a few days off is nice and clears his head. Then he's ready to play ball.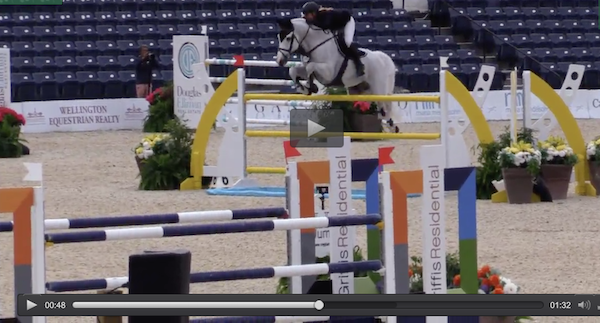 "He still really loves the sport, and it's such a blessing that he's so talented," she continued. "He can do these little speed classes, which is a little easier on the horses, and I feel he still currently has all the freshness and will to do the big classes. It's nice that I can do both, but that he can do 1.45m and be competitive."
Final Results: $37,000 Bainbridge 1.45m
1 BULL RUN'S FAUSTINO DE TILI: 2005 Belgian Warmblood stallion by Berlin x Darco
KRISTEN VANDERVEEN (USA), Bull Run Jumpers Five LLC: 0/56.54
2 BARONESCHA: 2006 KWPN mare by Verdi TN x Concorde
CIAN O'CONNOR(IRL), Reitsportanlage Dagobertshausen GMbH & Co. KG: 0/56.65
3 HOPE STREET: 2009 Holsteiner mare by Casall x Quick Nick I
LUCAS PORTER(USA),SPR Fund One: 0/59.66
4 BOHEME DE FLEYRES: 2011 Selle Francais mare by Vargas De Ste Hermelle x Traviata Des Fleiyres
ASHLEE BOND(ISR), Little Valley Farms: 0/60.25
5 DONJO: 2008 KWPN gelding by Zirocco Blue VDL x Rutricia
DANIEL COYLE(IRL), Ariel Grange: 0/60.28
6 OAKS REDWOOD: 2005 Warmblood gelding by ASB Conquistador x Verdi
NAYEL NASSAR(EGY), Evergate Stable LLC: 0/60.49
7 LA LUCIOLE: 2011 Selle Français mare by Pardis Latin x Diamant de Semilly
ANDREW KOCHER(USA), Eye Candy Jumpers: 0/60.79
8 INDRA VAN DE OUDE HEIHOEF: 2008 Belgian Warmblood mare by Casantos x Action-Breaker
SHANE SWEETNAM(IRL) , The Blue Buckle Group: 0/60.81
9 EASY GIRL: 2011 Oldenburg mare by Conthargos x Nanina
RODRIGO LAMBRE(MEX), Mario Onate: 0/61.13
10 B ONCE Z: 2004 Zangersheide mare by Baloubet du Rouet x Lavaletto
LUCAS PORTER(USA), Sleepy P Ranch: 0/62.10
11 GEORGIE D'AUVRAY EC: 2006 Belgian Warmblood gelding by Vancouver d'Auvray x Nabab de Reve
KARRIE RUFER(USA), Morning Star Sporthorses: 0/63.53
12 GERKO II VAN DE ZEILHOEK: 2011 KWPN Gelding by Arko III x Squalls Estate Gucci
LAURA KRAUT(USA), Lindsay Maxwell: 0/64.71
Fabio Leivas Da Costa and Randon Pleasure Can't Be Caught in $37,000 Griffis Residential 1.45m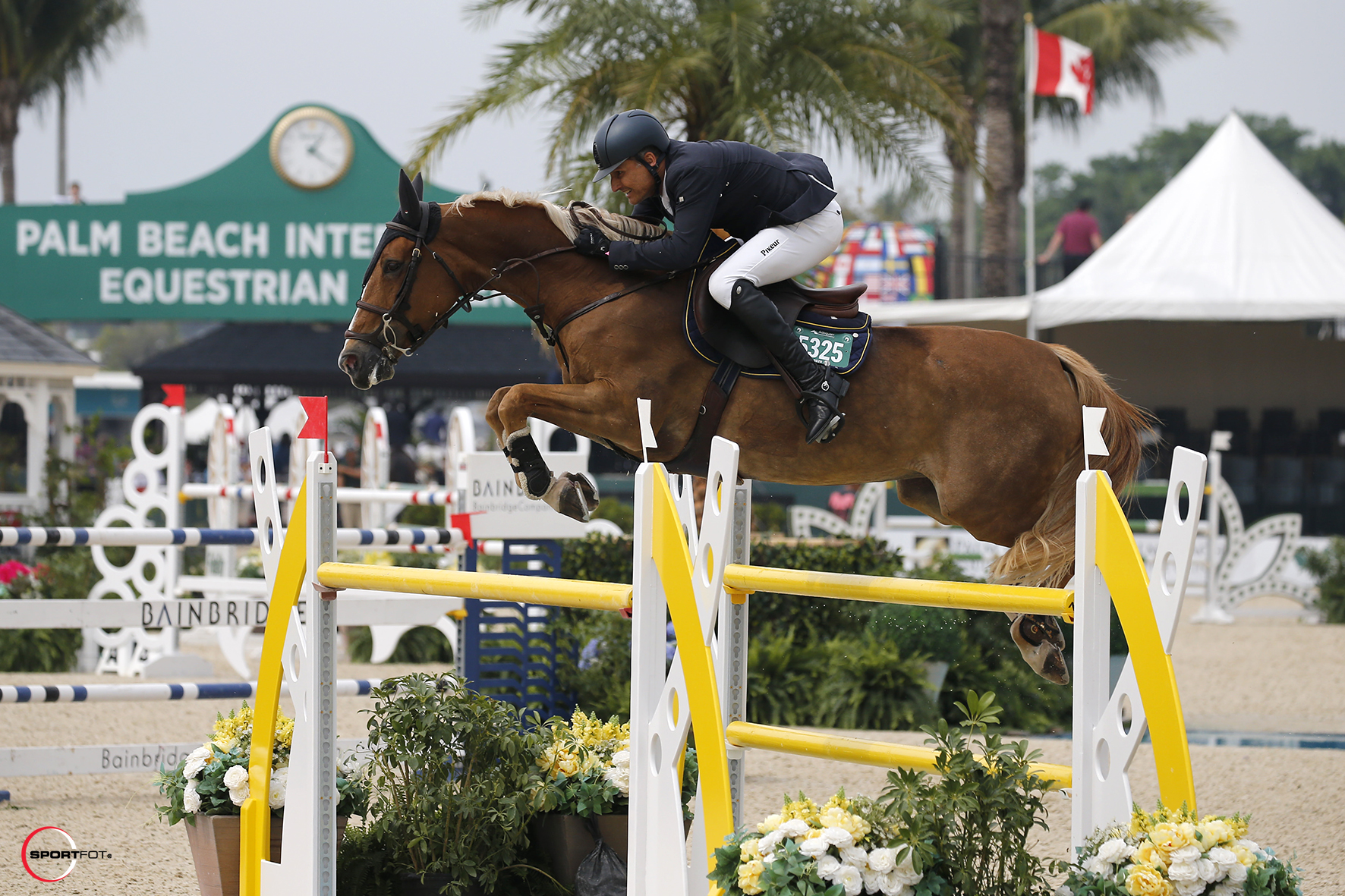 Following the morning's five-star Bainbridge 1.45m competition, the second victory of the day went to Brazil's Fabio Leivas Da Costa in the $37,000 Griffis Residential 1.45m class. Da Costa was part of a starting line up of 73 horse-and-rider combinations set to contest Alan Wade's next course. Seven teams were kept from the jump-off with a single time fault while another 16 suffered the fault of a single rail. Out of the field, only 13 pairs managed to clear the timers fault free to return for the second phase; that number became 12 when Eugenio Garza Perez withdrew from the jump-off field. Athletes from both Ireland and Venezuela were at the top of the leaderboard but it was Da Costa and Bonne Chance Farm's 15-year-old Selle Francais mare (For Pleasure x Quidam de Revel) that raced through the timers in unbeatable speed.
"She is a small horse but has a huge heart," explained Da Costa. "When she is able to go clear, she's hard to beat because she's so fast. She is a fighter."
Da Costa says the key to keeping the mare at her best is an uncomplicated home routine.
"When we are not at the show, we keep it simple," he detailed. "She mostly does trotting and good flatwork but we save her jumps because she already knows the job."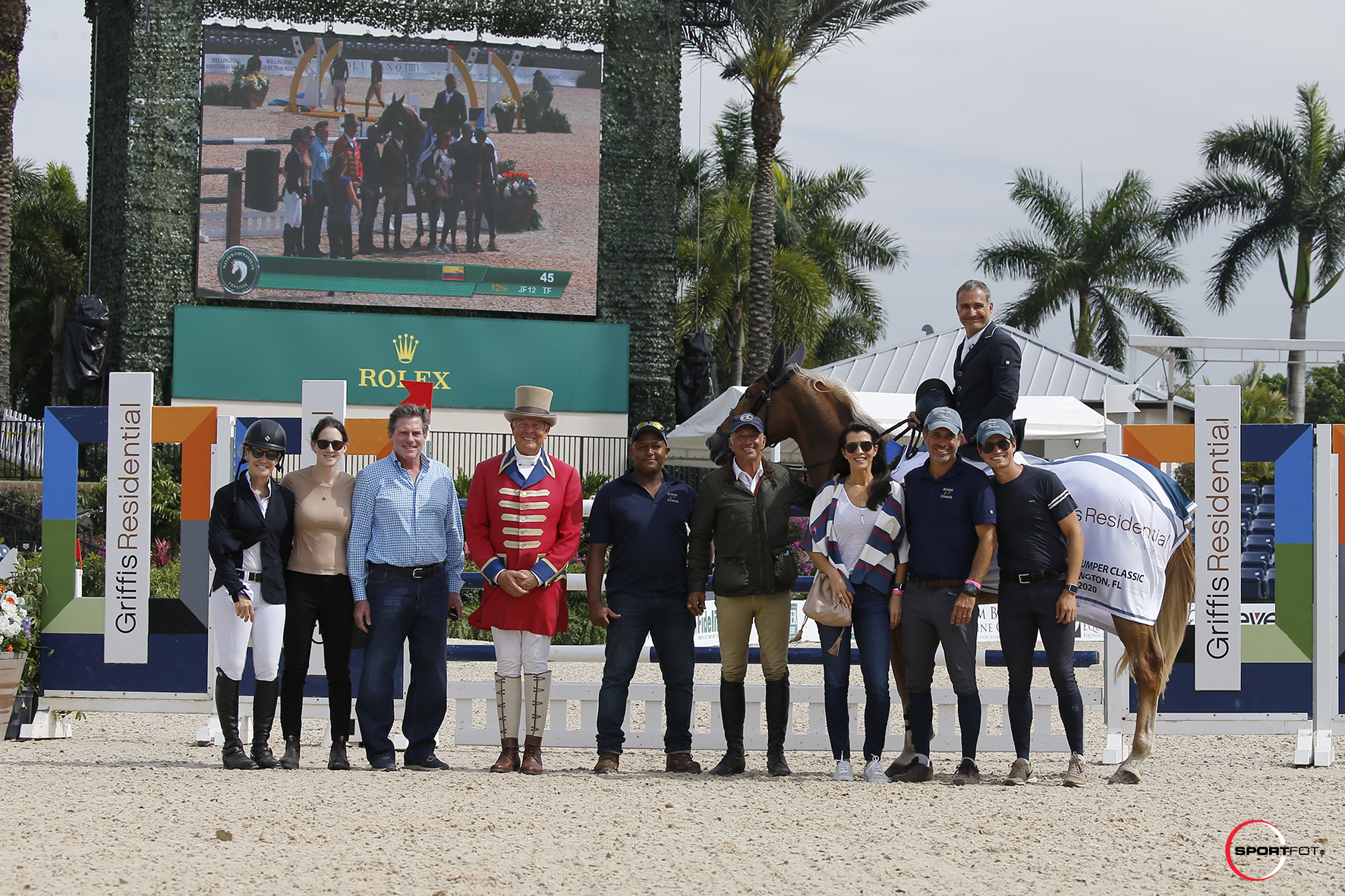 Da Costa added that he plans to compete with Randon Pleasure in the $50,000 Griffis Residential Grand Prix on Sunday.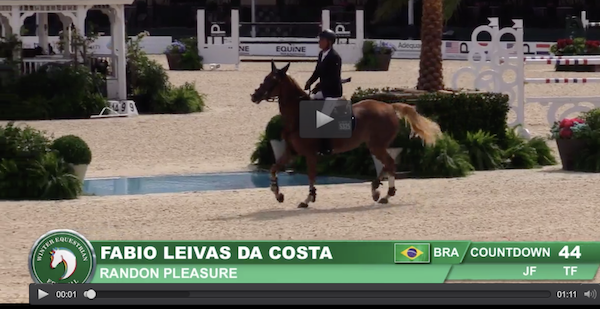 Clearing the timers just shy of Da Costa's 37.82 seconds, Mark Kinsella(IRL) piloted Stern Dei Folletti to the reserve honors. He and Morning Star Sporthorses LLC's nine-year-old Holsteiner gelding (Toulon x Caspar) wrapped up their return efforts in a time of 38.51 seconds. Luis Larrazabal(VEN) and San Francisco Stables LLC's 10-year-old warmblood mare (Caristo Z x Indorada),Caristina, rounded out the top three with a time of 39.60.
Final Results: $37,000 Griffis Residential 1.45m
1 RANDON PLEASURE: 2005 Selle Francais mare by For Pleasure x Quidam de Revel
FABIO LEIVAS DA COSTA (BRA), Bonne Chance Farm: 0/37.82
2 STERN DEI FOLLETTI: 2011 Holsteiner gelding by Toulon x Caspar
MARK KINSELLA (IRL), Morning Star Sporthorses LLC: 0/38.51
3 CARISTINA: 2010 Chillian Warmblood mare by Caristo Z x Indorada
LUIS LARRAZABAL(VEN), San Francisco Stables LLC: 0/39.60
4 LIMBRIDGE: 2009 Holsteiner stallion by Limbus x Cambridge
DARRAGH KERINS(IRL), Eve Jobs: 0/40.75
5 CAROLA BH: 2007 KWPN mare by Dutch Capitol x Goodtimes
SOPHIE GOCHMAN (USA), Gochman Sport Horses, LLC: 0/44.80
6 CHUCK BERRY 8: 2007 Hanoverian gelding by Chacco Blue x Watzmann
OLIVIA CHOWDRY (USA), Atlas Equine Holdings LLC: 4/37.45
7 VALENTINO V Z: 2009 Zangersheide stallion by Verdi x Converter
MARIA COSTA (USA), Ravello Farms, LLC: 4/40.44
8 CARRASCA Z: 2010 Zangersheide stallion by Asca Z x Carraleena
TAYLOR FLURY(USA), Aliboo Farm, Inc.: 4/41.11
9 CARJO Z: 2008 Zangersheide gelding by Calvinos x Chellano Z
HECTOR FLORENTINO (DOM), Scott Head: 4/41.12
10 MAGNUS ORFEO: 2005 Silla Argentino gelding by Magnus Orestus x Carjdor Z
MARY MANFREDI (USA), Mary Manfredi: 4/41.74
11 CANDY GIRL: 2011 Hanoverian mare by Chap1 x Clair
JENNA THOMPSON(CAN), Attache Stables: 12/42.99
12 BALZAN ADELHEID Z: 2010 Zangersheide mare by Baloubet Du Rouet x Chalita Adelheid Z
JUAN MANUEL GALLEGO(COL), Andres Muller: 12/48.83
Clara Propp Pilots News Day to the Win in the $5,000 USHJA Pony Hunter Derby
Friday morning began with pony riders taking on the Derby Field at the Equestrian Village. It was Clara Propp and News Day who took top honors in the competitive $5,000 USHJA Pony Hunter Derby. After receiving a high score of 86 in the first round, the pair maintained their lead with a score of 80 in the handy round for a total score of 166.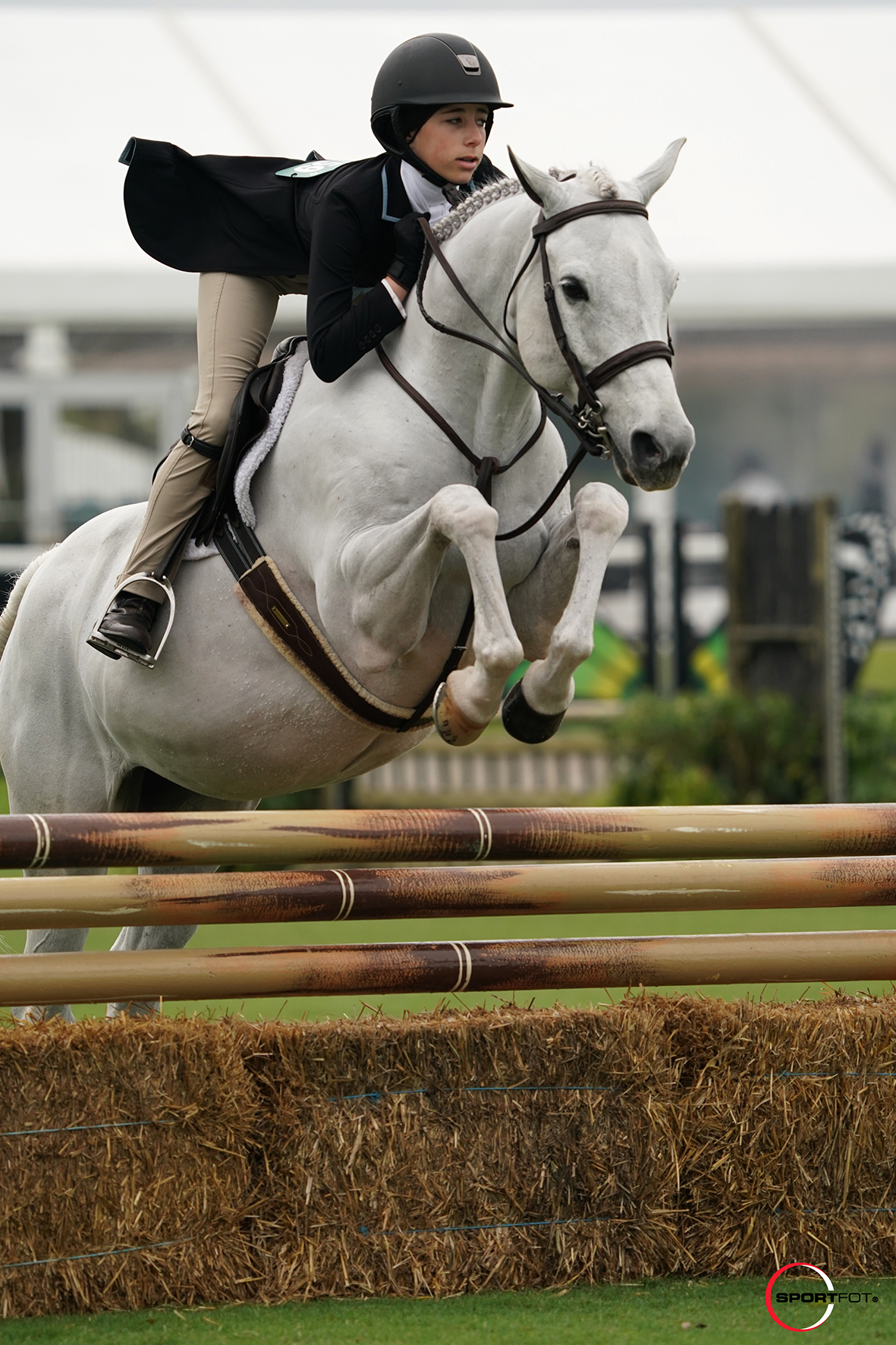 More than 50 ponies competed in the classic round on the grass field. The class was divided into 17 small ponies, 23 medium ponies, and 11 large ponies, with a height adjustment for each size. After the first round was complete, the top 12 pony and rider combinations returned for their chance to show off in the handy round.
Propp, of New York, NY, and News Day, owned by Aquitaine Equine, were the last to return for the handy round after they earned the highest score in the classic round. The 12-year-old gelding by Clovercroft's Abba Adonai has been in the Propp family for several years and originally showed in the Large Green Pony Hunters with Propp's older sister, Stella. Once Stella outgrew ponies, Clara took over the reins and continued News Day's successful show career.
"He's absolutely amazing in and out of the show ring!" Propp commented. "He can be a little quick, but in the show ring he acts perfectly. You can tell he's a show pony."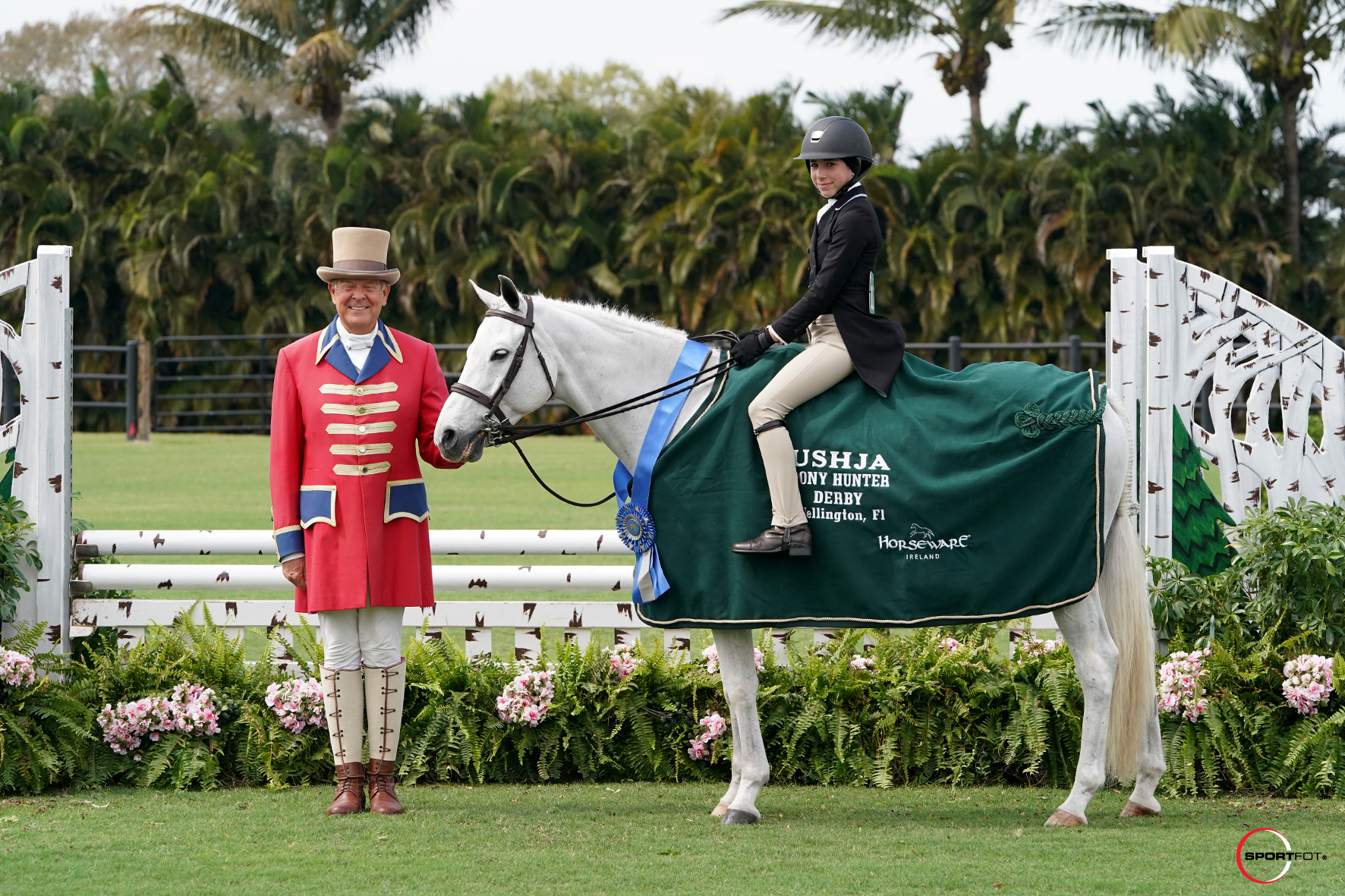 Propp and News Day are no strangers to the USHJA Pony Derby and competed in the class last year, where they earned a seventh place finish. Propp was thrilled that she was able to come back this year to earn the win with two beautiful, consistent rounds. "He was absolutely perfect. I did this last year and he was so good. I couldn't have been happier with how he was and how I was!" Propp explained.
Going into the handy round, Propp knew that she wanted to remain calm and show off enough to stay in the lead. "I tried to make all the tightest turns. I didn't want to let my nerves get to me and I just rode how I always ride," Propp described.
Second place honors went to Vivian Golden, of Reading, PA, the owner and rider of Dressed To Go. The pair received scores of 82 and 83, for a total score of 165. Kat Fuqua aboard Chic in Time earned a third place. Fuqua, of Atlanta, GA, and her pony Chic In Time produced scores of 81 and 82, which added up to a total score of 163.
Final Results: $5,000 USHJA Pony Hunter Derby
Horse, Rider, Owner
Round 1 Score, Round 2 Score | Total
1 News Day, Clara Propp, Aquitaine Equine
86.00, 80.00 | 166.00
2 Dressed To Go, Vivian Golden, Vivian Golden
82.00, 83.00 | 165.00
3 Chic In Time, Kat Fuqua, Kat Fuqua
81.00, 82.00 | 163.00
4 Wellspring's Roxstar, Isabella David, Isabella David
76.00, 84.00 | 160.00
5 Deja Blue, Lily Epstein, Lily Epstein
80.00, 76.00 | 156.00
6 Hidden Springs Waltz, Vivian Golden, Renaud Farm, LLC
74.50, 79.00 |153.50
7 Swag, Madison Keese, Madison Keese
74.00, 77.00 | 151.00
8 Newhaven's Magnum, Addison Stoughton, Addison Stoughton
78.00, 71.00 | 149.00
9 Benlea Mizzou, Katherine Mercer, Katherine Mercer
77.00, 68.00 | 145.50
10 Woodlands Polar Bear, Lillian Stoughton, Lillian Stoughton
77.50, 65.00 | 142.50
11 Secret Crush, Olivia Sweetnam, Jill Shulman
79.00, 50.00 | 129.00
12 Goldhills As You Like It, Vivian Golden, Vivian Golden
75.00, 40.00 | 115.00
Photo credit: Photos © Sportfot, official photographer of the Winter Equestrian Festival. These photos may be used only in relation to this press release and must include photo credit