For Immediate Release
Jennifer Wood and Summer Grace for Jennifer Wood Media, Inc.
Wellington, FL – February 8, 2019 – The fifth week at the 2019 Winter Equestrian Festival (WEF) features CSI 5* competition, and on Friday, February 8, the highlight class was the $36,000 Bainbridge 1.45m Classic. Kristen Vanderveen (USA) and Bull Run's Faustino de Tili took the top prize in the speed class.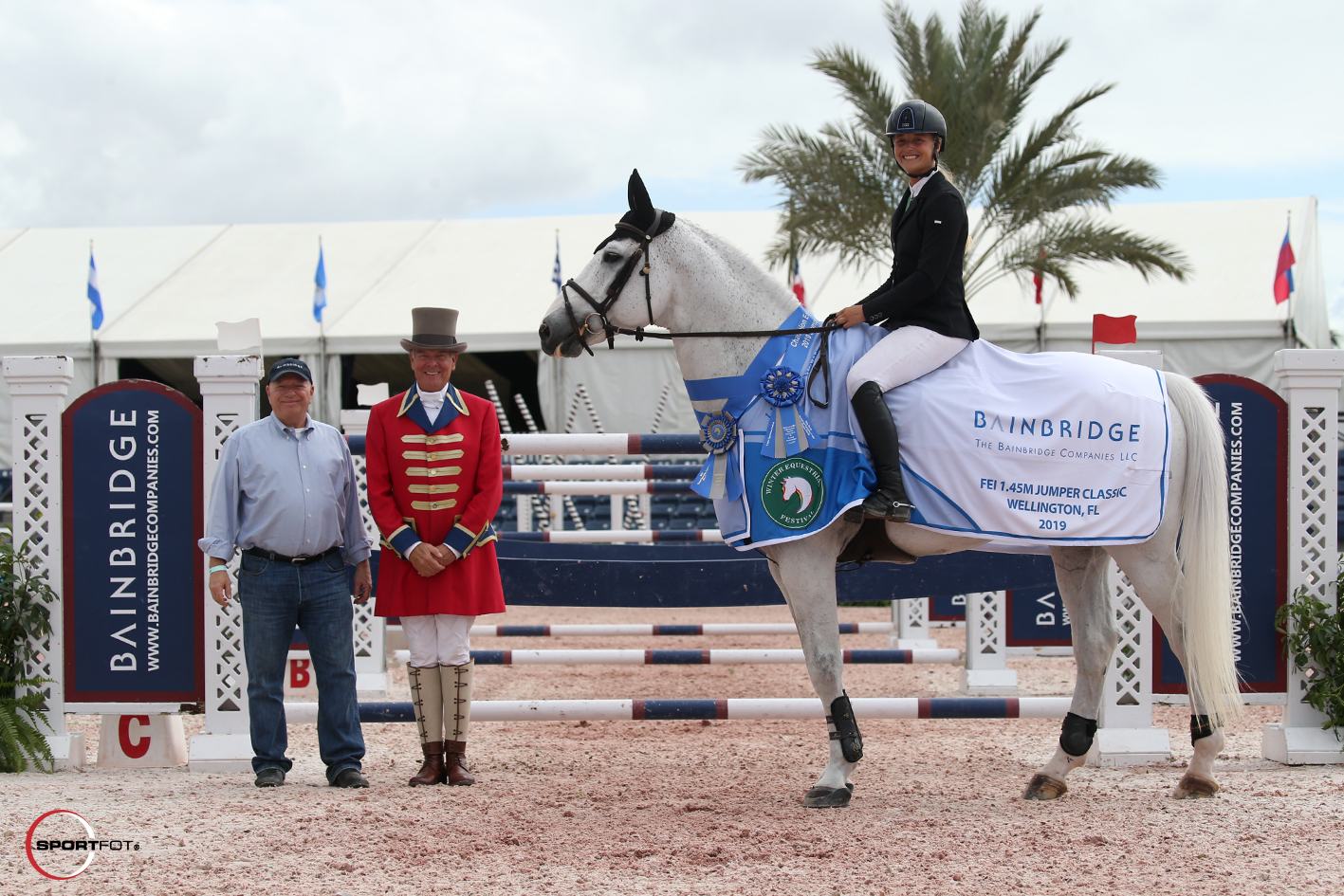 WEF continues with 12 weeks of top hunter, jumper, and equitation competition through March 31. Week 5 features the $391,000 Fidelity Investments® Grand Prix CSI 5* on Saturday, February 9, at 7 p.m.
In the $36,000 Bainbridge 1.45m Classic CSI 5*, there were 55 entries competing over a speed format course designed by Kelvin Bywater (GBR). There were 17 clear rounds, and the fastest of them all was Vanderveen on her partner of four years, Bull Run's Faustino de Tili, owned by Bull Run Jumpers Five LLC. They made short work of the course, coming home in a time of 57.73 seconds.
Second place went to Todd Minikus (USA) riding Bit By Bit Group's Amex Z, who had a time of 58.12 seconds. Karen Polle (JPN) and her own Little Lord 90 were third in 58.37 seconds.
The win in the Bainbridge 1.45m Classic came off the heels of an elimination in Thursday's $134,000 Equinimity WEF Challenge Cup Round 5 for Vanderveen and Bull Run's Faustino de Tili. It was a solid turnaround the following day for Vanderveen and the talented stallion.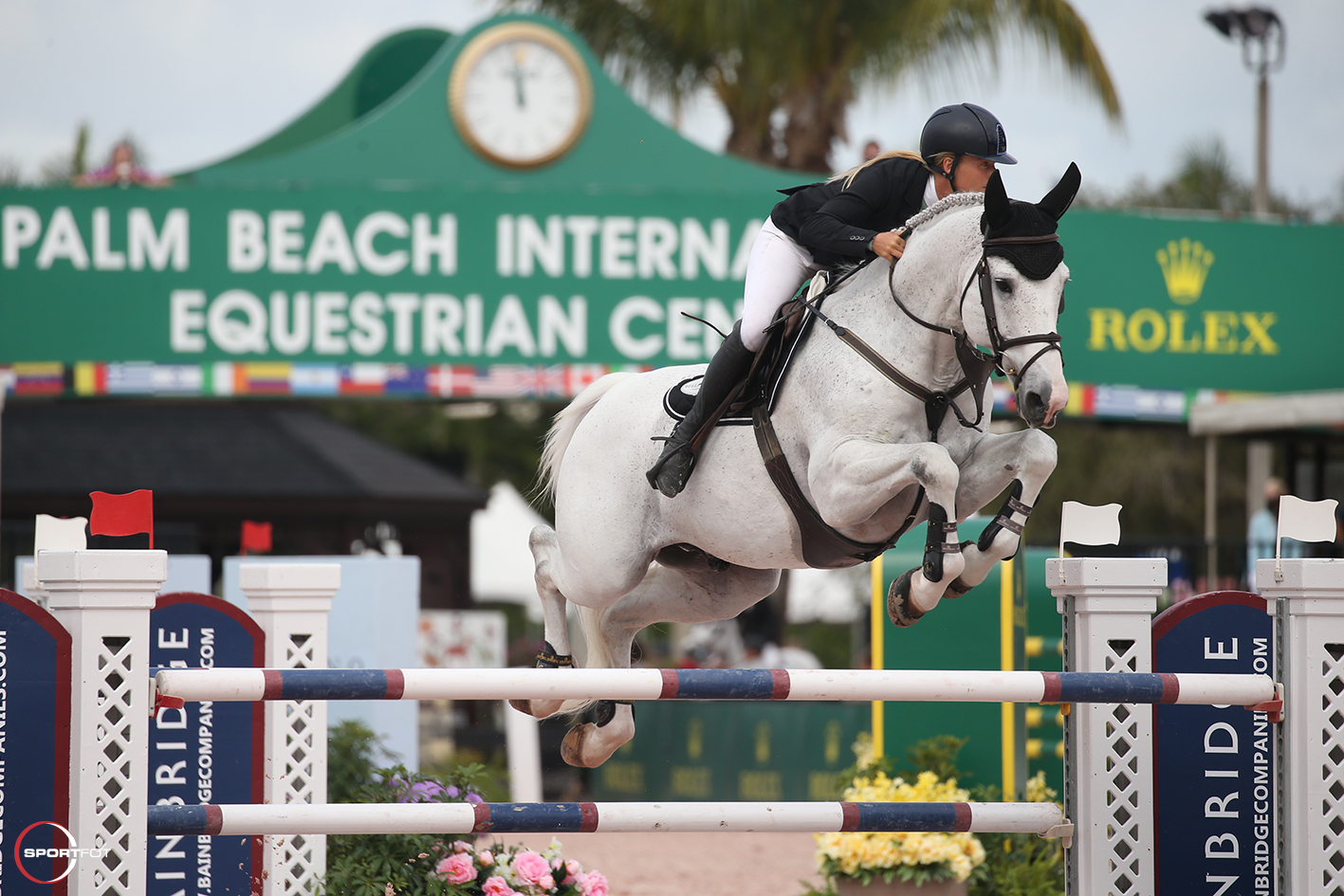 Vanderveen said that it's the "million-dollar question" to figure out when "Frosty" might not feel like competing for the day. "I've had him for almost four years now, so yesterday is easier for me to accept now," Vanderveen admitted. "Some days he comes out and there's five percent chance that happens, but the other 95 percent chance is that he's a winner. At this point, it doesn't really bother me. I know it's just a fluke that it can happen. Then I came out today thinking, 'Give it a go and win the money we can still win.'"
While Vanderveen did not get to see others go before her, she did compete earlier in the class with Bull Run's Prince of Peace, which gave her an idea of the course. "I know Frosty's really fast," she said, "so I figured if I stayed on a tidy track and pushed him on, that he would be in the top three. I was hoping."
Showing in her first week of FEI competition for the 2019 season, Vanderveen has made the most of it, winning a five-star class for the second time this week. Vanderveen has five "really competitive" horses currently showing at the international level, a position that took her years to build.
"I've been developing them and taking my time," she said. "Now it's kind of coming to the point where those three are ready to add on to my string coming in behind Frosty. He's actually the only one left from my older set of horses. It's been fun to see that develop. It's a challenging thing to do. It's coming together the last two years, [and] it's great to have it pay off and see the horses perform at a high level and have it be a success."
While show jumping is Frosty's main job, the "really gentle" stallion has also started breeding. The 14-year-old Belgian Warmblood by Berlin x Darco is a BWP ambassador stallion and only has two babies on the ground – one five-year-old bred by his breeder Lieven Bruyneel, and a yearling named Bull Run's Creation that is a homebred out of Vanderveen's former five-star jumper, Holy Smokes.
"That's kind of new and exciting," said Vanderveen. "We all want to believe that we're going to breed the next superstar, but I think it's more fun. If it can work out, great!"
In addition to their class win, Bull Run's Faustino de Tili and Vanderveen were presented with the Champion Equine Insurance Jumper Style Award by Laura Fetterman.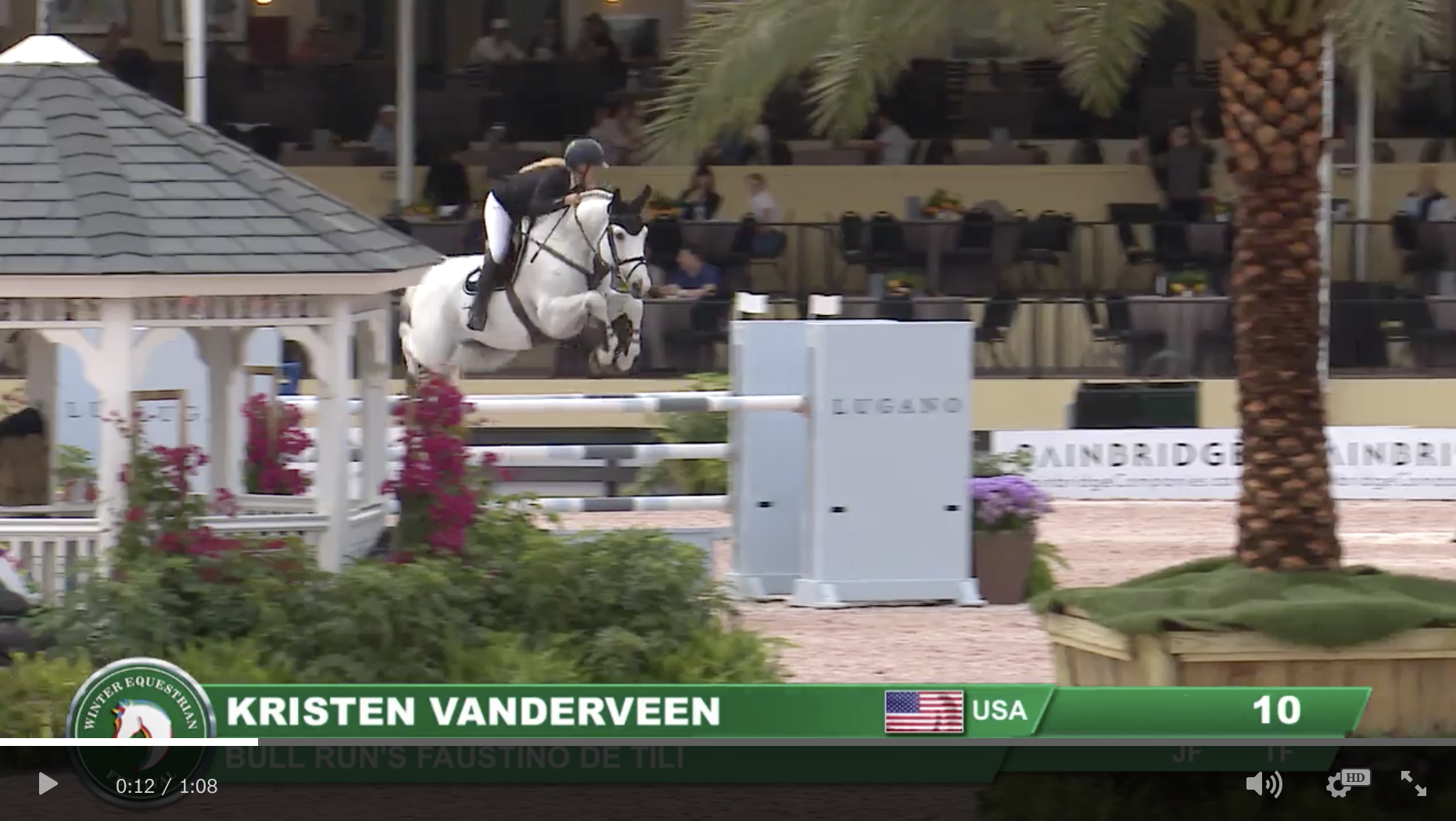 Final Results: $36,000 Bainbridge 1.45m Classic CSI 5*
1 BULL RUN'S FAUSTINO DE TILI: 2005 Belgian Warmblood stallion by Berlin x Darco
KRISTEN VANDERVEEN (USA), Bull Run Jumpers Five LLC: 0/57.73
2 AMEX Z: 2009 Zangersheide Mare by Andiamo Z x Landaris
TODD MINIKUS (USA), Bit By Bit Group: 0/58.12
3 LITTLE LORD 90: 2005 Holsteiner gelding by Lasino x Calato
KAREN POLLE (JPN), Karen Polle: 0/58.37
4 TIENNA: 2008 Canadian Sport Horse mare by For Pleasure x Polydox
DANIEL COYLE (IRL), Ariel Grange: 0/58.62
5 KOSS VAN HEISTE: 2009 Belgian Warmblood gelding by Breemeersen Adorado x Contact vd Heffinck
CONOR SWAIL (IRL), Eadaoin Collins: 0/59.72
6 LUFTIKUS S: 2004 DSP gelding by Levisto Z x Kolibri
JENNIFER GATES (USA), Evergate Stables LLC: 0/59.88
7 CHACCOLETTE: 2009 Oldenburg mare by Chacco Blue
LILLIE KEENAN (USA), Chansonette Farm LLC: 0/60.28
8 H5 MARKET IRMINKA: 2006 AES mare by Irco Mena x Tinka's Boy
CARLOS HANK GUERREIRO (MEX), H5 Stables: 0/60.41
9 USA NORMANDE: 2008 Selle Francais mare by Made in Semilly x Urbain du Monnai
MARGIE ENGLE (USA), Paillot Equestrian & Gladwinds Farm Inc.: 0/60.66
10 RANDON PLEASURE: 2005 Selle Francais mare by For Pleasure x Quidam de Revel
FABIO LEIVAS DA COSTA (BRA), Bonne Chance Farm: 0/61.13
11 DORYANE HDH: 2008 KWPN mare by Vleut x Indoctro
PETRONELLA ANDERSSON (SWE), Stephex Stables: 0/61.64
12 COLOURFUL LADY: 2010 Holsteiner mare by Casall x Acord II
CAPT. BRIAN COURNANE (IRL), Glenbeigh Farm LLC: 0/63.21
USHJA Jumping Seat Medal Goes to Samantha Weinerman
Weekend equitation competition debuted in the Equine Tack & Nutritionals Ring 6 on Friday morning as 46 juniors displayed their best form and skill in the USHJA Jumping Seat Medal. With a solid plan of action and confidence in her new mount, Samantha Weinerman of Chester, NJ, piloted Charmeur to a returning spot for the test where she would ride to the win.
North Run Inc.'s 11-year-old Dutch Warmblood gelding (Veron x Tavanta SHB) has only been paired with Weinerman for two weeks but is no stranger to the equitation ring. He has competed at various equitation finals with top junior riders such as Sam Walker and Maggie Hill.
"Overall, he is a very smooth horse, so everything comes out of stride on him and all of the lines are easy," Weinerman explained. "I think that smoothness gave the round its polish and gave us the edge."
While she is just getting used to her mount, Weinerman knew to use Charmeur's steady stride to her advantage, even with a tighter time of only 70 seconds allowed.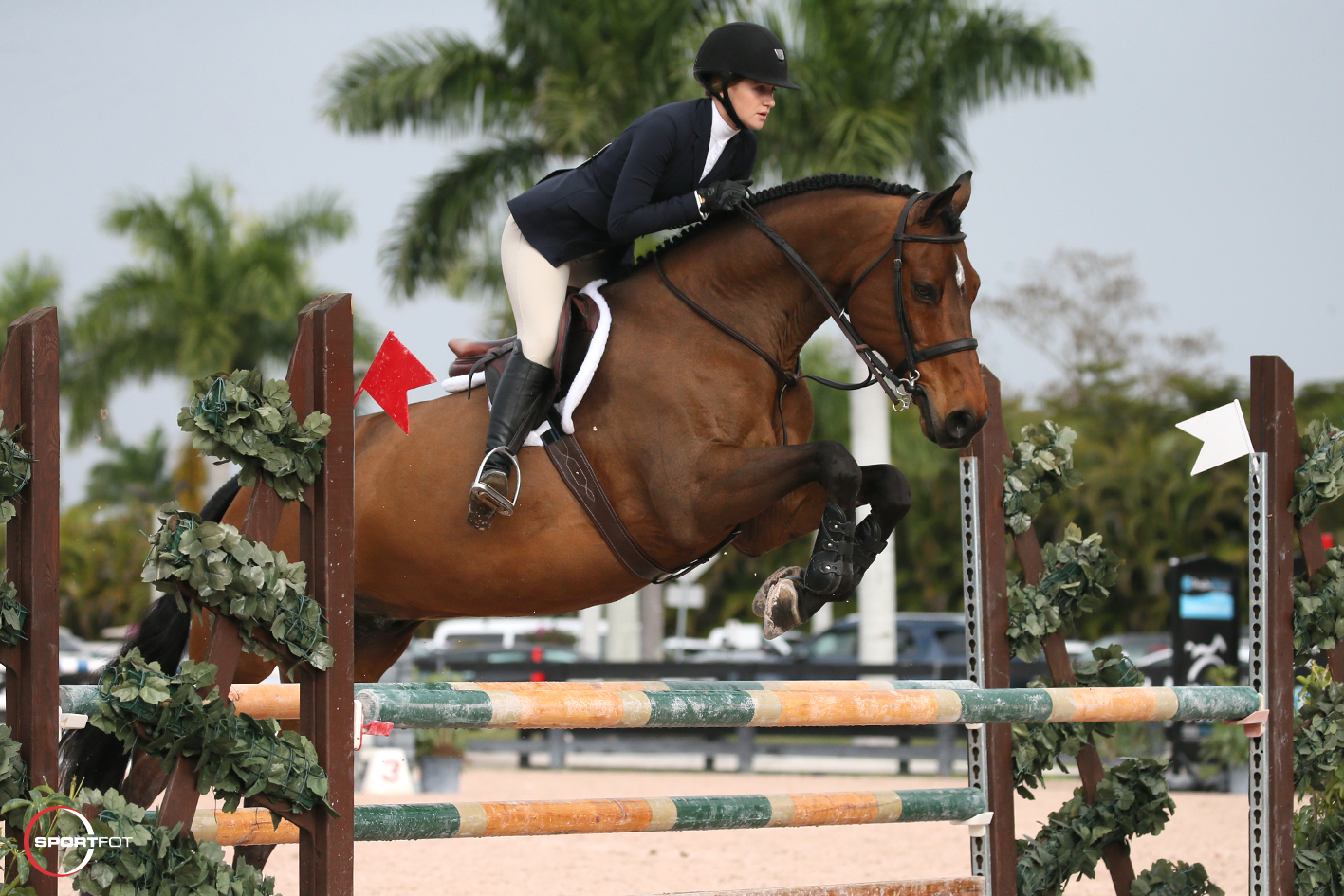 "My plan was to stick very directly to all of the tracks and bending lines and to keep the whole course very direct," she said. "I have never actually jumped a triple combination, so I especially wanted that to line up easily and I had to make several nice, tight turns to remain in the time allowed."
Weinerman is looking forward to a successful partnership with the horse she deems as "the most lovable horse ever" for the remaining winter circuit and throughout the summer in hopes of qualifying for the fall equitation finals.
The second-place finish went to Texie Loyd of Windermere, FL with the Showcase Limited's nine-year-old Holsteiner gelding (Cosido x Loyal), Prophet.
Equitation competition continues Saturday with the THIS National Children's Medal 14 & Under in the South Ring. Saturday will also feature the $391,000 Fidelity Investments® Grand Prix CSI 5* in the International Arena at 7 p.m.