For Immediate Release
Kate Pettersen for Equestrian Sport Productions
Wellington, FL – April 18, 2021 – On the final day of ESP Spring II, a new partnership continued to blossom as Laura Kraut (USA) and Baloutinue, owned by St. Bride's Farm, took top prize in the Sunday afternoon feature class, winning the $137,000 Bainbridge Companies Grand Prix CSI3* on the grass Derby Field at Equestrian Village.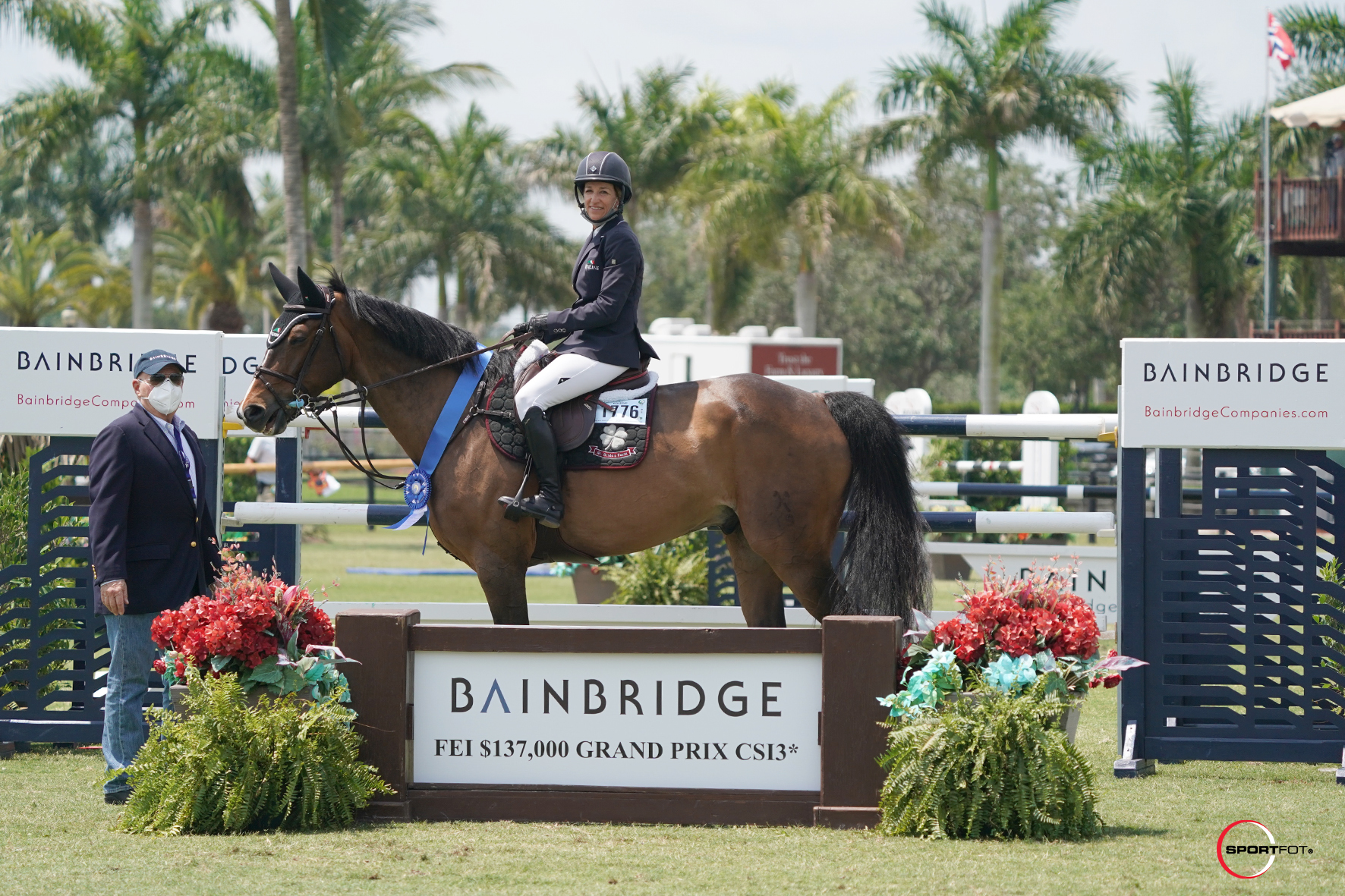 The 2021 ESP Spring Series features a total of five weeks of competition until Sunday, May 15, and will roll on with the Spring III three-star competition beginning on Wednesday, April 21. Hunters will once again campaign at the Palm Beach International Equestrian Center (PBIEC) while jumpers will be showcased at Equestrian Village. Jumper competition begins on April 22 with the $37,000 Perfect Products 1.45m Jumpers CSI3* followed by the $37,000 Equine Tack and Nutritionals Qualifier CSI3* and $10,000 USHJA National Hunter Derby on Friday. Saturday's schedule is highlighted by the $37,000 Nutrena 1.50m Classic CSI3*. The week wraps up with the $137,000 Palm Beach County Sports Commission Grand Prix CSI3* and the $35,000 Wellington Agricultural Services Spring III Grand Prix on Sunday, April 25. Feature classes will be available live and on-demand for free on the livestream.
A total of 44 horse-and-rider combinations set out over the opening-round track designed by Catsy Cruz (MEX) and Andy Christiansen (ECU) that featured 16 jumping efforts. The field was narrowed down to just 11 pairs qualifying to return for the jump-off over a shortened track. Sharn Wordley (NZL) was the trailblazer as the first to return aboard Verdini D'Houtveld Z, owned by Lauren Balcomb, posting a double-clear effort and the time to beat of 41.90 seconds. His time in the lead was short but sweet as the next entry moved up to the top of the leaderboard as Enrique Gonzalez (MEX) rode Chacna, the horse he co-owns with Alice Lawaetz, to a clear round in a quicker time of 40.05 seconds.
The lead changes continued from there as Paris Sellon (USA) produced a clear round aboard Anna Jo, owned by Willow Grace Farm, in 40.95 seconds, but it was Olympic champion Laura Kraut riding Baloutinue to answer all the questions asked in the quickest time of the day. The Olympic team gold-medalist guided her new mount, an 11-year-old Hanoverian gelding by Balou du Rouet x Landor S, across the finish line with a double-clear effort in an impressive 40 seconds flat.
It was a great way to end the first week of their partnership together as Kraut and the talented gelding also finished fourth in the $37,000 JTWG Qualifier CSI3* on Friday.
"I'm just absolutely thrilled," exclaimed Kraut. "What I always loved about him is that he reminds me of a Thoroughbred. He's got a lot of blood, he is brave, scopey, and has all the best qualities that a Thoroughbred has. He's just a fast horse. That's the Thoroughbred type of quality because I didn't ride a fast round. I did more strides than other people, but he's just that quick. He lands and he gets away from the jump very, very fast, so I think that was where I got the edge."
Watch the winning jump-off round here!
Fellow Olympic team gold medallist Beezie Madden (USA) came closest with her veteran partner Breitling LS, owned by Abigail Wexner. Madden and the 15-year-old Dutch Warmblood stallion by Quintero x Accord II made easy work of the jump-off track, stopping the timers just off the mark in 40.27 seconds.
"He's fast and careful," said Madden of the horse she won the FEI World Cup Finals on in 2018. "Usually if he goes well the first round, he's going to be good the second round, as well. He gets better and better as he goes, so that's always good, especially in the heat here. I know him so well that I know how to go fast with him, and he knows my moves. I was really happy with how he went, and he had a nice end to his circuit here."
Madden also went on to credit Equestrian Sport Productions for the opportunity to jump at the FEI level during the ESP Spring Series, as well as the luxury of competing on the pristine turf track.
"I think it's really nice to go out on the grass," she said. "Some of the horses didn't do as much as others during the circuit so some horses are maybe just starting to step up now. There were a lot of great horse-and-rider combinations, so I think it's really nice to have the extra shows this time of year."
In the end, Sellon and her 12-year-old Oldenburg mare by Acodetto 2 x For Pleasure would finish the day in third place, rounding out an all-American and all-female podium.
"I've had my horse for almost two years now," she said. "This past year things have really clicked with her. I really know her well and she's a bit special, but I think that's what makes her competitive. I think with any horse it really just takes time with some trial and error, but patience and discipline, especially with mares, is what you need to get to a point where they want to fight for you. We go really well together; she tries for me and I was really pleased with her today. She jumped great."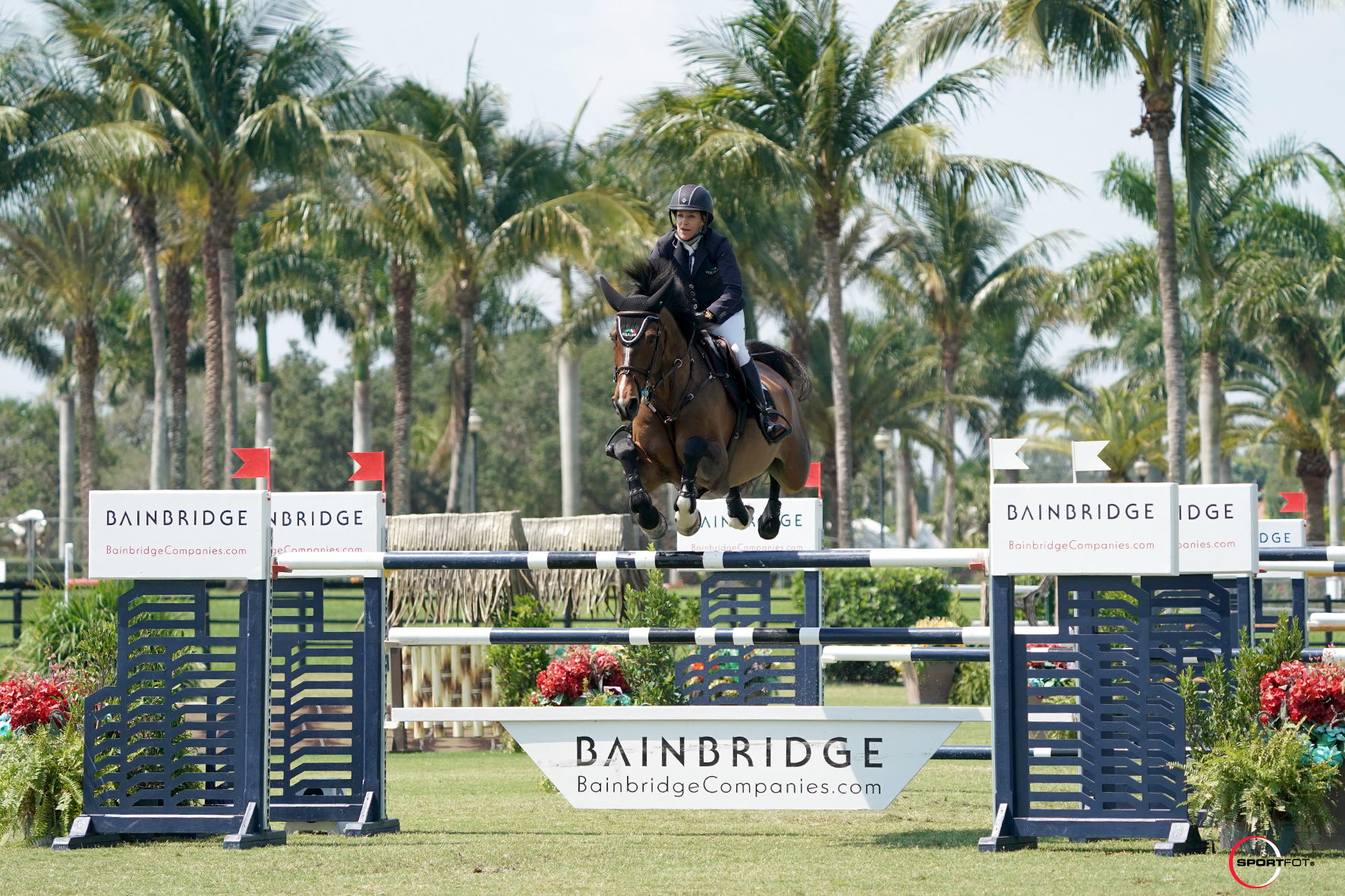 Before Kraut took the reins, the talented gelding was campaigned by Adam Prudent (USA), who wrapped up the 2021 Winter Equestrian Festival with a win in the $214,000 Wellington Agricultural Services Grand Prix CSI4*on April 3. Prior to that victory, the Prudents approached Kraut to say that they would finally consider selling him.
"I'm fortunate enough to be very good friends with the Prudents [who previously owned the horse]," said Kraut. "Everyone in the world has asked to buy him, including me many years ago. It was a great horse for Adam to have to go to the highest level, which he did and did very well, so when the opportunity presented itself, I was very fortunate to have an owner who was ready to step in and buy him for me. Katie and Henri [Prudent] have the utmost faith in him and think he's one of the best horses in the world, and so do I. I can't even believe it; I feel like the luckiest person to have him."
Final Results: $137,000 Bainbridge Companies Grand Prix CSI3*
1. BALOUTINUE: 2010 Hanoverian gelding by Balou du Rouet x Landor S
LAURA KRAUT (USA), St. Bride's Farm: 0/0/40.00
2. BREITLING LS: 2006 Dutch Warmblood stallion by Quintero x Accord II
BEEZIE MADDEN (USA), Abigail Wexner: 0/0/40.27
3. ANNA JO: 2009 Oldenburg mare by Acodetto 2 x For Pleasure
PARIS SELLON (USA), Willow Grace Farm: 0/0/40.95
4. CHACNA: 2007 Hanoverian mare by Chacco-Blue x Narew XX
ENRIQUE GONZALEZ (MEX), Enrique Gonzalez: 0/0/41.05
5. VERDINI D'HOUTVELD Z: 2011 KWPN gelding by VDL Groep Verdi TN x Caretino 2
SHARN WORDLEY (NZL), Lauren Balcomb: 0/0/41.90
6. DSARIE: 2008 KWPN mare by Veron x Ahorn
BEAT MÄNDLI (SUI), Grand Road Partners LLC: 0/0/42.53
7. JACK VAN'T KATTENHEYE: 2009 Belgian Warmblood by Diabeau x Canadian River
ERYNN BALLARD (CAN), Lindemann Barnett Sporthorses: 0/4/39.02
8. EASY GIRL: 2011 Oldenburg mare by Conthargos x Nintender
RODRIGO LAMBRE (BRA), Mario Onate: 0/4/43.53
9. DARRY LOU: 2008 KWPN stallion by Tangelo van de Zuuthoeve x Nabab de Reve
NAYEL NASSAR (EGY), Evergate Stables, LLC: 0/4/44.24
10. SKARA GLEN'S CHANCELLORESS: 2009 KWPN mare by Chacco Blue x Balou du Rouet
PAUL O'SHEA (IRL), Skara Glen Stables: 0/4/51.14
11. ARMIK: 2009 Oldenburg gelding by Armitage x Justinian xx
CAPT. BRIAN COURNANE (IRL), Brian Cournane and M/M Bob Stiller: 0/8/40.98
12. TULARA COLMINE: 2010 Warmblood stallion by Colman x Quinar
GEORGINA BLOOMBERG (USA), Gotham Enterprizes, LLC: 1/77.59
Kenny Knocks Off the Competition, Capturing the $35,000 Resilient Fitness Spring II Grand Prix
In the final class of Spring II on Sunday afternoon, Darragh Kenny (IRL) and Idalville D'Esprit, owned by Heathman Farm, LLC, jumped into the winner's circle in the $35,000 Resilient Fitness Spring II Grand Prix.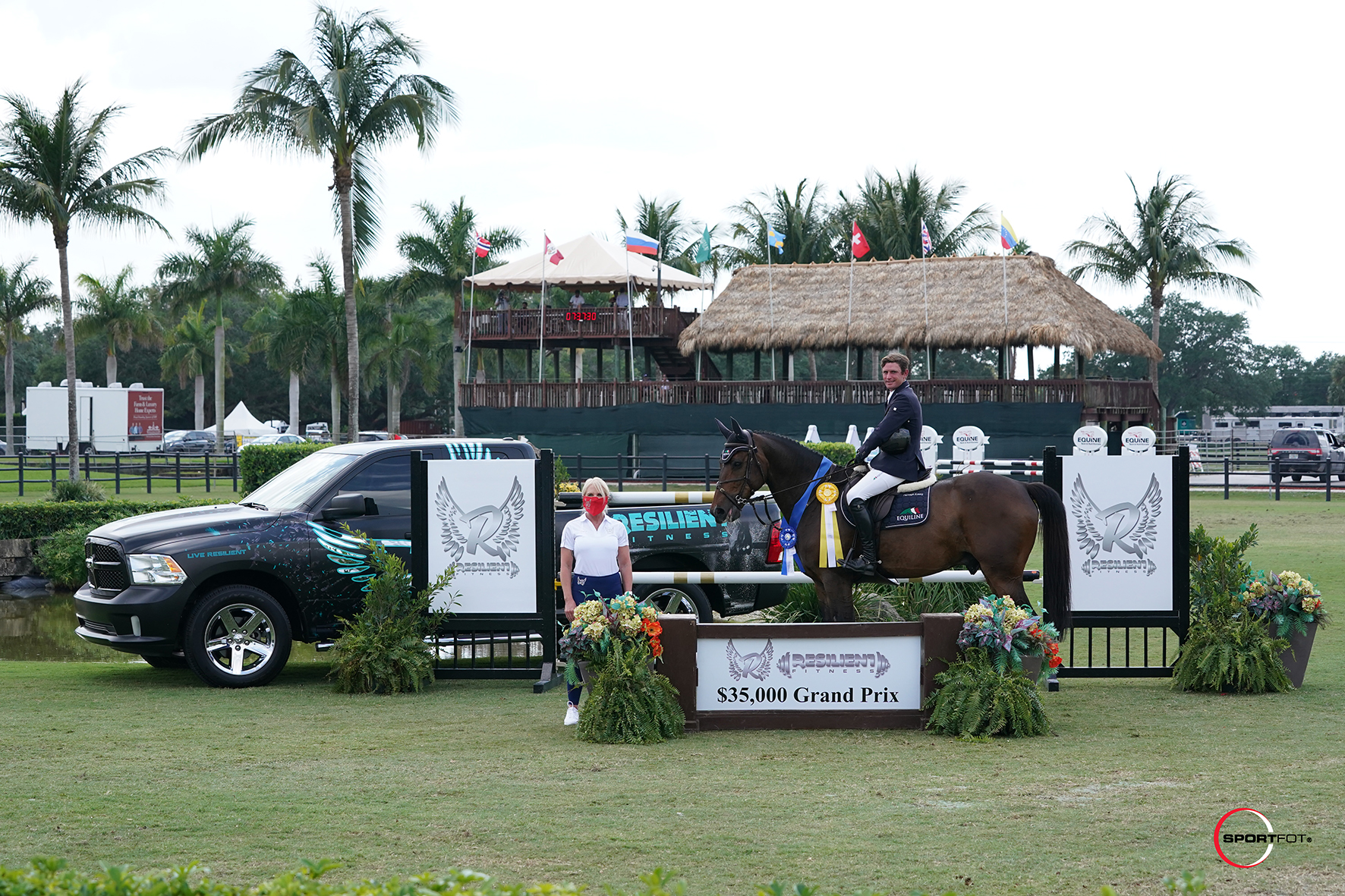 A field of 50 horse-and-rider combinations challenged the opening round with just four pairs qualifying to ride the final jump-off track of the week set by Catsy Cruz (MEX) and Andy Christiansen (ECU). A total of three entries elected to return, including Kenny with two different mounts. First to go, the ninth-ranked rider in the world guided Idalville D'Esprit, a 13-year-old Belgian Warmblood gelding by Carabas van de Wateringhoeve x Nabab de Reve, to a clear effort in 42.68 seconds.
After a short break to warm up his next mount, Kenny came close to beating his own leading time with Scarlett Du Sart Z, owned by Vlock Show Stables, LLC. He and the 11-year-old Zangersheide mare by Stakkato de hann x First Bride left all the jumps up in 43.37 seconds to slide into second.
Last to challenge was Grace Debney (GBR) on Zarina De Vidau, owned by Temple Equestrian, LLC. The 16-year-old rider and the 10-year-old CDE mare by Diamant de Semilly x Carina XXXVii Ch flew into second place with the clock stopping at 43.22 seconds.
The win marked the beginning of what promises to be a bright future for a new partnership between Kenny and Idalville D'Esprit, with only four weeks of training together.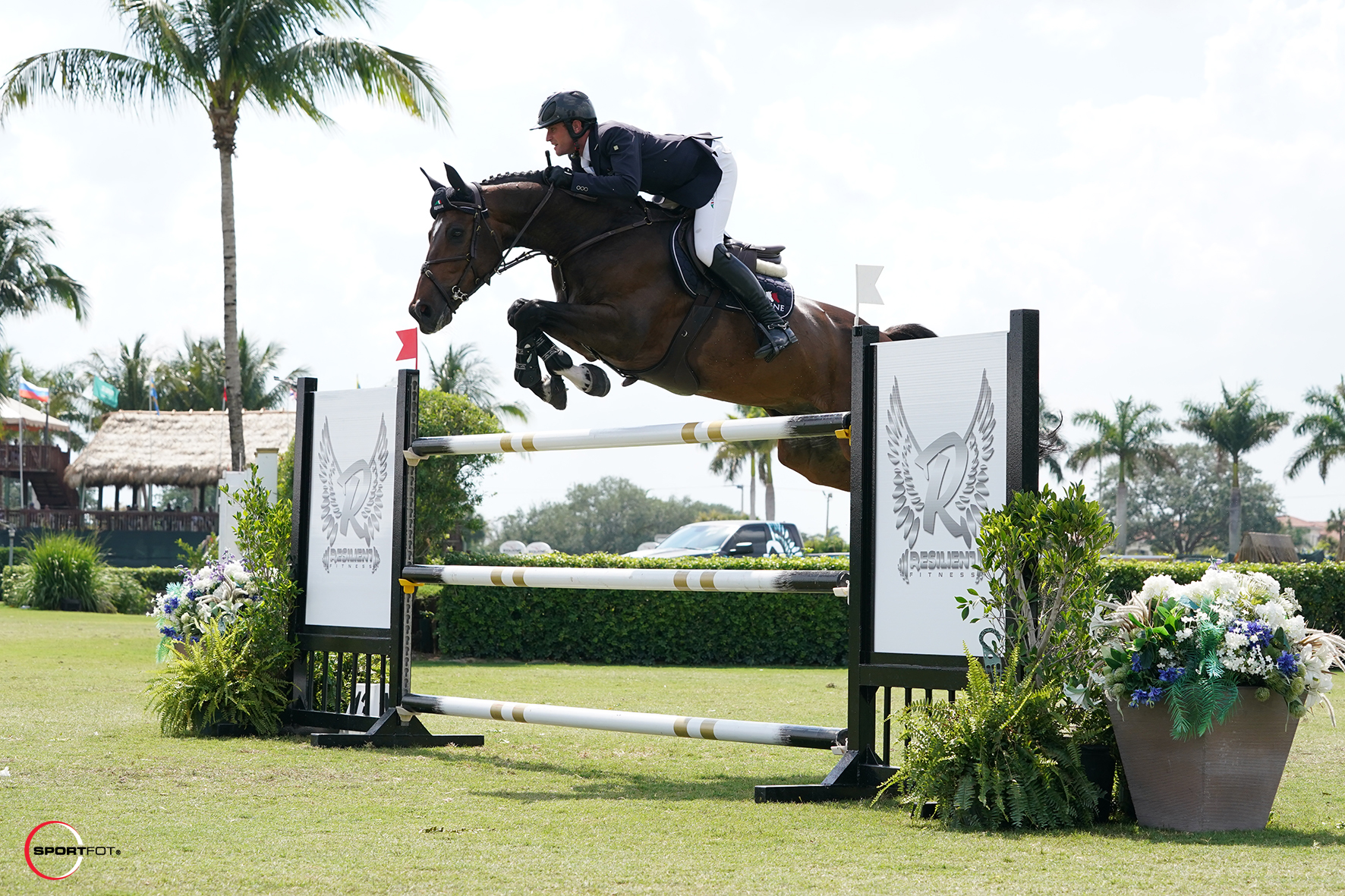 "He's an exceptionally talented horse," he said. "He had a great record with Eric [Lamaze] jumping some really big grand prix classes and was fantastic. I think the horse is incredible and I've just been building him up slowly, but his jump feels amazing. He feels like he can jump anything and do anything, so I'm really excited."
"I wanted to get to know the horse more than anything," Kenny explained of his plan for the jump-off. "He jumped fantastic in the first round and that was the first jump-off I've done on him. I wanted to see what my boundaries were and how fast I could go. He was brilliant. He was careful, rideable, and he jumped great, so I was really, really happy with him."
Following the class, Kenny echoed the thoughts many of his competitors have expressed throughout the week regarding the opportunity to compete through the ESP Spring Series in Wellington, FL.
"I think what the show is doing here is fantastic," he said. "They're running a great show and the more we can get to jump in these good classes like the three-star and National grand prix classes is amazing. It gives us a chance to build horses up and I think it's brilliant."
In the opening class on Sunday morning, a pair of blue ribbons were awarded in Section A and Section B of the $2,500 High Junior/Amateur Owner Jumper Classic sponsored by Equiline. Daneli Miron (USA) and Vox Dei owned by Miron Sport Horses, LLC, flew to a win in Section A with a double-clear effort in 39.511 seconds. Juan Jose Bancalari (DOM) and his own entry Mafiosi 111, took the victory in Section B as they also put forth a double-clear effort, crossing the finish line in 40.468 seconds.