For Immediate Release
Summer Grace and Emily Riden for Jennifer Wood Media, Inc.
Wellington, FL – January 31, 2019 – Irish Olympian Kevin Babington rode Mark Q to the win in the $72,000 Equinimity WEF Challenge Cup Round 4 CSI 4* on the grass derby field of the Equestrian Village at the Palm Beach International Equestrian Center (PBIEC), on Thursday, January 31, at the Winter Equestrian Festival (WEF).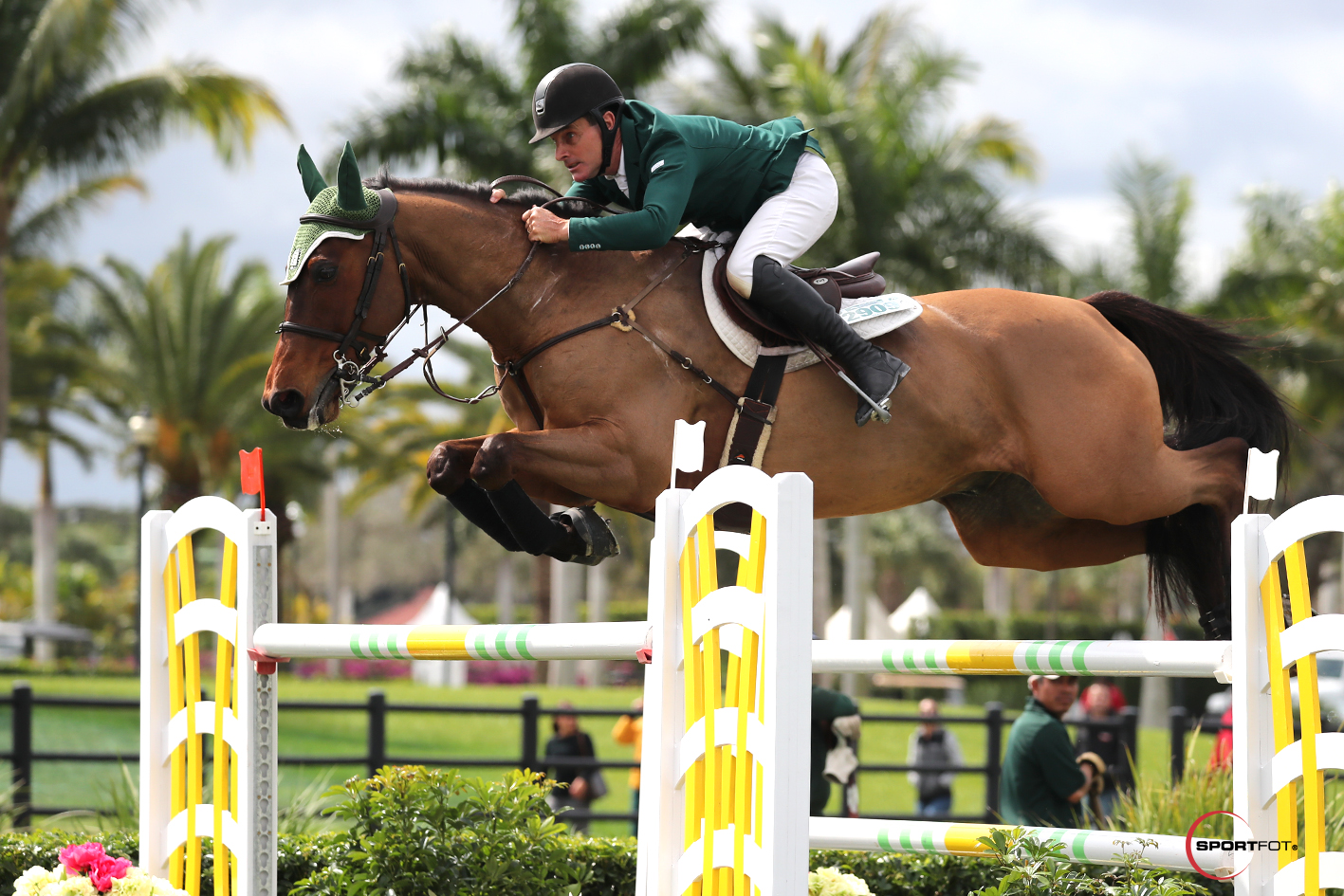 WEF continues through March 31 at PBIEC in Wellington, FL, with the fourth week of competition, sponsored by Marshall & Sterling Insurance/Great American, featuring hunter and jumper events such as the $15,000 United States Hunter Jumper Association (USHJA) International Hunter Derby "Hunt and Go" on Friday, February 1, at 1:30 p.m. and the $209,000 Marshall & Sterling Insurance/Great American Grand Prix CSI 4* on Saturday, February 2 at 11 a.m. On Saturday night, highlight competition returns to the International Arena at PBIEC for the Great Charity Challenge, presented by Fidelity Investments® beginning at 6:30 p.m.
Sixty-five entries contested Thursday's WEF Challenge Cup track set by Anderson Lima (BRA), with six horses qualifying to come back for the jump-off. When Babington and Mark Q entered the ring as the penultimate entry to return, Carly Anthony (USA) and Clochard, owned by Neil Jones Equestrian Inc., had set the time to beat at 44.13 seconds. However, Babington and his longtime partner, a 17-year-old Irish Sport Horse gelding, would make short work of that time, shaving off more than four seconds to ultimately clinch the win with a time of 40.03 seconds.
Fellow Irishman Darragh Kenny was the last to return aboard Chinook II, owned by Veronica Tracy, and a time of 40.84 seconds would secure them the second-place honor and relegate Anthony and Clochard to third. Fourth place went to Lorcan Gallagher (IRL) and Hunters Conlypso II, owned by the Dacantos Group, with four faults in a time of 40.27 seconds. Margie Engle and Royce, owned by Gladewinds Partners LLC, took fifth with four faults and a time of 42.69 seconds, and Australia's Rowan Willis finished in sixth after electing not to return for the jump-off with his own Blue Movie.
"With Darragh Kenny following me, it was a lucky day for me!" said Babington in describing his jump-off round. "[Mark Q] was great across the ring. He's a lot of Thoroughbred, so he galloped like a racehorse across to the vertical."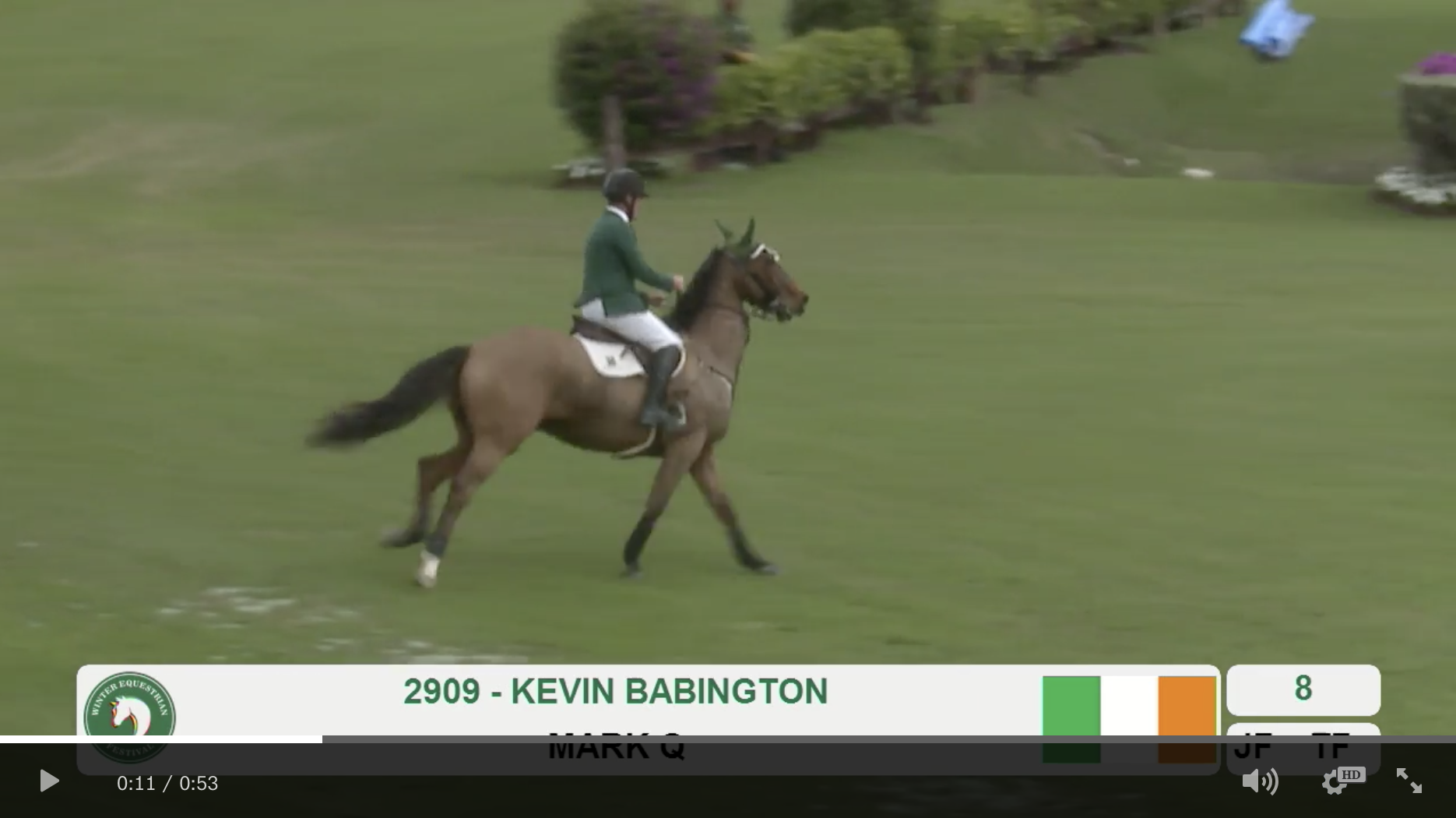 Watch the winning jump-off ride for Kevin Babington and Mark Q!
Babington purchased Mark Q as a seven-year-old, and the pair has accumulated a large number of noteworthy wins over the past decade – particularly on the grass.
"He's just been a great partner," said Babington of the gelding. "He's good indoors. He's good in the sun, but he loves the grass! He just loves the grass. For the older horses, I think it's a little easier on them. He's 17 now, but he doesn't feel it. He's probably one of the soundest horses that I have in the barn.
"My plan was to do another horse today, but then I was thinking, 'You know what? He loves the grass,'" continued Babington. "The ground feels amazing. It's a credit to them. We used small studs, and it was really good and held up."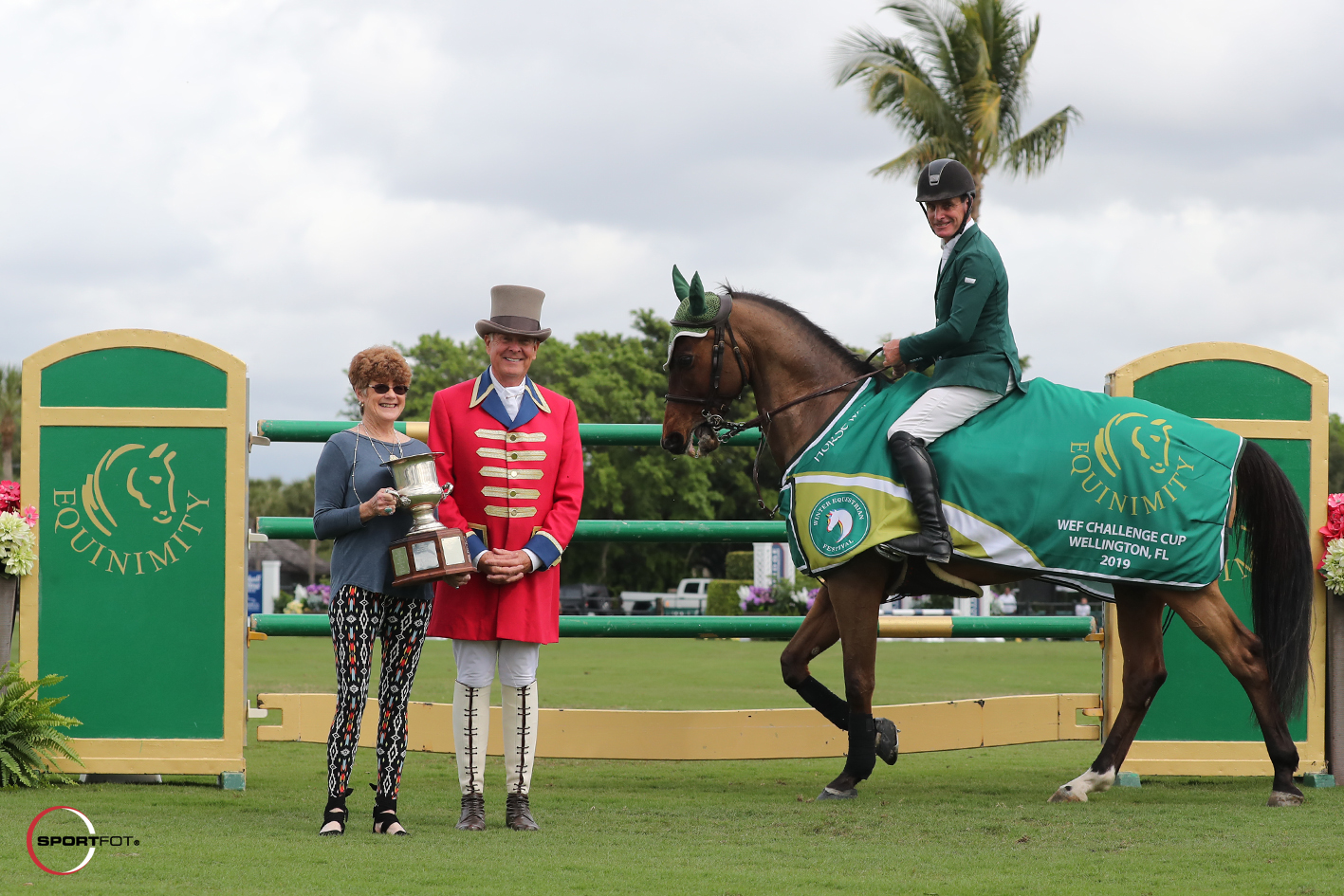 Babington will now likely aim Mark Q again at competition on the grass, when WEF jumper events return to the Equestrian Village during week six.
Final Results: $72,000 Equinimity WEF Challenge Cup Round 4 CSI4*
1 MARK Q: 2002 Irish Sport Horse gelding by Obos Quality 004 x Positively
KEVIN BABINGTON (IRL), Kevin Babington: 0/0/40.03
2 CHINOOK II: 2007 KWPN gelding by Verdi x Little Rock
DARRAGH KENNY (IRL), Molly Tracy: 0/0/40.84
3 CLOCHARD: 2008 Belgian Warmblood stallion by Kasmir van Schuttershof x Cascadeur
CARLY ANTHONY (USA), Neil Jones Equestrian Inc.: 0/0/44.136
4 HUNTERS CONLYPSO II: 2008 Hanoverian gelding by Contendro I x Calypso II
LORCAN GALLAGHER (IRL), Dacantos Group: 0/4/40.27
5 ROYCE: 2004 Oldenburg stallion by Café au Lait x Grandilot
MARGIE ENGLE (USA), Gladewinds Farm Inc.: 0/4/42.69
6 BLUE MOVIE: 2006 Anglo European mare by Chacco Blue x Pilot
ROWAN WILLIS (AUS), Rowan Willis: 0/76.63
7 LINCOURT GINO: 2003 Irish Sport Horse gelding by Gino III x Graf Magna
ALEJANDRO KAROLYI (VEN), Monica Carrera: 1/83.13
8 PENELOPE CRUZ: 2008 Irish Sport Horse mare by Ustinov x Peter Pan
CAPT. BRIAN COURNANE (IRL), Capt. Brian Cournane: 4/75.29
9 CLEARWATER: 2007 Holsteiner gelding by Clearway x Come On
MARILYN LITTLE (USA), Karen O'Connor: 4/75.46
10 WATERFORD: 2003 KWPN gelding by Coolcorron Cool Diamond x Julio Mariner XX
LAUREN HOUGH (USA), Laura Mateo: 4/76.64
11 BOKAI: 2006 KWPN gelding by Up To Date x Ferro
CATHERINE TYREE (USA), Mary & Joe Tyree: 4/79.00
12 MTM VIVRE LE REVE: 2009 Westphalian gelding by Ustinov x Chello II
BRIAN MOGGRE (USA), Major Wager LLC: 4/79.02
Jeff Gogul and Quintessa Stand Out in Equine Tack & Nutritionals Green Hunter 3'6"
The E.R. Mische Grand Hunter Field kicked off competition Thursday at the 2019 Winter Equestrian Festival (WEF) with a field of 20 horse-and-rider competitions contesting for the championship in the Equine Tack & Nutritionals Green Hunter 3'6" division. Ulitmately, Jeff Gogul of Wilmington, Ohio, won the top title with a total of 30 points to just narrowly overcome Kelley Farmer.
Gogul was aboard the nine-year-old warmblood mare Quintessa, who is owned by Roberts Stables, LLC. The pair earned first place in three of the five classes comprising the division which was enough to push them several points ahead of Farmer.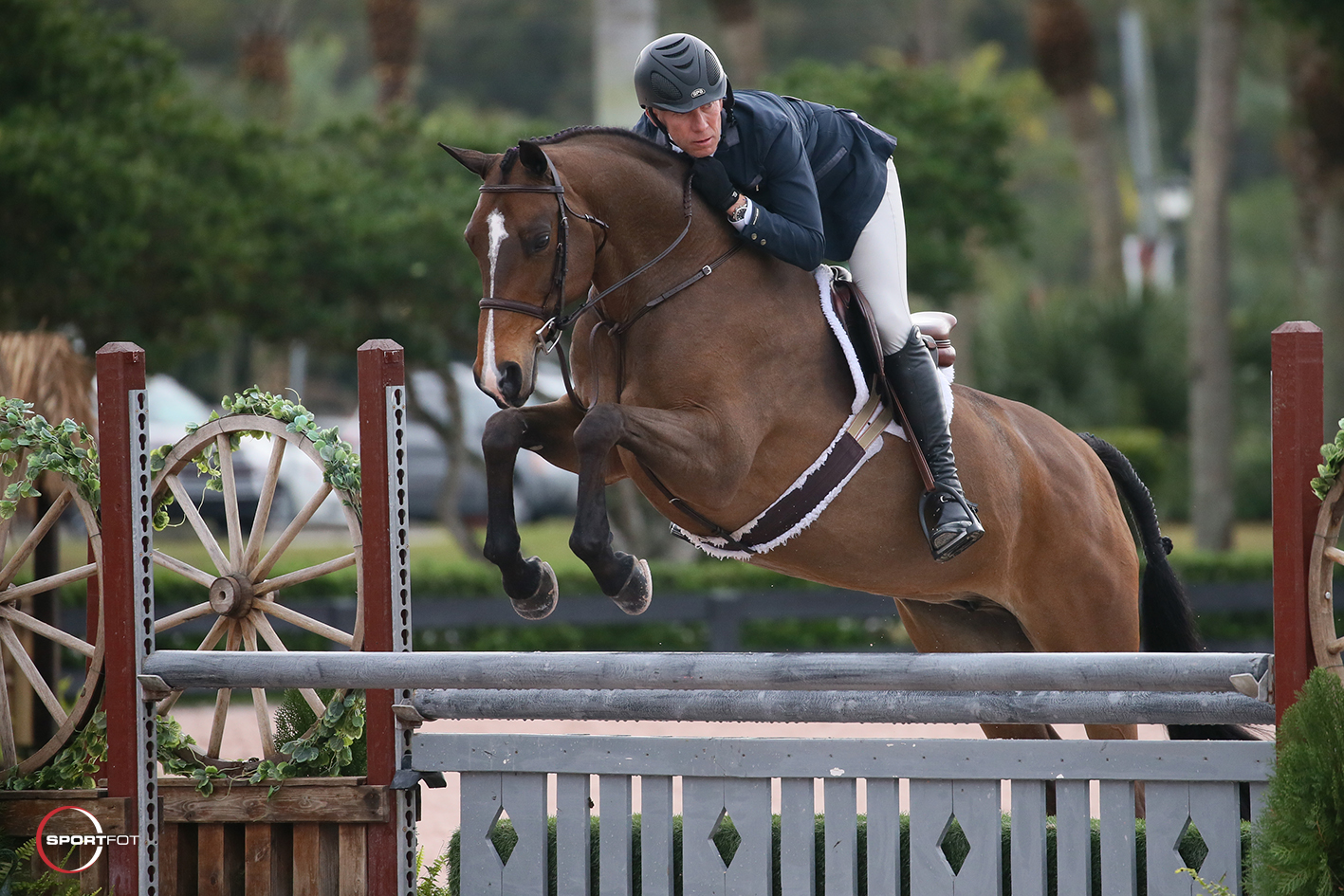 Farmer and Consent, a six-year-old Westphalian gelding (Los Angeles x Fiones), finished on a first, two seconds, and a fifth. She and the Kent Farrington LLC/David Glefke-owned mare collected a total of 28 points to take the reserve champion ribbon.
Gogul and Quintessa are a relatively new pair, but he feels she has all the makings to be great in the hunter ring.
"Everything about her has been super easy and straight-forward," he explained. "She's fun to ride and extremely brave to the fences."
Quintessa will compete with Sofia Roberts in the Junior Hunter 3'3" division over the weekend and potentially bring the mare up to the Small Junior 3'6" division by the end of the 2019 WEF circuit.
As for WEF itself, Gogul says he enjoys the unique experience of being able to keep an eye on both the international competition as well as the hunter rings because of their proximity to one another.
"I don't often get to watch the international level riders compete because I typically need to stay close to the hunter rings," he said. "However, because the hunter rings such as the Rost and the Grand Hunter Field are so close to the International Arena, I get the chance stay close to where I'm needed while also enjoying the upper level jumper competition."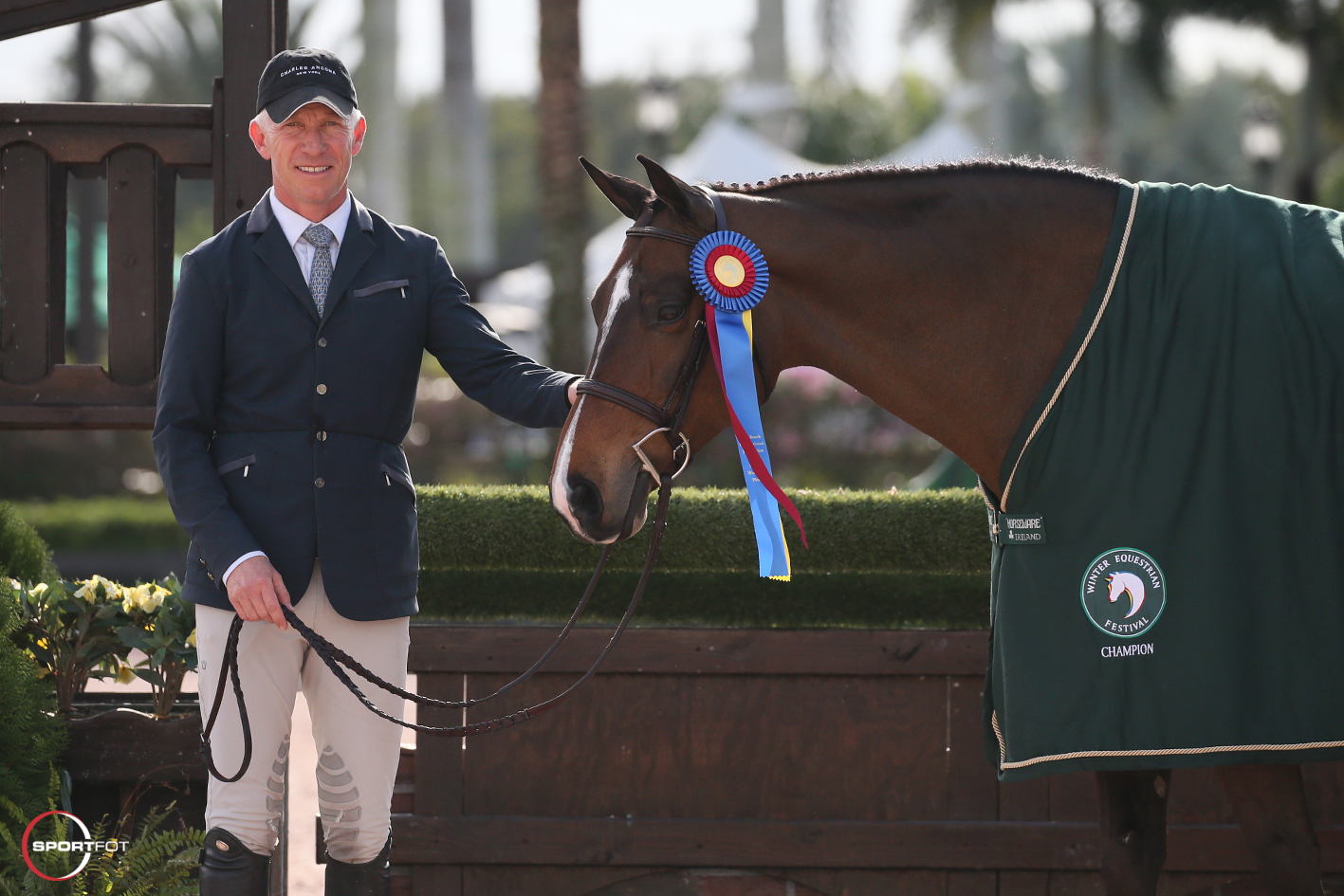 Classes in the E.R. Mische Grand Hunter Field will return on Friday with the Adult Amateur Hunter Older (Sec. A) starting promptly at 8 a.m. On the grass field at Equestrian Village, the $72,000 CaptiveOne Advisors 1.50m Championship Jumper Series Classic starts at 10 a.m.