Wellington, FL – November 22, 2020 – Held at the Palm Beach International Equestrian Center (PBIEC) from November 18-22, the 70th Annual South Florida Hunter Jumper Association Charity Horse Show concluded Sunday following a week of exciting competition. The show was the final installment at PBIEC before the beginning of the ESP Holiday Series, which starts November 24, the first day of the Holiday & Horses CSI4*.
Saturday afternoon featured the highlight jumper event of the competition as Kent Farrington (USA) and his own Orafina jumped to the top of the leaderboard in the $50,000 Spy Coast & Sweet Oak Farm Grand Prix. The 16-effort course set by Eric Hasbrouck (USA) in the International Arena saw 53 horse-and-rider partnerships contest the track, with nine athletes successfully turning in fault-free rounds to advance to the jump-off. Mario Deslauriers (CAN) led the way, and he was soon joined by Ilan Bluman (COL), Santiago Lambre (MEX), Schuyler Riley (USA) and Erynn Ballard (CAN) by the halfway point. In the latter portion of the pack, Willie Tynan (IRL), Kent Farrington (USA), Ashley Vogel (USA), and Ashley Fleischhacker (USA) also added their names to the list.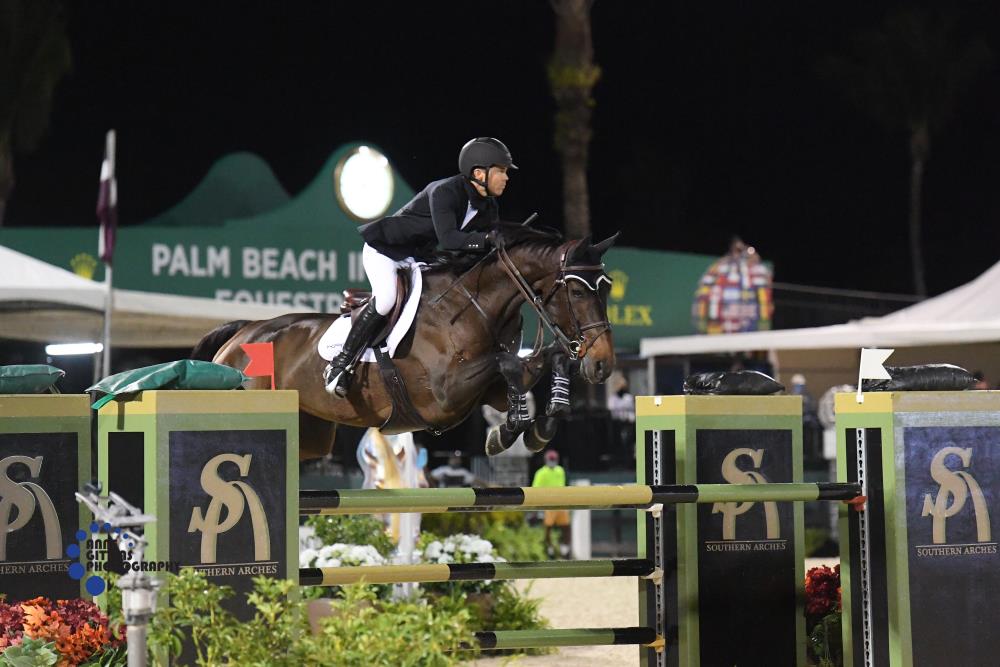 Following faults from the first five partnerships, Tynan and Michelle Guardino's Fancy Girl finally turned in the initial clear round of the jump-off as the sixth duo to go in a time of 41.51 seconds to claim the early lead over the abridged pattern. Their top spot did not hold long though, as Farrington and Orafina were the next to follow and galloped to a foot-perfect time of 40.58 seconds. Tynan and Fancy Girl retained the second spot, followed by Fleischhacker on Quadros 3, owned by Ashland Show Stables LLC, in a clear time of 44.817 seconds, the final double-clear partnership.
"Orafina is a great young talent," commented Farrington of the eight-year-old KWPN mare by For Fashion x Canturo. "She doesn't have a lot of experience, certainly not like this. Really hats off to the team here that keeps these shows going for us and allows us to keep doing our job and our sport. Early in the season like this, it's great for these young horses to get into the main ring. Tonight they even got a little taste of going under the lights. All in all, even besides the win, this was a great experience for my horse."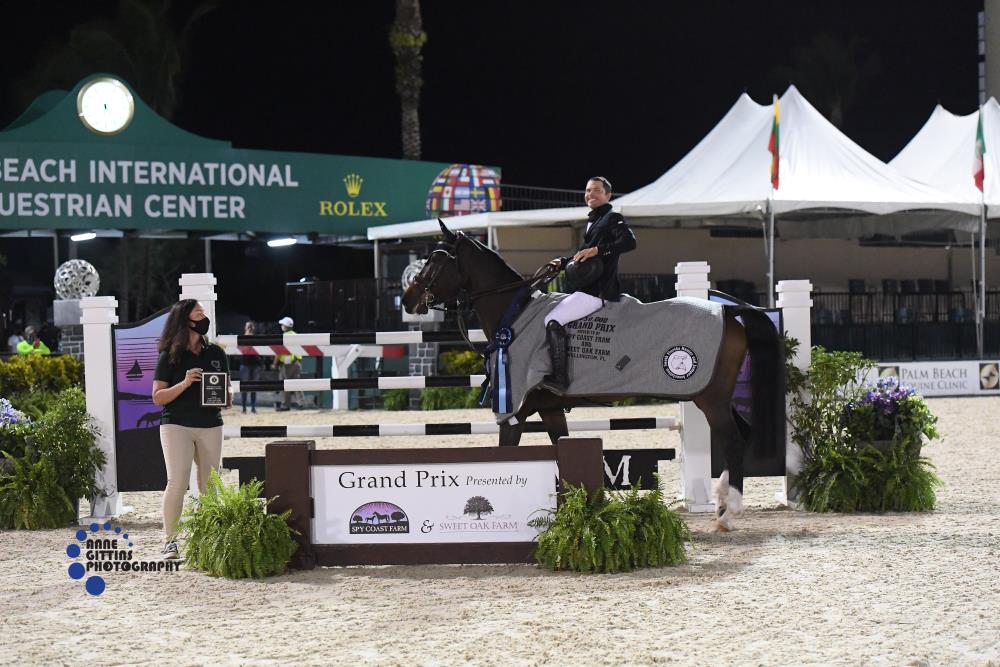 Saturday's victory was the second major win for Farrington and Orafina of the week, after also topping the $15,000 Paul Tracy Farrier Services Welcome Stake on Thursday as the quickest clear pair from the 14-horse jump-off. As the second duo to navigate the short course, designed by Hasbrouck, Farrington and Orafina served as the pathfinders with the first double-clear ride of the day, setting a lightning-fast precedent in 38.04 seconds. As the second round of riding progressed with 12 more combinations, it became clear that the frontrunners' time would hold to claim the top spot by nearly two full seconds.
"Somebody that I work with in Europe, Leon Thijssen, said he had a horse that he thought I would like and would work for me because it's extremely careful," remarked Farrington of the new relationship with Orafina. "The plans are to build her up, just like always. Keep doing what we are doing by giving her positive experiences and time to mature. We will let her grow into herself. It was a great first step tonight."
Though Mark Bluman (COL) and Amanda Derbyshire (GBR) managed to stop the timers slightly quicker than the winning pair, they both did so at the expense of a downed rail to incur four faults. Riding Stone Hill Farm's Hungry Heart, Jessica Springsteen (USA) earned second place with a clear time of 39.81 seconds, and Jonathon Millar (CAN) rounded out the podium in third aboard Shadow De Shalimar, owned by Isotropic Networks Inc.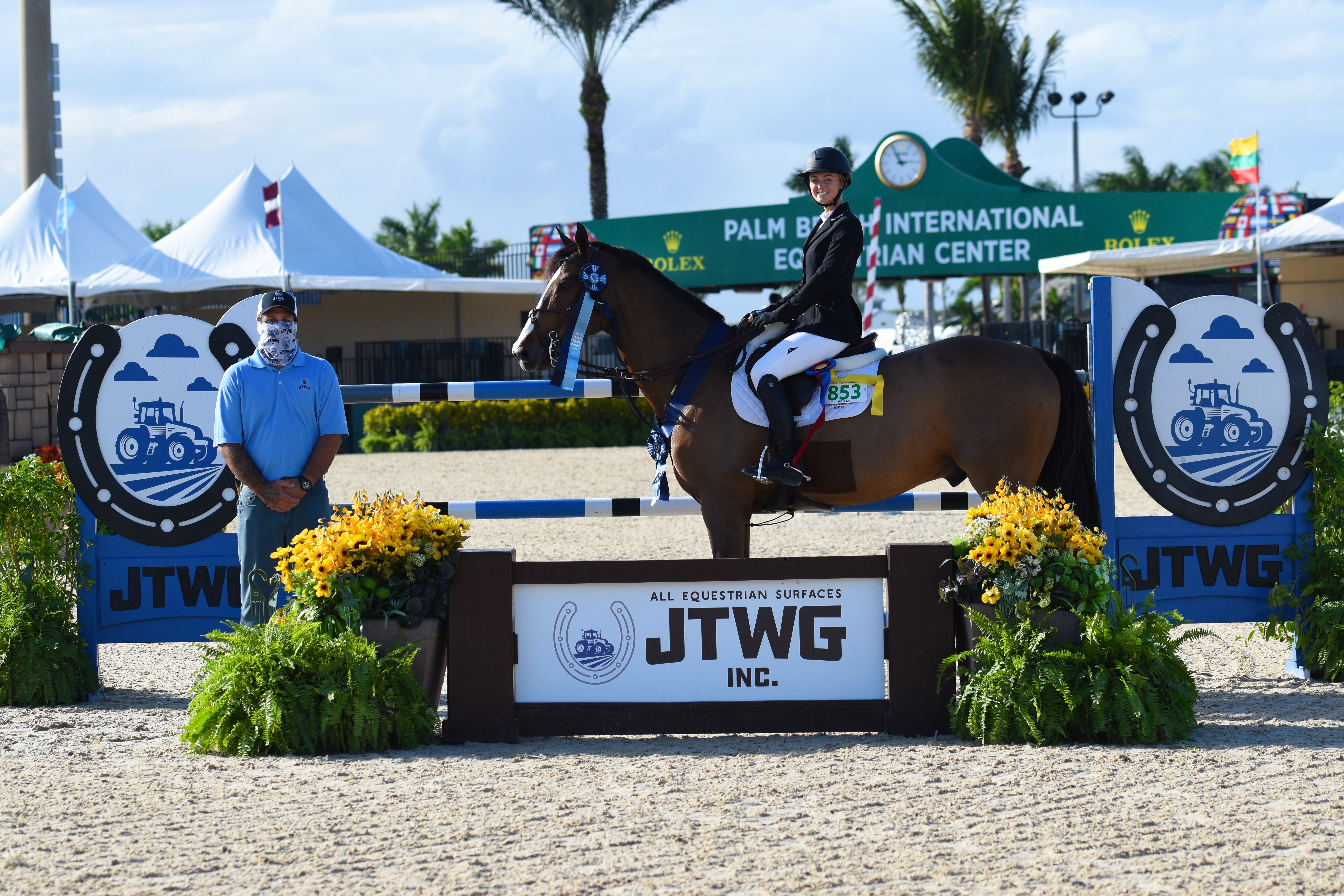 Sunday's classes wrapped up the horse show, but not before Catherine Wachtell of Long Valley, NJ, and Autumn View Farm's Indy Van De Roten topped the $10,000 High Junior/Amateur-Owner Jumper Classic, sponsored by JTWG, Inc. A field of 24 horse-and-rider teams competed over the first-round course, and seven of those earned a spot in the jump-off. As one of only two double-clear pairs, Wachtell and Indy Van De Roten were the clear victors, tripping the timers in 32.81 seconds, more than three seconds ahead of the next-closest duo. Liza Finsness of Wellington, FL, and her own Shiver jumped to second place in 36.16 seconds, and third place went to Audrey Schulze of Saddle River, NJ, aboard Riverbrook Sport Horses LLC's Mr. Cash. Schulze and her mount were the fastest four-faulters in a time of 36.18 seconds.
Final Results: $50,000 Spy Coast & Sweet Oak Farm Grand Prix
1. ORAFINA: 2012 Dutch Warmblood mare by For Fashion x Canturo
KENT FARRINGTON (USA), Kent Farrington LLC: 0/0/40.58
2. FANCY GIRL: 2010 Dutch Warmblood mare
WILLIE TYNAN (IRL), Michelle Guardino: 0/0/41.51
3. QUADROS 3: 2007 Holsteiner stallion by Quidam De Revel x Corrado I
ASHLEY FLEISCHHACKER (USA), Ashland Show Stables LLC: 0/0/44.81
4. BELLISSIMO Z: 2009 Zangersheide mare by Bamako de Muze x Chin Chin
ASHLEY VOGEL (USA), Ashley Vogel: 0/4/41.48
5. DINGEMAN: 2008 KWPN gelding by Nintender x Darnels
SANTIAGO LAMBRE (MEX), Integrated Services Florida LLC: 0/4/41.88
6. CORNER POCKET Z: 2012 Zangersheide gelding by Cornet Obolensky x Lux Z
ERYNN BALLARD (CAN), The Z Group: 0/4/44.69
7. BARDOLINA 2: 2009 Holsteiner mare by Clarimo x Landos
MARIO DESLAURIERS (CAN), Wishing Well Farm LLC: 0/4/52.62
8. EAX RUN RUN LS: 2008 CDLS gelding by Casall x Montebello La Silla
ILAN BLUMAN (COL), Blue Star Investments: 0/8/42.00
9. ICEMAN DE MUZE: 2008 BWP stallion by Erco van't Roosakker x For Pleasure
SCHUYLER RILEY (USA), E2 Show Jumpers: 0/9/53.39
10. CETANO VAN ASPERGEM Z: 2009 Zangersheide gelding Clinton x Ahorn Z
SANTIAGO LAMBRE (MEX), Santiago Lambre: 1/78.26
11. OPIUM DU SOUFFLET: 2009 gelding by Ogano Sitte x Landjuweel St.hubert
NICHOLAS DELLO JOIO (USA), Rocking D Ranch: 1/78.31
12. CHUCK 27: 2007 Hanoverian gelding by Cassus 2 x Ramiro's Son II
HILARY MCNERNEY (USA), Hilary McNerney: 1/78.44
To view the full results of the $50,000 Spy Coast & Sweet Oak Farm Grand Prix, please click HERE.
To view the full results of the $15,000 Paul Tracy Farrier Services Welcome Stake, please click HERE.
Hunter Highlights
Friday saw the week's highlight hunter class, the $10,000 USHJA National Hunter Derby, presented by Meadowview Inc., take place in the Rost Ring. Split between professional and non-professional competitors, 47 talented duos tackled the classic round designed by Danny Moore, with 24 teams, 12 from each section, contesting the handy phase of competition.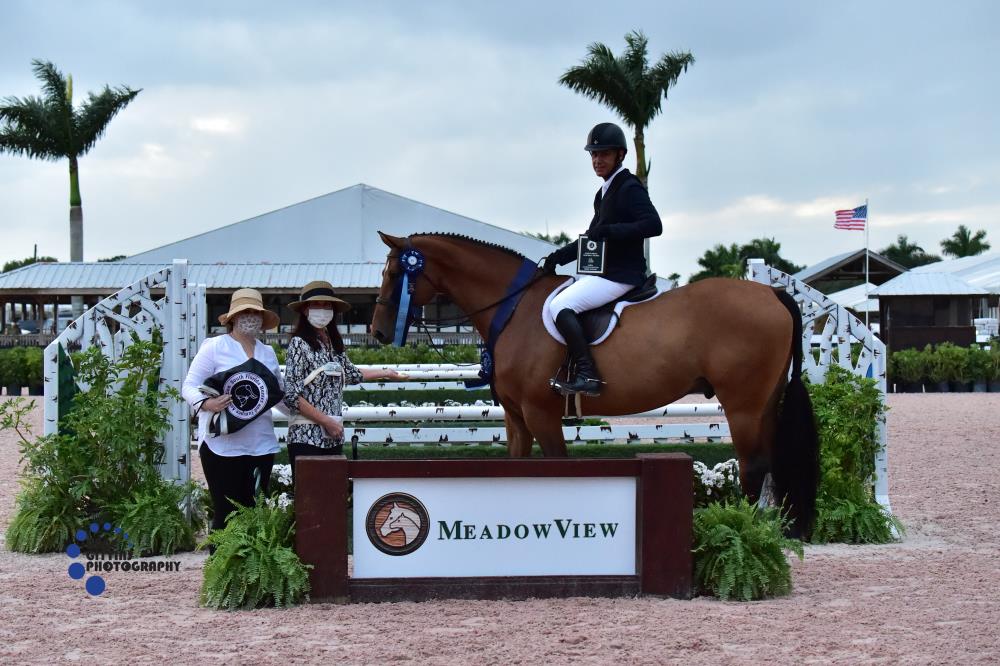 Ultimately, Jimmy Torano of Wellington, FL, and Laskano, owned by Isalou, Inc., came out on top in the $10,000 USHJA National Hunter Derby Open class after receiving high scores of 90 and 94. The victory was especially sweet for Torano and Laskano's owner Daryl Portela, who sponsored the trophy awarded to the winner of the class in honor of her father, James B. Pirtle. Kristy Herrera of Wellington, FL, and Kate Ellis' Valhalla finished in the runner-up spot with a total tally of 181 points, earned from 89.50 points and 91.50 points in each round. Tiffany Morrissey of Wellington, FL, rode Lisa Berger's On Your Mark to the final podium spot with individual marks of 87.75 and 92 for a final score of 179.75.
In the Junior/Amateur section of the derby, Tracy Scheriff-Muser of Palm Beach Gardens, FL, piloted Melissa Burns' Bode Well to victory after scoring 88 points in the handy round, moving her from third place to the top of the leaderboard with a total score of 170. Ariana Marnell of Las Vegas, NV, and Marnell Sport Horses' Hero captured second place with a final score of 164.50, earned from individual scores of 76 and 88.50. Geronimo L carried owner-rider Maggie Alexander of Wellington, FL, to third position thanks to a classic score of 80 and a handy score of 84 to finish on 164 points.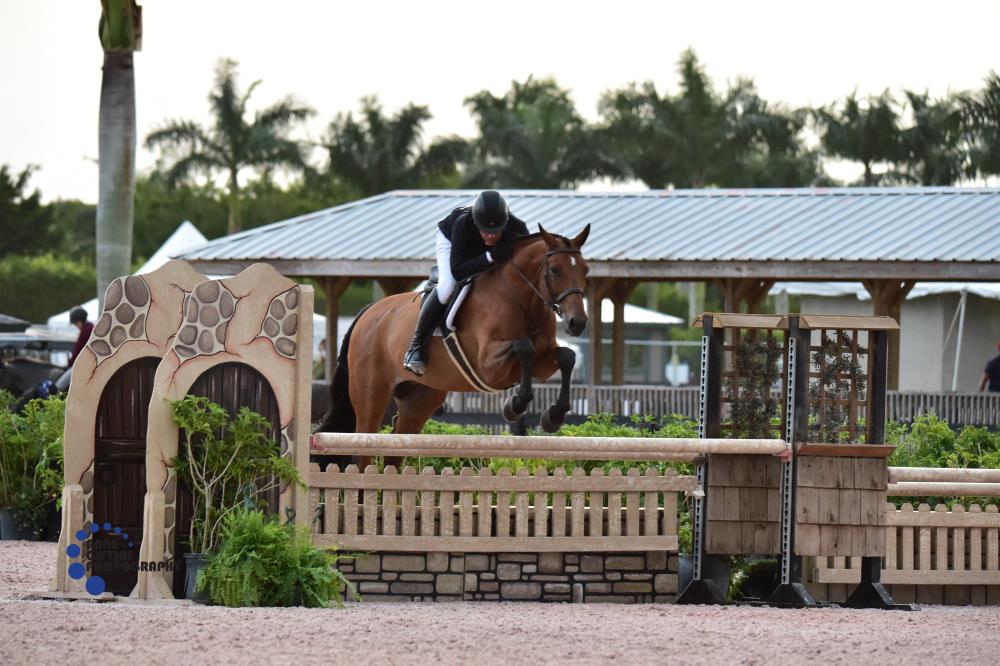 On the final day of the competition, Parker Peacock of Pfafftown, NC, and William Lyles' Avatar Z topped the $2,000 Over The Hill Farm Junior/Amateur-Owner 3'3" Classic after receiving scores of 83 and 81. Morgan Van Nortwick of Leesburg, VA, claimed the second-place ribbon aboard Winterfell, owned by Katherine Frame Dewar, thanks to a total score of 161, while the yellow ribbon went to Jeanine Cash of Winthrop, MA, aboard Freedom, owned by Colin Cash, with a cumulative score of 157. 
The $2,000 Victoria Colvin Junior/Amateur-Owner 3'6" Classic concluded Sunday's hunter competition with Kat Fuqua of Atlanta, GA, piloting her entry, Consent, to top honors after receiving a total score of 166.5. Cameron Kohls of New York, NY, and her Coronation received scores of 84 and 82 to secure second place, while Sterling Malnik of Ocean Ridge, FL, and her Coronation earned a spot on the podium after earning a score of 85 in the classic phase of the competition and a score of 80 in the handy round.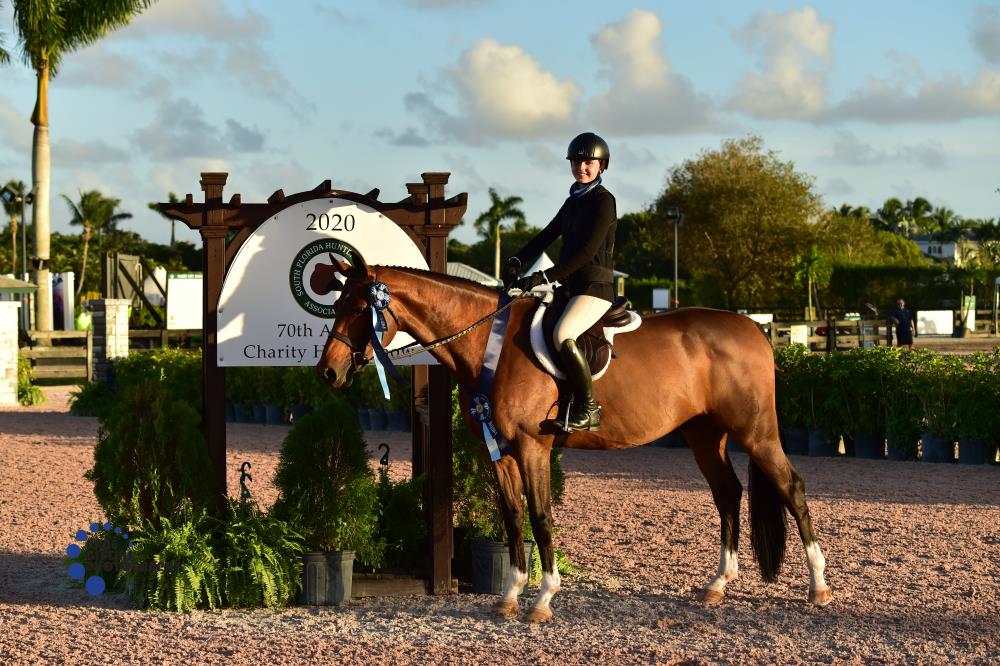 To view the results of the $10,000 USHJA National Hunter Derby Open section, presented by Meadowview Inc., please click HERE. Find the results of the Junior/Amateur-Owner section HERE.
The ESP Holiday Series will begin with the Holiday & Horses CSI4*, which will run from November 24-29, 2020. The prize list for the six shows that make up the Holiday Series can be found HERE.
No spectators or outside media are allowed on-site at this time, but friends and family can view all classes via our SGL live stream HERE.
To learn more about the safety protocols and procedures at the horse show, please click HERE.
Photo credit ©Anne Gittins Photography and ©PBIEC. These photos may only be used once in relation to this press release with proper credit.