Wellington, FL – February 13, 2015 – For the second year in a row, Kent Farrington (USA) and Robin Parsky's Blue Angel emerged victorious in the $85,000 Salamander Hotels & Resorts Grand Prix CSI 3* during week six at the Winter Equestrian Festival in Wellington, FL. Farrington and Blue Angel topped a nine-horse jump-off to defend their title, with Harrie Smolders (NED) and Don VHP Z second, and Ben Maher (GBR) aboard Valinski S third.
As the week continues at the Palm Beach International Equestrian Center (PBIEC), hunter riders will set their sights on clinching a spot in the featured $100,000 USHJA/WCHR Peter Wetherill Hunter Spectacular Saturday night. The event will be available worldwide via live stream. Tune in Saturday at 6:30 pm ET:
http://bit.ly/1Fwrqkr.
All of Sunday's jumper competition at The Stadium at PBIEC will also be available live online. The $25,000 Artisan Farms Under 25 Grand Prix speed class, presented by EnTrust Capital, will begin at 8 am followed by the $34,000 Suncast® 1.50m Championship Jumper Classic. Watch both classes at: http://bit.ly/1z64TGV. Sunday's $50,000 Equestrian Sotheby's Jumper Derby will begin at 2 pm at: http://bit.ly/1zu8q0x.
Under the lights of the International Ring at The Stadium at PBIEC Friday night, Richard Jeffery (GBR) set the track for 39 starters in the Salamander Hotels & Resorts Grand Prix, with nine moving on to the jump-off and six double clear rounds.
Erynn Ballard (CAN) and Angelstone Partners' Appy Cara jumped the first double clear in 43.07 seconds to finish fifth. Charlie Jacobs (USA) and CMJ Sporthorse LLC's Cassinja S went next with a clear round in 43.63 seconds to place sixth. Luis Pedro Biraben (ARG) briefly took the lead in 42.06 seconds with Abunola and ended in fourth. Up next, Harrie Smolders upped the pace with Copernicus Stables LLC's Don VHP Z in 39.64 seconds, but was immediately pushed into second when Farrington and Blue Angel stole the show with a blazing time of 38.85 seconds. The final clear round came from Ben Maher and Wyndmont's Valinski S, who jumped into third place in a time of 40.62 seconds.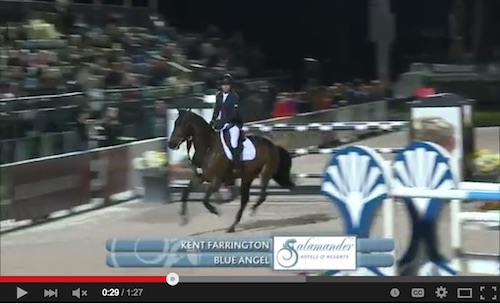 "I think this style of venue really suits the horse and that's why I chose to ride her here again this year," Farrington said of his win with Blue Angel, a 13-year-old Anglo European mare (Luidam x Ascendant). "It's a small ring, more like an indoor arena. She is naturally fast and can add a stride very quickly."
"The ride in the jump-off with her really is not to let her get out of her comfort zone," Farrington noted. "Like going to the last fence, not to go too direct and try to go too fast, more just tone it down and hope that's enough for the class today. I think I was just on a faster horse. I thought Harrie's round was incredible. He turned so tight back to the vertical. He went to the whip going to the last fence and did seven strides. I don't think there was anything else Harrie could do. Luckily, my horse was a little faster today. My horse is also good at a rollback to a vertical like that. Harrie went inside from fence one to two, which was extreme. I didn't think I could do that and still jump the vertical well and do a short rollback, so I had to hedge my bet a little there at the start."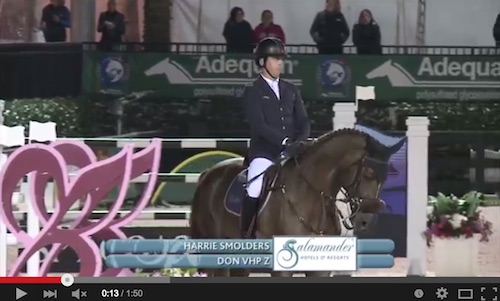 "All of us here are super competitive personalities," Farrington said of the competition. "These are some of the best riders in the world, and we are all out here trying to win all the time. I think that shows the strength of the competition here at WEF, when you see riders of this caliber all competing each weekend."
While some of Farrington's top mounts, such as Voyeur and Uceko, will rest this winter in preparation for the season ahead, the rider is bringing out some new horses for the circuit and using his other horses sparingly.
"I'm trying to use the circuit to develop some new horses and get them in the ring and using Blue Angel and horses like that if there's a certain venue or class that really suits them," Farrington explained. "The circuit is long, so it's a great way to build up a new horse. They can get comfortable in the ring and jump a little bigger than they normally could if you were going to a different place every single week, so I am trying to use that to my advantage."
For the horses that are showing, he acknowledged the nice change to compete in different rings across the show grounds at PBIEC, such as Friday's class at The Stadium.
"I think it's a great change of pace. I think using this ring and the field and maximizing the different venue opportunities that we have here in Wellington is great for the horses and a nice change of scenery for the riders," Farrington said.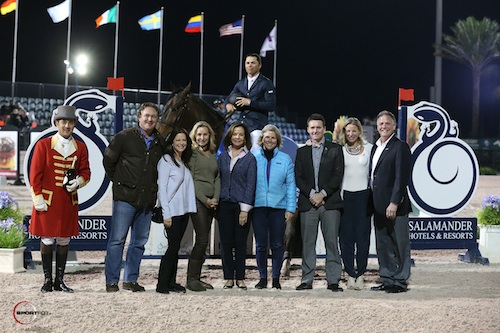 For Harrie Smolders, Don VHP Z has had success on both sides of PBIEC this season, including a third place finish in week five's grand prix on the derby field last Sunday. He settled for second place Friday night, but was happy with another great round from 'Don'.
"I'm very pleased with him. Like I said last week, he is in very good shape and he jumped two grand prix double clear, so I think he is in a really good period at the moment," Smolders stated. "Normally, he is not so handy in such a small ring, but I tried to make the best out of it today and it was almost enough."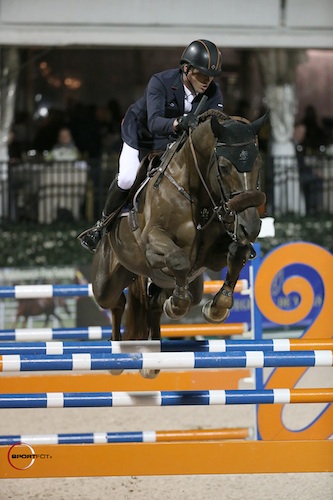 Third place finisher, Ben Maher, was aboard a brand new mount this week in Valinski S, and looks forward to working on his new partnership in the weeks ahead.
"We got the horse on Monday, so I literally jumped on and rode him once at home and then headed over here, so I'm pretty happy with this week," Maher expressed. "I think he is very suited to this ring. I don't know him a lot to compare to really, but he feels careful and quick. Maybe he needs to adjust to my riding a bit. There are a few things I want to work on."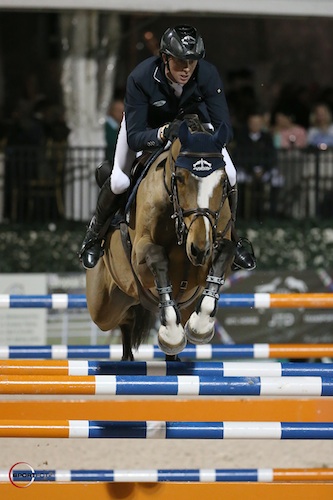 Like Farrington, Maher is using this circuit to develop some of his up-and-coming horses and kept that in mind with his jump-off round and a brand new mount.
"It's a circuit where I am having to build horses this time instead of go for the win trying to go as quick as I can," Maher said. "I took my time a bit to the second fence and maybe to the last, and that's the difference in winning and coming in third. I'm on a tour doing what I can do, not what I can't, and hopefully putting the hours in will pay off. I am very happy with the first week (with Valinski). I have a couple horses that we're not intending to use in the bigger grand prix, so this helps my string for the next couple of months."
Amateur-Owner and Junior Hunters Take the Spotlight in WCHR Week
Amateur-Owner and Junior riders took their turn in the International Arena on Friday at Palm Beach International Equestrian Center as World Champion Hunter Rider Week continued at The Winter Equestrian Festival.
Capping Amateur-Owner competition, Stephanie Danhakl jumped Enough Said to the championship in the Shamrock Ventures Amateur-Owner Hunter 3'3" 18-35 division. Danhakl purchased the nine-year old Warmblood gelding during WEF 2014 and celebrated their one-year anniversary by sweeping Thursday's under saddle, handy and over fences before returning Friday with the division all but clinched and took second in the final class.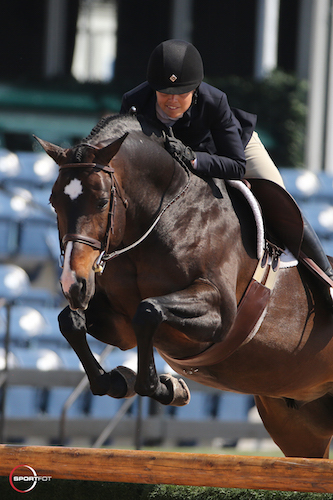 "Week six is always an exciting one because we get to go into the big ring, and everyone focuses on hunters," said Danhakl of WCHR Week. "It was great to do so well yesterday and after winning all three classes, it was nice to come out on the big field and just have fun. I clicked right away with this horse, and he was perfect out there."
Kelsie Brittan was reserve champion with Argentum, owned by Silver Oak Farms, LLC, after a second in both of Thursday's over fences classes, as well as a blue in Friday's final test.
In the FarmVet Amateur-Owner Hunter 3'3" 36 and Over, Daryl Portela and Isalou, Inc.'s Winner were true to their name and were champions with consistent performances in each class. The pair was second under saddle and over fences on Thursday before winning the handy and jumping to third on Friday. The tricolor delivered Portela and Winner a streak after clinching the same division last year.
"He has been champion at Devon, Washington [International Horse Show], Kentucky, Harrisburg and he always shines at the bigger shows – he knows how to rise to the occasion," said Portela of the 12-year-old Warmblood gelding she has piloted for three and a half years. "I know him really well, and we are really comfortable together. He's a straight-forward horse with a great jump and is always a blast."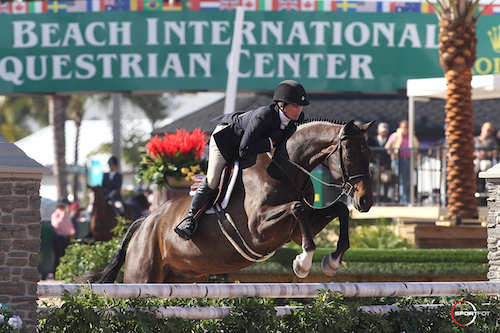 With a blue over fences and second in the handy, Caroline Moran took reserve champion aboard her own Bacardi.
Champion presentations continued in the International Ring with Sophia Pilla and Piccolino Farm's CC Cool claiming the Echo Junior Hunter 3'3" division. CC Cool won the handy hunter round on Thursday and finished second in the over fences class on Friday. "This is my first year showing her [CC Cool] in the Junior Hunter 3'3", so it is an honor to be champion during WCHR week," Pilla smiled.
Kor LLC's horse, Peter Pan, earned reserve championship honors with Raegan Rast in the irons. The pair remained consistent over the two days of competition, earning a first and third over fences.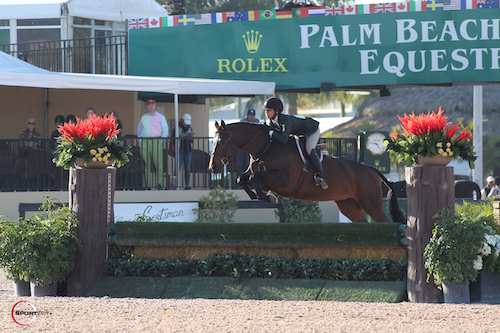 Pilla has been competing at WEF since she was seven years old and has moved from the Pony Hunter divisions up to the Junior Hunters. Commenting on what it was like to ride in the International Ring, Pilla noted, "It was really fun. She [CC Cool] is such a fun horse to ride. Being in the International ring is a big thrill!"
After a strong start today, Pilla looks forward to competing in the $5,000 WCHR Junior/Amateur Owner 3'3" Classic in the International Arena on Sunday.
WEF 6 continues on Saturday with the $34,000 1.45m featured in the International Ring at The Stadium at PBIEC. All four junior hunter divisions, along with the 3'6" Amateur-Owner Hunters, will name champions in the International Arena on the main show grounds. The $100,000 USHJA/WCHR Peter Wetherill Hunter Spectacular will follow in the International Arena on Saturday night. For full results and more information, please visit www.pbiec.com.
Final Results: $$85,000 Salamander Hotels & Resorts Grand Prix CSI 3*
1. BLUE ANGEL: 2002 AES mare by Luidam x Ascendant
KENT FARRINGTON (USA), Robin Parsky: 0/0/38.85
2. DON VHP Z: 2004 Zangersheide stallion by Diamant de Semilly x Voltaire
HARRIE SMOLDERS (NED), Copernicus Stables LLC: 0/0/39.64
3. VALINSKI S: 2002 KWPN gelding by Nikinski x Julius
BEN MAHER (GBR), Wyndmont: 0/0/40.62
4. ABUNOLA: 2005 KWPN mare by Numero Uno x Voltaire
LUIS PEDRO BIRABEN (ARG), Luis Pedro Biraben: 0/0/42.06
5. APPY CARA: 2005 KWPN gelding by Guidam x Casco
ERYNN BALLARD (CAN), Angelstone Partners: 0/0/43.07
6. CASSINJA S: 2006 Zweibrücker mare by Carinjo x Cassini I
CHARLIE JACOBS (USA), CMJ Sporthorse LLC: 0/0/43.63
7. WIRMA: 2003 KWPN mare by Hors La Loi III x Lux
BRIANNE GOUTAL (USA), Remarkable Farms LP: 0/4/41.69
8. ENTRE NOUS: 2004 Belgian Warmblood gelding by Conan Z x Ohio van de Padenborre
LAUREN TISBO (USA), Tequestrian Farms LLC: 0/4/43.26
9. DOBRA DE PORCEYO: 2006 Warmblood mare by Action Breaker x Indorado
SCHUYLER RILEY (USA), Wolfstone Stables: 0/4/45.73
10. SLIEVEANORRA: 2002 Irish Sport Horse gelding by Voltaire x Flagmount Diamond
RICHIE MOLONEY (IRL), Equinimity LLC: 4/80.61
11. CASPER: 2006 Oldenburg gelding by Contender x Baloubet du Rouet
ANDREW BOURNS (IRL), Andrew Bourns: 4/81.11
12. FLECU: 2004 Swedish Warmblood gelding by Hip Hop x Flamingo
ALEXANDER ZETTERMAN (SWE), Alexander Zetterman: 4/81.42
Photo Credit: Photos © Sportfot, An Official Photographer of the Winter Equestrian Festival, us.sportfot.com. These photos may be used only in relation to this press release and must include photo credit.