Wellington, FL – November 25, 2020 – International competition returned to the main grounds of the Palm Beach International Equestrian Center (PBIEC) to kick off the ESP Holiday Series with the $37,000 Holiday & Horses 1.45m Opener CSI4*, presented by Dover Saddlery, on Wednesday, November 25. The ESP Holiday & Horses CSI4* Show will continue through Sunday, November 29, and culminate with the $214,000 Holiday & Horses Grand Prix CSI4*, presented by Palm Beach County Sports Commission, on Sunday morning.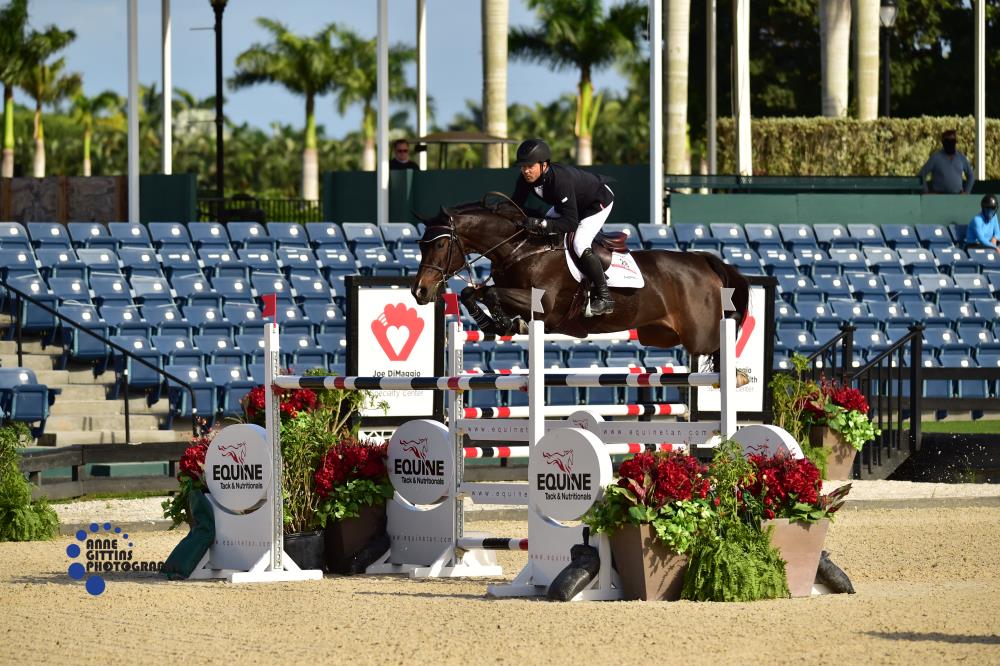 Course designer Anthony D'Ambrosio (USA) created a track of 15 efforts for the class, which was run under an altered power-and-speed format. The first nine fences constituted the first phase, and the final six jumps made up the second phase, with riders continuing to the latter portion of the course even if they had faults in the first set of obstacles. Adrienne Sternlicht (USA) and Cadans Z, owned by Starlight Farms 1 LLC, set the bar as seventh in the order with a speedy second phase time of 27.717 seconds and held on to that position until Kent Farrington (USA) and Austria 2 flew through the speed phase in 25.999 seconds. Less than a second behind the second-place finisher was Andrew Bourns (IRL) and his own Darquito, who landed in third with a clear time of 27.836 seconds.
"This will be my second WEF with Austria 2. I've been riding her for two years now," remarked Farrington of the 2008 Holsteiner mare by Casall x Corrado I owned by Take The High Road, LLC. "She's been an amazing little horse; she wins tons of classes. She has jumped some huge grand prix classes, she's fast enough to win a speed class, and she's brave enough to win the top ten final at Geneva. I think that really shows her versatility and her heart."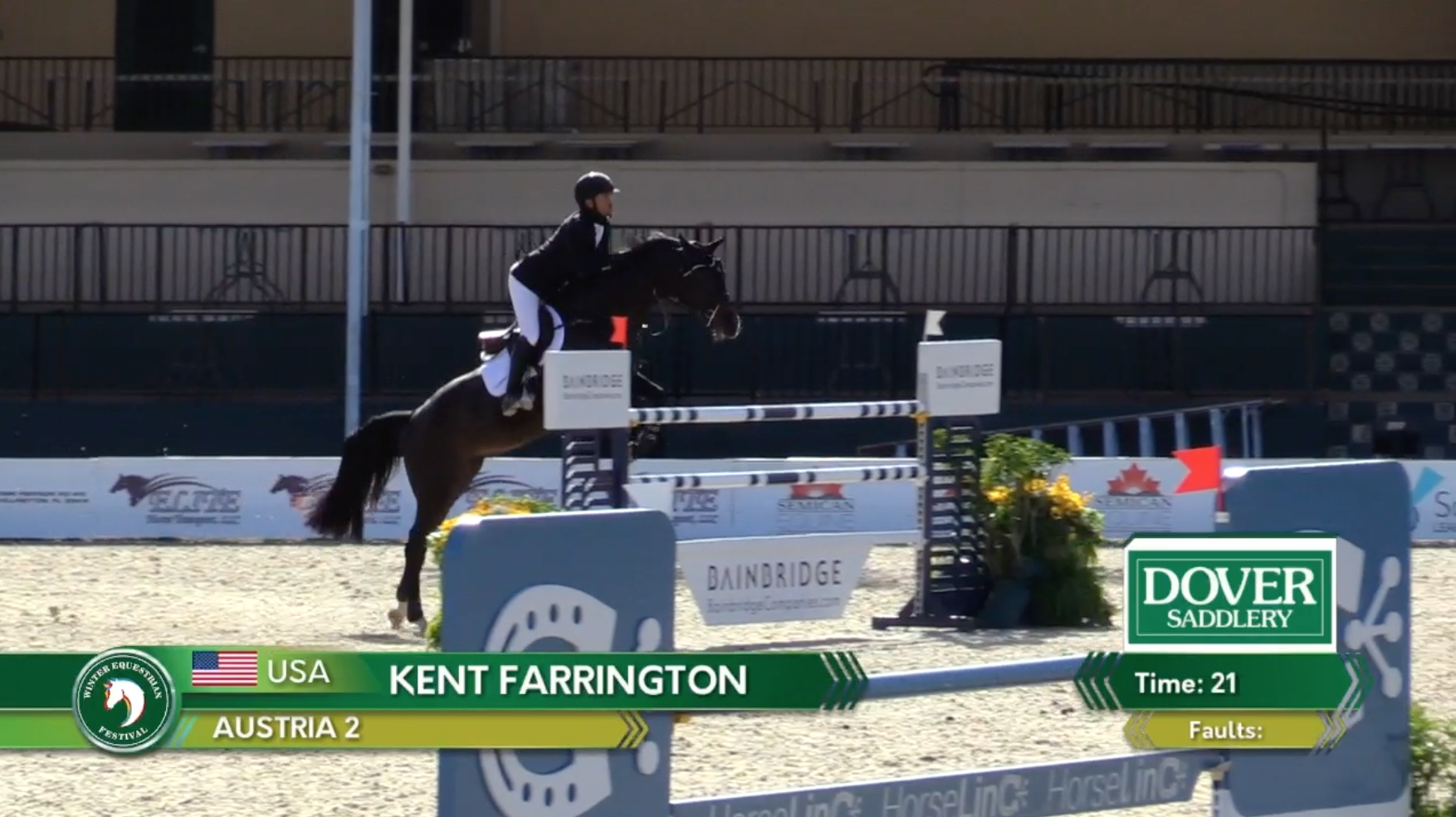 Although Farrington will be showing all week, he shared that he does intend to have family time on Thanksgiving. "My mom and my sister are both here, so I always try to spend a little time with my family," he said." I'm thankful for the team here that has put protocols in place that allow us to compete under these circumstances. I feel very fortunate to be here." 
The day began with the $1,000 Bainbridge 1.40m CSI4*, which had 53 entries compete over the first-round course. Time proved to be a factor as 19 pairs were kept from the jump-off due to only one or two time faults, still leaving a whopping 24 fault-free teams eligible for the jump-off, 21 of which were double clear.In the end, Liubov Kochetova (RUS) emerged victorious riding her own Trevita (Graf Top x Stakkato) in a time of 32.72 seconds. The duo saved the best for last as the final partnership to ride over the abridged jump-off pattern, just edging out second-place finishers Tiffany Foster (CAN) and Artisan Farms LLC's Vienna, who finished the course in 33.53 seconds. Anna Dryden (USA) rounded out the top three aboard Van Schijndel's Double Bee, owned by Double Meadows Farm LLC, in 33.93 seconds.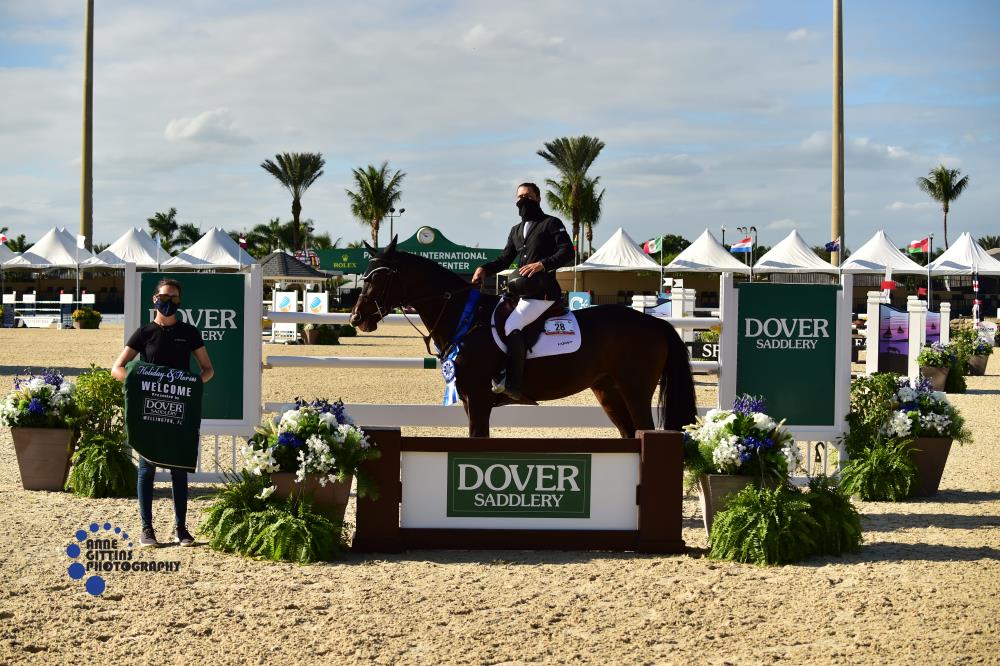 Final Results: $37,000 Holiday & Horses 1.45m Opener CSI4*, presented by Dover Saddlery
1. AUSTRIA 2: 2008 Holsteiner mare by Casall x Corrado I
KENT FARRINGTON (USA), Take The High Road, LLC: 0/25.999
2. CADANS Z: 2009 Zangersheide mare by Carosso VDL x Navarone
ADRIENNE STERNLICHT (USA), Starlight Farms 1, LLC: 0/27.717
3. DARQUITO: 2011 Hanoverian gelding by D'inzeo 6 x Contefino 2
ANDREW BOURNS (IRL), Andrew Bourns: 0/27.836
4. KLARA F: 2008 Swedish Warmblood mare by Carland x Dutchboy
ERYNN BALLARD (CAN), Ilan Ferder: 0/27.977
5. PRIMO TROY: 2009 Irish Sport Horse gelding by Clinton x VDL Arkansas
ANDREW WELLES (USA), Itasca Group LLC: 0/28.07
6. CACHEMIRE DE BRAIZE: 2012 Selle Français gelding by Quality Touch x Jaguar Mail
DANIEL BLUMAN (ISR), Over the Top Stables LLC: 0/28.086
7. CORALISSA: 2010 Holsteiner mare by Com Air x Corrado I
SAM WALKER (CAN), Marbill Hill Farm: 0/28.102
8. GOLDWIN: 2012 Belgian Warmblood gelding by Emerald x Understone van de Kapel
LAURA KRAUT (USA), Stars and Stripes: 0/28.288
9. AKUNA MATTATA: 2008 Holsteiner mare by Quinar x Landwind II
NICOLE SHAHINIAN-SIMPSON (USA), Silver Raven Farms: 0/28.312
10. BRINDIS BOGIBO: 2006 KWPN gelding by Grand Pilot I x Pacific
ANDREW WELLES (USA), Itasca Group LLC: 0/28.774
11. ADAMO: 2005 KWPN gelding by Lupicor x Ekstein
MOLLY ASHE-CAWLEY (USA), Louisburg Farm: 0/29.368
12. DOUGIE DOUGLAS: 2005 Irish Sport Horse gelding by VDL Douglas x High Roller
KATHERINE DINAN (USA), Grant Road Partners LLC: 0/29.417
For a full list of results for the $37,000 Holiday & Horses 1.45m Opener CSI4*, presented by Dover Saddlery, please click HERE.

For a full list of results for the $1,000 Bainbridge 1.40m CSI4*, please click HERE.
The prize list for the six shows that make up the 2020 ESP Holiday Series can be found HERE.
No spectators or outside media are allowed on-site at this time, but friends and family can view all classes via our SGL live stream HERE.
To learn more about the safety protocols and procedures at the horse show, please click HERE.
Photo credit ©Anne Gittins Photography. These photos may only be used once in relation to this press release with proper credit.