For Immediate Release
Amanda Picciotto Feitosa for Jennifer Wood Media, Inc.
Wellington, FL – January 16, 2022 – International competition during week one of the 2022 Winter Equestrian Festival (WEF) at the Palm Beach International Equestrian Center in Wellington, FL, concluded with the $37,000 CaptiveOne Advisors 1.50m Jumper Classic as part of the weekly CaptiveOne Advisors Jumper Classic series. Grace Debney (GBR) flew to the win with her trusty mare Boheme de la Roque. WEF 2 starts on Wednesday, January 19, and the circuit continues through April 3.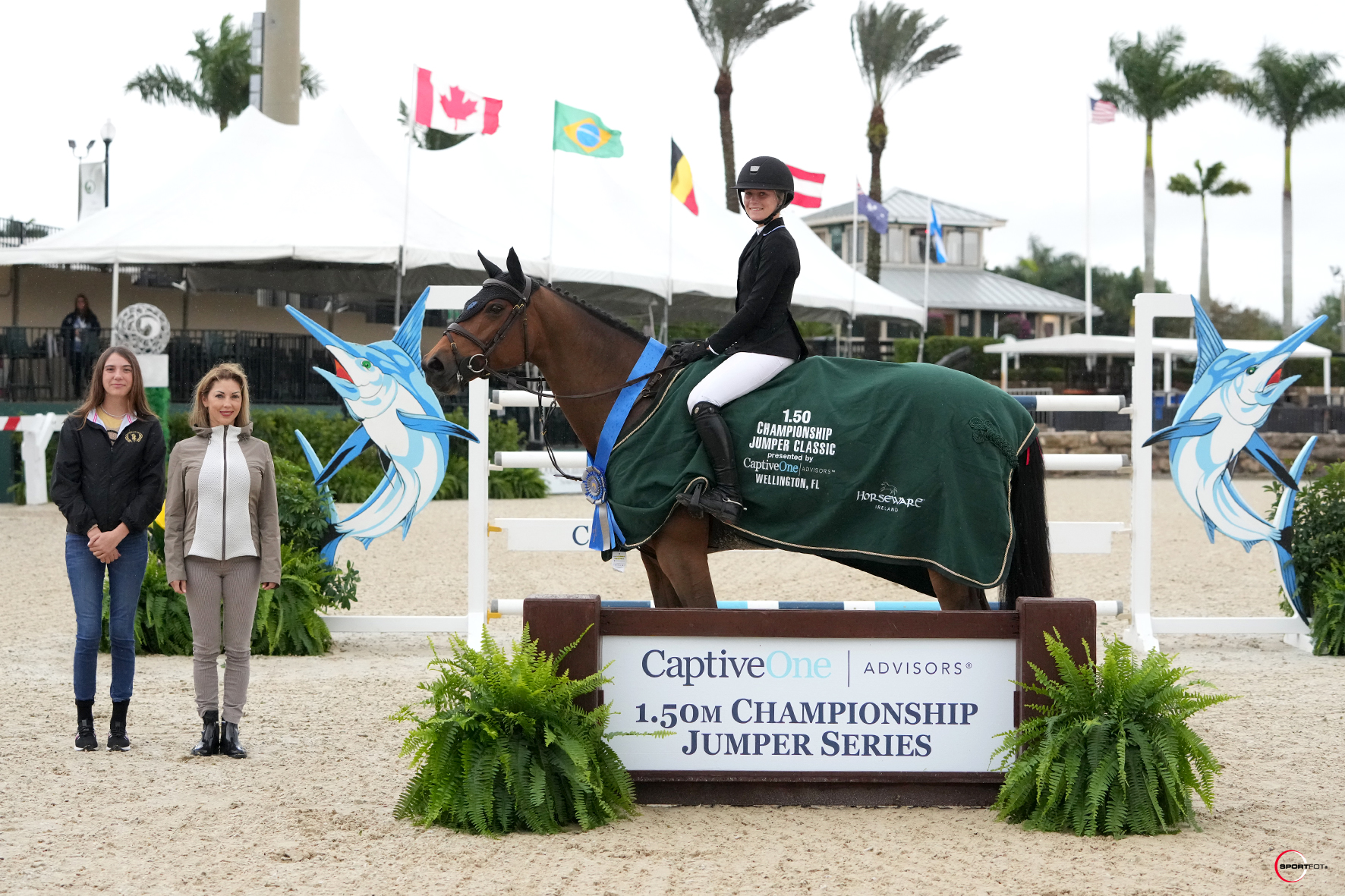 Stormy weather threatened to derail afternoon classes, but the clouds parted ways long enough for the $37,000 CaptiveOne Advisors 1.50m Jumper Classic to run as scheduled.
There were 20 combinations that competed over a course set by Anthony D'Ambrosio (USA) and Andy Christiansen Jr. (ECU). Time allowed was a factor today with eight riders accumulating time faults. Only three riders ultimately advanced to the jump-off.
First to jump off was Brian Moggre (USA) riding Stevie Macken's Dior P Z who set the time to beat at 36.95 seconds for an eventual third-place finish. Next to challenge was Debney and her own Boheme de la Roque. They shaved almost two seconds off of Moggre's time, finishing in 35.02 seconds. Matthew Boddy (GBR) was last to go in both the first round and the jump-off, but he couldn't quite catch Debney, crossing the timers in 36.20 seconds and finishing in second place.
Click to watch the winning jump-off ride!
Debney was competing in the $10,000 SJHOF High Junior Jumper Classic, presented by
Griffis Residential
, when it started torrentially downpouring, and management eventually had to put the show on hold.
"I was soaking wet and really cold, but I was honestly really happy I was getting on [Boheme de la Roque], because I know she's always going to step right up to the plate," said Debney.
Boheme de la Roque and Debney have been paired together for about a year. The 11-year-old Selle Français mare by Kannan x Quick Star came from another junior rider in California, which Debney has used to her advantage.
"I think that actually has helped us a lot, because a small girl had her before, so it's not like she came from someone big and strong," she explained. "I think that really helped me be able to just get right on and ride her."
Boheme de la Roque's winning ways in the ring tie into her winning personality in the barn.
"Around the barn she's so sweet. She's my groom's favorite horse to take care of," she commented.
Debney had nothing but praise for her super star mare.
"She's definitely been my rock for FEI and all of the stepping up in to the bigger classes. I can always count on her," she said. "She's always trying. She really wants to win just as much as I do, and she's such a fighter."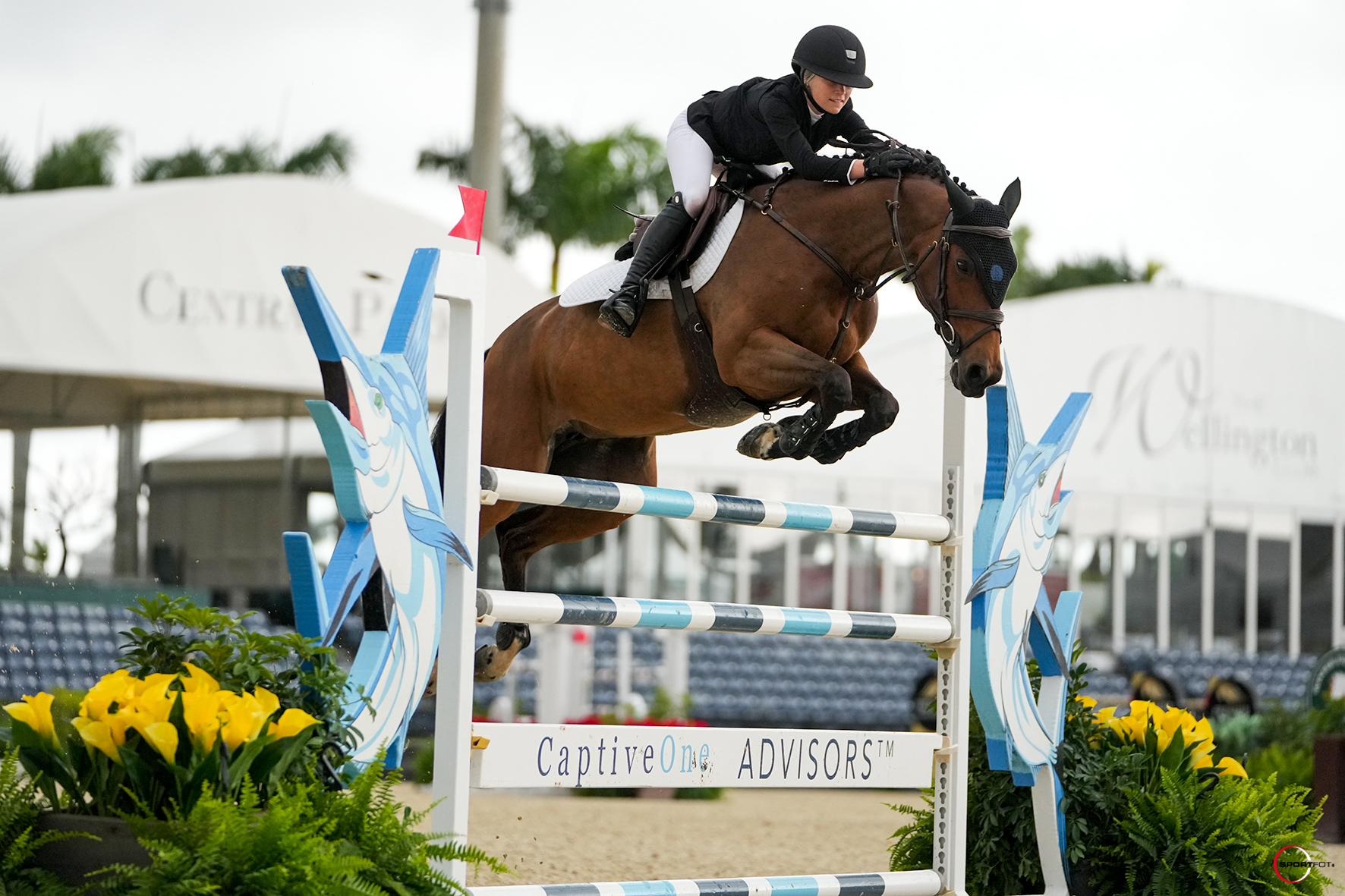 Debney put that competitive spirit to the test in the jump-off, which she felt really suited her mount because of the quick turns followed by long gallops. Particularly, there was a tight turn to a red vertical across the center of the ring Debney was especially confident about.
She recalled, "I was excited to really hammer down there and slice that vertical. [Boheme de la Roque] is really watching, and she's always looking for the next jump, so that jump-off was really nice for her."
Earlier in the day, Layla Kurbanov (USA) topped the $10,000 Horseware Ireland Medium Amateur Jumper Classic riding A Toi de Prim to a lightning fast jump-off time of 32.882 seconds, two seconds faster than second-place finisher Cara Dayton (USA) and Consul who finished in 35.372 seconds. In the $10,000 SJHOF High Junior Jumper Classic, presented by Griffis Residential, it was Mimi Gochman (USA) who braved the weather to jump clear. Second place went to Stella Wasserman and Eldorado WP Z.
Final Results: $37,000 CaptiveOne Advisors 1.50m Jumper Classic CSI3*
1 BOHEME DE LA ROQUE: 2011 Selle Français mare by Kannan x Quick Star
GRACE DEBNEY (GBR), Temple Equestrian LLC: 0/0/35.027
2 CLIFF Z: 2008 Zangersheide gelding by Canturano x Quasimodo Z
MATHEW BODDY (GBR), Gotham Enterprizes LLC: 0/0/36.20
3 DIOR P Z: 2011 Zangersheide gelding by Diarado x Havidoff
BRIAN MOGGRE (USA), Stevie Macken: 0/0/36.95
4 ALEJANDRO: 2009 Rheinlander gelding by Acorado's ASS x Continue
SHANE SWEETNAM (IRL), Sweet Oak, Spy Coast Farm, Seabrook LLC: 1/74.56
5 IDETTE: 2013 KWPN mare by Eldorado van de Zeshoek x Namelus R
VICTOR MARIANO LUMINATTI (BRA), Horse Margin LDA: 1/74.94
6 CANA VAN DE BLOM: 2008 Belgian Sport Horse mare by Kashmir van Schuttershof x Kannan
CONOR SWAIL (IRL), Alexis Sokolov: 4/69.14
7 AMEX Z: 2009 Zangersheide mare by Andiamo Z x Landaris
TODD MINIKUS (USA), Bit by Bit Group: 4/69.49
8 CARAGHS QUALITY LADY: 2013 Irish Sport Horse mare by OBOS Quality 004 x Limmerick
SHANE SWEETNAM (IRL), Anna Beth Athey: 4/73.66
9 NESPRESSO VAN'T LAEKHOF: 2013 Belgian Warmblood gelding by Cicero Z x Grandeur
NATALIE DEAN (USA), Marigold Sporthorses LLC: 4/73.83
10 CAROLLO: 2009 Mecklenburger gelding by Chacco-Blue x La Piko
GIAVANNA RINALDI (USA), Anton Marano: 5/74.69
11 FIREWALL: 2010 KWPN gelding by Lexicon x Padinus
ALBERTO MICHAN (ISR), Eduardo Leon: 5/75.86
12 HARLEY D: 2012 KWPN gelding by Spartacus x Grandilot
VASCO FLORES (PRI), Hillside Farm LLC: 5/76.25

In Writing and Sterling Malnik Dazzle in T&R Development Large Junior Hunter 15 & Under Division
This morning's first championship in the Rost Arena was for the T&R Development Large Junior Hunter 15 & Under division. Sterling Malnik of Ocean Ridge, FL, with her horse In Writing topped three out of the five classes in the division on their way to the championship title.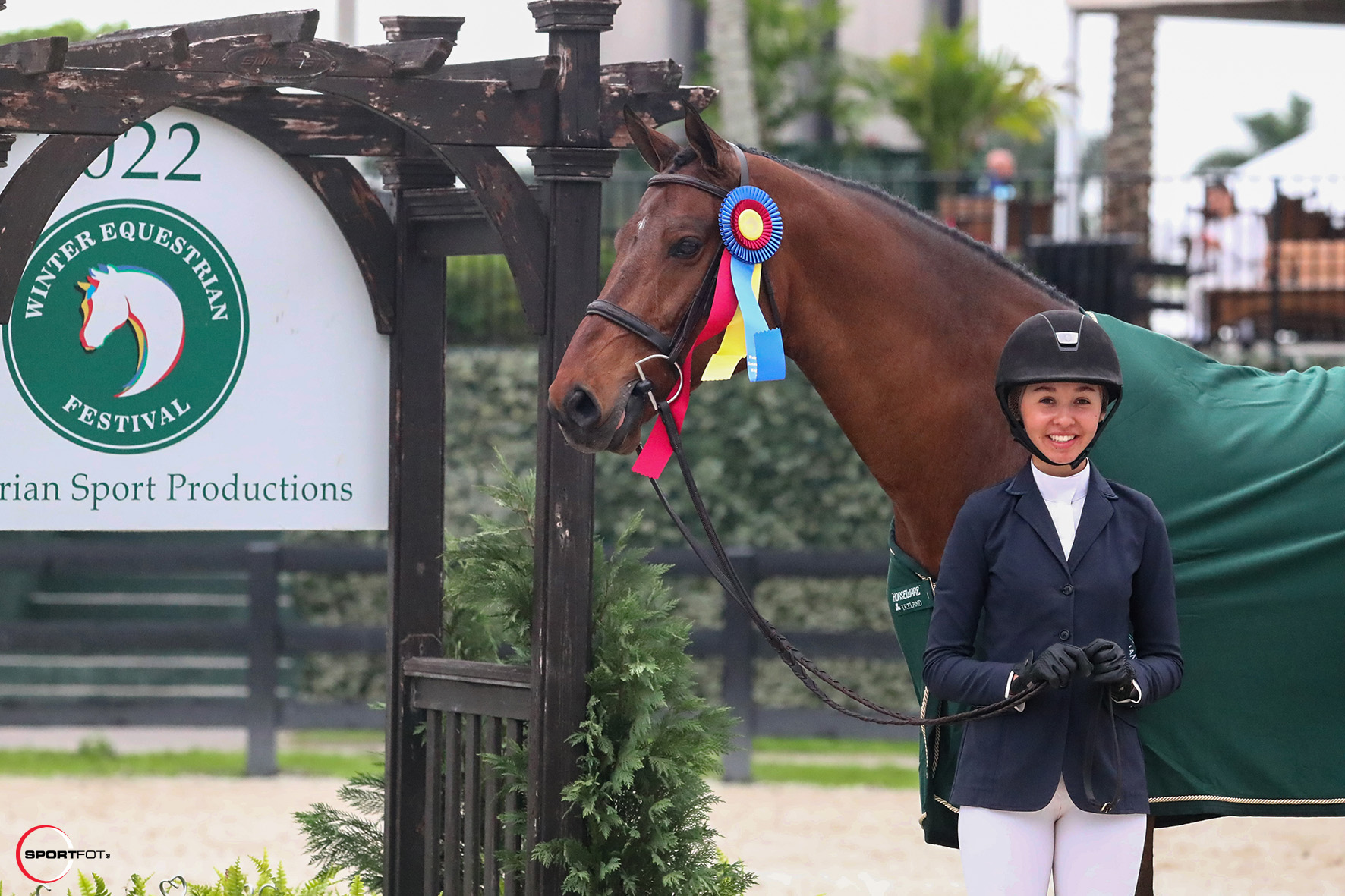 The division started Saturday and resumed with the under saddle on Sunday morning, in which Philippa Ammann strutted to the win with Katarina Ammann's Balousock B.B.S. Ammann and the 13-year-old Swedish Warmblood gelding by Balougraph went on to score an 85 in the stake class for their second win of the day, boosting them to the reserve championship honors.
It was Malnik and In Writing's consistency over the two days of competition that ultimately clinched the championship. The pair won both over fences classes on Saturday including the handy with scores of 86 and 88. They finished on Sunday with a win in the third over fences class with a score of 86.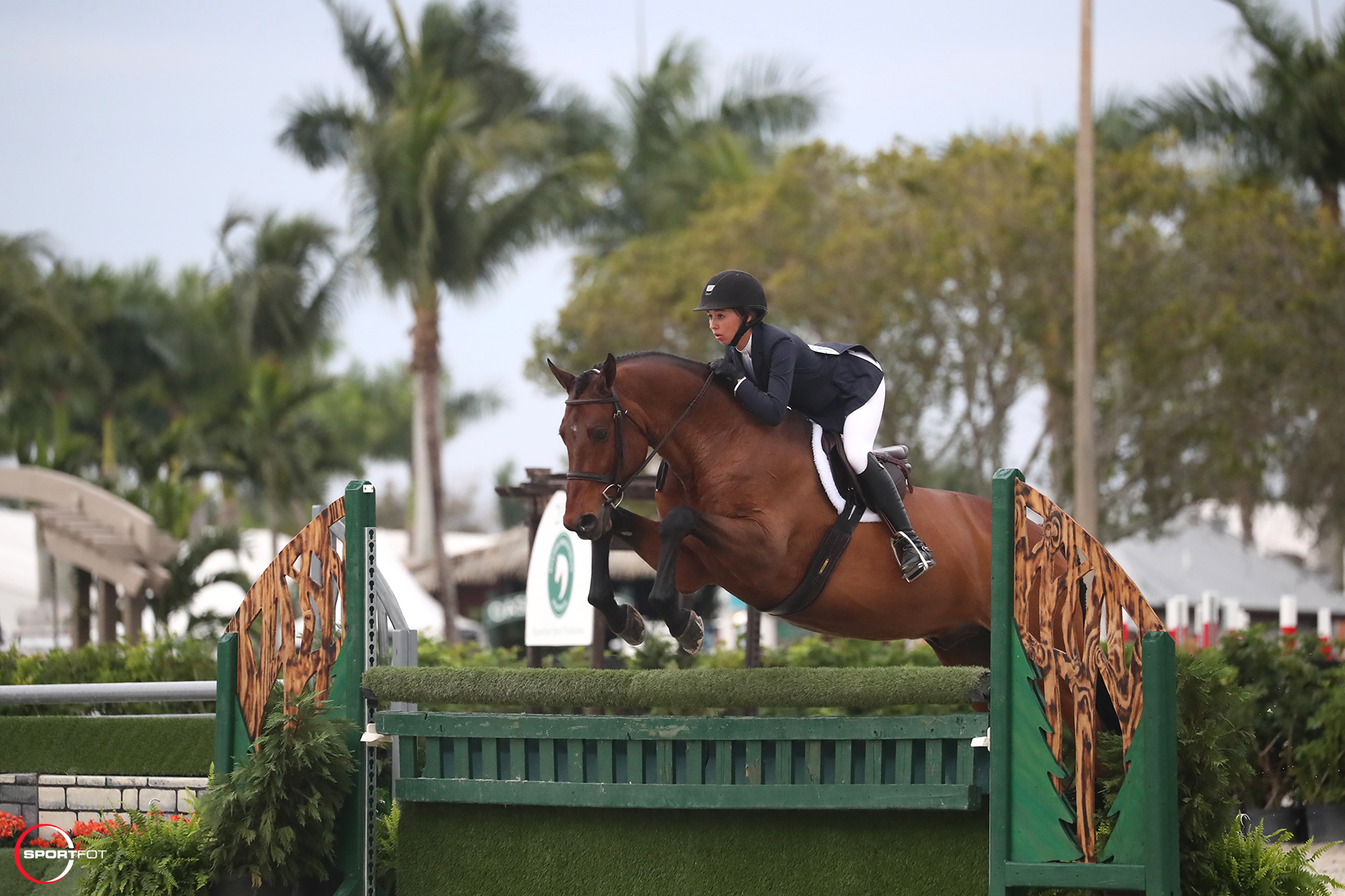 Malnik, who trains in the hunters with Bill Schaub and Steven Gregorio at Over the Hill Farm, has been partnered with In Writing for about two years. "Q," as he's known in the barn, might be all business in the ring, but he stole Malnik's heart with his cheeky personality.
"I'm absolutely in love with him. He's very goofy. He'll come over and pull off your hat just to get your attention," she shared.
Malnik used Premiere Week with Q as an opportunity to get the 13-year-old Holsteiner gelding by Quirado used to the showgrounds again since he had not shown since the fall indoor circuit.
"We had great rounds last week. It was just normal," noted Malnik. "I was proud and confident with our rounds for our first week back."
This week was a different story.
"We showed him again this week, and he was perfect. He knew right when we walked into the ring what to do. He was confident, and we had great rounds all weekend," she expressed.
Malnik continued her competition day in the equitation with the team at Beacon Hill and the jumpers with U.S. Olympian Laura Kraut. While it is certainly a challenge to adjust from one mount to the next across three disciplines, Malnik has gotten accustomed to maintaining her poise.
"When I get on each different horse, I just remember who I'm on and the things I need to do, and it pretty much always works out," she said.
With Q, Malnik has her sights set on WCHR week six, aiming to qualify for the Peter Wetherwill USHJA Palm Beach Hunter Spectacular night class, and she is excited for the rest of the season.
WEF 2 starts Wednesday, January 19, with national hunter, jumper, and equitation competition throughout the week featuring the $50,000 Marshall & Sterling National Grand Prix on January 22 at 7 p.m. as part of the continuing "Saturday Night Lights" series. International jumper competition will take place at Equestrian Village beginning Thursday, January 20, featuring the $140,000 Hygain Feed Grand Prix CSI3* and $25,000 Hermès U25 Grand Prix on Sunday, January 23.