For Immediate Release
Summer Grace and Emily Riden for Jennifer Wood Media, Inc.
Wellington, FL – February 7, 2019 – Erynn Ballard (CAN) and Darko's Promise topped the $134,000 Equinimity WEF Challenge Cup Round 5 CSI 5* on Thursday, February 7, at the Winter Equestrian Festival (WEF) in Wellington, FL.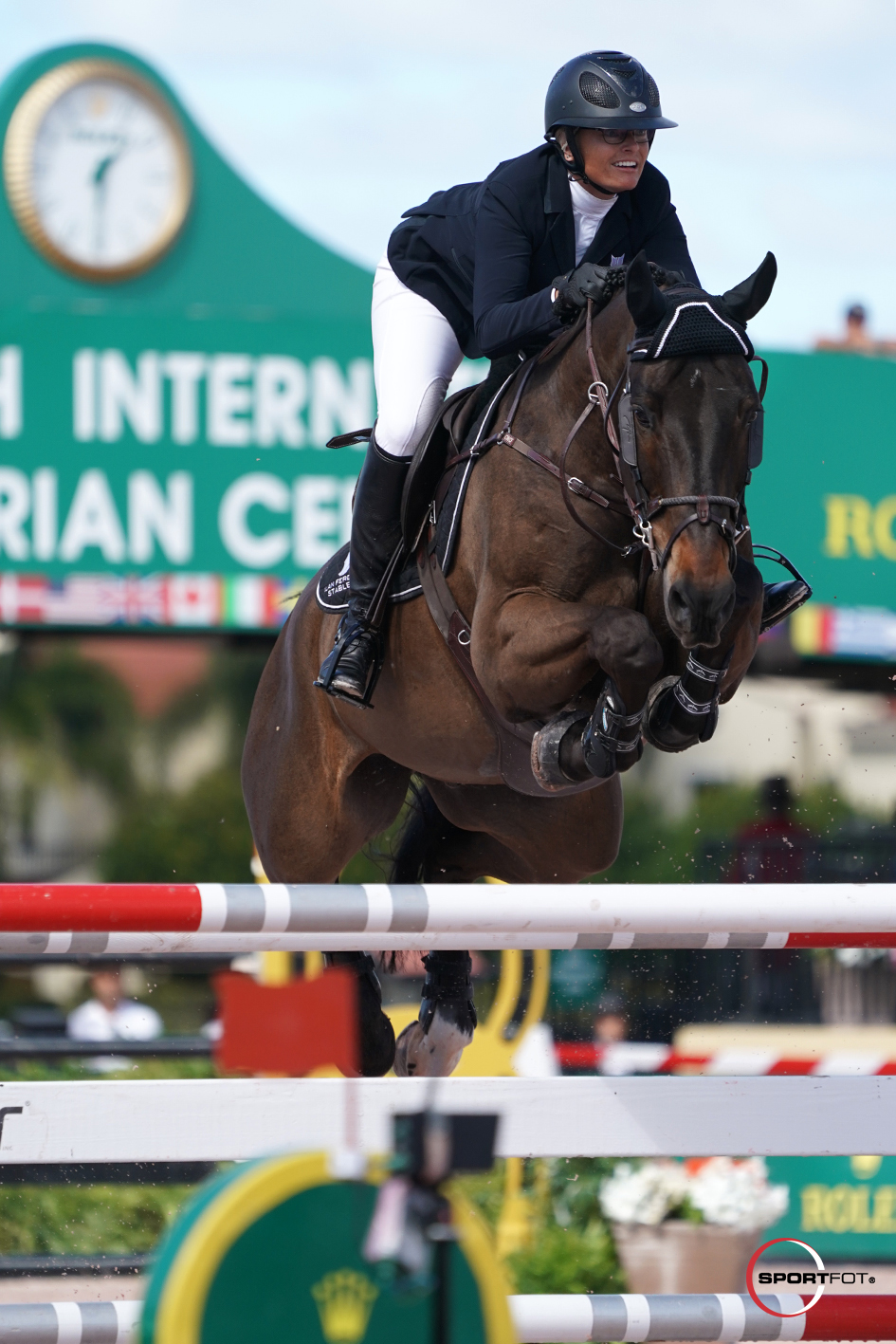 WEF continues through March 31, 2019, at the Palm Beach International Equestrian Center (PBIEC), offering 12 consecutive weeks of world-class competition. Week five, sponsored by Fidelity Investments®, runs through Sunday, February 10, and features the $391,000 Fidelity Investments® Grand Prix CSI 5*, beginning at 7 p.m. on Saturday, February 9.
On her way to the win in Thursday's Equinimity WEF Challenge Cup Round 5, Ballard was one of seven entries from a 50-horse starting field to advance to jump-off over the Kelvin Bywater (GBR) designed short course. As the final rider to return, Ballard's time to beat had been set at 39.40 seconds by Eduardo Menezes (BRA) and H5 Chaganus, but she and Darko's Promise would prove to be just a touch faster, tripping the timers in a winning 39.28 seconds.
With second place going to Menezes and H5 Chaganus, owned by H5 Stables, third and fourth place were a family affair. Finishing in third with a time of 39.55 seconds was Wilton Porter (USA) aboard Caletto Cabana, owned by Sleepy P Ranch, while Porter's brother Lucas Porter (USA), rounded out the top four in a time of 40.81 seconds riding C Hunter.
Fifth place went to Germany's Markus Beerbaum riding Cool Hand Luke, owned by Artemis Equestrian LLC, and sixth place was presented to Molly Ashe-Cawley (USA) and Balous Day Date, owned by Louisburg Farm.
"I just won the WEF, and it's a five-star week!" said Ballard. "I kind of have to let that all sink in."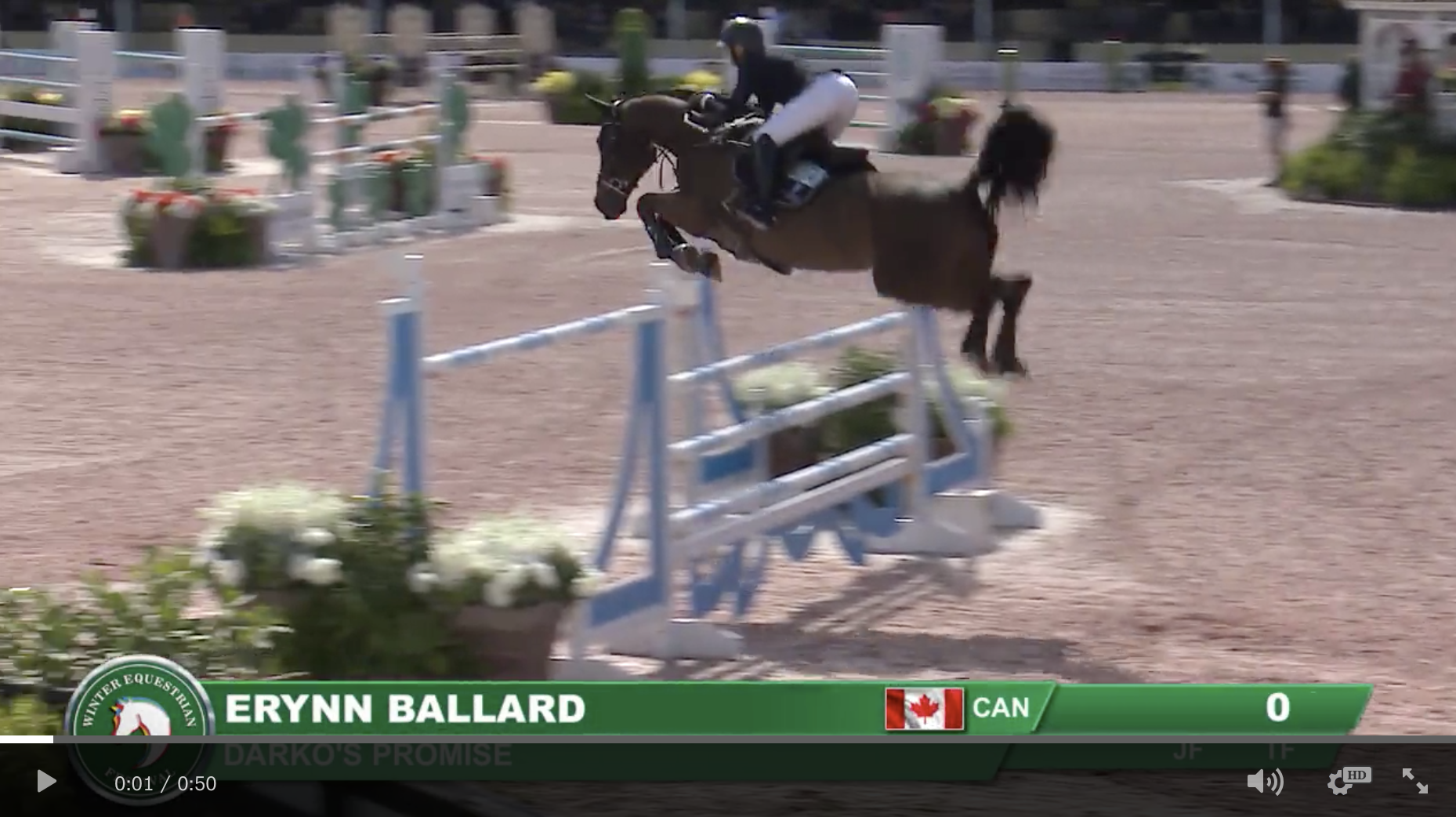 Click here to watch the winning jump-off ride for Erynn Ballard and Darko's Promise!
After finishing with only four faults in the WEF Challenge Cup and grand prix during week four, Ballard and Darko's Promise, an 11-year-old Irish Sport Horse owned by Ilan Ferder, have been knocking at the door of a win.
"I was pretty determined going into the first round because I was getting really annoyed with four faults," said Ballard, who has seen great success in the past year aboard horses owned by Ferder. "It would be an amazing four-fault round; you don't get a ribbon with an amazing four faults! Everybody just kept saying, 'You're getting close, you're getting close.' I have so much confidence in Ilan, and when I went in the ring today, he said, 'This is your class to win. Go try to win it for me!'"
With that in mind, Ballard left it all on the table in the jump-off.
"When there are only seven in it, we're getting a good result no matter what," said Ballard. "It's better to go fast and take a chance to win then to go slow and knock one down and be sixth, because you're going to get a good result one way or another. So, every once in a while you have to stop trying to be perfect and try to win, and that's what we did today!"
Ballard has been partnered with Darko's Promise for less than 10 months, and, while it includes the FEI World Equestrian Games™ Tryon 2018 (WEG), their list of shows together is even shorter.
"It's a very unique partnership," said Ballard, who first competed the gelding at the Devon Horse Show in May 2018. "Ilan kept saying, 'We're going to the WEG.' I was like, 'I've hardly ridden this horse!' He said, 'I promise you, we're going to pick and choose the classes that we need to show in, and we're going to go!' It's just unique that way.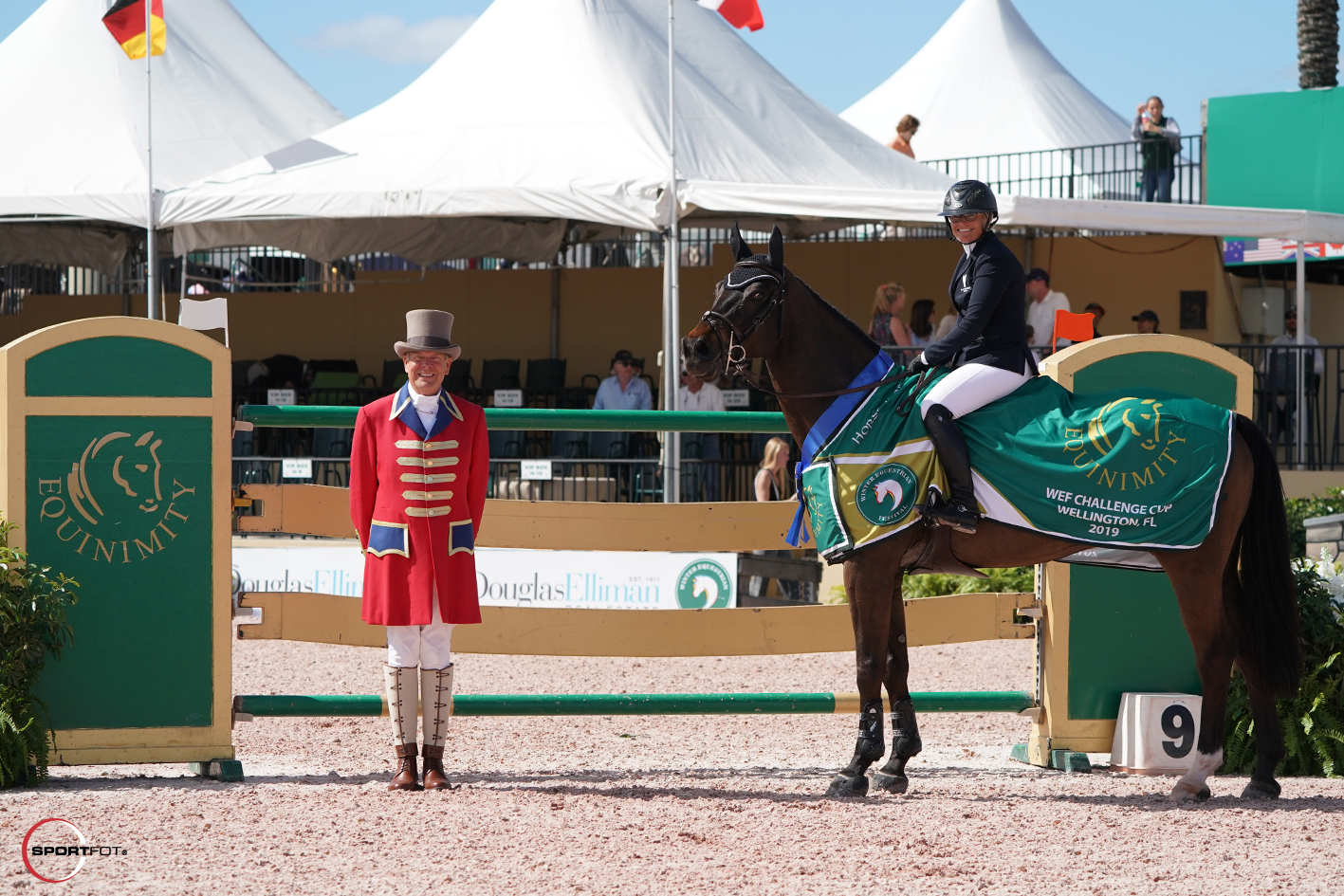 "I still live in Canada; Ilan lives in New York," continued Ballard. "This is like [Darko's Promise and I's] time together to get to know one another, but even so, we started last week in a four-star this week is a five-star. He's just that kind of guy. He doesn't need a lot. He's reliable; he shows up every time, and he just got a great result!"
Ballard will next aim the gelding at Saturday night's $391,000 Fidelity Investments® Grand Prix CSI 5*, before the pair competes for Canada at the Longines FEI Jumping Nations CupTM USA on February 14-17.
Final Results: $134,000 Equinimity WEF Challenge Cup Round 5 CSI 5*
1 DARKO'S PROMISE: 2008 Irish Sport Horse by unknown x Semper Odem
ERYNN BALLARD (CAN), Ilan Ferder: 0/0/39.28
2 H5 CHAGANUS: 2008 Oldenburg gelding by Chacco Blue x Carthago
EDUARDO MENEZES (BRA), H5 Stables: 0/0/39.40
3 CALETTO CABANA: 2007 Holsteiner stallion by Cassini I x Capecanaveral
WILTON PORTER (USA), Sleepy P Ranch: 0/0/39.55
4 C HUNTER: 2007 Zangersheide stallion by Cassini II x Corland
LUCAS PORTER (USA), Sleepy P Ranch: 0/0/40.81
5 COOL HAND LUKE 4: 2007 Oldenburg gelding by Contendro I x Argentinus
MARKUS BEERBAUM (GER), Artemis Equestrian Farm LLC: 0/0/42.91
6 BALOUS DAY DATE: 2005 Oldenburg mare by Balou du Rouet x Domino
MOLLY ASHE-CAWLEY (USA), Louisburg Farm: 0/4/39.309
7 UNE DE L'OTHAIN: 2008 Selle Français by Conterno Grande x Cento
HARRIE SMOLDERS (NED), Evergate Stables LLC : 0/8/41.048
8 THEODORE MANCIAIS: 2007 Selle Français gelding by Kashmir van Schuttershof
SPENCER SMITH (USA), Ashland Farms: 1/80.78
9 QUINTIN : 2010 gelding by Quaprice Z x Emilion
DANIEL COYLE (IRL), Ariel Grange : 1/80.98
10 FIGOR: 2010 KWPN gelding by Querly-Elvis x Indoctro
TIFFANY FOSTER (CAN), Artisan Farms, LLC: 1/81.71
11 SKYHORSE : 2007 Belgian Warmblood gelding by Calvaro x Quidam de Revel
LILLIE KEENAN (USA), Chansonette Farm LLC: 2/84.60
12 IBABCO: 2008 BWP stallion by Nebab de Reve x Darco
SANTIAGO LAMBRE (MEX), Santiago Lambre: 4/75.73
Victoria Colvin and Cake Walk Breeze to Champion in the 3 & 4 Year Old Pre-Green Hunters
The 3 & 4 Year Old Pre-Green Hunters returned to the Equine Tack & Nutritionals Ring 6 today in an effort to take home the tricolor ribbon for Week 5 of the 2019 Winter Equestrian Festival. Seven horse-and-rider combinations entered the ring for the division's under saddle and final over fences class. Returning in top standing, Wellington native Victoria Colvin piloted Melissa Burns' Cake Walk to the champion title with a total of 31 points across the division.
The win was a "cake walk" for the four-year-old Canadian Warmblood gelding (Hero's Tribute x Inka W) and Colvin as the pair captured the win in two of three over fences classes. They placed fifth in the remaining jumping class and also won the under saddle. With all classes completed, the duo took the top spot by more than 10 points above the reserve champion. Steve Gregorio and the Bill Schaub/Aster Hill-owned four-year-old Warmblood gelding, Dominik, received the reserve champion title after rounding out the division with two seconds and a third over fences and second under saddle.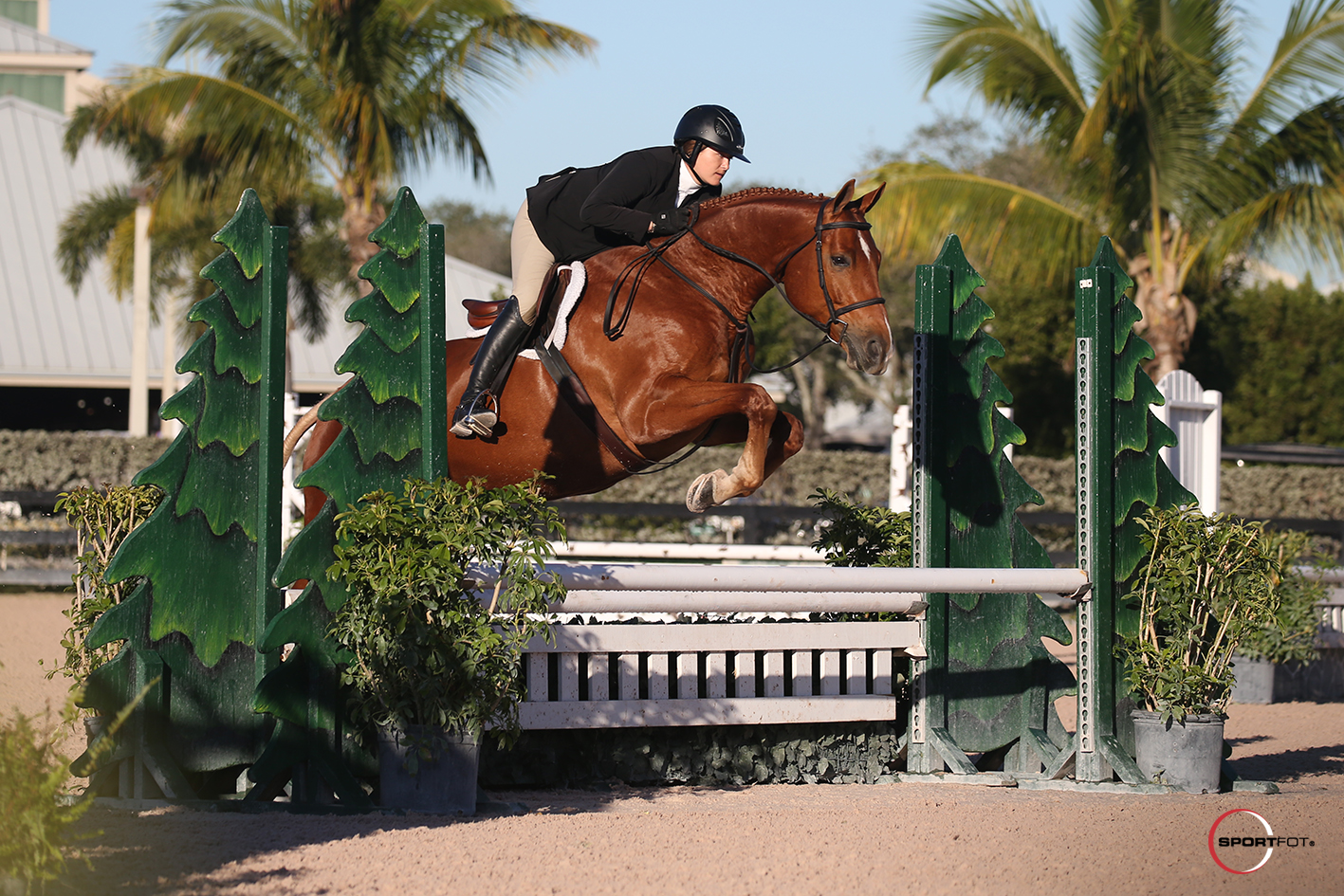 Cake Walk was named for his easy temperament and willing attitude which owner Melissa Burns says was a big selling point.
"I buy and sell a lot of young horses, but I buy them sight unseen," Burns explained. "So for me, temperament is a huge factor that I look for. This horse looked like he had a good attitude and he moved and jumped well, which were all positive attributes; he really is like a giant dog because he's extremely affectionate."
Burns purchased the young horse from a farm near Spruce Meadows in Calgary, Alberta, Canada, at the beginning of the summer of 2018. When it came time for him to show, Colvin was an easy decision to take on the ride. "Tori has shown a couple of horses for me over the years, and my children grew up competing against her in the pony divisions which was always brutal for us because she has been very gifted even from a young age."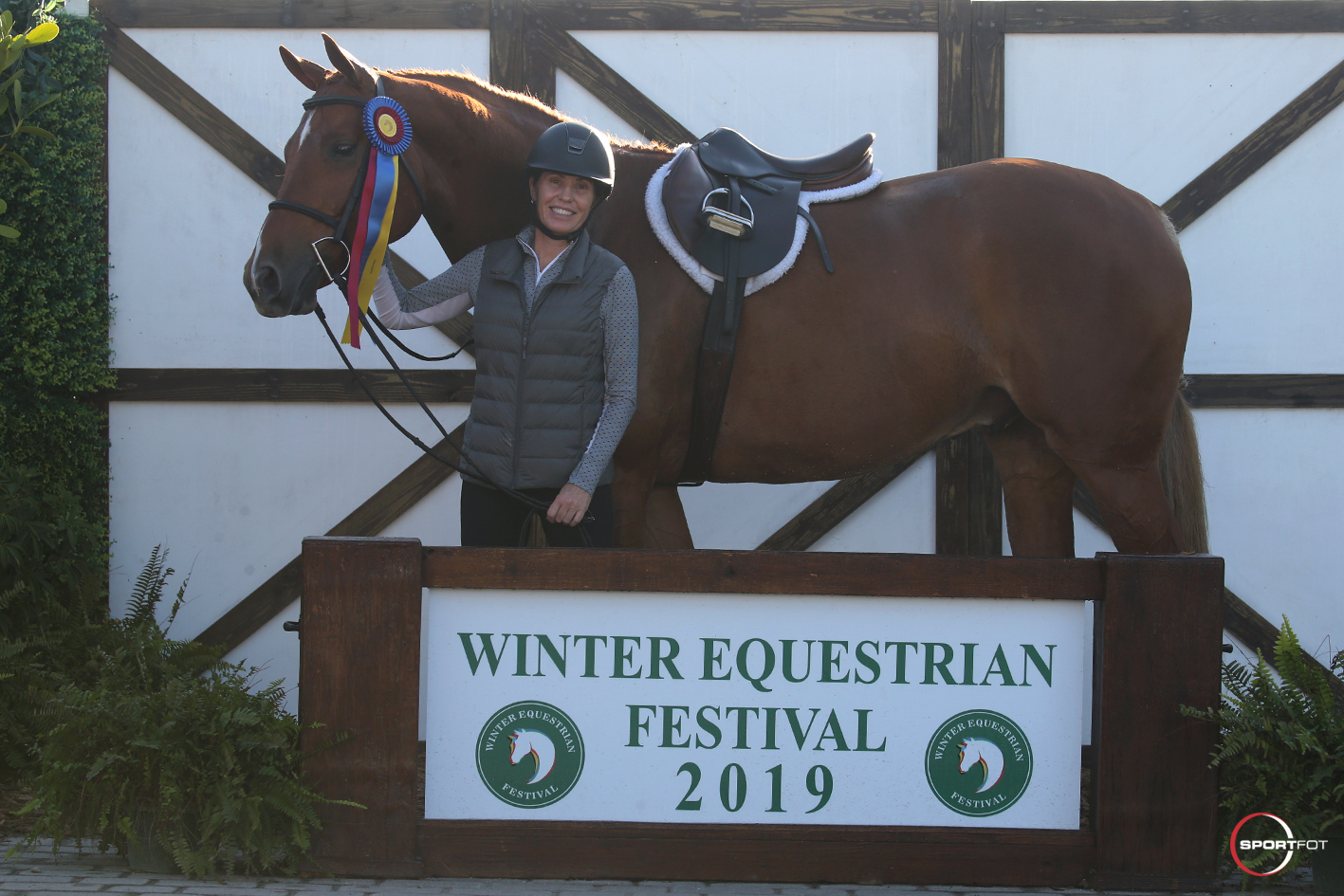 Competition at the Palm Beach International Equestrian Center will resume Friday with the $36,000 Bainbridge 1.45m Classic in the International Arena. The Adult Amateur Hunters Older (Sec. A) will kick off hunter competition while the USHJA Jumping Seat Medal will kick off equitation competition in Ring 6.