For Immediate Release
Jennifer Wood and Summer Grace for Jennifer Wood Media, Inc.
Wellington, FL – March 7, 2019 – Victory in the highlight class on Thursday, March 7, went to Eduardo Menezes (BRA) and H5 Quintol, owned by H5 Stables, in the $134,000 Equinimity WEF Challenge Cup Round 9 at the 2019 Winter Equestrian Festival (WEF). Week 9 of WEF continues through Sunday, March 10, at the Palm Beach International Equestrian Center.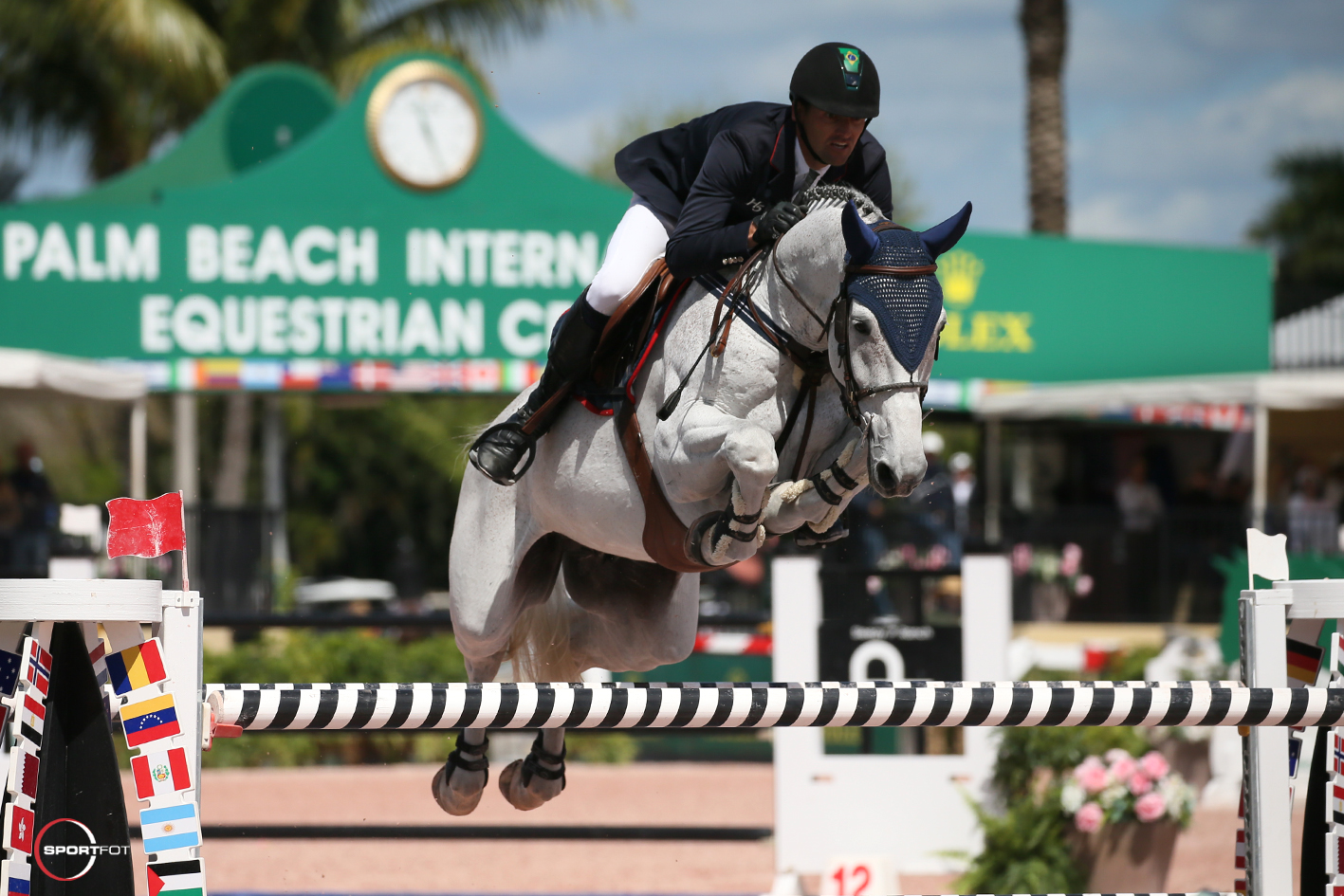 Week 9 of WEF will host a variety of two-star and five-star events all leading up to Saturday night's $391,000 Douglas Elliman Real Estate Grand Prix CSI 5*. Top national competition in the hunters, jumpers, and equitation will also be offered throughout the week. The Palm Beach International Equestrian Center will see competition from the world's best riders through March 31.
There were 52 entries in Thursday's class, with seven going clear and advancing to the jump-off. First into the ring were Jessica Springsteen (USA) and Stone Hill Farm's Fleur de l'Aube. They finished clear in 37.15 seconds for third place.
The time was lowered with the next rider in the ring, Kevin Babington (IRL), on Shorapur, owned by Shorapur LLC. They were just under Springsteen's time in 37.10 seconds, which would hold up for second place.
Menezes and H5 Quintol were third into the jump-off and set the time to beat at 36.66 seconds, which would not be bested by the remaining four riders.
"He has that huge stride," said Menezes of his horse. "With the years, he learned how to get fast in the turns and if I can turn once or twice and then just open his stride, he gets really fast."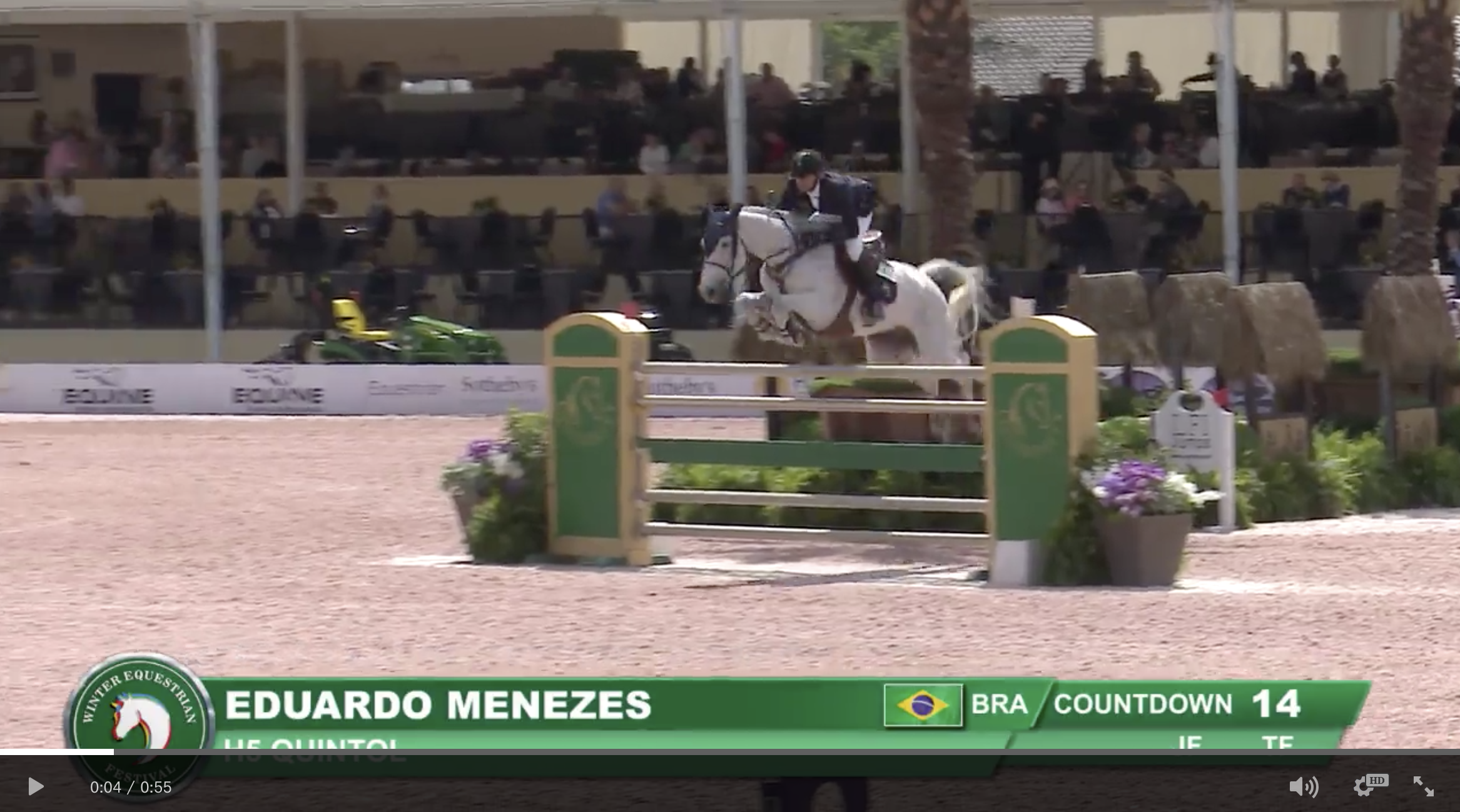 Click here to watch their winning round!
Tiffany Foster (CAN) and Artisan Farms LLC's Brighton were fifth in 37.89 seconds, while Enrique Gonzalez (MEX) and his and Alice Lawaetz's Chacna were fourth in 37.35 seconds. With four faults in 40.31 seconds, Fernando Martinez Sommer (MEX) and Cor Bakker finished sixth and Andrew Welles riding Itasca Group LLC's Brindis Bogibo were seventh with four faults in a time of 41.85 seconds.
It was a great win for Menezes, who celebrated not only with Quintol's owners, but with his parents who were here watching. "It means everything," he said. "I'm happy for the horse. He deserves this."
Menezes has been paired with H5 Quintol for eight years, since he was a young six-year-old jumper. He knew from the start that it would be a good horse for him. "He's a very special horse," said Menezes of the 14-year-old Oldenburg gelding by Quintender x Cento. "He's afraid of everything outside the ring, but not inside the ring. I don't know, when I rode him I had this special feeling and I always loved him."
Knowing the FEI World Equestrian Games™ Tryon 2018 course designer Alan Wade would be setting the tracks this week, Menezes chose H5 Quintol to be his top horse for the five-star division.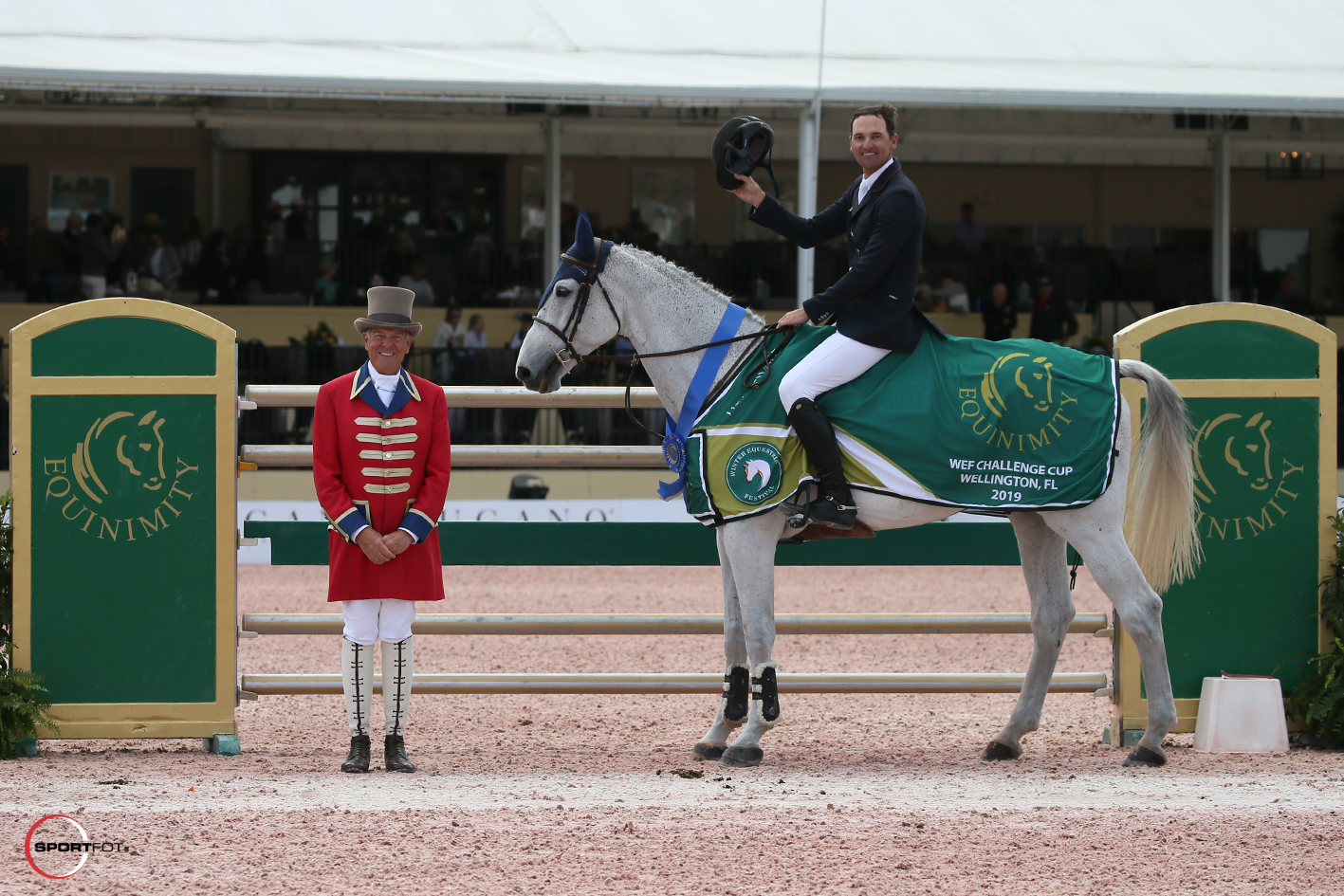 "For me, he's one of the best out there and I know he builds big enough and tough enough," said Menezes. "Quintol is a horse that this suits him, he's very big and very tough, he can go over any course."
Short-term, Menezes is aiming for Saturday night's $391,000 Douglas Elliman Real Estate Grand Prix CSI 5*, while long-term, he is preparing H5 Quintol and H5 Chaganus to be ready to represent Brazil at the Pan American Games in Peru in August if he is called upon.
Final Results: $134,000 Equinimity WEF Challenge Cup Round 9
1 H5 QUINTOL: 2005 Oldenburg gelding by Quintender x Cento
EDUARDO MENEZES (BRA), H5 Sport Horses LLC: 0/0/36.66
2 SHORAPUR: 2005 Hanoverian mare by Stakkato Gold x Drosselklang II
KEVIN BABINGTON (IRL), Shorapur LLC: 0/0/37.10
3 FLEUR DE L'AUBE: 2005 Belgian Warmblood mare by Thunder van de Zuuthoev x Orchidee vh Pallieterland
JESSICA SPRINGSTEEN (USA), Stone Hill Farm: 0/0/37.15
4 CHACNA: 2007 Hanoverian mare by Chacco-Blue x Narew XX
ENRIQUE GONZALEZ (MEX), Enrique Gonzalez: 0/0/37.35
5 BRIGHTON: 2006 KWPN gelding by Contendro II x Quick Star
TIFFANY FOSTER (CAN), Artisan Farms LLC: 0/0/37.89
6 COR BAKKER: 2007 KWPN gelding by Colandro x Quattro
FERNANDO MARTINEZ SOMMER (MEX), Fernando Martinez Sommer: 0/4/40.31
7 BRINDIS BOGIBO: 2006 KWPN gelding by Grand Pilot I x Pacific
ANDREW WELLES (USA), Itasca Group LLC: 0/4/41.85
8 SARI: 2008 Selle Francais mare by Ninio de Rox x Timorrak des Isles
KAREN POLLE (JPN), Kinoshita Group: 1/72.52
9 CHAMEUR 137: 2008 Westphalian gelding by Cayetano L x Grossadmiral
GEORGINA BLOOMBERG (USA), Purple Road LLC: 1/73.11
10 CAROLLO: 2009 Mecklenburg gelding by Chacco Blue x Lee-Lou
ANDREW KOCHER (USA), Andrew Kocher: 1/73.53
11 ROYCE: 2004 Oldenburg stallion by Café au Lait x Grandilot
MARGIE ENGLE (USA), Gladewinds Partners, LLC: 1/73.90
12 SKYHORSE: 2007 Belgian Warmblood gelding by Calvaro x Quidam de Revel
LILLIE KEENAN (USA), Chansonette Farm LLC: 1/74.59
Jacob Pope and Bourbon Street Ride to Champion in the Equitan Performance Hunter 3'6" Division
Athletes taking part in the Equitan Performance Hunter 3'6" division returned to the E.R. Mische Grand Hunter Field on Thursday, March 7, to determine the champion and reserve of Week 9. Jacob Pope of Columbia, MD, bested a field of 28 horse-and-rider combinations to take the lead on Kathryn Brown's Bourbon Street with a total of 28 points.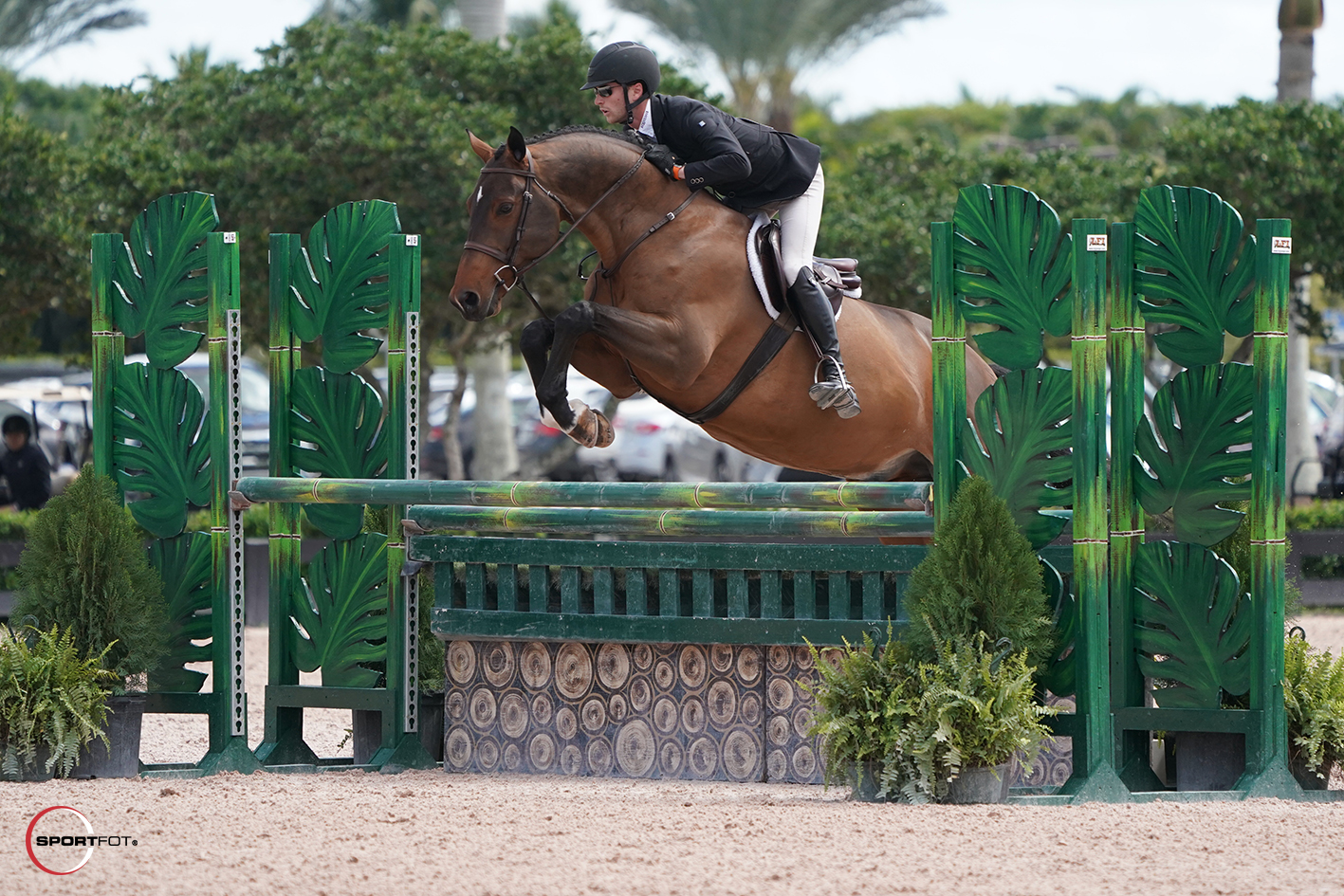 The pair have been teammates for several years with trainer Heather Irvine who has had Bourbon Street under her tutelage since he was roughly five years old. While the nine-year-old Dutch Warmblood gelding was not Pope's only ride in the division, he says he is by far one of his favorites.
"He's pretty awesome," Pope commented. "He has one of the most rhythmical canters I've ridden, which is always something I am looking for. His canter never changes so the jumps just show up, and then he jumps incredibly."
The duo picked up placings of one first and three second places which gave them the lead for the championship.
"He's an all-around pretty cool guy," Pope commented of the gelding. "He mostly just shows with his owner in the junior hunters, but I'm lucky enough to be able to get to take him into the Performance Hunters to get him ready for her."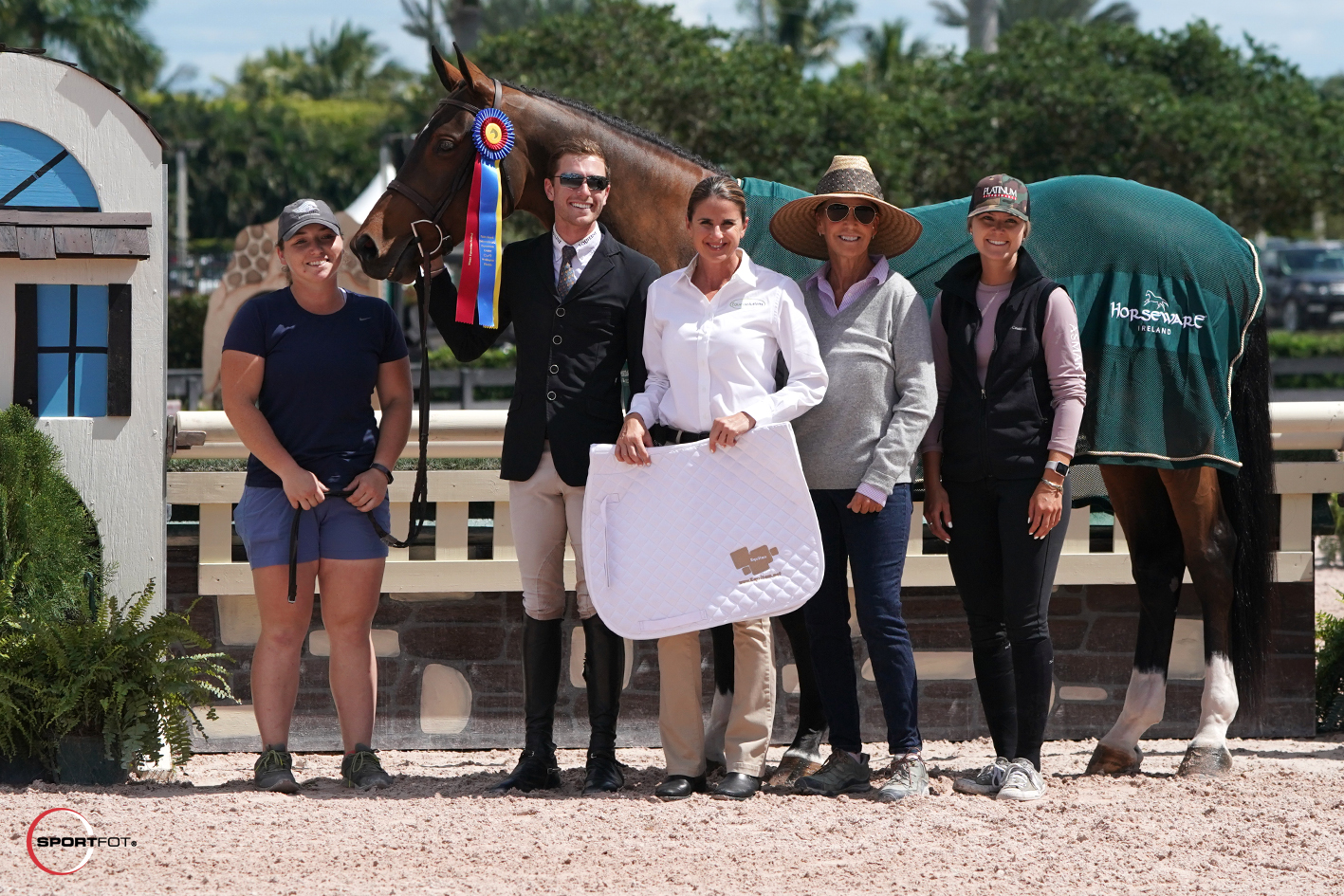 The reserve championship was awarded to Havens Schatt and Tracey Scheriff-Muser's 10-year-old Oldenburg gelding (Balou De Rouet x Vorbuch Wonneke), Aristocrat. They placed first and third over fences.
The Champion Equine Insurance Hunter Style Award, presented by Laura Fetterman was also awarded during the Performance Hunter 3'6" division to young professional Victoria Colvin and Adelina. The 10-year-old Westphalian mare (Quicksilber x Bardossa) is owned by Arriana Boardman of New York, NY.
Competition in the E.R. Mische Grand Hunter Field will resume Friday, March 8, with the Adequan® Amateur-Owner Hunter 3'3" 18-35 division. Highlights of the International Arena will include the $36,000 Bainbridge 1.45m Classic CSI5* and the $36,000 Griffis Residential 1.45m Classic CSI2*.