For Immediate Release
Kate Pettersen and Sabrina Brashares for Jennifer Wood Media, Inc.
February 14, 2021 – Wellington, FL – Daniel Deusser (GER) felt the need for speed once again aboard Kiana Van Het Herdershof, owned by Stephex Stables, picking up a win in the $73,000 CaptiveOne Advisors 1.50m Classic for his second victory of the week on Sunday, February 14, in the International Arena to close out week five at the 2021 Winter Equestrian Festival (WEF) at the Palm Beach International Equestrian Center (PBIEC) in Wellington, FL.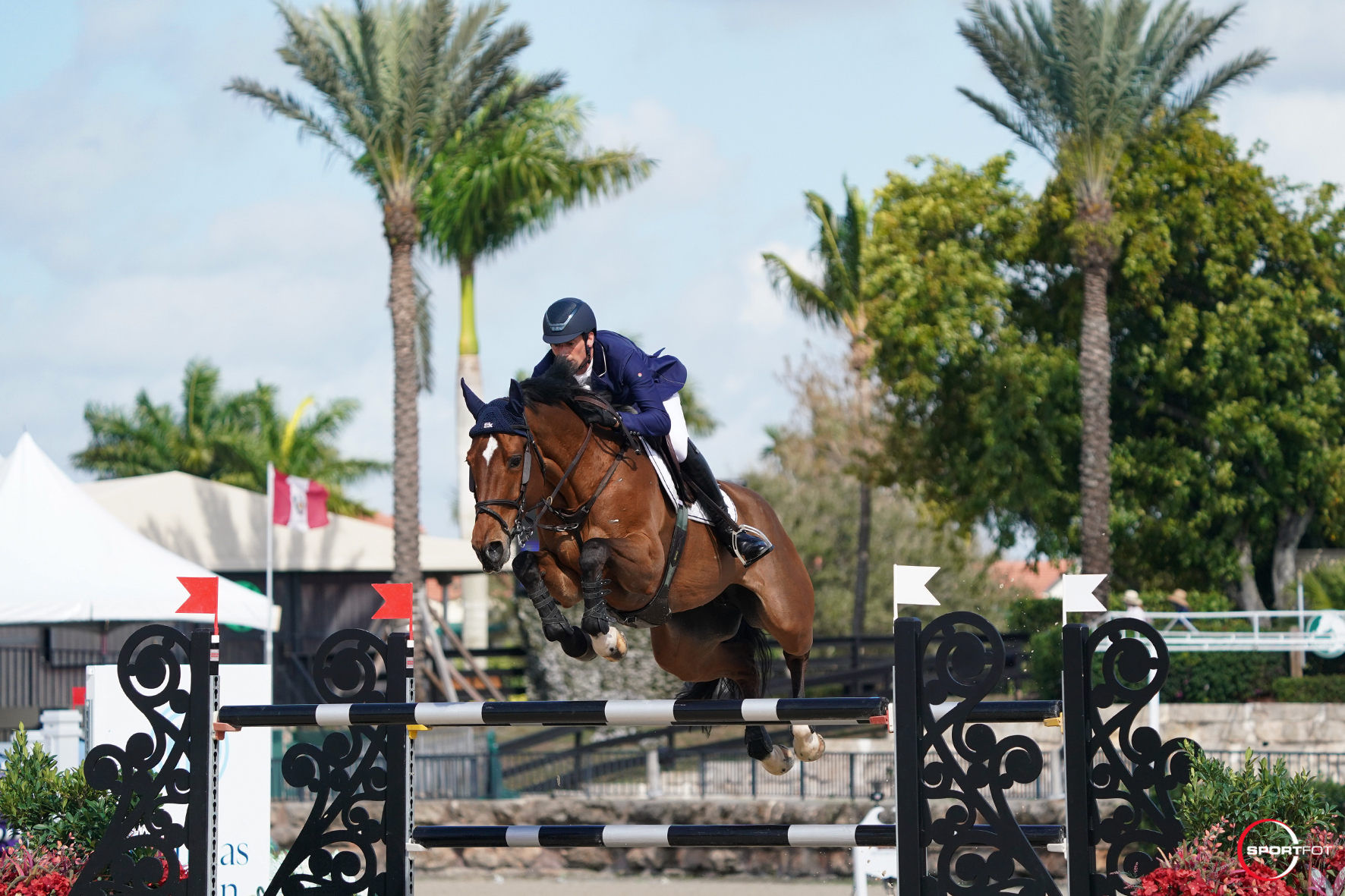 The sixth week of WEF begins on February 17-21 with the first World Champion Hunter Rider competition and hunter riders will be featured in the International Arena all week, including the highlight WCHR/USHJA Peter Wetherill Palm Beach Hunter Spectacular on Saturday night. FEI jumpers will be back on the grass Derby Field at Equestrian Village and the feature classes will run on Sunday, February 21, including the $137,000 IDA Development Grand Prix CSI3* and the $25,000 Hèrmes Under 25 Grand Prix.
A total of 52 entries stepped into the ring over the 1.50m track set by Kelvin Bywater (GBR) with 12 qualifying for the jump-off. The pace was set by Brazil's Rodrigo Pessoa and Carlito's Way, an 11-year-old Holsteiner gelding by Casall x Lordanos owned by Lisa O'Sullivan. The pair were first to return and the first to post a double clear effort, finishing in 40.75 seconds.
Deusser was next to return with the same horse he captured the  $37,000 Bainbridge 1.45m Classic CSI5* with on Friday, and he was quick from start to finish once again. The dynamic duo crossed the finish line in an impressive 38.17 seconds, shaving more than two seconds off the leading time. And, his speedy time could not be beat, sending him right back onto the top of the podium.
Watch the winning jump-off round here!
"We've had her for a couple of years, and she's always been a speed horse," said Deusser of the 11-year-old BWP mare by Toulon x Starlight VD Hemelseschoot. "It's her nature. Today it was quite a big class for her compared to two days ago, but she paid good attention. I think she likes it here with the warm weather; she feels more comfortable. I was early to go in the jump-off, but I had a very good turn from fence one to two already and was quick around towards the end, so I didn't have to take any big risks at the end of the course. She did a really good job. She's naturally very careful and once again, she showed that she can win a lot of classes. She's a real trier, and I'm very lucky to have a mare like that."
Yuri Mansur (BRA) gave it an excellent effort aboard his own QH Alfons Santo Antonio, a 14-year-old gelding by Aromats x Fiorella, posting a fault-free round in a time of 40.19 seconds. Their performance ensured a second-place finish while Pessoa ended the day in third.
Deusser has been riding for Stephex Stables, the owner of Kiana van het Herdershof, since 2012 and has accumulated numerous wins throughout that time. With a solid string of horses, he has been able to compete all over the world, climbing the international rankings. His return to WEF has been a successful one thus far, something he credits in large part to the team behind him.
"We have a fantastic team," he said. "Our owner Stephan Conter really lets us form our own team and do our job. He always tries to get young horses and new horses that we can build up, and hopefully we're able to show them at the big level a few years later. We have a fantastic team with everyone, the grooms, the riders at home. We really stick together, and the last few years it has showed. The whole program is very well done."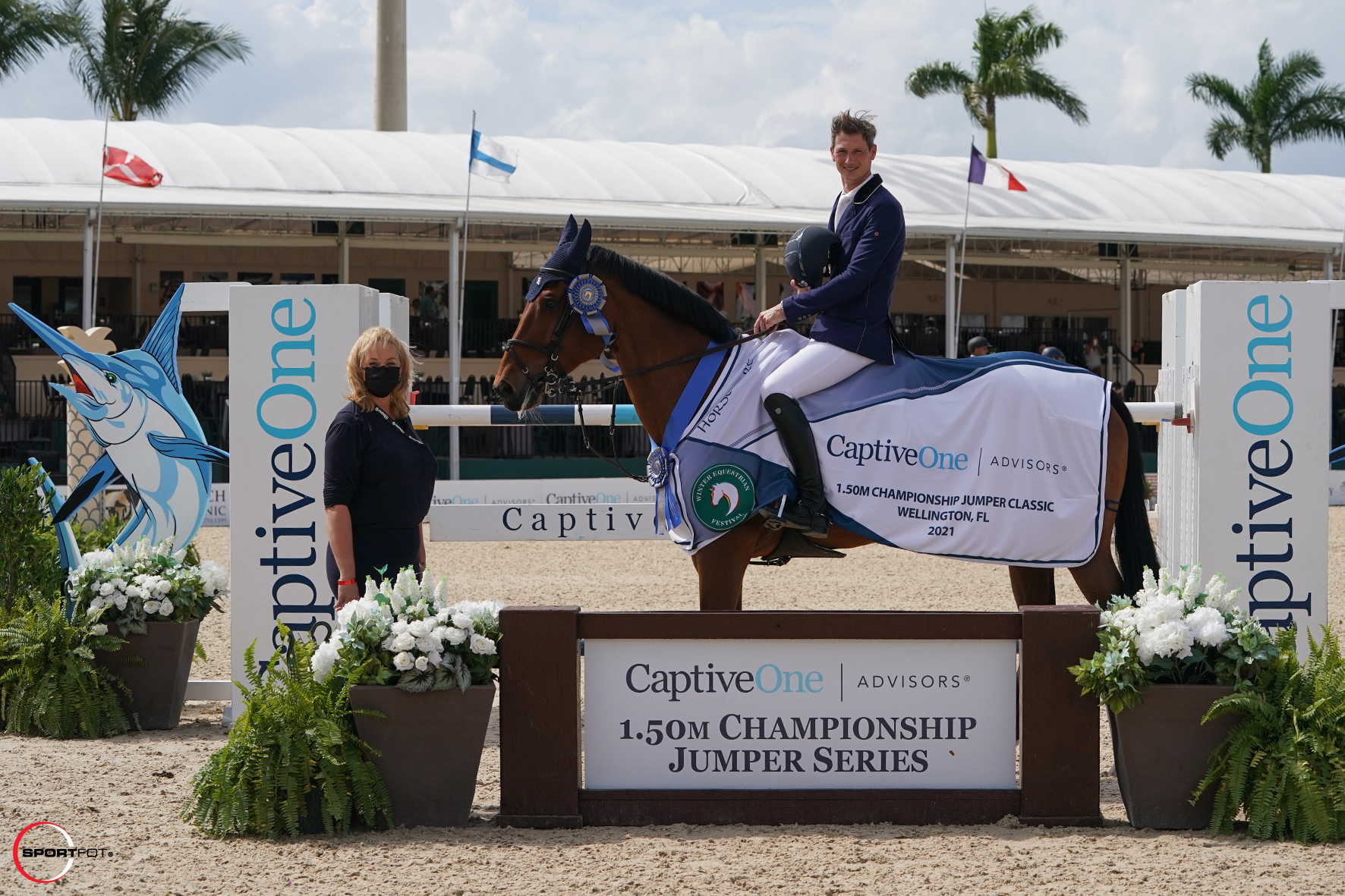 While Deusser has the full support of his Stephex Stables team with him on the road, this Valentine's Day was made extra special. The world number three had some familiar faces with him in Wellington as the wait is over and his wife Caroline and daughter Stella have joined him at WEF.
"It's really nice because I've been here for three weeks all by myself, and it's like a holiday compared to the weather in Belgium," he said. "Sunshine and nice temperatures instead of snow and cold at home. It's Stella's birthday tomorrow, she turns six, so it's a really nice little holiday for us."
Final Results: $73,000 CaptiveOne Advisors 1.50m Classic
1. KIANA VAN HET HERDERSHOF: 2010 BWP mare by Toulon x Starlight VD Hemelseschoot
DANIEL DEUSSER (GER), Stephex Stables: 0/0/38.17
2. QH ALFONS SANTO ANTONIO: 2007 ESH gelding by Aromats x Fiorella
YURI MANSUR (BRA), Yuri Mansur: 0/0/40.19
3. CARLITO'S WAY 6: 2010 Holsteiner gelding by Casall x Lordanos
RODRIGO PESSOA (BRA), Lisa O'Sullivan: 0/0/40.75
4. JUST A GAMBLE: 2009 BWP mare by Toulon x Corofino
ADRIENNE STERNLICHT (USA), Starlight Farms 1, LLC: 0/0/41.28
5. CHACCO KID: 2006 Oldenburg by Chacco Blue x Come On
ERIC LAMAZE (CAN), Chacco Kid Group: 0/4/38.12
6. BRIGHTON: 2006 KWPN gelding by Contendro II x Quick Star
TIFFANY FOSTER (CAN), Artisan Farms LLC: 0/4/39.41
7. VICTER FINN DH Z: 2008 BWP gelding by Va Vite x Stakkato
EUGENIO GARZA PEREZ (MEX), El Milagro: 0/4/39.61
8. VINCI DE BEAUFOUR: 2009 Selle Français gelding by Diamant de Semilly x Heartbreaker
DARRAGH KENNY (IRL), Devon MacNeil: 0/4/41.06
9. KASPER VAN HET HELLEHOF: 2010 BWP stallion by Emerald x Hadise Van Het Hellehof
MCLAIN WARD (USA), Poden Farms: 0/4/41.99
10. H5 ELVARO: 2009 KWPN stallion by Calvaro F.C. x Heartbreaker
EDUARDO MENEZES (BRA), H5 Sport Horses LLC: 0/8/42.00
11. GOLDWIN: 2012 BWP gelding by Emrald x Divine Idylle GTW De Tinmont
LAURA KRAUT (USA), Stars and Stripes: 0/10/60.62
12. CASALLVANO: 2009 Holsteiner gelding by Casall x Silvana
DANIEL DEUSSER (GER), Camilla Hamann and Philipp Widmayer: 0/WD
Cian O'Connor and Careca LS Elite Capture the $50,000 Restylane Grand Prix CSI2*
It was the luck of the Irish on Sunday afternoon as Cian O'Connor piloted Careca LS Elite, owned by Ronnoco Jump Ltd, to a victory in the $50,000 Restylane Grand Prix CSI2*. The track set by Kelvin Bywater (GBR) narrowed the field from 44 to just seven combinations qualifying for the jump-off and the final class of WEF 5 proved to be another exciting one.
First to go in the starting order and first to return for the jump-off, O'Connor put forth a double clear effort aboard the 10-year-old SLS gelding by Carusso LS La Silla x Rebozo La Silla, to stop the clock in 45.65 seconds.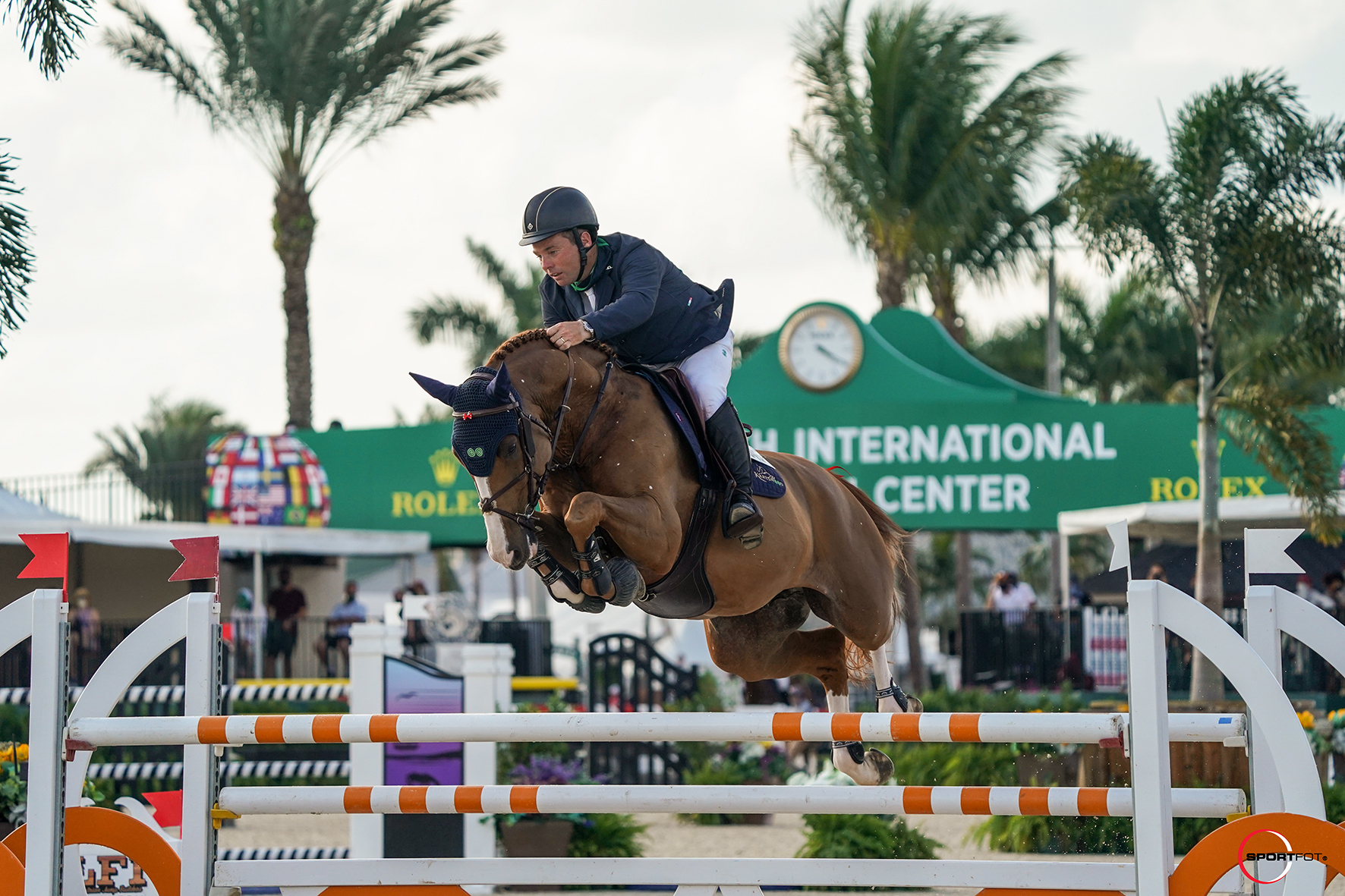 "He's a very intelligent horse with a wonderful canter," said O'Connor. "He has a super technique in front so you can really put him close to the jumps, and he has a great way of jumping. When he's fresh he's a little bit keen so he needs plenty of jumping, plenty of classes, and you can really feel there today in the jump-off he was really easy to ride. He can turn back short and he's catty at the jumps, so it really makes my job easy to go fast on him."
The last entry to go was the one to come closest as Rachel Cornacchia (CAN) and Valkyrie De Talma, owned by Eventyre Farms, flew across the course with a double clear effort. The 32-year-old rider from Calgary, Alberta, came up just short aboard the 12-year-old Selle Français mare by Diamant De Semilly x Reggae De Talma, finishing two-hundredths of a second off the mark in 45.67 seconds. It was Jennifer Waxman (USA) and Mecho Van't Kiezelhof, owned by the Triple S Group, that rounded out the podium with a double clear finish in 46.07 seconds.
Watch the winning jump-off round here!
O'Connor has had 'Careca' for the past year, speaking highly of his talent, noting that he is pleased with the gelding's development thus far.
"I saw him last year through a friend of mine Enda Carroll at Ashford Farm," said O'Connor. "We bought the horse and brought him on with some national grand prix classes in Ireland where he did well. There haven't been many shows because of the pandemic so it's really about building him up and using these classes to get used to him. He's been very good in all the national classes he's jumped so I decided to put him up to the CSI2* this week, and he coped really well."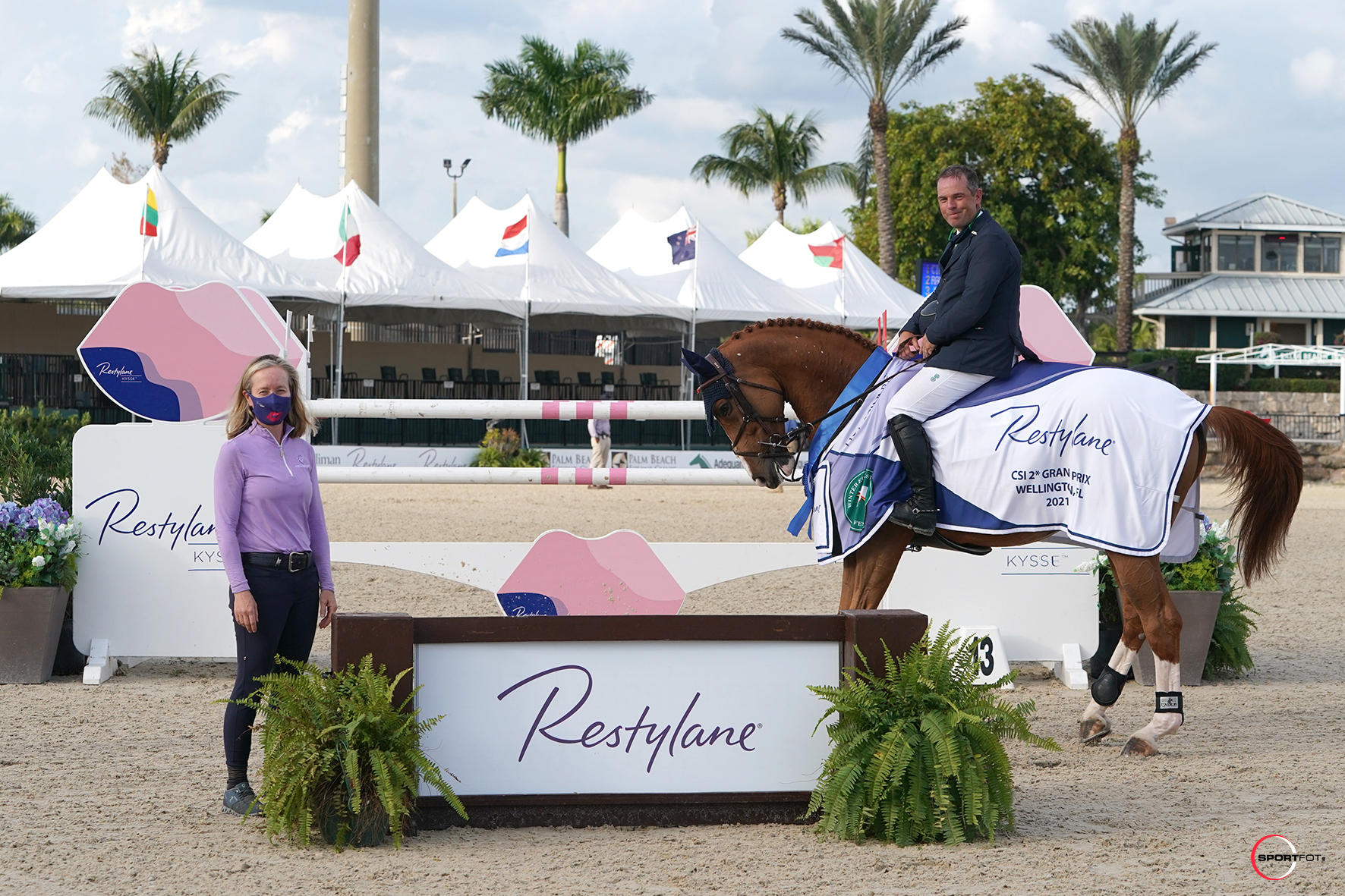 The Olympic individual bronze medalist who has represented Ireland in 15 international championships has a string of up-and-coming horses at WEF this season with a very specific goal in mind for the 2021 season.
"We look at the season with an overall goal and try to work backwards from that target," he said. "There's obviously a lot of uncertainty with the Olympic Games but that's still the main focus to work towards. We're working backwards from there in terms of classes and how we produce the horses. My main horse PSG Final is the one I'll be aiming at that. He's picked up a little injury at the moment, so he'll be out of action for about a month. I'm building up Cadiz and Kilkenny so I have 'Plan B' and 'Plan C' in place."
O'Connor will continue to campaign for the duration of WEF while also training students at the elite level, including Nicole Walker who represents Canada and up-and-coming riders Max and Tom Wachman, who have already had success in the early stages of circuit.
Final Results: $50,000 Restylane Grand Prix CSI2*
1. CARECA LS ELITE: 2011 SLS gelding by Carusso LS La Silla x Rebeca LS
CIAN O'CONNOR (IRL), Ronnoco Jump Ltd: 0/0/45.65
2. VALKYRIE DE TALMA: 2009 Selle Français mare by Diamant De Semilly x Reggae De Talma
RACHEL CORNACCHIA (CAN), Eventyre Farms: 0/0/45.67
3. MECHO VAN'T KIEZELHOF: 2012 BWP stallion by Cicero Z x Belle Van't Kiezelhof
JENNIFER WAXMAN (USA), Triple S Group: 0/0/46.07
4. FOOTLOOSE HX: 2010 KWPN mare by Bustique x Camillo Z
ALI WOLFF (USA), Claudia Harrison-Guess: 0/0/46.99
5. TEAM DE COQUERIE: 2007 Selle Francais gelding by Heartbreaker x Papillon Rogue
STEPHEN MOORE (IRL), Vlock Show Stables, LLC: 0/4/43.79
6. CASHEW CR: 2008 Holsteiner gelding by Cassini II x Quinar
ALEX MATZ (USA), Dorothy Matz: 0/4/44.88
7. MAESTRO VAN HET BINNENVELD: 2012 BWP stallion by Hunter's Scendix x Carmen Z Z
VICTORIA BIRDSALL (USA), Ilan Ferder: 0/8/47.33
8. CON COLEUR: 2009 Hanoverian gelding by Contendro I x Couleur Rubin
REBECCA CONWAY (USA), Blue Hill Farm, LLC: 1/77.08
9. VERDI O'MERVEILLES: 2009 Selle Français gelding by Verdi Tn x Quick Star
FABIO LEIVAS DA COSTA (BRA), Bonne Chance Farm LLC: 1/77.46
10. ELTON D'ACCEGLIO: 2011 SEIT mare by Calvaro x Jalapa De Volsin
FLO NORRIS (GBR), Cisca Norris: 1/78.54
11. CAROLLO: 2009 Mecklenburger gelding by Chacco Blue x Lee-Lou
JOHAN KACHELHOFFER (RSA), Anton Marano: 1/79.83
12. GOTICO DI CA' SAN GIORGIO: 2011 MIPAAF gelding by Diamant De Demilly x Fatti Bella
MARIA SCHAUB (USA), Evergate Stables, LLC: 1/80.18
Eric Krawitt and Natalie Jayne Top the ASPCA Maclay
Equitation competition continued on Sunday with the ASPCA Maclay taking place in Ring 9. The class was split into Section A and Section B with 34 riders in each section. Eric Krawitt aboard Saludo took home the blue ribbon for Section A, while Natalie Jayne and Bristol Des Tuileries received top honors for Section B.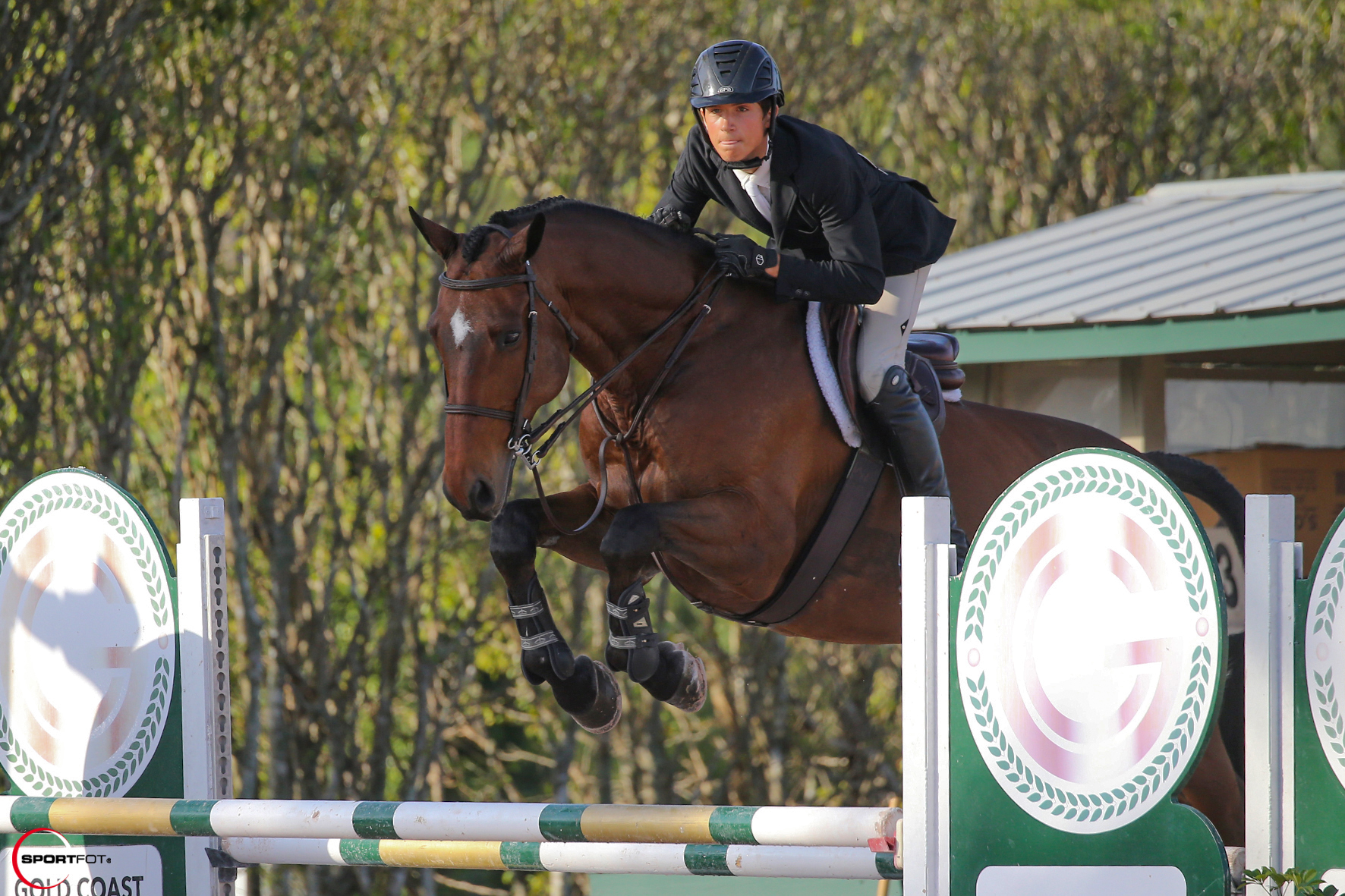 Krawitt, of Okotoks, AB, and Laila Klinsmann's Saludo are a new partnership trained by Valerie Renihan. Saludo, a 13-year-old Hanoverian gelding by Linton, is currently for sale and Krawitt was thankful to have the ride on him this weekend.
"He is an experienced equitation horse and today was my first time riding him in the ring," commented Krawitt. "We got off to a great start, and he was super today."
The class first asked riders to complete a technical course before the top 12 were called back for a flat phase. Krawitt and Saludo stood out in both portions of the class to come out on top.
"I thought I found the jumps well, and everything showed up nicely for me," said Krawitt. "Luck was on my side today."
Second place in the ASPCA Maclay Section A went to Chase Finizio, of Boca Raton, FL, and Skyler Field's Commentator. Third place honors went to Anna Robson, of Dallas, TX, aboard her own Checkland.
Jayne and Coral C Stables, LLC's Bristol Des Tuileries also caught the judge's eye to top Section B of the ASPCA Maclay in Ring 9. While Jayne, trained by Heritage Farm, is an experienced equitation rider often seen in the winner's circle, Bristol Des Tuileries is new to the division.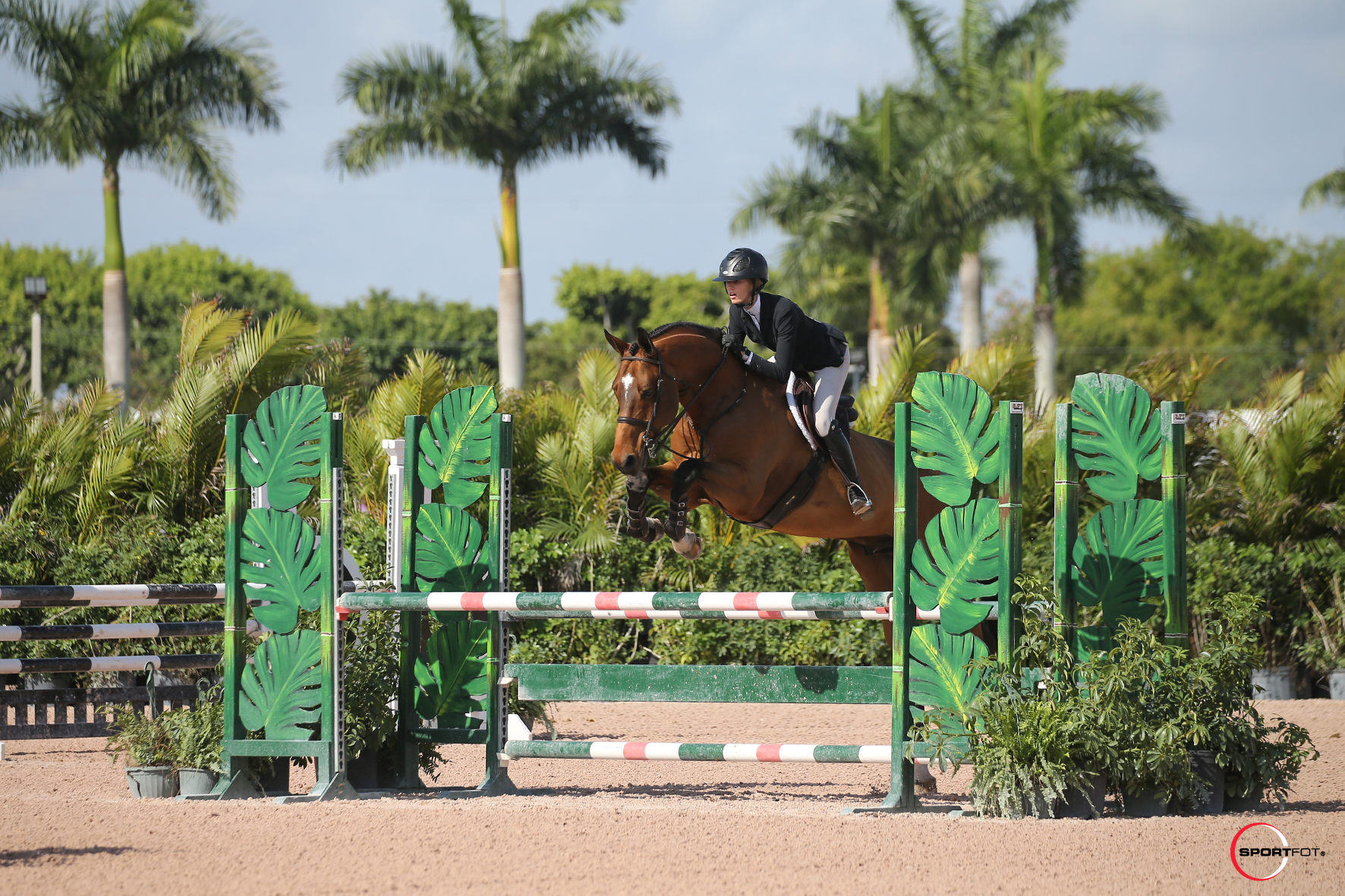 "He was awesome. I was really proud of him," said Jayne of the 10-year-old Selle Français gelding by Quaprice Boimargot Quincy. "Andre [Dignelli] has had him for a couple weeks, and this was actually his first time doing the equitation. He is a really nice horse. Hopefully I can continue to ride him the next couple weeks."
Jayne is currently competing in her last junior year and hopes to make it count. The rider plans on continuing her success in the equitation and is looking forward to the WEF Equitation Championship during Week 11.
"My goals are to keep doing well consistently in the equitation," described Jayne. "Also it would be great to do well in the equitation class Week 11."
Cary, NC, resident Alexandra Ryden and her own Vagrant Z earned second place in Section B. Third place went to Augusta Iwasaki, of Calabasas, CA, and Ashland Farm's Attendu De Lannois Z.
Sunday was the last day of competition for the fifth week of the Winter Equestrian Festival. Competition will resume on Wednesday, February 17, and continue through Sunday, February 21, with hunters taking the center stage for World Championship Hunter Rider (WCHR) week.