For Immediate Release
Kate Pettersen and Sabrina Brashares for Jennifer Wood Media, Inc.
Wellington, FL – April 4, 2021 – On the final day of the 2021 Winter Equestrian Festival (WEF), David Blake (IRL) and Dy Zento, owned by Pine Hollow Farm, put forth a stellar double clear effort on their way to being crowned victorious in the $50,000 Wanderers Club Grand Prix CSI2* on Sunday, April 4, at the Palm Beach International Equestrian Center (PBIEC).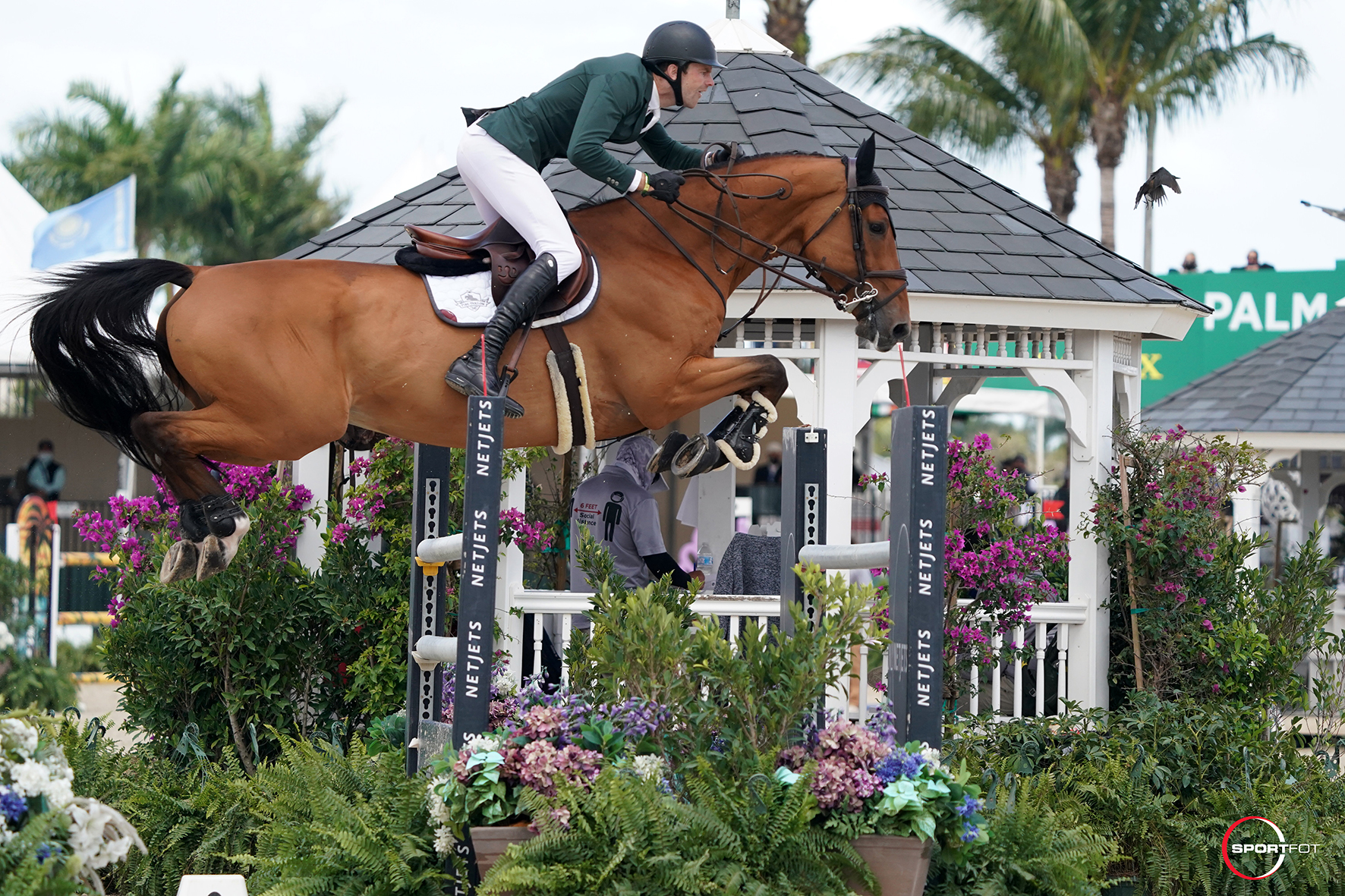 As the sun sets on the 2021 WEF, competition continues with the 2021 ESP Spring Series, beginning on April 7. The series offers five weeks of show jumping, wrapping up on May 16, and features two weeks of CSI3* competition during Spring II and Spring III. Additionally, both of those weeks will see hunter competition take center stage in the International Arena at PBIEC.
In the feature class on Sunday morning, a total of 44 pairs represented the starting field as course designer Olaf Petersen Jr. (GER) set an impressive 1.45m track. Just five horse-and-rider combinations from the first half of the class qualified for the jump-off while another 10 pairs were added to the list from the second half. In the end, an exciting group of 15 set to return represented seven different nations.
The fourth rider to jump in the subsequent round posted the first double clear effort of the day, as Alejandro Karolyi (VEN) guided Venitienne, a Karolyi Showjumping Inc.-owned entry, around the track effortlessly. He and the 12-year-old Selle Français mare by Lando x Flipper D'Elle crossed the finish line in a time of 47.90 seconds.
Next to go would answer the questions even faster as Kevin Mealiff (IRL) and Tupac Van De Vrombautshoeve Z, owned by Oakmont Stables, LLC, set the new leading time of 44.05 seconds. Mealiff and the 11-year-old Zangersheide gelding by Thunder VD Zuuthoeve would hold the lead through the next few pairs until Blake and Dy Zento returned.
Blake and the 13-year-old Dutch Warmblood gelding by Zento x Goodtimes zipped around the track, opening up their stride for a long gallop down to the final fence on course. The pair managed to leave all the jumps in their cups in an impressive time of 42.93 seconds, a time that would hold for top spot in the end.
Watch the winning jump-off here!
"I've taken it slow with him the last couple of years," said Blake of the gelding he has been riding for four years. "We haven't done a whole lot with him, but we built him up for the early circuit, and it all came together today, so it was worth the wait.
"He has a lot of blood," continued Blake. "The jump-off really suited him today because he's a big horse, so it really suited his stride and the run down to the last jump, I feel like I was quicker than anyone else there. For a big horse, he's got a lot of blood and he's very athletic, so it makes it easier in the ring."
Peter Lutz (USA) rounded out the top three finishers with a double-clear effort aboard Hollerno, owned by Lutz/Manfredi Show Jumping and LMW Sporthorses. He and the nine-year-old Dutch Warmblood gelding by Baltic VDL x Ahorn stopped the timers at 44.47 seconds.
Blake noted that he has had a slower circuit than normal with fewer horses in his string to campaign. With that in mind, his grand prix win gives him a little extra motivation for what is to come this summer.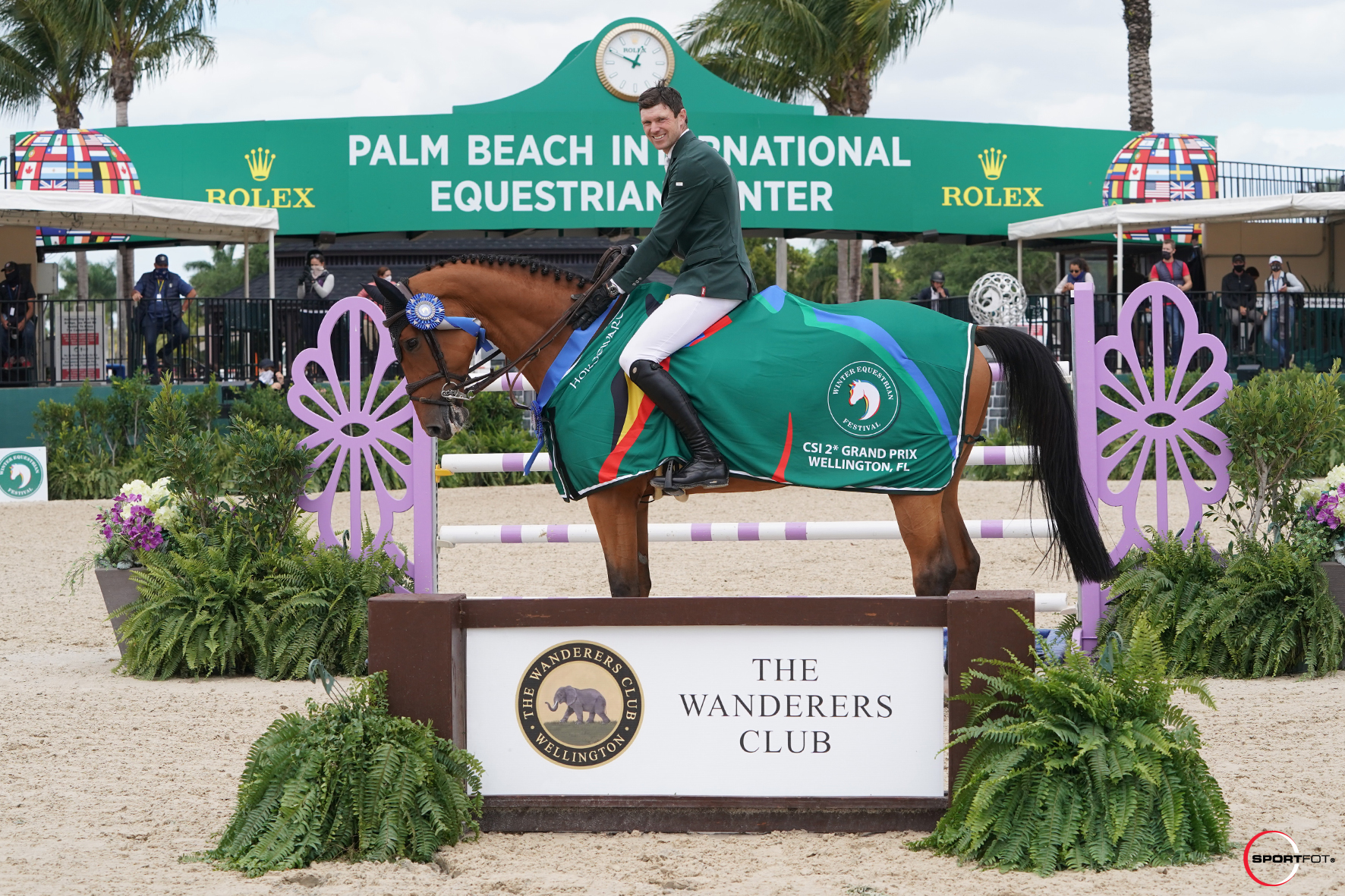 "It was really nice to get the win today and end the winter on a high note," he said. "It was a really exciting finish and feels very rewarding. We're going to stay in Wellington to do the two three-star shows on the grass Derby Field during the ESP Spring Series before we head up north. I'm really looking forward to jumping on the grass and giving the horses a little bit of something different here."
Final Results: $50,000 Wanderers Club Grand Prix CSI2*
1. DY ZENTO: 2008 KWPN gelding by Zento x Goodtimes
DAVID BLAKE (IRL), Pine Hollow Farm: 0/0/42.93
2. TUPAC VAN DE VROMBAUTSHOEVE Z: 2010 Zangersheide gelding by Thunder VD Zuuthoeve
KEVIN MEALIFF (IRL), Oakmont Stables, LLC: 0/0/44.05
3. HOLLERNO: 2012 KWPN gelding by Baltic VDL x Ahorn
PETER LUTZ (USA), Lutz/Manfredi Show Jumping and LMW Sporthorses: 0/0/44.47
4. DAVEAU: 2008 KWPN gelding by Zento x Glennridge
JONATHON MILLAR (CAN), Millar Brooke Farm Ltd: 0/0/45.63
5. VENITIENNE: 2009 Selle Français mare by Lando x Flipper D'Elle
ALEJANDRO KAROLYI (VEN), Karolyi Showjumping Inc: 0/0/47.90
6. MILLIONINMIND: 2007 ISH gelding by ARD VDL Douglas
EMILY WARD (GBR), Steven Barnes: 0/4/41.01
7. EXCELLENT B: 2009 Dutch Warmblood gelding by Berlin x Heartbreaker
NICOLE WALKER (CAN), NW Stables LP: 0/4/42.23
8. MADORADA DW: 2012 BWP mare by Breemeersen Adorado
ELLEN WHITAKER (GBR), Gerard O'Neil: 0/4/42.66
9. CHRISTIANO: 2010 German Sport Horse gelding by Canoso x Compliment
AMY MILLAR (CAN), Future Adventures: 0/0/42.74
10. CADORA: 2006 Oldenberg mare by Cartogran x Lando
TOMAS YOFRE (ARG), Paul Broder: 0/4/43.36
11. INDUS VAN HET KEYSEREYCK: 2008 Gelding
CAMILO RUEDA GIRALDO (COL), Camilo Rueda Giraldo: 0/4/43.58
12. CALLE QUINN: 2011 Holsteiner gelding by Calmando X
LUIS LARRAZABAL (VEN), Ana Holguin: 0/4/44.09
Broder and Gorin-Byrne Finish WEF 2021 On a High Note in the Bruno Delgrange Palm Beach Adult Medal
On the final day of the WEF 2021 season, Amber Broder and Tip Jar bested a field of 14 adult equitation riders in the Rost Arena to claim the top prize in the Bruno Delgrange Palm Beach Adult Medal. Tracey Gorin-Byrne and Fiach Byrne Inc.'s Honor Hill's Giovanni were awarded as the Bruno Delgrange Palm Beach Adult Medal Series Winners.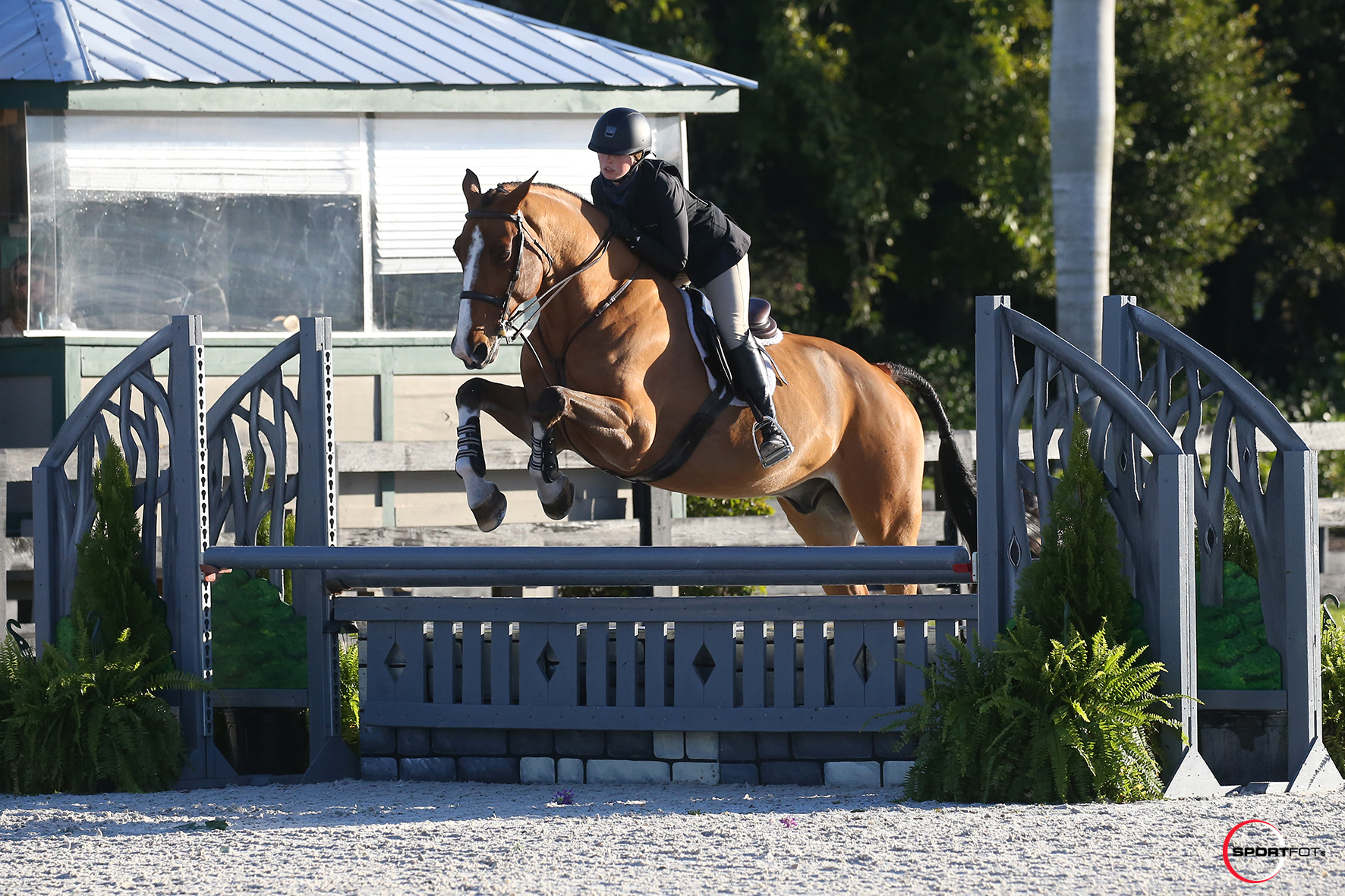 Equitation riders were asked to navigate an over fences course and then the top 12 scores returned for a flat phase in the medal. Broder, of Setauket, NY, and Tip Jar, owned by Kimberly Griffiths, earned a score of 85 in the first round and moved up two spots in the flat portion to take home the blue ribbon.
"I felt like I did all of the jumps really well," commented Broder. "I was just trying to make all my distances match and be consistent. He was really with me today. To end so strong with one of my favorite horses and a horse I feel so lucky to ride was amazing."
Broder is going into her second year showing in the equitation with the coming 16-year-old Warmblood gelding by Cassini I. The pair trains with Chris Ewanouski and hopes to attend NHS Finals this year.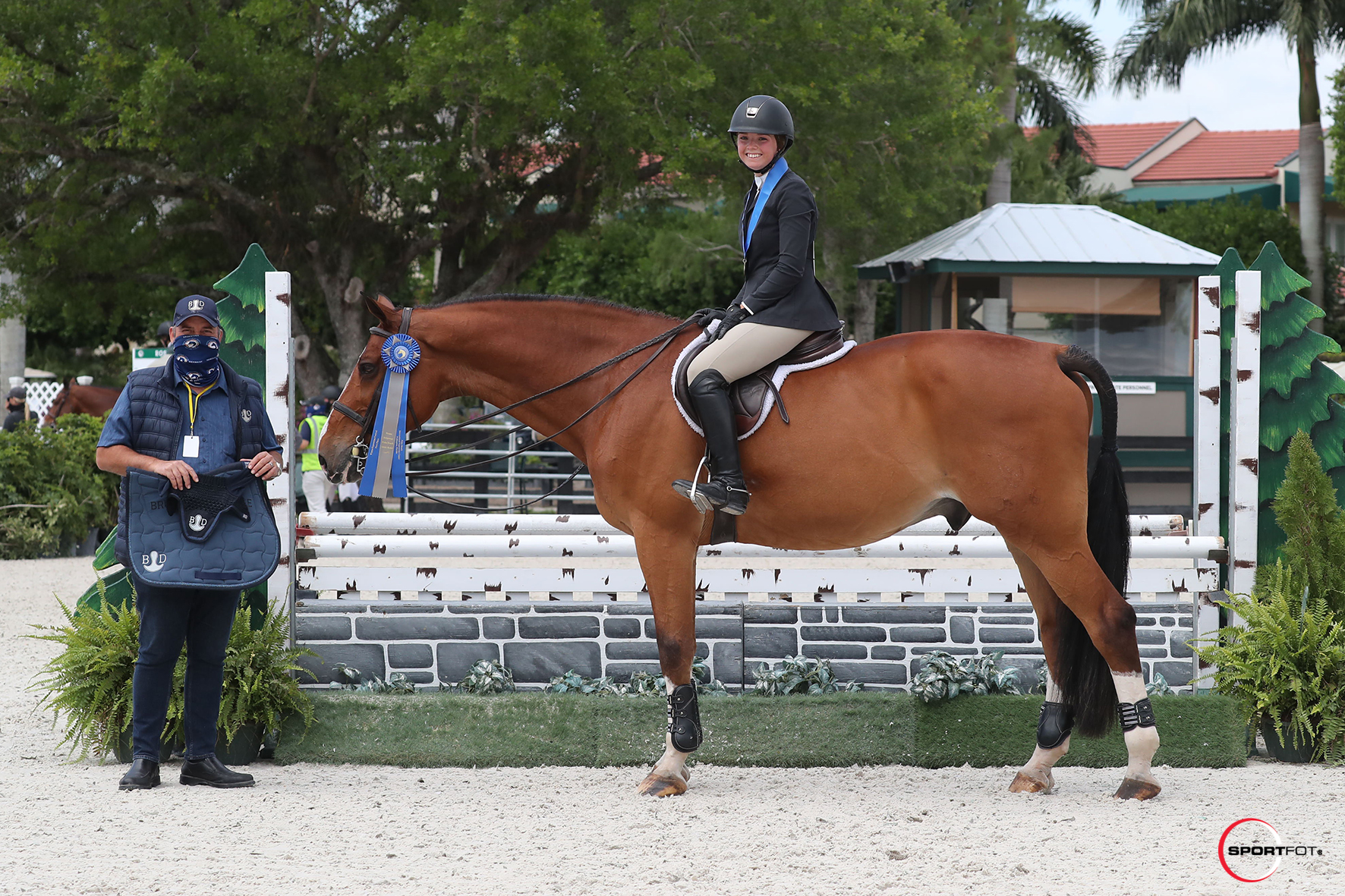 "Originally my mom leased him from Don Stewart," explained Broder. "When she got injured over the summer of my freshman year of college, I started riding him and fell completely in love with him, so my parents told me I could finish out the lease. Then for my 20th birthday that year they surprised me by actually buying him out because I wanted to keep doing the adult equitation."
Lindsey Tomeu, of Wellington, FL, and Sweet Oak Farm's Sunman took home second place in the medal. The pair earned a score of 82 in the first round and moved up five spots in the flat phase. After receiving a first round score of 83, Gorin-Byrne and Honor Hill's Giovanni moved up three places to claim third place honors.
Leading by over 20 points, Gorin-Byrne, of Noank, CT, and Honor Hill's Giovanni earned the Bruno Delgrange Palm Beach Adult Medal Series title.
"I'm really excited," said Gorin-Byrne. "I do a lot of different adult [divisions], and I've always really wanted to win this circuit award and I never have. I was really excited to get that goal accomplished, and I'm so proud of my horse and really happy!"
"For me it's been really fun to see [Honor Hill's Giovanni] come along this year," continued Gorin-Byrne. "Every week I feel like I think he couldn't go any better, and then every week he comes out and he does something that we have been working on a little better every time. He tries really hard, and he learns a lot. It's been really cool over the last few months to see how much he's changed and grown."