Wellington, FL – March 23, 2018 – Coco Fath of Fairfield, CT, topped the field aboard Class Action, an entry of Hillside Farm LLC, in the 11th Annual George H. Morris Excellence in Equitation Championship. The class was held in the International Arena at Palm Beach International Equestrian Center under the lights on March 23 at the 2018 Winter Equestrian Festival (WEF) in Wellington, FL. Alexandra Worthington captured second, Ava Stearns secured third, and Daisy Farish finished up on the leaderboard in fourth place.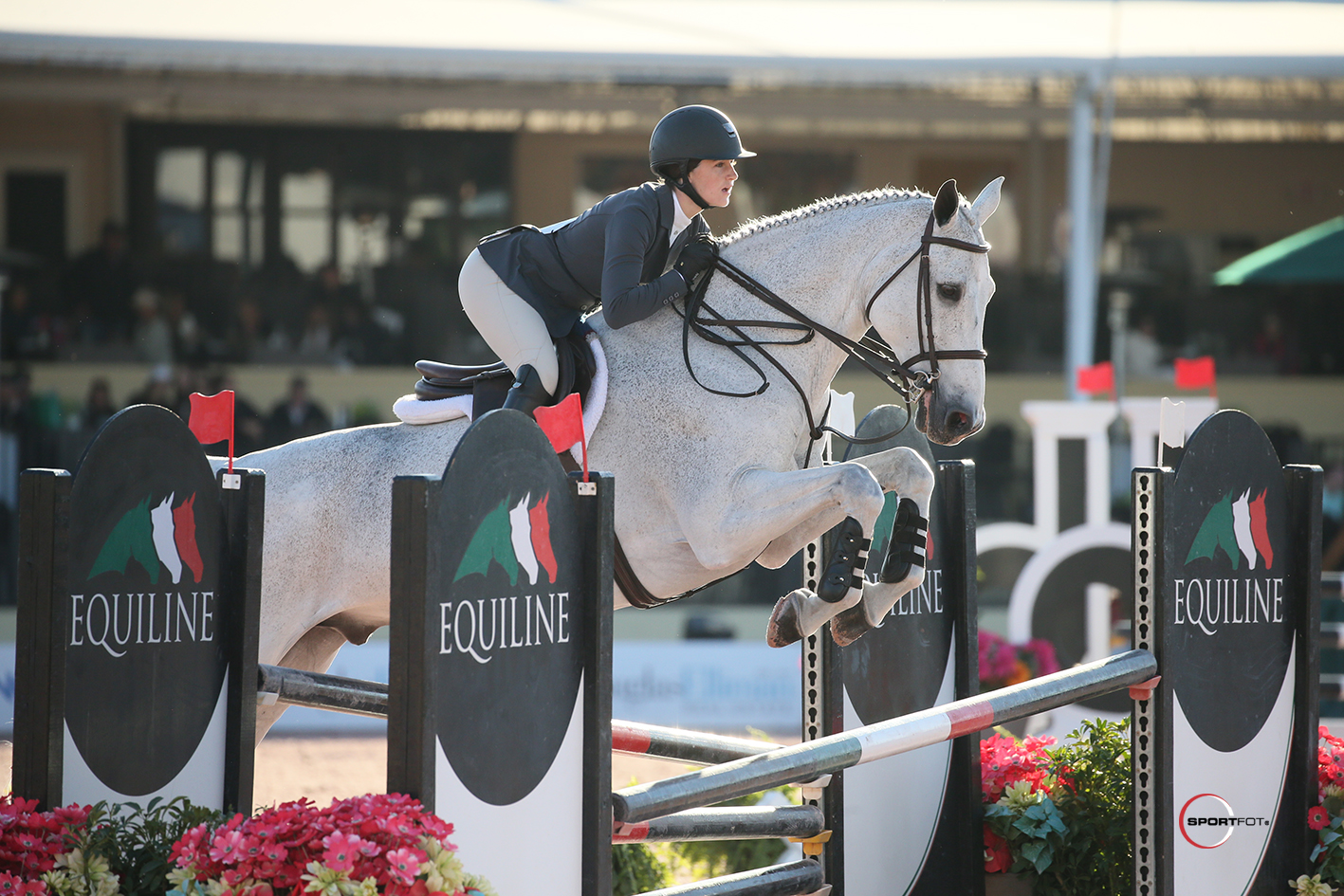 In the $35,000 Douglas Elliman Real Estate 1.45m Jumpers, Richie Moloney (IRL) and Rocksy Music, owned by Equinimity, were victorious. In the WEF International Arena, Lexy Reed and Coppertone, Daniel Coyle and Khaleesi, and Andrew Ramsay and Gerlos won in the Developing Jumper Series Classics.
Highlights remaining in week 11, sponsored by CaptiveOne Advisors on March 21-25, include the $205,000 CaptiveOne Advisors Grand Prix CSI 4* at 11 a.m. on the grass derby field at Equestrian Village (13500 South Shore Blvd.) and the $132,000 Hollow Creek Farm 1.50m Classic Final at 6:30 p.m. in the WEF International Arena on Saturday, March 24, as well as the $50,000 Hermés Under 25 Grand Prix Series Final at 12 p.m. at the grass derby field on Sunday, March 25. WEF hosts hunter, jumper, and equitation competition until April 1 and offers more than $9 million in prize money.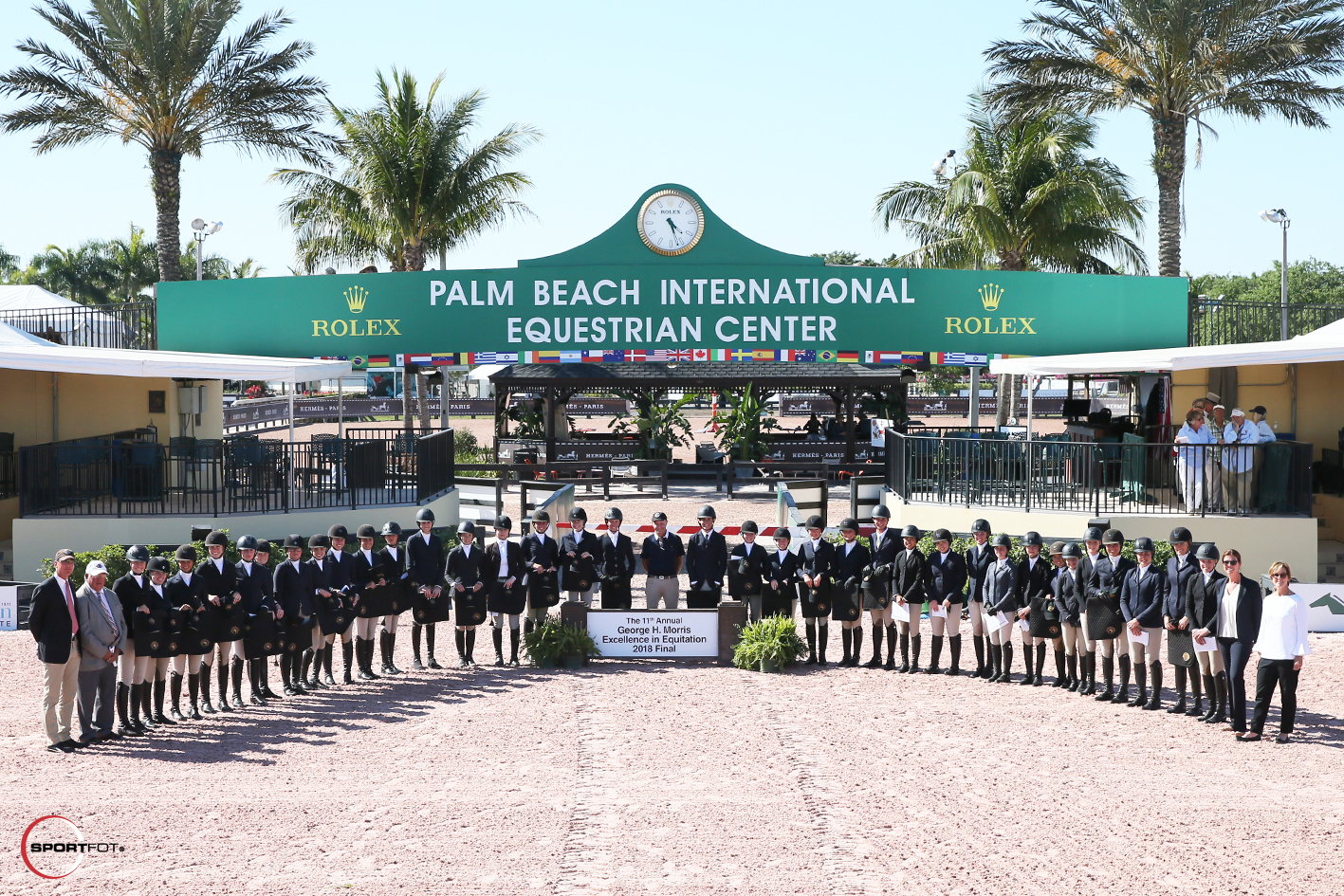 The 11th Annual George H. Morris Excellence in Equitation Championship was held in three rounds with a grand total of 35 competitors in round one. The top 15 riders returned for round two in reverse order from the first round, and ultimately the leading four entered the International Arena for a third time to determine the final placings. Riders were required to turn in their cell phones before the start of the class and were prohibited from any contact with their trainers. Consequently, competitors were responsible for the management, warm-up, and schooling of their own horses with the assistance of one groom and conducted their course walk independently.
All of the under 18 junior riders received scores from two panels of judges and a schooling judge, who graded the competitors in the warm-up area with scores ranging from minus two to plus two. The first panel of judges consisted of Chris Kappler and Ralph Caristo, Panel Two was made up of Keri Kampsen and Sissy Wickes, and Karen Golding acted as schooling judge. The course was designed by Steve Stephens and featured a trot cavaletti line, three combination lines, and a demonstration of two flying lead changes in round one. Round two challenged riders with another tricky combination, a trot fence, and a simple change of lead mid-line. Final testing tasked the leading four with a counter-canter fence, hand gallop, and halt and back.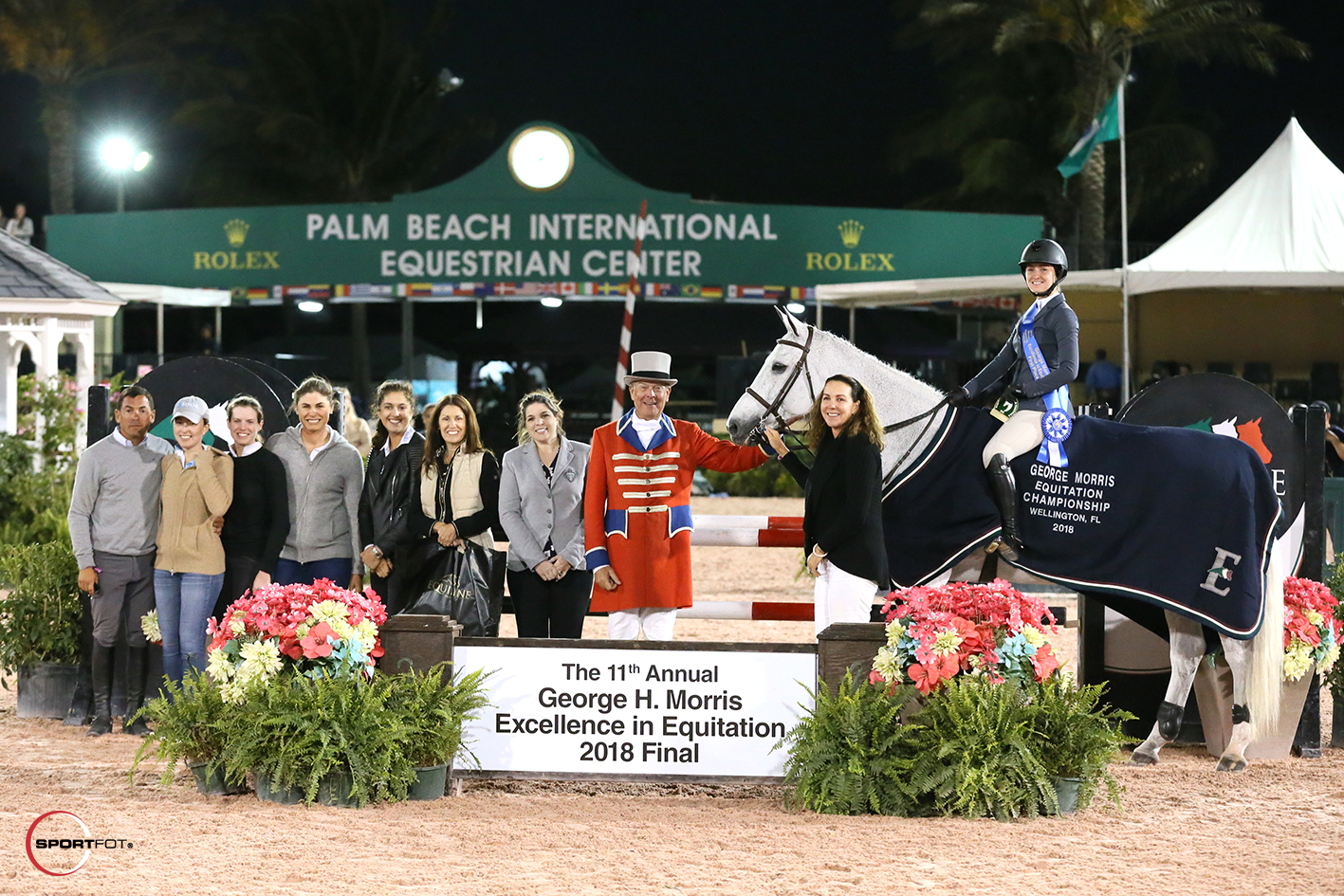 Seventeen-year-old Fath, who was fourth in the class last year, was leading both rounds going into round three with an 88.5 and a 90.5, for a grand total of 179 points. Worthington, Stearns, and Farish joined the young Connecticut native in the ring for final testing, of which final scores were not announced.
"This is a really great experience," said Fath. "There is no other place like WEF to have a class like this, where you are able to do it by yourself and really rely on your teammates and everyone around you for help."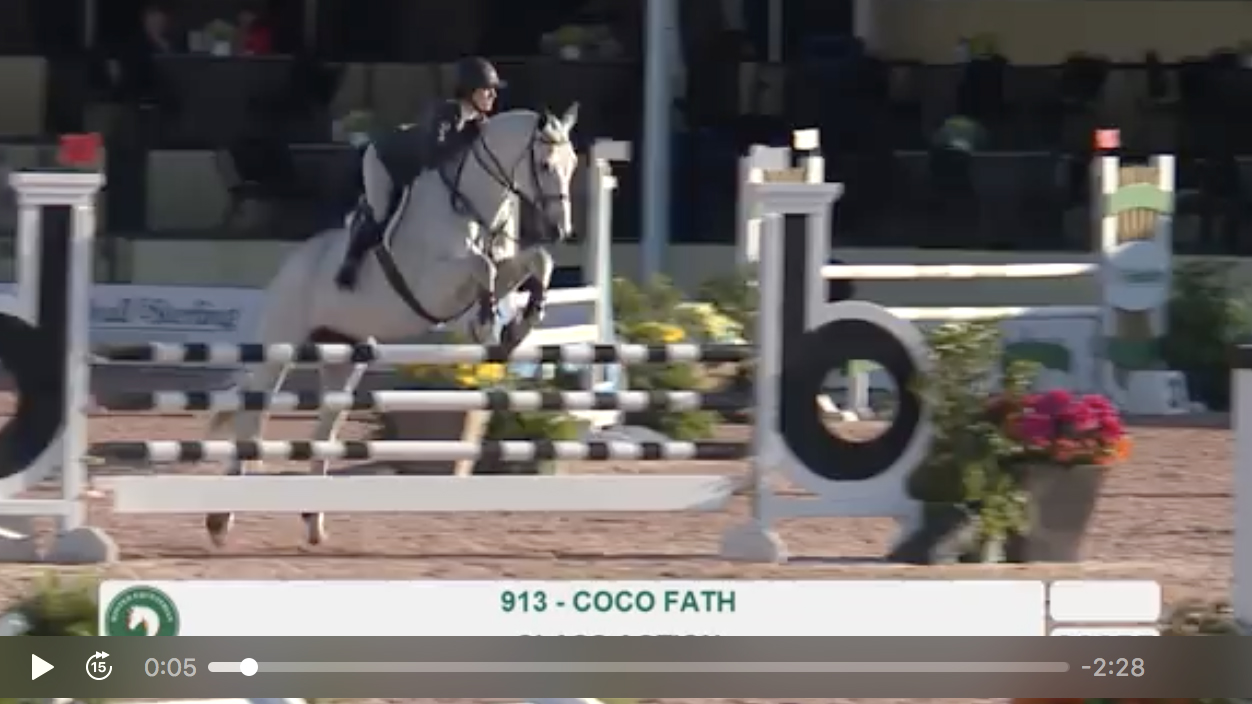 Click here to watch the highest-scoring first round! 
Having had the blue in sight last year, Fath, who trains with Stacia Madden, commented on her thoughts going into round one for her second year of competition aboard the 19-year-old Danish Warmblood gelding.
"I was a little skeptical going into the course today because it seemed a little bit like [USEF Talent Search] Finals, but the first round was nice and [gave us] some standard elements, such as gymnastics and lines similar to what we see every day," she explained. "It definitely brought some good technical things to the table. I was a little bit worried about the cavalettis because the two people before me stopped at them, but thankfully we were able to practice in the schooling area and my horse knows his job!"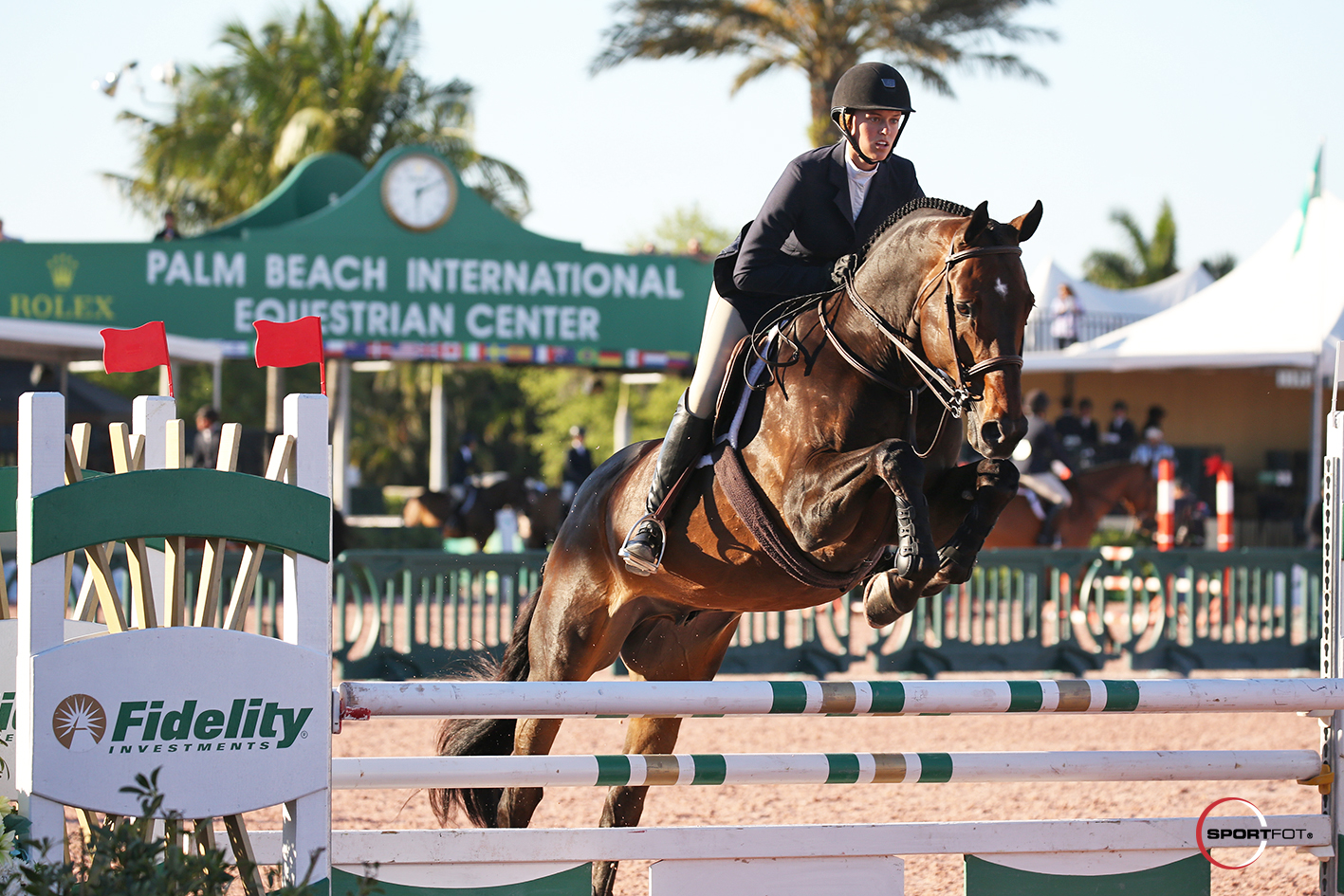 Brand new to 2018, schooling took place in a separated section of the International Arena near the in-gate, and exhibitors rode straight into the show ring through a divider following their warm-up.
"At first, I didn't love it," said Fath of the new schooling set-up. "Everyone gets to see you warm-up and making a mistake can be embarrassing! However, I actually really liked it by the end because it was a much bigger area to work in, and I was able to still see what was going on in the ring. The warm-up is a big part of it, and I would take any schooling area any day to get to compete in the International Arena."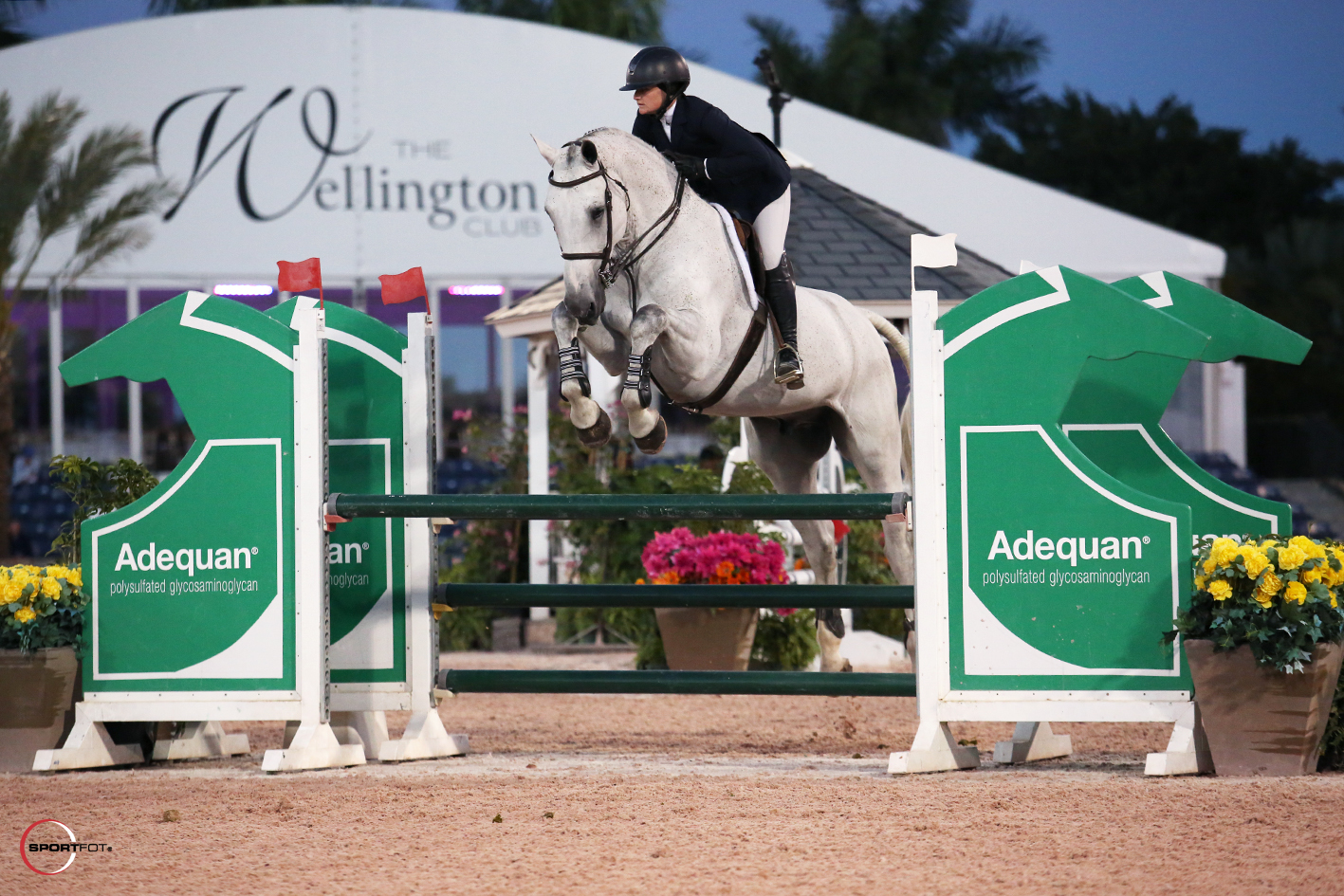 Fath and Worthington are fellow teammates at Beacon Hill Show Stables and shared a congratulatory hug following their first and second place finishes. Although Worthington entered the test in fourth place aboard her mount, Outshine, with a 79.5 and 89 in the first two rounds, the pair took full advantage of the opportunity to highlight their finesse and finished with reserve honors. Following a masterful counter-canter to the first fence, the pair tackled the hand gallop, and impeccably executed the halt and back before returning to the line-up. Stearns finished in third with a total of 172.75 points, and Farish tested second to last to finish in fourth with 169.5. Fath was the last to face the challenges set in round three and secured her position at the top of the class.
"I don't think it was my best test," admitted Fath. "But, the first two rounds brought me high enough up that my total points were significantly above the other riders, and I just went in there trying to have a smooth round and tried not to make any major mistakes."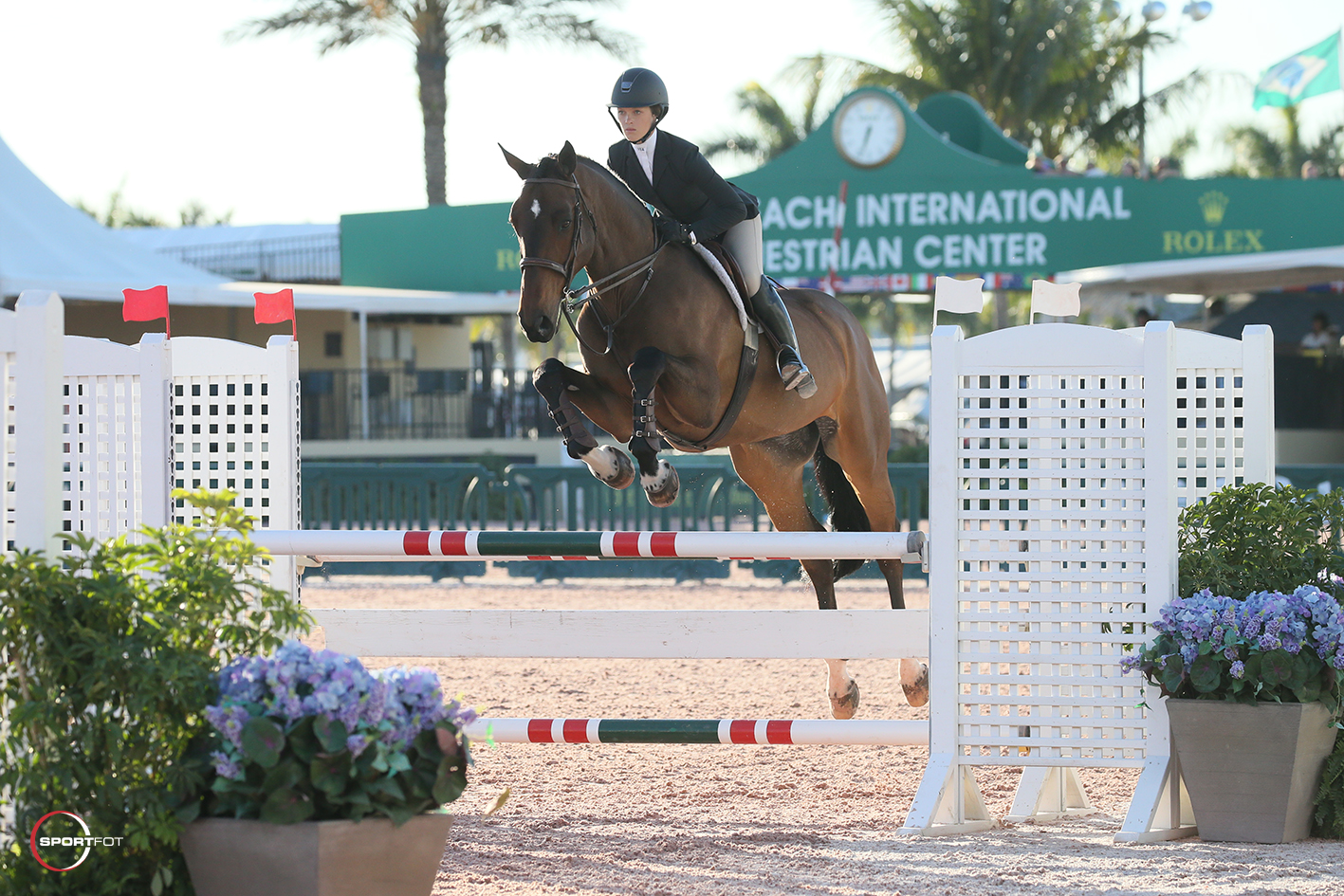 Following the evening's competition, prizes and special awards were presented by Equiline and the company's sponsor presenter, Kelly Molinari. As champion, Fath received an Equiline "Kendall" embroidered jacket and custom Equiline cooler. Both Fath and Worthington's families additionally received a gift certificate to Sportfot, WEF's Official Sport Photographer, courtesy of Equiline, while Stacia Madden, as trainer of the champion, also received an Equiline "Kendall" embroidered jacket and gift certificate.
Waldo, an entry of Missy Clark & North Run and ridden by Sam Walker, received the award for Best Turned Out Horse, and his groom, Katie Williams, took home an embroidered Equiline "Kendall" jacket.
To end the evening, the prize for Best Equitation Horse went to Class Action, and Fath took home the award for the dashing grey gelding – an embroidered Equiline stall guard.
"I can't think of a better horse. I knew that these were going to be my last two years as a junior, and I thought, 'Why not have the most experienced horse ever?' I owe everything in my equitation career to him. He is the horse of a lifetime," said Fath.
Final Results: 11th George H. Morris Excellence in Equitation
 Top four were tested in a third round to determine the final placings, and only scores from the first two courses were announced.
1   913 COCO FATH, CLASS ACTION, HILLSIDE FARM LLC
R1/J1   89.00         2.00
R1/J2   86.00               88.50
R2/J1   89.00         2.00
R2/J2   90.00               90.50  89.50
2   929 ALEXANDRA WORTHINGTON, OUTSHINE, ALEXANDRA WORTHINGTON
R1/J1   77.00         1.00
R1/J2   81.00               79.50
R2/J1   88.00         2.00
R2/J2   88.00               89.00  84.25
3   802 AVA STEARNS, ECLIPSE, MISSY CLARK & NORTH RUN
R1/J1   86.00
R1/J2   85.00               85.50
R2/J1   85.00         2.00
R2/J2   87.50               87.25  86.37
4   2854 DAISY FARISH, CAPITAL HAMILTON, DAISY FARISH
R1/J1   79.00         1.00
R1/J2   84.50               82.25
R2/J1   86.50         2.00
R2/J2   86.00               87.25  84.75
5   1366 KAITLYN LOVINGFOSS, CARACAS 89,  ELVENSTAR FARM
R1/J1   85.00
R1/J2   79.00               82.00
R2/J1   86.00         2.00
R2/J2   83.50               85.75  83.87
6   5697 GRACE BOSTON, ANY GIVEN SUNDAY, HAYS INVESTMENT CORP.
R1/J1   84.00         1.00
R1/J2   90.00               87.50
R2/J1   76.00         2.00
R2/J2   79.00               78.50  83.00
7   910 RACHEL MCMULLEN, CENTERFOLD K, HENGE HILL INVESTMENTS
R1/J1   82.00
R1/J2   85.00               83.50
R2/J1   82.00         2.00
R2/J2   78.00               81.00  82.25
8   1064 GRADY LYMAN, COHIBA VDL, ASHLAND FARMS
R1/J1   85.00         1.00
R1/J2   76.00               81.00
R2/J1   77.00         2.00
R2/J2   84.50               81.75  81.37
9   3071 EMMA FLETCHER, CONSPICUOUS, EMMA FLETCHER
R1/J1   78.00         1.00
R1/J2   80.00               79.50
R2/J1   81.00         2.00
R2/J2   83.00               83.00  81.25
10  809 SAM WALKER, WALDO, MISSY CLARK & NORTH RUN
R1/J1   71.50         1.00
R1/J2   73.00               72.75
R2/J1   87.00         1.00
R2/J2   87.00               87.50  80.12
11  3612 ANNABEL REVERS, QUAX, BEECHWOOD STABLES, LLC
R1/J1   83.50
R1/J2   87.00               85.25
R2/J1   72.00         2.00
R2/J2   74.00               74.00  79.62
12  3002 FARAH RIZVI, JARINKA, EMMA CALLANAN
R1/J1   73.00         1.00
R1/J2   78.00               76.00
R2/J1   79.00         2.00
R2/J2   84.00               82.50  79.25
13  1867 EMMA KURTZ, CARL, DR. BETSEE PARKER
R1/J1   65.00         2.00
R1/J2   80.50               73.75
R2/J1   83.00         2.00
R2/J2   82.00               83.50  78.62
14  924 MIMI GOCHMAN, KASKADE, GOCHMAN SPORT HORSES LLC
R1/J1   73.00
R1/J2   77.00               75.00
R2/J1   60.00         1.00
R2/J2   70.00               65.50  70.25
15  810 TANNER KOROTKIN, ZAPFIER, MISSY CLARK & NORTH RUN
R1/J1   78.00
R1/J2   84.00               81.00
R2/J1   50.00         2.00
R2/J2   40.00               46.00  63.50
Show Jumping's Future Star Horses Compete in Classics
The $20,000 Spy Coast Farm Developing Jumper 7 Year Old Classic featured some of the top young jumpers in the nation. Out of an opening field of 23 entries, six were clear to advance to the jump-off over a course designed by Steve Stephens of Palmetto, FL, who was a co-course designer at the 2008 Beijing Olympic Games.
The fastest of three double clear rounds was Gerlos, ridden by Andrew Ramsay (USA) for Shalanno Farms LLC. They finished in a time of 39.267 seconds for the win. James Chawke (IRL) and Stonepine Stables' Grasshopper (KWPN gelding by Phin Phin out of Believe In Me, bred by A. Vos Ekkelkamp) were second in 40.691 seconds. Third place went to Chic Chic (Westphalian stallion by Comme Il Faut out of Contendra by Contendro I, bred by Norbert Borgmann), ridden by Stephen Moore (IRL) for Vlock Show Stables LLC in 42.351 seconds.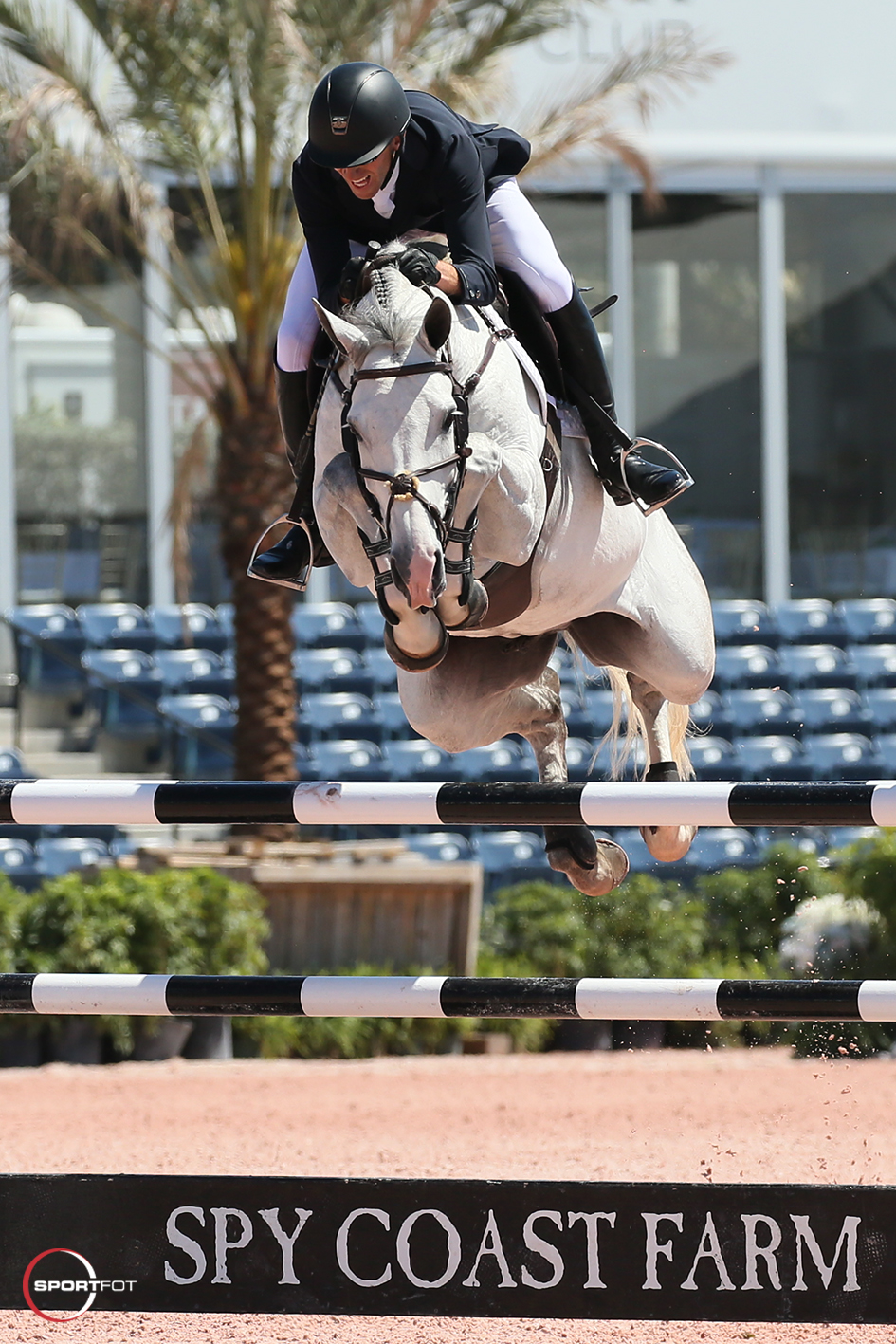 Ramsay received a call about Gerlos, or "Gus" as he's called in the barn from breeder Mario Everse and horse dealer Alan Waldman a year and a half ago, who said they had a horse that was Ramsay's type.
Ramsay agreed, and brought Gerlos home. "He's naturally talented," he said of the KWPN gelding by Der Senaat 111 out of Honolulu 111 by Cicero Z van Paemel. "He's really a pleaser. He likes his job. He's really in tune, and he's thinking. Things don't rattle him. I think that's so important for a horse that you think has really a future in them. He has all of the traits. On top of all of that, the brain is there. It's really nice when you have all of that. It makes it really fun to play around and nurture him along and see where it all goes."
"It was a fun jump-off," said Ramsay. "I was able to ride him like a mature horse. That's really a fun feeling. That makes you really excited about what's coming up and where he's going to go."
Ramsay never went for a ton of speed in previous jump-offs during the WEF circuit, so to push in the final classic of the season showed him that Gerlos is ready for more.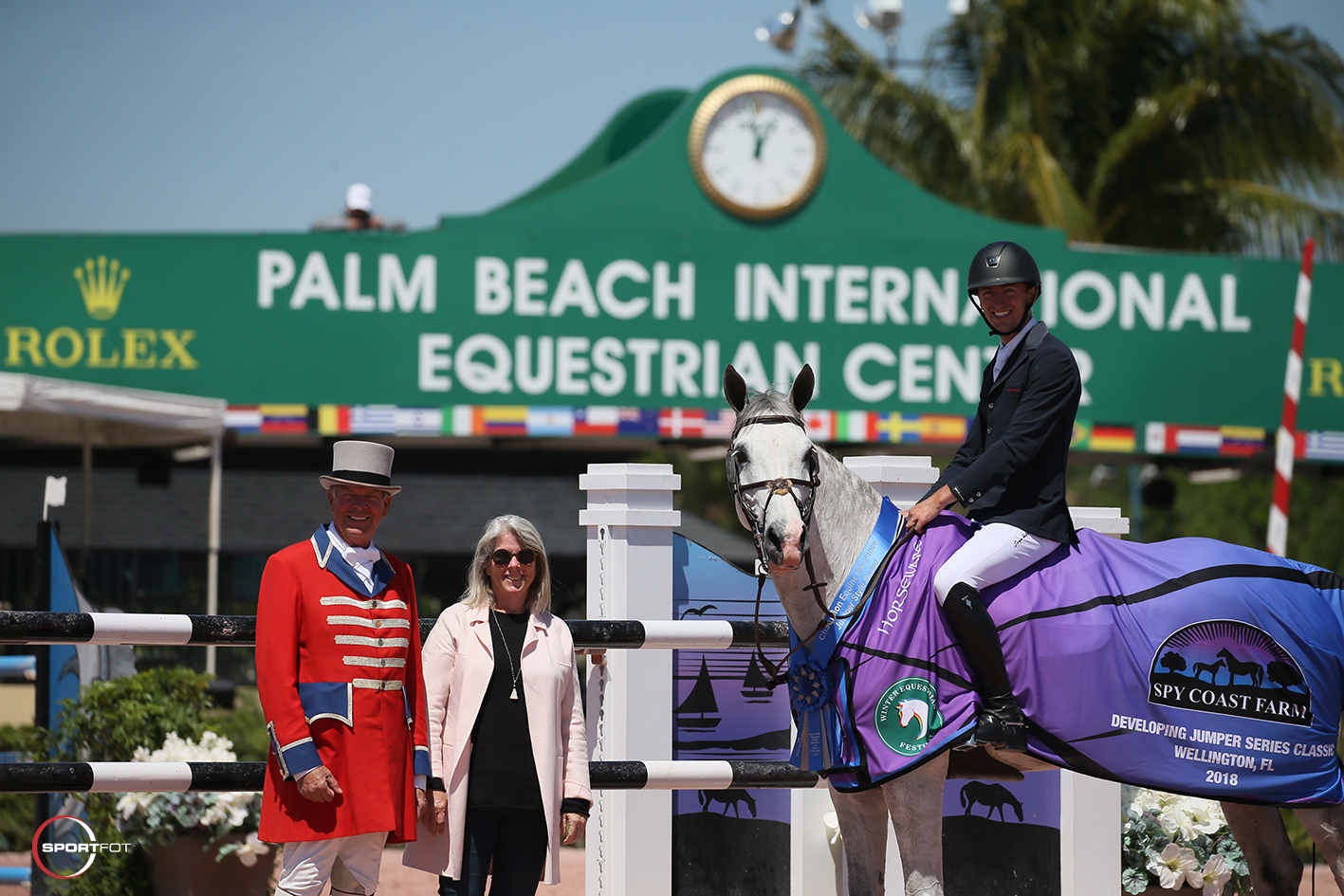 "He's competitive so we had nice placings, but I never said, 'We're going to give it.' It let me build up through the whole circuit and let him loose in one jump-off and see how he reacted. He had another gear that came in. I always believed it was there, but all of a sudden you go 'That's going to be great when it's 1.50m!'"
In the $15,000 Spy Coast Farm Developing Jumper 6 Year Old Classic, it was a familiar face in the winner's circle. Daniel Coyle (IRL) and Khaleesi, owned by Ariel Grange & Lothlorien, took the win and repeated a victory after winning the 5 Year Old classic in 2017.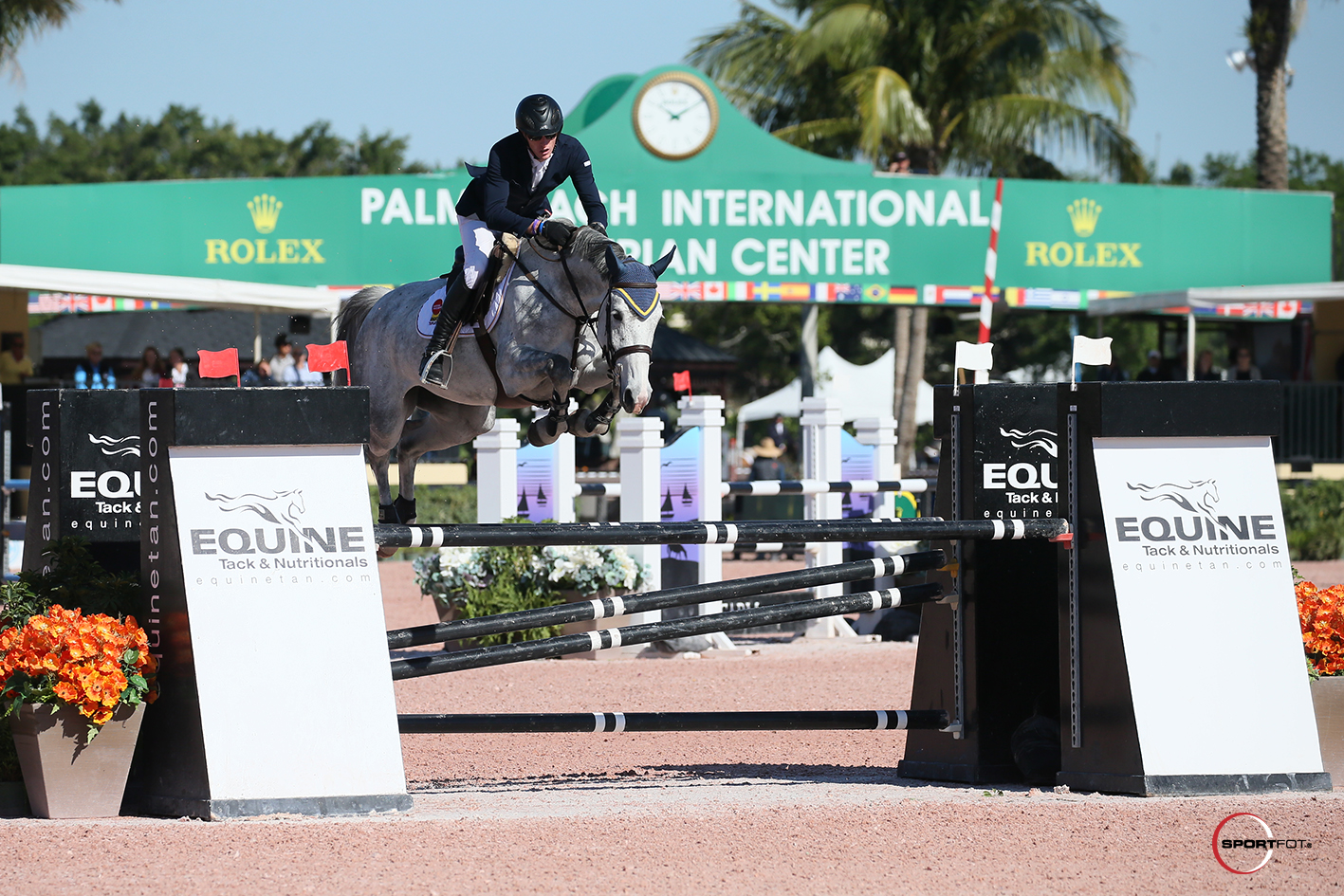 In this year's classic, Coyle and Khaleesi were one of 11 double clears out of 12 in the jump-off and 24 in the original starting order. They stopped the timers in 34.821 seconds for the win.
Tiffany Foster (CAN) and Calina (Danish Warmblood mare by Ci Ci Senjor ASK out of Camelicius by Cornet Obolensky, bred by Lauritzen), owned by One Oak Equestrian, were second in 35.757 seconds. Third place went to Jimmy Torano (USA) riding Elizabeth Eaton's Cowboy (German Sport Horse gelding by Cardento out of Urnike by Heartbreaker, bred by Redfield Farm), and they finished in 37.658 seconds.
Coyle started riding Khaleesi, a KWPN mare by Gaillard de la Pomme out of Wendy by Sir Corland (bred by W.A.M. Tilbeke), in the beginning of 2017.
"We're delighted with her," he said. "She kind of goes a little bit her own way. She really wants to please you in every which way. Most mares, most good mares do. That's a really big help. It makes my job a lot easier to know in my head that if I make a mistake, she's going to try to help me. Whenever you can ride like that, you usually make less mistakes. It works well for both of us."
Khaleesi had a different pilot in Dennis Dickerman during this year's WEF circuit, and Coyle took up the ride three weeks ago. "I'm glad that we were able to win the final!" he said.
The winner of the $10,000 Gut Einhaus Developing Jumper 5 Year Old Classic was Coppertone, ridden by Lexy Reed (USA) for Littlewood LLC and Ginny Burton. The Hanoverian gelding by Viscount out of Alisa by Acord II (bred by Gunter Wellmann) was the only double clear in the class and recorded a jump-off time of 40.518 seconds.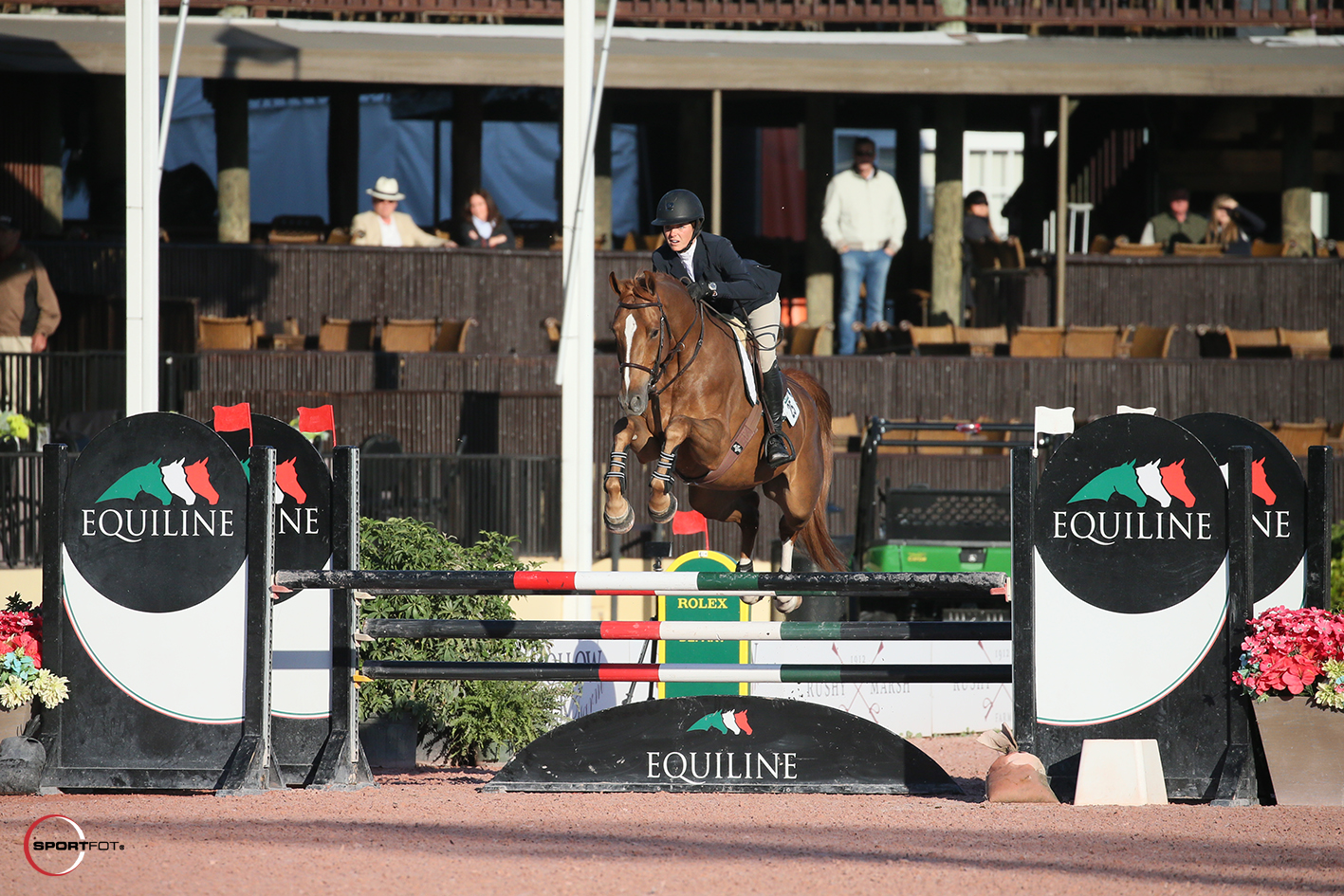 Five other combinations made it through to the jump-off, and second place went to Emmy Tromp (USA) riding Yolanda Knowlton's Ibaltic BH (KWPN gelding by Baltic VDL out of Vavanta v/d Renvillehoeve by Burggraaf, bred by F. Buma). They had one time fault in 50.022 seconds. Adam Cramer (USA) and Equi-Sport LLC's Iris E.S. (KWPN mare by Val de Loir-Imoo out of Bellissima ES by R. Johnson, bred by Equi-Sport LLC) were third with four faults in 45.977 seconds.
Trainer Liz Redding imported Coppertone in December of 2017 and regular rider Keri Kampsen had been competing the horse throughout the circuit. Due to Kampsen judging at WEF this week, Reed got the ride for this week's classes.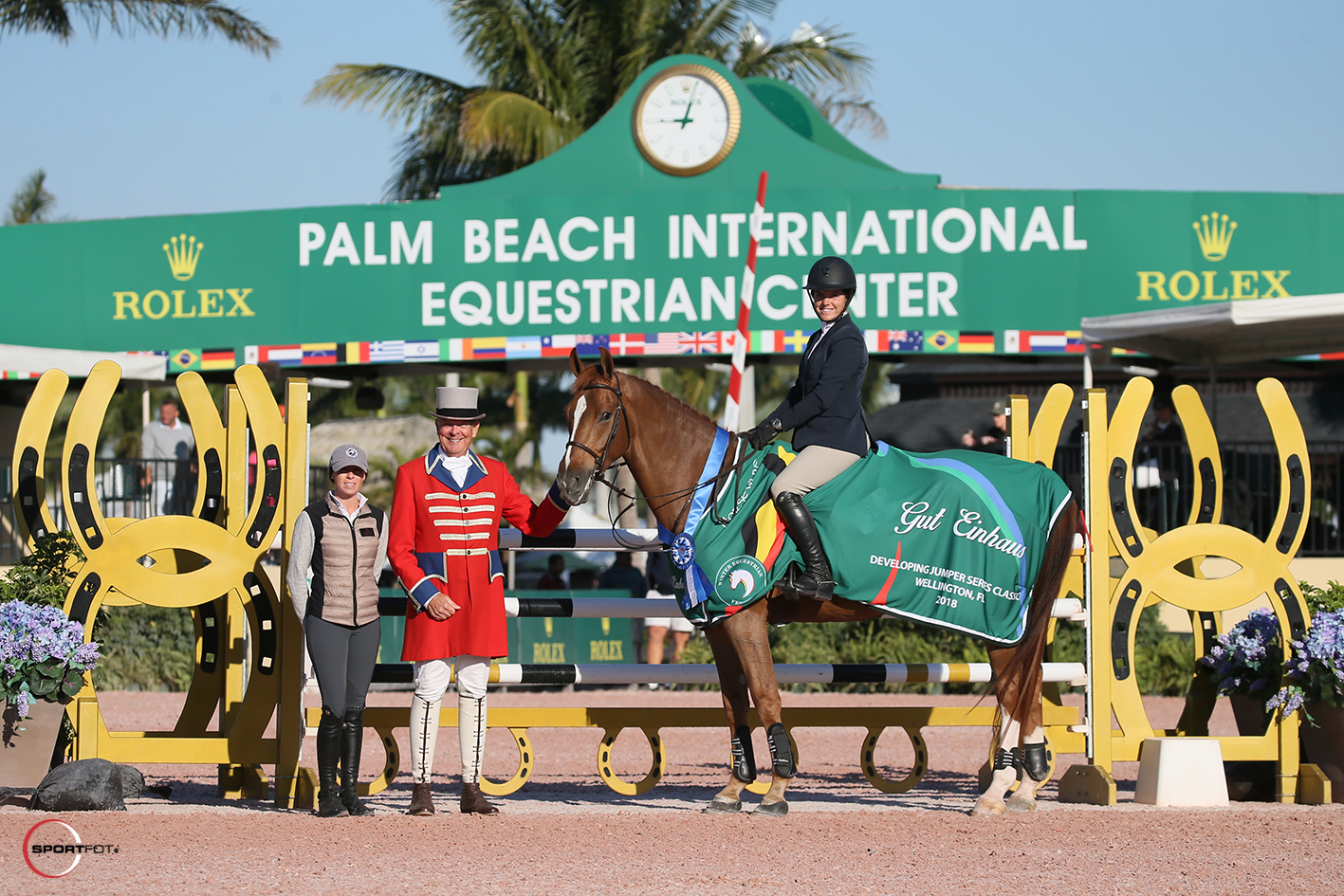 "He's just a really lovely, straightforward, easygoing horse," said Reed. "He's not like a typical five-year-old. I went really fast in the jump-off, which wasn't necessary because I ended up being the only double clear! He is offered for sale; he would make a great kid's horse."
Special awards were given this week for the Developing Jumper Series:
5 YEAR OLD "SUITABILITY OF SPORT" SPONSORED BY GUT EINHAUS-$500 CASH PRIZE
WINNER- VERMONT ODF, BRED BY ALEX JAYNE
U.S. BREEDER'S AWARD 6 YEAR OLD- SPONSORED BY SPY COAST FARM- $500 CASH PRIZE
WINNER- ARIZONA ODF, BRED BY ALEX JAYNE
U.S. BREEDERS AWARD 7 YEAR OLD- SPONSORED BY SPY COAST FARM- $500 CASH PRIZE
WINNER- MANHATTAN, BRED BY GOTHAM ENTERPRIZES
BEST RIDER 25 & UNDER SPONSORED BY EQUESTRIAN SPORT PRODUCTIONS- $500 CASH PRIZE FOR EACH
5 YEAR OLD- BRENDAN WILLIAMS
6 YEAR OLD- DANIEL COYLE
7 YEAR OLD- SARAH HUBBARD
BEST RIDER 26 & OVER SPONSORED BY SPY COAST FARM- $500 CASH PRIZE FOR EACH
5 YEAR OLD- CHARLIE JAYNE
6 YEAR OLD- KYLA MAKHLOGHI
7 YEAR OLD- TAYLOR FLURY
Rocksy Music Rocks the Derby Field for First International Win
Only two riders managed to skim under the 40-second mark in the jump-off for the $35,000 Douglas Elliman Real Estate 1.45m Jumper class, with Ireland's Richie Moloney bettering his 38 rivals. Eleven combinations made it through to the jump-off over Germany's Olaf Petersen Jr.-designed track, with nine of those managing to pull off a second clear round on the manicured grass of the derby field at Equestrian Village (home to the Adequan® Global Dressage Festival).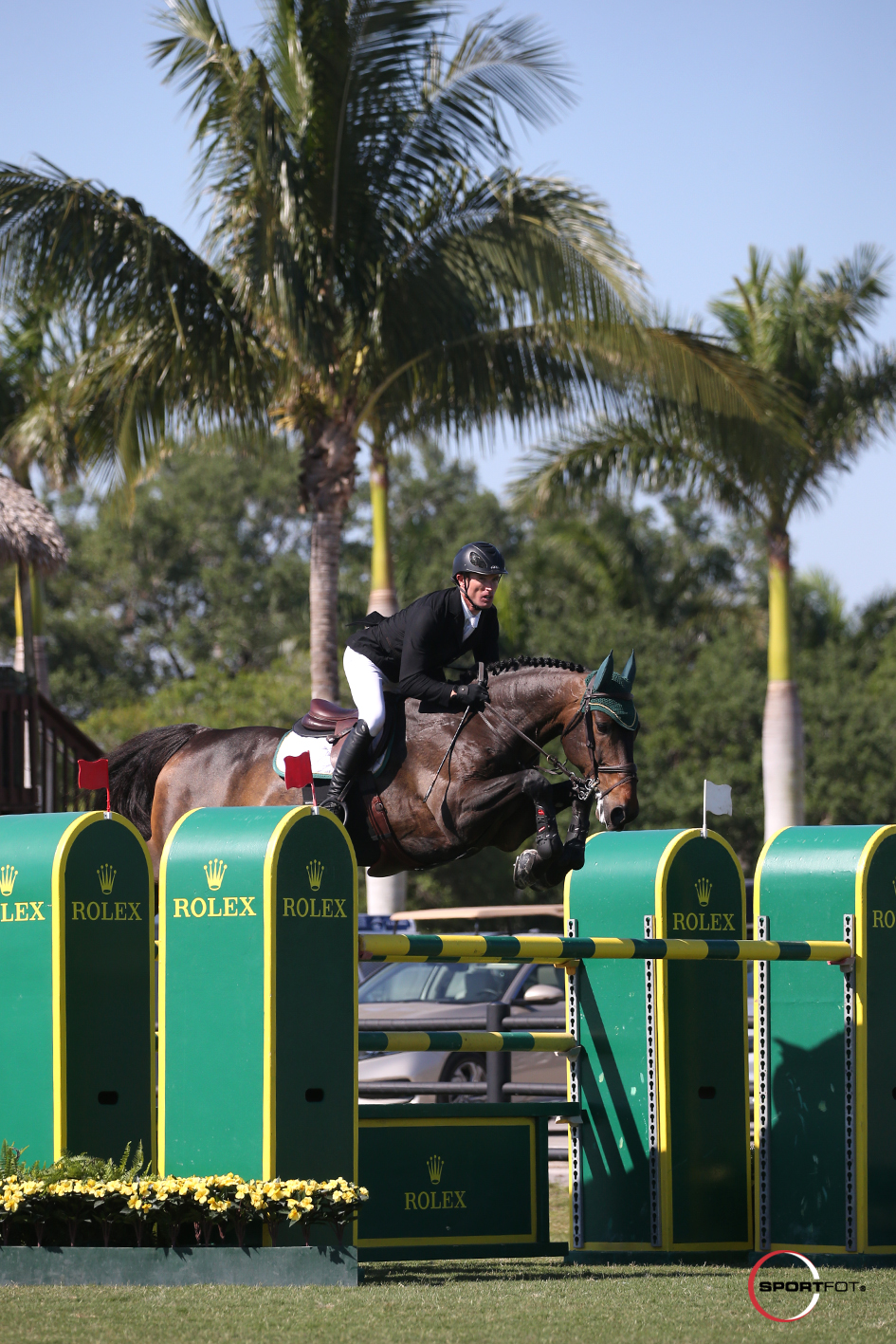 This win for the Irish rider, in week 11 of the 12-week 2018 WEF, was the first international victory for Moloney and Rocksy Music, Equinimity LLC's 10-year-old gelding by ARS Vivendi.
"Rocksy Music was third in a two-star grand prix [in Tryon, in October 2017], but this is our first win," said the 36-year-old rider, whose victory was almost scuppered by the last to jump, the USA's Molly Ashe, who was only 0.2 seconds adrift on Louisburg Farm's Balous Day Date. "It feels very good. He's been great all circuit and he's jumped a good bit. This was his final class, so it's a nice finish. I was hungry to win today because I knew it was his last. Luckily it came off, though Molly was very close at the end.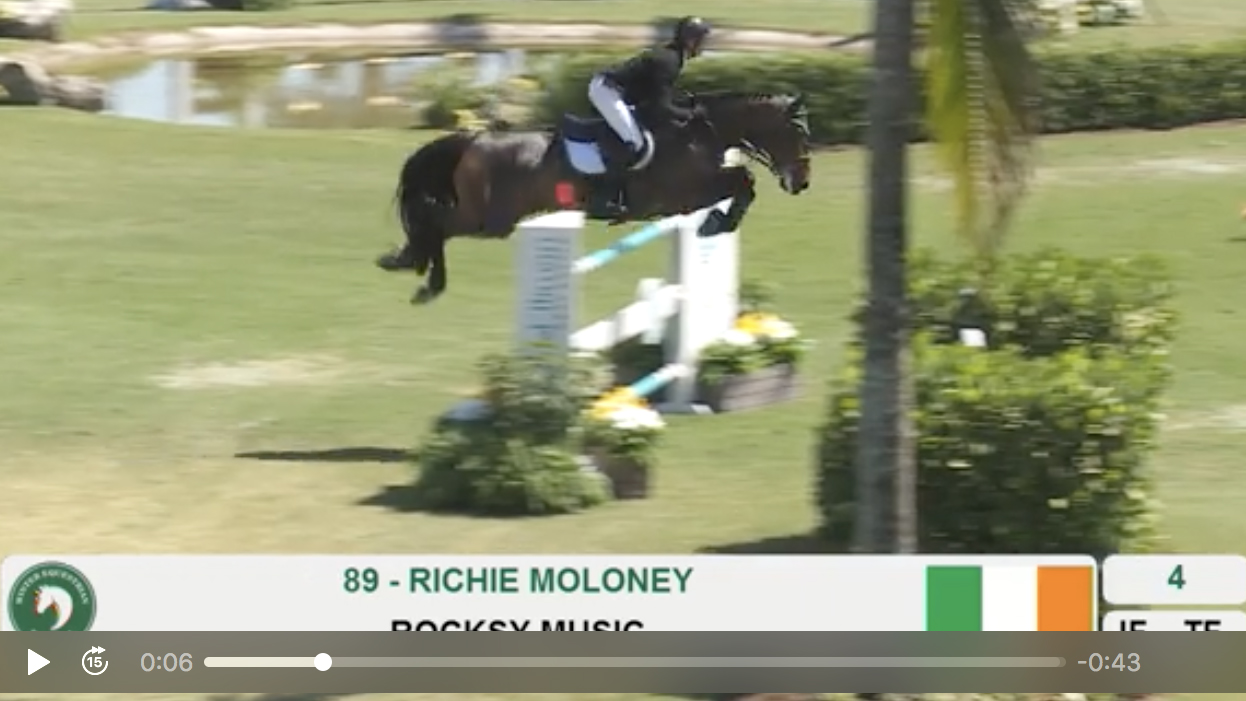 "The course was pretty straightforward, but you couldn't get too flat until you had the double at the end jumped. It was a good course and it suited us," added Moloney, who has been based in Florida, working for owners Equinimity LLC, for the past seven years.
He first heard about Rocksy Music through his brother at the end of the horse's seven-year-old year.
"My brother Eddie [Moloney], who is based in Ireland and also jumps, told me about him and said that I should sit on him," he recalled. "I wasn't really sure about him until I sat on him, but he gave a great feeling; very careful and very scopey — so it seems to be working out so far. He was imported just over two years and we took our time in the first year, but he's really starting to kick on now. He jumped his first three-star grand prix last week and was unlucky, but he jumped very well. We'll just keep going now and see where he ends up. He can jump really big, and he's careful, so we'll see."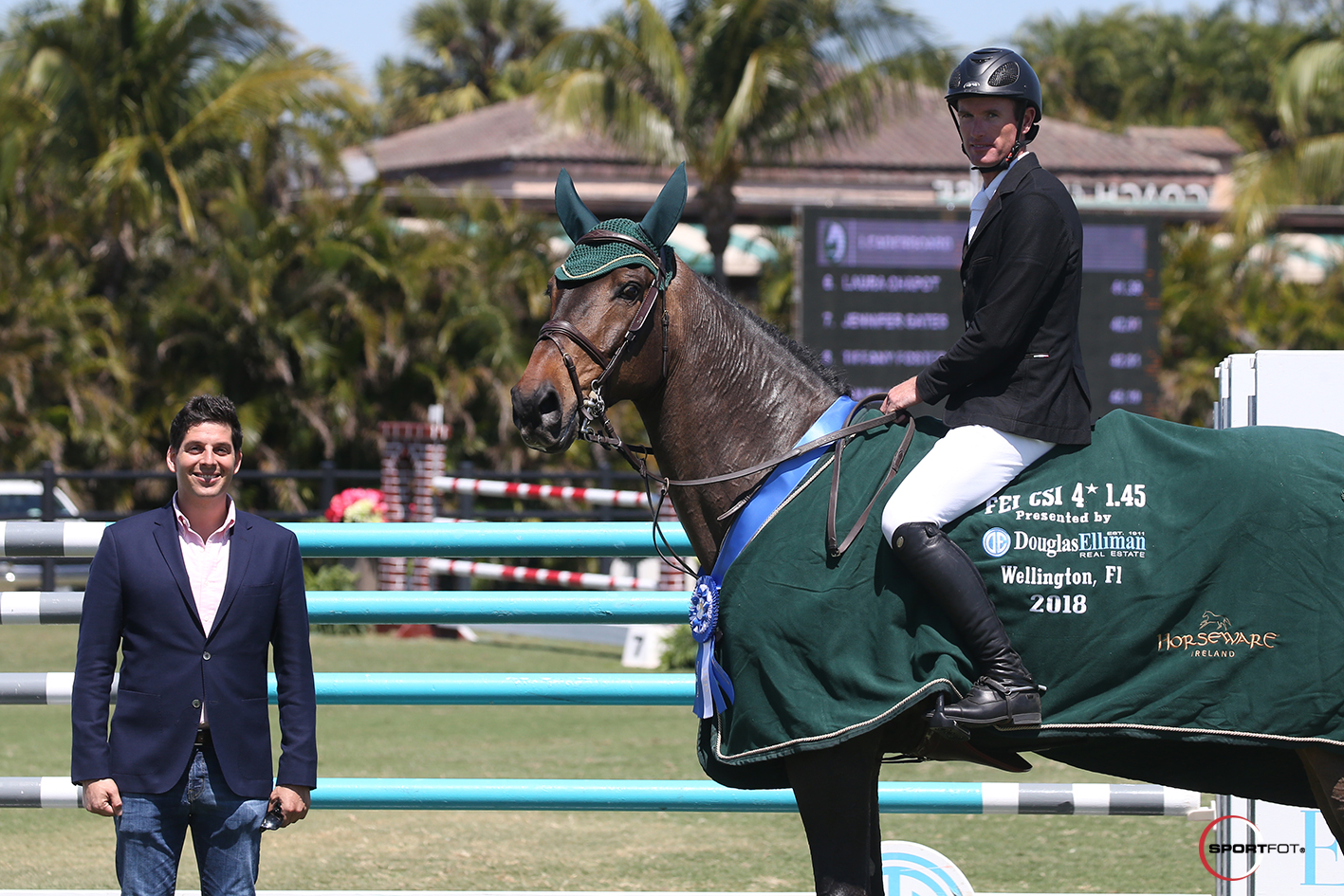 Moloney's ultimate aim is to ride on senior teams for Ireland.
"I'd like to hopefully aim for championships and it'd be nice to be going well enough to do an Olympics — and have a horse good enough to do it," he added.
The podium was rounded out by Brazil's Pedro Junqueira Muylaert riding Ricardo Facchini's 11-year-old KWPN mare C'Est Dorijke, who finished third.
Final Results: $35,000 Douglas Elliman Real Estate 1.45m Jumpers
1 ROCKSY MUSIC: 2008 Irish Sport Horse gelding by ARS Vivendi x Diamond Serpent
RICHIE MOLONEY (IRL), Equinimity LLC: 0/0/39.487
2 BALOUS DAY DATE: 2005 Oldenburg mare by Balou Du Rouet x Domino
MOLLY ASHE-CAWLEY (USA), Louisburg Farm: 0/0/39.697
3 C'EST DORIJKE: 2007 KWPN mare
PEDRO JUNQUEIRA MUYLAERT (BRA), Ricardo Facchini 0/0/40.119
4 REDMOND: 2006 selle Français gelding by Neo D'Aunou x Joly Jumper
ALBERTO MICHÁN (ISR), Brianne Goutal LLC: 0/0/40.200
5 CORENTO VH DINGENSHOF: 2009 Zangershide gelding by Contendro x Tornado
RAMIRO QUINTANA (BRA), Michael Smith & Randall Hogan: 0/0/40.424
6 CYBEL II: 2008 Irish Sport Horse mare by Varo x Lancer
LAURA CHAPOT (USA), Mary Chapot: 0/0/41.395
7 DOLINN: 2008 KWPN mare by Cardento x Lux
JENNIFER GATES (USA), Evergate Stables LLC: 0/0/42.015
8 FIGOR: 2010 KWPN gelding by Querly Elvis x Indoctro
TIFFANY FOSTER (CAN), Artisan Farms LLC: 0/0/42.812
9 TRUMAN: 2009 Selle Français gelding by Mylord Cathargo x Kolibri
IAN MILLAR (CAN), Millar Brooke Farm & Irish Oaks Farm: 0/0/45.199
10 AVON: 2004 Swedish Warmblood stallion by Quidam De Revel x Cortez 679
MATTIAS TROMP (USA), Beyaert Farm, Inc: 0/4/39.912
11 RETIRO: 2005 Warmblood gelding by Rockefeller Z x Play Boy
PETER LUTZ (USA), Katherine Gallagher & Michael Meller: 0/4/43.187
12 BURBURRY R: 2006 KWPN mare by Pacific x Indoctro
PETRONELLA ANDERSSON (SWE), Stephan Conter: 0/10/61.596
Week 11 of WEF continues on Saturday, March 24, with two highlight events: the $205,000 CaptiveOne Advisors Grand Prix CSI 4* at 10:30 a.m. on the grass derby field at Equestrian Village, and the $132,000 Hollow Creek Farm 1.50m Classic Final in the WEF International Arena at 6:30 p.m. In the hunter arena, the Large Junior 15 & Under Hunter championship will be awarded.
Photo Credit: Photos © Sportfot, Official Photographer of the Winter Equestrian Festival. These photos may be used only in relation to this press release and must include photo credit.