For Immediate Release
Jennifer Wood Media, Inc.
Wellington, FL – March 24, 2018 – The senior jumping finale class of the season on the derby field, the $205,000 CaptiveOne Advisors CSI4* Grand Prix, came right down to the wire. It was last-to-go Beezie Madden (USA) who clinched the win in the five-strong jump-off.
The remaining highlight in week 11 is the $50,000 Hermés Under 25 Grand Prix Series Final at 11 a.m. at the grass derby field on Sunday, March 25. WEF hosts hunter, jumper, and equitation competition until April 1 and offers more than $9 million in prize money.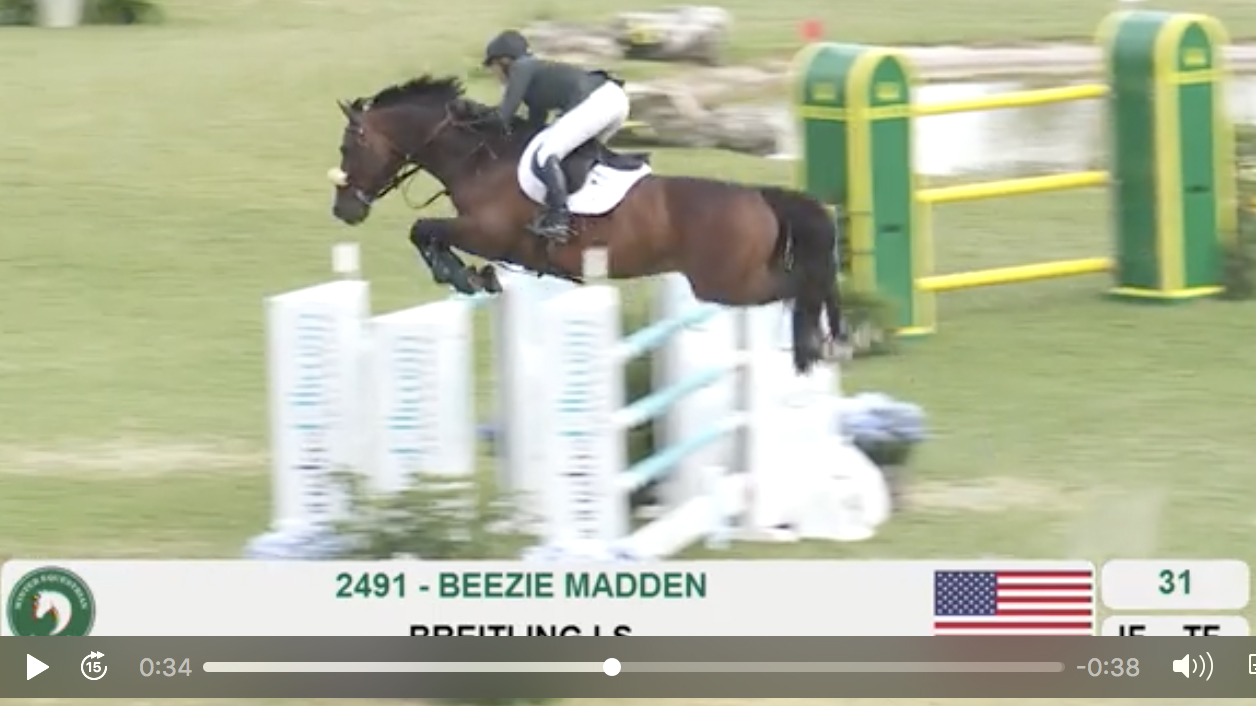 Click here to watch Beezie's winning ride!
Clears in the first round were few and far between over Olaf Petersen Jr.'s big and challenging track, with many careful combinations being caught out by the yawning water jump. The first 39 starters produced only two clears, but the jump-off numbers were bolstered by three late clears from the final six riders.
The class, held in the penultimate week of the 12-week 2018 WEF circuit, was held on the expansive grass arena of the derby field at Equestrian Village (home to the Adequan® Global Dressage Festival).
Madden was riding Breitling LS, a quick and careful 12-year-old stallion son of Quintero owned by Abigail Wexner, who was clocking up his second grand prix win of the season — the first having been in the $205,000 CSIO4* Grand Prix, presented by Lugano Diamonds, in WEF 8.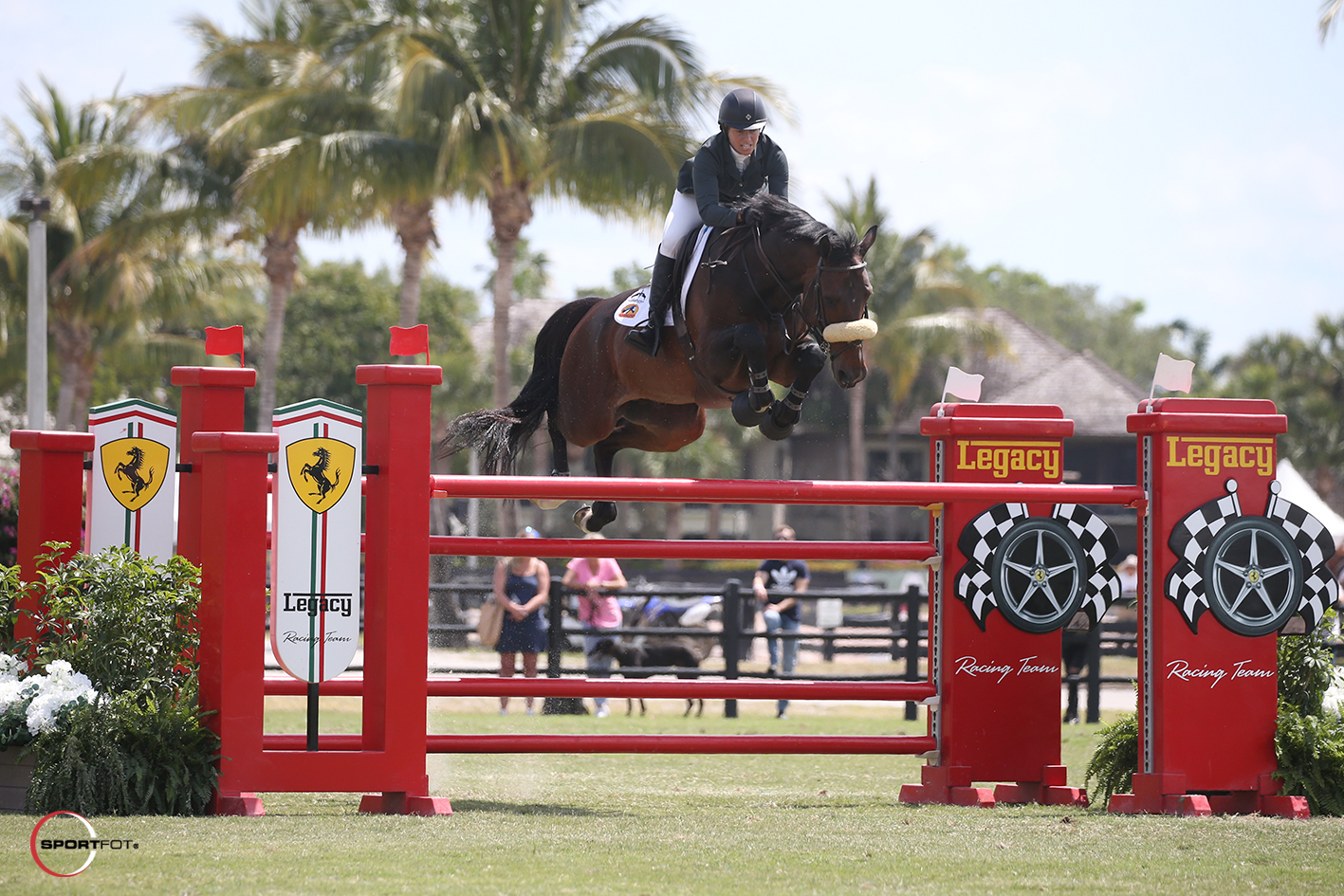 "This is Breitling's final prep before he goes to Paris for the World Cup Finals and I know it sounds funny to do a big field class, but I think that the grass and a different venue helps keep him feeling fresh and feeling good," said Madden, who is no stranger to the World Cup Final, having won it in 2013 on Simon. "Breitling's always been a horse that goes well when he's in a good mood, so we're just trying to keep him happy and he seems to like the grass. That's why we chose this class."
The 54-year-old Olympic gold medalist had the advantage of crafting her jump-off tactics after watching her fellow competitors tackle the course. She broke the beam in 47.19 seconds, cruising more than a second under Irishman Daniel Coyle's time. He finished second with Cita.
"I was lucky that I was able to keep an eye on what was going on and able to see Daniel go, so it was lucky he went into the lead because I could see exactly what I needed to do," explained Madden. "I think when I did five strides from fence two to three, it took maybe almost a little too much time at the double which worried me and made me hustle the rest of the way around. I'm not sure where I caught up exactly; maybe I just had a little more speed in general, but it was close!"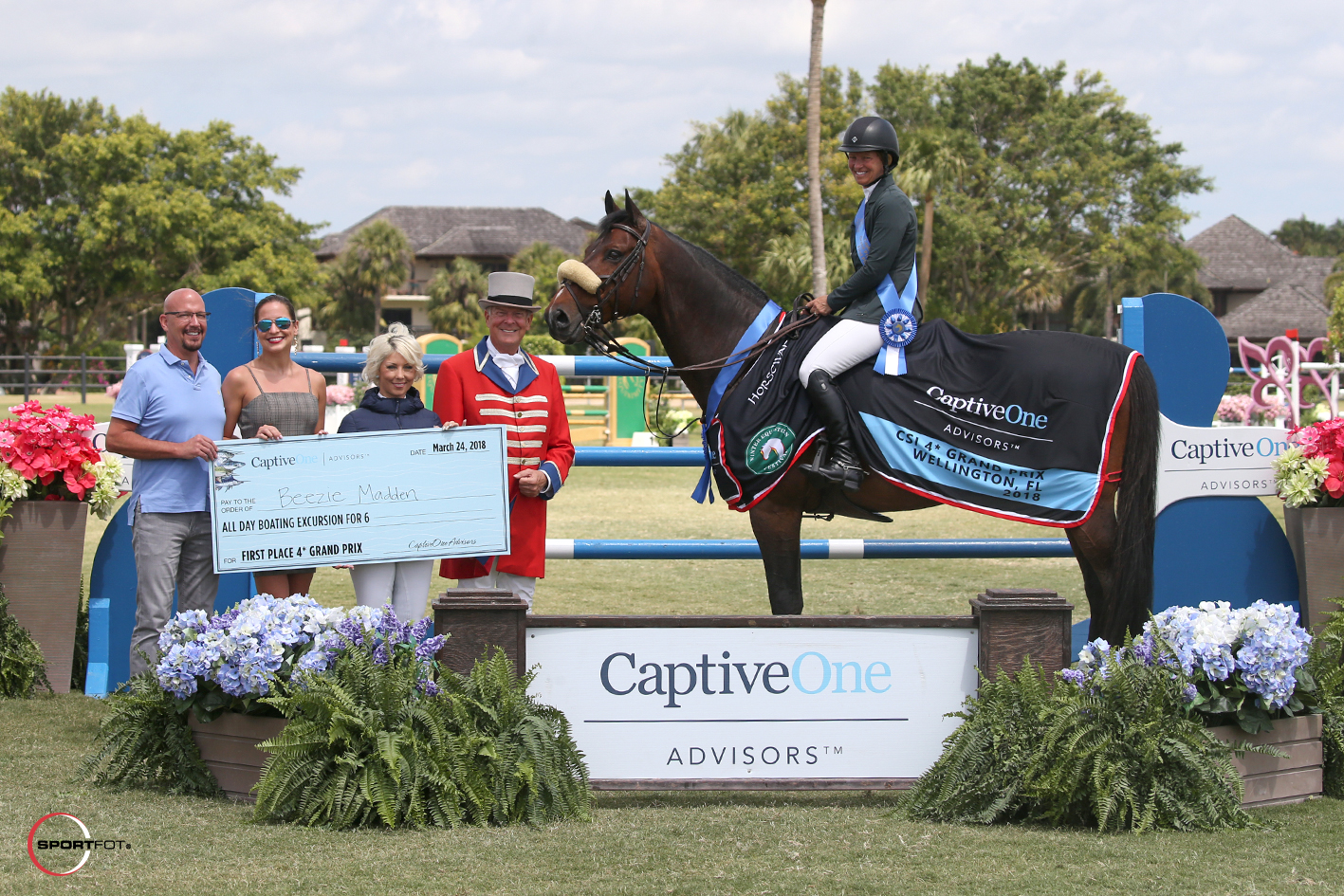 Madden has ridden the talented stallion for five years, buying him from the Dutch show jumping champion Jeroen Dubbeldam — who was at PBIEC to watch the win — in the spring of his seven-year-old year.
She added: "Any grand prix win is exciting — not only for me but for my entire team; I have a fabulous owner in Abigail Wexner and a great support team behind me, so it's nice for all of them when we have success like this. It's also great prize-money thanks to sponsors CaptiveOne, plus this is a beautiful venue and an international field with some very top riders competing."
Second-placed Coyle was also enthusiastic about his result, saying: "I've tried to save Cita for certain grands prix and every time I've asked her this year, she's been brilliant. The mare is jumping fantastically and she's never been in better form.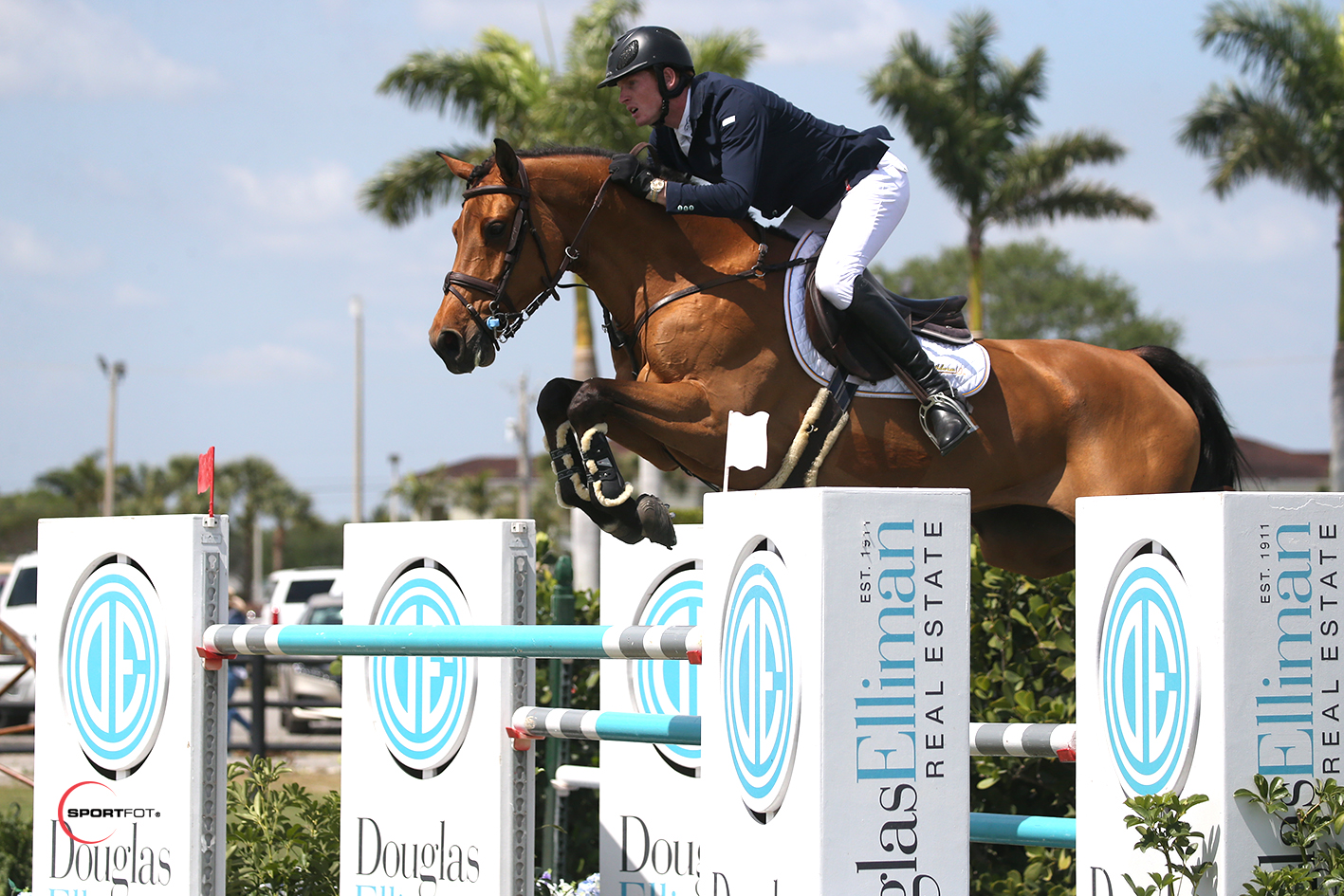 "Any four-or five-star result like this anywhere in the world is not easy to do," said Coyle, who also won the $384,000 Douglas Elliman Real Estate Grand Prix CSI 5* in WEF 9 with Cita. "The course was well built today and jumped a little harder than it walked. There were only five clears, but it always makes it better when a class isn't easy to jump, which is why it was good to be second in this one."
Ariel Grange and Lothlorien's 12-year-old Casall daughter will jump in WEF 12 before moving on to the summer season.
Fellow Irishman Richie Moloney sewed up a success-fueled week, finishing third in this class to add to his 1.45m victory on Friday. This latest result came aboard Equinimity LLC's Freestyle De Muze, a 13-year-old gelding by Lord Z, who finished in 50.68 seconds.
"Week four was his last grand prix and he was double clear out here as well to finish sixth, so since then we've been aiming for today," said Moloney, who has been based in Florida for seven years. "He's been great and he loves it out on the grass; the ring really suits him — I think he enjoys the footing and big grass arenas.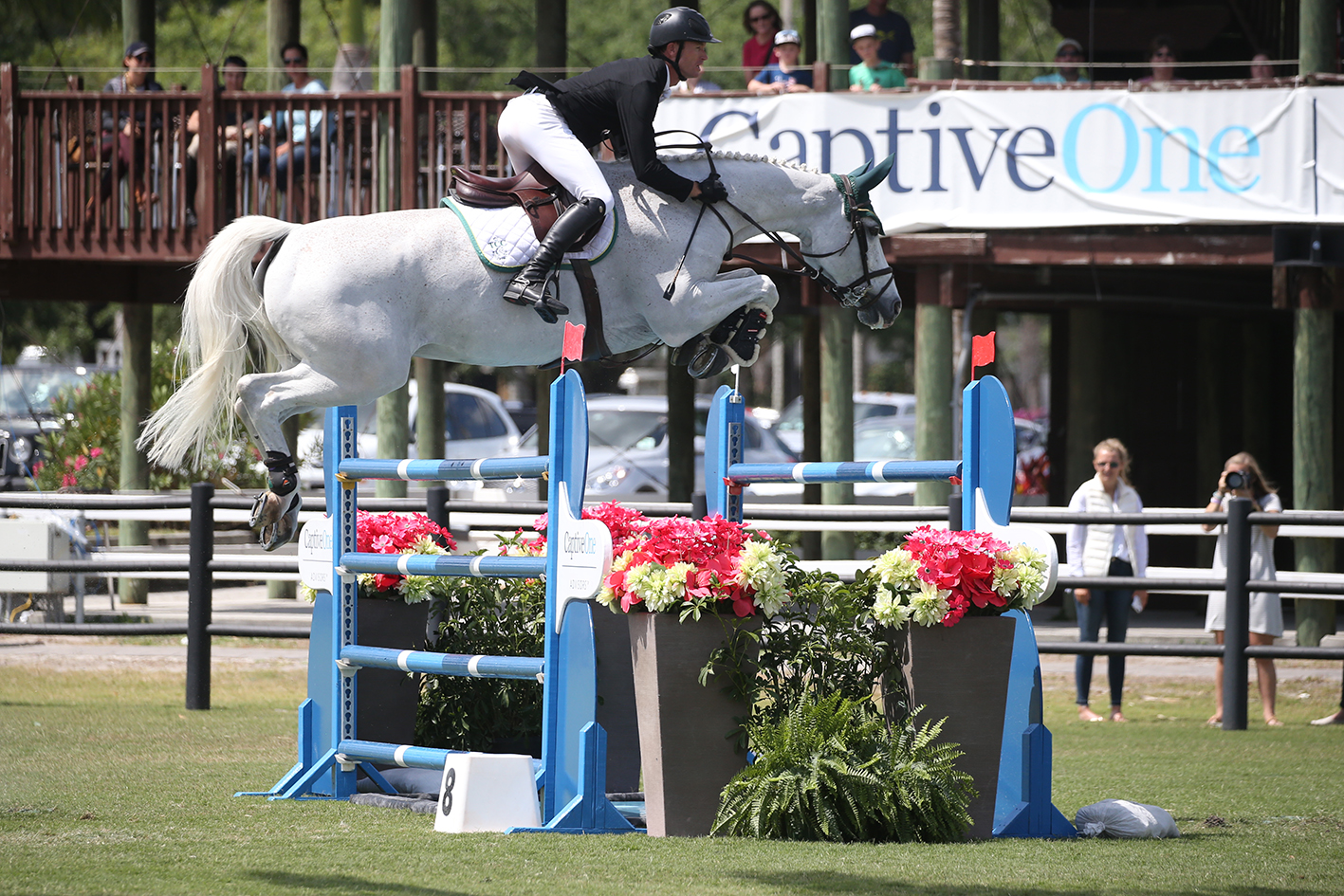 "This result is probably equal to Freestyle's best result," he continued. "He hasn't done a lot lately, and these classes are as good as he's done in past couple of years as he was off with a little injury for a while, so I'm very happy to have him back."
Emily Moffitt was named the Martha Jolicoeur Leading Lady Rider, in memory of Dale Lawler, for her top finishes in Thursday's $70,000 Equinimity WEF Challenge Cup Round 11 and Saturday's Grand Prix.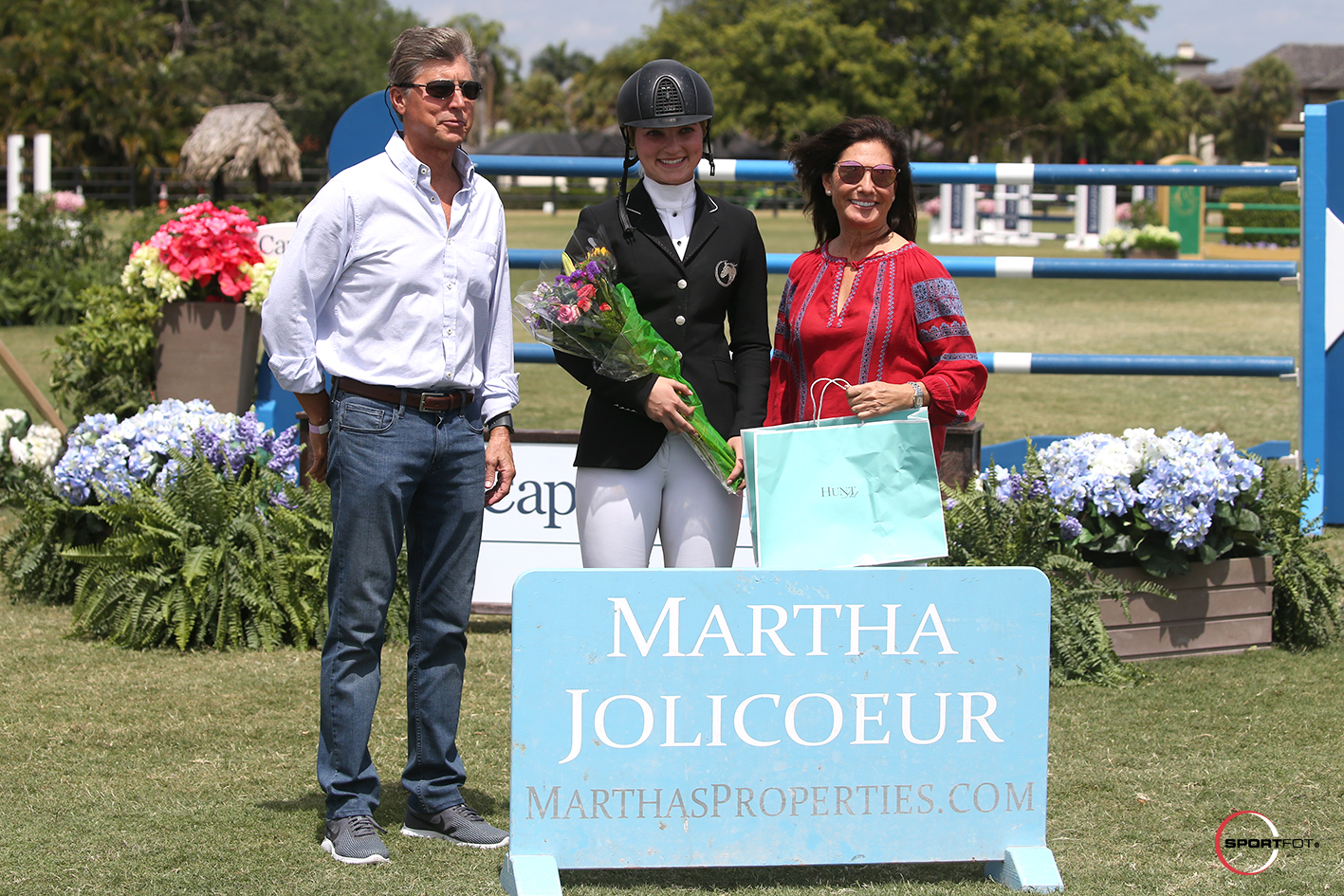 The Grass Series Major Rider Bonus, sponsored by the McNerney Family, was for riders' results in WEF 4 and WEF 11 FEI competitions on the grass derby field at Equestrian Village. First place went to Daniel Bluman (ISR), who received $15,000, Richie Moloney (IRL) received $7,500 for second place, and Emily Moffitt (GBR) won $2,500 for third place.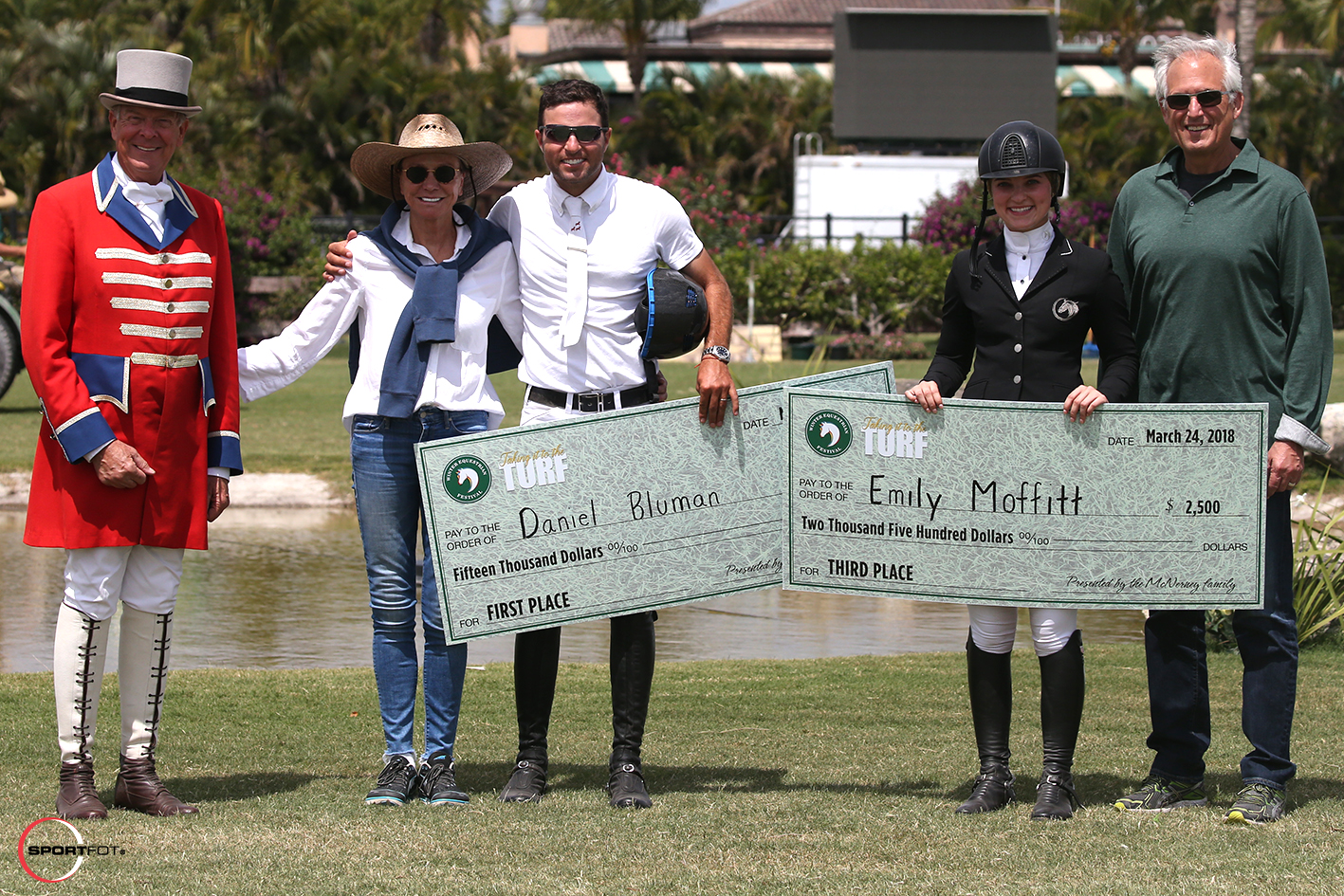 Final Results: $205,000 CaptiveOne Advisors Grand Prix CSI 4*
1 BREITLING LS: 2006 Dutch Warmblood stallion by Quintero x Acord II
BEEZIE MADDEN (USA), Abigail Wexner: 0/0/47.19
2 CITA: 2006 Holsteiner mare by Casall x Pik Ramiro
DANIEL COYLE (IRL), Ariel Grange & Lothlorien: 0/0/48.23
3 FREESTYLE DE MUZE: 2005 Belgian Warmblood gelding by Lord Z x Cento
RICHIE MOLONEY (IRL), Equinimity LLC: 0/0/50.68
4 FEE DES SEQUOIAS Z: 2009 Zangersheide mare by Figaro Du Ri D'Asse x Saccor
JUAN MANUEL GALLEGO (COL), Juan Manuel Gallego: 0/0/53.11
5 HITCHCOCK VD BROEKKANT: 2007 BWP gelding by Canturo x Heartbreaker
ALISE OKEN (USA), Hi Hopes Farm LLC: 0/0/53.84
6 COMIC: 2007 KWPN stallion by Verdi x Heartbreaker
LUIZ FRANCISCO DE AZEVEDO (BRA), Luiz Francisco de Azevedo: 1/85.13
7 WATERFORD: 2003 KWPN gelding by Coolcorron Cool Diamond x Julio Mariner xx
LAUREN HOUGH (USA), Laura and Meredith Mateo: 4/79.23
8 TIPSY DU TERRAL: 2007 selle Français mare by Toulon x Quat'sous
EMILY MOFFITT (GBR), Poden Farms: 4/79.99
9 EXPLOSION W: 2009 KWPN gelding by Chacco Blue x Baloubet Du Rouet
EMILY MASON (GBR), Poden Farms: 4/80.12
10 TOULAGO: 2005 Oldenburg gelding by Toulon x Carthago Z
ADRIENNE STERNLICHT (USA), Starlight Farms LLC: 4/80.48
11 LADRIANO Z: 2008 Zangersheide gelding by Lawito x Baloubet Du Rouet
DANIEL BLUMAN (COL), Blue Star Investments: 4/81.04
12 BARDOLINA 2: 2009 Holsteiner mare by Clarimo x Landos
MARIO DESLAURIERS (CAN), Wishing Well Farm LLC: 4/84.12
Lucas Porter Tops $132,000 Hollow Creek Farm 1.50m Classic Final
Fifty-six entries contested Saturday night's $132,000 Hollow Creek Farm 1.50m Classic Final. In the class format, 25 percent of entries advanced to the second round, regardless of faults, and carried their first round faults through. Fourteen entries competed over the fast track designed by Olaf Petersen Jr. of Germany, and it was Lucas Porter (USA) who ended up clear in 47.90 seconds for the win on Diamonte Darco, a 13-year-old GBSH mare by Unbelievable Darco owned by Sleepy P Ranch LLC.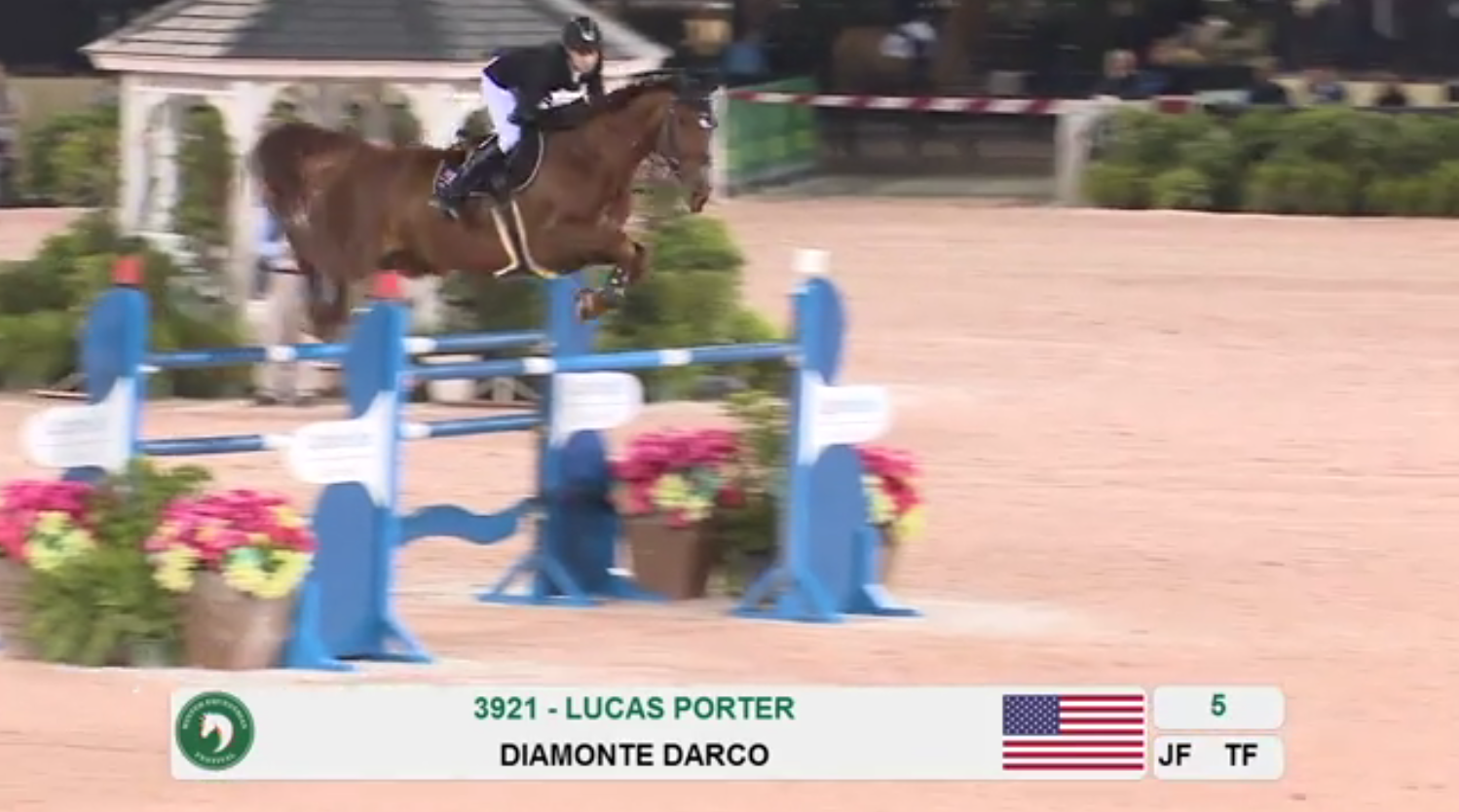 Click here to watch Lucas Porter's winning ride!
"Jeroen [Dubbeldam], my coach, told me to go into the jump-off and go as fast as I can and go as tight as I can, which usually wins most jump-offs," said Porter of his jump-off strategy. "He has an eye for a horse but also how to win a class like nobody I've ever seen. When he tells you to do something, if you do it right, you usually get the result that you're hoping for."
Porter had a change in outlook two days ago that he believes helped him to this win.
"I actually hadn't been riding too well the last couple weeks," explained the 20-year-old freshman at Vanderbilt University. "I played nine holes of golf actually two days ago by myself. I kind of just changed my mindset, like how I think about riding, how I go into the ring, how I warm-up. I applied it today and yesterday also, and I've ridden much better since.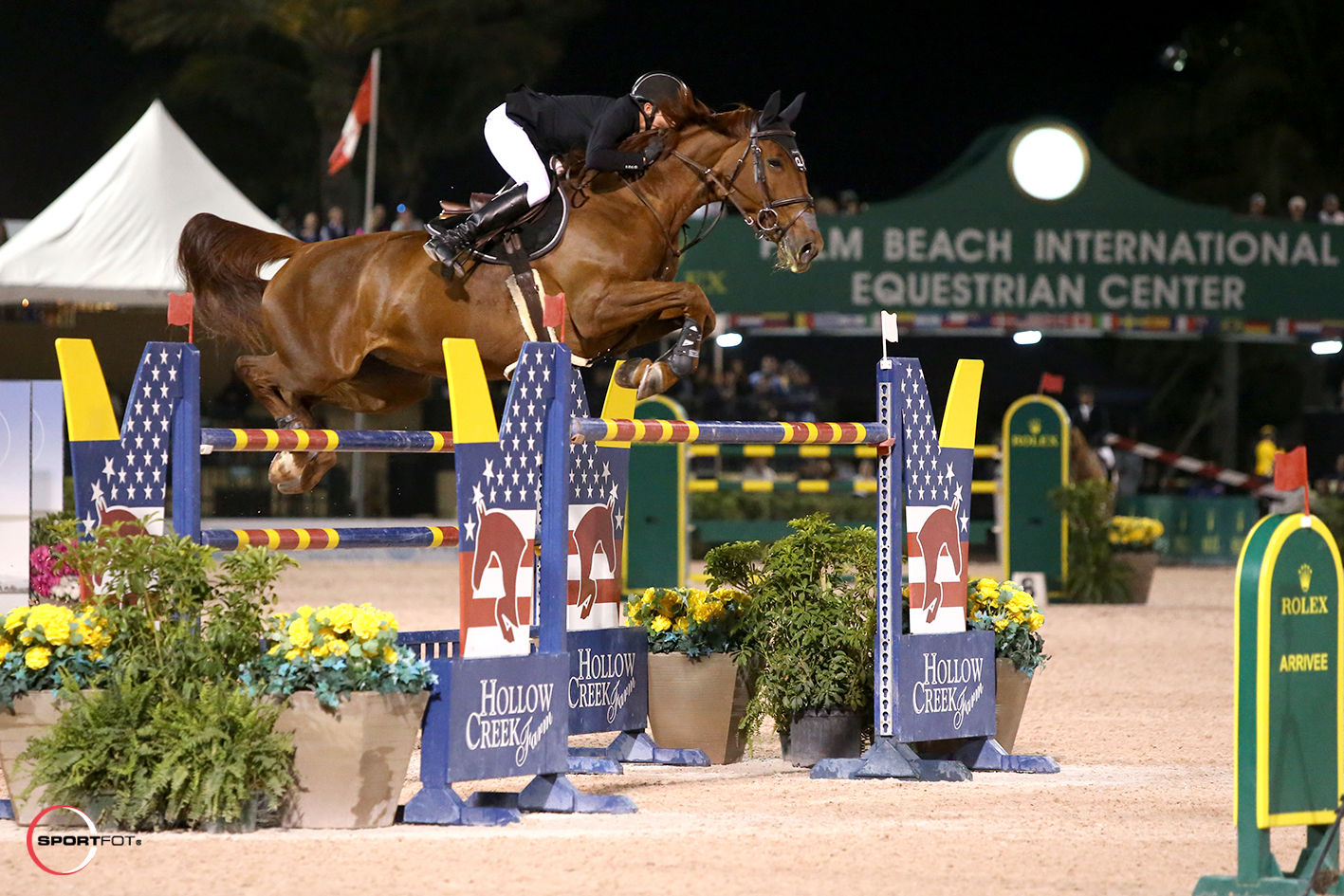 "It's a huge deal for me, for our team, for the horse," he said of his victory. "I've been coming to WEF since I was probably eight or nine years old – 11 or 12 years, which is nowhere near some of the people out here, but just growing up watching the greats of our sport today win grands prix when I was eight and then being lucky to jump in it now tonight and win it is just special. As a little kid you see that; you see McLain or Beezie or Laura Kraut or Kent Farrington winning [and] you just hope one day that you get in that position. I'm pretty stoked that it's today."
Second place with a double clear round were Amber Harte (USA) and Austria 2, owned by Take The High Road LLC, who recorded a time of 49.30 seconds.
It was another top finish for Harte, who only started riding in FEI international classes at this time last year. Harte was proud of her 1.40m FEI win at the 2017 WEF, and her recent success includes 17 top ten FEI ranking class finishes since March 2017 with Austria 2 and Cafino.
Harte said of her results, "To be able to do the summer that we had and to be able to do these Saturday night classes and to have good results, I'm delighted. I'm over the moon."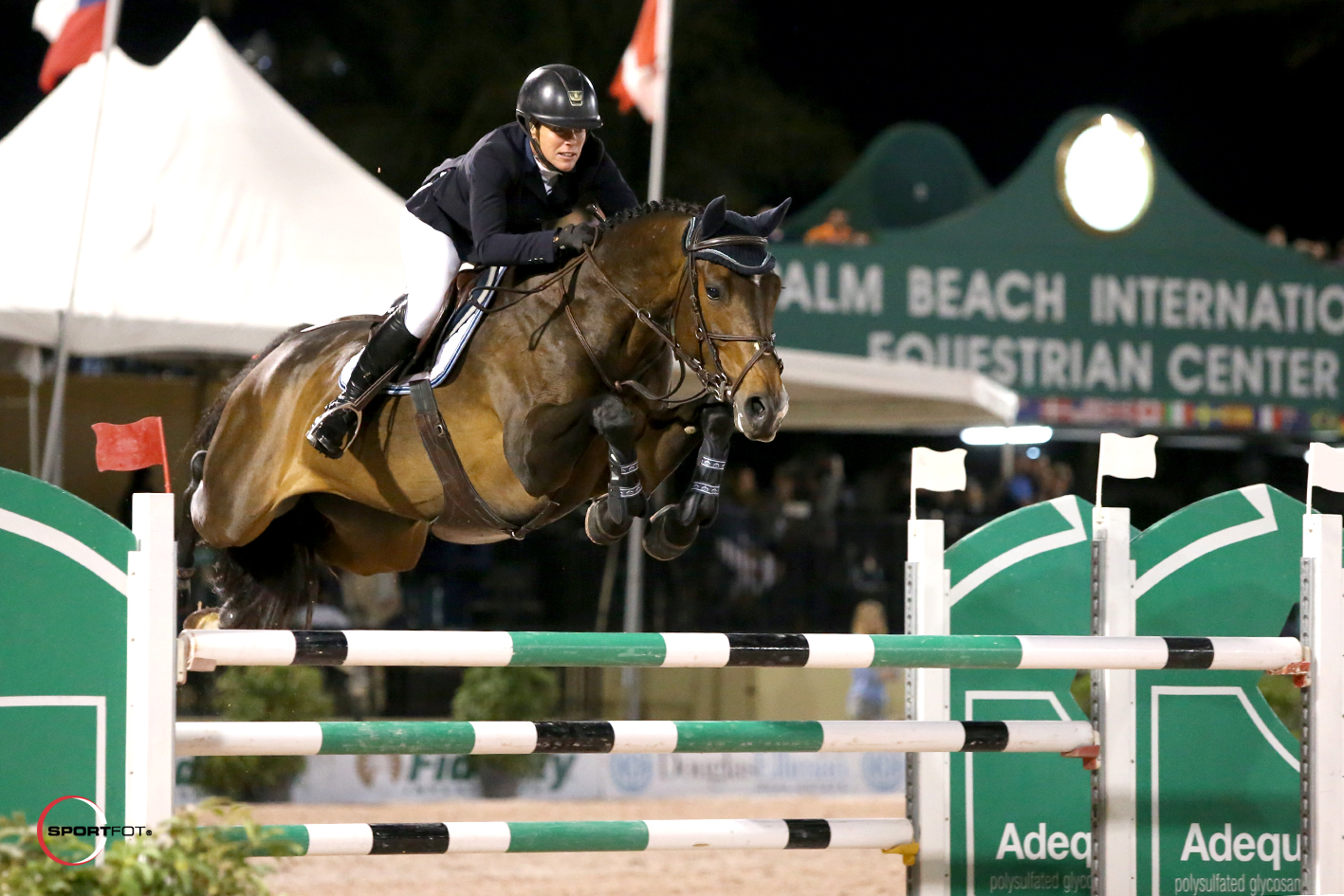 "My partnership with Austria is based on trust," she said of the Holsteiner mare by Casall x Corrado I. "She is a really, really special mare. She gives her heart and soul all the time, every time, to the job. I'm just really lucky to be able to ride her. She's an interesting little horse. She's very mighty."
Kelli Cruciotti (USA) and Chamonix H, owned by Serenity Farm, were third after going double clear in 49.85 seconds.
At 17 years old, Chamonix H is a not only a veteran show jumper, but a survivor of two major colic surgeries. After Cruciotti and her team made the decision to retire her last year, they found that the mare's attitude was still that of competitor.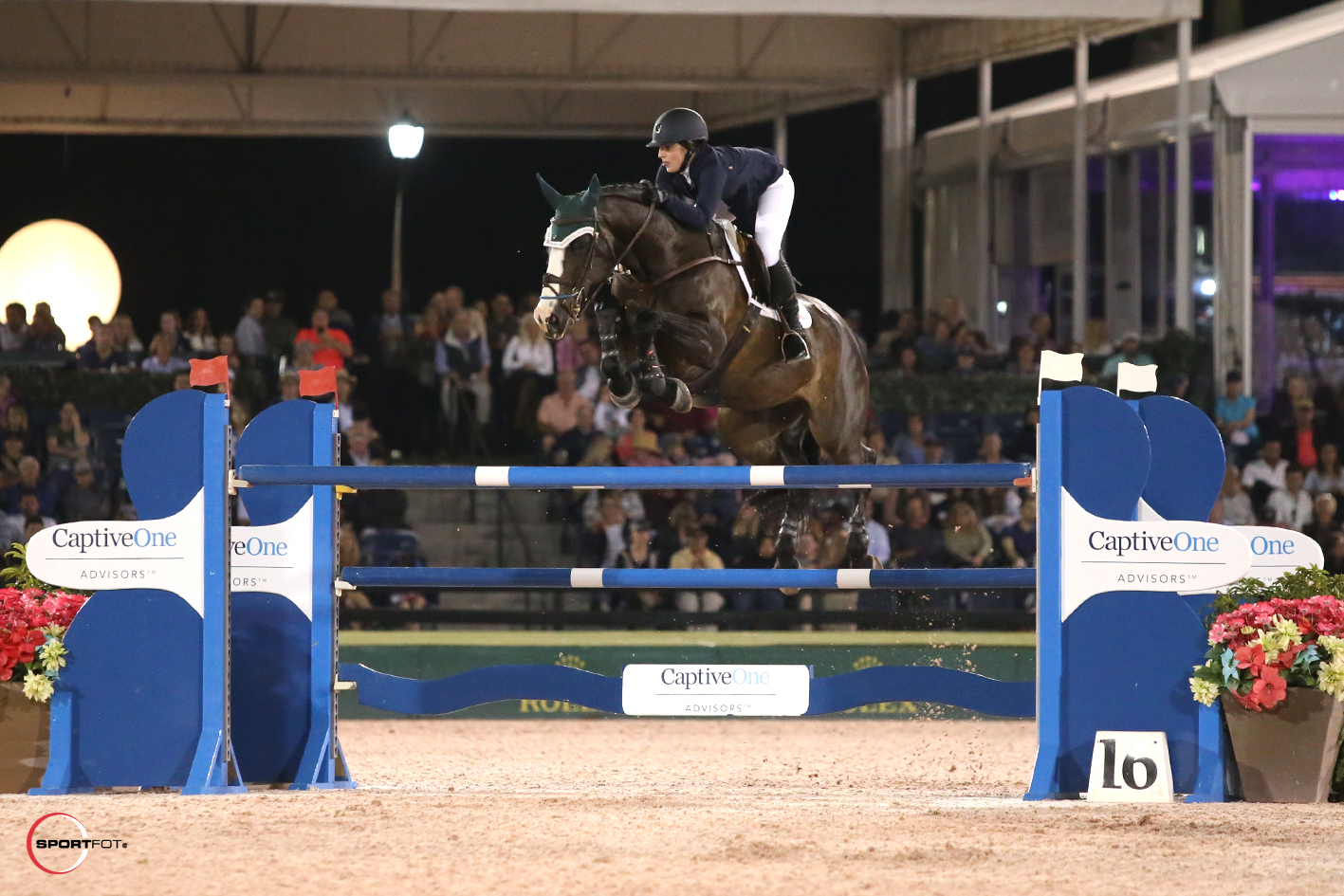 "We were not feeling like it was in her best interest to continue as a top-level sport horse," explained Cruciotti of the Swedish Warmblood mare by Equest Carnute x Caletto II. "She kind of had her own plan in mind. She has the most amazing heart that I've ever ridden on a horse. Last July, when she was retired, she was really miserable. We had to do something. I'm really fortunate that I have the team that I do that put their heads together and really figured out what makes her the most comfortable and brought her back slowly, one-meter classes, 1.10m. This is actually probably her second biggest class back. She is 17, so she definitely has the experience. I didn't have to worry about that. It's really special for me to be able to share it with her."
While Porter won the final, it was Richie Moloney of Ireland who took the series championship with consistent finishes throughout the 11 weeks of classes in the circuit. Sitting in second place in the series standings going into Saturday night's class, Moloney's fourth place finish with Equinimity LLC's Button Sitte secured the overall win.
"My horse jumped great tonight," said Moloney of his 11-year-old Belgian Warmblood stallion by Ogano Sitte x Parco. "I've had him just for two years now. I was worried about the time allowed in the first round, and I was lucky to get inside it. In the jump-off, I thought I was quick enough, but they kept going quicker and quicker. I'm very happy to be fourth."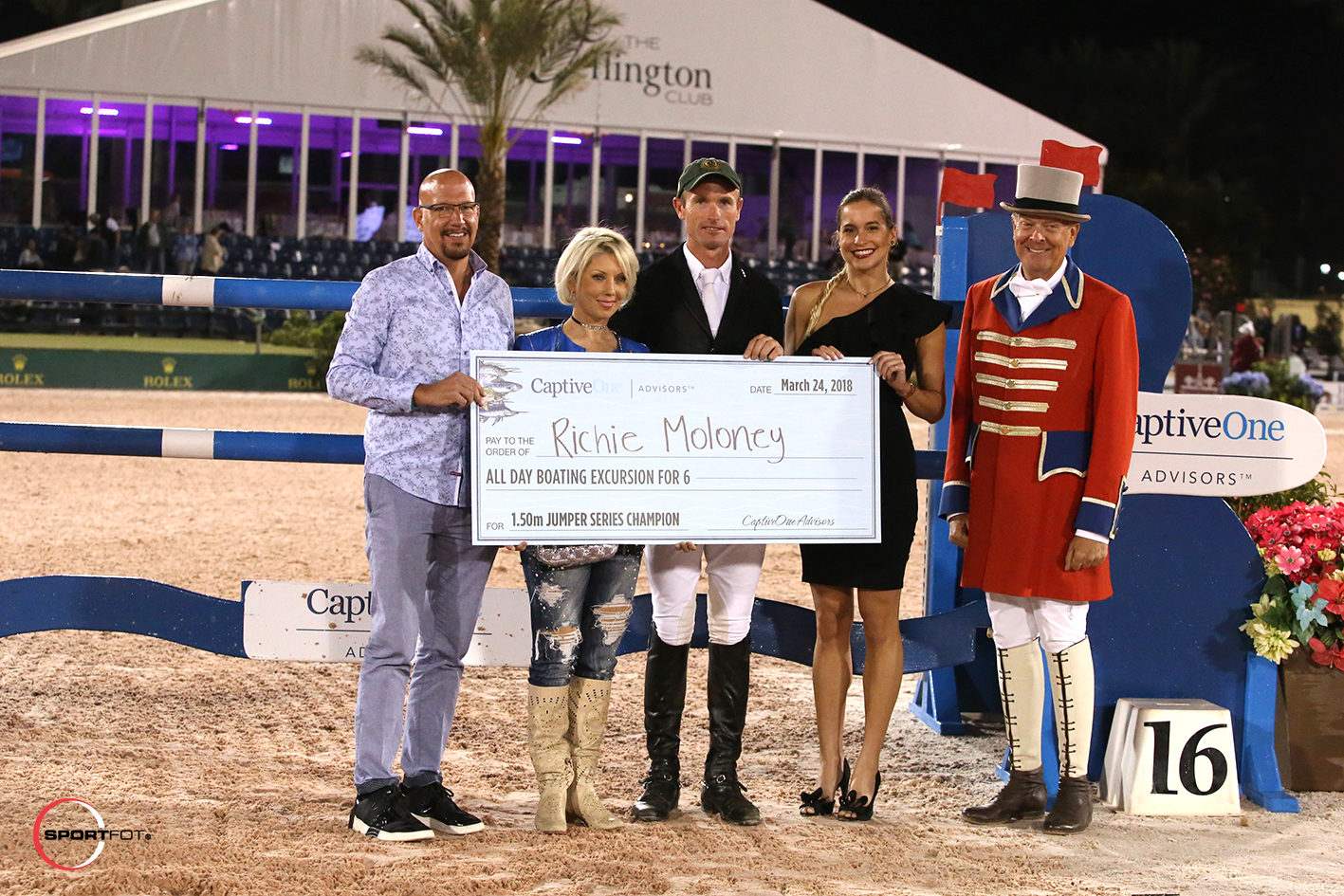 "I'm lucky enough to have a good few horses that can jump this level," said Moloney, who actually rode four different horses in the 1.50m series this circuit. "I'm very lucky to have that many horses and a great team. It's credit to them that we're here and that all of the horses can keep going so well fit. I'm very happy to win."
For his overall series win, Moloney receives a trip for six people on the CaptiveOne Advisors yacht, Reel Captivating.
Final Results: $132,000 Hollow Creek Farm 1.50m Classic Series Final
1 DIAMONTE DARCO: 2005 GBSH mare by Unbelievable Darco x Unknown
LUCAS PORTER (USA), Sleepy P Ranch LLC: 0/0/47.90
2 AUSTRIA 2: 2008 Holsteiner mare by Casall x Corrado I
AMBER HARTE (USA), Take The High Road, LLC: 0/0/49.30
3 CHAMONIX H: 2001 SWB mare by Equest Carnute x Caletto II
KELLI CRUCIOTTI (USA), Serenity Farm: 0/0/49.85
4 BUTTON SITTE: 2007 Belgian Warmblood stallion by Ogano Sitte x Parco
RICHIE MOLONEY (IRL), Equinimity LLC: 0/0/51.16
5 CORNWALL BH: 2008 Holsteiner stallion by Con Air x Cambridge
AMANDA DERBYSHIRE (GBR), Gochman Sport Horses: 0/0/52.21
6 ISHD DUAL STAR: 2002 Irish Sport Horse mare by Quick Star x Concorde
LAURA CHAPOT (USA), Mary Chapot: 1/0/53.87
7 RMF ZECILIE: 2007 Holsteiner mare by Acolord x Canturo
JESSICA SPRINGSTEEN (USA), Rushy Marsh Farm: 1/0/55.54
8 REDMOND: 2006 Selle Francais gelding by Neo d'Aunou x Joly Jumper
ALBERTO MICHAN (ISR), Brianne Goutal LLC: 1/0/58.51
9 DONNA SPECIALE: 2008 KWPN mare by Cavalier x Concorde
LESLIE HOWARD (USA), Laure Sudreau: 0/4/48.61
10 BABYLOTTE: 2006 KWPN mare by Dollar du Murier x Concorde
YURI MANSUR (BRA), Yuri Mansur/Euro Stables: 0/4/48.67
11 COLLIN: 2007 KWPN gelding by Colandro x Amethist
LUIZ FRANCISCO DE AZEVEDO (BRA), Luiz Francisco de Azevedo: 0/4/48.70
12 ROUGE PIERREVILLE: 2005 Selle Francais gelding by Ultimo van ter Moude x Narcos II
GUILLAUME BATILLAT (FRA), Edwin Smits, Claire Franzoni & Daniel Desforges: 0/4/50.18
Maggie Hill Pilots Cassanto to Large Junior Hunter 15 & Under Championship
A cool breeze accompanied riders into the E.R. Mische Grand Hunter for Saturday's Large Junior Hunter 15 & Under division, which ultimately awarded the championship tricolor to Maggie Hill and her mount, Cassanto, an entry of Stella Styslinger. The pair secured the win with a first in the under saddle and a first, second, third, and sixth over fences, for a total of 30.5 points. Reserve honors went to Sam Walker and Monday Balous, owned by Redfield Farm, who were close behind by half a point after taking home a first, first, second and third over fences.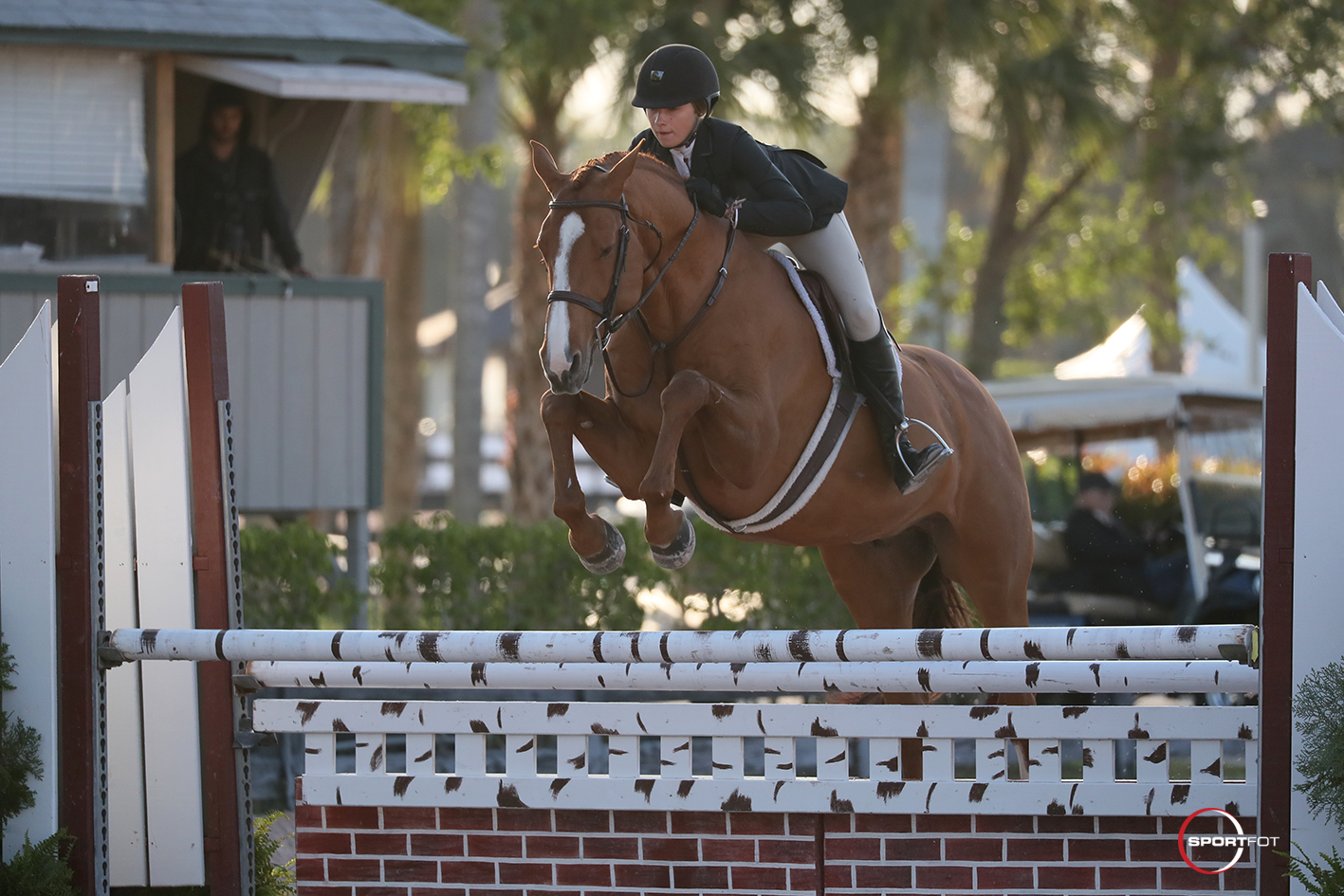 "This is my first [Winter Equestrian Festival] in the Junior division," said 15-year-old Hill. "We are down here full-time, so I get to be at the horse show every day, and I love it! Last week I fell off, so this week I just wanted to stay on. [Cassanto and I] went on a lot of trail rides after that to reaffirm our friendship and to solidify that we are more than just competitors [in the show ring]."
The duo's time together paid off, and the young rider continued to showcase her bond with Cassanto throughout week 11 competition. Hill, of Jackson, WY, trains with Liza Boyd, and was introduced to the 11-year-old Holsteiner gelding a month before the start of the 2018 WEF circuit.
"He's like a cloud," added Hill. "He just floats along the ground and always tries to get me out of whatever mistake I make, no matter what. Just this morning, I was sitting in his stall with his head in my lap! He was competing with [Stella Styslinger] in the Juniors, [in addition to] doing the derbies with my trainer, before I started riding him."
Hill hopes to continue her winning streak in the Large Junior Hunter 15 & Under division for the remainder of WEF. She is especially looking forward to competing for her first time at the Devon Horse Show.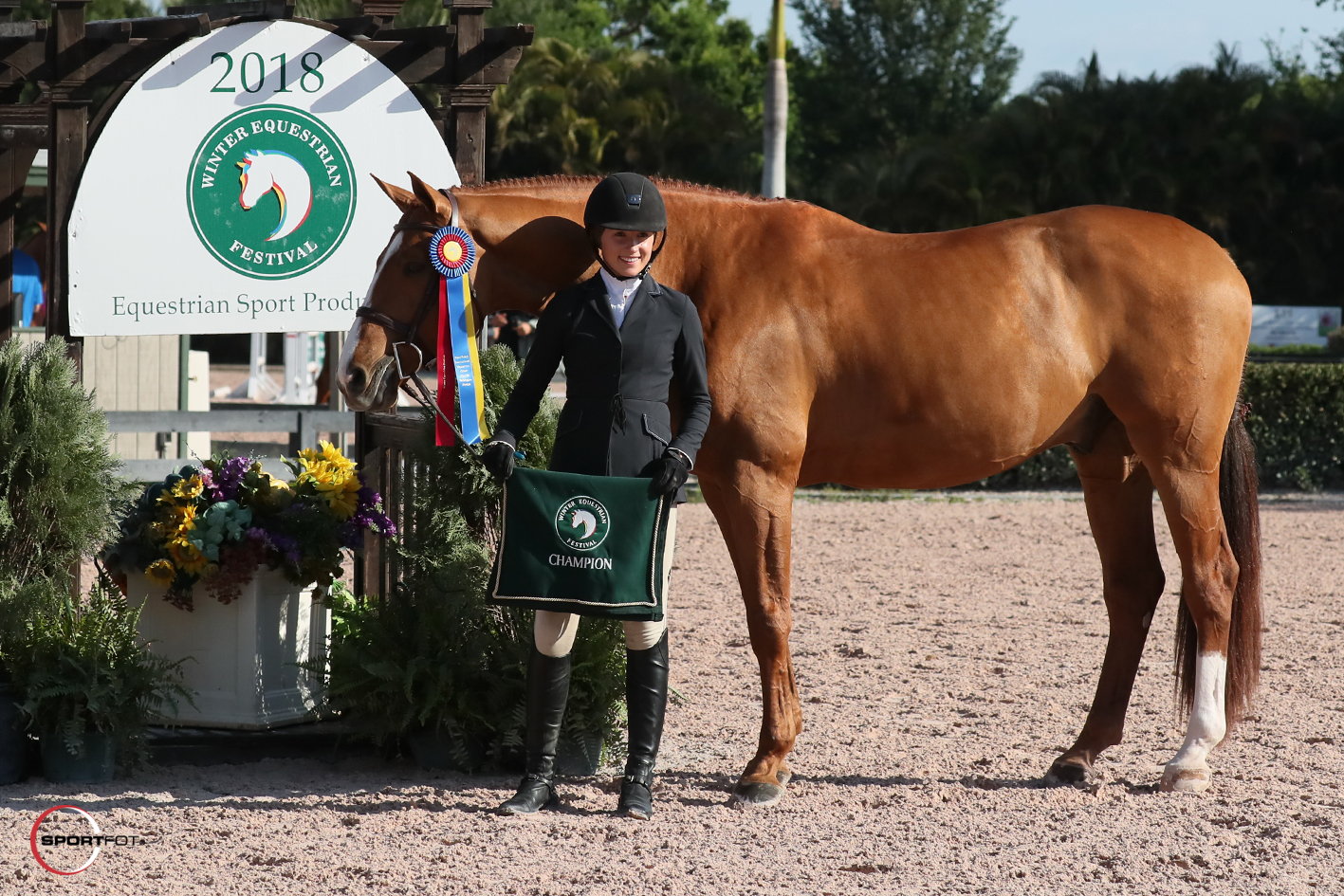 The 11th week of the 2018 WEF concludes on Sunday, March 25, with the $50,000 Hermès Under 25 Grand Prix Final on the grass derby field at 11 a.m. In the hunter ring, the Palm Beach International Academy Children's Hunter Older championship will be awarded.
Photo Credit: Photos © Sportfot, Official Photographer of the Winter Equestrian Festival. These photos may be used only in relation to this press release and must include photo credit.