For Immediate Release
Jennifer Wood Media, Inc.
Wellington, FL – March 1, 2018 – Highlighting the day's competition on Thursday, March 1, during the eighth week of the 2018 Winter Equestrian Festival (WEF), Alex Granato (USA) and Carlchen W, owned by Page Tredennick, took the top spot in the $35,000 Equinimity WEF Challenge Cup Round 8.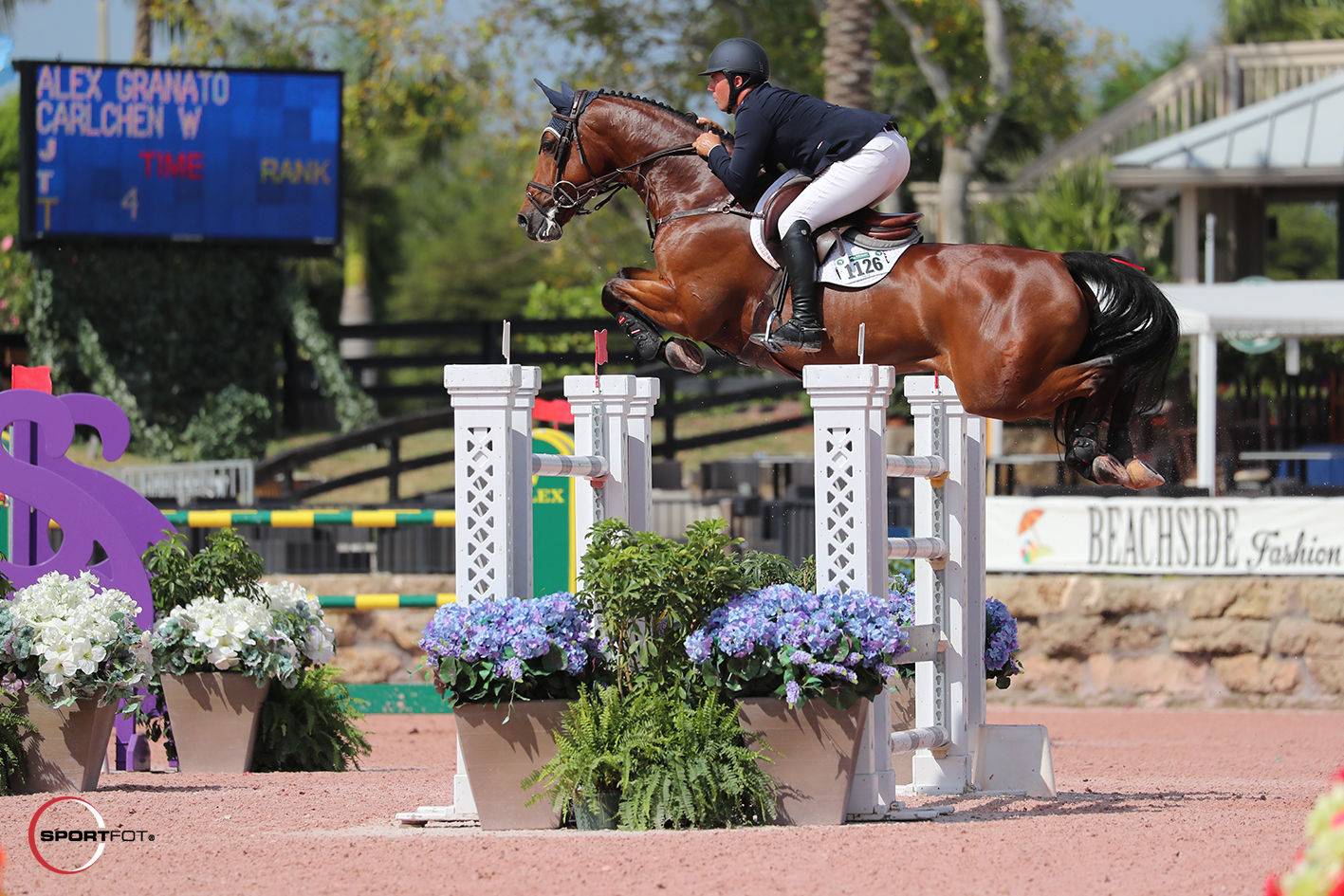 WEF holds its eighth week of competition on February 28-March 4 with CSIO 4* competition sponsored by U.S. Trust & Bank of America Merrill Lynch. Highlights include the $35,000 Hermès Under 25 Semi-Final Grand Prix on Friday, March 2, at 7 p.m., the $150,000 Nations Cup CSIO4*, presented by U.S. Trust & Bank of America Merrill Lynch on Saturday, March 3, at 7 p.m., and the $205,000 CSIO4* Grand Prix, presented by Lugano Diamonds on Sunday, March 4, at 1 p.m. WEF hosts hunter, jumper, and equitation competition until April 1 and offers more than $9 million in prize money.
There were 67 entries in Thursday's feature class, and the format was a speed course designed by Ken Krome (USA). Granato and Carlchen W, a ten-year-old Mecklenberg gelding by Chacco-Blue x Continue, sped over the obstacles and stopped the timers in 65.03 seconds.
They finished just ahead of Olympic gold medalist Beezie Madden (USA) and Abigail Wexner's Con Taggio, who finished in 65.81 seconds. Third place went to Richie Moloney (IRL) and Ypaja Yando, owned by Equinimity LLC, who had a time of 65.93 seconds.
The speed format "definitely suits this horse for this class," said Granato, who is originally from Salt Lake City, Utah, but calls Wellington home now. "He's very naturally fast so it's nice to get in there and just pick up a rhythm and stick with it. We have two days before we jump Sunday since he's not in the Nations' Cup. I will definitely use both of those days to my full advantage on relaxing him back down and really regaining his focus, but I do think it was a nice class for him to start with."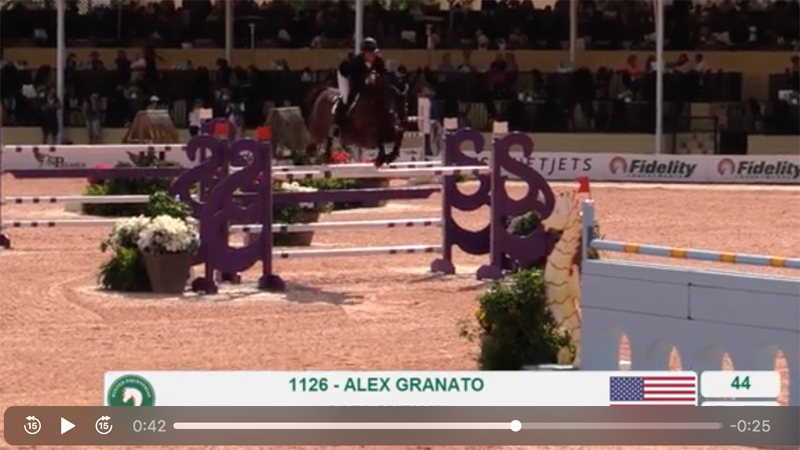 Click here to watch the winning round!
Granato watched Madden compete before him in the class. "She's so deceivingly fast and amazing to watch. She's so smooth and tight with her track," he said. "Going late I had the benefit of watching some others. McLain (Ward) came out and mentioned to me that he should have done the six (strides) down the last line. He was very smooth and rideable today, so jumping through the last combination I put my eye on the track for the six and got right on it and I think that's the best place where I got the time.
"It's probably the biggest win I've had with this horse," said Granato of Carlchen W, his mount for almost five years. "[They have] been great owners with me and really let me take my time developing him. It's our first week doing a four-star. With it being Nations' Cup week, it means a lot to go in and have them play the national anthem for your country on home soil because of you."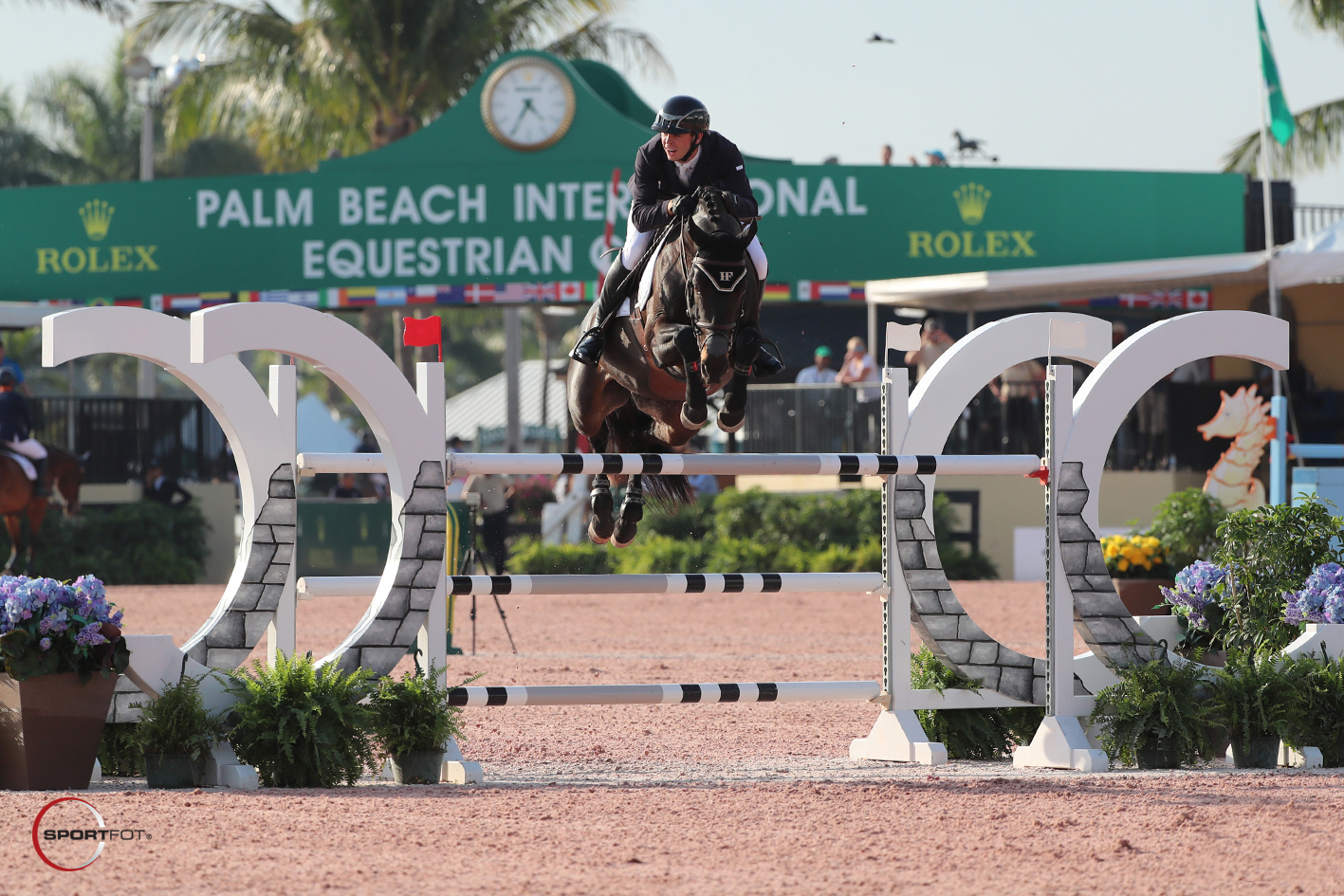 Later in the day, Cormac Hanley (IRL) riding his own Captain Caruso, was victorious in the $10,000 Hermès Under 25 Welcome. Second place went to Sydney Shulman (USA) and Villamoura, while Madison Goetzmann (USA) and Prestigious were third. Hanley was also awarded with the Champion Equine Insurance Jumper Style Award, presented by Laura Fetterman.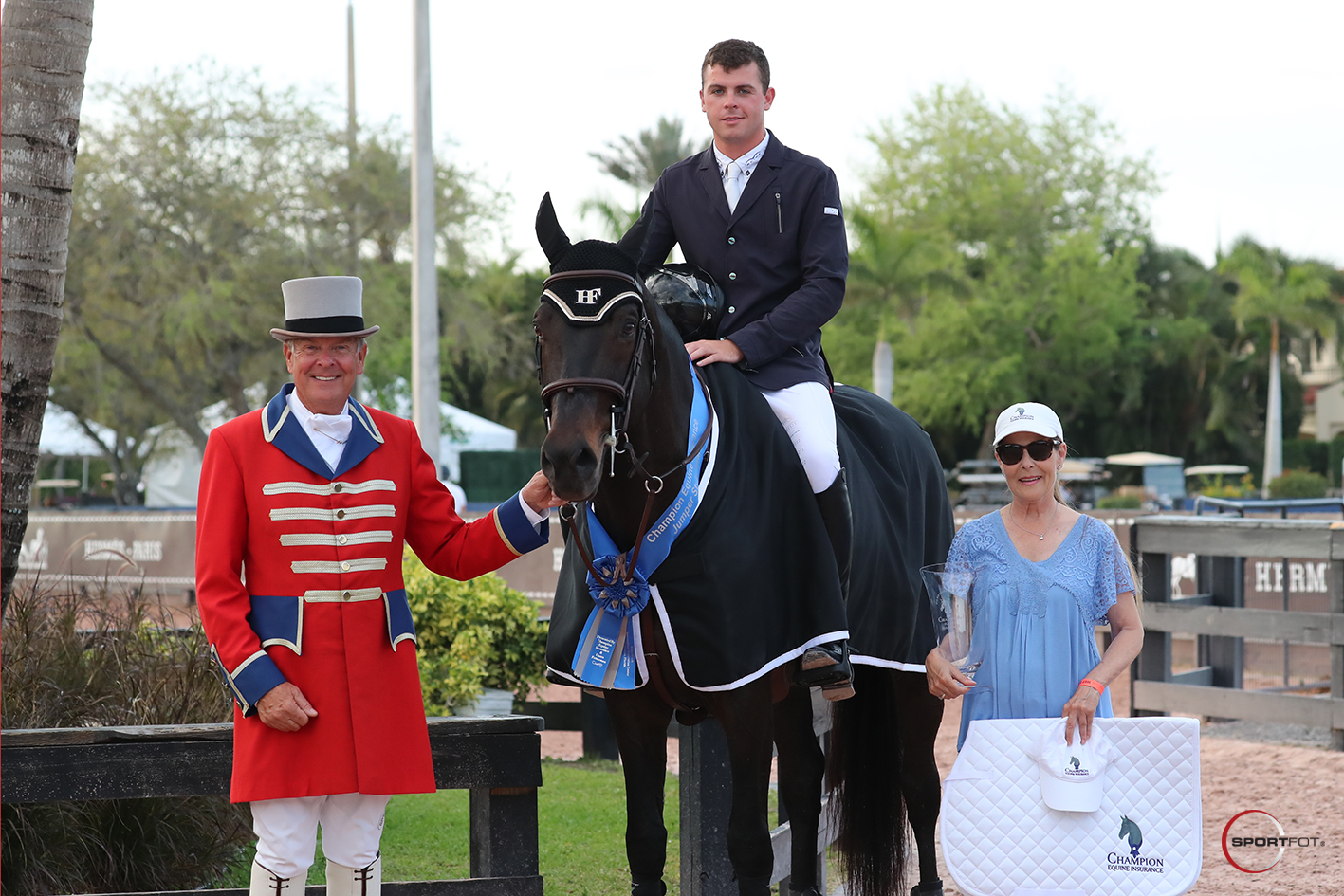 Final Results: $35,000 Equinimity WEF Challenge Cup Round 8
1   CARLCHEN W: 2008 Mecklenberg gelding by Chacco-Blue x Continue
ALEX GRANATO (USA), Page Tredennick: 0/65.03
2   CON TAGGIO: 2009 Oldenburg gelding by Contagio x Golliath Life
BEEZIE MADDEN (USA), Abigail Wexner: 0/65.81
3   YPAJA YANDO: 2007 Finnish Warmblood stallion by Quinar x Lasino
RICHIE MOLONEY (IRL), Equinimity LLC: 0/65.93
4   HH CALLAS: 2007 Oldenburg mare by Albatros x Quattro B
MCLAIN WARD (USA), Double H Farm: 0/66.05
5   TEAM DE COQUERIE: 2007 Selle Francais gelding by Heartbreaker x Papillon Rogue
DARRAGH KENNY (IRL), Vlock Show Stables, LLC: 0/66.23
6   ENTANO: 2009 KWPN gelding by Namelus R x Numero Uno
DANIEL BLUMAN (COL), Over the Top Stables LLC: 0/66.59
7   DICAS: 2009 Rheinlander gelding by Diarado x Cassini I
MARGIE ENGLE (USA), Storm Ridge Capital, LLC Show Horses, Garber & Gladewinds: 0/66.94
8   CHAGANUS: 2008 Oldenburg gelding by Chacco-Blue x Carthago
RODRIGO PESSOA (BRA), Pessoa Stables LLC: 0/67.06
9   DON'T TOUCH DU BOIS: 2009 SBS mare by Kashmir van Schuttershof x Indoctro
SHANE SWEETNAM (IRL), Sweet Oak Farm, Spy Coast Farm, and Paul Tracy: 0/68.06
10  RMF ECHO: 2004 BWP gelding by Virus de Laubry x Feo
DENIS LYNCH (IRL), Rushy Marsh Farm LLC: 0/68.27
11  H&M IKKER: 2008 BWP gelding by Ogano Sitte x Up To Date
OLIVIER PHILIPPAERTS (BEL), Roger Van Nuffelen: 0/68.54
12  AGATHA d'ECAUSSINNES: 2006 SBS mare by Schilling x Lys de Darmen
LAUREN HOUGH (USA), Weslands Farm: 0/69.64
Peter Pletcher Pilots Kennedy to Conformation Hunter Championship
 Peter Pletcher, aboard Kennedy, owned by Blanche Strunk, was crowned the Conformation Hunter champion on Thursday afternoon with a top scoring total of 39 points. The duo was fourth in the model, fourth in the under saddle, and first, first, and second over fences. Victoria Colvin claimed the reserve with 26 points and a third in the model, first in the under saddle, and a second, third, fourth, and fourth over fences.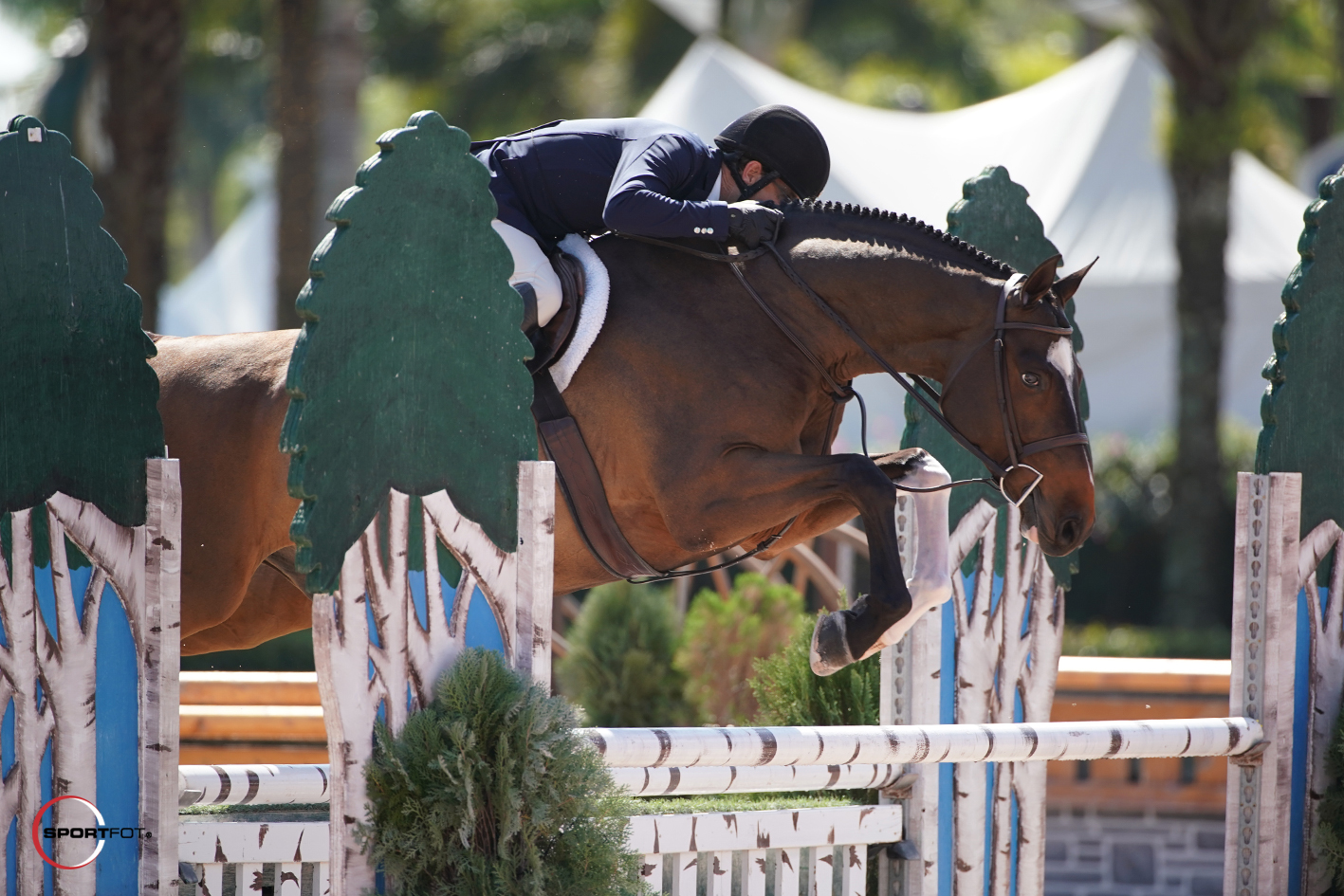 "This horse is so smooth," said Pletcher of the seven-year-old Holsteiner gelding. "That is his biggest thing. His jump is also beautiful, and he stays up in the air, which I think helped us out a lot."
Kennedy is a new addition, having been purchased only two weeks ago by Strunk, and has continued to improve since his arrival, said Pletcher. Today marked their first championship win together. However, the professional from Magnolia, TX, has received either a championship or a reserve championship tricolor ribbon aboard his various mounts since week one at WEF, and hopes to continue his winning streak in his post-WEF plans.
Pletcher added that he departs next week to compete at the Pin Oak Charity Horse Show at the Great Southwest Equestrian Center, and that today's championship win was the perfect finishing touch to his, and his team's, last week at the 2018 Winter Equestrian Festival.
"It feels perfect," said Pletcher. "It's so nice to finish up my time at WEF like this. It has been such a good circuit for all of us, including all riders, owners, and trainers."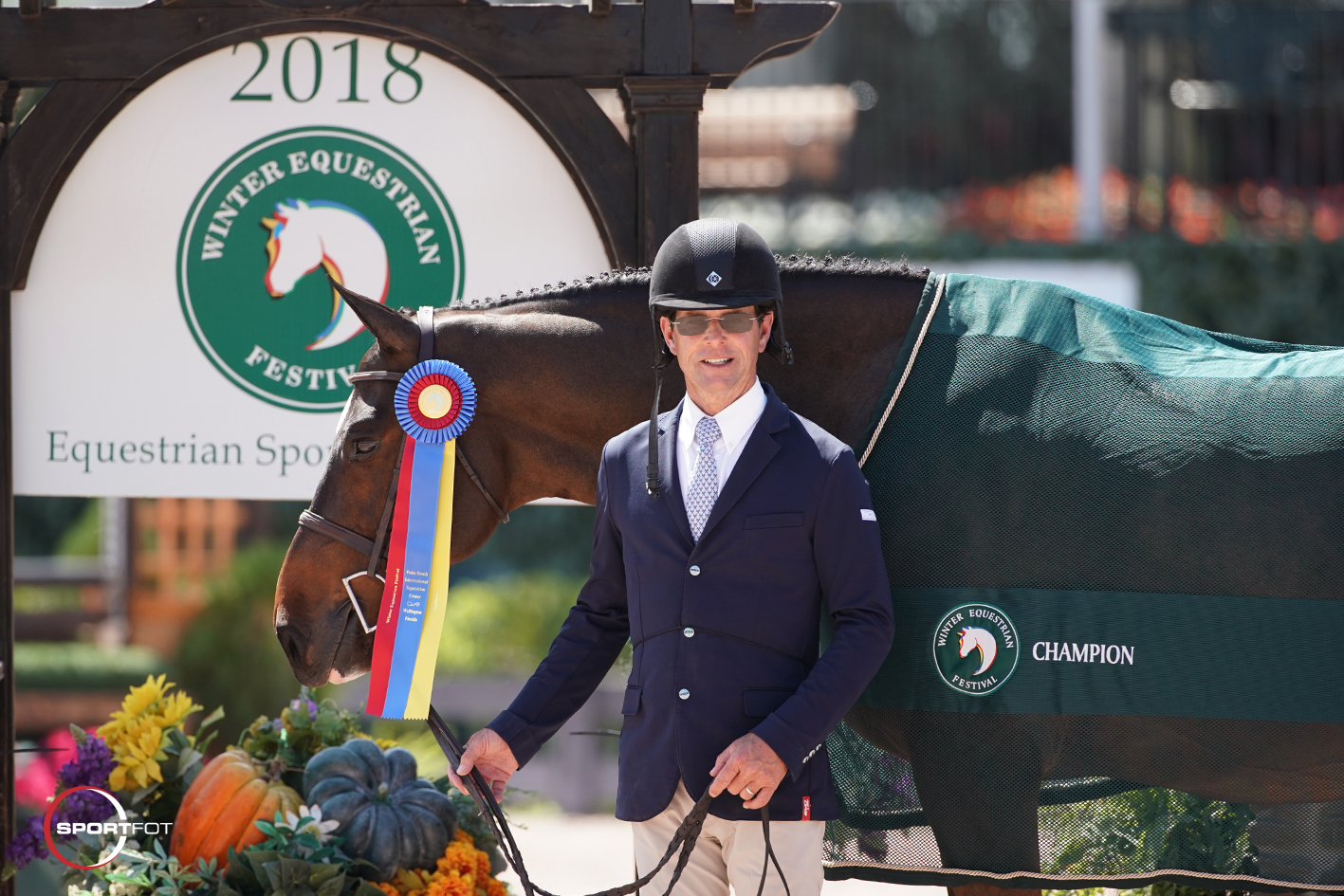 The eighth week of WEF continues with a full day of jumper competition in the WEF International Arena with the $35,000 Douglas Elliman Real Estate 1.45m Jupmers, $50,000 Hollow Creek Farm 1.50m National Grand Prix, and the $35,000 Hermès Under 25 Semi-Final Grand Prix as the nighttime feature at 7 p.m., as well as a presentation for the winner of the Platinum Performance USEF Talent Search class in the DeNemethy ring, on Friday, March 2.
Photo Credit: Photos © Sportfot, Official Photographer of the Winter Equestrian Festival. These photos may be used only in relation to this press release and must include photo credit.