For Immediate Release
Jennifer Wood Media, Inc.
Wellington, FL — February 28, 2018 — The eighth week of the 2018 Winter Equestrian Festival (WEF) at the Palm Beach International Equestrian Center in Wellington, FL, opened with competition on Wednesday, February 28. Rodrigo Lambre (BRA) and Mario Onate's Chapilot were the only double clear round to win the $25,000 ProElite® Jumper Classic.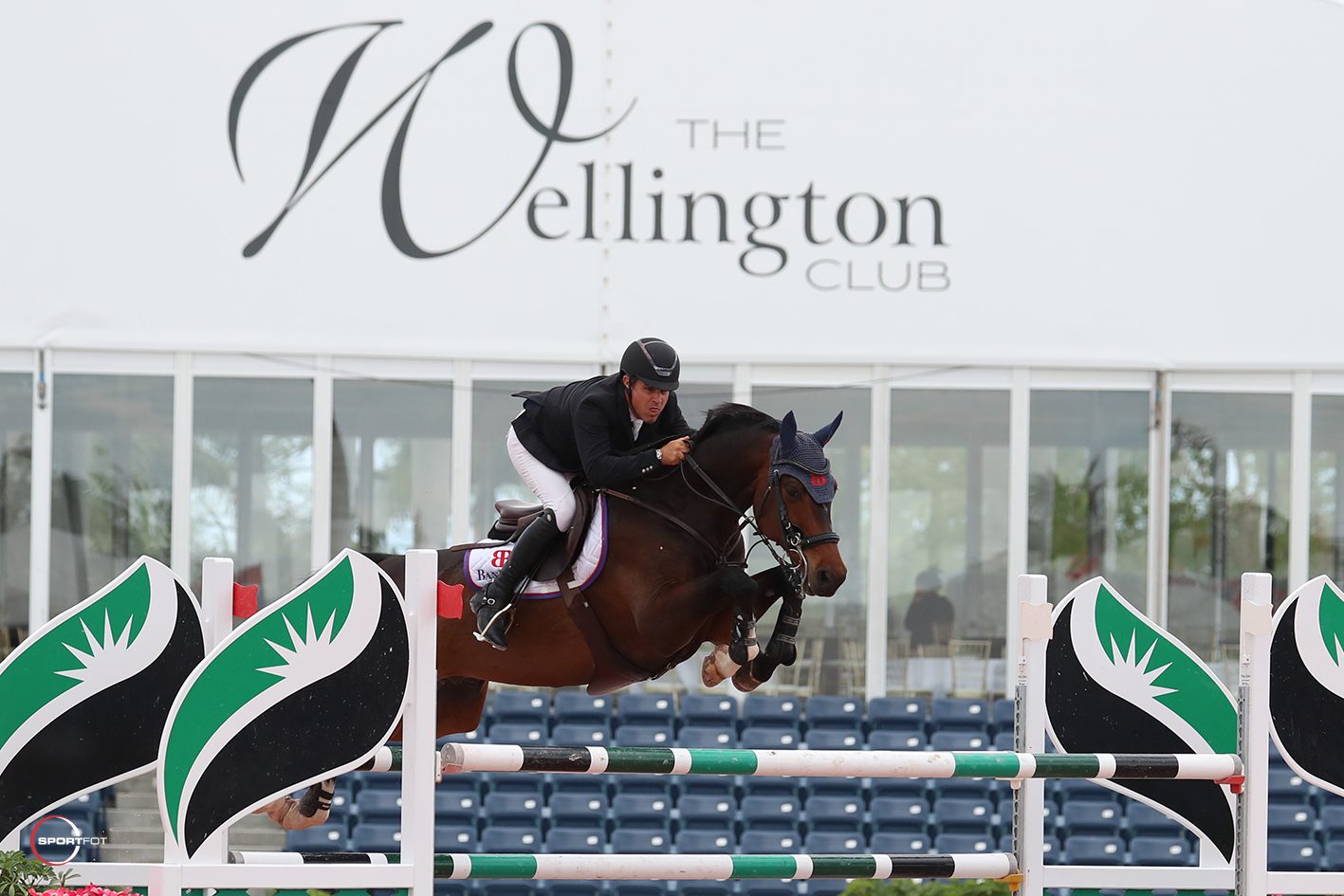 Click here to watch the winning round! 
WEF holds its eighth week of competition on February 28-March 4 with CSIO 4* competition sponsored by U.S. Trust & Bank of America Merrill Lynch. Highlights include the $35,000 Hermès Under 25 Semi-Final Grand Prix on Friday, March 2, at 7 p.m., the $150,000 Nations Cup, presented by U.S. Trust & Bank of America Merrill Lynch on Saturday, March 3, at 7 p.m., and the $205,000 CSIO4* Grand Prix, presented by Lugano Diamonds on Sunday, March 4, at 1 p.m. WEF hosts hunter, jumper, and equitation competition until April 1 and offers more than $9 million in prize money.
Today's feature class for the national division had 62 entries, and eight of those advanced to the jump-off over a course designed by Ken Krome (USA). Riding out of the second spot in the jump-off order, Lambre and Chapilot, an 11-year-old Hanoverian gelding by Chacco Blue x Pilot, set down a winning time in 39.424 seconds and were the only clear.
First into the jump-off were Karen Polle (JPN) and Kinoshita Group's Sari, who were very quick in 38.801 seconds, but with four faults. Their time would hold up for second place. Third went to Jose Roberto Reynoso (BRA), and Tanita de Galeste, owned by Franck Henouda, who had four faults in 39.132 seconds.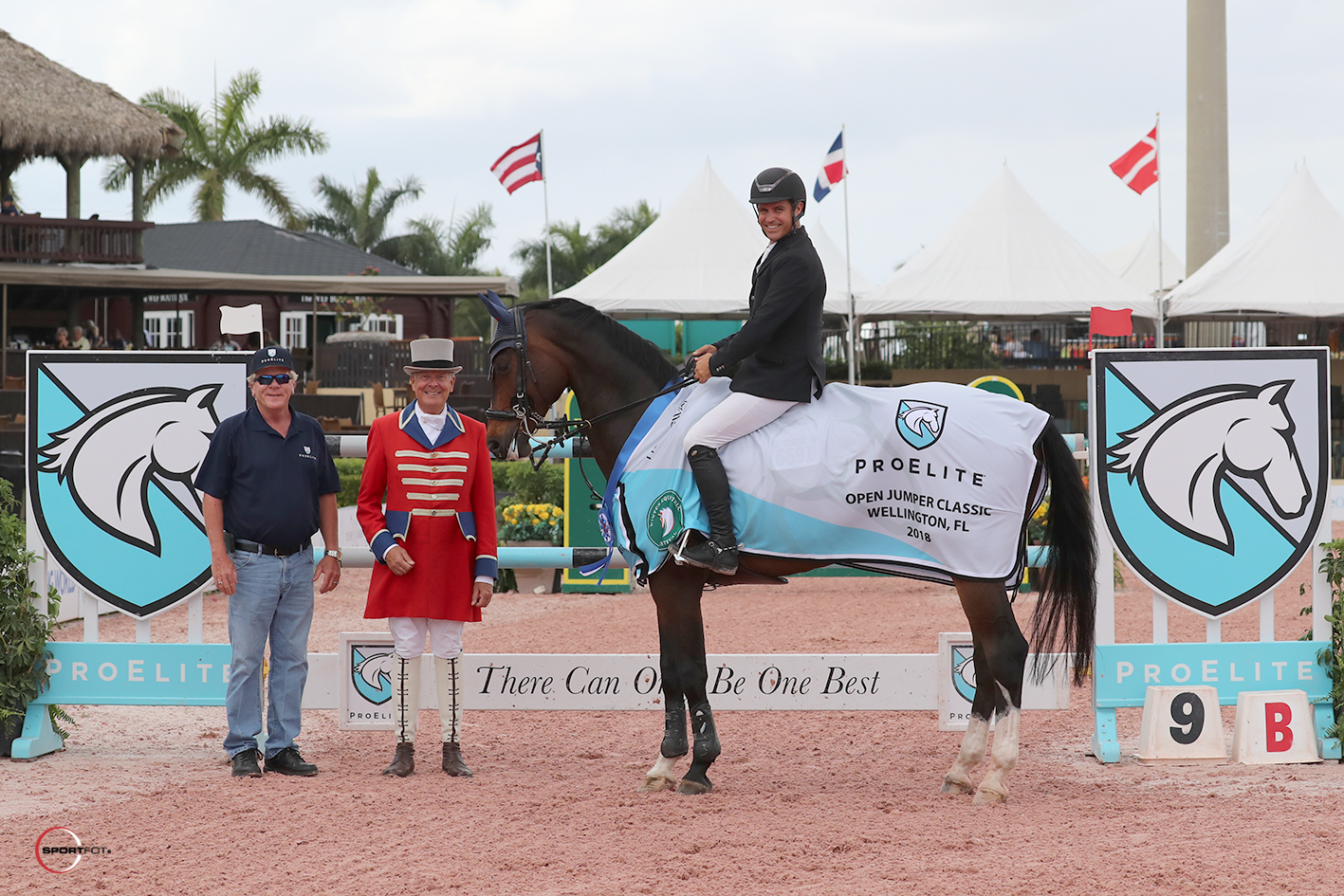 Onate purchased Chapilot in December of 2014 as a seven-year-old from the Paul Schockemöhle auction. Lambre started the ride that winter in the beginning of the horse's eight-year-old year. In 2017, they won three grand prix classes in Mexico, as well as five 1.45m FEI ranking classes.
"He's very consistent and better with age," said Lambre. "I'm very happy to have him. He's a winner."
Of Wednesday's class, Lambre said, "I expected a more easy class and it was not. It was pretty tough, with a lot of good riders. Normally we don't have only one clear in the jump-off. I was lucky to be the one."
This is Lambre's second year competing at WEF, after he first came in 2016. He and Chapilot will compete again on Friday.
Final Results: $25,000 ProElite® Jumper Classic
1   CHAPILOT: 2007 Hanoverian gelding by Chacco Blue x Pilot
RODRIGO LAMBRE (BRA), Mario Onate: 0/0/39.424
2   SARI: 2008 Selle Francais mare by Ninio de Rox x Timorrak des Isles
KAREN POLLE (JPN), Kinoshita Group: 0/4/38.801
3   TANITA DE GALESTE: 2007 Selle Francais mare by Calvaro x First Bride
JOSE ROBERTO REYNOSO (BRA), Franck Henouda: 0/4/39.132
4   PENELOPE CRUZ: 2008 Irish Sport Horse mare by Ustinov x Peter Pan
CAPT. BRIAN COURNANE (IRL), Capt. Brian Cournane: 0/4/40.227
5   KIRSCHWASSER SCF: 2010 BWP stallion by Amaretto d'Arco x Nebab de Reve
SHANE SWEETNAM (IRL), Spy Coast Farm LLC: 0/4/41.426
6   CHAKITO: 2006 Oldenburg by Chacco Blue x Padarco
DARRAGH KENNY (IRL), Vlock Show Stables LLC: 0/4/49.025
7   HANDY VAN HD: 2007 BWP mare by Tinka's Boy x Nabab de Reve
MCLAIN WARD (USA), Ilan Ferder: 0/8/38.880
8   RUBENS LS LA SILLA: 2006 SLS stallion by Rebozo LS La Silla x Cash
CONOR SWAIL (IRL), Rose Hill Farm: 0/8/42.360
9   ILIANO VAN D'ABELENDREEF: 2008 BWP gelding by Ogano Sitte x Skippy II
MCKAYLA LANGMEIER (USA), Linda Langmeier: 1/74.575
10  CARLO: 2006 Holsteiner gelding by Casall x Landlord
TODD MINIKUS (USA), North Face Farm: 2/75.172
11  PAPARAZZI: 2009 Irish Sport Horse mare by Pacino
PATRICIA GRIFFITH (USA), Callie Seaman: 2/75.714
12  ARMADO: 2005 KWPN gelding by Contango x Ferro
ANNE KURSINSKI (USA), Miriam McClure-Adam: 2/75.945
The eighth week of WEF continues on Thursday, March 1, with the $35,000 Equinimity WEF Challenge Cup Round 8 CSIO4*, the $10,000 Hermès Under 25 Welcome, and the championship for the High Performance Conformation Hunters.
Photo Credit: Photos © Sportfot, Official Photographer of the Winter Equestrian Festival. These photos may be used only in relation to this press release and must include photo credit.