For Immediate Release
Jennifer Wood Media, Inc.
Wellington, FL – March 11, 2018 – On the final day of week nine at the 2018 Winter Equestrian Festival (WEF), Francisco Jose Mesquita Musa (BRA) and Sharapova Imperio Egipicio, owned by Daniel Aguiar Morelli, won the $50,000 Rose Hill Farm Grand Prix CSI 2*. Tiffany Foster (CAN) captured the win in the $70,000 Hollow Creek Farm 1.50m Classic with Artisan Farms' Brighton at the Palm Beach International Equestrian Center (PBIEC) in Wellington, FL.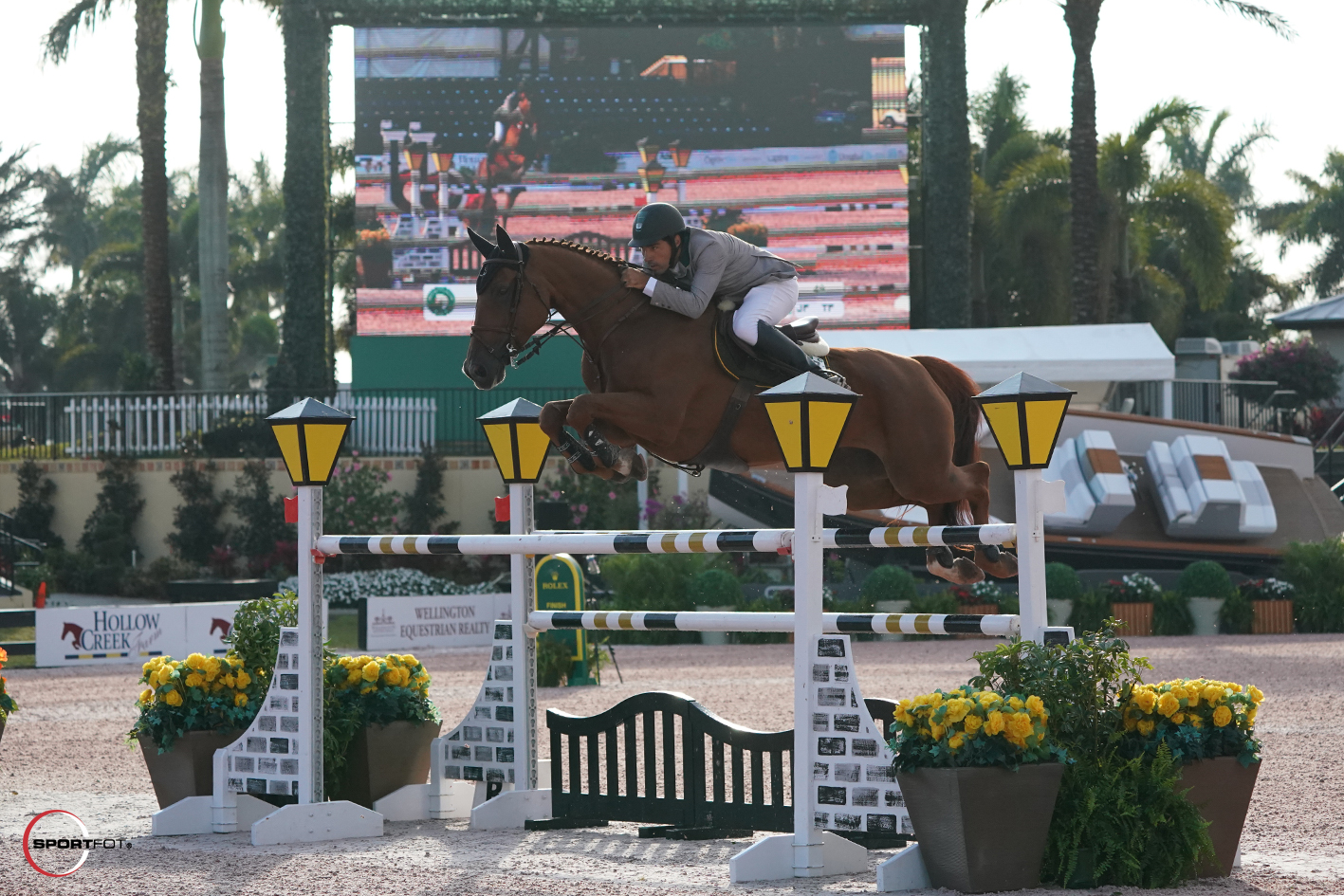 WEF continues with week ten of competition on March 14-18 and CSI 3* competition sponsored by Horseware Ireland. It features the $132,000 Horseware Ireland Grand Prix CSI 3* on Saturday, March 17. WEF hosts hunter, jumper, and equitation competition until April 1 and offers more than $9 million in prize money.
There were 45 entries in Sunday's grand prix, and 12 were clear for the jump-off. It was Francisco Jose Mesquita Musa and Sharapova Imperio Egipicio who posted the fastest of eight double clear rounds for the win in 37.01 seconds.
The top four were all inside one second from each other; Abigail McArdle (USA) and David McArdle's Cade finished second in 37.40 seconds, Karrie Rufer (USA) and Morning Star Sporthorses' Georgie d'Auvray EC were third in 37.74 seconds, and Johan Sebastian Gulliksen (NOR) rode Stall Gullik's David Guetta to fourth place with a time of 37.92 seconds.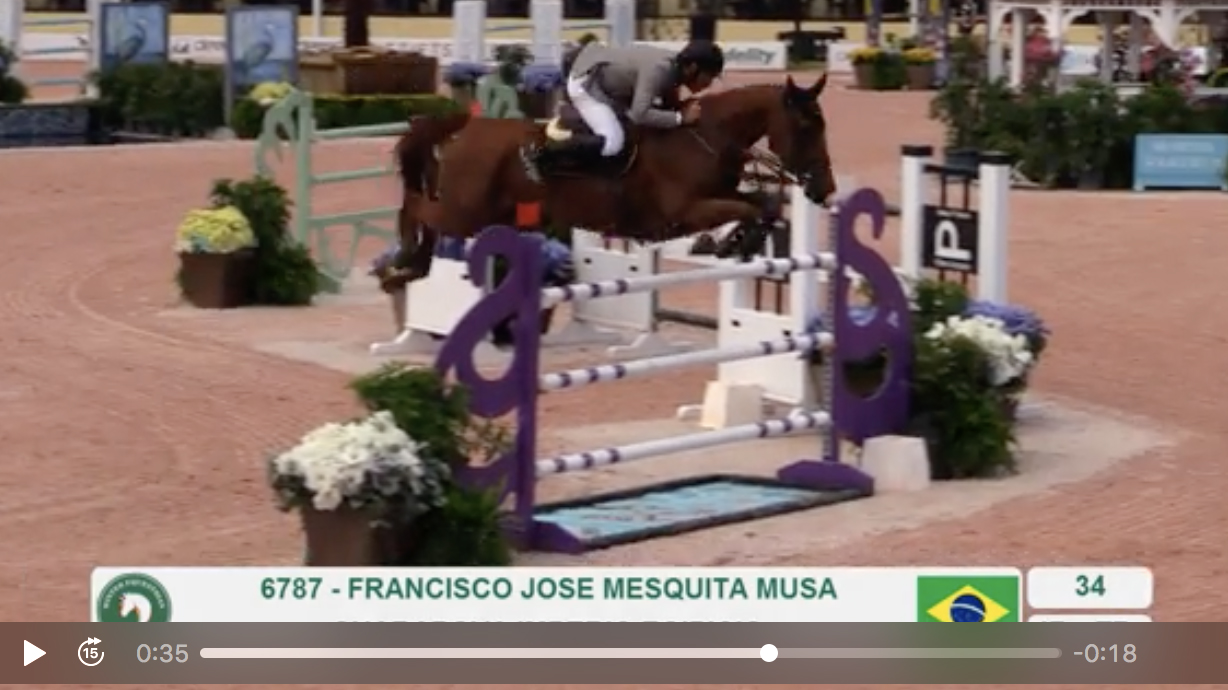 Click here to watch the winning jump-off round for Francisco Musa and Sharapova Imperio Egipicio!
This is Musa's first time competing at the Winter Equestrian Festival. Based in Brazil, Musa has the goal in mind to continue on to Europe in the spring and compete to hopefully land a spot on his country's team for the 2018 FEI World Equestrian Games™ in Tryon.
Musa was able to get a lot out of "Sharapova" in the jump-off and pushed to do eight strides in the last line.
"I look at the first one, and for me it was possible to do seven strides from number one to number two and turn really short on three," he said. "I did eight for the finish line. It was a better plan."
Although they have only been together since September of 2017, Musa knew he could rely on his veteran partner. "She is very experienced," he said of the 15-year-old Brazilian Sport Horse mare by Baloubet du Rouet. "She's a very special horse in Brazil. She's easy for the ride and careful. She's really fast and really careful. A super, super horse."
McArdle also had an experienced partner for the jump-off in Cade, a 16-year-old Belgian Warmblood gelding by Heartbreaker x Darco.
"This is the only horse that I have now that I get to keep, and he's mine," she said of her mount of five years. "So it's very, very special. I haven't actually had very good luck this season. I've had a couple of rounds where I just had a rail down, so today's finish was really great for me.
"[He has a] huge personality," she continued. "There are some days that he comes out, and you can see he wants to win. Other days he doesn't want to play, but that's what we love about him. He's been so good for me."
Rufer and Georgie d'Auvray EC, a 12-year-old Belgian Warmblood gelding by Vancouver d'Auvray x Nabab de Reve, made a big effort in the jump-off, but had to add a stride in the first line.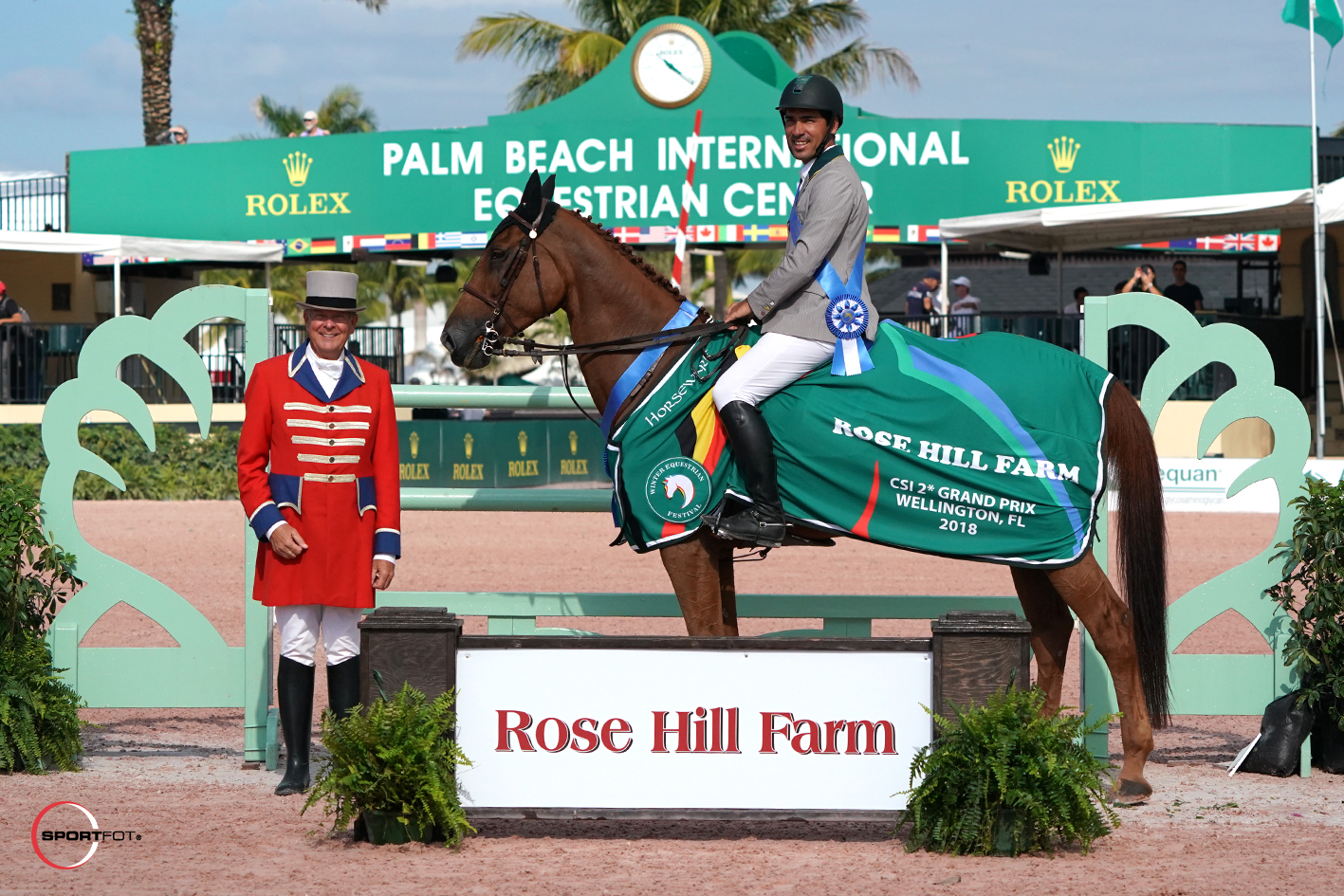 "I think that's where we got a little bit slower," she said. "That was the first jump-off that I've really pushed and kind of tried to go faster. He came out today and just had a great attitude. I could just tell by the third jump in the first round, that he wasn't going to touch anything."
Also riding in her first time at WEF, Karrie Rufer of Sacramento, CA, is enjoying the new experience.
"This is my first time here from the West Coast and his first time out here as well," she confirmed. "He enjoys it. He's just a good sport. He just comes out all the time happy. He's unfazed by pretty much anything.
"I was starting to step up into the World Cup Qualifier classes. I really just felt like continuing to push myself and continuing to do bigger, tougher classes with more competition," she said of her decision to come to Florida for the winter. "It was just time for a change; time for a new challenge. It's been wonderful here."
Final Results: $50,000 Rose Hill Farm Grand Prix CSI 2*
1 SHARAPOVA IMPERIO EGIPICIO: 2002 Brazilian mare by Baloubet du Rouet x Welton Ambassador
FRANCISCO JOSE MESQUITA MUSA (BRA), Daniel Aguiar Morelli: 0/0/37.01
2 CADE: 2002 Belgian Warmblood gelding by Heartbreaker x Darco
ABIGAIL MCARDLE (USA), David McArdle: 0/0/37.40
3 GEORGIE D'AUVRAY EC: 2006 Belgian Warmblood gelding by Vancouver d'Auvray x Nabab de Reve
KARRIE RUFER (USA), Morning Star Sporthorses: 0/0/37.74
4 DAVID GUETTA: 2008 KWPN gelding by Zento x Vigaro
JOHAN SEBASTIAN GULLIKSEN (NOR), Stall Gullik: 0/0/37.92
5 COLUMBCILLE DE REVE: 2008 Irish Sport Horse mare by Hermes de Reve x Errigal Flight
NICHOLAS DELLO JOIO (USA), Crooks Show Jumping LLC: 0/0/38.91
6 DEEJAY: 2008 KWPN gelding by Harley VDL x Amulet
STEPHEN MOORE (IRL), Vlock Show Stables LLC: 0/0/40.52
7 CROWN 5: 2005 Holsteiner gelding by Cassini I x Lord
GEORGINA BLOOMBERG (USA), Gotham Enterprizes LLC: 0/0/41.73
8 GRAND CRU VD VIJF EIKEN: 2006 Belgian Warmblood stallion by Contact van de Heffinck x Heartbreaker
VANESSA MANNIX (CAN), Vanessa Mannix: 0/0/43.51
9 JELEENA DE MUZE: 2009 BWP mare by Tornedo FCS x Chin Chin
LAUREN TISBO (USA), Tequestrian Farms LLC: 0/4/37.92
10 CITIZENGUARD CADJANINE Z: 2002 Zangersheide mare by Canabis Z x Feinschnitt I Z
ELISSA REISMAN (CAN), Taboo Holdings Inc.: 0/4/39.38
11 EASTERN JAM: 2009 KWPN gelding by Lexicon x Monaco
HUNTER HOLLOWAY (USA), Hays Investment Corp.: 0/4/39.58
12 TOSCA DU FEUGRE: 2007 Selle Francais mare by Calvaro x Nidor Platiere
LAUREN FISCHER (USA), Cheryl Fischer: 0/4/42.62
Tiffany Foster and Brighton Are Fastest in the $70,000 Hollow Creek Farm 1.50m Classic
Due to expected inclement weather, the format of the Hollow Creek Farm 1.50m Classic was changed to a speed round on Sunday morning. Of the 41 entries in the class, eight were clear. The fastest of those was Tiffany Foster, who dominated the class in a time of 63.36 seconds for the win, almost five seconds faster than the rest of the field.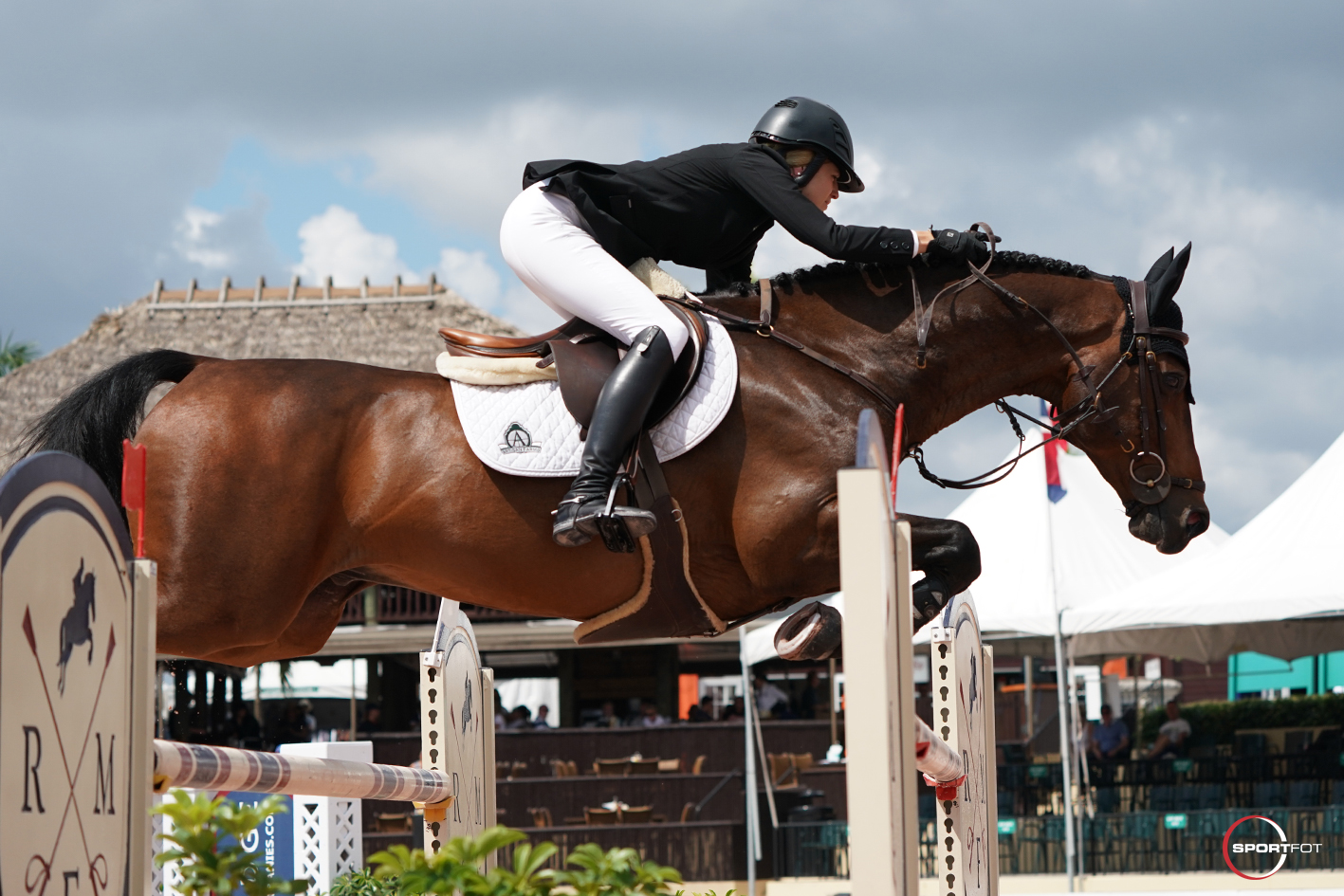 Second place went to Adrienne Sternlicht (USA) and Pembroke, owned by Starlight Farms LLC, who recorded a time of 68.24 seconds. Enrique Gonzalez (MEX) and Chacna finished third in 68.35 seconds.
"He's a super competitive horse," said Foster of the 12-year-old KWPN gelding by Contendro II x Quick Star. "He's really fast on his own. He covers the ground very fast and spends very minimal time in the air. So if I can get a good track, I know I can get within a winning time with him.
Click here to watch the winning speed round!
"All of those long lines were heading toward the left, and he has a really big stride to the left and a big left drift," she said of the course. "If I let him head left, and I let him go fast, I can usually cover the distance pretty well. Sometimes you have those days where everything just sort of shows up really well, and you end up not having to pull on the reins. If you have one of those rounds with Brighton, you usually win."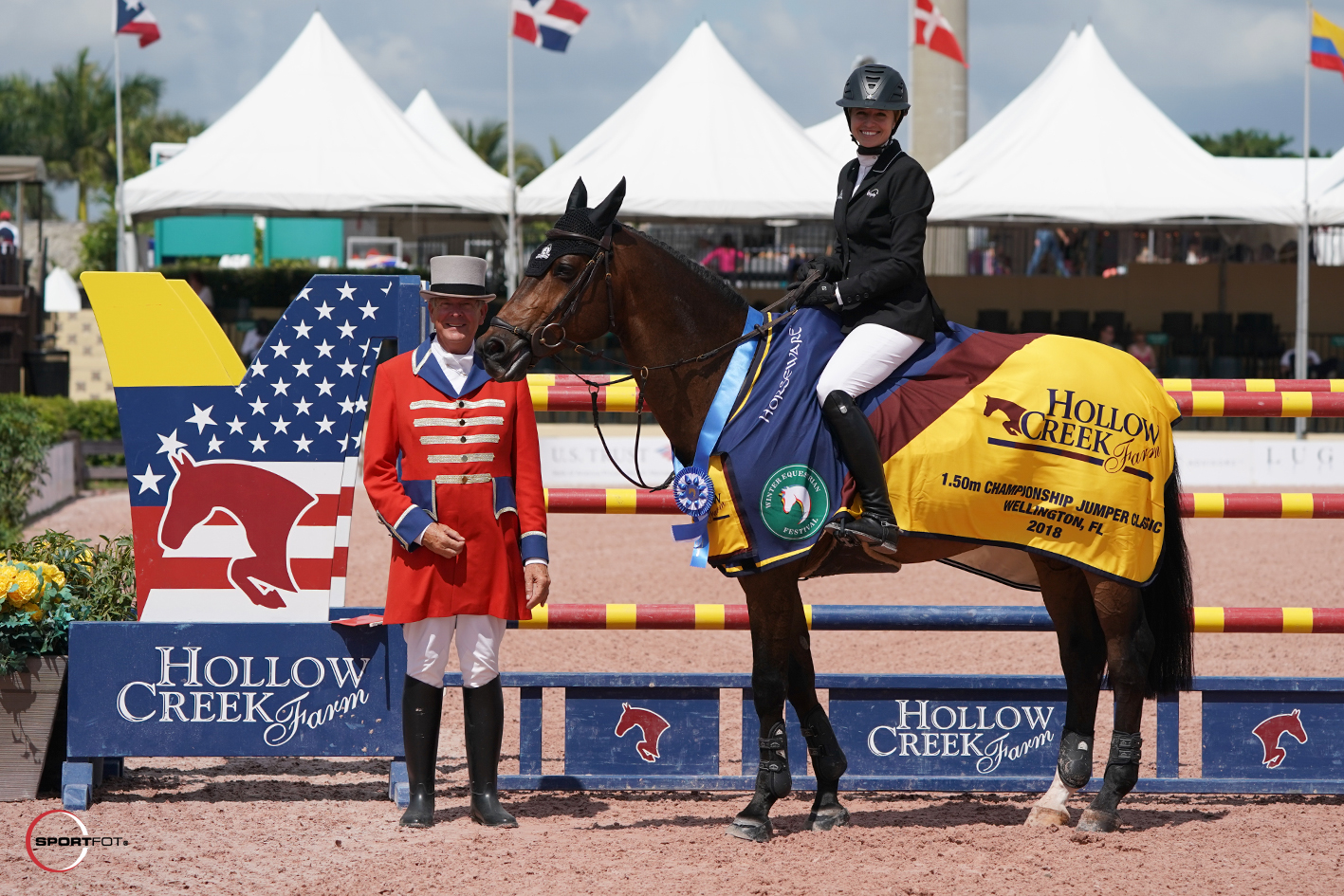 Foster described Brighton as "very self-confident" and a horse that has been the same from the start of their relationship five years ago.
"I think the more that I can let him think he's the king, the better it is," said Foster. "He's won more classes for me than I think any horse I've ever had. He's probably one of the most consistent horses that I've ever ridden. He's just been an incredible horse."
Final Results: $70,000 Hollow Creek Farm 1.50m Classic
1 BRIGHTON: 2006 KWPN gelding by Contendro II x Quick Star
TIFFANY FOSTER (CAN), Artisan Farms LLC: 0/63.36
2 PEMBROKE: 2008 Holsteiner mare by Clarimo x Casall
ADRIENNE STERNLICHT (USA), Starlight Farms LLC: 0/68.24
3 CHACNA: 2007 Hanoverian mare by Chacco-Blue x Narew XX
ENRIQUE GONZALEZ (MEX), Enrique Gonzalez: 0/68.35
4 PENELOPE CRUZ: 2008 Irish Sport Horse mare by Ustinov x Peter Pan
CAPT. BRIAN COURNANE (IRL), Capt. Brian Cournane: 0/69.24
5 SUPER CHILLED: 2008 Irish Sport Horse gelding by Gelvin Clover
KEVIN BABINGTON (IRL), Debra Wycoff: 0/69.26
6 HUNTERS CONLYPSO II: 2008 Hanoverian gelding by Contendro I x Calypso II
LORCAN GALLAGHER (IRL), Dacantos Group: 0/69.39
7 HANDY VAN HD: 2007 Belgian Warmblood mare by Tinka's Boy x Nabab de Reve
ERYNN BALLARD (CAN), Ilan Ferder: 0/72.43
8 ARMIK: 2009 Oldenburg gelding by Armitage x Justinian xx
CAPT. BRIAN COURNANE (IRL), Brian Cournane and M/M Bob Stiller: 0/75.75
9 ZAPZERAP: 2008 KWPN gelding by Zapatero x G. Ramiro Z
ENRIQUE GONZALEZ (MEX), Enrique Gonzalez: 1/79.71
10 BUTTON SITTE: 2007 Belgian Warmblood stallion by Ogano Sitte x Parco
RICHIE MOLONEY (IRL), Equinimity LLC: 1/80.45
11 GLASGOW DE MUZE: 2006 Belgian Warmblood gelding by Andiamo x Parco
ALBERTO MICHAN (ISR), Ilan Ferder: 4/65.05
12 HHS HERCULES: 2009 Irish Sport Horse gelding by Guidam
BEEZIE MADDEN (USA), Abigail Wexner: 4/65.27
Farah Rizvi and Jarinka Capture ASPCA Maclay Section A Presented by Solic Capital
Sunday's equitation competition in ring nine began with a first-place finish by Farah Rizvi and her mount, Jarinka, an entry owned by Emma Callanan, in the ASPCA Maclay Section A presented by Solic Capital.
Rizvi has only been paired with the nine-year-old Warmblood mare for a few weeks, and today marked the duo's first win together.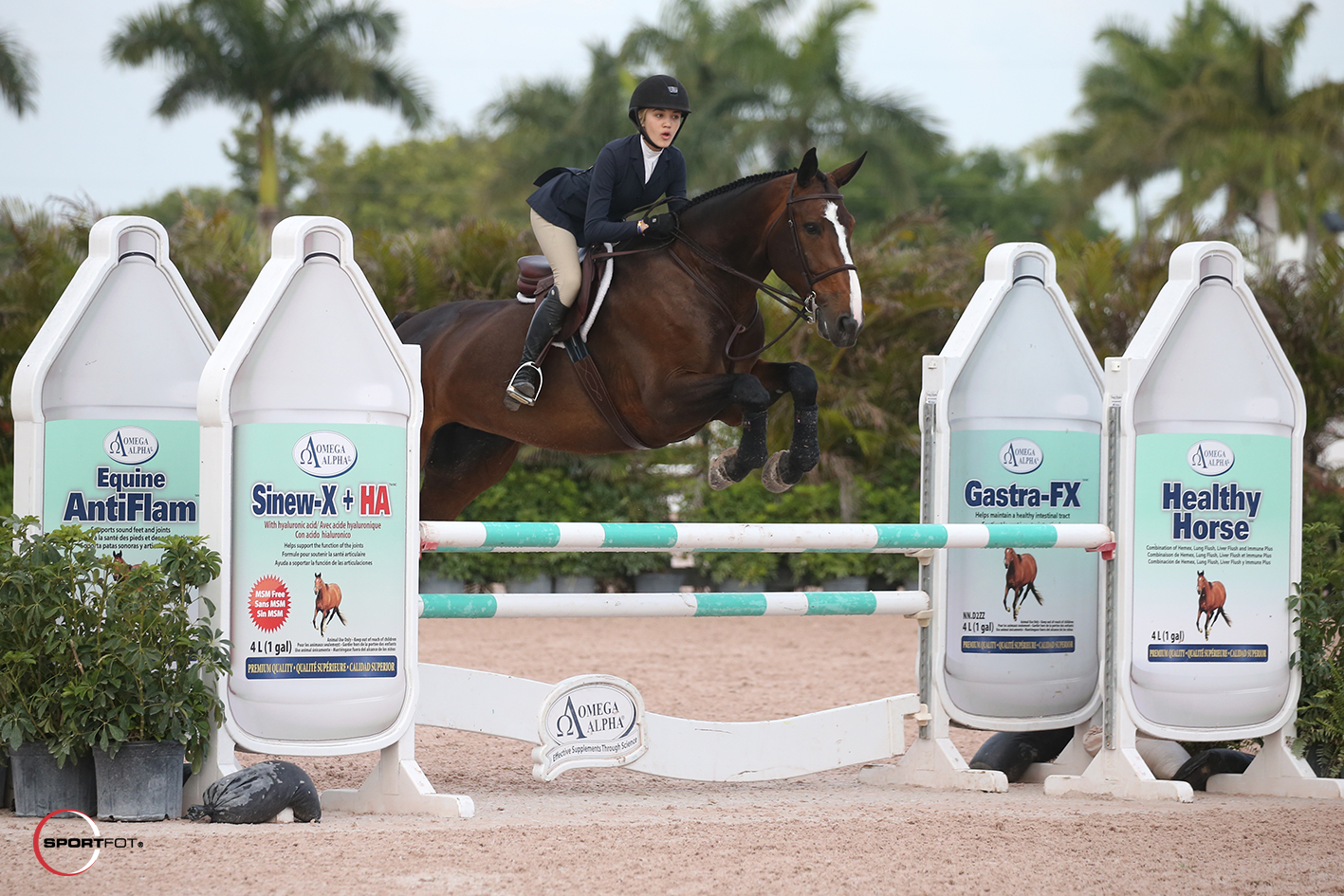 "I went into the ring today hoping I could do well and fix some mistakes from last week," said the 14-year-old Rizvi. "Last time we showed, I was really pushing through the distances, and I feel like I have really improved. This shows me that working hard can significantly improve your riding, and that if you try very hard you will see better results. I also feel like I get along with my horse really well, and this win shows me that [Jarinka] is even more perfect than I thought before!"
Before her introduction to Rizvi, Jarinka was previously showing in the Medal and Maclay divisions with Callanan. When asked about how the mare rode in the ring on Sunday, Rizvi added, "I just let her do what she is amazing at! I was really focusing on myself as a rider and making my position better. I just try to support her the right way for each distance."
Maverick Helmer secured second place aboard his entry, Canterbury, and Sophia Pilla finished third aboard Poprocks, owned by Piccolino Farm LLC.
Rizvi expressed her admiration for the course's caliber.
"I really enjoyed today's course," said Rizvi. "I definitely thought it was challenging, but it let me focus on a lot of things I need to work on, such as slowing down gently, fitting in lines, getting up forward lines, and keeping my body tall in the bounce."
The young rider from Greenwich, CT, hopes to take home another win next week and possibly pursue showing at the Tryon International Equestrian Center after her time here in Wellington, FL.
WEF continues on Wednesday, March 14, with week ten of competition through Sunday, March 18.
Photo Credit: Photos © Sportfot, Official Photographer of the Winter Equestrian Festival. These photos may be used only in relation to this press release and must include photo credit.