For Immediate Release
Jennifer Wood Media, Inc.
Wellington, FL – January 20, 2018 – In the circuit's first nighttime grand prix, three-time Olympian Meredith Michaels-Beerbaum (GER) and Calle 67 won the $70,000 Marshall & Sterling Grand Prix CSI 2* at the 2018 Winter Equestrian Festival (WEF). The "Saturday Night Lights" series continues throughout the 12-week WEF circuit, held at the Palm Beach International Equestrian Center in Wellington, FL. Running through April 1, 2018, WEF offers more than $9 million in prize money.
The final highlights events during Week 2 of WEF include the $25,000 Hermès Under 25 Grand Prix and $35,000 Hollow Creek Farm 1.45m Classic, which will be held on Sunday, January 21.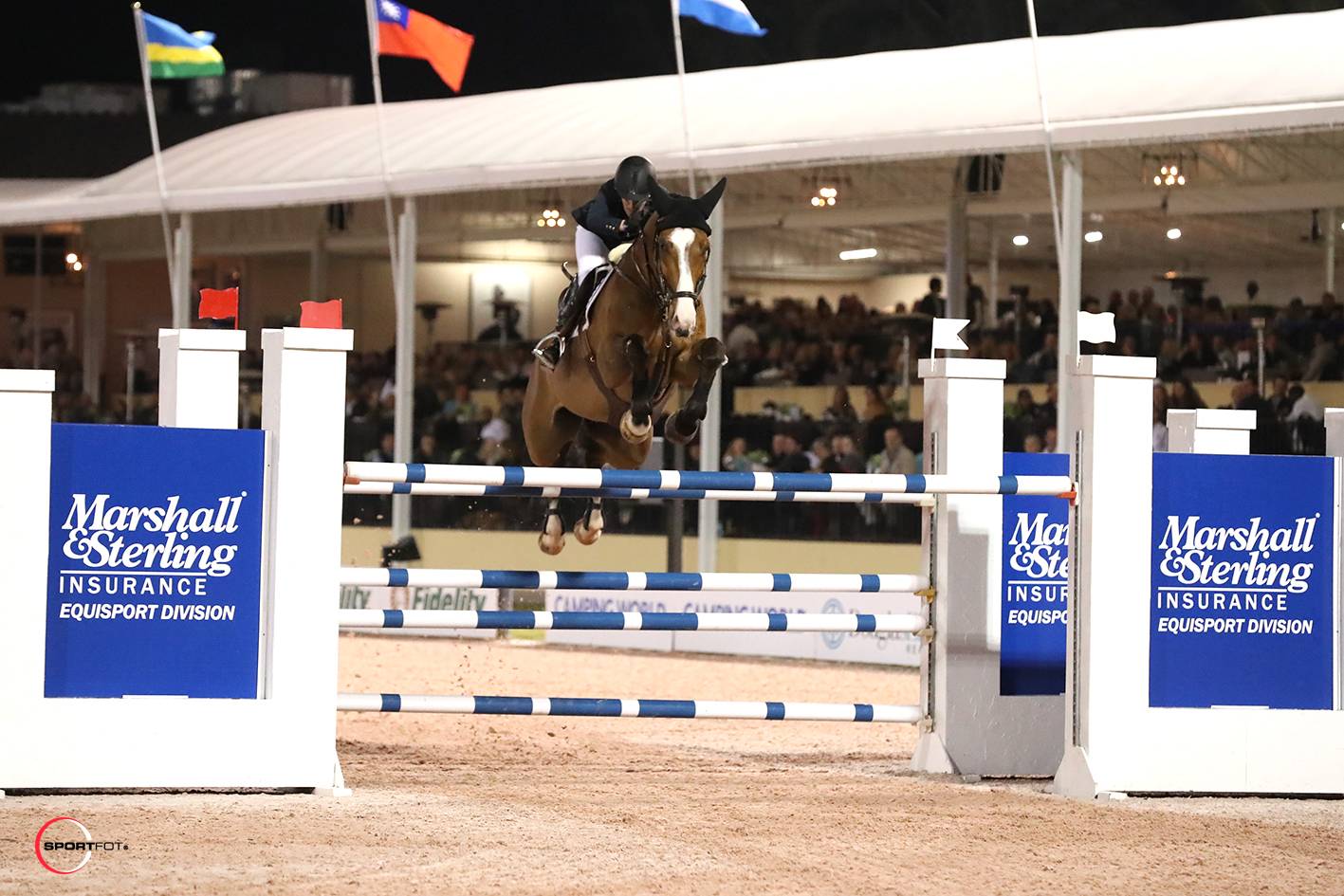 Out of a starting field of 45 entries, nine found the way to a clear round to advance to the jump-off over a course set by Oscar Soberon (MEX). Coming back sixth in the jump-off, it was Michaels-Beerbaum and Calle 67, a nine-year-old Westphalian gelding by Carell x Capitalist, who had the fastest clear round in a time of 36.85 seconds to take the win.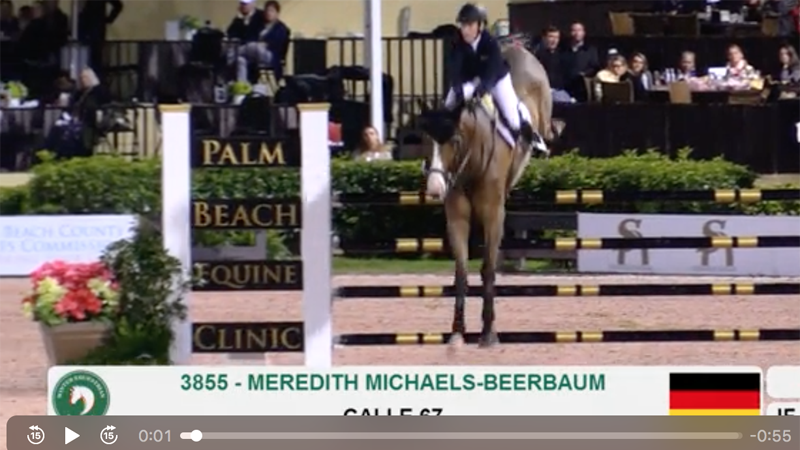 Click to watch the winning jump-off ride for Meredith Michaels-Beerbaum and Calle 67!
"The course today was brilliantly set," said Michaels-Beerbaum. "I think that the course itself was challenging, because there were some spooky fences at the beginning of the course, and then it got technical down the last line and careful. I was really pleased with my horse because he's relatively new to that speed. I think I've only done one other jump-off as fast as that, so he was a little shocked and surprised, but he's so on my side. That's really what it takes to be a great horse."
Second place went to 21-year-old Lillie Keenan (USA) and Chansonette Farm's Skyhorse in a time of 37.01 seconds, while Emily Mason (GBR) placed third in a time of 37.58 seconds with Explosion W, owned by Poden Farms.
Fourth place went to World Number One Kent Farrington and Baltic Star 2, owned by Farrington and Tanma Corp., in 37.63 seconds, while Canadian Olympic Champion Eric Lamaze picked up fifth place on Artisan Farms LLC's Coco Bongo with a time of 39.02 seconds.
While Michaels-Beerbaum and Calle 67 competed in the young horse classes under the lights at Aachen CHIO, she did say that Saturday night's grand prix was "a major step up for that horse."
"He's just turning nine this year," said the three-time FEI World Cup Jumping Final winner. "He hasn't done too many grands prix yet in his career. I was happy when I saw the course today that I had at least that round (in Aachen) under my belt. The course was quite spooky. Some of the fences at the beginning of the course were quite challenging for a green, young horse. He is a relatively new horse to my string; I've had him less than a year, but I adore the horse. He's got a wonderful mind and character, and he's always on your side, so it gives you a good feeling as a rider."
Keenan watched Michaels-Beerbaum from the in-gate and directly followed her in the jump-off, hoping to ride the same plan.
"It's always nice when you get to see someone do what you'd like to emulate," she said.
As a full-time student at Harvard University, Keenan took most of November and all of December off from competition, while her trainer Cian O'Connor competed Skyhorse, an 11-year-old Belgian Warmblood gelding by Calvaro x Quidam de Revel. She was pleased with a top finish in their first grand prix of the circuit.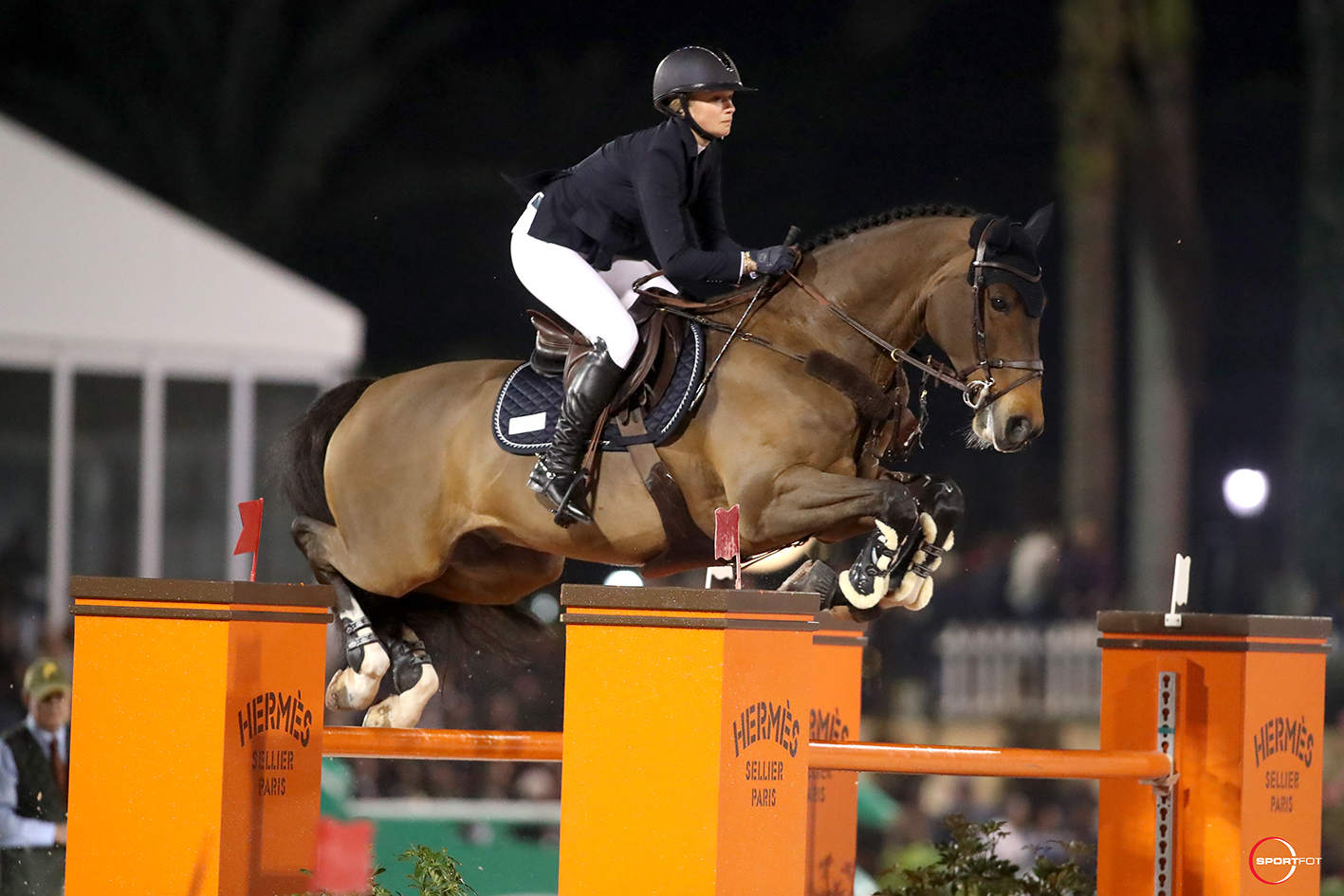 "I was thinking maybe top five," she admitted. "There were a lot of fast riders. My horse, I would describe him as a big, honest, almost like an equitation horse that can jump 1.60m and jump the moon if you wanted him to. He's very smooth. He's probably not the fastest horse. He proved everyone wrong with that tonight. He went I think faster than he thought he could go himself."
It was a fantastic week for 26-year-old Emily Mason, who was also presented with the Martha Jolicoeur Leading Lady Rider Award. She has only been riding Explosion W, a nine-year-old KWPN gelding by Chacco Blue x Baloubet du Rouet, for six months since she started working at Poden Farm.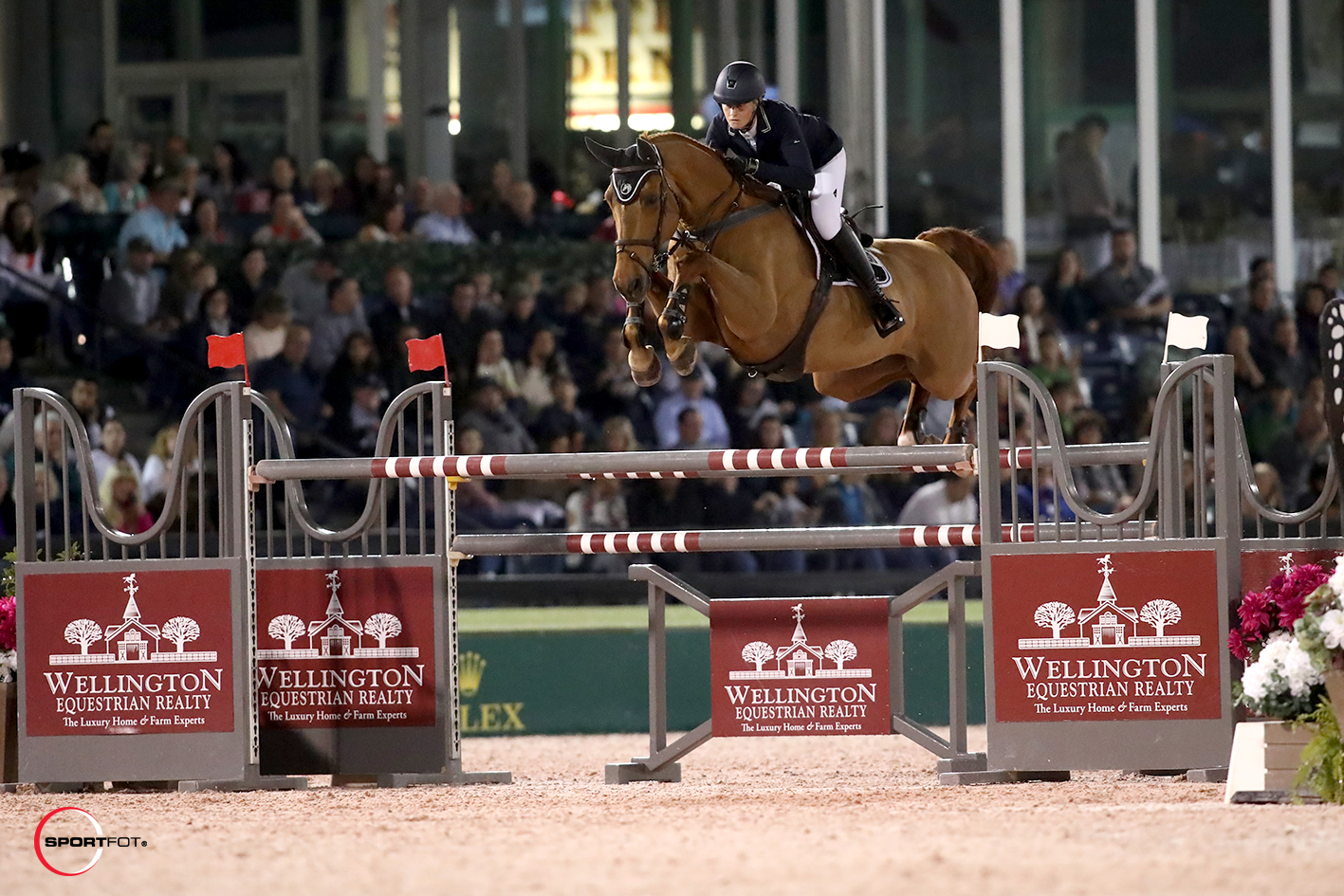 "This is the first night that he has been under lights, the first proper, big grand prix for him," said the rider from Kent, England. "He jumped really good the first day this week so we thought we'd have a bit of a go today to see how he was. We're really happy with the way he reacted to the atmosphere. Today's really the first time we've properly tried to go fast with him. Everything that I asked him, he did. He's got a really good head on him now. He's going to do big things I hope."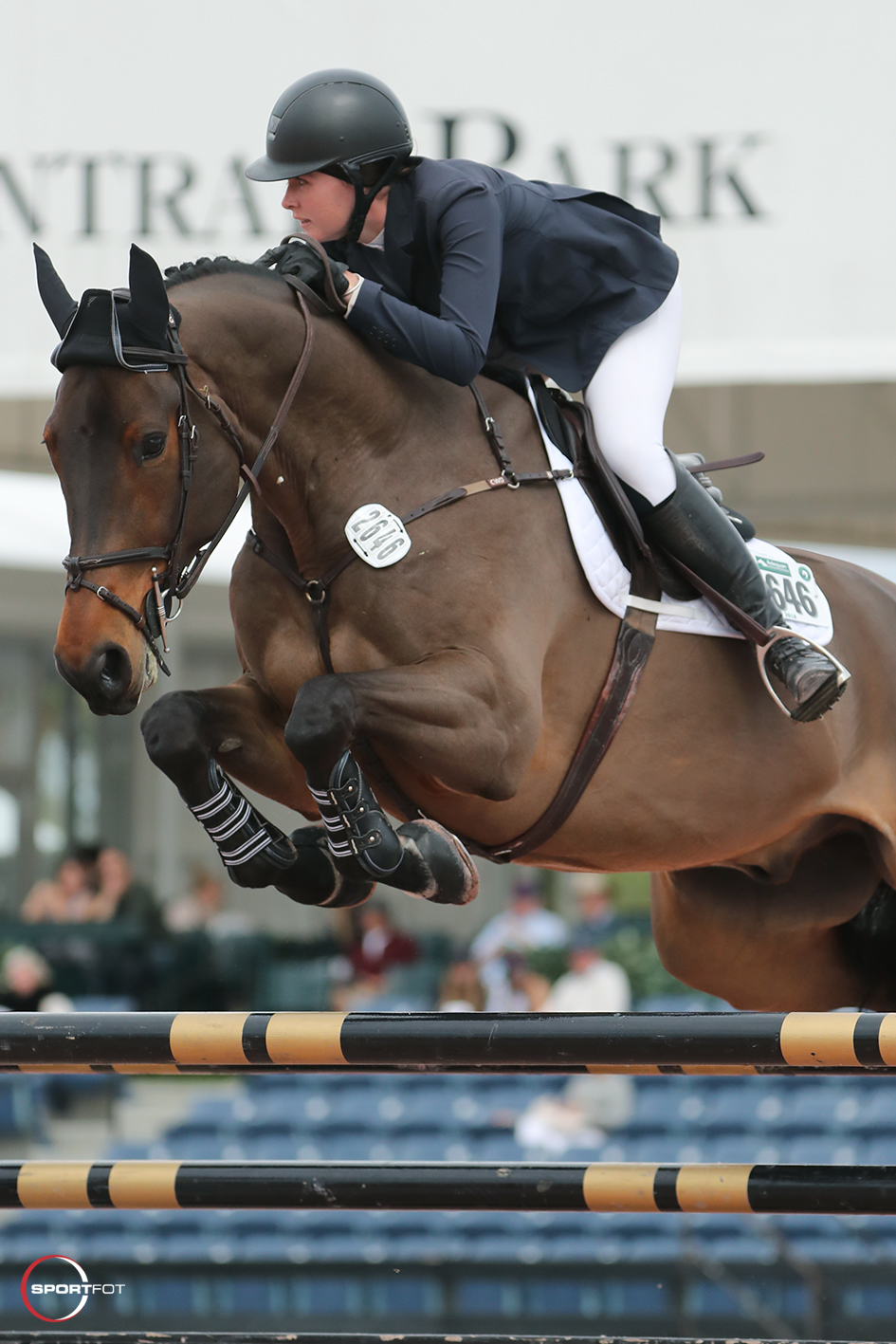 Earlier in the day, Hunter Holloway (USA) rode Eastern Jam, owned by Hays Investment Corp., won the $10,000 Hermès Under 25 Welcome.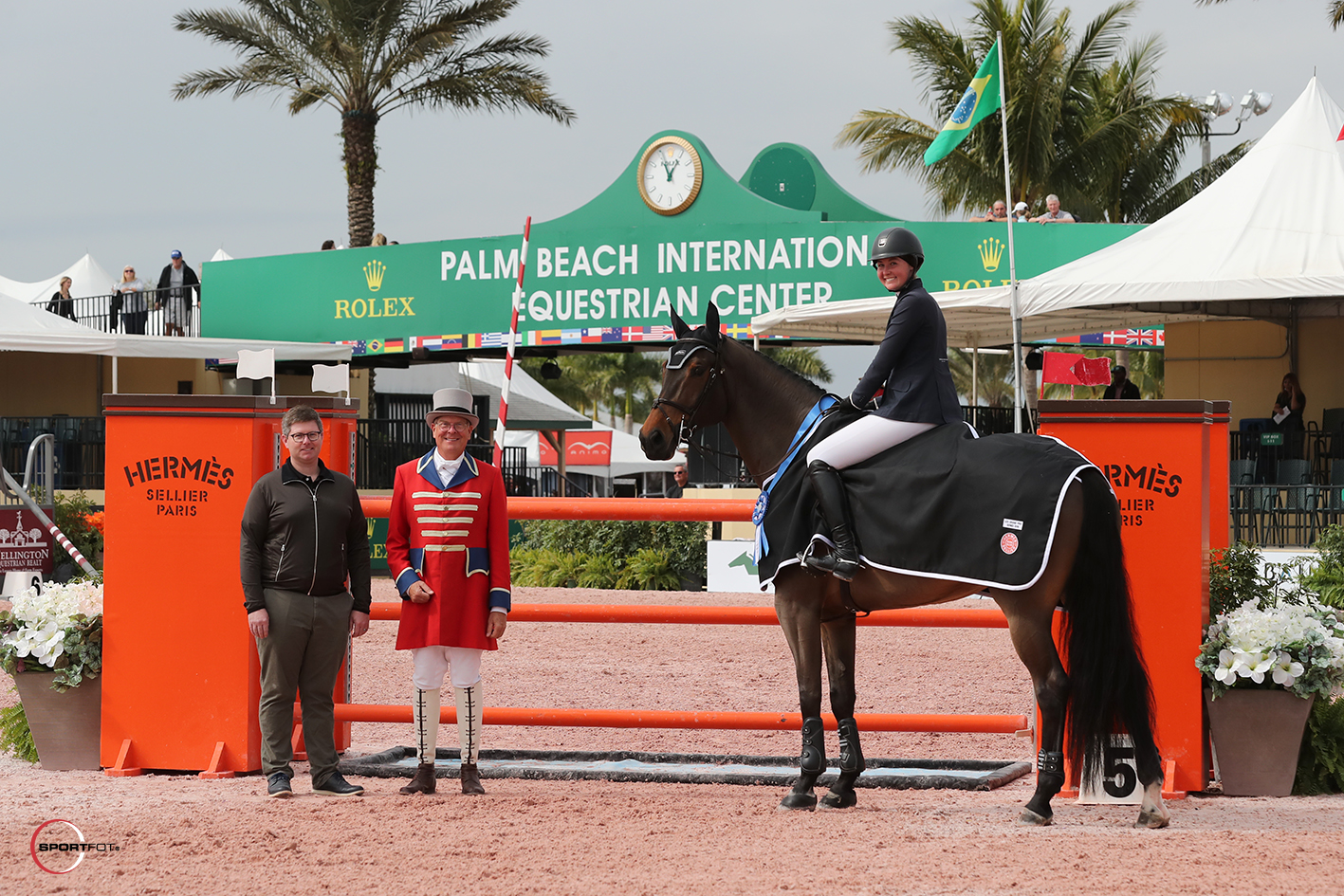 Final Results: $70,000 Marshall & Sterling Grand Prix CSI 2*
1 CALLE 67: 2009 Westphalian gelding by Carell x Capitalist
MEREDITH MICHAELS-BEERBAUM (GER), Michaels & Beerbaum GmbH: 0/0/36.852
2 SKYHORSE: 2007 Belgian Warmblood gelding by Calvaro x Quidam de Revel
LILLIE KEENAN (USA), Chansonette Farm LLC: 0/0/37.019
3 EXPLOSION W: 2009 KWPN gelding by Chacco Blue x Baloubet du Rouet
EMILY MASON (GBR), Poden Farms: 0/0/37.587
4 BALTIC STAR 2: 2009 Hanoverian gelding by Bacardi x Chalan
KENT FARRINGTON (USA), Tanma Corp. and Kent Farrington: 0/0/37.635
5 COCO BONGO: 2005 Rheinlander gelding by Caretino x Calido
ERIC LAMAZE (CAN), Artisan Farms, LLC: 0/0/39.026
6 TOULAGO: 2005 Oldenburg gelding by Toulon x Carthago Z
ADRIENNE STERNLICHT (USA), Starlight Farms LLC: 0/0/39.422
7 AUDI'S DIMPLE: 2008 KWPN gelding by Wittinger VDL x Ahorn
KEVIN MEALIFF (IRL), Maarten Huygens: 0/0/41.826
8 HIJA VAN STROKAPELLEKEN: 2007 BWP mare by Calido I x Azur de Paulstra
MCLAIN WARD (USA), Evergate Stable LLC: 0/4/37.735
9 RMF ZECILIE: 2007 Holsteiner mare by Acolord x Canturo
JESSICA SPRINGSTEEN (USA), Rushy Marsh Farm: 0/4/37.943
10 GENTILLE: 2006 BWP mare by Heartbreaker x Kannan
KAELY TOMEU (USA), Siboney Ranch: 4/66.98
11 EMPERIO VAN'T ROOSAKKER: 2004 BWP gelding by Nabab de Reve x Chin Chin
EMANUELE CAMILLI (ITA), Alexandra Crown: 4/67.21
12 DICAS: 2009 Rheinlander gelding by Diarado x Cassini I
MARGIE ENGLE (USA), Storm Ridge Capital LLC, Show Horses, Garber & Gladewinds Partners LLC: 4/68.39
Becky Gochman and Catch Me Receive Champion Honors in Hunt Ltd. Amateur-Owner Over 35 3'6" Division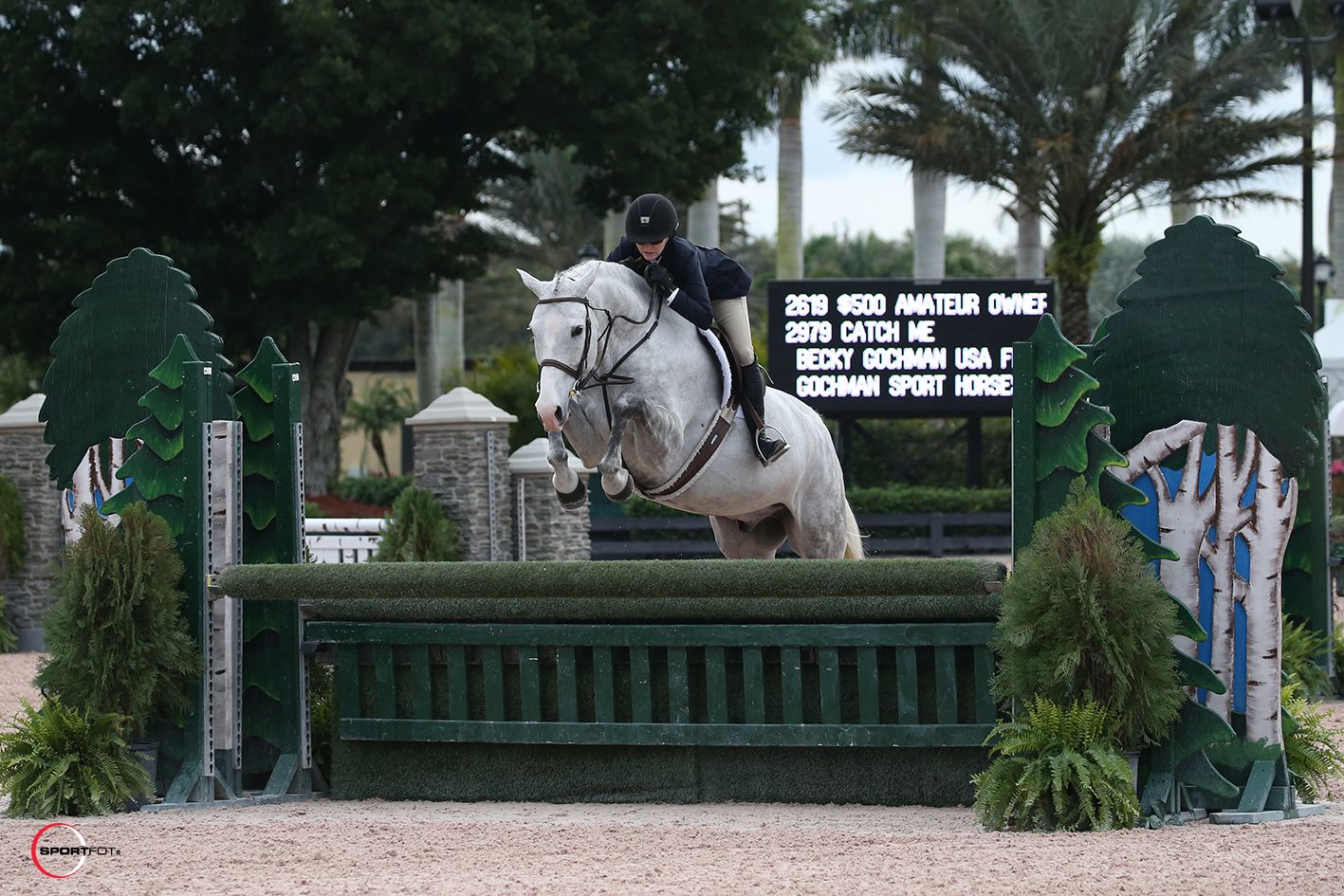 The E.R. Mische Grand Hunter ring featured an exciting championship win for Becky Gochman of Wellington, FL, and her mount of three years, Catch Me. Gochman piloted the 11-year-old Holsteiner gelding to a first, first, and seventh over fences with a win in the under saddle in the Hunt Ltd. Amateur-Owner Over 35 3'6" Division. The pair scored an impressive 87 and 88 to claim the blue in both jumping classes.
"This marks a year anniversary for us in this division," said Gochman, who has been showing in the [AO Over 35] division with Catch Me for over two years now. "He has been such a good boy. He takes care of his mother. We had a little crash yesterday, which was a little scary for me because he is such a sensitive horse. I didn't know how he would handle my mistake, but he came right back and won the next class!"
Gochman added that she has been focusing on getting back into show gear while Catch Me, also known as "Snoopy" in the barn, has continued to impress. The striking grey gelding, owned by Gochman Sport Horse LLC, and Scott Stewart were crowned champion of the Antares Sellier France High Performance Working Hunter division earlier in the week. Catch Me and Stewart are also the winners for the past two years of the WCHR Peter Wetherill Palm Beach Hunter Spectacular.
"He loves his job," said Gochman. "It has been great to get back in the ring. Our goals are to take the best care of him as we can because he is a very special horse. He is definitely a made horse right now, and we want to treat him in the best possible way."
Gochman is looking forward to getting back in the ring with Catch Me in the weeks to come, while she continues to show her other mount, Mythical, a 14-year-old Westphalian gelding, in the Osphos Amateur Owner 3'3" 36 & Over division.
"It is so nice to see all of my fellow competitors," said Gochman. "It is a great group of people and [WEF] is such a happy place to be. We are excited for the next few weeks!"
Jean Sheptoff and her mount, Heartcore, were crowned reserve champion with a first, third, fifth, and sixth over fences and fourth under saddle.
The second week of WEF concludes on Sunday with the $25,000 Hermès Under 25 Grand Prix, $35,000 Hollow Creek Farm FEI 1.45m Classic, and the Wanderers Club Adult Amateur Younger Hunters Section B.
Photo Credit: Photos © Sportfot, Official Photographer of the Winter Equestrian Festival. These photos may be used only in relation to this press release and must include photo credit.