For Immediate Release
Jennifer Wood Media, Inc.
Wellington, FL – February 11, 2018 – Wrapping up Sunday's competition, Paul O'Shea (IRL) and Imerald van't Voorhof won the $50,000 Equiline Grand Prix CSI 2*. In the $70,000 Hollow Creek Farm 1.50m Classic CSI 5*, Olympic gold medalist McLain Ward rode Bellefleur PS Z to her second win of the week. The two competitions closed out week five competition on Sunday, February 11, at the Palm Beach International Equestrian Center. WEF continues through April 1 at the Palm Beach International Equestrian Center (PBIEC) in Wellington, FL, and offers more than $9 million in prize money.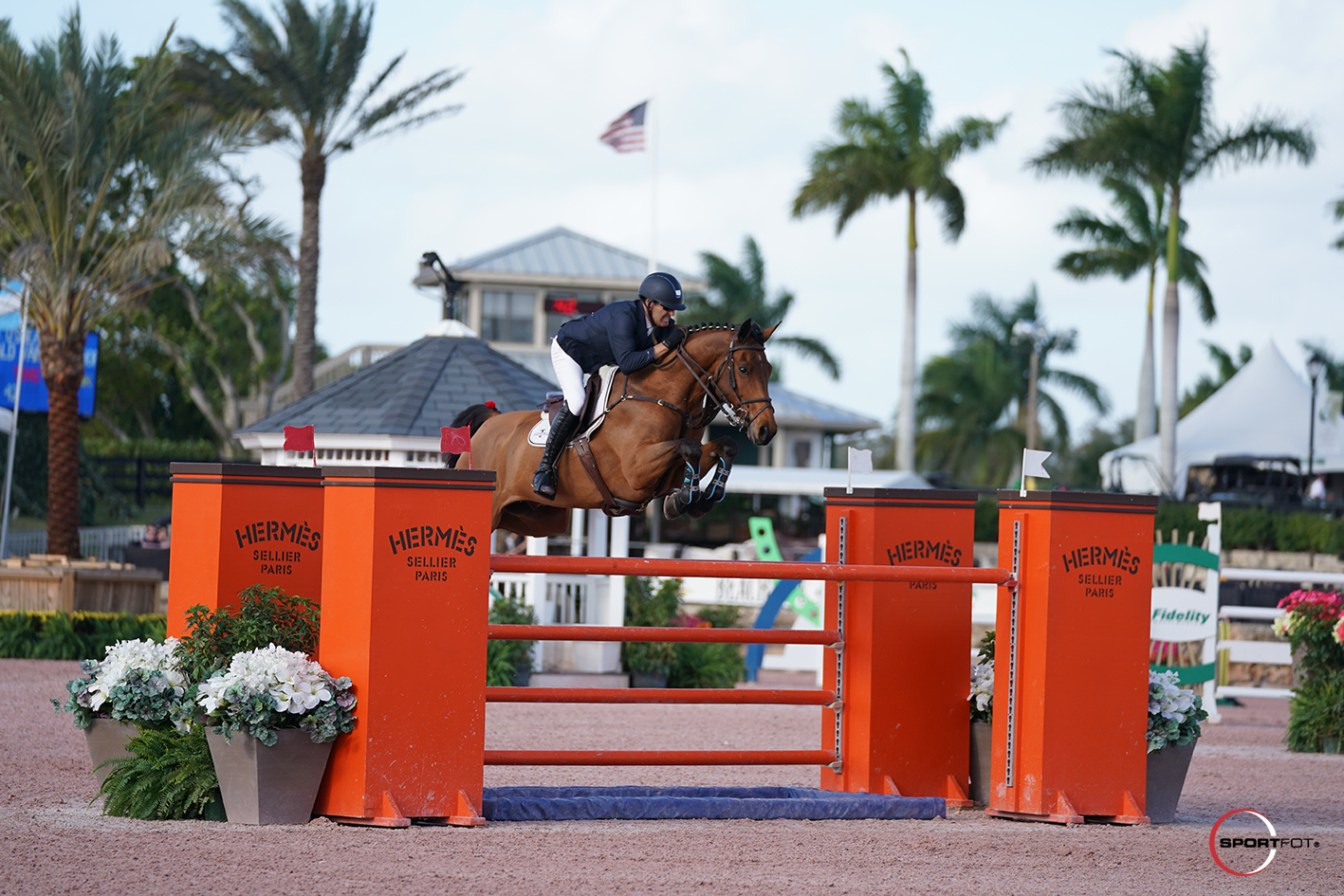 WEF continues with week six featuring World Championship Hunter Rider competition on February 14-18 and FEI jumper competition at Equestrian Village at PBIEC (13500 South Shore Blvd.). Highlight events include the $132,000 Rushy Marsh Farm Grand Prix CSI 3* on Friday, February 16, at 7 p.m. in the Global International Arena at Equestrian Village and the $100,000 WCHR Peter Wetherill Palm Beach Hunter Spectacular for "Saturday Night Lights" on Saturday, February 17, at 6:30 p.m. in the WEF International Arena.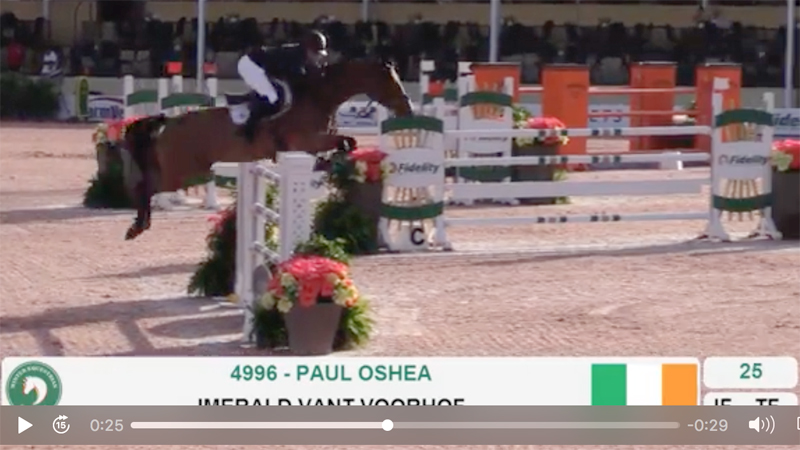 Watch the winning two star jump-off ride for Paul O'Shea and Imerald van't Voofhof!
There were 43 entries in the $50,000 Equiline Grand Prix CSI 2*, and 11 of those went clear to the jump-off. The fastest in the second round was the last to go, Paul O'Shea (IRL) and Imerald van't Voorhof, owned by Tequestrian Farms LLC. They left out strides across the course to finish in 36.84 seconds.
Second place went to fellow Irishman Conor Swail on GK Coco Chanel, owned by Vanessa Mannix, in 38.24 seconds. Rebecca Conway (USA) and Salitos 8 were third in 38.55 seconds.
"I had the advantage of going last, which was obviously a big help because when I walked the jump-off, I didn't know if there would be seven strides to the double or eight strides to the last," said O'Shea. "But then after seeing Becky (Conway) and a few other people go, it was really there and that was a big help today."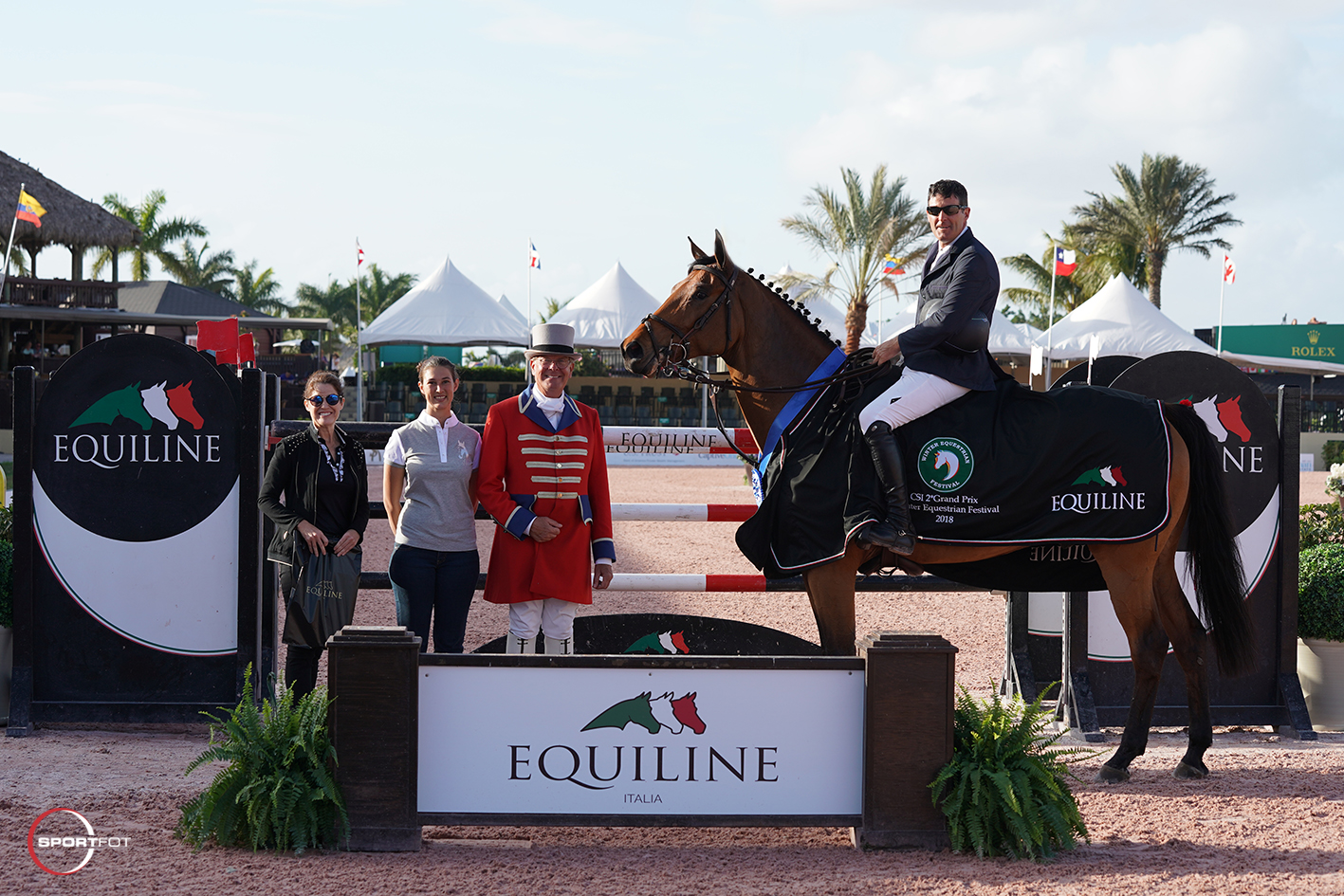 O'Shea has been riding Imerald for a year. He said, "He is owned by the Tisbo family and I am very grateful to them for letting me ride him. Lauren was here to watch him and support us."
O'Shea said of Imerald, "He is extremely scopey and brave and has a massive stride. That was useful today with the long gallops, like down to the double (combination). To be able to really open him up, his stride and scope was a big help to the last fence."
Swail has been riding GK Coco Chanel since July, but after competing at the Royal Horse Show in Toronto in November, he has not sat on the horse since.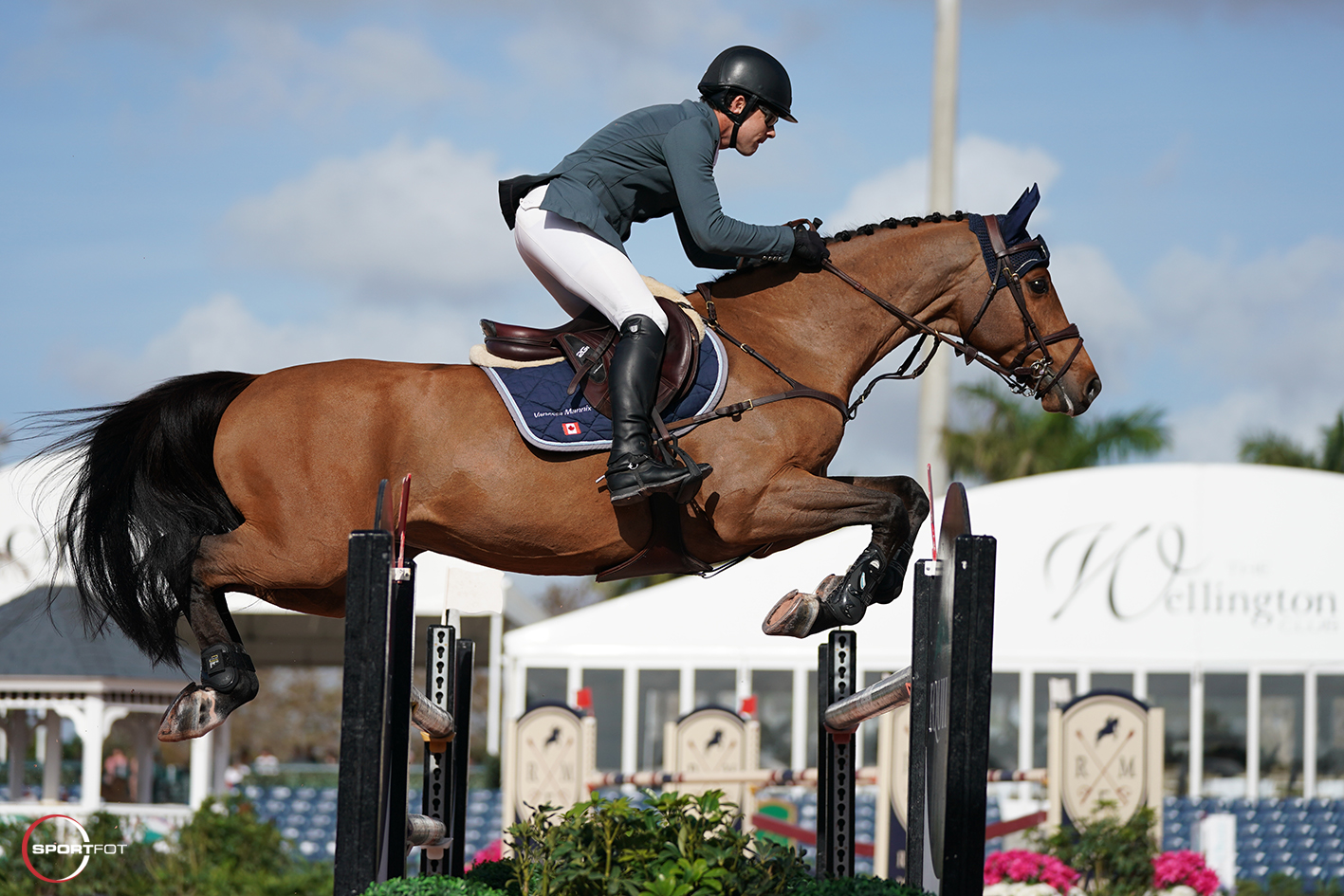 "He has had a nice break and we have done a few smaller things with him here and there with my rider, James Chalke; he has kept him going very nicely for me," he said. "I just appeared this week and I have to say the horse feels really good and he jumped very, very well today."
Conway and Salitos 8 have only been paired together since December, and it took some adjustments to get to this performance.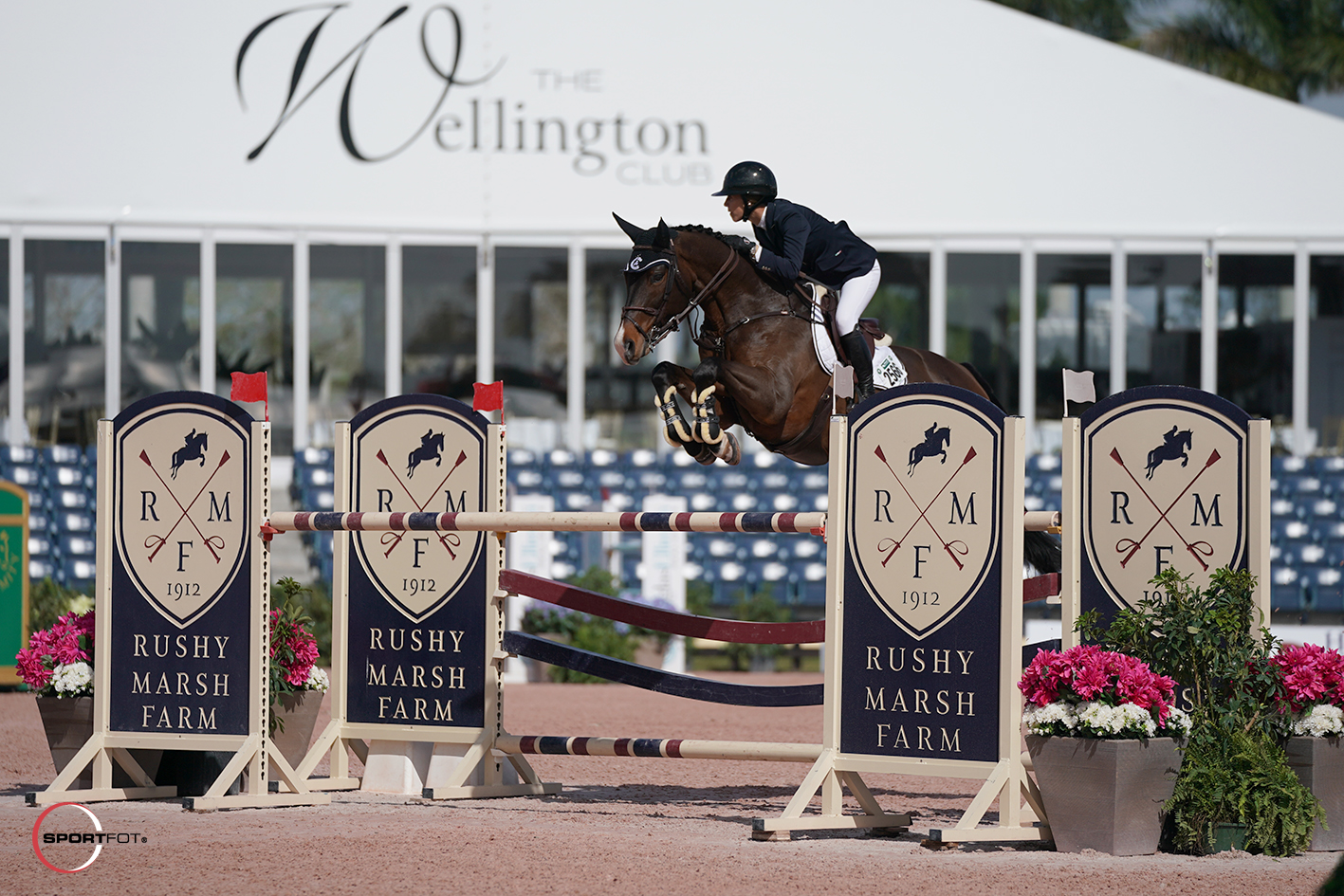 "We had to change some of the equipment a little bit as we were getting to know him," she said. "This week, he jumped very well in the qualifier and I have to say I was very rusty in the jump-off and started slow and made a mistake. John Brennan and Missy Clarke are helping me. John said to me before I went in the ring (today), 'Don't go in there and try to be fifth, go in there and try to win this thing.' He jumps this very easily and I think the few equipment changes we have made in the past few weeks are the reason why I was able to get the result I did today."
Final Results: $50,000 Equiline Grand Prix CSI 2*
1 IMERALD VAN'T VOORHOF: 2008 BWP gelding by Emerald Van't Ruytershof x Bacardi-Orange de Muze
PAUL O'SHEA (IRL), Tequestrian Farms LLC: 0/0/36.84
2 GK COCO CHANEL: 2008 Holsteiner gelding by Clarimo x Lerano 2
CONOR SWAIL (IRL), Vanessa Mannix: 0/0/38.24
3 SALITOS 8: 2008 Oldenburg gelding by Stalypso x Böckmann's Cordale Z
REBECCA CONWAY (USA), HBC Sport Horses: 0/0/38.55
4 DELINQUENT JX: 2007 SHBGB gelding by Darco x I Need You
WILTON PORTER (USA), Sleepy P Ranch LLC: 0/0/39.66
5 LOUGHNAVATTA INDIGO: 2009 Irish Sport Horse gelding by Luidam x VDL Arkansas
JONATHAN CORRIGAN (IRL), Twin Oaks Stables Inc.: 0/0/39.75
6 ZELDA: 2004 Dutch Warmblood mare by Concorde x Olisco
SARAH SEGAL (USA), T.K. Farm: 0/0/41.41
7 ILIANO VAN D'ABELENDREEF: 2008 BWP gelding by Ogano Sitte x Skippy II
MCKAYLA LANGMEIER (USA), Linda Langmeier: 0/4/38.20
8 TINO LA CHAPELLE: 2007 Selle Francais gelding by Mylord Carthago HN x Verdi HN
JUAN JOSE ZENDEJAS SALGADO (MEX), Alejandro Zendejas: 0/4/39.74
9 GEORGIE D'AUVRAY EC: 2006 Belgian Warmblood gelding by Vancouver d'Auvray x Nabab de Reve
KARRIE RUFER (USA), Morning Star Sporthorses: 0/4/42.24
10 CYPRESS VF: 2009 Holsteiner mare by Chepetto x Classido
SÖHNKE THEYMANN (GER), Morgan Evans: 0/4/45.71
11 CHICHESTER 3: 2008 Holsteiner gelding by Casall x Cosimo
ALONSO VALDEZ PRADO (PER), Alonso Valdez Prado: 0/8/40.21
12 QUINTENDER LS: 2009 La Silla gelding by Quidam de Revel x Contender
CARLOS MYRRHA (BRA), El Milagro: 1/76.08
McLain Ward and Bellefleur PS Z Win Second Class of the Week
In their second victory of the week, McLain Ward and Bellefleur PS Z won the $70,000 Hollow Creek Farm 1.50m Classic CSI 5* over a field of 55 entries. There were 17 that advanced to the jump-off, and it was race for the nine double-clear rides. With the fastest time in the class of 35.93 seconds, Ward and Bellefleur PS Z graced the winner's circle. The pair also won Friday's $35,000 Bainbridge 1.45m Classic.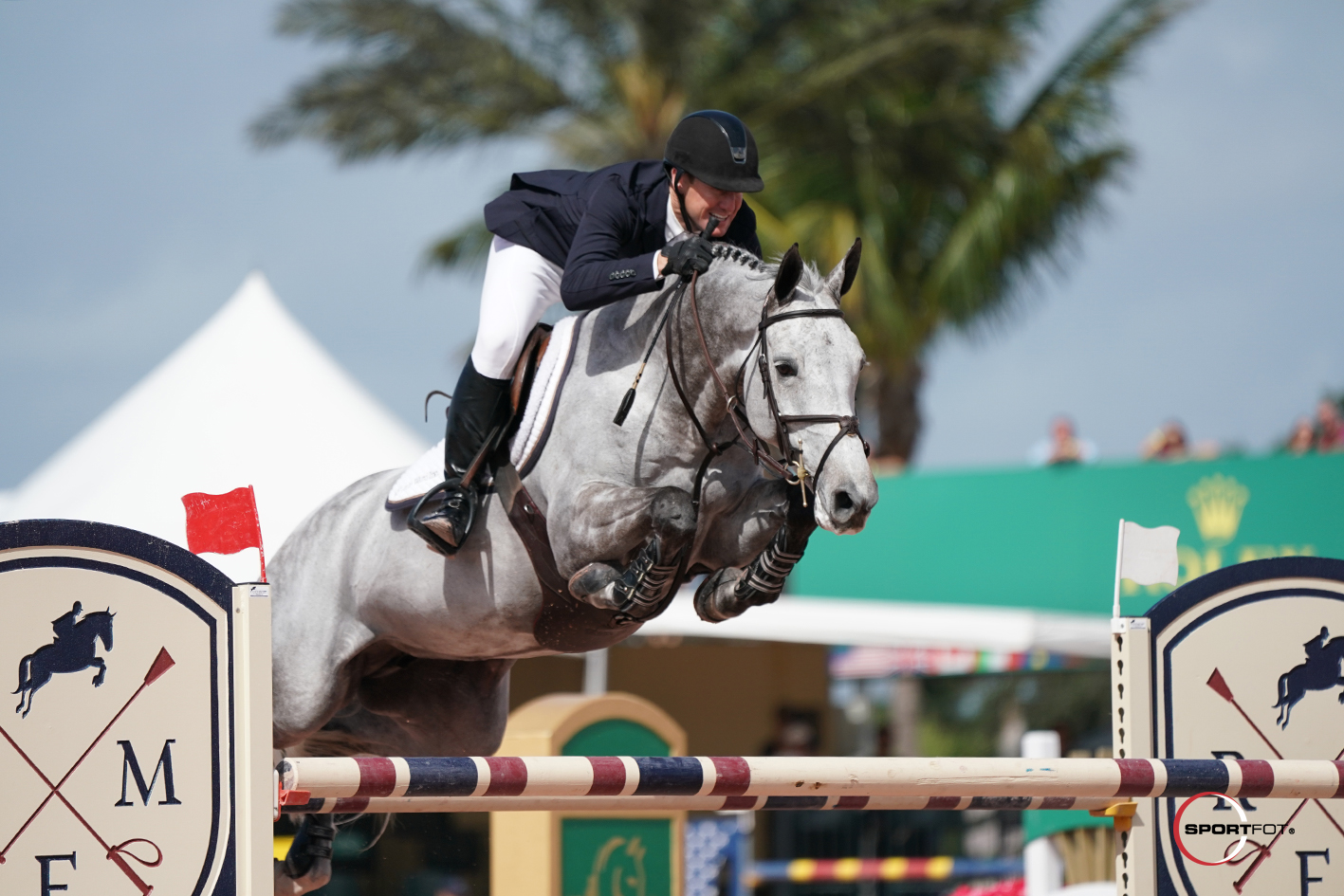 Second place went to Francisco Jose Mesquita Musa (BRA) on Catch Me Imperio Egipicio, owned by Daniel Aguiar Morelli, who stopped the timers in 37.09 seconds. Eve Jobs (USA) and her own Charleville were third in 38.19 seconds.
Ward said that Bellefleur PS Z, a nine-year-old Zangersheide mare by Berlin x Quidam de Revel owned by Susan Heller and Lilly Ward, has been jumping clear rounds her whole life and shows off her exuberant jumping style no matter what, usually bringing home the blue ribbon.
"Her jumping style is ridiculous," said Ward. "The pictures are obscene actually. She will go to a show and win three out of four classes like that."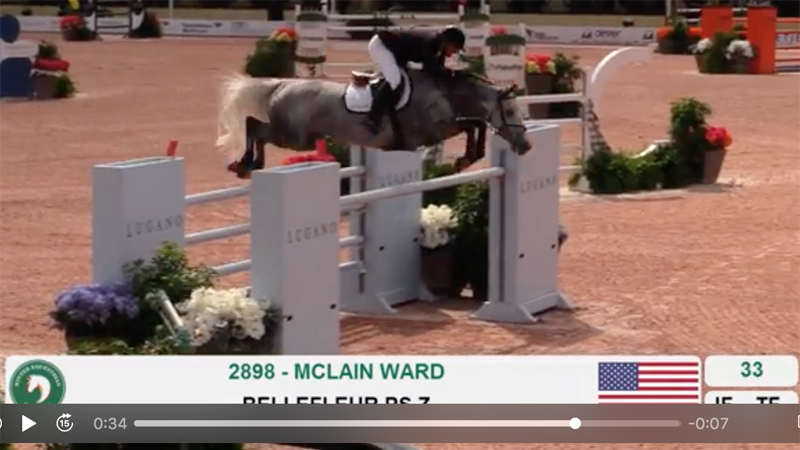 Watch the winning 1.50m jump-off ride in WEF 5 for McLain Ward and Bellefleur PS Z!
While her style and consistent victories remind spectators and Ward himself of his past incredible horses Goldika 559 and HH Carlos Z, Ward believes that having had Bellefleur since she was six years old will pay off even more in the future.
He explained, "She is like Goldika or Carlos or that model of a horse. I wasn't able to have those horses from the beginning so sometimes they came with a little bit of baggage by the time I got them. This horse I have had from the beginning and have been able to not only plan out her career, but also to try to put her in a positive way. When you have a horse that is that careful, that makes a big difference."
Earlier in the morning in the International Arena, Katie Browne and Eranka B, owned by Dayle Fischer, won the $10,000 Equitan Medium Junior Jumper Classic.
Final Results: $70,000 Hollow Creek Farm 1.50m Classic CSI 5*
1 BELLEFLEUR PS Z: 2009 Zangersheide mare by Berlin x Quidam de Revel
MCLAIN WARD (USA), Susan Heller and Lilly Ward: 0/0/35.93
2 CATCH ME IMPERIO EGIPICIO: 2008 Hanoverian mare by Contagio x Werther
FRANCISCO JOSE MESQUITA MUSA (BRA), Daniel Aguiar Morelli: 0/0/37.09
3 CHARLEVILLE: 2007 KWPN gelding by Quasimodo Z x Lancelot
EVE JOBS (USA), Eve Jobs: 0/0/38.19
4 D CANCARRA A.C.: 2009 SBS stallion by Contefino x Kashmir van Schuttershof
OLIVIER PHILIPPAERTS (BEL), Ludo Philippaerts: 0/0/38.42
5 CARRABIS Z: 2003 Zangersheide stallion by Canabis Z x Grannusso
RICHIE MOLONEY (IRL), Equinimity LLC: 0/0/38.91
6 SOORY DE L'HALLALI: 2006 Selle Francais mare
ZOE CONTER (BEL), Stephex Stables: 0/0/39.18
7 CARTOUCHE: 2007 Silla Argentina stallion
MCLAIN WARD (USA), McLain Ward: 0/0/39.37
8 ADAMO: 2005 KWPN gelding by Lupicor x Ekstein
CHLOE REID (USA), Team Honor USA LLC: 0/0/41.30
9 ARMIK: 2009 Oldenburg gelding by Armitage x Justinian xx
CAPT. BRIAN COURNANE (IRL), Brian Cournane and M/M Bob Stiller: 0/0/41.52
10 ECLATANT: 2009 KWPN gelding by Berlin x Heartbreaker
PETRONELLA ANDERSSON (SWE), Stephex Stables: 0/4/37.11
11 BRIGHTON: 2006 KWPN gelding by Contender II x Quick Star
TIFFANY FOSTER (CAN), Artisan Farms LLC: 0/4/38.51
12 Z DIAMANTY: 2007 Holsteiner mare by Diamant de Semilly x Cor de la Bryere
KEEAN WHITE (CAN), The Z Group, Javier Salvador Stables, and Diamante Ate: 0/4/40.47
UHealth Junior Hunter 3'3" 16-17 Division Championship Goes to Erin Floyd Aboard Cymplify
Week five came to a close on Sunday with a fantastic championship win by Erin Floyd, from Austin, TX, and Cymplify, owned by Don Stewart, in the UHealth Junior Hunter 3'3" 16-17 division. The duo, having only been paired together for a few short weeks, gathered enough points to best the class with a first, first, second, and third over fences.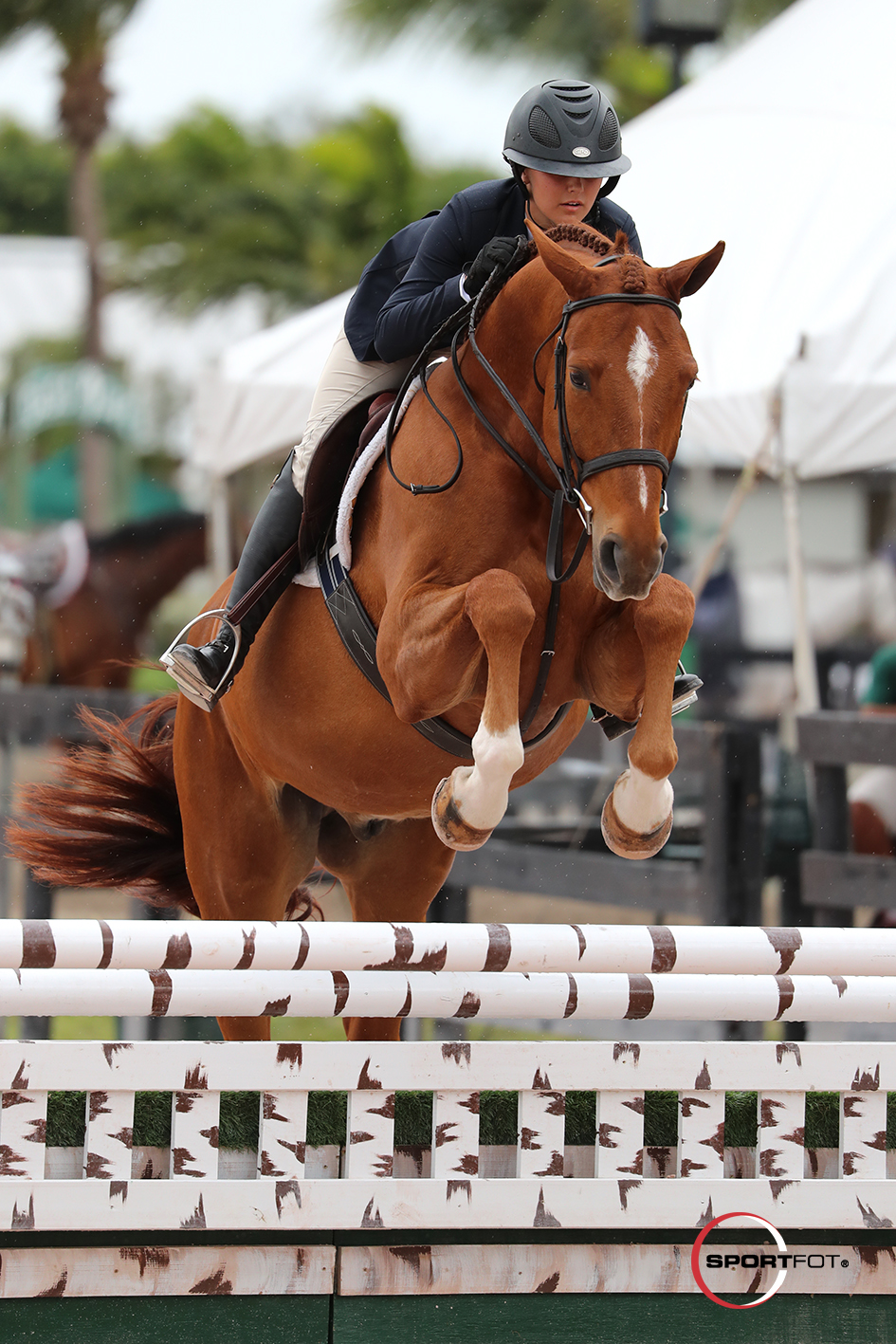 "He basically feels like a rocking horse going around the ring," said Floyd of the 11-year-old Hanoverian gelding. "I have only been showing him in the [Junior Hunter] 3'3"s for the past couple weeks, so I'm still getting used to him. He has been great throughout it all, even without getting in a perfect work routine."
Floyd plans on leasing Cymplify from Don Stewart for the rest of the circuit and hopes to continue to strengthen her relationship with the talented gelding. Cymplify, previously owned by Hasbrouck Donovan, is no stranger to the winner's circle and has prevailed in some prestigious classes, such as his win in the $10,000 Devoucoux Hunter Prix at HITS Ocala in 2015.
"He's got a great stride going to the jump, and he walks down all of the lines," said Floyd. "Even if you don't jump in great, he just makes it beautiful going out no matter what."
The pair's 90 today over fences further strengthens the young Texan's statement.  Floyd expressed that her long-term plan with the gelding is to make it to indoor finals this year and to continue to give it their all in the show ring.
"[Our goal] is really just to do the best that we can do!" said Floyd.
Reserve honors went to Caroline Ratigan and her mount, Trust, with a second in the under saddle and a first, second, third, and third over fences.
The 2018 Winter Equestrian Festival continues in week 6 with WCHR hunter competition in the WEF International Arena and FEI jumper classes on the grass derby field and in the Global International Arena at Equestrian Village (13500 South Shore Blvd.) at Palm Beach International Equestrian Center.
Photo Credit: Photos © Sportfot, Official Photographer of the Winter Equestrian Festival. These photos may be used only in relation to this press release and must include photo credit.