For Immediate Release
Jennifer Wood Media, Inc.
Wellington, FL – March 29, 2018 – Eighteen-year-old Lucy Deslauriers (USA) clinched the biggest victory of her career on Thursday in the $132,000 Equinimity WEF Challenge Cup Round 12 riding Hester, owned by Lisa Deslauriers. WEF continues through April 1 at Palm Beach International Equestrian Center in Wellington, FL, and offers more than $9 million in prize money.
WEF concludes with its twelfth week of competition on March 28-April 1, sponsored by Rolex. The highlight event is the $500,000 Rolex Grand Prix CSI 5* in the WEF International Arena on Saturday, March 31, at 7:45 p.m. Additional featured classes are the $15,000 International Hunter Derby Hunt & Go and $10,000 USHJA National Hunter Derby starting at 9:30 a.m. on the grass derby field at Equestrian Village (13500 South Shore Blvd.) on Friday, March 30. WEF wraps up with the $50,000 USHJA International Hunter Derby Round Two on the grass derby field at 1 p.m., and the $50,000 Wanderers Club Grand Prix CSI 2* and $50,000 CP 1.50m National Grand Prix in the WEF International Arena, on Sunday, April 1.
After coming back from a shoulder injury and a surgery on her hand at the end of 2017, Deslauriers returned to the saddle during week four of WEF. She topped a field of 63 in Thursday's class and qualified for Saturday night's $500,000 Rolex Grand Prix CSI 5*. Twenty-seven horses jumped fault-free over a course built by Brazil's Guilherme Jorge, but five elected not to return, setting the stage for a 22-horse jump-off.
Returning in the latter half of the sizeable field, Deslauriers and Hester, a 13-year-old Belgian Warmblood gelding (Wandor van de Mispelaere x Palestro vd Begijnakker), stopped the jump-off timers in a blistering 34.70 seconds. Less than a second off the pace in 35.26 seconds, Ireland's Darragh Kenny was bumped to second place riding Babalou 41, owned by Jack Snyder. Fellow Irish rider Shane Sweetnam rounded out the top three in 35.71 seconds aboard Chaqui Z for owner Spy Coast Farm, LLC.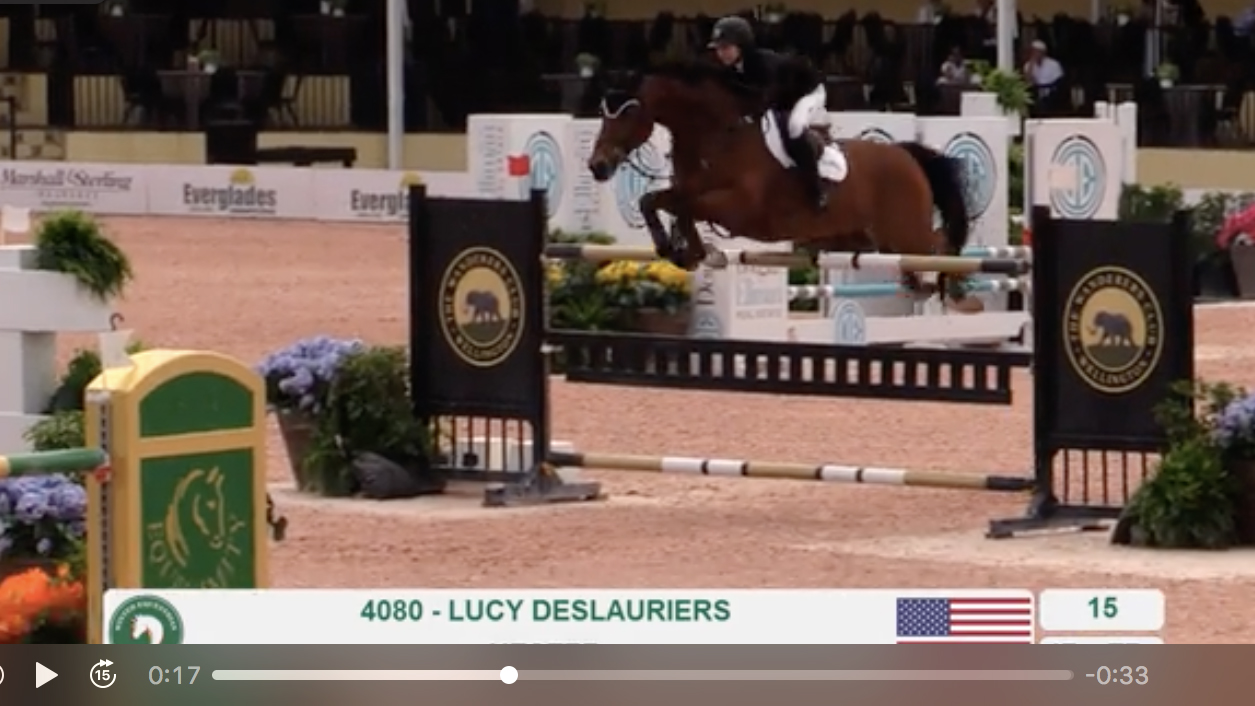 Watch the winning round here!
"My round actually wasn't exactly what our plan was," said Deslauriers. "I got down the first line a little earlier than I expected and that changed the turn to the next jump a little bit. Everything was connected in the first round as well as the jump-off; one line directly affected the next. But, Hester is naturally super fast and even when I had to add one more stride here or there he was right there with me. He is the best and I am so lucky to have him.
"In the beginning, I tried to keep my foot speed up but there were two places where I tried to make up the time," continued Deslauriers. "I did the six [strides] after the double to the oxer at fence number one and then I really galloped afterwards and turned quite sharp back on the vertical."
Of her comeback after being sidelined for two months, Deslauriers noted, "It is the longest I had ever gone without riding. It definitely took me a lot longer to get back feeling normal in the saddle than I thought. I just had to be patient and let my body tell me when it was ready for me to jump big jumps again. We made this plan about three or four weeks ago and I was really aiming for this class.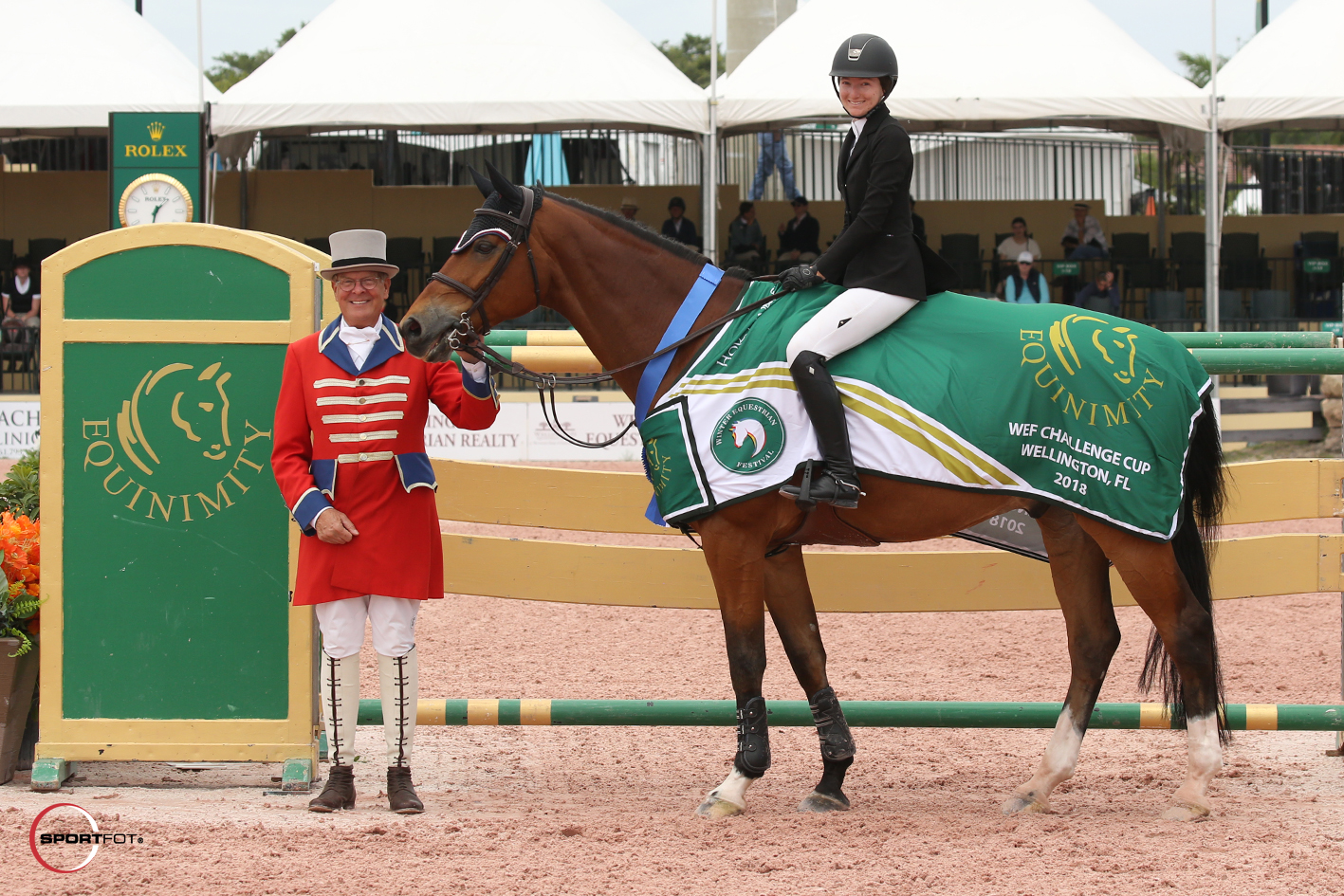 Deslauriers trains with her father, Mario, but has also been getting help from two-time U.S. Olympic gold medalist McLain Ward over the last several weeks.
"Sometimes it's nice to hear things from a little different perspective so it's nice to have him in my corner, but obviously I still have my dad and having both of them is really special," she said. "We were all super excited. Given my injury and taking a little more time than we thought getting back to normal, we have been waiting for something big like this."
Final Results: $132,000 Equinimity WEF Challenge Cup Round 12
1 HESTER: 2005 Belgian Warmblood gelding (Wandor van de Mispelaere x Palestro vd Begijnakker)
LUCY DESLAURIERS (USA), Lisa Deslauriers: 0/0/34.70
2 BABALOU 41: 2005 Oldenburg mare by Balou du Rouet x Silvio I
DARRAGH KENNY (IRL), Jack Snyder: 0/0/35.26
3 CHAQUI Z: 2006 Zangersheide stallion by Chacco Blue x Quinar Z
SHANE SWEETNAM (IRL), Spy Coast Farm LLC: 0/0/35.71
4 CARLCHEN W: 2008 Mecklenberg gelding by Chacco-Blue x Continue
ALEX GRANATO (USA), Page Tredennick: 0/0/35.74
5 CALLE 67: 2009 Westphalian gelding by Carell x Capitalist
MEREDITH MICHAELS-BEERBAUM (GER), Michaels & Beerbaum GmbH: 0/0/36.48
6 DARRY LOU: 2008 KWPN gelding by Tangelo van de Zuuthoeve x Nabab de Reve
BEEZIE MADDEN (USA), Abigail Wexner: 0/0/36.62
7 CONFU: 2007 Holsteiner gelding by Contact Me x Cambridge
LAURA KRAUT (USA), St. Bride's Farm: 0/0/36.89
8 DINGEMAN: 2008 KWPN gelding by Nintender x Darnels
SANTIAGO LAMBRE (MEX), Santiago Lambre: 0/0/37.40
9 DINO: 2008 KWPN gelding by Vingino x Coriano
CAPT. BRIAN COURNANE (IRL), M/M Robert Stiller: 0/0/37.71
10 ROUGE PIERREVILLE: 2005 Selle Français gelding by Ultimo van ter Moude x Narcos II
GUILLAUME BATILLAT (FRA), Edwin Smits, Claire Franzoni & Daniel Desforges: 0/0/37.72
11 HUNTERS CONLYPSO II: 2008 Hanoverian gelding by Contendro I x Calypso II
LORCAN GALLAGHER (IRL), Dacantos Group: 0/0/38.10
12 DONJO: 2008 KWPN gelding by Zirocco Blue VDL x Ahorn
TIFFANY FOSTER (CAN), Ronnoco Jump Ltd.: 0/0/44.48
Penny Lombardo and Cartier R Capture USHJA Hunter 2'9" Championship
Ava Lindsay for Jennifer Wood Media, Inc.
The USHJA Hunter 2'9" division awarded its championship tricolor to Penny Lombardo and Cartier R, an entry of Jenny Sutton, early on Thursday morning. The pair impressed the judges for the final week at the WEF by winning two blue ribbons, a fourth, and a fifth over fences in addition to taking fifth place in the under saddle.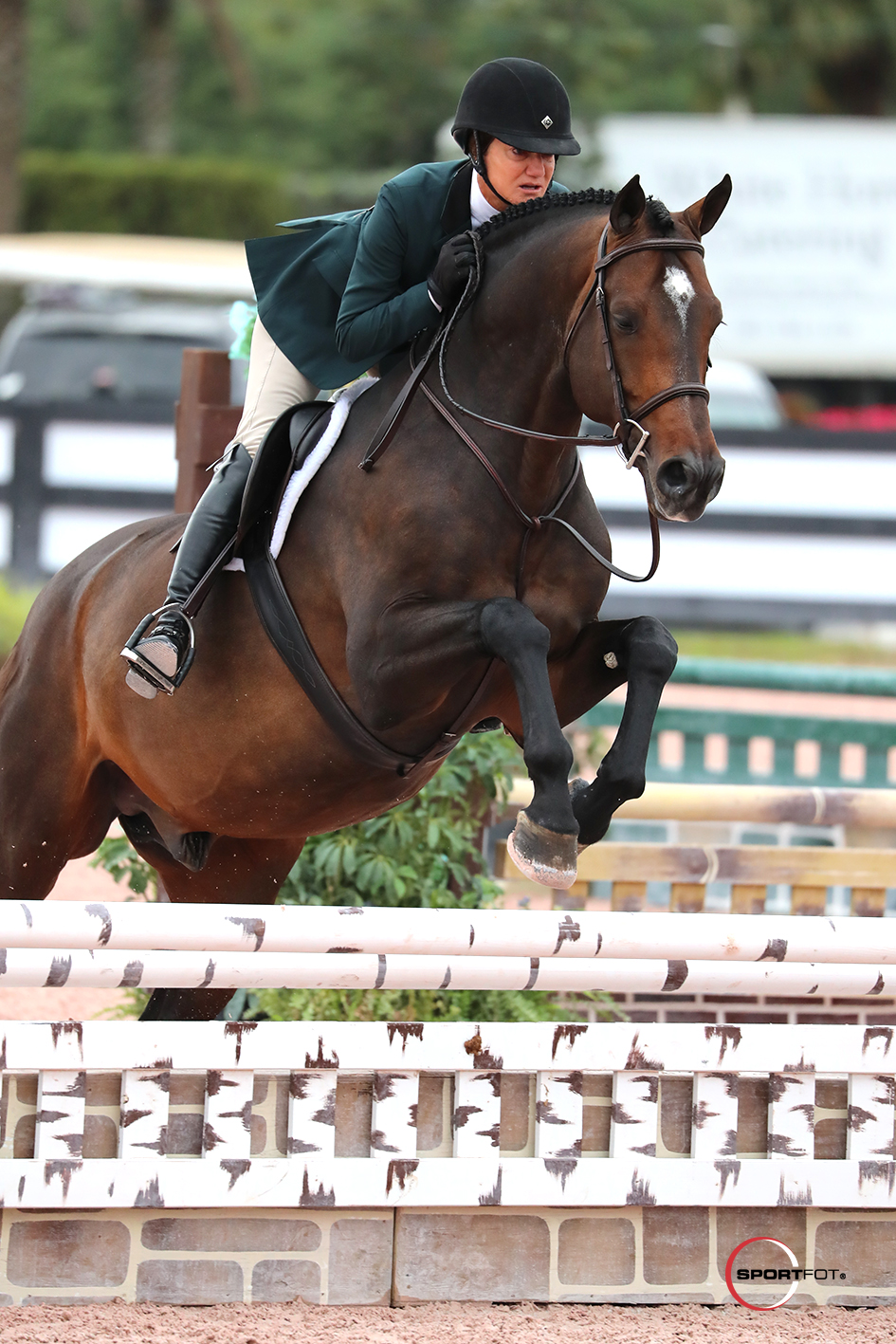 When asked about her history with this mount in particular, the professional of Loxahatchee, FL, said, "I've ridden him for two seasons now, and he is lovely. Like many, he was a jumper before Jenny got him, so we have been working on getting him to understand that he can go slow and be quiet to the jumps, and he has done that beautifully this year. For a stallion, he is actually very easy-going, good-minded, and naturally rather quiet."
The 9-year-old Holsteiner has accompanied Lombardo as well as his owner in the ring for two consecutive years. Lombardo added that today's double win was a special triumph for herself as well as great preparation for the young stallion, who will continue to compete with Sutton in the Low Adult Hunter 2'6" division.
"It's a great feeling to have the opportunity to ride nice horses for nice people like this, and it feels wonderful to win both classes today, especially since it's the last week," said Lombardo. "Every year, I feel like this show helps me both as a rider and as a professional. The WEF series allows me to be able to bring out the green horses and to be able to perfect the rides on them so that they can jump as well as they can. It's a great opportunity to set them up for the summer."
Jennifer Hannan secured reserve honors aboard Namaste, owned by Cynthia Sulzberger, with two first-place finishes over fences.
The 12th and final week of WEF continues on Friday, March 30, with the $35,000 Douglas Elliman 1.45m CSI5* and $35,000 Wanderers Club 1.45m CSI2* taking place in the International Arena. For hunters, a $15,000 International Hunter Derby Hunt & Go and $10,000 USHJA National Hunter Derby will take place on the Derby Field at Equestrian Village.
Photo Credit: Photos © Sportfot, Official Photographer of the Winter Equestrian Festival. These photos may be used only in relation to this press release and must include photo credit.