For Immediate Release
Jennifer Wood Media, Inc.
Wellington, FL – March 2, 2018 – Twenty-four-year-old Lacey Gilbertson (USA) claimed a victory in the $35,000 Hermès Under 25 Semi-Final Grand Prix riding Baloppi under the lights in the International Arena on Friday, March 2, during week eight of the 2018 Winter Equestrian Festival (WEF).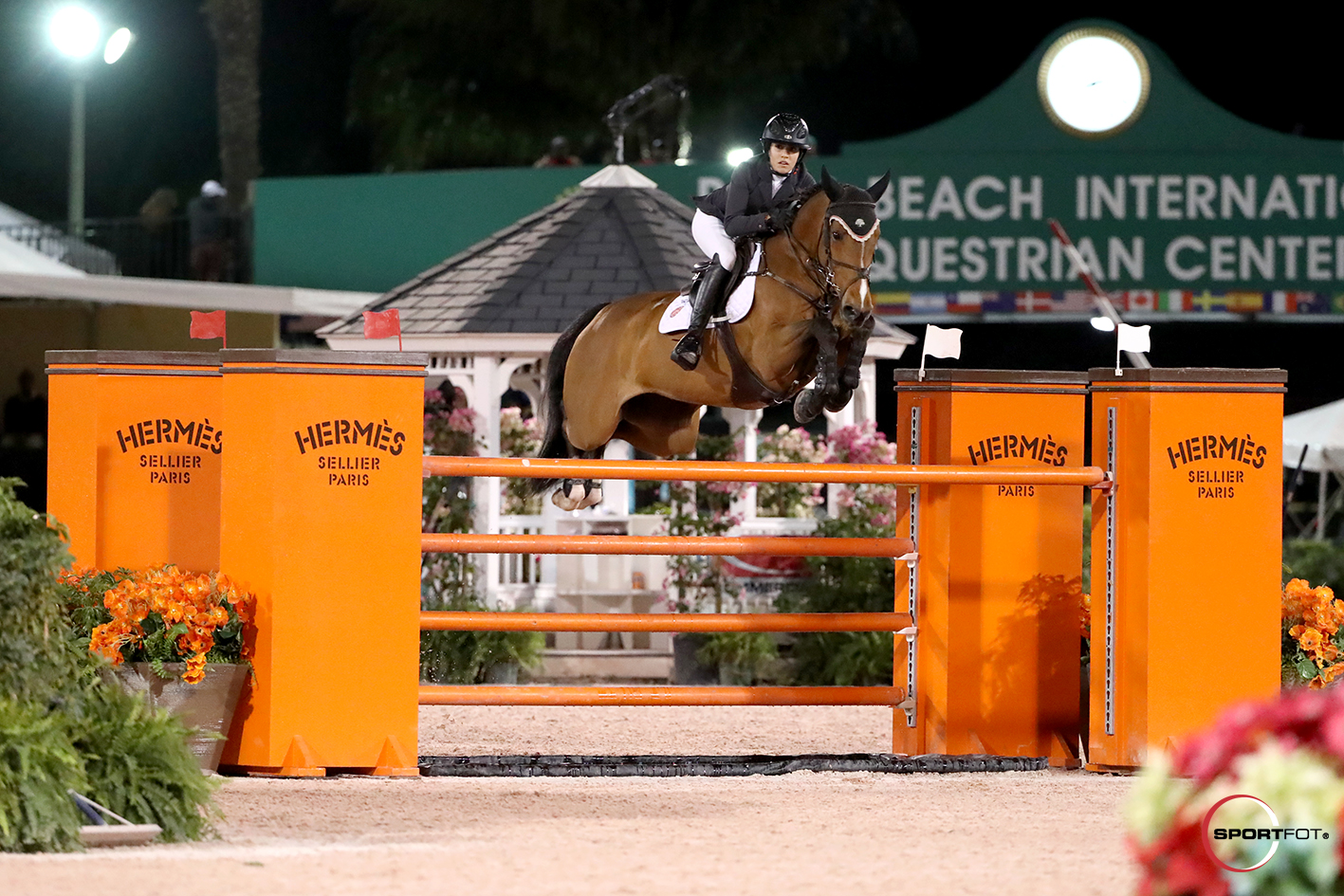 WEF holds its eighth week of competition on February 28-March 4 with CSIO 4* competition sponsored by U.S. Trust & Bank of America Merrill Lynch. Highlights include the $150,000 Nations Cup CSIO4*, presented by U.S. Trust & Bank of America Merrill Lynch on Saturday, March 3, at 7 p.m., and the $205,000 CSIO4* Grand Prix, presented by Lugano Diamonds on Sunday, March 4, at 1 p.m. WEF hosts hunter, jumper, and equitation competition until April 1 and offers more than $9 million in prize money.
 In Friday night's class, 47 starters jumped the first-round track set by Ken Krome (USA) with seven pairs advancing to the jump-off. The top three finishers all posted fault-free rounds, making foot speed the deciding factor for the final placings. Gilbertson and Baloppi, an 11-year-old Danish Warmblood mare owned by Seabrook LLC, crossed the timers in a blistering 40.21 seconds for the win.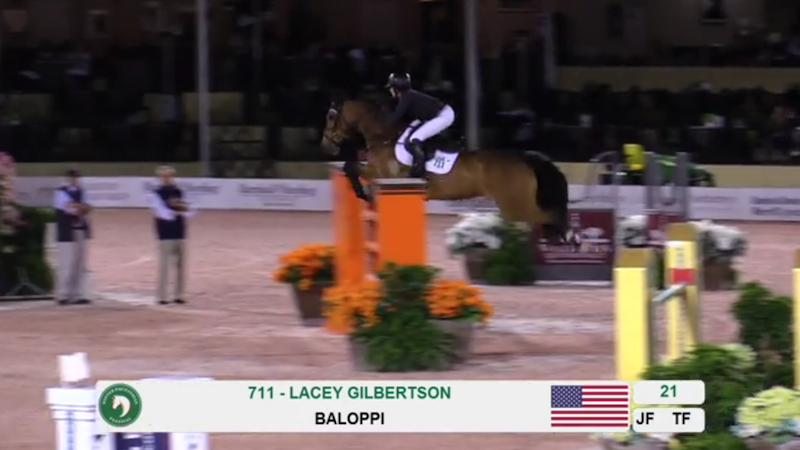 Click here to watch the winning jump-off round!
 Second-place finisher, Ailish Cunniffe (USA) returned first in the jump-off to lay down an early pace in 41.70 seconds aboard Baloucento 2, a 13-year-old Oldenburg mare (Baloubet du Rouet x Cento) owned by Whipstick Farm, Ltd. Third place went to Ransome Rombauer (USA) and her own Emorkus RE, a nine-year-old KWPN gelding (Quasimodo van de Molendreef x Haarlem).
With the semi-final win, Gilbertson held on to her spot at the top of the Hermès Under 25 rankings at WEF after success in the division this season at WEF.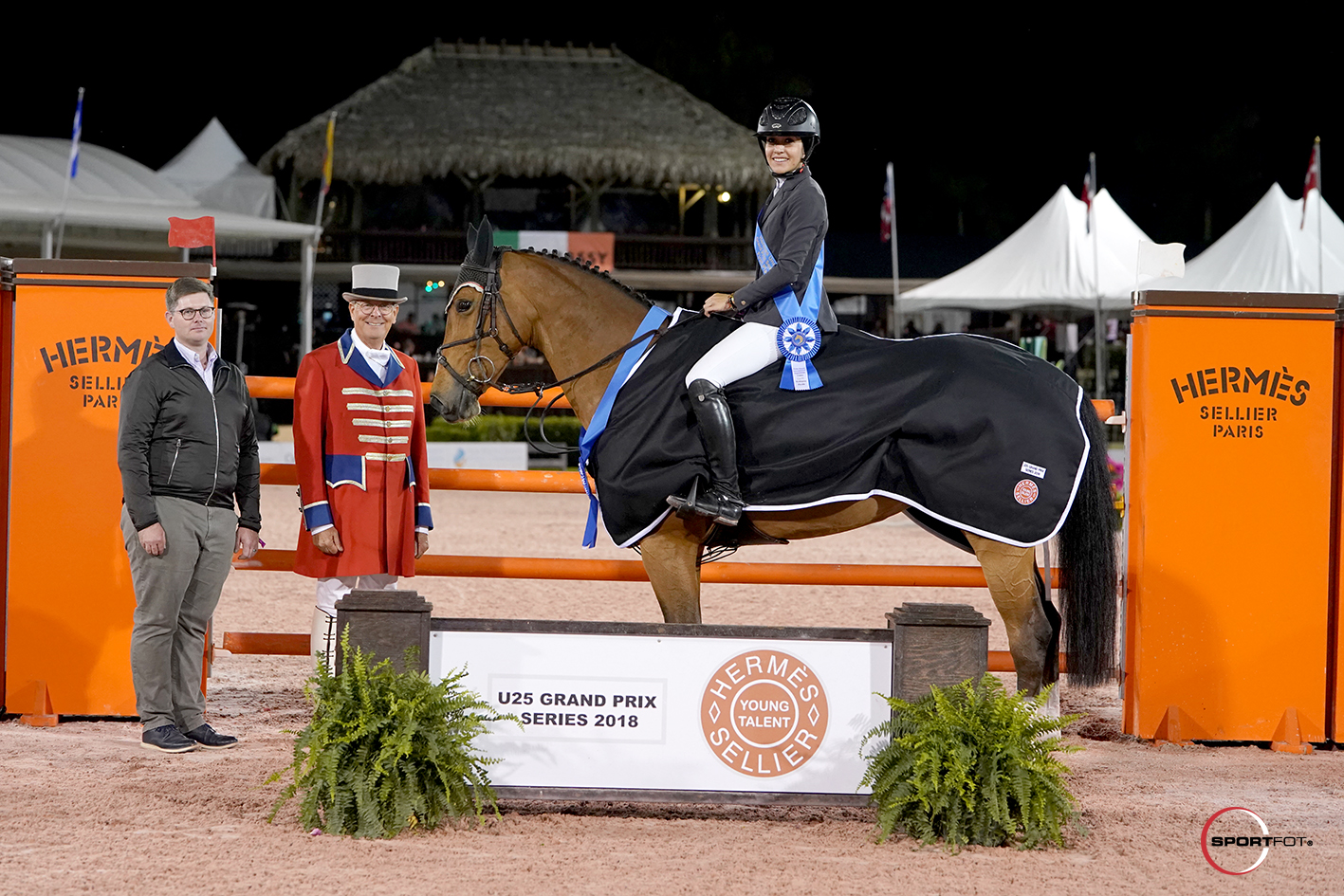 "I've been doing [the Under 25] for a few years, but I didn't start doing the jumpers until I was about 18, so I started a little bit late," said Gilbertson. "I didn't jump bigger than 3'6" until then. So, even though I've done it for a few years, I still feel like this is the first year that I've actually been able to be competitive. It's nice to be able to do stuff like this; go under the lights and jump across the street, and not have to show against the best in the world every time."
Gilbertson returned sixth over the short course and praised Baloppi's speed, saying, "I actually missed one of the inside turns, but luckily she's really quick across the ground, so she covered it okay. Ailish is super fast, so I knew I was going to have to run her a bit if I wanted to win. Luckily, I was barely faster.
"She's the most magnificent animal I think in the entire world," continued Gilbertson of Baloppi. "She's incredibly brave, very fast, careful. She has a lot of heart. She's just amazing."
Gilbertson bumped Cunniffe, a 20-year-old sophomore at Southern Methodist University in Dallas, TX, to runner-up by just over one second.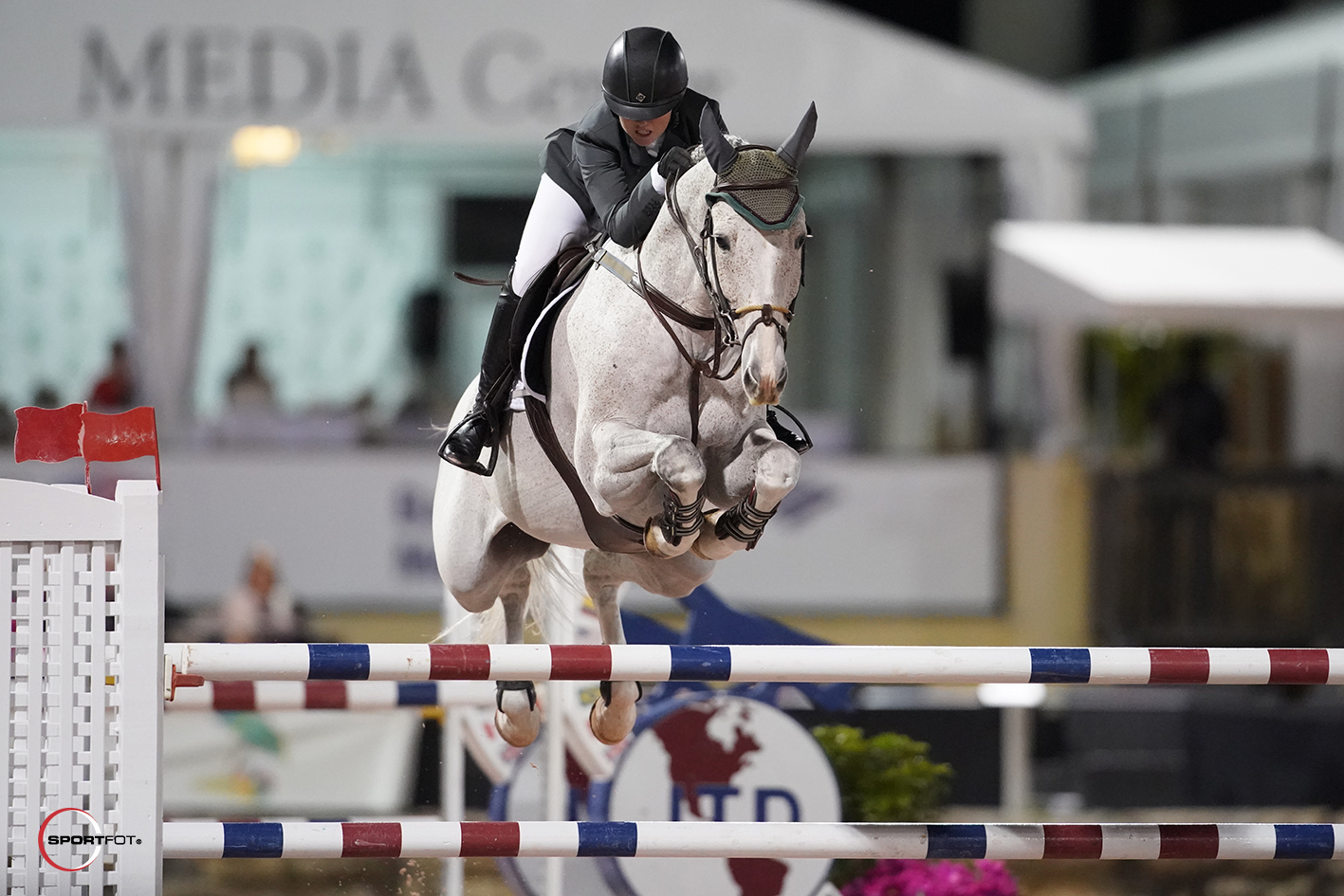 "Going into the jump-off, my plan was to put pressure on because you don't always know how fast everyone else will go, so you basically just have to go as neat and as fast as you can without making any mistakes," said Cunniffe, who has been competing in the Under 25 division for three years. "It's a great division for up-and-coming riders. You get to show in all different arenas and all different formats which I think is helpful for us to know things like Nations' Cup format and riding the open water."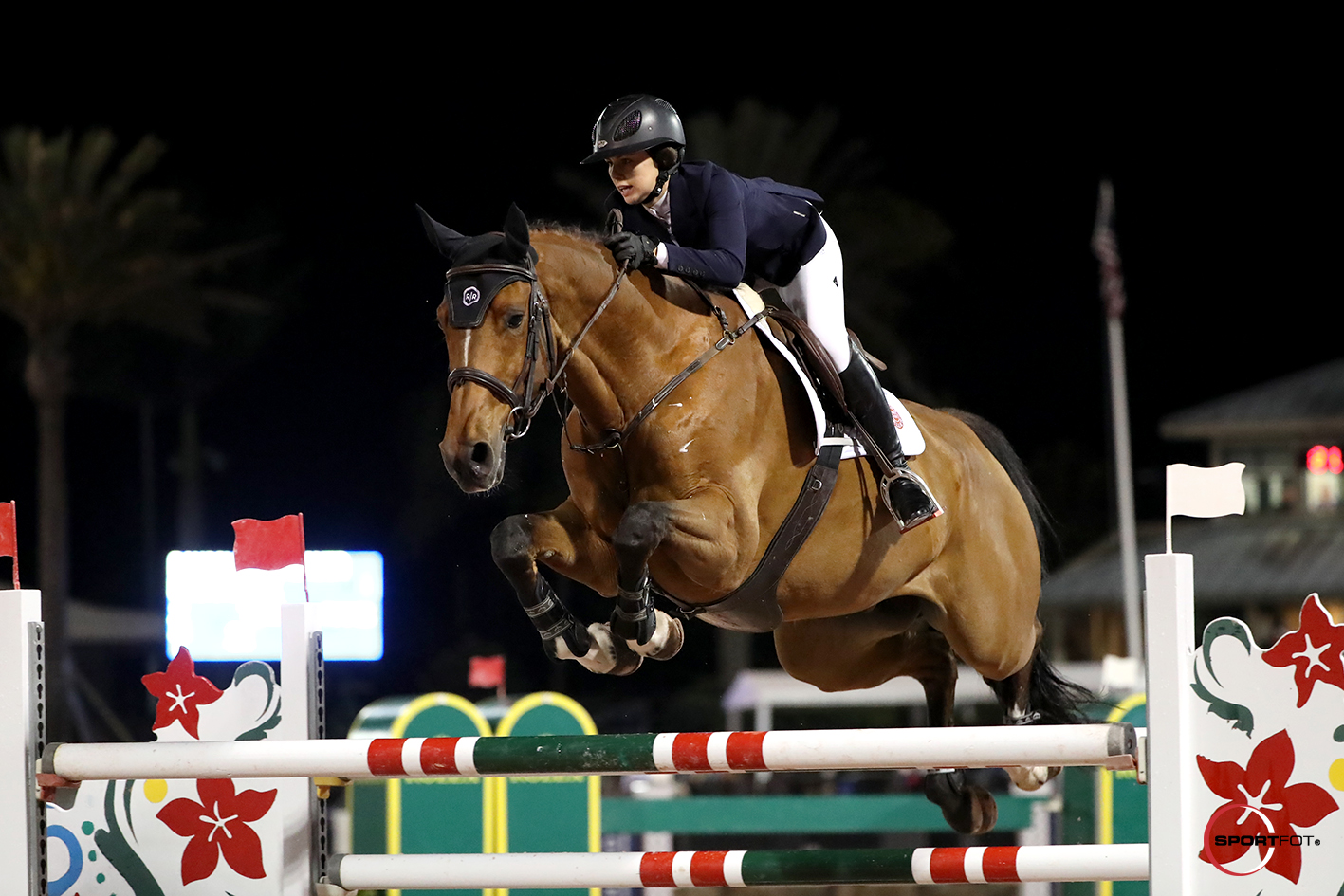 In third, Rombauer, who also attends Southern Methodist University as a freshman, made her debut in Under 25 competition with a new mount on Friday, saying, "I got Emorkus at Spruce Meadows from Eric Lamaze. Spencer Smith helped me find him, and this was both of our first time under the lights. He was amazing. I couldn't have asked for him to be better. I was nervous going in, but he really helped me fight and held my hand throughout the course."
The Hermès Under 25 Grand Prix Series concludes with the top 30 riders in the point standings advancing to the $50,000 Grand Prix Final, which will take place on the grass derby field of Equestrian Village during Week 11 of WEF on Sunday, March 25.
 Kenny and New Mount Babalou 41 Capture Hollow Creek Farm 1.50m National Grand Prix
 A new combination in the ring went to the winner's circle in the $50,000 Hollow Creek Farm 1.50m National Grand Prix over 34 other competitors. Darragh Kenny (IRL) and Babalou 41, owned by Jack Snyder, were the only double clear in the class, winning on a time of 39.945 seconds.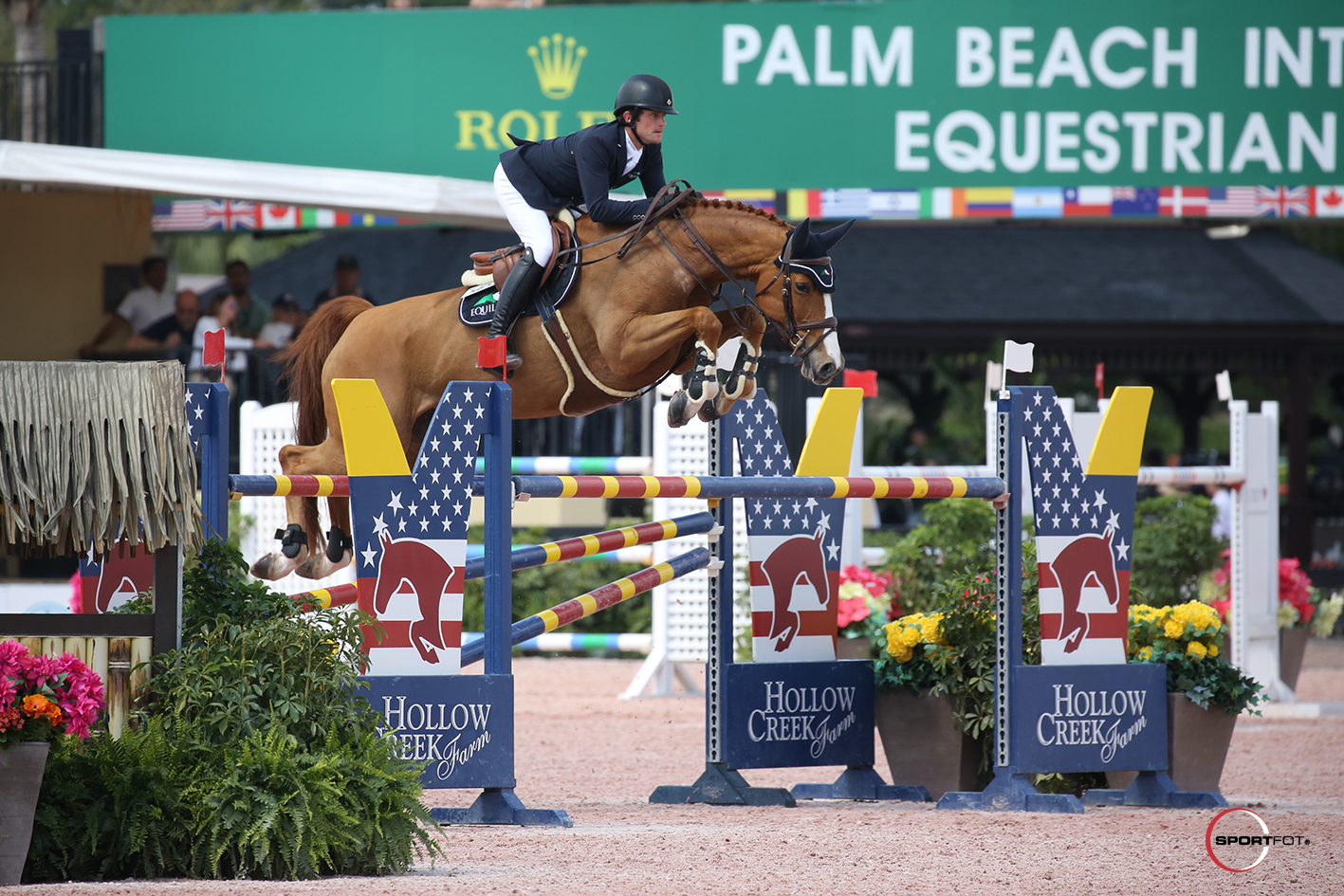 Second place went to Rodrigo Lambre (BRA) and Mario Onate's Chapilot, who had four faults in 38.513 seconds. Mario Deslauriers (CAN) and Bardolina 2, owned by Wishing Well Farm LLC, were third with four faults in 39.778 seconds.
"I always thought she was a really super horse and I thought she would be a suitable ride for me," said Kenny of Babalou 41, his mount of six weeks. "It ended up working out for me and the owners for me to ride the horse. She has so much quality. She's so careful and so scopey. I normally get on really well with mares."
This was their first 1.50m class together and victory came in the "getting to know each other stage," said Kenny, but he wasn't going to hold back when it came to speed in the jump-off.
"Everybody who knows me, [knows] I don't like to finish second," he said. "My plan was always to try and win this class. I was warming up and saw that nobody was clear, so I thought, 'Ok, go clear and be quick enough, but don't go crazy.' And then hopefully it pays off."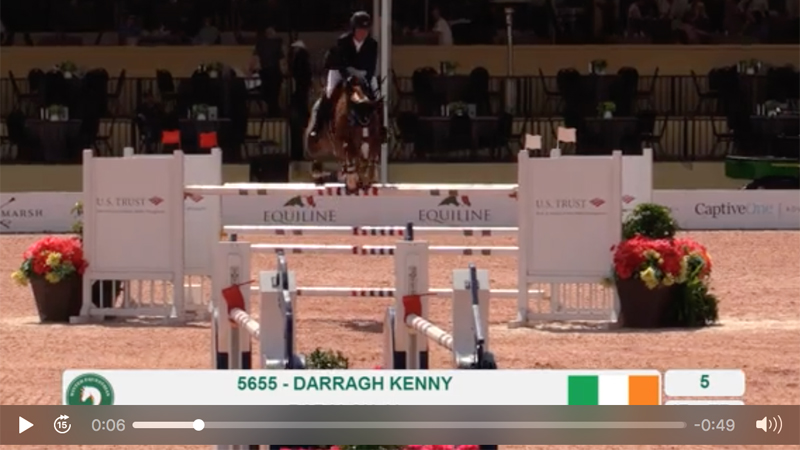 Click here to watch the round!
Kenny and Babalou 41 will compete next in the FEI division during WEF 10 and will also aim for the final week 12 competition.
 Annabel Revers and Quax Awarded Blue Ribbon in Platinum Performance USEF Show Jumping Talent Search 3*
 Friday's competition began in the DeNemethy Ring with Annabel Revers and Quax, owned by Beechwood Stables, LLC, claiming the blue in the Platinum Performance USEF Show Jumping Talent Search 3* class. The pair aced the open water jump and challenging course of bending lines and returned as one of the top 12 competitors to impress the judges in the flat test. Ava Stearns was close behind with a second-place finish aboard her mount, Mac One III, owned by Lauren Hough, and Emma Kurtz took third aboard Carl, owned by Dr. Betsee Parker.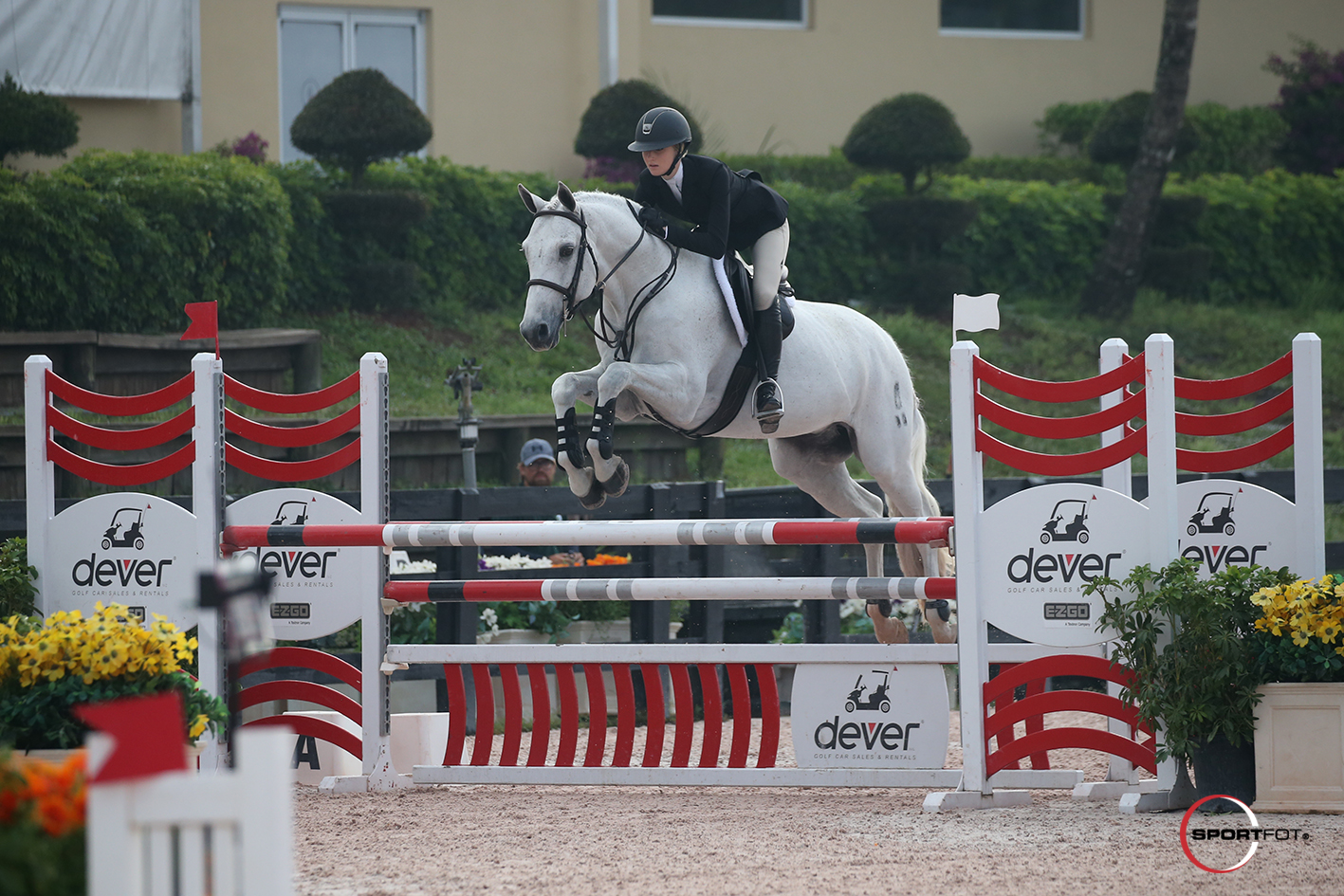 "I think having a nice pace and finding the jumps out of stride was what helped us stand out today," said Revers. "I am really excited about this win because I feel like it's a good sign for [the Platinum Performance USEF Show Jumping Talent Search Finals] in the fall, and three-star competition is as close as we are going to get to what actual finals are going to be like. It's a wonderful opportunity to be able to practice over a course that is a little bigger with an open water jump without the rail, and that is a little bit more technical than the one star and two star classes. This makes me feel like we are really making progress towards our goals for the rest of the year."
Today marked an exciting win for the duo, as they placed second in the class during week four of the Winter Equestrian Festival. Revers has ridden Quax, a coming 15-year-old Oldenburg gelding by Quite Capitol x Rica Love, since he was imported from Europe four years ago, and the pair have continued to show that they are a perfect match.
"He was my first real equitation horse," said Revers. "I didn't even try him when we bought him! Another one of my trainer's students tried him and sent me the videos, and thankfully it worked out. When we got him we didn't really know what he was going to turn out to be, but he is a really special horse. I have a really strong bond with him, since I have had him for so long, and we have really been through a lot together."
Further detailing her partnership with the gelding, Revers added, "I feel like when people think of me, they think of 'Annie and Quax.' He has really gotten my name out there and taken me so far."
In the weeks to come, Revers' plans include giving Quax a week of rest and then getting some more equitation practice in the show ring to prepare for week 11's 11th Annual George Morris Excellence in Equitation class.
 Final Results: $35,000 Hermès Under 25 Grand Prix
1 BALOPPI: 2007 Danish Warmblood mare
LACEY GILBERTSON (USA), Seabrook LLC: 0/0/40.21
2 BALOUCENTO 2: 2005 Oldenburg gelding by Baloubet du Rouet x Cento
AILISH CUNNIFFE (USA), Whipstick Farm Ltd.: 0/0/41.70
3 EMORKUS RE: 2009 KWPN gelding by Quasimodo van de Molendreef x Haarlem
RANSOME ROMBAUER (USA), Ransome Rombauer: 0/0/41.97
4 VILLAMOURA: 2009 mare by Diamant de Semilly
SYDNEY SHULMAN (USA), Jill Shulman: 0/4/39.24
5 B ONCE Z: 2004 Zangersheide mare by Baloubet du Rouet x Lavaletto
LUCAS PORTER (USA), Sleepy P Ranch: 0/4/39.25
6 FARONA: 2019 KWPN mare by Baltic VDL x Lux
DANIEL COYLE (IRL), Ariel Grange: 0/4/42.23
7 CARNAVAL: 2005 Oldenburg gelding by Chacco Blue x Landadel
JAD DANA (CAN), Spruce Meadows, Ltd.: 0/4/45.62
8 UPPER: 2008 Selle Français gelding by Diamant de Semilly x Nadir de San Patrignano
DAVID OBERKIRCHER (USA), Southfields Farm LLC: 4/75.87
9 DUROSA W: 2008 KWPN mare by B Zirocco Blue VDL x Manhattan
MCKAYLA LANGMEIER (USA), Linda Langmeier: 4/75.89
10 JULIO VH ELZENHOUT: 2009 Belgian Warmblood gelding by Echo van het Neerenbosch x Skippy II
Giavanna Rinaldi (USA), Blue Chip Bloodstock: 4/77.09
11 AL CAPONE: 2006 Deutsches Sportferd stallion by Candillo 3 x Argentinus
ANDRES AZCARRAGA (MEX), Jaime Azcarraga & Family: 4/78.17
12 PRESTIGIOUS: 2007 Westphalian gelding by Con Cento x Corofino
MADISON GOETZMANN (USA), Madison Goetzmann: 4/78.55
Final Results: $50,000 Hollow Creek Farm 1.50 National Grand Prix
1   BABALOU 41: 2005 Oldenburg mare by Balou du Rouet x Silvio I
DARRAGH KENNY (IRL), Jack Snyder: 0/0/39.945
2   CHAPILOT: 2007 Hanoverian gelding by Chacco Blue x Pilot
RODRIGO LAMBRE (BRA), Mario Onate: 0/4/38.513
3   BARDOLINA 2: 2009 Holsteiner mare by Clarimo x Landos
MARIO DESLAURIERS (CAN), Wishing Well Farm LLC: 0/4/39.778
4   KIRSCHWASSER SCF: 2010 BWP stallion by Amaretto d'Arco x Nebab de Reve
SHANE SWEETNAM (IRL), Spy Coast Farm LLC: 0/4/40.268
5   COLLIN: 2007 KWPN gelding by Colandro x Amethist
LUIZ FRANCISCO DE AZEVEDO (BRA), Luiz Francisco de Azevedo: 0/8/36.337
6   AL CALYPSO: 2002 Hanoverian gelding by Askari x Calypso II
MANUEL FERNANDEZ HACHE (DOM), Aristides Fernandez Zucco: 0/8/41.052
7   CLOCHARD: 2008 SBS stallion by Kasmir van Schuttershof x Cascadeur
VICTORIA COLVIN (USA), Neil Jones Equestrian Inc.: 4/72.696
8   TIENNA: 2008 Canadian Sport Horse mare by For Pleasure x Polydox
DANIEL COYLE (IRL), Ariel Grange: 4/73.130
9   DONCHALANT: 2008 KWPN mare by Larino x Amaretto I
MATTHEW METELL (USA), Wolver Hollow: 4/73.571
10  PAPARAZZI: 2009 Irish Sport Horse mare by Pacino
PATRICIA GRIFFITH (USA), Callie Seaman: 4/73.841
11  HANNA VAN HD: 2007 BWP mare by Nabab de Reve x Olisco
JONATHON MILLAR (CAN), Ignas Phillips: 4/75.887
12  DSH CHARLY: 2009 Holsteiner stallion by Clearway x Silvester
CAPT. BRIAN COURNANE (IRL), Capt. Brian Cournane: 4/76.485
Also held on Friday morning was the $35,000 Douglas Elliman Real Estate 1.45m Classic with a win going to Great Britain and Amanda Derbyshire riding Lady Maria BH, owned by Gochman Sport Horses LLC. They finished the speed course clear in a time of 66.97 seconds for the win.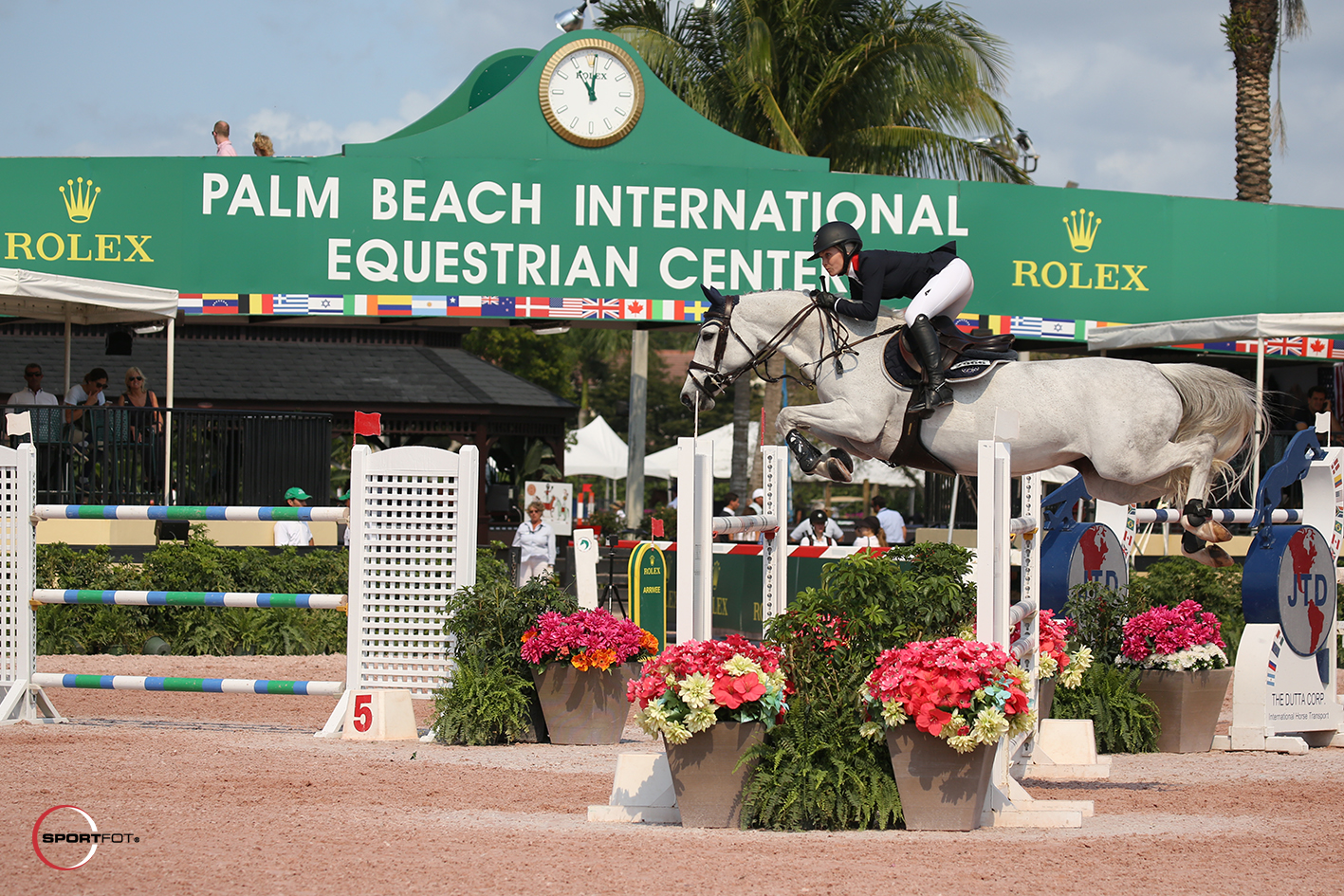 Adrienne Sternlicht (USA) rode Starlight Farms LLC's Toulago to second place with a time of 68.07 seconds. Third place went to Andres Azcarraga (MEX) on Jaime Azcarraga's Luminoso LS, who was also clear in 68.11 seconds.
The eighth week of WEF continues on Saturday, March 3, with the $150,000 Nations Cup CSIO4*, presented by U.S. Trust & Bank of America Merrill Lynch at 7 p.m. as well as a championship presentation in the Small Junior Hunter 15 & Under division.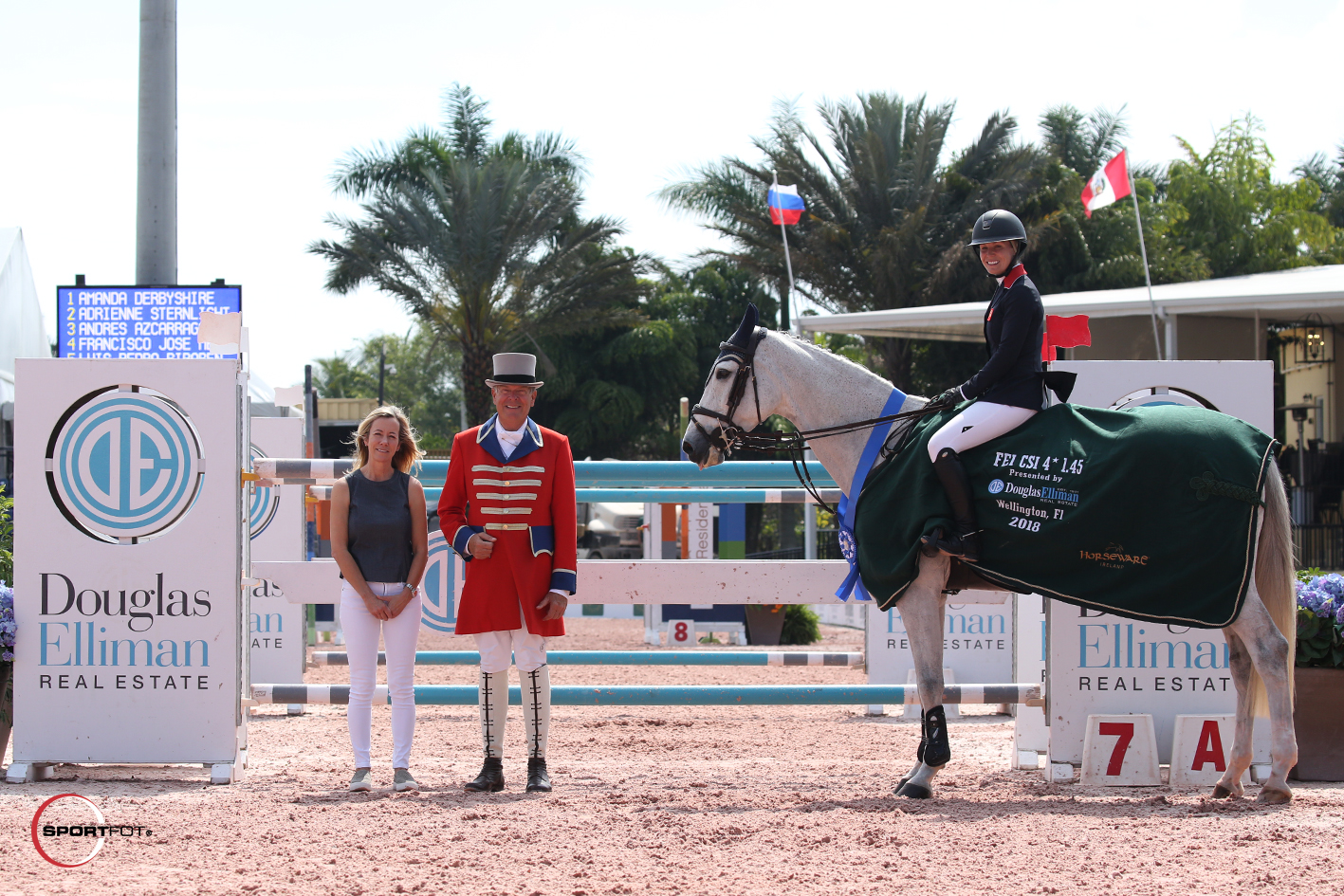 Photo Credit: Photos © Sportfot, Official Photographer of the Winter Equestrian Festival. These photos may be used only in relation to this press release and must include photo credit.