For Immediate Release
Jennifer Wood Media, Inc.
Wellington, FL – February 10, 2018 – In the first five star grand prix of the 2018 Winter Equestrian Festival (WEF) circuit, Daniel Bluman (ISR) and Ladriano Z, owned by Over The Top Stables LLC, rose to the top of the class in the $384,000 Fidelity Investments® Grand Prix on Saturday, February 10, at the Palm Beach International Equestrian Center. WEF continues through April 1 at the Palm Beach International Equestrian Center in Wellington, FL, and offers more than $9 million in prize money.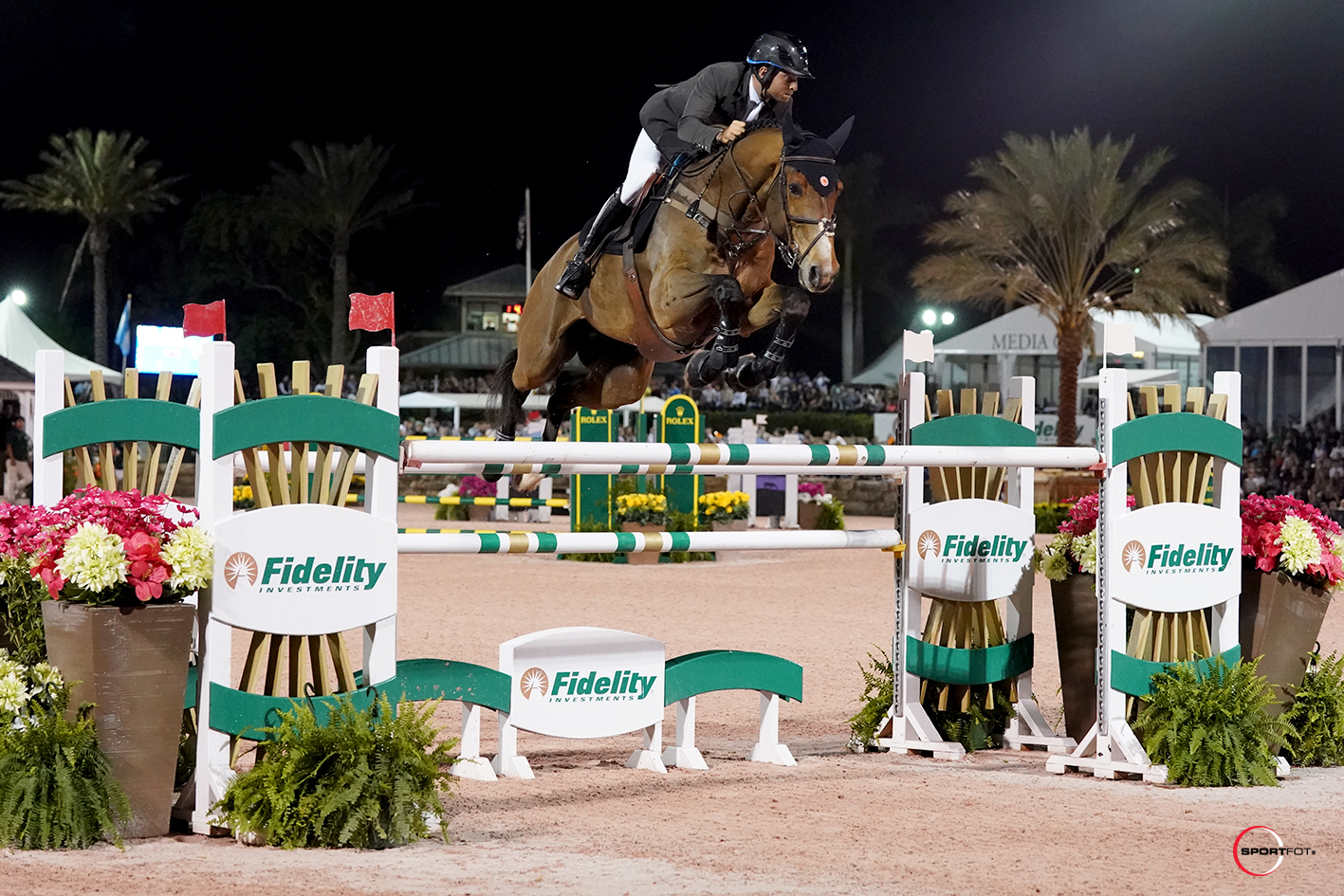 The fifth week of WEF, sponsored by Fidelity Investments®, features CSI 5* competition that concludes on February 11 with the $70,000 Hollow Creek Farm 1.50m Classic and the $50,000 Equiline Grand Prix CSI 2*.
There were 40 entries in the grand prix, contesting a challenging course set by Kelvin Bywater of Great Britain in front of a jam-packed stadium of show jumping fans. Just two were clear to advance to the jump-off.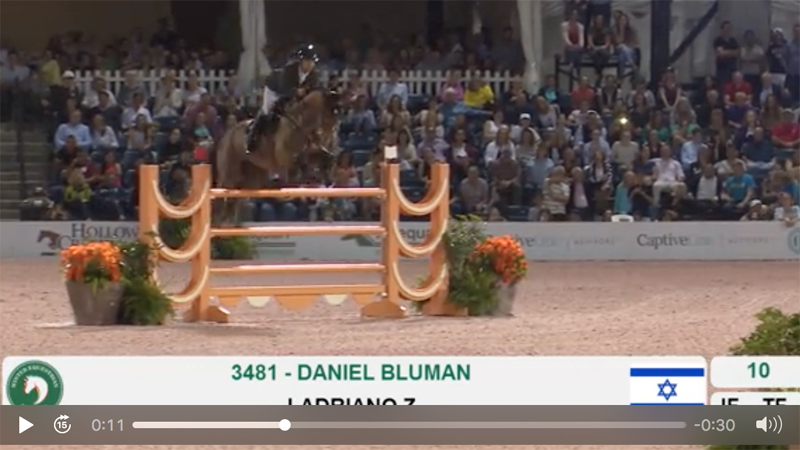 Click here to watch the winning jump-off ride for Daniel Bluman and Ladriano Z!
First into the ring for the second round was FEI World Cup Finals winner and Olympic silver medalist Beat Mändli of Switzerland riding Dsarie, a 10-year-old KWPN mare by Veron x Ahorn owned by Grand Road Partners GmbH. They laid the gauntlet with a clear round in a time of 40.47 seconds, with Dsarie giving her customary bucks after going through the timers.
"She loves life, obviously," Mändli said with a smile. "She's a happy girl. She loves her bucks. I let her do it, because I don't see why I should take it away from her.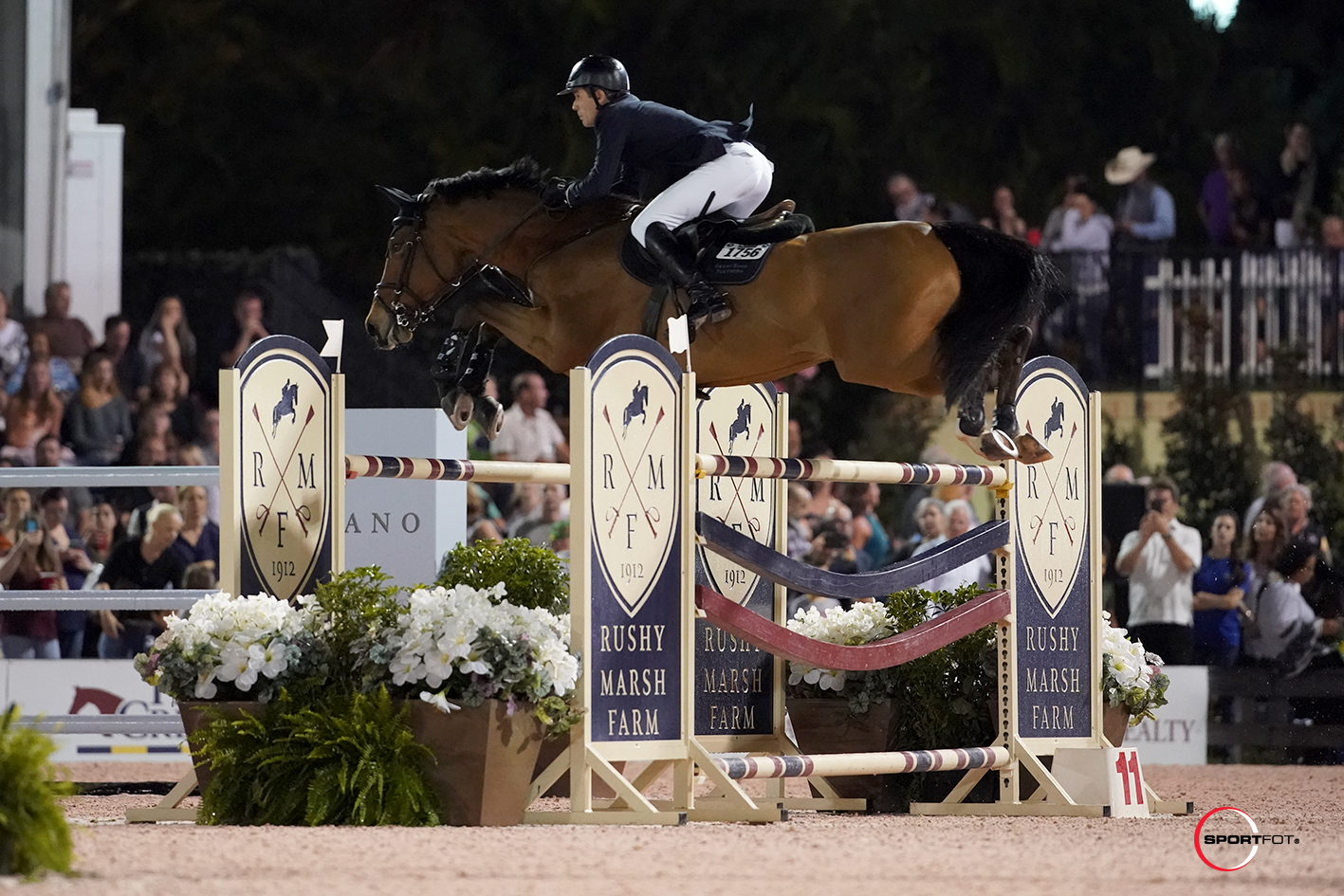 "She's very uncomplicated in any venue – indoors, outdoors, sand, grass – wherever you take her," he continued. "So it makes life very easy for me. She just wants to please in anything that she does. She loves the venue here with the lights. I'm lucky to have her."
Knowing what he had to beat, Bluman and Ladriano Z, a 10-year-old Zangersheide gelding by Lawito x Baloubet du Rouet, went for the win straight from the first fence. They shaved just enough time off to gallop home in a winning time of 39.43 seconds.
"This was the first time I ever had to go last or was in the last group in a 5* grand prix," said Bluman. "I walked the course – actually at the beginning I thought the course was very nice, actually maybe too nice. I was thinking in my head that there was going to be a fast jump-off, and that was going to be the end of my chances of winning. [It was a] fantastic job from the course designer."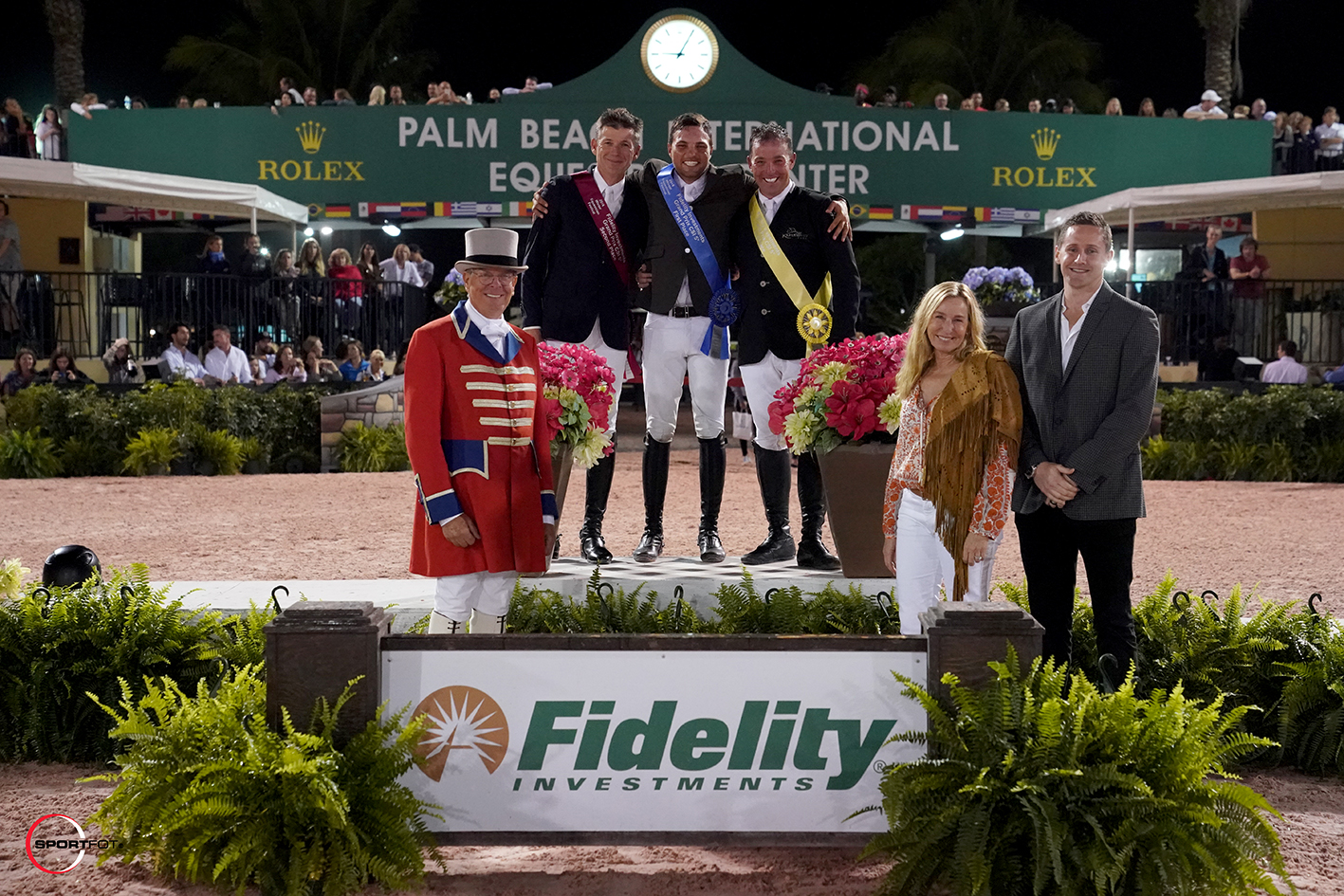 Bluman had the luck of the draw to go last in both rounds and made his plan accordingly.
"I just thought the only spot to be faster and yet not take too much risk, was from one to two," he described. "I did the one less (stride), which my horse covered the ground easily. Until the end, when I landed, I kicked a little. I looked up, and I was actually surprised that I had got him because I got a lot of red lights coming out of different turns. I just didn't think that it was enough."
"I thought I'd done enough," Mändli reflected. "When I came out I knew I had the seven (strides) to number two. Obviously that was what Daniel just said where he was faster. I'm super happy with the horse anyway."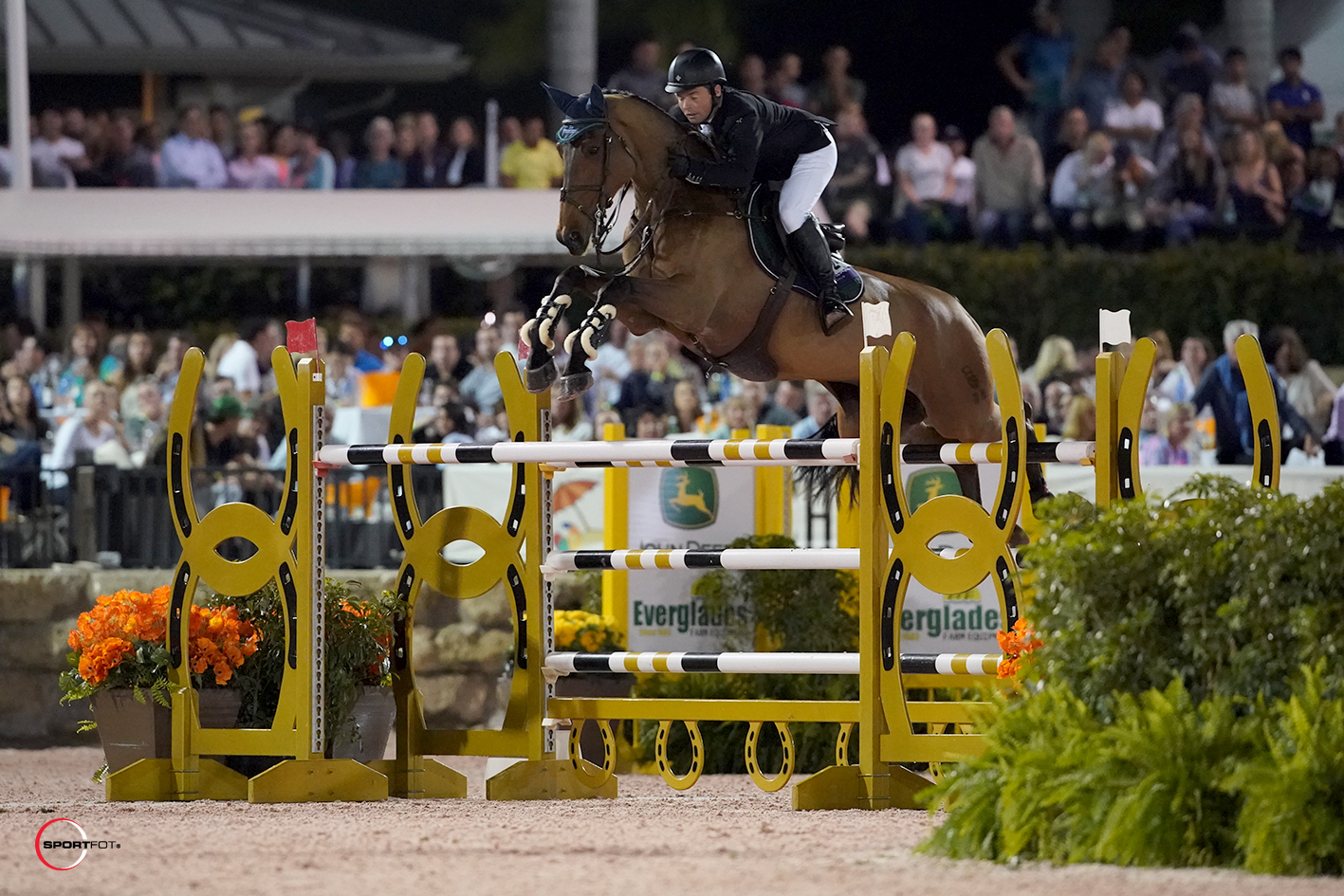 Third place went to Olympic bronze medalist Cian O'Connor (IRL) riding Armin Himmelreich's Clenur. O'Connor and the 18-hand high Oldenburg gelding finished just over the time allowed for one time fault.
"He's a very big horse to maneuver around," O'Connor explained. "The big ring suits him. It's only the fourth or fifth class that I've done with him here. He took a little bit of a wobble down the last line to the water tray vertical. I was clear then, and I just cantered it down. Maybe I could have been a little quicker coming to the third last (jump). I was just over the time, but I'm very happy with my check."
It was the second grand prix win in as many weeks for Bluman, who also led the victory gallop in the $205,000 NetJets Grand Prix CSI 4* with Sancha LS last Saturday. Bluman took over the ride on Ladriano Z from his cousin Ilan at the beginning of 2017 and they won the $300,000 Hampton Classic Grand Prix CSI 4* in September.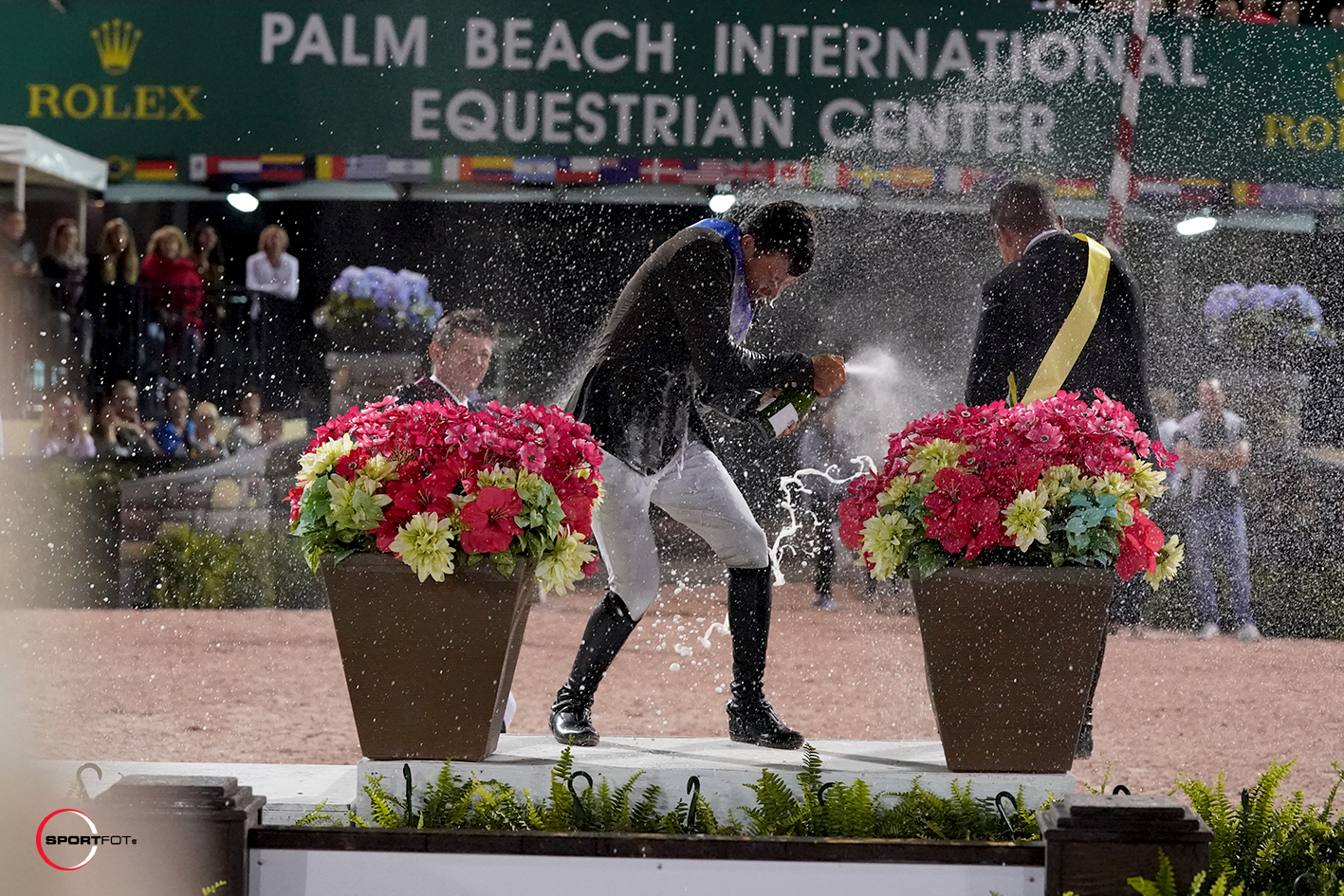 With tears in his eyes listening to the Israeli national anthem as the flag was raised, Bluman reflected on his victory and what it meant to him as a representative of Israel, having recently switched nationalities from Colombia.
"Israel does mean a lot to me," he said. "Like I've said in the past, for me to change nationalities was a big thing. I'm a very proud Colombian as well. I've been blessed to have been able to listen to the Israeli anthem more in the last year since I changed than ever before, so I was just sort of reflecting on that and being thankful and just enjoying the moment."
For her top finishes this week, Margie Engle was named the Martha Jolicoeur Leading Lady Rider for WEF 5. The owners of Ladriano Z also received a stay in a Luxury Studio at the Brazilian Court Hotel in Palm Beach.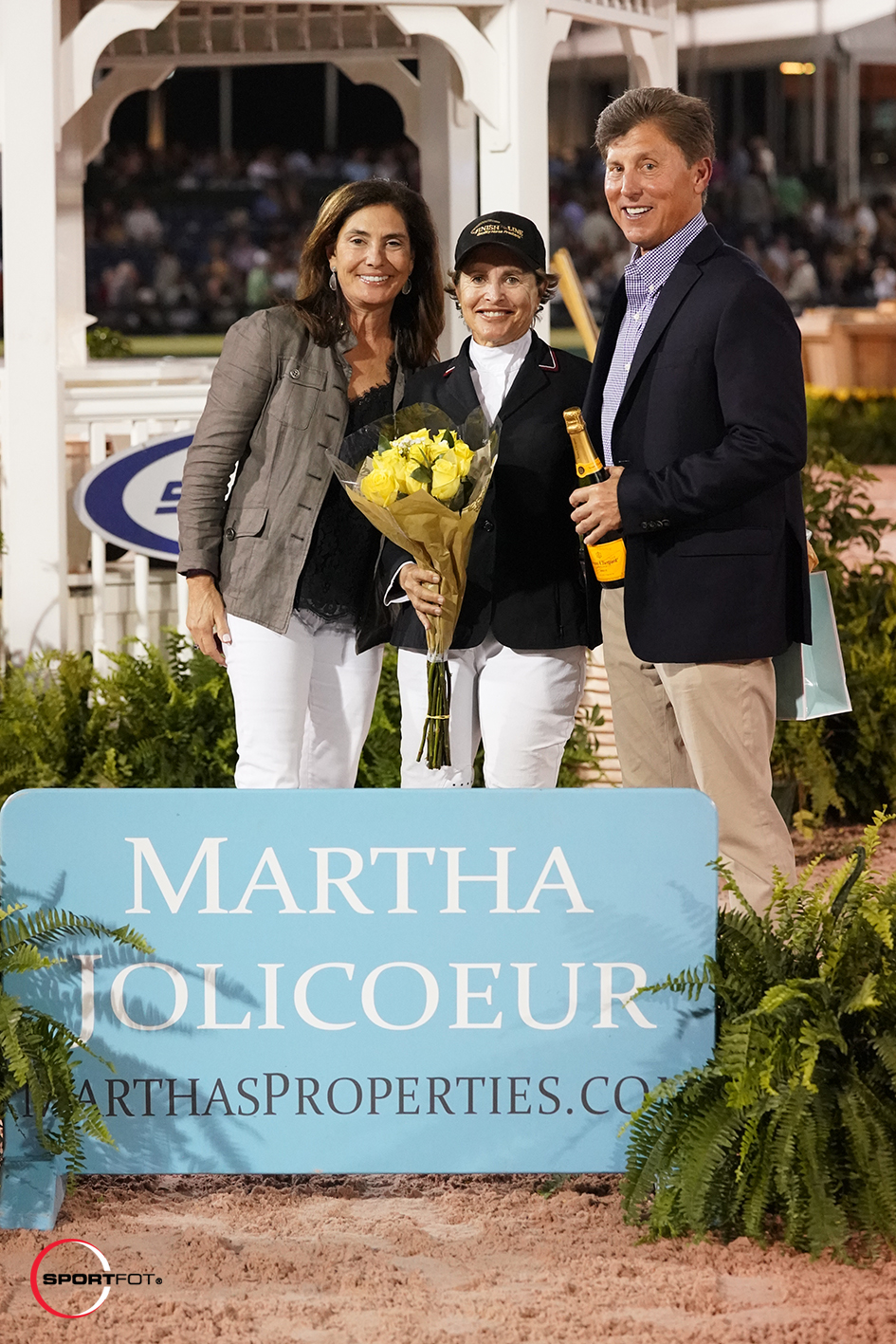 Earlier in the International Arena on Sunday, and as the only double clear in the class, Mimi Gochman won the $10,000 SJHOF High Junior Jumper Classic, presented by Sleepy P Ranch, with Caleno 3, owned by Gotham Enterprizes LLC.
Final Results: $384,000 Fidelity Investments® Grand Prix CSI 5*
1 LADRIANO Z: 2008 Zangersheide gelding by Lawito x Baloubet du Rouet
DANIEL BLUMAN (ISR), Over The Top Stables LLC: 0/0/39.43
2 DSARIE: 2008 KWPN mare by Veron x Ahorn
BEAT MÄNDLI (SUI), Grand Road Partners LLC: 0/0/40.47
3 CLENUR: 2006 Oldenburg gelding by Carinue x Fernando
CIAN O'CONNOR (IRL), Armin Himmelreich: 1/73.04
4 ROBIN DE PONTHUAL: 2005 Selle Francais gelding by Elf D'or x Calypso D'Herbiers*Ecolit
PETER LUTZ (USA), M. Michael Meller: 1/73.28
5 LUIBANTA BH: 2008 Irish Sport Horse mare by Luidam x Abantos
AMANDA DERBYSHIRE (GBR), Gochman Sport Horses: 4/69.12
6 BALERMO: 2004 Oldenburg gelding by Baloubet du Rouet x Silvio I
TIFFANY FOSTER (CAN), Wendy Valdes: 4/69.40
7 WATERFORD: 2003 KWPN gelding by Coolcorron Cool Diamond x Julio Mariner XX
LAUREN HOUGH (USA), Laura and Meredith Mateo: 4/69.79
8 WINNING GOOD: 2009 NRPS gelding by Winningmood van de Arenberg x Sir Corland
BEN MAHER (GBR), Poden Farms: 4/70.65
9 HH AZUR: 2006 Belgian Sport Horse mare by Thunder van de Zuuthoeve x Sir Lui
MCLAIN WARD (USA), Double H Farm & Francois Mathy: 4/70.66
10 FINE LADY 5: 2003 Hanoverian mare by Forsyth x Drosselklang II
ERIC LAMAZE (CAN), Artisan Farms LLC & Torrey Pines Stable: 4/70.69
11 ROYCE: 2004 Oldenburg stallion by Café au Lait x Grandilot
MARGIE ENGLE (USA), Gladewinds Farm Inc.: 4/71.60
12 TINY TOON SEMILLY: 2007 Selle Francais gelding by Diamant de Semilly x Kannan
EVE JOBS (USA), Eve Jobs: 4/71.87
Emma Kurtz and A Million Reasons Capture Championship Tricolor Ribbon in Small Junior Hunter 16-17 Division
Ava Lindsay for Jennifer Wood Media, Inc.
Emma Kurtz, of Hudson, OH, piloted her mount A Million Reasons, owned by Dr. Betsee Parker, to the top of the class in week five's Small Junior Hunter 16-17 division. The duo claimed three blue ribbons over fences and an additional blue in the under saddle.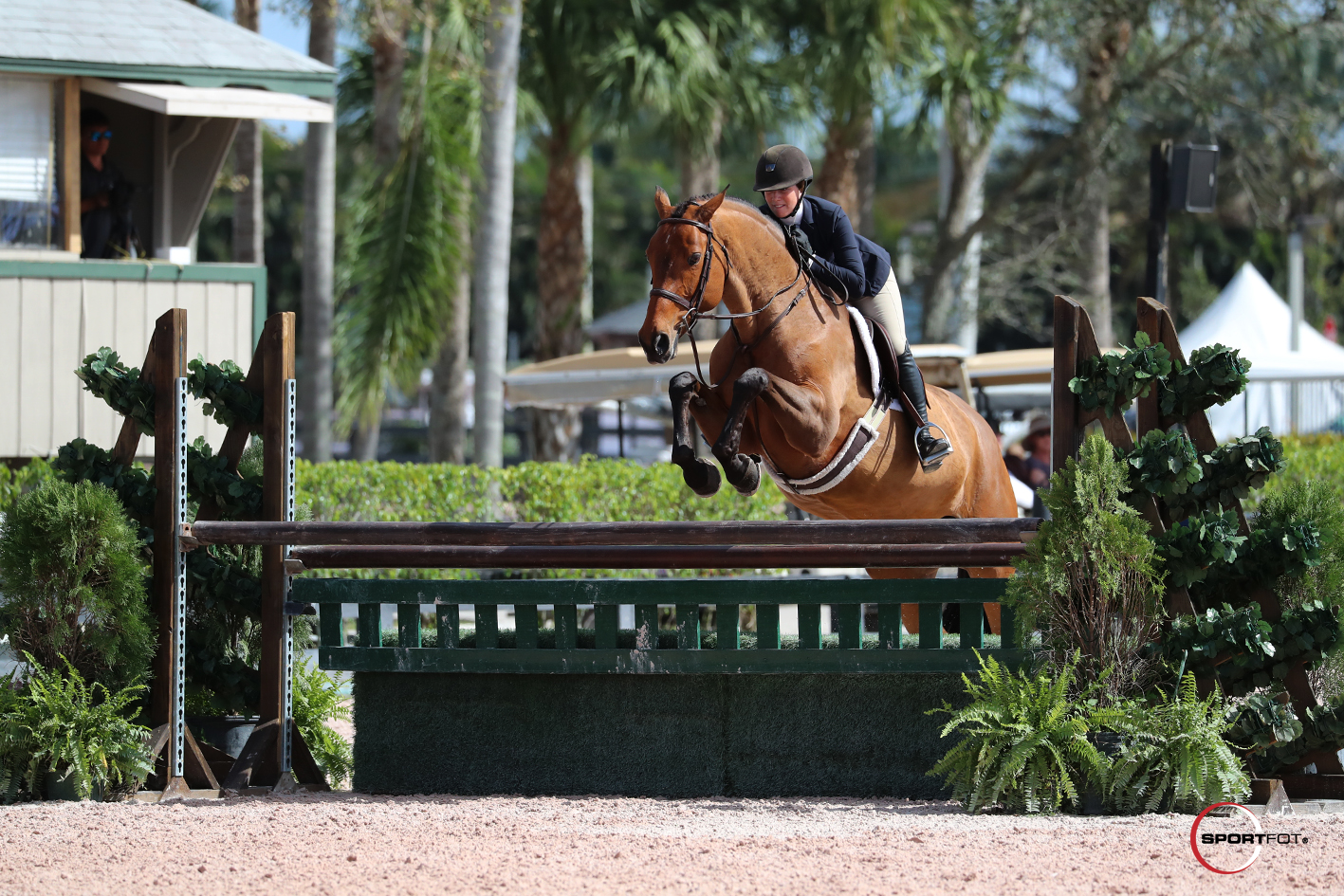 Having been paired with the 13-year-old Holsteiner mare for the first time at the beginning of the Winter Equestrian Festival (WEF) this year, Kurtz expressed her admiration for her new mount.
"We were champion the first week, so I guess you could say we clicked pretty quickly," said Kurtz. "She's pretty easy considering how few times I have ridden her. She is a perfect lead changer, has a huge stride, and she's not spooky."
Kurtz, who has remained competitive in the hunter ring on multiple horses, added that week five at WEF was an especially exciting week for her, as she succeeded in tackling some of the struggles she has been focusing on correcting with the mare.
"We usually have some trouble with the handy compared to our other classes, so I was really happy with our handy round yesterday, and she was amazing today," said Kurtz. "She's really slow, so the hardest part for me has been adjusting her stride. It is a lot bigger, for how little she is, than I am used to. That's [also] probably the coolest thing about her: how big her stride is and how slow you have to go."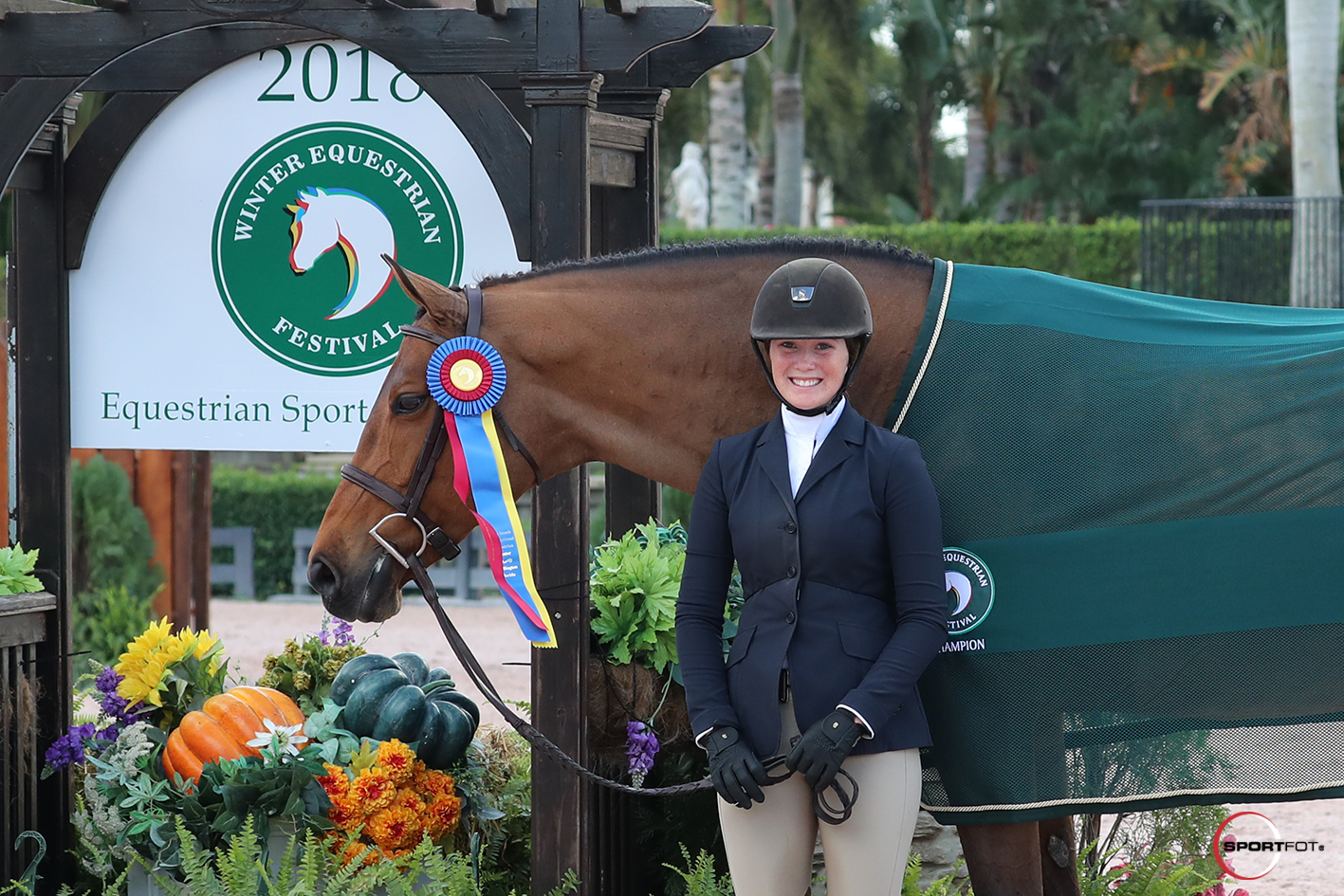 Coco Fath and Akinda, owned by Hillside Farm LLC, took the reserve championship win with a second in the under saddle along with a second and three thirds over fences.
The fifth week of the Winter Equestrian Festival concludes on Sunday, February 11, with the $70,000 Hollow Creek Farm 1.50m Classic and the $50,000 Equiline Grand Prix CSI 2*, as well as the UHealth Junior Hunter 3'3" 16-17 championship.
Photo Credit: Photos © Sportfot, Official Photographer of the Winter Equestrian Festival. These photos may be used only in relation to this press release and must include photo credit.