For Immediate Release
Jennifer Wood Media, Inc.
Wellington, FL – March 28, 2018 – The final week of the Winter Equestrian Festival (WEF) kicked off with a victory for Brazilian Olympian José Roberto Reynoso riding Magnolia Mystic Rose in the $35,000 Douglas Elliman 1.45m CSI5* on Wednesday, March 28. WEF continues through April 1 at Palm Beach International Equestrian Center in Wellington, FL, and offers more than $9 million in prize money.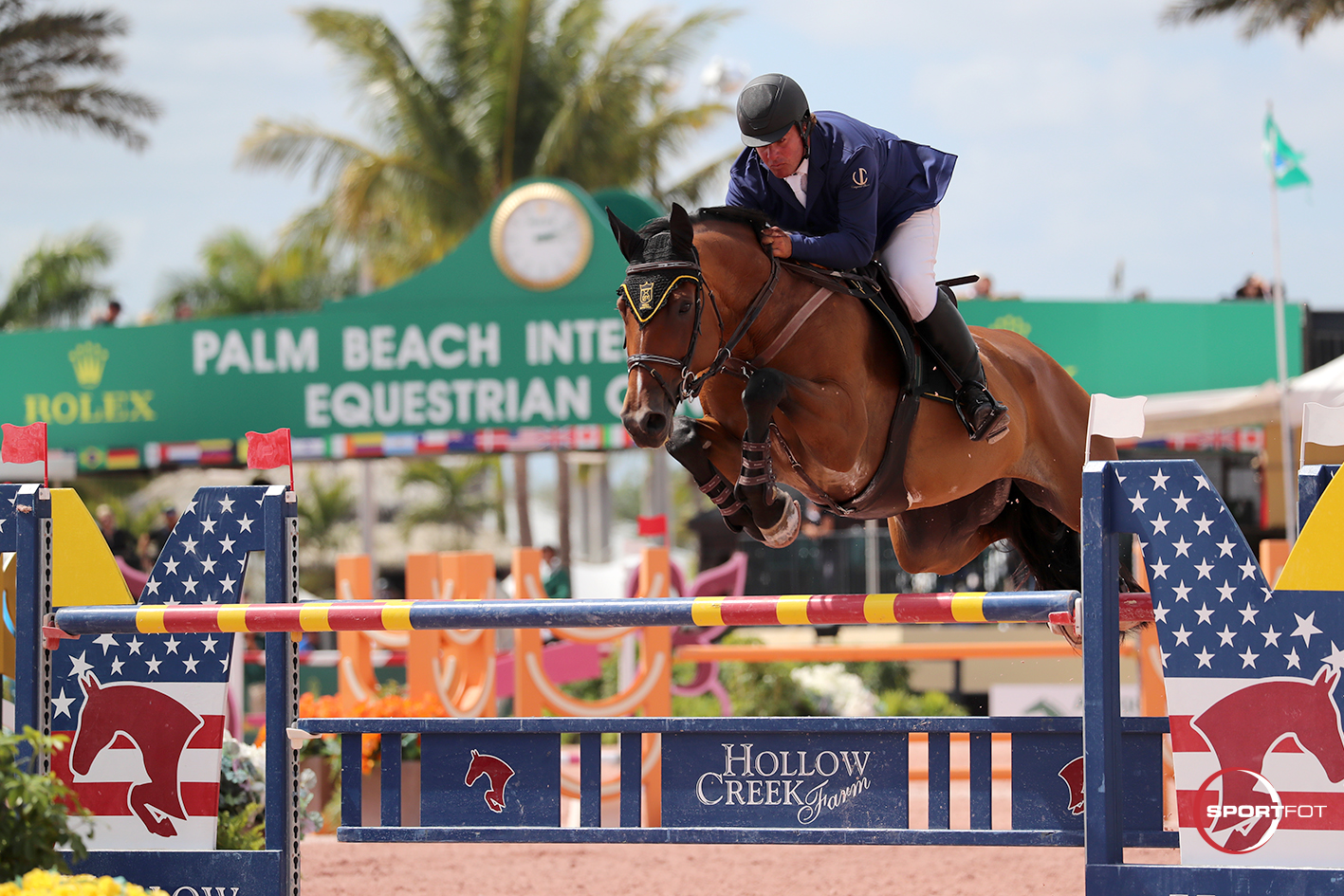 WEF concludes with its twelfth week of competition on March 28-April 1, sponsored by Rolex. The highlight event is the $500,000 Rolex Grand Prix CSI 5* in the WEF International Arena on Saturday, March 31, at 7:45 p.m. Additional featured classes are the $15,000 International Hunter Derby Hunt & Go and $10,000 USHJA National Hunter Derby starting at 9:30 a.m. on the grass derby field at Equestrian Village (13500 South Shore Blvd.) on Friday, March 30. WEF wraps up with the $50,000 USHJA International Hunter Derby Round Two on the grass derby field at 1 p.m., and the $50,000 Wanderers Club Grand Prix CSI 2* and $50,000 CP 1.50m National Grand Prix in the WEF International Arena, on Sunday, April 1.
After his first win, which came earlier in the day in the $1,000 Bainbridge 1.40m CSI5* aboard Zambia Mystic Rose, Reynoso topped the featured event of the day over a field of 63 starters riding Magnolia Mystic Rose, an eight-year-old Brazilian-bred mare. Fellow Brazilian and 2016 Rio Olympic Games course designer Guilherme Jorge set the 1.45m power and speed track, which Reynoso mastered fault-free with a time of 25.71 seconds over the speed portion for owner Haras Mystic Rose.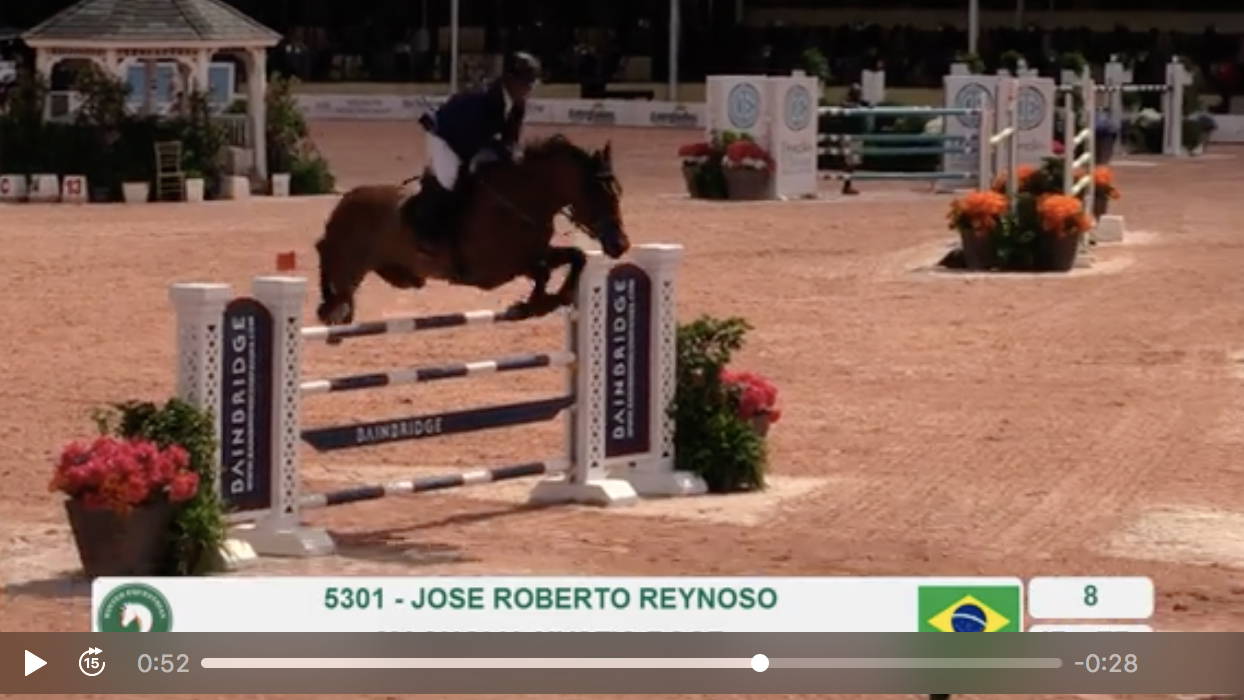 Watch the winning round here!
Just fractions behind Reynoso, Darragh Kenny of Ireland claimed second place riding Chakito for Vlock Show Stables, LLC in 25.94 seconds. The USA's Georgina Bloomberg rounded out the top three with a time of 26.15 seconds in the irons of Paola 233, owned by Gotham Enterprizes, LLC.
Reynoso's overall goal for the final week of WEF is to qualify for the Rolex Grand Prix CSI 5* and he has a talented string of mares to get him there.
"I plan to try and compete in the Thursday qualifier on Corona 93," he said of the horse he finished 11th on in the 1.45m. "Then, I will decide which of the mares will be best for the grand prix. Winning two classes in one day is no doubt a wonderful feeling and it was a really special day. I hope the rest of the week is even better than it was today."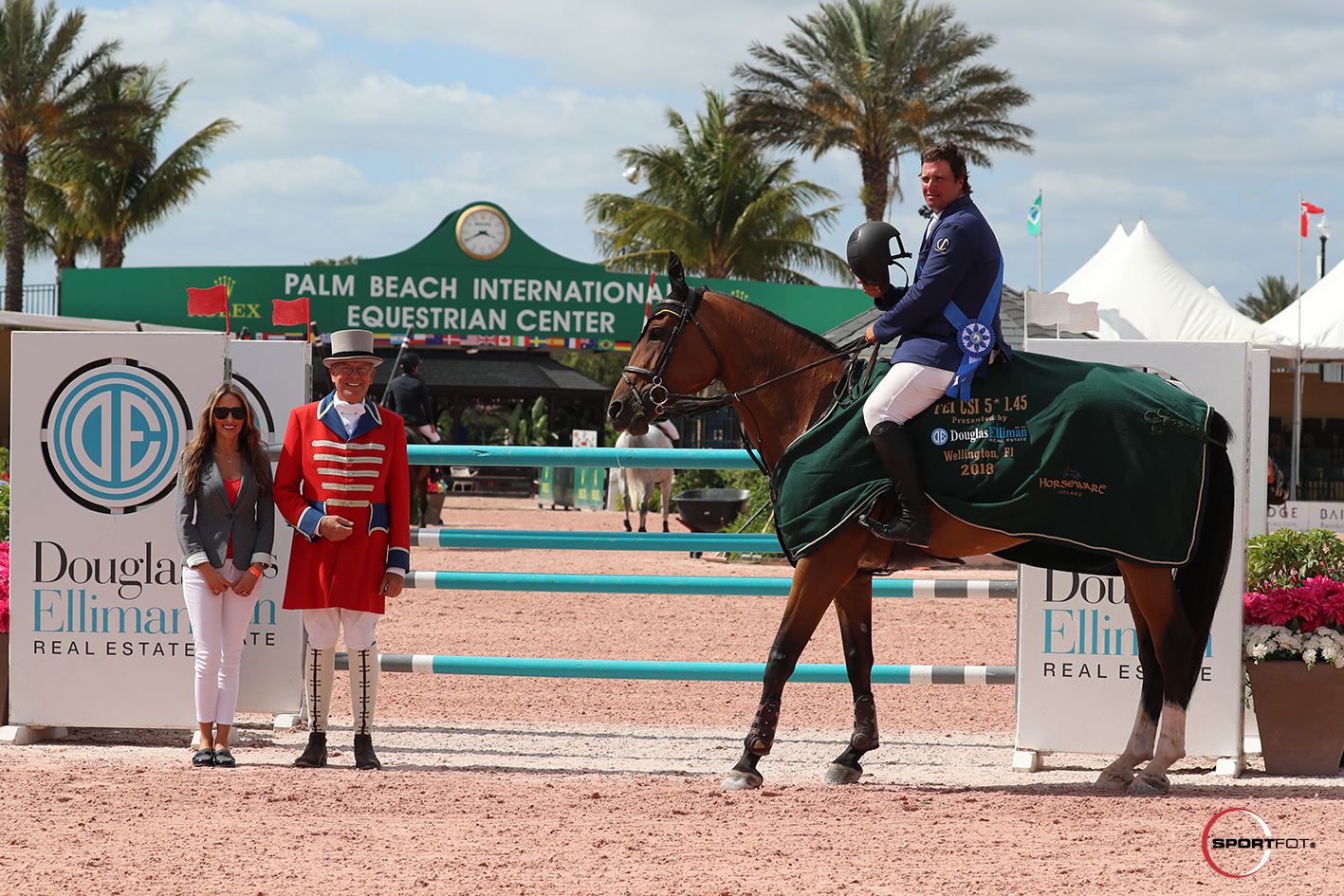 Magnolia Mystic Rose is a new mount for Reynoso. Bred in his home country of Brazil, the young mount was produced by Doda de Miranda upon arrival in the United States and became the mount of Reynoso only a month ago.
"She did not have a lot of experience in Brazil, but she is a very good horse," added Reynoso, who is competing at WEF for the second consecutive year. "I would like to be able to come to WEF every year. If I can find the right sponsor, I will stay here. Equestrian Sport Productions is incredible and one of the best in the world. It's a dream come true for me to be able to be here."
Final Results: $35,000 Douglas Elliman 1.45m CSI5*
1 MAGNOLIA MYSTIC ROSE: 2009 BH mare
JOSE ROBERTO REYNOSO (BRA), Haras Mystic Rose: 0/0/25.71
2 CHAKITO: 2006 Oldenburg by Chacco Blue x Padarco
DARRAGH KENNY (IRL), Vlock Show Stables LLC: 0/0/25.94
3 PAOLA 233: 2007 Westphalian mare by Pontifex x Up To Date
GEORGINA BLOOMBERG (USA), Gotham Enterprizes LLC: 0/0/26.15
4 CERISE: 2008 SBS mare by Cicero Z van Paemel x Non Stop
MCLAIN WARD (USA), Sagamore Farms: 0/0/26.41
5 CATUNGEE: 2006 Holsteiner gelding by Contact Me x Liatos
CATHERINE TYREE (USA), Mary Tyree: 0/0/26.54
6 VITIKI: 2008 Hanoverian by Valentino x For Expo
YURI MANSUR (BRA), Yuri Mansur: 0/0/26.61
7 ENTANO: 2009 KWPN gelding by Namelus R x Numero Uno
DANIEL BLUMAN (COL), Bluman, Sihmon & Schwitzer: 0/0/26.77
8 INFERNO: 2007 Oldenburg gelding by Incolor x Italic des Salines
YURI MANSUR (BRA), Yuri Mansur: 0/0/27.12
9 LITTLE LORD 90: 2005 Holsteiner gelding by Lasino x Calato
KAREN POLLE (JPN), Karen Polle: 0/0/27.27
10 PENELOPE CRUZ: 2008 Irish Sport Horse mare by Ustinov x Peter Pan
CAPT. BRIAN COURNANE (IRL), Capt. Brian Cournane: 0/0/27.32
11 CORONA 93: 2004 Hanoverian mare by Cordalme Z x Lenz XX
JOSE ROBERTO REYNOSO (BRA), Raylyn Farms, Inc: 0/0/27.38
12 CARUSCHKA 2: 2004 Oldenburg mare by Caspar x Continue
EDUARDO MENEZES (BRA), E2 Stables: 0/0/27.51
The final week of WEF continues on Thursday, March 29, with the $132,000 Equinimity WEF Challenge Cup Round 12 and the championship for the USHJA Hunter 2'9" division.
Photo Credit: Photos © Sportfot, Official Photographer of the Winter Equestrian Festival. These photos may be used only in relation to this press release and must include photo credit.