For Immediate Release
Deirdre Sullivan and Summer Grace for Jennifer Wood Media Inc.
Wellington, FL – February 3, 2019 – The fourth week of the 2019 Winter Equestrian Festival (WEF) concluded on Sunday, February 3, with a win for 18-year-old Yasmin Rizvi of Wellington, FL, and Lumiere in the $10,000 SJHOF High Junior Jumper Classic, presented by Griffis Residential. WEF continues with its fifth week of competition on February 6-10, presented by Fidelity Investments® and runs through March 31.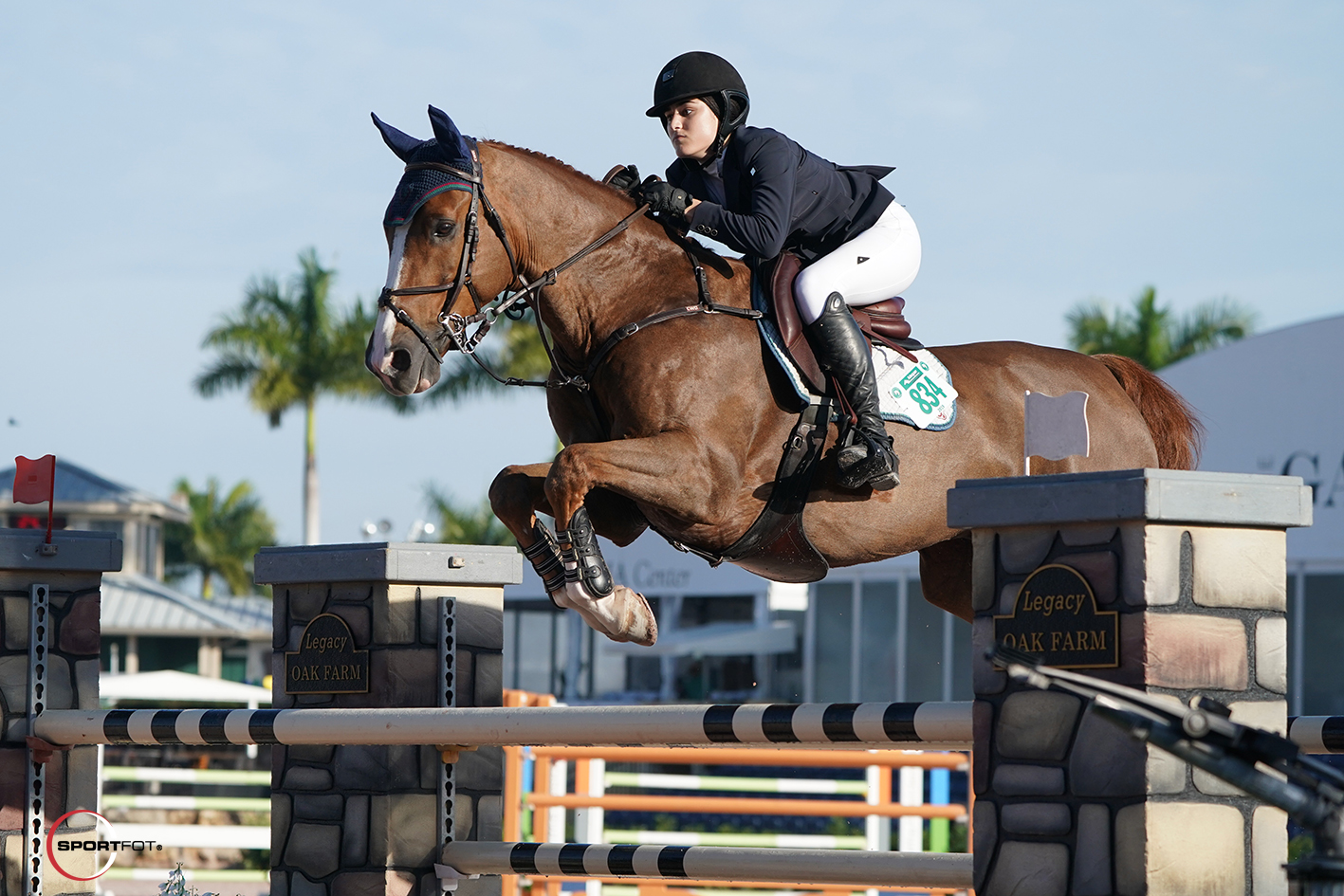 Rizvi and Lumiere, a 15-year-old Oldenburg gelding (Clay x Feodora) owned by Peacock Ridge, LLC., jumped clear in the first round with a time of 69.008 seconds, and clinched their win with a clear trip in the jump-off with a time of 40.333 seconds. "I loved doing the jump-off. I love my horse and I feel comfortable with him so it's always fun," commented Rizvi about the class.
"In between the first and second jump I turned back tight, and then the last jump there was a long space in between so I just galloped up to the last jump and I think that made a lot of time up," Rizvi added on her jump off. "I love him [Lumiere], he's amazing. We have a strong connection since we've known each other so long. He just has a good heart, and he always wants to jump well and do his best."
About her win Rizvi said, "It means a lot to me, it shows that I've been working hard, and that the hard work is paying off. It's only Week 4, and I feel confident for the rest of the season as well. It's a good feeling."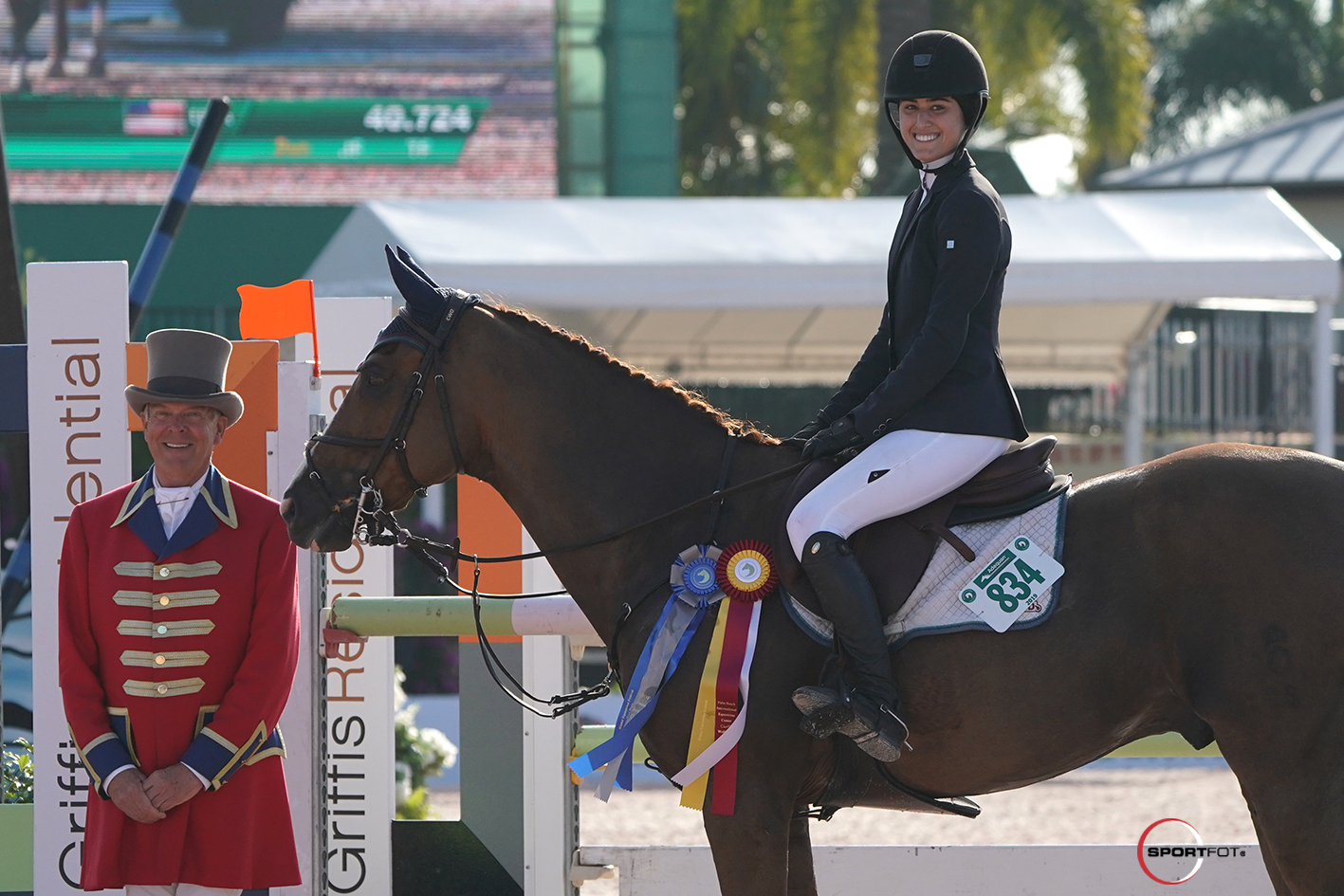 Final Results: $10,000 SJHOF High Junior Jumper Classic, presented by Griffis Residential
1 LUMIERE: 2004 Oldenburg gelding by Clay x Feodora
YASMIN RIZVI (USA), Peacock Ridge, LLC: 0/0/40.333
2 DIAMOND M: 2008 Holsteiner Gelding by Numero Uno x Zarina M.
CHARLISE CASAS (USA), Always Faithful Equine LLC: 0/0/40.724
3 BASIMODO: 2006 Dutch Warmblood gelding by Quasimodo Z x Sinia-nistria
CATALINA PERALTA (USA), Signe Ostby: 0/0/43.740
4 PERFECT DE COQUERIE: 2003 Belgian Warmblood gelding by Orlando x Diva De Dampierre
NED CUNNIFFE (USA), Whipstick Farm LTD: 0/0/44.124
5 CORLANDA: 2007 Swedish Warmblood mare by Corlensky G x Rolanda W
SOPHIA STUDD (DEN) Sophia Studd: 0/0/46.585
6 QUITE CLOSE VD SMIS: 2007 ZANG mare by Quinar Z x Close Up Vd Smis Z
CLAUDIA VILLAMIL (PUR), Claudia Villamil: 0/4/39.647
7 TARZAN D'IVRAIE: 2007 Selle Francais gelding
SAM WALKER (CAN), Cristoph Schroeder: 0/8/40.930
8 AUDI'S DIMPLE: 2008 KWPN gelding by Wittinger VDL x Tina-Gold
SOPHIA STUDD (DEN), Maarten Huygens: 0/8/44.728
9 VENTURO 9: 2005 Belgian Sport Horse gelding by Canturo x Venise De Reve
SOPHIA PILLA (USA), Piccolino farm LLC: 2/73.143
10 ARMAGEDON: 2005 KWPN gelding by Solitair x Ulana II
TANNER KOROTKIN (USA), Sandalwood Farms: 4/69.342
11 BROMBEERE: 2009 Holsteiner mare by Casall x U-cassidica
CHARLISE CASAS (USA), Always Faithful Equine LLC: 4/71.687
12 CONTI: 2006 Holsteiner gelding by Contender x Patina IV
CATALINA PERALTA (USA), Wendy Peralta, 4/71.927
Catherine Kramer Wraps Up Week 4 with Champion Title in the Junior Hunter 3'3" 15 & Under Division
Week 4 of the 2019 Winter Equestrian Festival (WEF) came to a close on Sunday with one final day of top hunter, jumper, and equitation competition. The Junior Hunter 3'3" 15 & Under competitors returned to the E.R. Mische Grand Hunter Field to contest in an under saddle and two over fences rounds to determine who the week's division champion would be. After a brief "hack-off" between her and a fellow competitor tied for champion points, Catherine Kramer of Carmel, IN ultimately took the lead with her own Casares.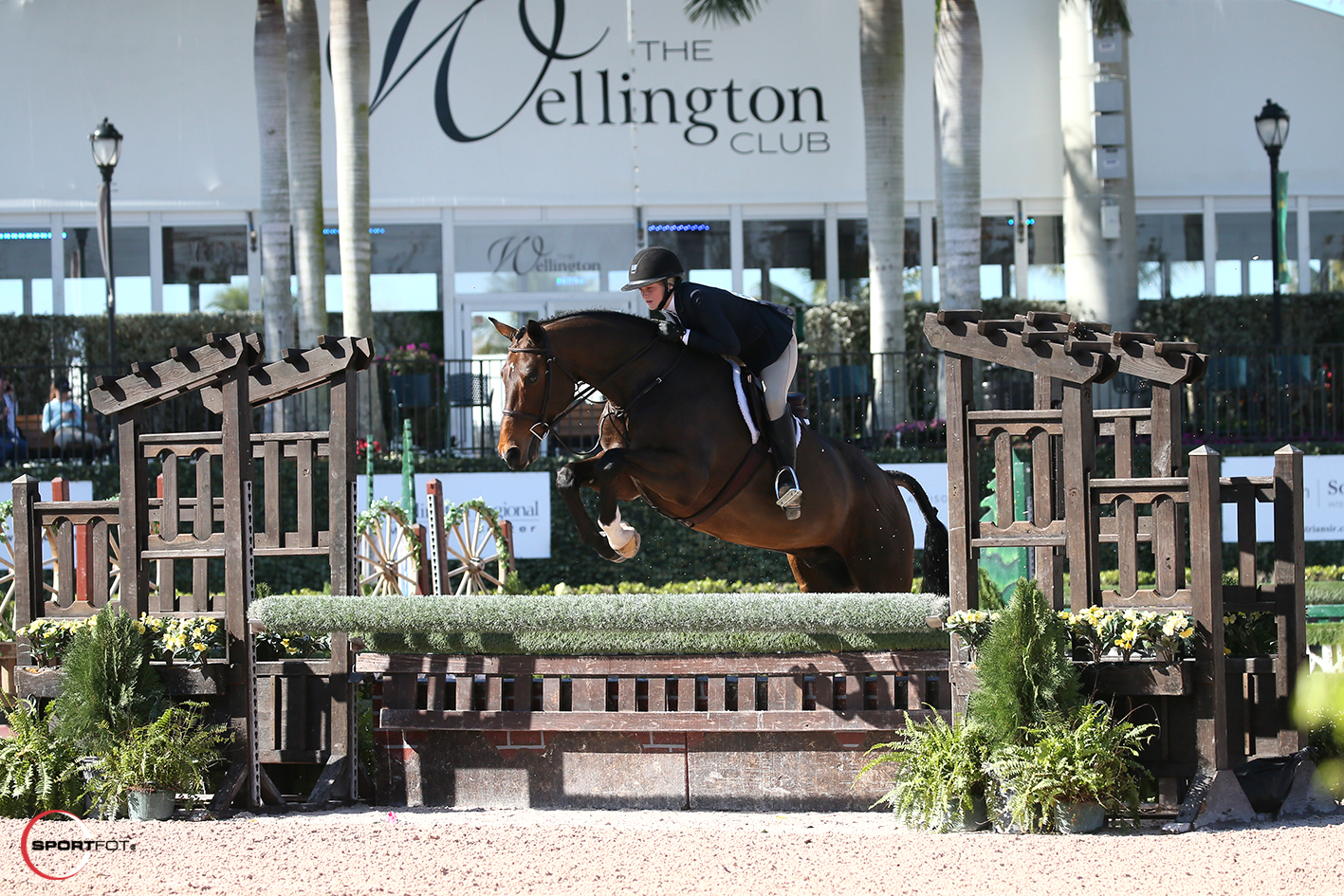 Following the jog, Kramer and Sienna Pilla closed out the final rounds of competition on the same amount of points and the two riders were asked to re-mount their horses for a short "hack-off". The two pairs would once again display the three under-saddle gaits to the judge in order to determine which horse appeared to be the more correct mover. After several laps in each direction, both riders were directed to turn back to the line-up where Kramer and the 12-year-old Hanoverian gelding, Casares, were named champion. The pair earned placings of first, two thirds, and eleventh over fences as well as first in the "hack-off".
Kramer only paired with Casares in November of last year but immediately was looking forward to bringing him to Wellington for the season.
"This is my second season at WEF, and I love everything about it," she said. " Everyone is so nice and the divisions are extremely well put-together; it's definitely my favorite."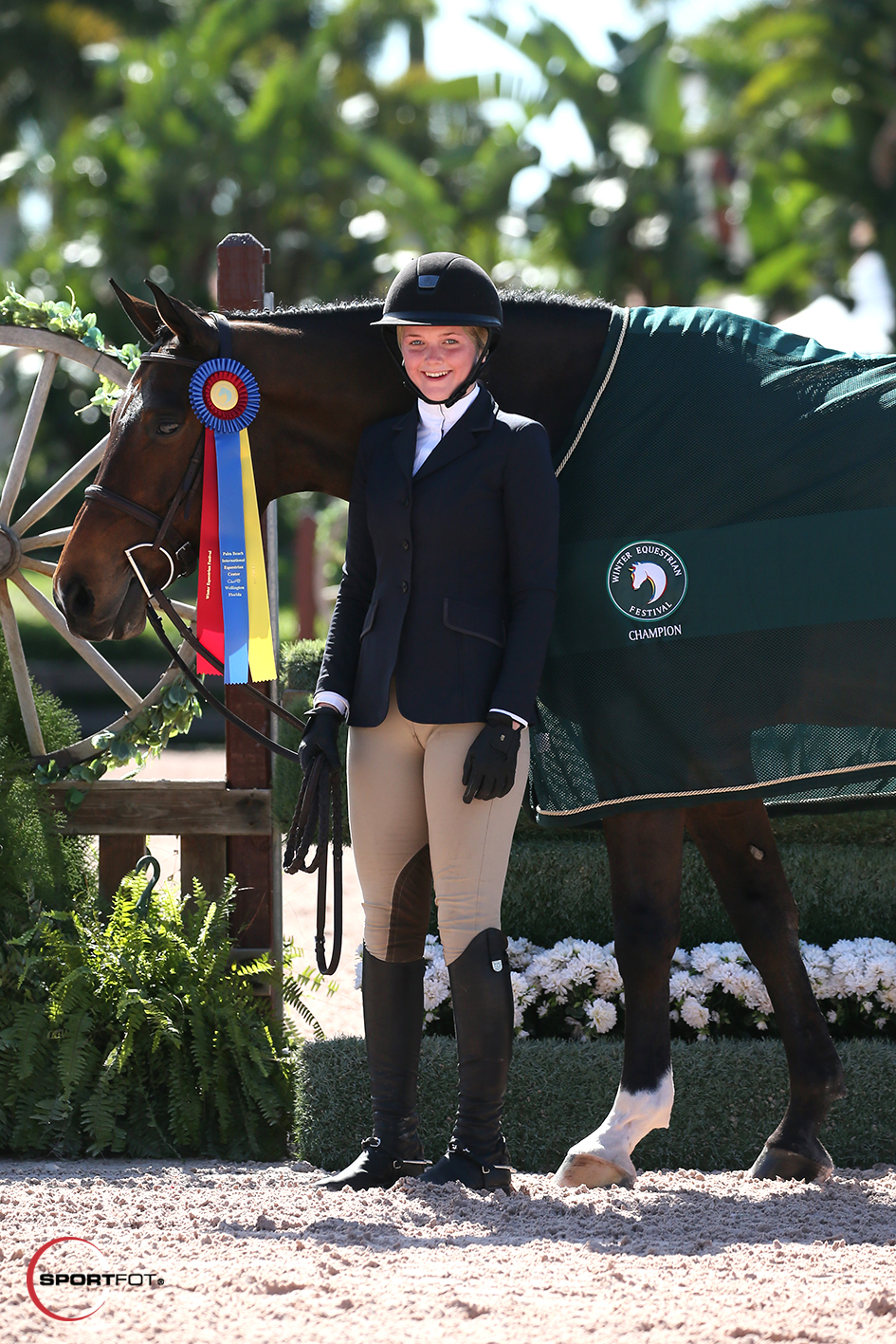 Kramer will stay for the duration of the season to continue competition on Casares as well as her two other horses before making her way to Junior Hunter Finals.
Megan Winkhaus's Satellite, a 16-year-old Hanoverian gelding (Sandro Hit x Priscilla) took home a first, second, fourth, and seventh as well as second in the "hack-off" to end as the week's reserve champions.
WEF will return Wednesday, February 6, with the fifth week of its 12-week event. The week hosts multiple jumper events at the FEI five-star level as well as national hunter and jumper competition. The "Saturday Night Lights" of the week will feature the $391,000 Fidelity Investments® Grand Prix CSI 5* at 7p.m. on Saturday, February 9.