For Immediate Release
Jennifer Wood Media, Inc.
Wellington, FL – January 8, 2022 – The first "Saturday Night Lights" event of the 2022 Winter Equestrian Festival kicked off on January 8 with the $75,000 Battle of the Sexes, presented by Wellington Regional Medical Center. The event was a highlight of the Premiere week of the 2022 Winter Equestrian Festival (WEF), which runs for 13 weeks through April 3. The women's team won for the 11th time in the 13-year history, and the class made its return after a hiatus in 2021.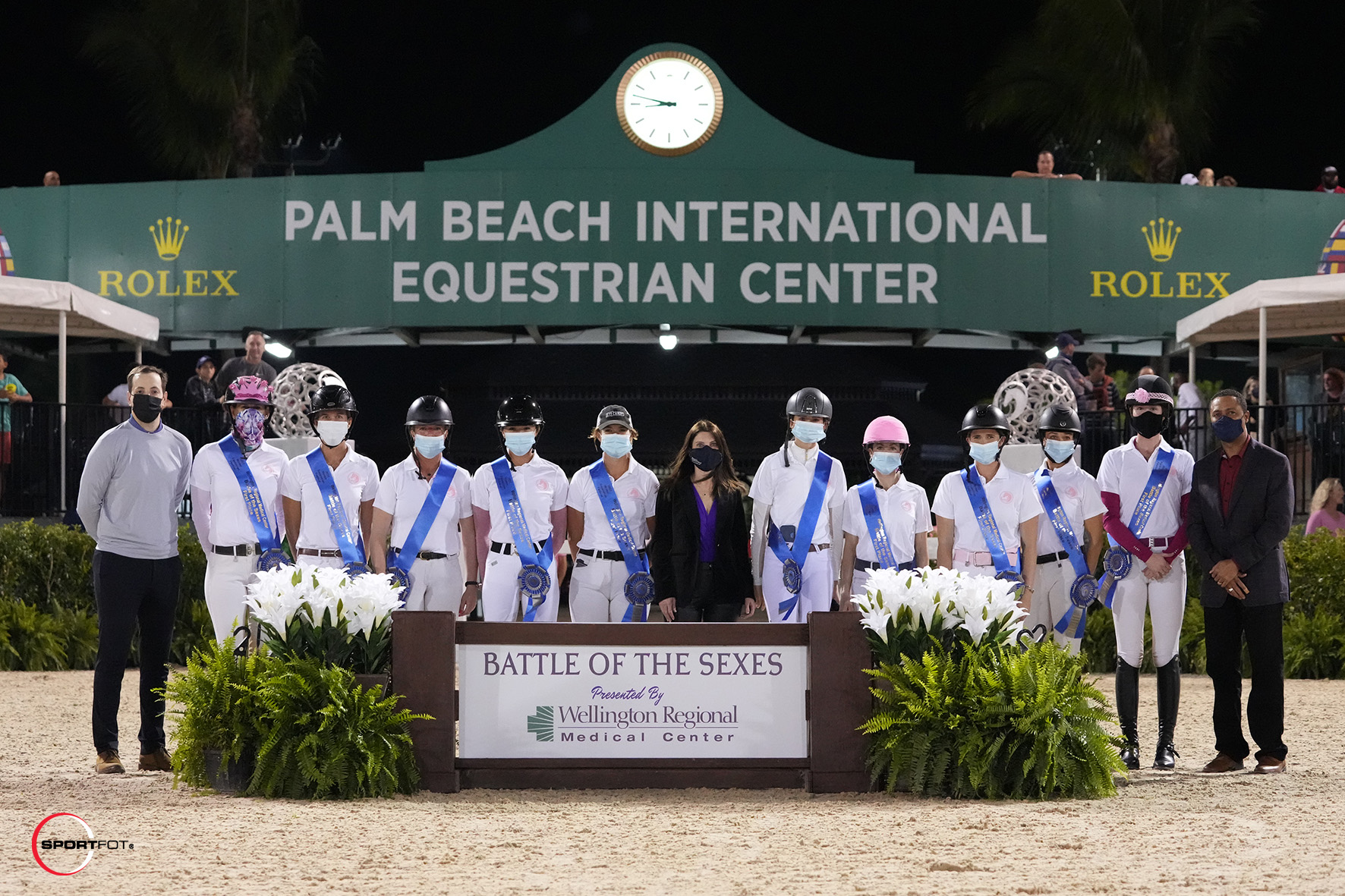 Premiere week of WEF concludes on Sunday, January 9, with another highlight event, the $75,000 Rosenbaum PLLC Grand Prix, at 2 p.m.
The women's team for Battle of the Sexes consisted of team captain Kelly Soleau-Millar, Hayley Iannotti, Taylor Land, Caelinn Leahy, Samantha Mackenzie, Mia Mannis, Abigail McArdle, Jacqueline Steffens, Anna Wilks, and Heather Caristo-Williams.
The men's team, led by captain Charlie Jayne, also included David Blake, Christian Coyle, Daniel Coyle, Jordan Coyle, Luis Larrazabal, Simon McCarthy, Samuel Parot Jr., Michael Tokaruk, and Hardin Towell.
The Battle of the Sexes consists of three phases, with the first being a Table C faults-converted speed course where the riders go to head-to-head over the same course, and the one with the fastest time gains a point for their team. Following the first phase, the score was tied with five points for each team. The standout was Caelinn Leahy who had a scorching fast round.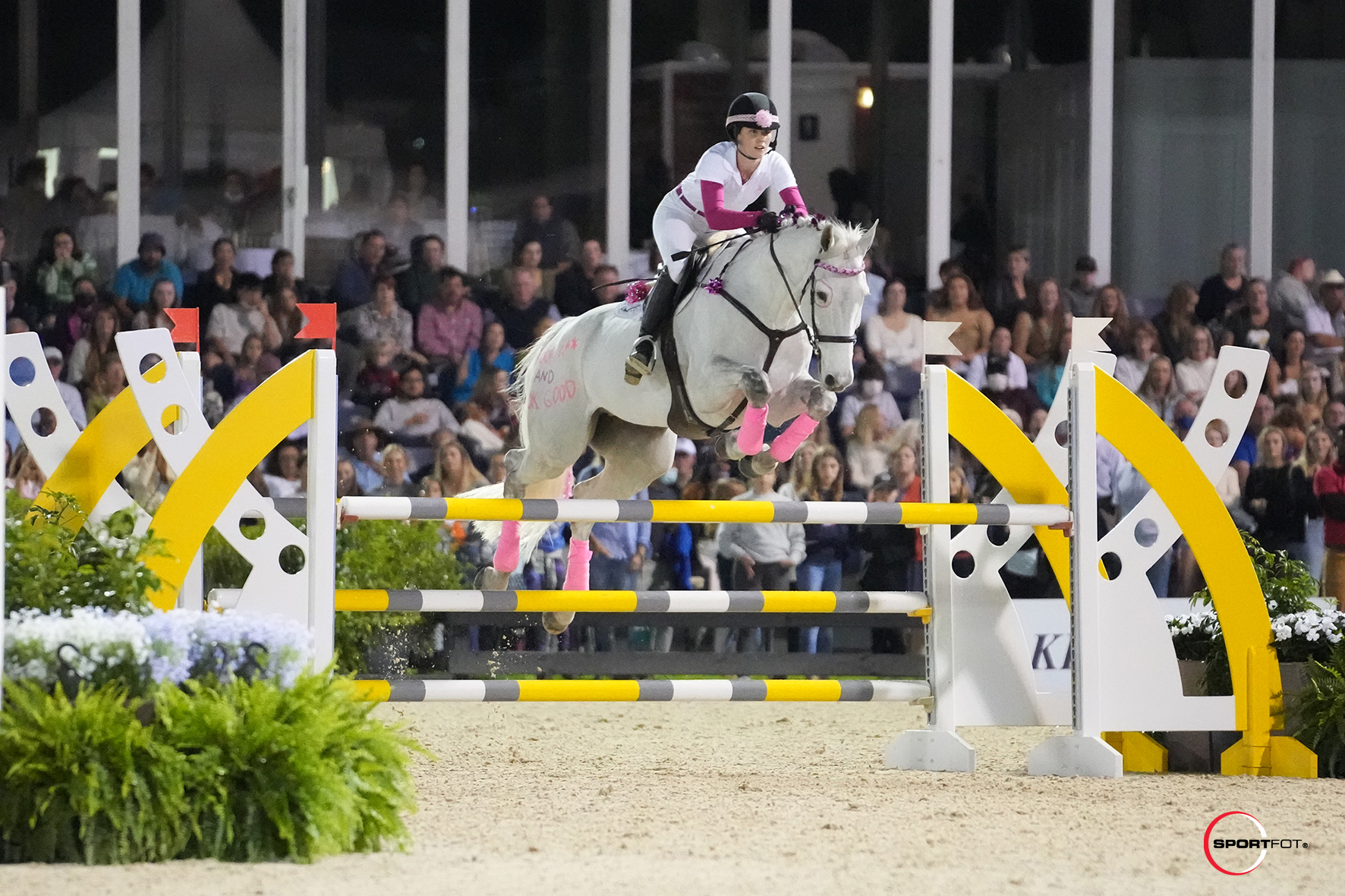 In the second phase, each team had three relay groups, where the three riders in the relay each did a section of the course. The women's team gained 10 more points with two wins out of the three groups, leading 15 to 10.
The final phase was a match race where riders competed over a course that mirrored itself in the ring, and they completed it at the same time. When the women won five of the first six rounds at three points each, they secured their victory, and the last four match races did not have to finish. Leahy sealed the deal for her team by taking the decisive victory over Michael Tokaruk, and the women won by a score of 30 to 13.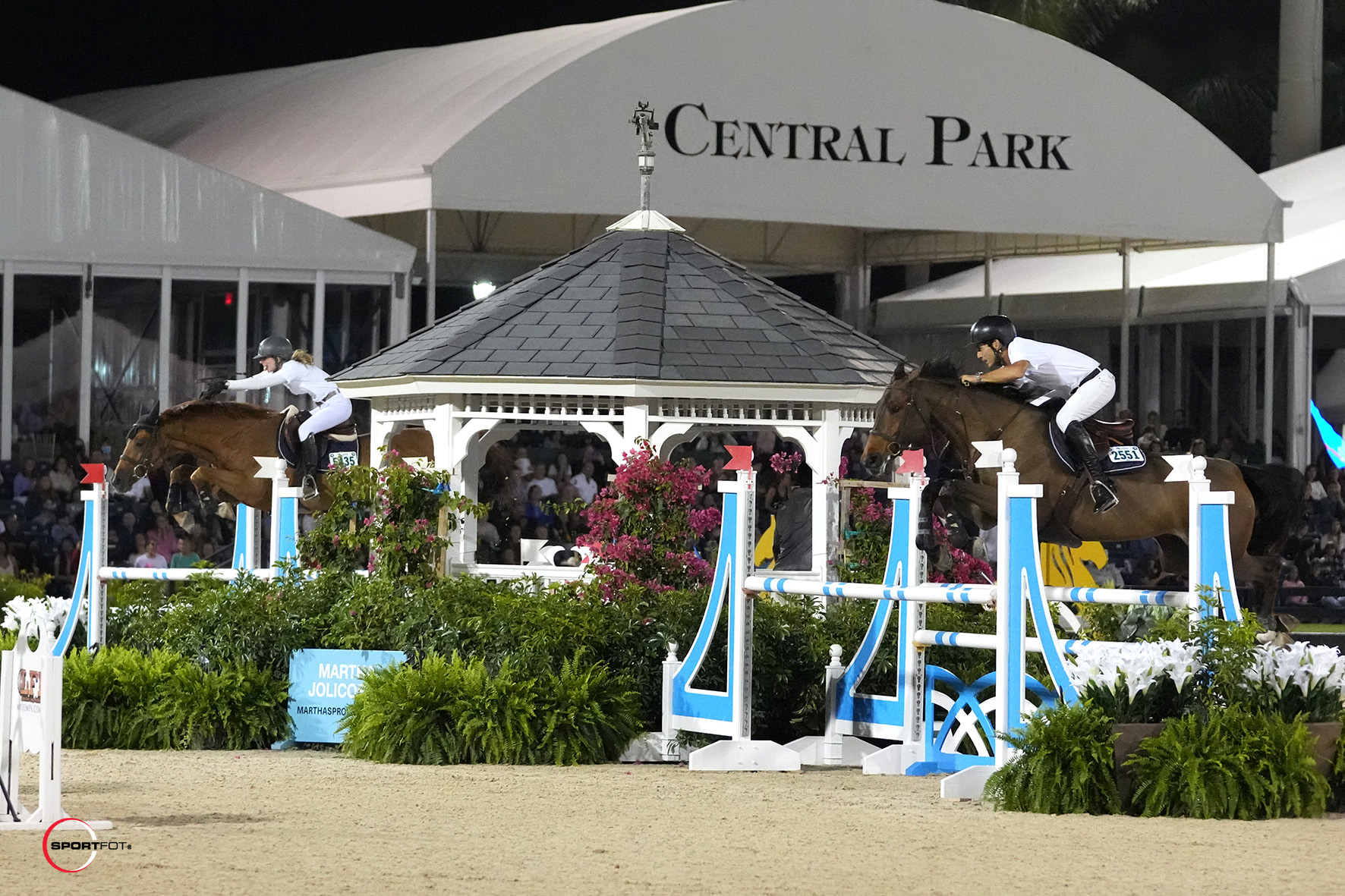 This was women's team captain Soleau-Millar's first time competing in the Battle of the Sexes. She took over the role from previous captain Nicole Jayne and had assistance from men's team captain Charlie Jayne.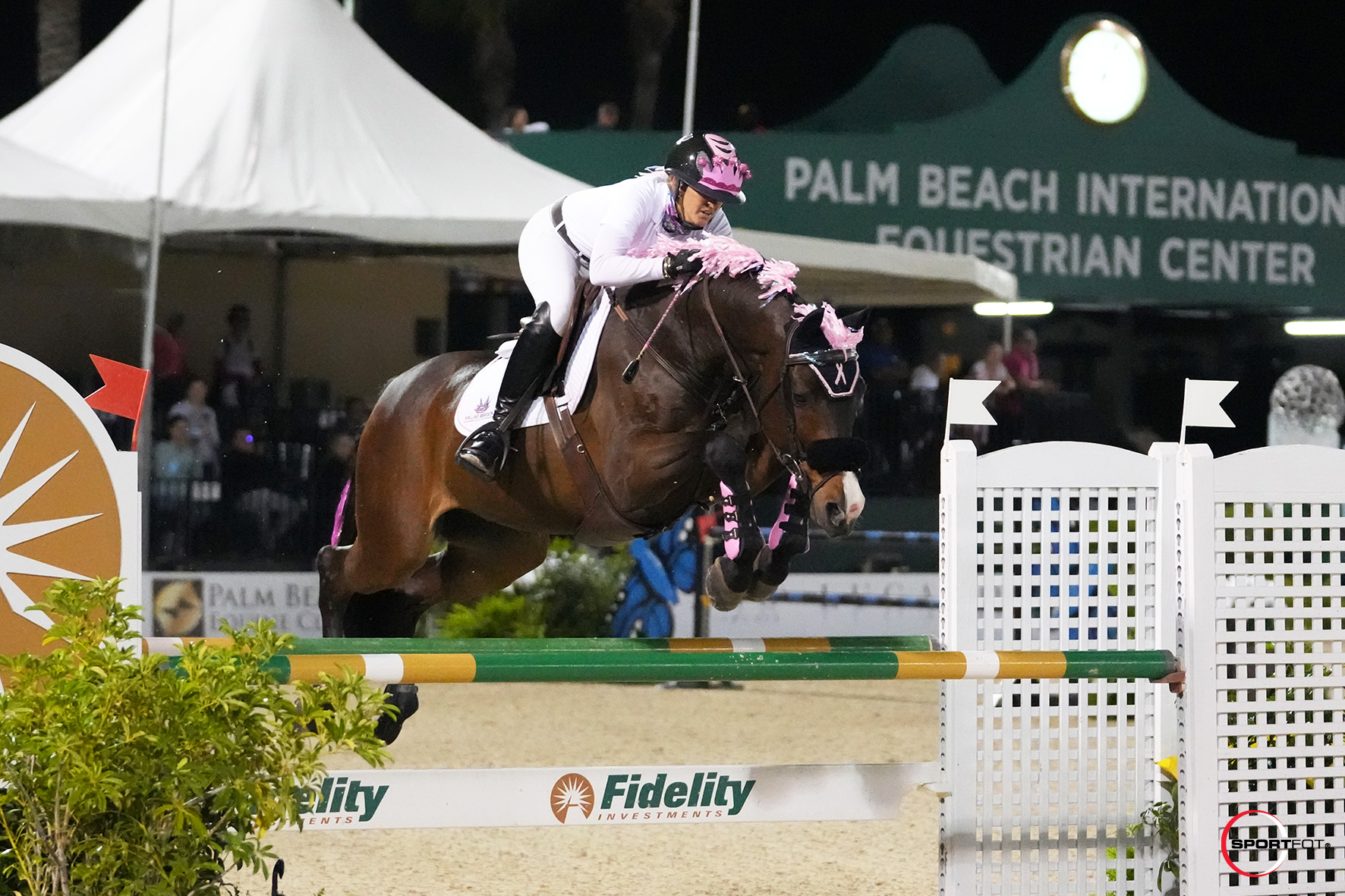 "It was an honor," beamed Soleau-Millar. "It was some big shoes to fill from Nicole, but it was so exciting. We had an unbelievable team. There were great young riders, up-and-coming riders, professionals that have done it in the past, and we had a blast."
Soleau-Millar was the very first rider into the ring for the Battle of the Sexes, and she won her speed round over Simon McCarthy. "We're hoping to step him up and hopefully get him into some of the two-star clases this year," she said of her horse, owned by Rachel Wilks. "I'm very thankful that I have that, and it was very exciting. Simon unfortunately had a little bit of a mishap, and so my game plan changed a little. At first, I was going to go all out and do all the inside turns and leave out strides, but at the end I just needed to do an efficient clear round, and so it all worked out in the end."
Soleau-Millar echoed the sentiment of many of the riders in being back in the International Arena, under the lights, with a large crowd of enthusiastic spectators.
"It was amazing," she affirmed. "They do a fantastic job here at WEF. The energy was just incredible and so fun."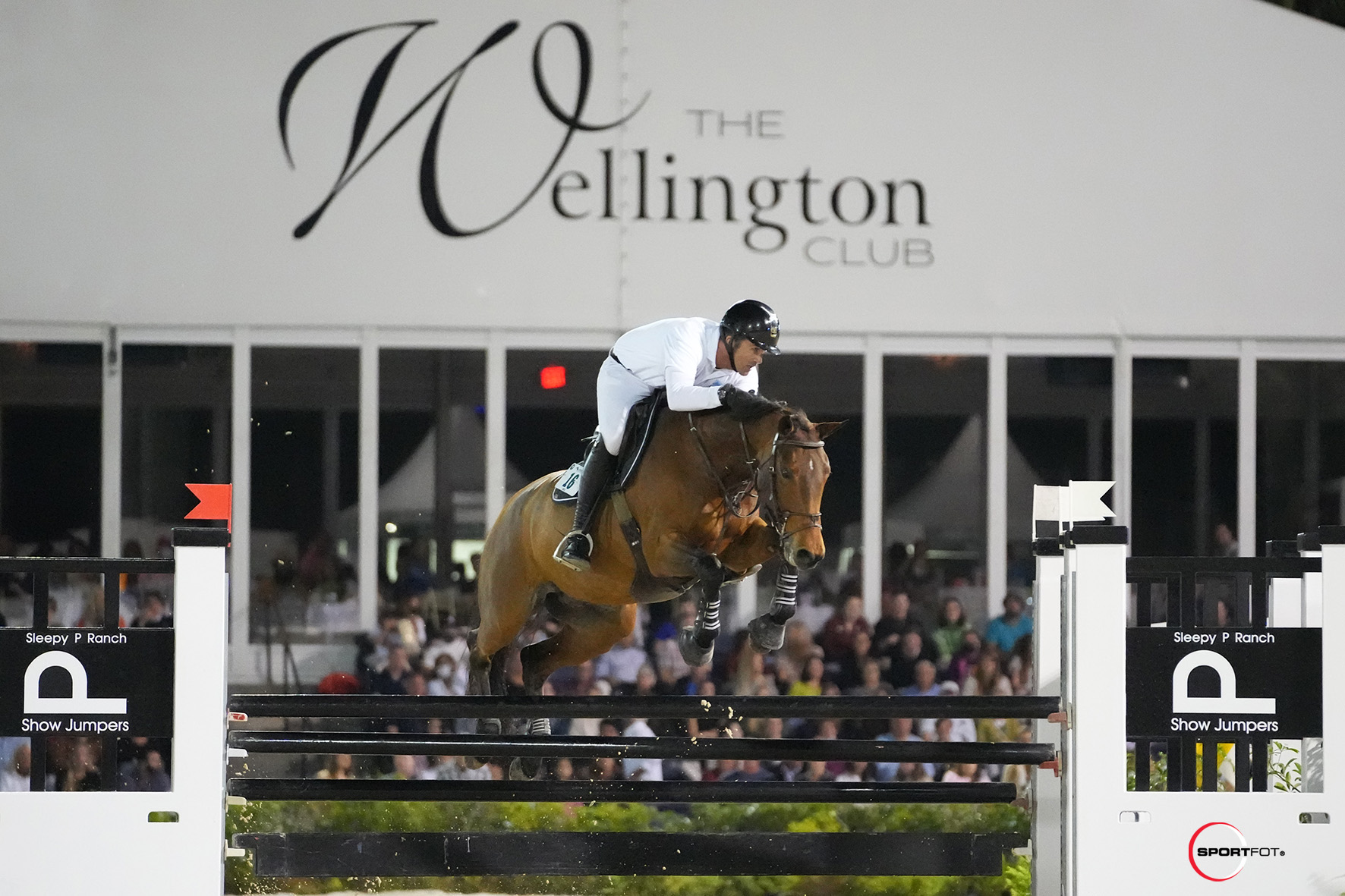 In the midway break during the Battle of the Sexes, there was a drawing for the Great Charity Challenge, sponsored by Fidelity Investments® to select another charity to participate in the fundraising event that has distributed almost $16 million to 276 charities over the past 12 years. The selected charity joining others for the event on February 5 is Susan G. Komen South Florida.
WEF First Timer Richard Vogel Makes His Debut a Winning One
The CaptiveOne Advisors Championship series kicked off on Saturday as well. Germany's young talent, Richard Vogel, and his horse Darius de Kezeg Z sped to the win in the $25,000 CaptiveOne Advisors Championship Jumper Classic. In a field of 26 riders, Vogel was one of 12 who jumped clear over Eric Hasbrouck's (USA) delicate first track.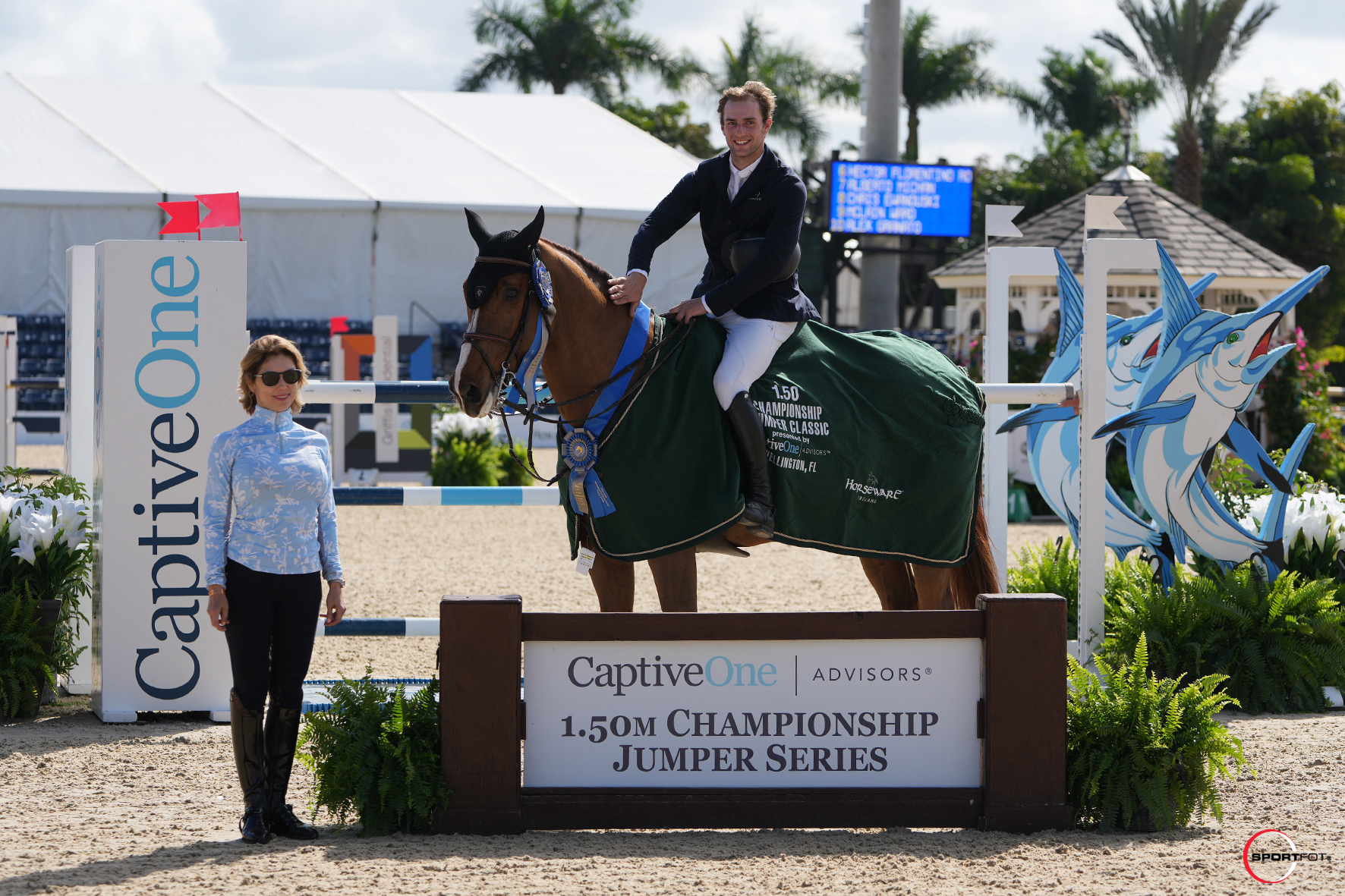 In the jump-off, Vogel's blistering pace could not be beat as he crossed the timers in 33.011 seconds. Right behind him was Vanessa Hood (USA) who finished the short course in 33.392 seconds with Take Two LLC's Cascalretto. Grant Seger (USA), who won the $8,000 Douglas Elliman Real Estate 1.45m class earlier in the week, jumped to third place with Plot Z owned by Grey Fox Crossing in 33.707 seconds.
Not only are Vogel and his horse Darius de Kezeg Z making their WEF debut this year, but it is also their first time ever competing in the United States. Vogel, who is based in Germany, is delighted by what he's seen so far at WEF.
"I'm so impressed by the facilities here," he said. "It's amazing for our horses, for the whole team. We can produce our horses. We have a few sales horses, so we are very excited to be here, and with such a start, even better."
He continued, "It's amazing to ride in that big ring. It's massive, and you can really canter. The horses get a bigger stride, and it feels just super. It was a very nice course, and it was nice to get started."
Vogel has been riding Darius de Kezeg Z (Darco x Widona De Kezeg), which he owns with his business partner David Will, for about a year. He describes the 11-year-old Zangersheide gelding as "very easy going, and as soon as he gets into the ring, he gets motivated and he gives his best. He tries his best. He's a super cool horse."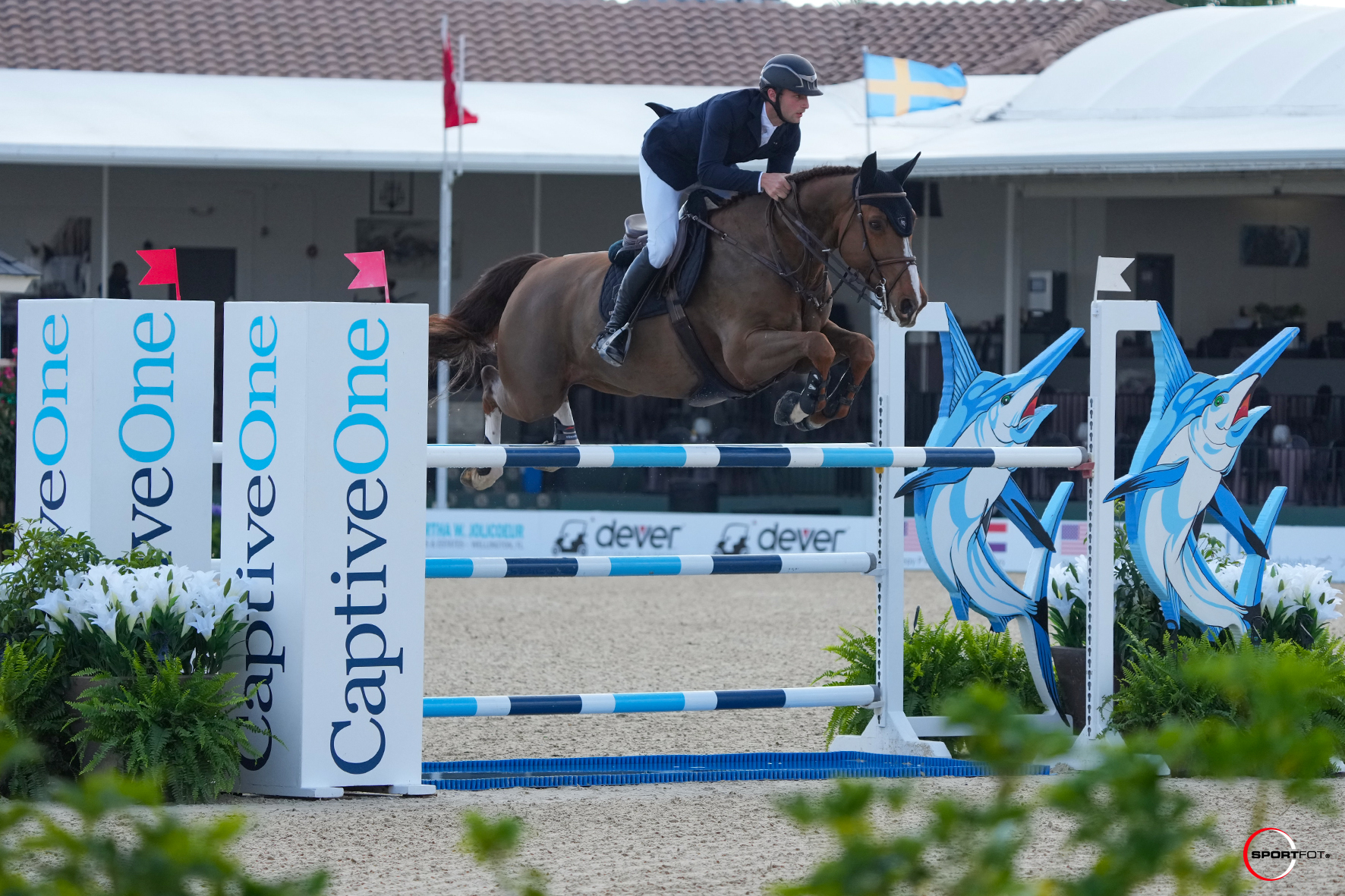 Over the fall, the pair competed in Mexico, which was highlighted by a sixth place finish in the CSI5* Grand Prix in Monterrey. Now they're gearing up for a winning season at WEF.
"[Darius de Kezeg Z] didn't jump all December, so we thought it's a nice class to start," said Vogel. "He's fresh, he's motivated, and he feels super."
As for the rest of the circuit, Vogel is taking it one week at a time.
"Next week I do the three star and then see how that goes. I don't have a fixed plan, so I plan a little from show to show, see how the horses are feeling, and go from there," he concluded.
Final Results: $25,000 CaptiveOne Advisors Championship Jumper Classic
1 DARIUS DE KEZEG Z: 2011 Zangersheide gelding by Darco x Widona De Kezeg
RICHARD VOGEL (GER), Vogel and Will Equestrian GMBH: 0/0/33.011
2 CASCALRETTO: 2012 Holsteiner gelding by Casall x J-Ohara
VANESSA HOOD (USA), Take Two LLC: 0/0/33.392
3 PLOT Z: 2011 Warmblood gelding by Plot Blue x Salome
GRANT SEGER (USA), Grey Fox Crossing: 0/0/33.707
4 DIARADO'S FLYING DUTCHMAN: 2010 Oldenburg gelding by Diarado x Elfenland
LAURA CHAPOT (USA), Laura & Mary Chapot: 0/0/34.775
5 MARIE VD MESPEL Z: 2011 Zangersheide mare by Mylord Carthago x Hesta Van De Mespel
HEATHER CARISTO WILLIAMS (USA), Mr. and Mrs. Ralph Caristo: 0/0/35.174
6 MEADOW VALE CRUISE: 2011 Irish Sport Horse gelding by S. Creevagh Ferro Ex Siebe x Tullibards Pretty Young Thing
HECTOR FLORENTINO ROCA (DOM), Wyndmont: 0/0/35.914
7 FIREWALL: 2010 KWPN gelding by Numero Uno x Vekua
ALBERTO MICHAN (ISR), Eduardo Leon: 0/4/33.43
8 CONDOR DU VALDECIE: 2012 Selle Francais gelding by Quite Easy x Dorine Du Bel Air
CHRIS EWANOUSKI (USA), Polo Jump LLC: 0/4/36.136
9 FIRST LADY: 2013 Oldenburg mare by Don Diarado x Love Dream
MCLAIN WARD (USA), Robin C. Parsky: 0/4/38.021
10 DISCO SUPERFLY: 2012 Oldenburg gelding by Catoki x Libelle
ALEX GRANATO (USA), The Bright Lights Group: 0/15/58.349
11 SONIC BOOM: 2012 Belgian Warmblood gelding by Seacoast Wonderful x Toulouse VD Distelhoeve
HAILEY ROYCE (USA), Hailey Royce: 0/ELM
12 CAMARO: 2010 Holsteiner stallion by Cassini I x Virginia V
CAMILO RUEDA GIRALDO (COL), Camilo Rueda Giraldo: 0/RET
Hayley Hewitt Holds Top Spot in THIS National Children's Medal 14 & Under
Saturday in the FarmVet Ring 7 began with 25 horse and rider pairs vying for a top spot in the THIS National Children's Medal 14 & Under. The course required riders to be deliberate in setting their pace, finding their line, and sticking to a plan.
Less than half of the entries had scores 80 or above and of those, only five were called back to test with only three points separating the first from the fifth spot.
After a challenging work-off which included a halt mid-line, counter canter, and trot jump, Hayley Hewitt and Harper Phipps remained unchanged in their positions securing the first and second place finishes respectively.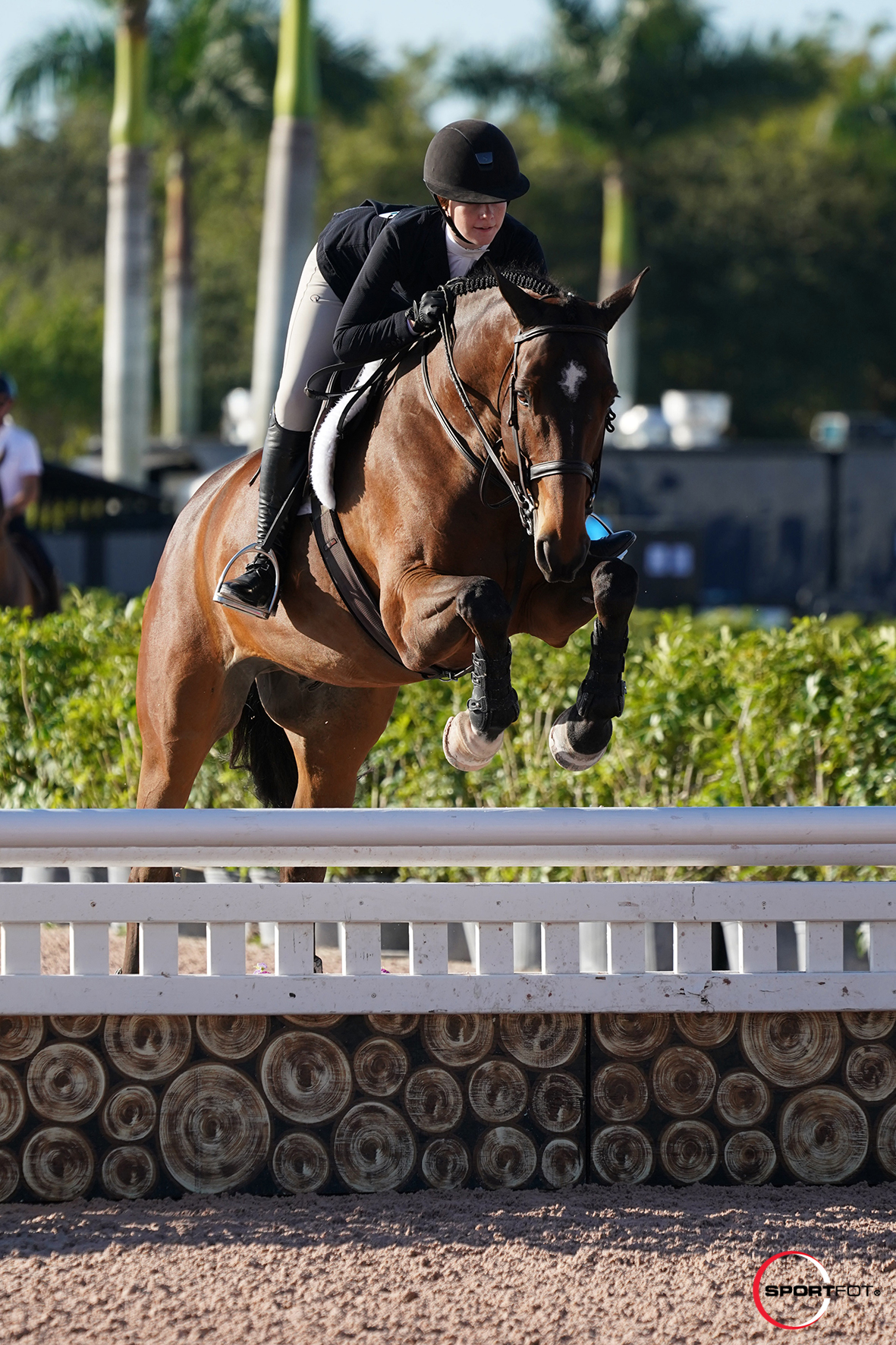 Of the test, Hewitt commented, "It was tricky, but it was fun. I enjoy counter cantering a lot, so the counter canter jump was nice."
Hewitt, of New Canaan, CT, rode to victory (with a score of 88) aboard Martel VDL, an 11-year-old KWPN gelding by Quidam de Revel owned by Eva Mackenzie.
"I've had him for about six months now," said Hewitt. "We recently moved to the 3'3" Junior Hunters, and he's been really good. He's just a great horse."
This win is just the most recent in a string of successes for the pair.
In 2021 they performed well in the Children's Hunters 14 & Under at Capital Challenge Horse Show, placing third in the WCHR Children's Challenge. At the SFHJA 71st Annual Charity Show, the duo earned the Best Child Rider on a Horse 3' and Grand Children's Hunter titles.
As for the future, Hewitt is focused on more of the same.
"To stay consistent in the 3'3" Junior Hunters, the THIS, and maybe some 3'3" Medals," she said when asked about her goals for the season.
The second-place ribbon in the class went to Harper Phipps and Showcase owned by Alexa Aureliano with a score of 87.
Third went to Claire Mullally and TW McCormick owned by Sara Nisbet. They earned an 85.5 and moved up from fourth with the test.
Premiere week for the 2022 WEF concludes on Sunday, January 9, with the $75,000 Rosenbaum PLLC Grand Prix along with a championship in the Marshall & Sterling Adult Amateur Older Section B.