For Immediate Release
Summer Grace, Katie McCoy, and Emily Riden for Jennifer Wood Media, Inc.
Wellington, FL – January 25, 2019 – Conor Swail of Ireland and GK Coco Chanel topped the $36,000 Equinimity WEF Challenge Cup Round 3 CSI 3* on Friday, January 25, at the Winter Equestrian Festival (WEF) in Wellington, FL. The 12-week WEF circuit, held at the Palm Beach International Equestrian Center (PBIEC) features hunter, jumper, and equitation competition and continues through March 31, 2019.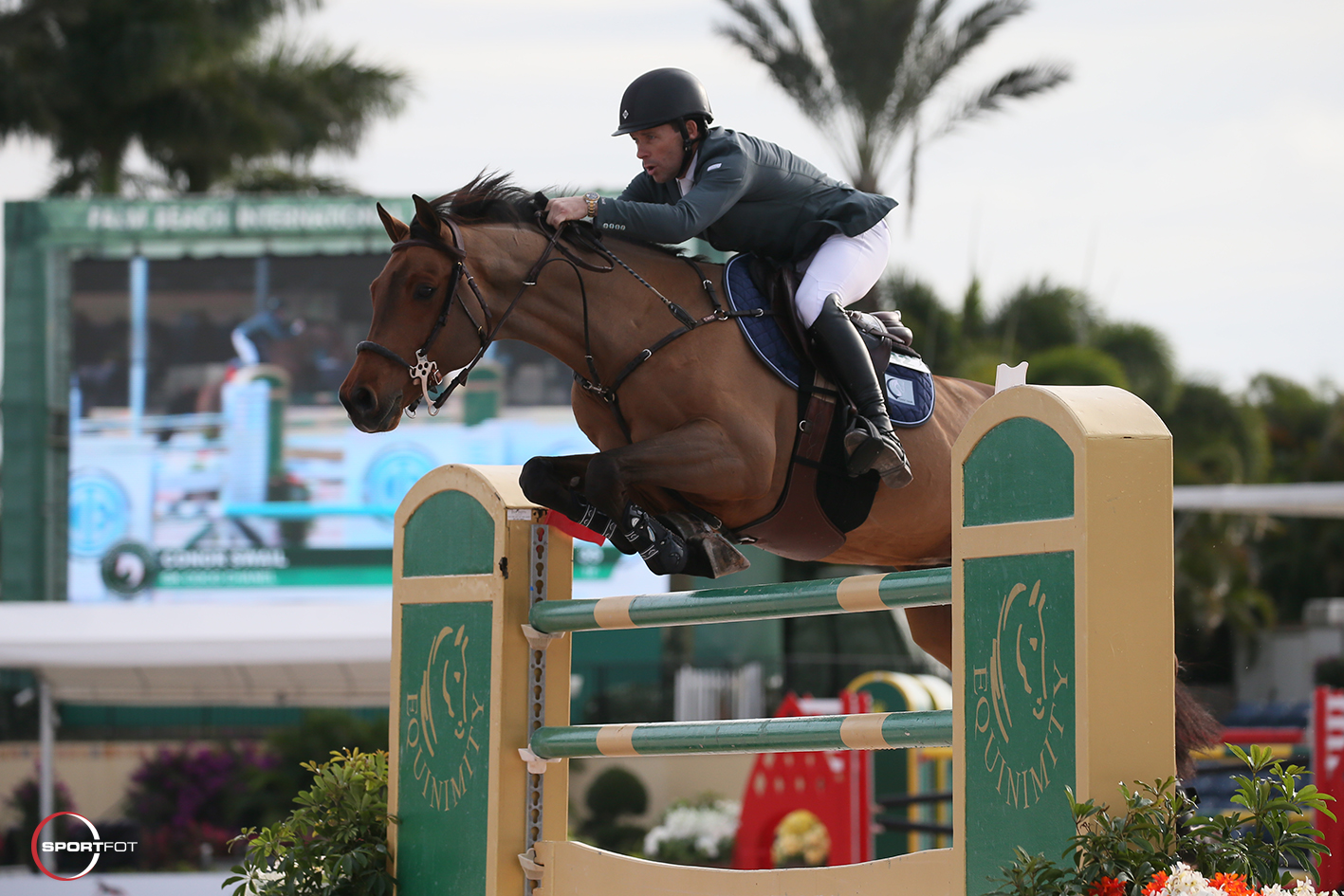 Due to inclement weather forecast in the area tomorrow evening, the start time of the $134,000 Adequan® Grand Prix has been changed to 6:00 p.m. from the originally scheduled start time of 7:00 p.m.
To maintain the quality of arena surfaces for Sunday's competition, additional parking WILL NOT be available on-site. Free parking for spectators will be offered at Equestrian Village, located at 13500 South Shore Boulevard Wellington, FL 33414. Shuttles will be provided from the parking venues to main grounds and back throughout the night.
Highlight events yet to come during the third week of competition, sponsored by Adequan®, include the $134,000 Adequan® Grand Prix CSI 3* on Saturday, January 26, at 6 p.m. and the $36,000 1.50m CaptiveOne Classic on Sunday morning.
The $36,000 Equinimity WEF Challenge Cup Round 3 commenced at 8 a.m. on Thursday morning with 75 of the 91 entered competitors contesting the Peter Grant (CAN) designed course before inclement weather caused the postponement of the remainder of Thursday's competition. The remaining 16 WEF Challenge Cup entries returned at 8 a.m. Friday morning to conclude the first round, before seven entries advanced to jump-off immediately following.
When Swail and GK Coco Chanel returned for the short course, Daniel Bedoya of Colombia had set the clear time to beat at 42.569 seconds aboard his own Quattro, but Bedoya was soon relegated to second place as Swail and the 11-year-old Holsteiner gelding (Clarimo x Lerano 2), owned by Vanessa Mannix, tripped the timers in 41.851 seconds to claim the win. Finishing in third place with four faults and a time of 39.197 seconds was Fabio Leivas da Costa of Brazil riding Tosca de l'Esque, owned by Bonne Chance Farm LLC.
"I saw the first couple of guys go, so I had a gauge of the time," said Swail, who has had the ride on GK Coco Chanel for two years. "There was a 39 [with four faults] there, and then, just before I went in, there was a clear round in 42 seconds, so I knew it wasn't really quick, so I felt I could just shave off a little time. It's not that I was taking a lot of risks. I still felt comfortable enough with everything I was doing; I think I just got a nice rollback tight turn to the vertical that was second to last. That probably made it that I just snuck past the guy in front."
This week marks GK Coco Chanel's first week showing in 2019 following a successful 2018 season that included wins at the Tryon International Equestrian Center in Tryon, NC, and Spruce Meadows in Calgary, AB.
"It's very nice that he's started off in such a positive way," said Swail. "He has been very consistent over the last six months; it's great that we're continuing the good trend.
"He's not the most straight forward horse I've ever ridden, but very, very talented," continued Swail. "He's very quirky. He's very alert and very sharp, and he has all of the quality, scope, and carefulness, and he's got a lot of great attributes. Every horse you ride, you have to find their strengths and weaknesses and work on their weaknesses and build on their strengths. He has all the power; he's a really good athlete as a jumper. He has a big stride. He's easy to get down any distances that are a little forward. For me now he's quite rideable and a very exciting horse."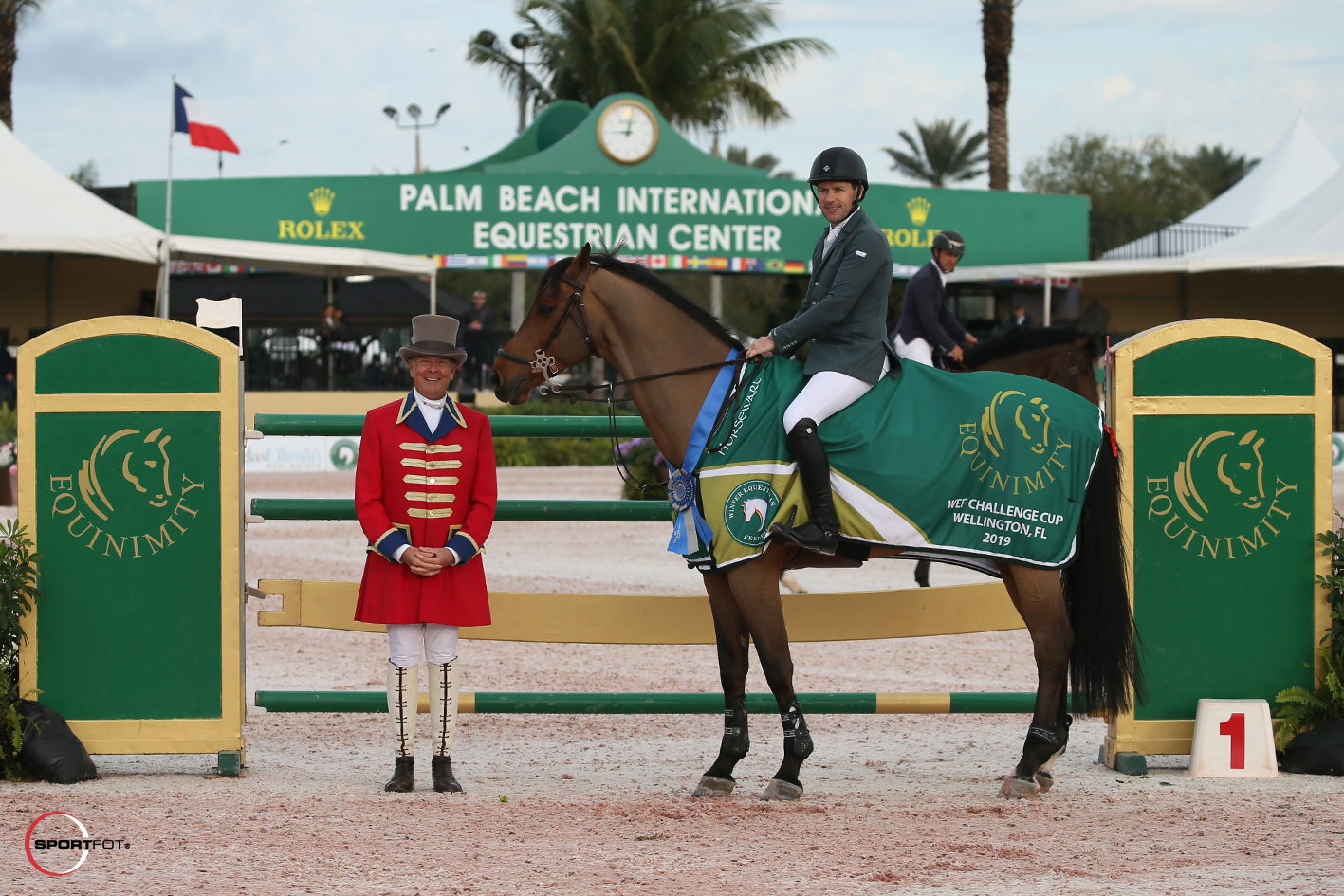 Swail will next aim the gelding at Saturday night's $134,000 Adequan® Grand Prix CSI 3* before looking toward the CSI 5* competition held during WEF week 5.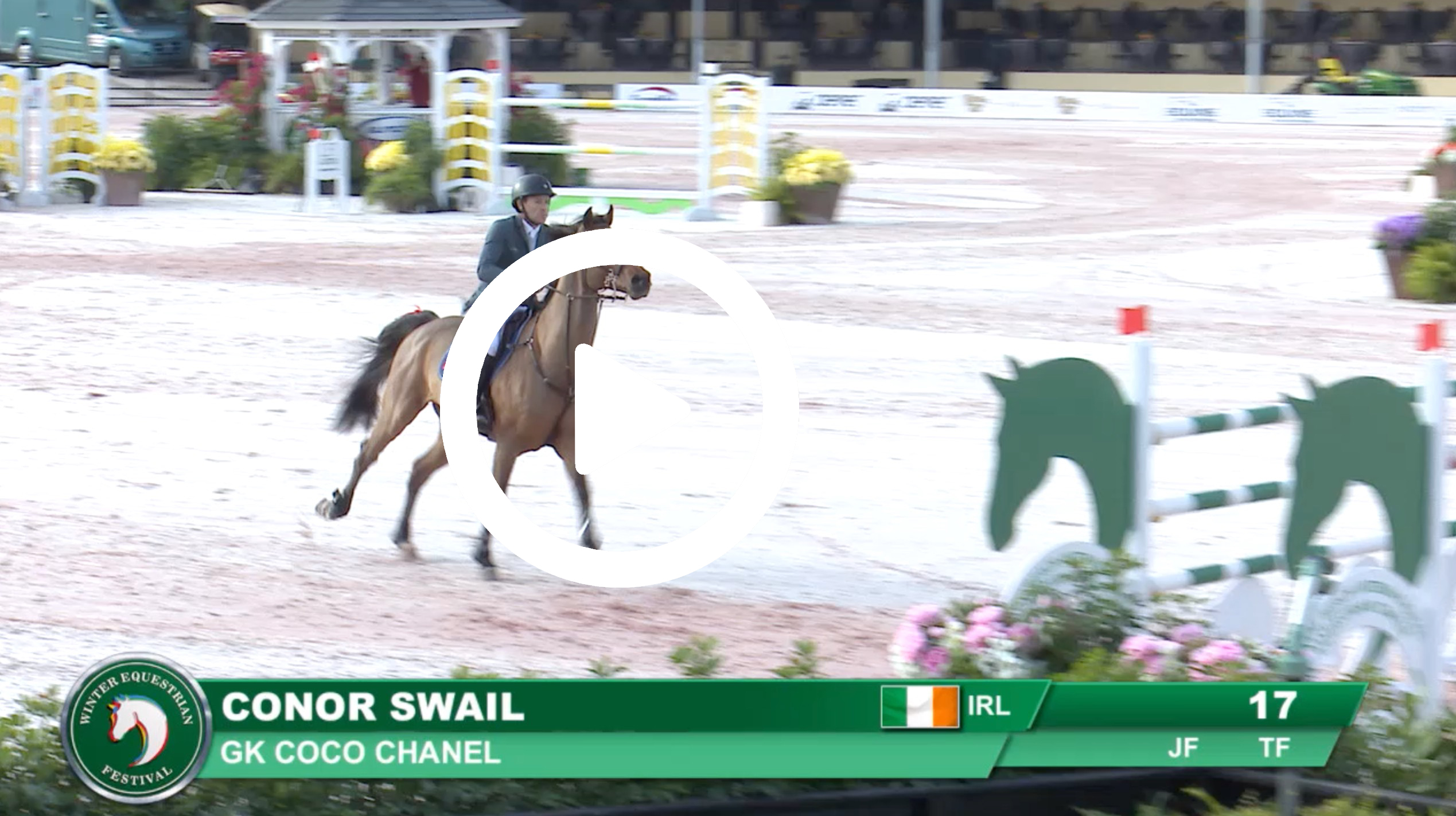 Final Results: $36,000 Equinimity WEF Challenge Cup Round 3 CSI 3*
1 GK COCO CHANEL: 2008 Holsteiner gelding by Clarimo x Lerano 2
CONOR SWAIL (IRL), Vanessa Mannix: 0/0/41.851
2 QUATTRO: 2006 KWPN gelding By Quasimodo z x Celano
DANIEL BEDOYA (BOL), Daniel Bedoya: 0/0/42.569
3 TOSCA DE L'ESQUE: 2007 Selle Francais mare by Cardento x Apache d'Adriers
FABIO LEIVAS DA COSTA (BRA), Bonne Chance Farm LLC: 0/4/39.197
4 UNCLE BLUE: 2008 Swedish Warmblood gelding by Chacco Blue x Robin Z
SPENCER BRITTAN (USA), Spencer Brittan: 0/4/41.239
5 DON'T TOUCH DU BOIS: 2009 Belgian Sport Horse mare by Kashmir van Schuttershof x Indoctro
DAVID BLAKE (USA), Pine Hollow Farm: 0/4/41.892
6 HUNTERS CONLYPSO II: 2008 Hanoverian gelding by Contendro I x Calypso II
LORCAN GALLAGHER (IRL), Dacantos Group: 0/withdrawn
6 BALTIC STAR 2: 2009 Hanoverian gelding by Bacardi x Chalan
KENT FARRINGTON (USA), Tanma Corp. and Kent Farrington: 0/withdrawn
8 KAREL VDB: 2010 Belgian Warmblood gelding by Darco x Corland
MARTIN FUCHS (SUI), SPCS: 1/77.11
9 CALETTO CABANA: 2007 Holsteiner stallion by Cassini I x Capecanaveral
WILTON PORTER (USA), Sleepy P Ranch LLC: 1/77.16
9 CANAMERA 2: 2009 Holsteiner mare by Clarimo x Carthago
PETER WYLDE (USA), Kathleen Kamine: 1/77.16
11 FELLINI S: 2010 KWPN gelding by Vermont x Rash R
ERYNN BALLARD (CAN), Ilan Ferder: 1/77.86
12 BALINTORE: 2006 KWPN gelding by Vincenzo x Lux
SUSAN HORN (CAN), Kingsfield Farm: 1/78.03
Eduardo Menezes and H5 Caruschka 2 Win $36,000 Bainbridge 1.45m Jumpers
Out of a field of 64 entries, Eduardo Menezes (BRA) aboard H5 Caruschka 2 took home first place honors in the $36,000 Bainbridge 1.45m Jumpers. The pair went early in the class and held the fastest time with of 67.50 seconds with zero faults.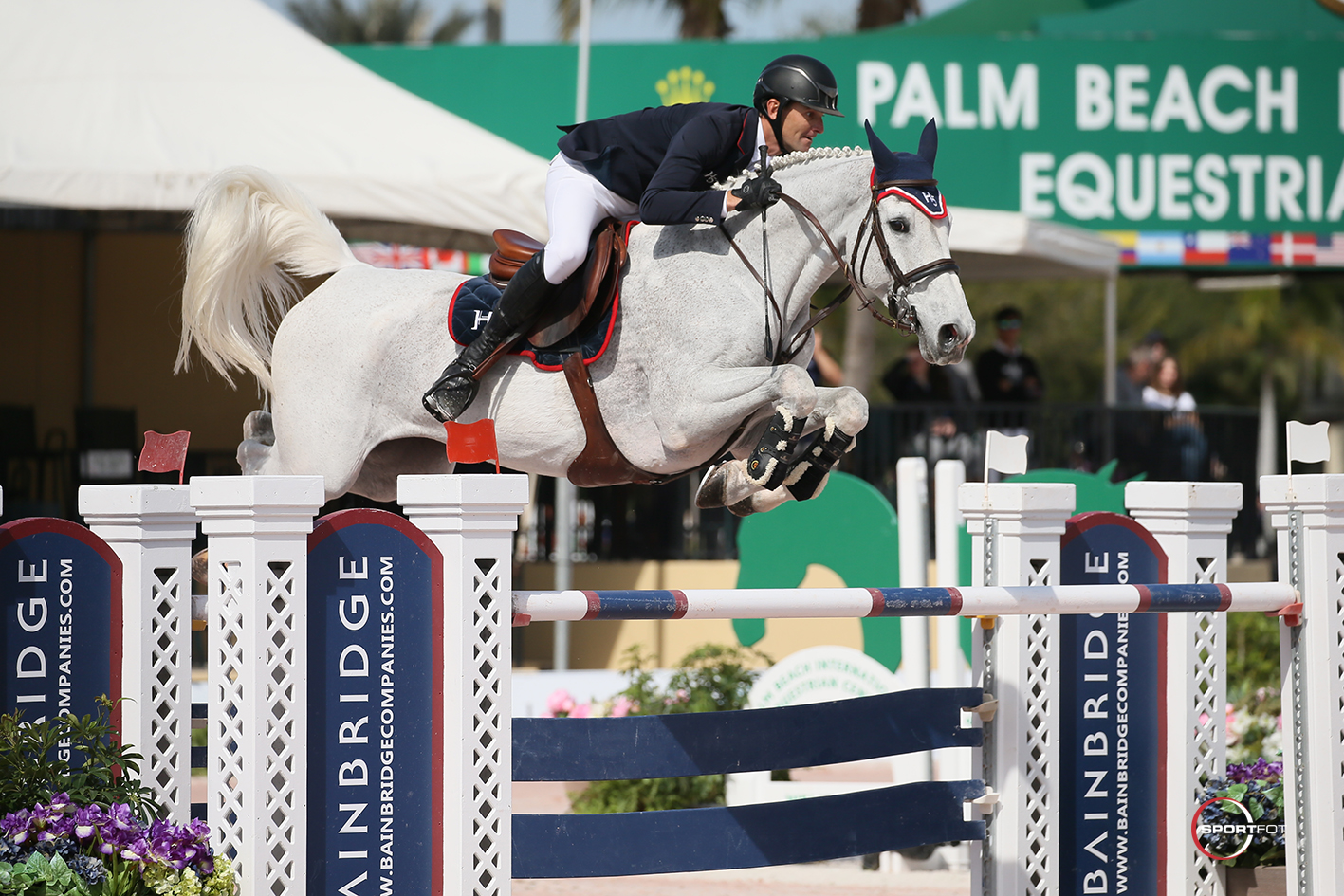 Menezes has had the 15-year-old Oldenburg mare H5 Caruschka 2 (Caspar x Grannuschka) for seven years, and they have grown as a partnership. "I got her when she was barely able to jump 1.30-1.40m and we've been everywhere, so she is part of the family," he said. "This is a horse that I have had for a long time and this is her specialty, so I thought about strides and leaving out here and there and fortunately it worked well for me."
Menezes will continue to focus on the speed classes with H5 Caruschka 2.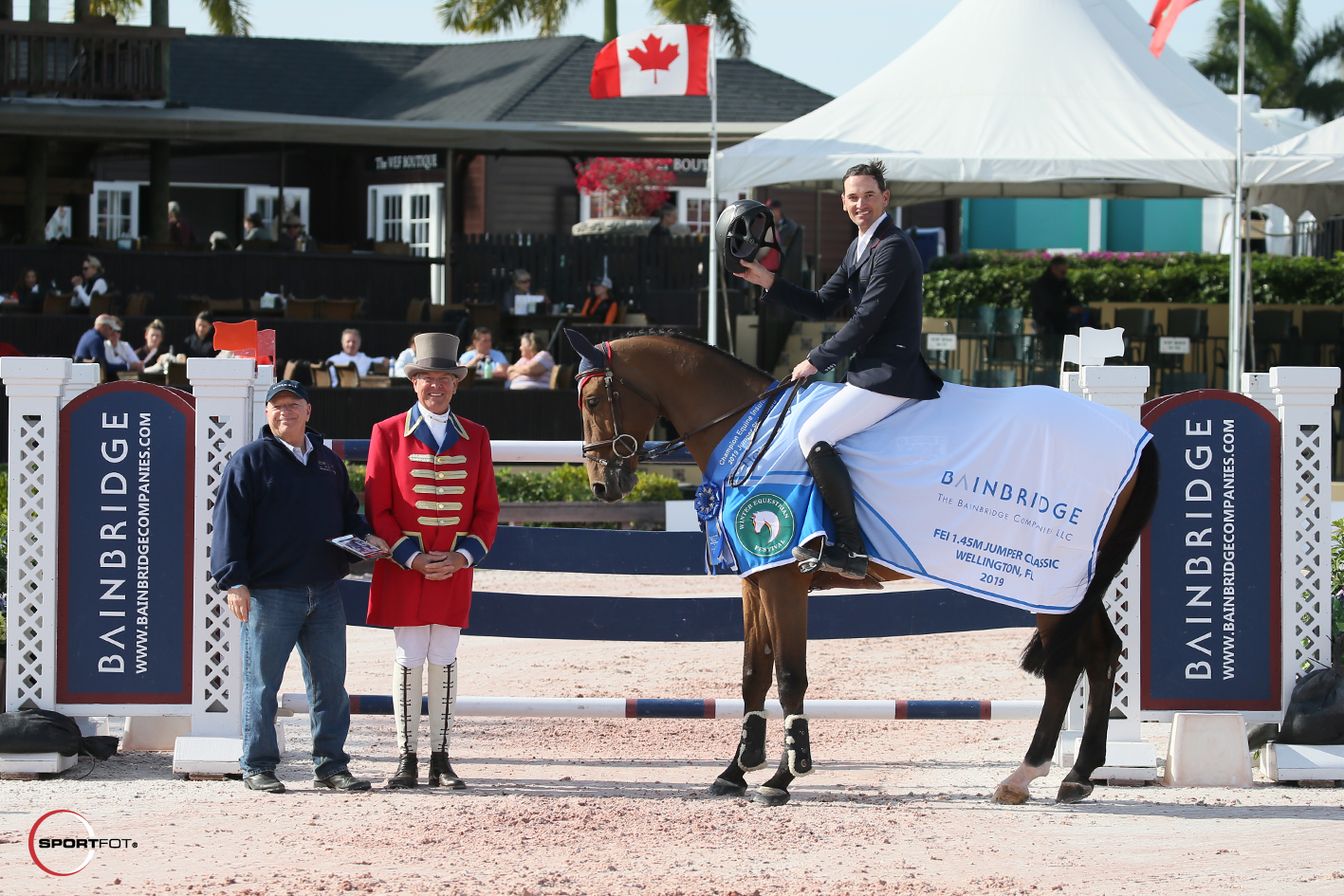 Kelli Cruciotti (USA) aboard the 15- year-old KWPN mare Zidante (Cantos x Midante), owned by Serenity Farm, had the second fastest time with 68.50 seconds with no faults. She was followed by Jessica Springsteen (USA) and RMF Chacco Top, owned by Rushy Marsh Farm LLC, who had a time of 69.68 seconds on a clear round for third place honors.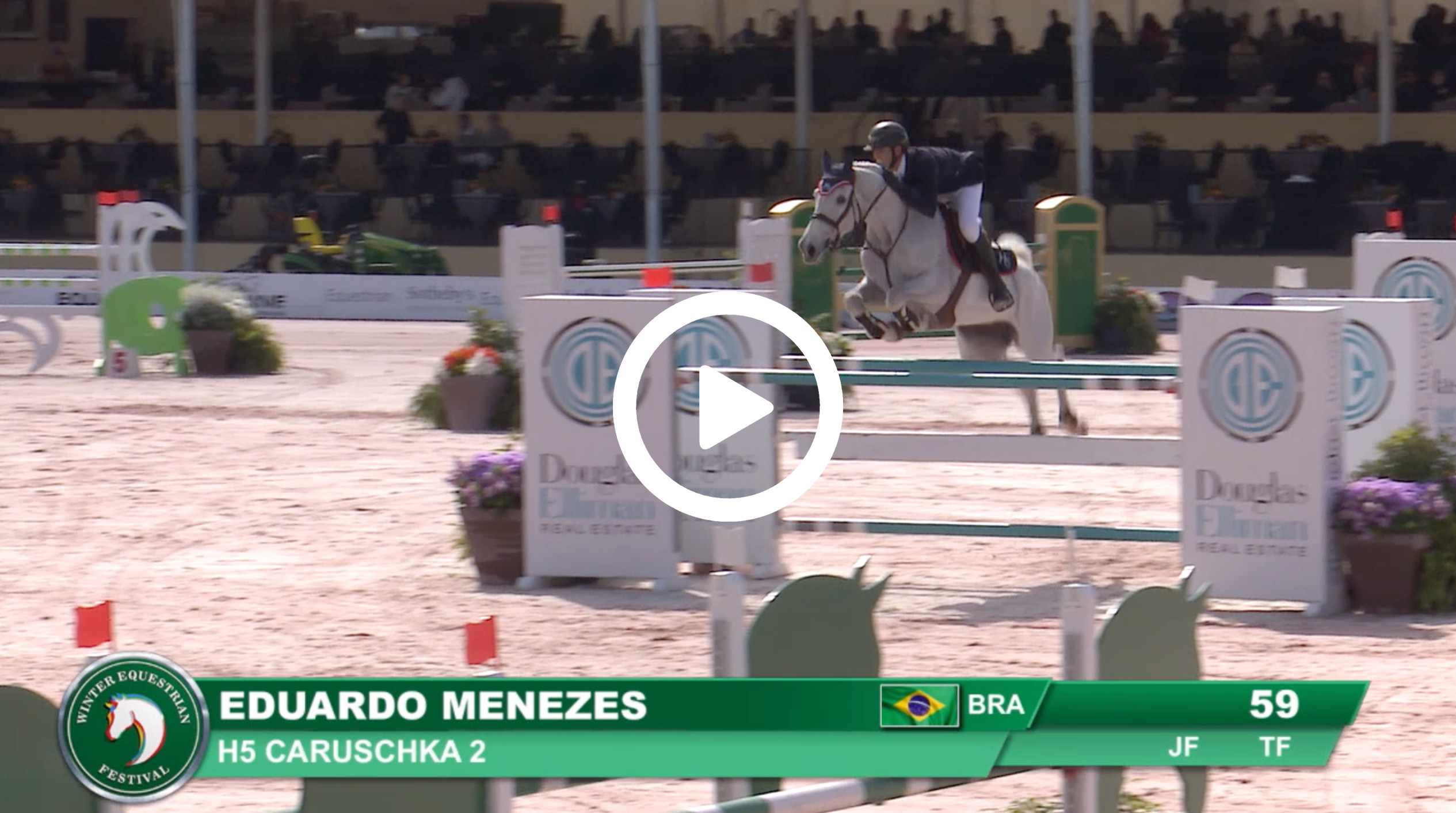 Final Results: $36,000 Bainbridge 1.45m Jumpers
1 H5 CARUSCHKA 2: 2004 Oldenburg mare by Caspar x Grannuschka
EDUARDO MENEZES (BRA), E2 Stables: 0/67.50
2 ZIDANTE: 2004 Royal Dutch Sport Horse mare by Cantos x Midante
KELLI CRUCIOTTI (USA), Serenity Farm: 0/68.50
3 RMF CHACCO TOP: 2009 Hanoverian stallion by Chacco-Blue x Graeva
JESSICA SPRINGSTEEN (USA), Rushy Marsh Farm LLC: 0/69.68
4 JECO VAN HET SWENNEHOG: 2009 Belgian Warmblood gelding by Epleaser Van 'T Heike x Fabienna II V.H Swennenhof
NOEL FAUNTLEROY (USA), Noel Fauntleroy: 0/71.44
5 TARIOSO MANCIAIS: 2007 Selle Francais gelding by Arioso Du Theillet x Karto Manciaise
KATHERINE DINAN (USA), Grant Road Partners GMBH: 0/72.26
6 CALL ME NUMBER 1: 2004 Westphalian stallion by Cornet Obolensky x Lucie
RICHIE MOLONEY (IRL), Equinimity LLC: 0/73.55
7 CHIARA MIA: 2009 Westphalian mare by Coronas x Calido's Girl
BEAT MANDLI (SUI), Grant Road Partners LLC: 0/75.23
8 SIG IRON MAN: 2004 Royal Dutch Sport Horse gelding by Van Cantos x V. Ewaldie
SHOTA OGOMORI (JPN), Sig International, INC.: 0/75.81
9 QUI VIVE DES SONGS Z: 2006 Zangersheide stallion by Quaprice Z x Larnaque
HEATHER CARISTO WILLIAMS (USA), Mr & Mrs. Ralph Caristo: 0/76.83
10 JARCOBOND VAN DEN OUDE EIK: 2009 Belgian Warmblood gelding by Vagabond De La Pommex Comtessa Van Den Oude Eik
CHRISTINE MCCREA (USA), Candy Tribble: 0/77.71
11 DAVIDOFF DE LASSUS: 2009 Belgian Warmblood gelding by Ugano Sitte x Origine Du Mont D'or
ZOE CONTER (BEL), Stephex Stables: 0/79.31
12 LUIS P: 2009 German Sport Horse
CHLOE REID (USA), Live Oak Plantation LLC: 0/79.31
Nicole Wilson Named Champion in the Omega Alpha Adult Amateur Equitation Division During Week Three of the 2019 Winter Equestrian Festival
During Week 3 of the 2019 Winter Equestrian Festival, the Adult Amateur Equitation division took to the Rost Arena to vie for the champion and reserve tricolor ribbons. Tallying points from the under saddle and two over fences rounds, Nicole Wilson of Corinth, TX, piloted Sochi to the win.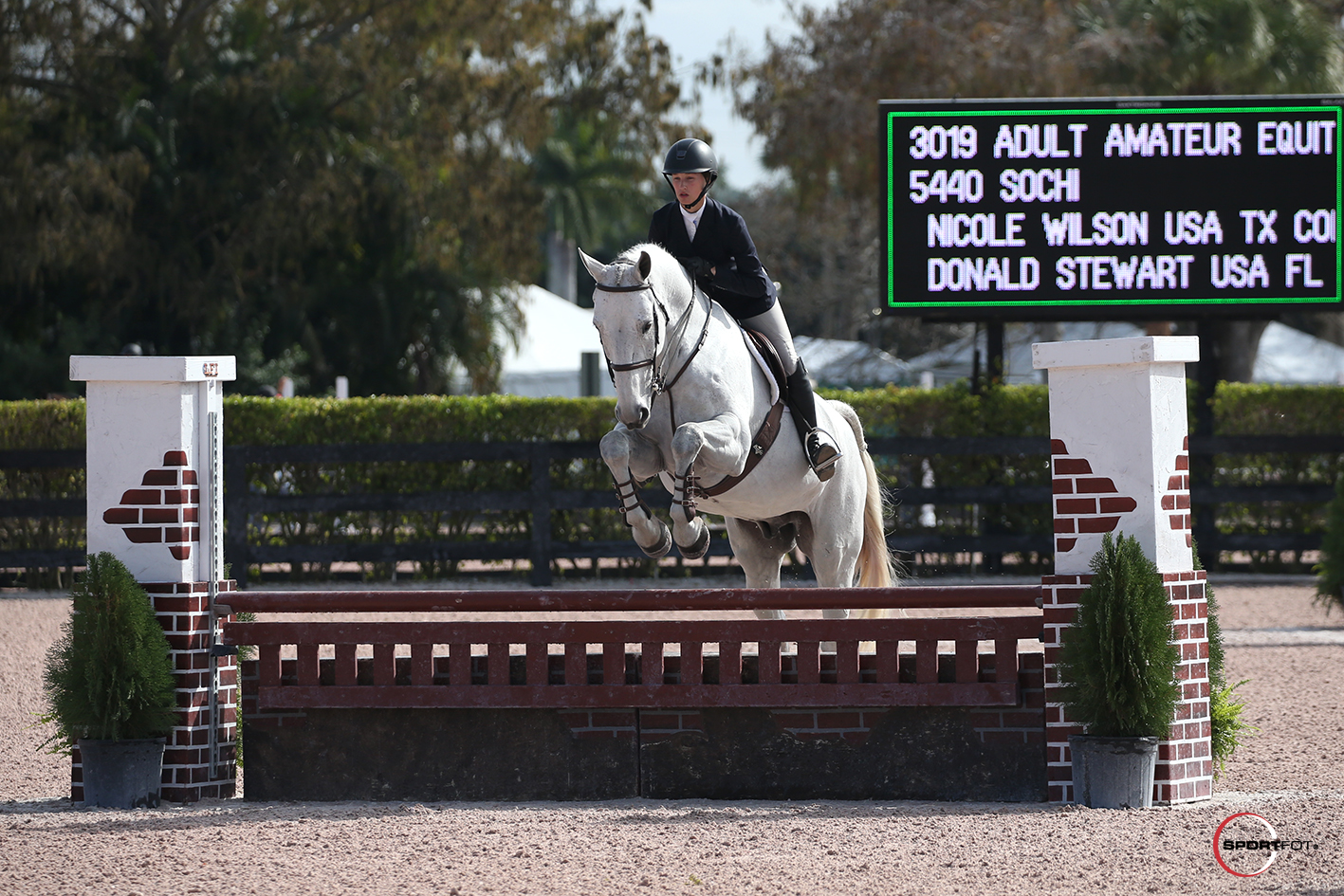 Wilson and the 11-year-old Westphalian gelding (Comet Obolensky x Candy) dominated the competition as the duo snagged two first-place ribbons over fences and a second under saddle. The gelding is a ride from Don Stewart that Wilson only took on several weeks ago.
"Don kindly let me borrow him this weekend," she explained. "We showed in several jumper classes so I could get the feel of him, but I realized he was much more of an equitation ride."
The win is special not only because of the new pairing but this is also the Texas native's first time at the Winter Equestrian Festival.
"I honestly cannot pick one favorite part of being here," Wilson said. "I love seeing all of the top riders, and the competition compared to what I'm used to is incredible."
Finishing the division with a first in the under saddle as well as a second and third over fences, Ohio resident Sara Ballinger and her own Wanderprinz rounded out the division with the reserve champion title.
Competition at the 2019 Winter Equestrian Festival will continue Saturday, January 26 at the Palm Beach International Equestrian Center. The highlight of the day will feature the $134,000 Adequan® Grand Prix.