For Immediate Release
Lindsay Brock and Summer Grace for Jennifer Wood Media, Inc.
Wellington, FL – February 1, 2019 – The $72,000 CaptiveOne Advisors 1.50m Classic CSI 4* was featured on the Derby Field at Equestrian Village on Friday, February 1, with a win for Martin Fuchs (SUI) on Chica BZ. The Winter Equestrian Festival (WEF) continues with 12 consecutive weeks of world-class competition through March 31, 2019.
The fourth week of competition at WEF, sponsored by Marshall & Sterling Insurance/Great American, features the $209,000 Marshall & Sterling Insurance/Great American Grand Prix CSI 4* on the Derby Field at Equestrian Village on Saturday, February 2 at 10 a.m (moved up from original start time of 11 a.m. due to anticipated inclement weather). On Saturday night, competition returns to the International Arena at PBIEC for the Great Charity Challenge, presented by Fidelity Investments® beginning at 6:30 p.m.
Six horses from a starting field of 45 advanced to the 1.50m jump-off track set by Anderson Lima (BRA). Fuchs led off and stopped the clock clear at 38.85 seconds aboard the 10-year-old Zangersheide mare Chica BZ (Canturano x Berlin) with five to return behind him.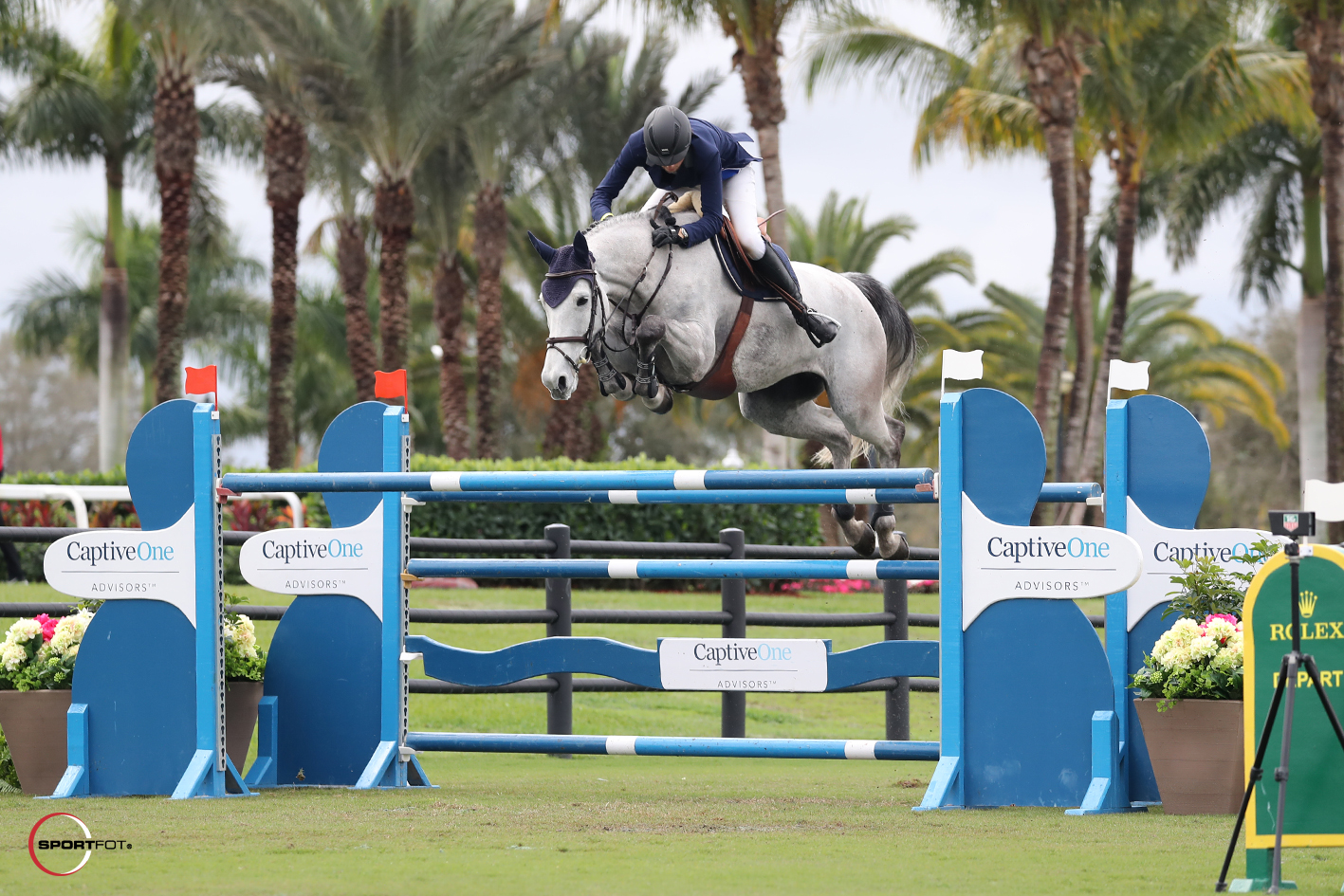 "I thought I would try to go fast, but not doing anything crazy," said Fuchs of his plan for the jump-off. "There was an option to leave out [a stride] into the last double that I didn't want to take because it was the most difficult jump of the whole course, so I added there and hoped the others would be slower."
Fuchs' plan paid off and he held onto the lead over second-place finisher Kelli Cruciotti (USA), who broke the timers in 40.83 seconds riding Cicero's Electric for owner Aram Ampagoumian, LLC. Ireland's Richie Moloney finished third in 49.44 seconds aboard Freestyle de Muze, owned by Equinimity, LLC, while Todd Minikus (USA) settled for fourth with the fastest four-fault jump-off round in 37.24 seconds riding Amex Z for Bit By Bit Group. Amanda Derbyshire (GBR) returned last over the short course and finished in fifth with Cornwall H, owned by Gochman Sport Horses.
Fuchs spared no time leaving his mark on WEF and has pocketed a win after only arriving in Florida ten days prior to begin his first season competing at PBIEC.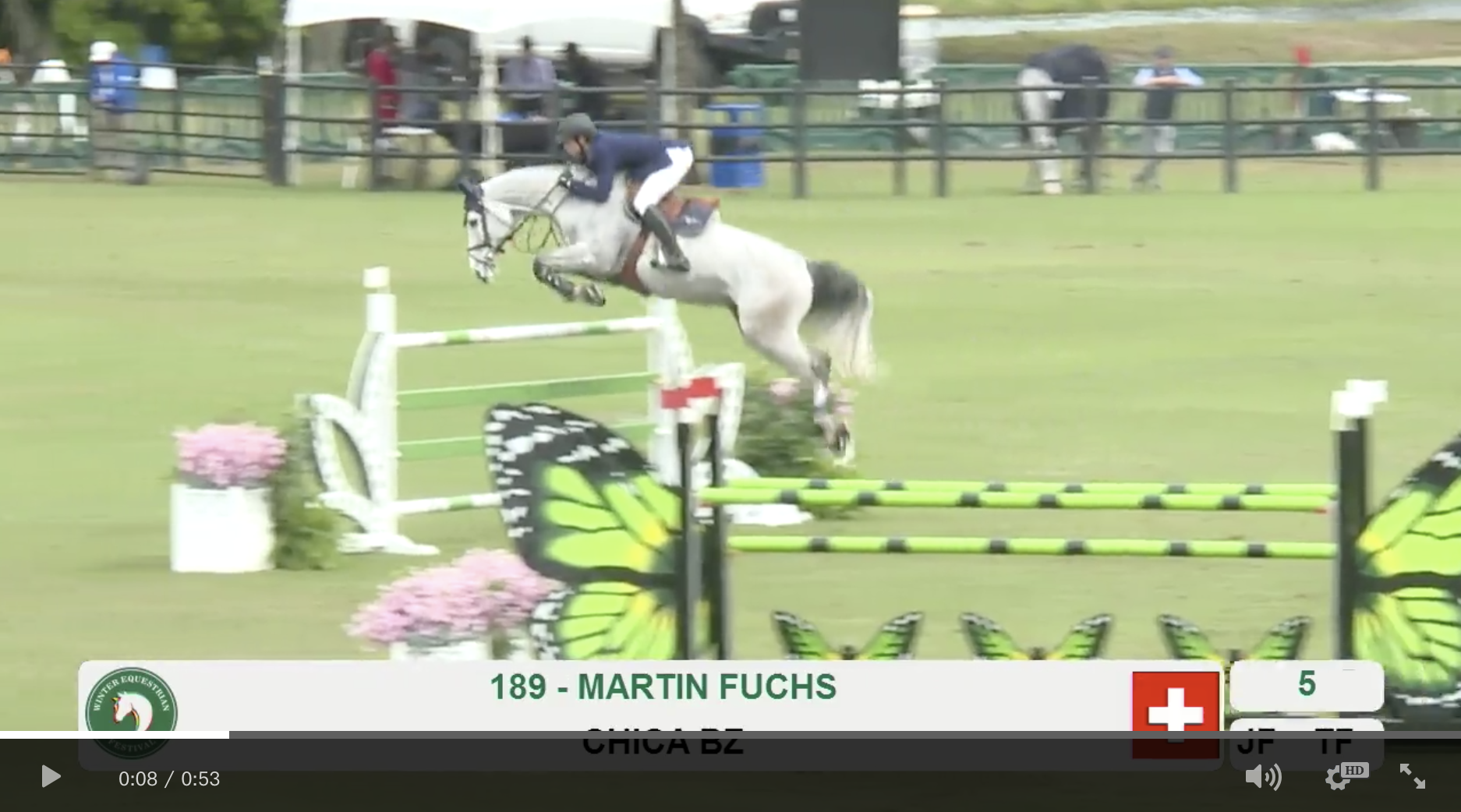 Click here to watch the winning jump-off ride for Martin Fuchs and Chica BZ!
"Winning a four-star class is a great way to start!" said the FEI World Equestrian Games Tryon 2018 (WEG) individual silver medalist. "You never know how it's going to work out bringing your own horses to a new show, but it's a wonderful place and my horses enjoy being here." Fuchs will aim his WEG partner Clooney 51 in the five-star competition at WEF.
Chica BZ, owned by Juri Adolfo, has been a part of Fuchs' string for several years, but is just starting to step up. "She was fairly green when I got her and didn't do much as a young horse. She didn't do much as young horse and was fairly green when got her and still is for 10 [years old]," he said.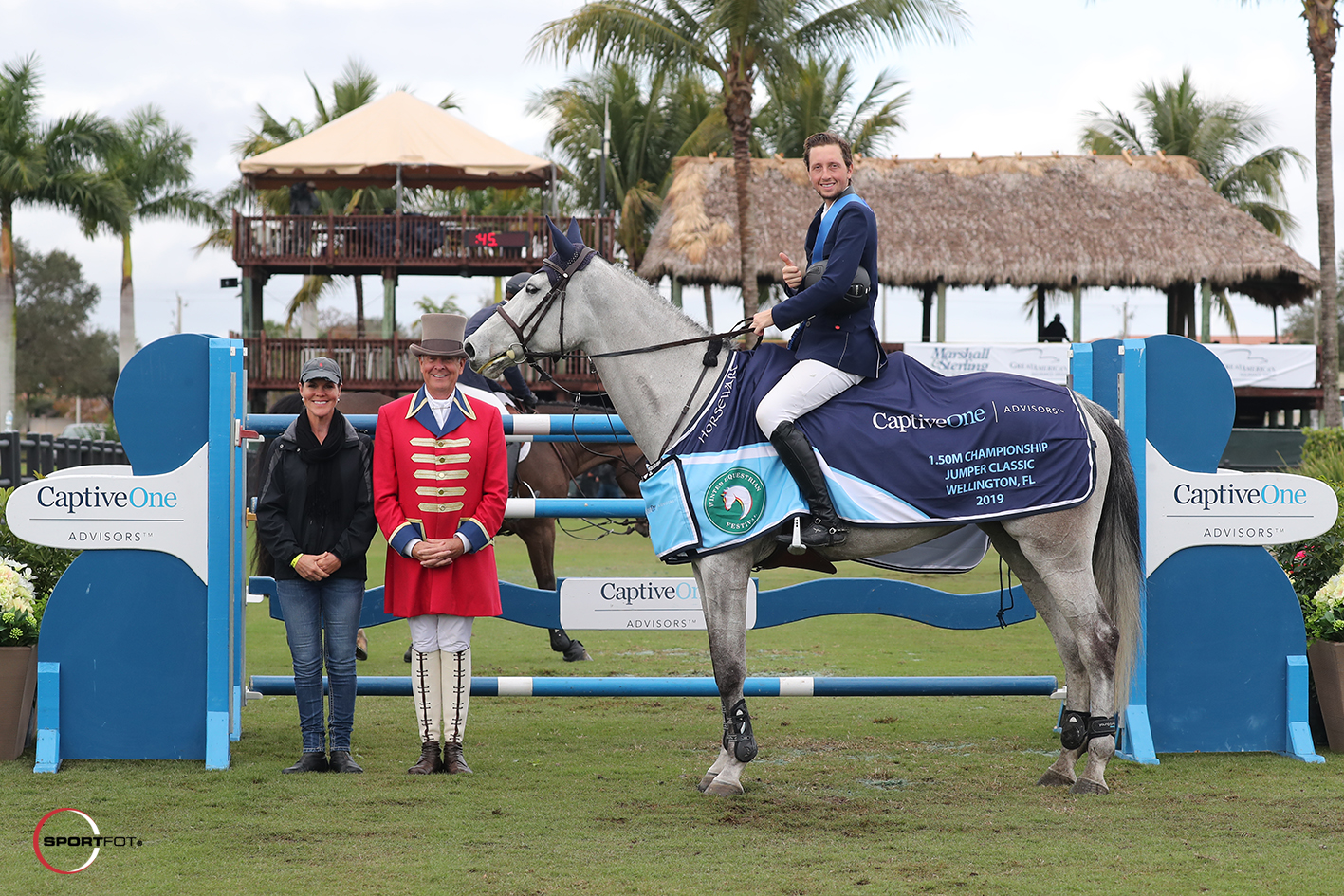 "She's very good jumper and there are a lot of big classes we can jump here, so for a horse that does not have that much experience, it's a great place to show them how it's done," concluded Fuchs.
Final Results: $72,000 CaptiveOne Advisors 1.50m Classic
1 CHICA BZ: 2009 Zangersheide mare by Canturano x Berlin
MARTIN FUCHS (SUI), Juri Adolfo: 0/0/38.850
2 CICERO'S ELECTRIC: 2009 Dutch Warmblood gelding by Cicero Z x Mistral
KELLI CRUCIOTTI (USA), Aram Ampagoumian, LLC: 0/0/40.830
3 FREESTYLE DE MUZE: 2005 Belgian Warmblood gelding by Lord Z x Cento
RICHIE MOLONEY (IRL), Equinimity LLC:: 0/0/49.440
4 AMEX Z: 2009 Zangersheide Mare by Andiamo Z x Landaris
TODD MINIKUS (USA), Bit By Bit Group: 0/4/37.240
5 CORNWALL BH: 2008 Holsteiner stallion by Con Air x Cambridge
AMANDA DERBYSHIRE (GBR), Gochman Sport Horses: 0/4/46.830
6 FIGOR: 2010 KWPN gelding by Querly-Elvis x Indoctro
TIFFANY FOSTER (CAN), Artisan Farms, LLC: 0/8/39.700
7 ZAIA DI SAN GIOVANNI: 2009 mare by Cornet Obolensky
MAC CONE (CAN), Chadburn Holdings, Inc.: 1/84.930
8 ELANA 22: 2009 KWPN mare by Harley VDL x Almox Prints
PABLO BARRIOS (VEN), Palo Barrios: 1/85.32
9 LE ROI: 2008 AWÖ stallion by Leroy x Balou du Rouet
JUAN PABLO GNECCO (COL), Le Roi Partners: 2/91.000
10 VAN DE EMMA: 2008 Dutch Warmblood mare by Van de Vivaldi x Almiro Z
PETER WYLDE (USA), Annie Phillips: 4/79.320
11 HH CASEY JONES: 2009 Hanoverian gelding by Clinton I x Contendro I
QUENTIN JUDGE (USA), Double H Farm: 4/83.600
12 CHANCE STE HERMELLE: 2008 SBS mare by Calvaro x Hemmingway
MICHAEL MORRISSEY (USA). QBS Equestrian LLC: 4/86.100
Team PonyApp Victorious in $25,000 Hermès Under 25 Team Event
Team PonyApp jumped to the top of the podium in the $25,000 Hermès Under 25 Grand Prix Series Team Event, which took center stage in the Global International Arena at Equestrian Village on Friday evening. The team made up of Caitlin Creel (USA), Eugenio Garza Perez (MEX), Carlos Hank Guerreiro (MEX), and Claire McKean (USA) finished on the only four-fault score after two rounds of competition.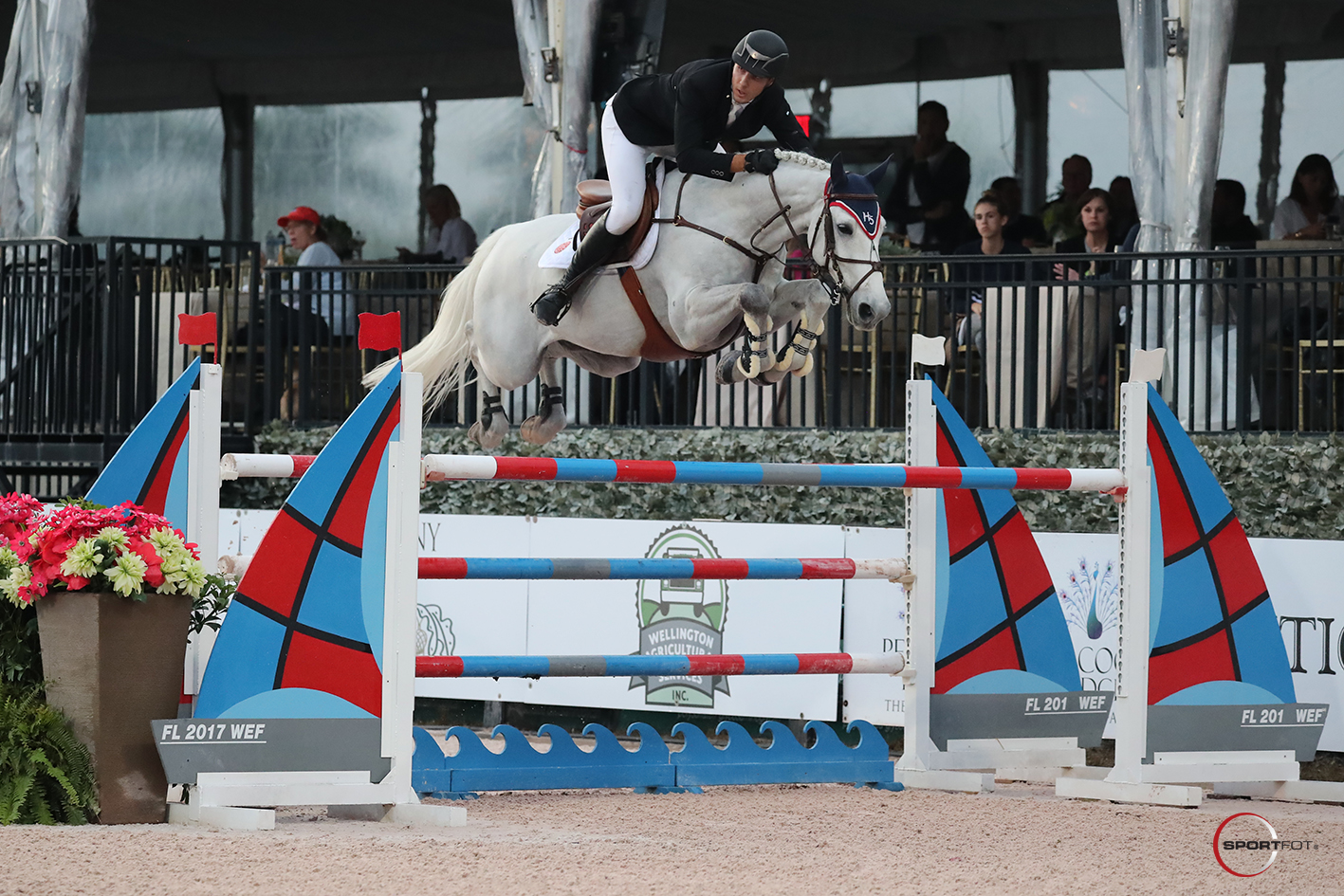 The PonyApp team was led by 18-year-old Guerreiro aboard the 11-year-old Westphalian gelding H5 Quantador 3 and McKean riding 12-year-old Zangersheide mare Chloe after both pairs produced faultless performances.
"This is one of my favorite classes during the whole season because it is good experience to be part of a nations' cup team," said Guerreiro, who has been competing in the Under 25 division for three years and was the lead-off rider for his team. "I have had this horse since he was seven years old, and he actually did this same event last year and it didn't go so well. This year he was a lot more experienced and came in very relaxed."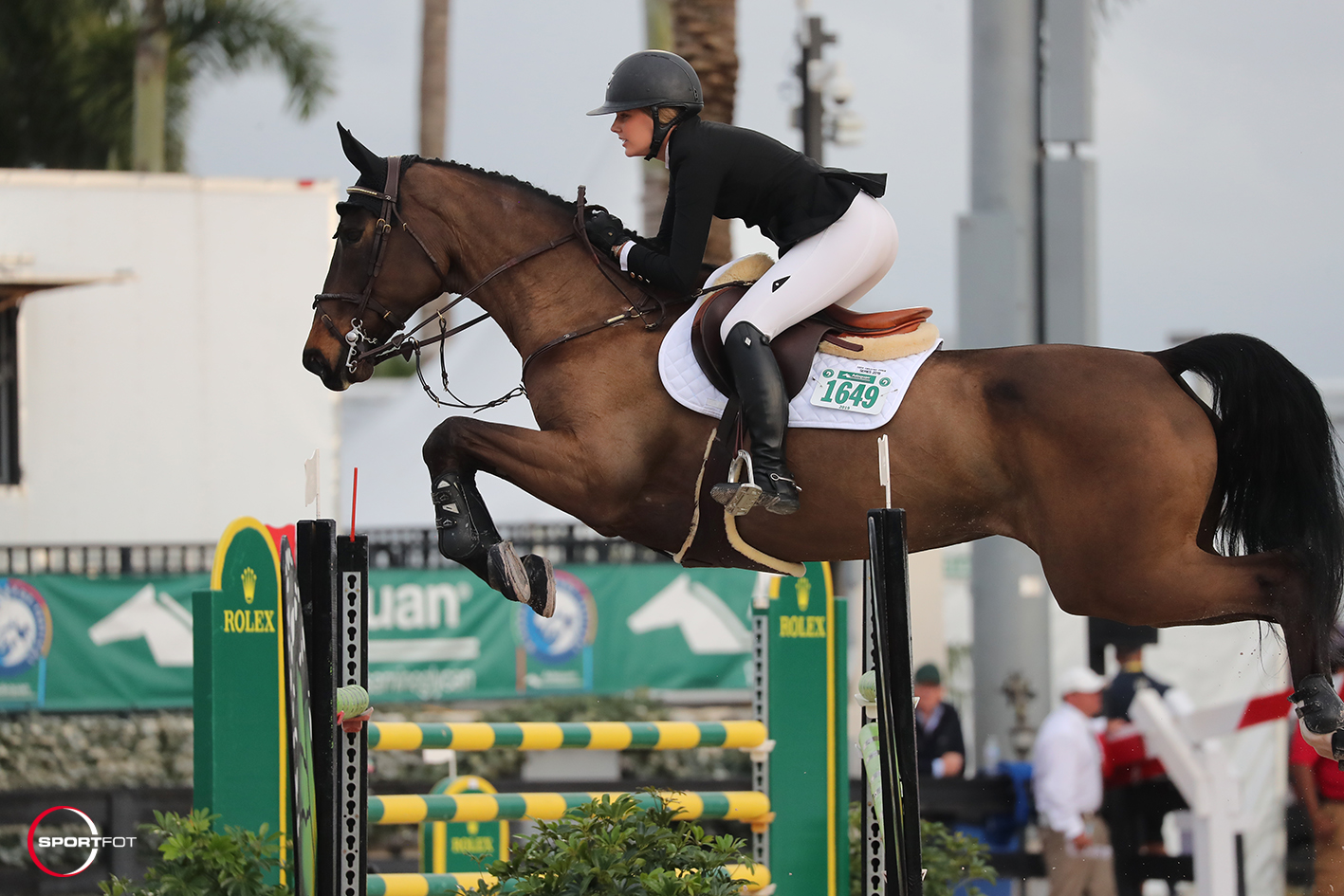 For McKean, 20, the stadium feel of the Global International Arena suited her horse, saying, "She is very experienced and she goes better in a little bit of a smaller setting so it would be harder for her to jump on the grass than to jump in here. It was a perfect setup for her, and she jumped very well. I was very pleased with her.
"I have been doing the Under 25 [division] for about four years now and this is my third team event," continued McKean. "I think it is a great class to get comfortable in bigger classes under more pressure."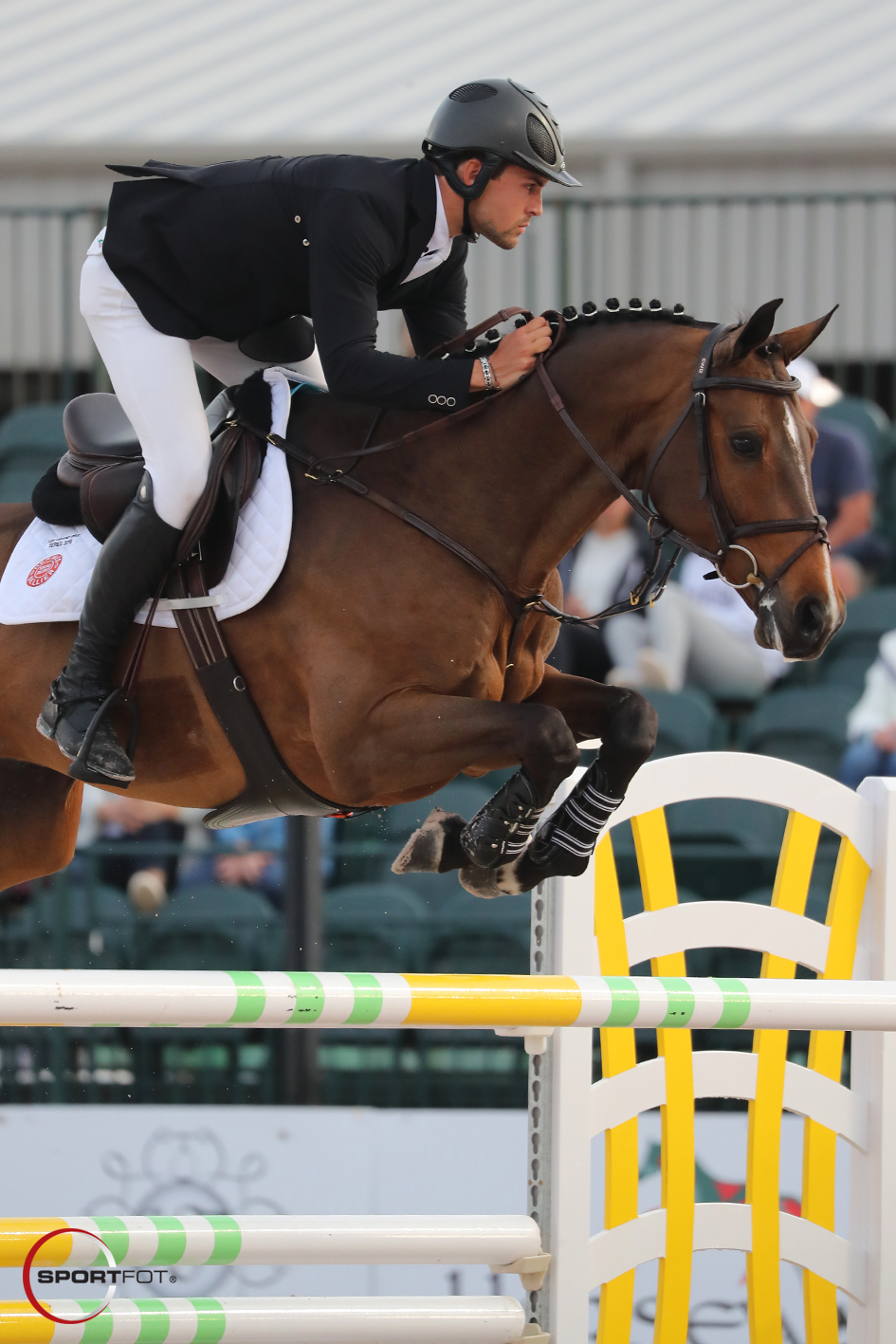 Eugenio Garza Perez, 22, who jumped as the anchor for the PonyApp team, also felt comfortable in the change in scenery from the main WEF showgrounds. He has been competing in the Under 25 division for five years. He noted, "This venue has a feel a bit like Europe; everything comes up fast. But it's really fun to ride in and it's great to change the venue. The four weeks that are over here really help the horses and us to keep fresh."
Garza Perez piloted Caracas, a 10-year-old Holsteiner gelding, to four faults in the opening round before jumping clear as the last rider to go for his team.
Creel, 22, had a bumpy ride for her first-ever U25 team competition with an unplanned dismount in the opening round. She and new mount Dynamis KC, an 11-year-old Zangersheide gelding, rallied for the second round, however, and finished on 12 faults.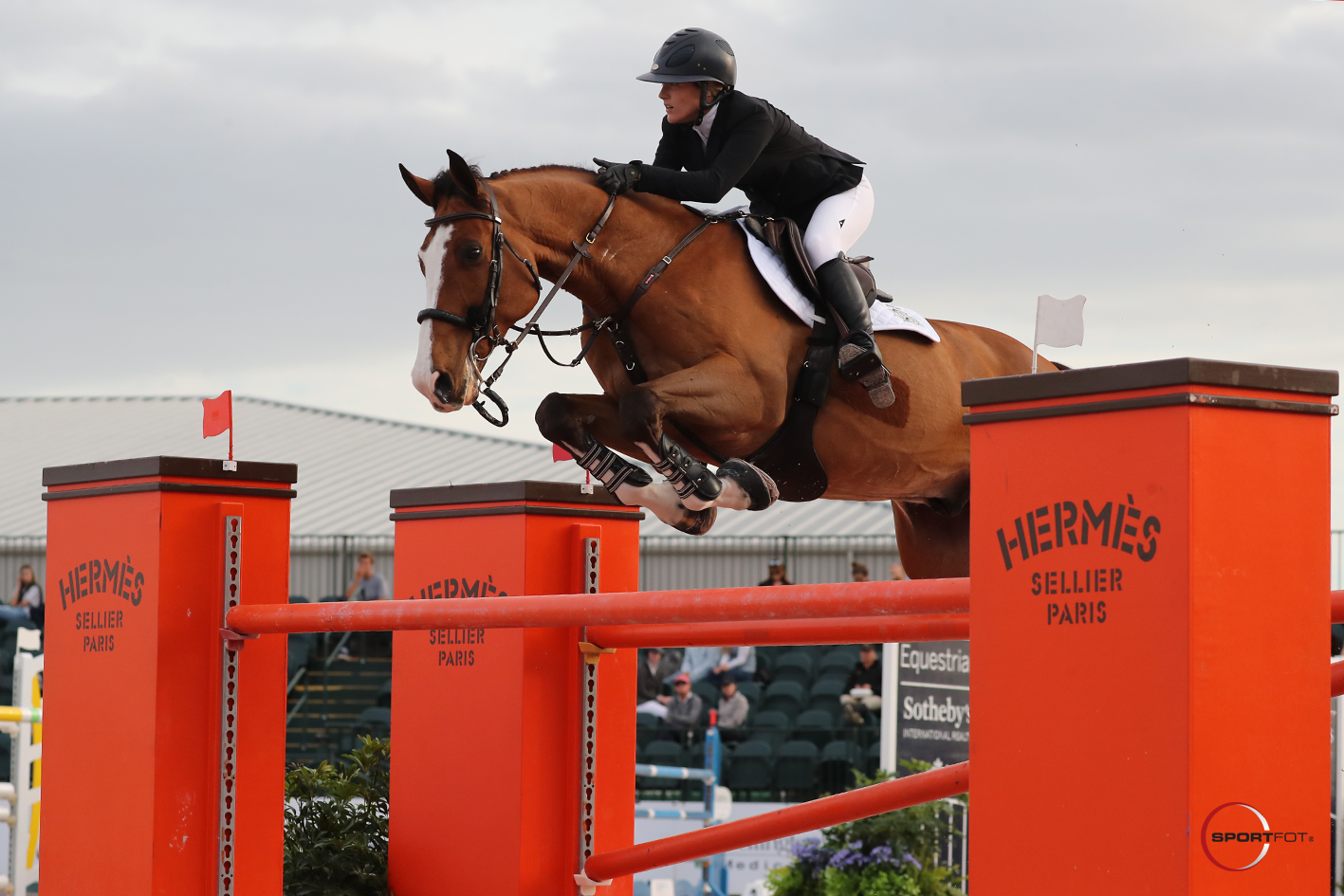 "It didn't go quite my way, but I appreciate my teammates for stepping it up," she said. "I rode a horse I have had for about six months now, and he's has only been doing the jumpers for about a year. He was doing the children's hunters before this and he had a bit of a green moment tonight, but I was very proud of him. He came out in the second round and really gave it a good go. I am looking forward to the future with him."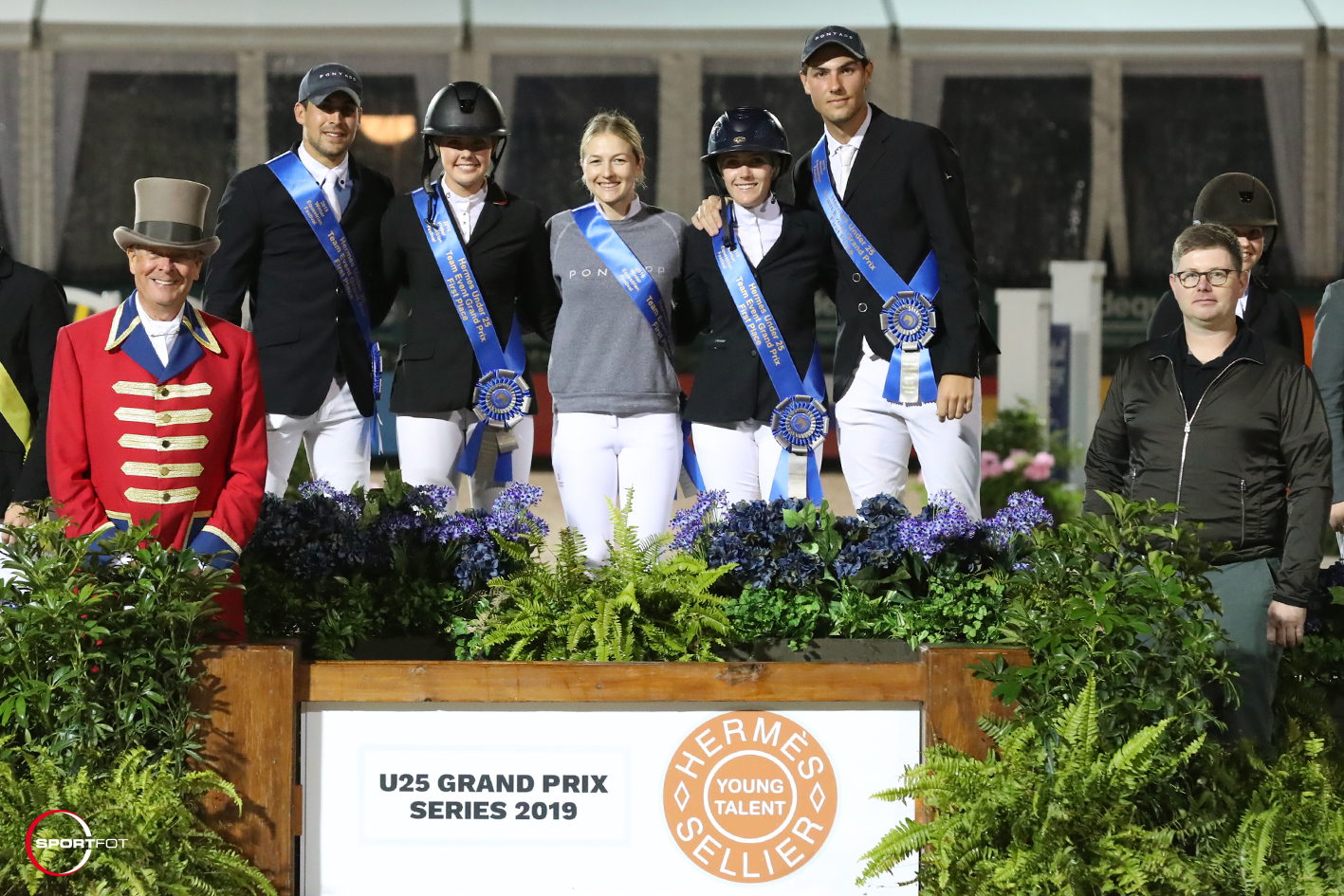 PonyApp topped the riders of Sweet Oak/Whipstick by a single point, who finished second on five faults led by double clear rounds from Kelly Arani (USA) riding Esprit and Ailish Cunniffe (USA) aboard Baloucento 2. Their teammate Anna Beth Athey (USA) finished with a clear and eight faults on For Serrano SR, while Kaely Tomeu (USA) settled for four and five faults in the two rounds aboard Cassandra F.
JR Show Stables rounded out the podium placings with six total faults. David Oberkircher (USA) was perfect in both rounds riding Upper to a fault-free finish Jennifer Gates (USA) ended on a single rail with Pacific Des Essarts in the first round and a clear in the second round. Helen Graves (USA) knocked a rail in round two while picking up just one time fault in round one aboard Blue Sky Van De Olmenhoeve. KC Van Aarem (USA) ended a one and five faults in the two rounds riding Las Vegas.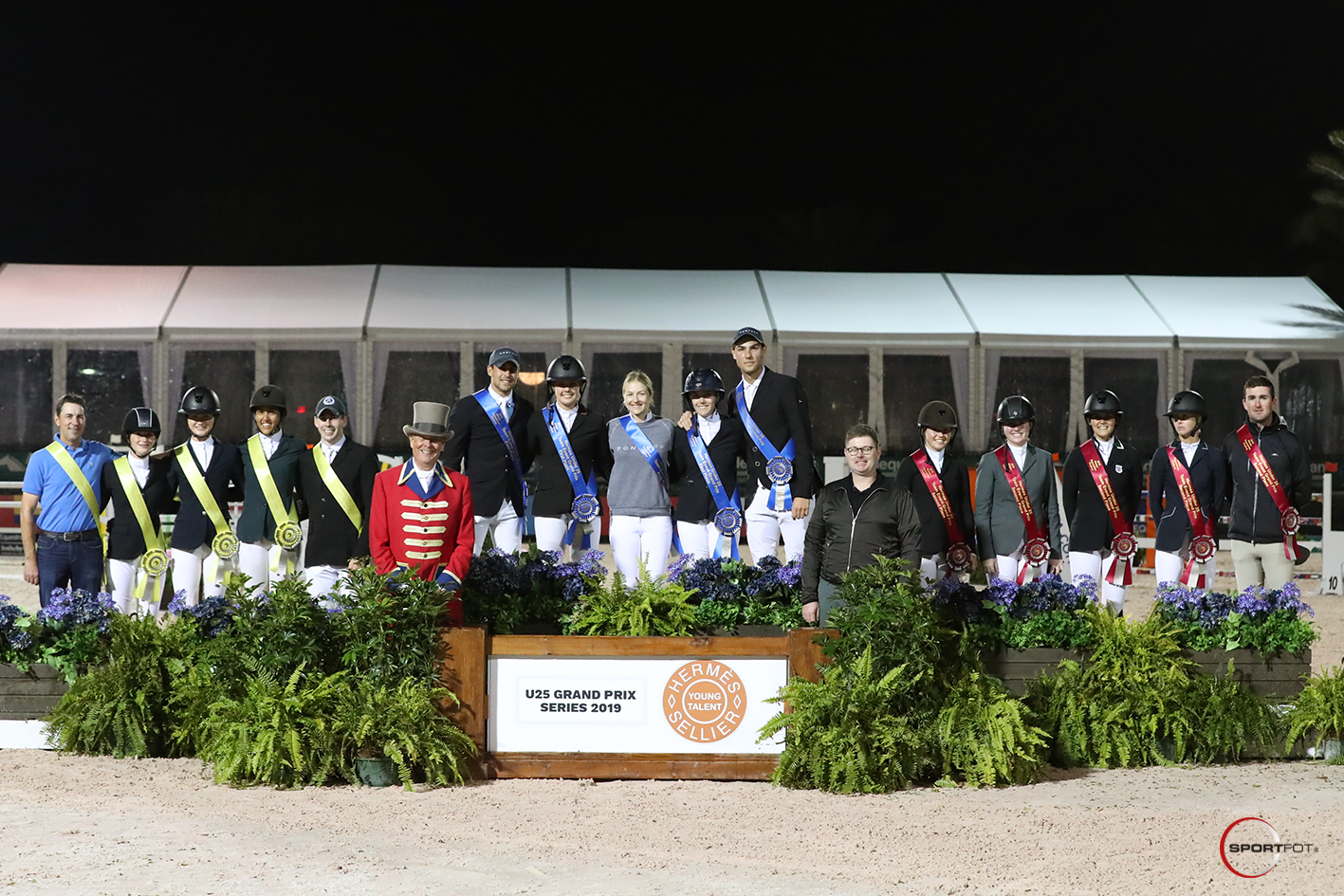 Other double clear rounds included Sophie Gochman (USA) on Carola BH, Addison Gierkink (USA) with Erco Van't Roosakker, and Zoe Conter (BEL) riding Umour Noir de Crann.
Jennifer Hannan and Mindful Rise to the Top of the $15,000 USHJA International Hunter Derby Hunt & Go
A field of over 50 horse-and-rider combinations contested the course for the $15,000 USHJA International Derby (Hunt & Go) on Friday afternoon at the 2019 Winter Equestrian Festival. With a flawless performance and dominating scores, Jennifer Hannan piloted Mindful to the overall victory.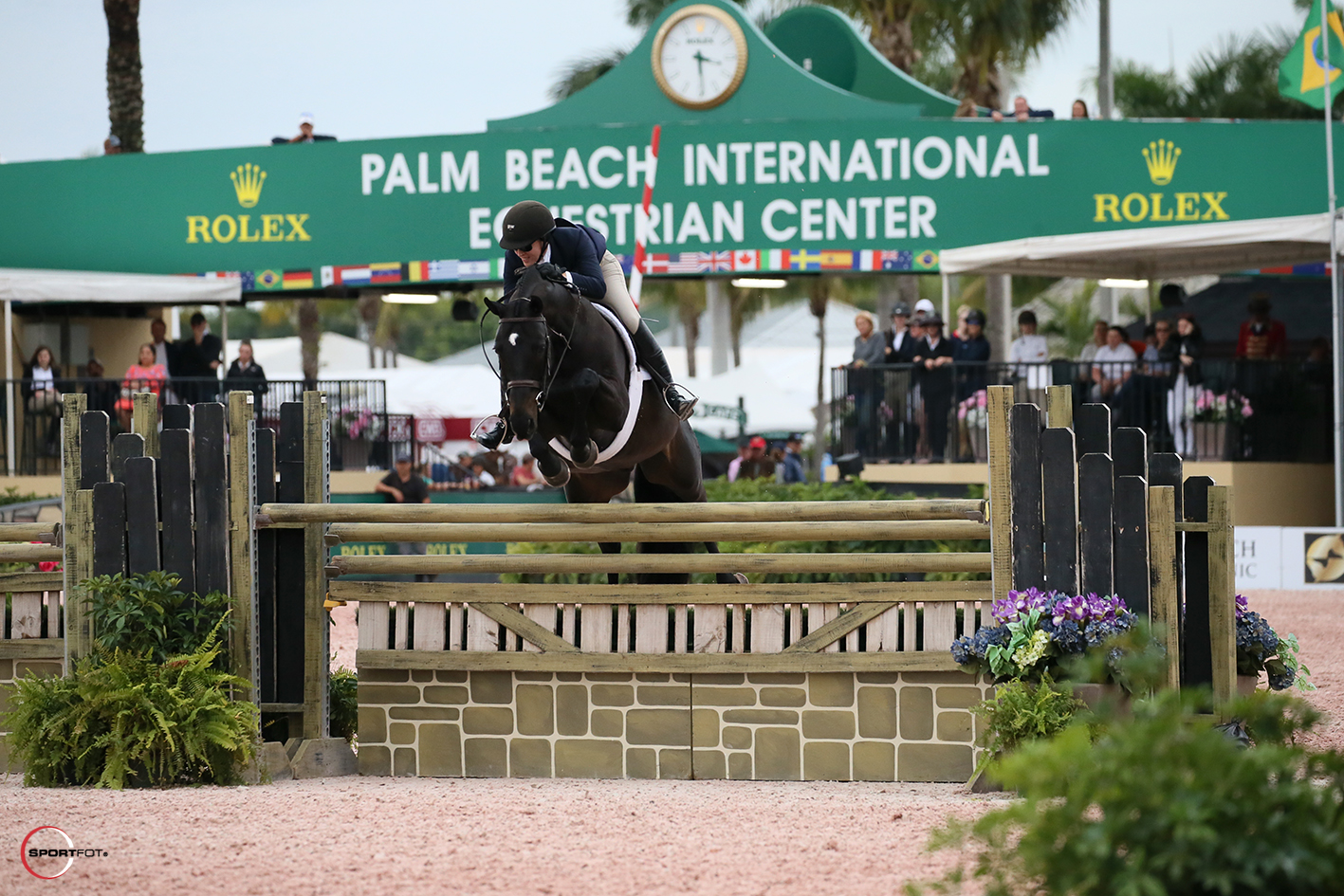 Hunter riders took to the International Arena at the Palm Beach International Equestrian Center for the season's first derby event. The derby featured a Hunt & Go format consisting of one course in which the classic round consisted of fences one through eight and the handy of jumps nine through 14. Course designer Andy Christiansen included a trot-fence and three high-jump options to give riders the opportunity to display their horse's best assets.
Hannan and the 15-year-old Hanoverian gelding owned by Kensel, LLC executed a round worthy of 178.75 points in phase one and 180 points in phase two to earn a winning total score of 358.75 points. The victory was extra special to Hannan who broke her heel in May during her last hunter derby competition and was not able to begin riding again until December.
"It felt pretty awesome to come back out and do so well because I was out of riding the entire summer with an injury," commented Hannan. "I am so pleased all of my horses did so well today."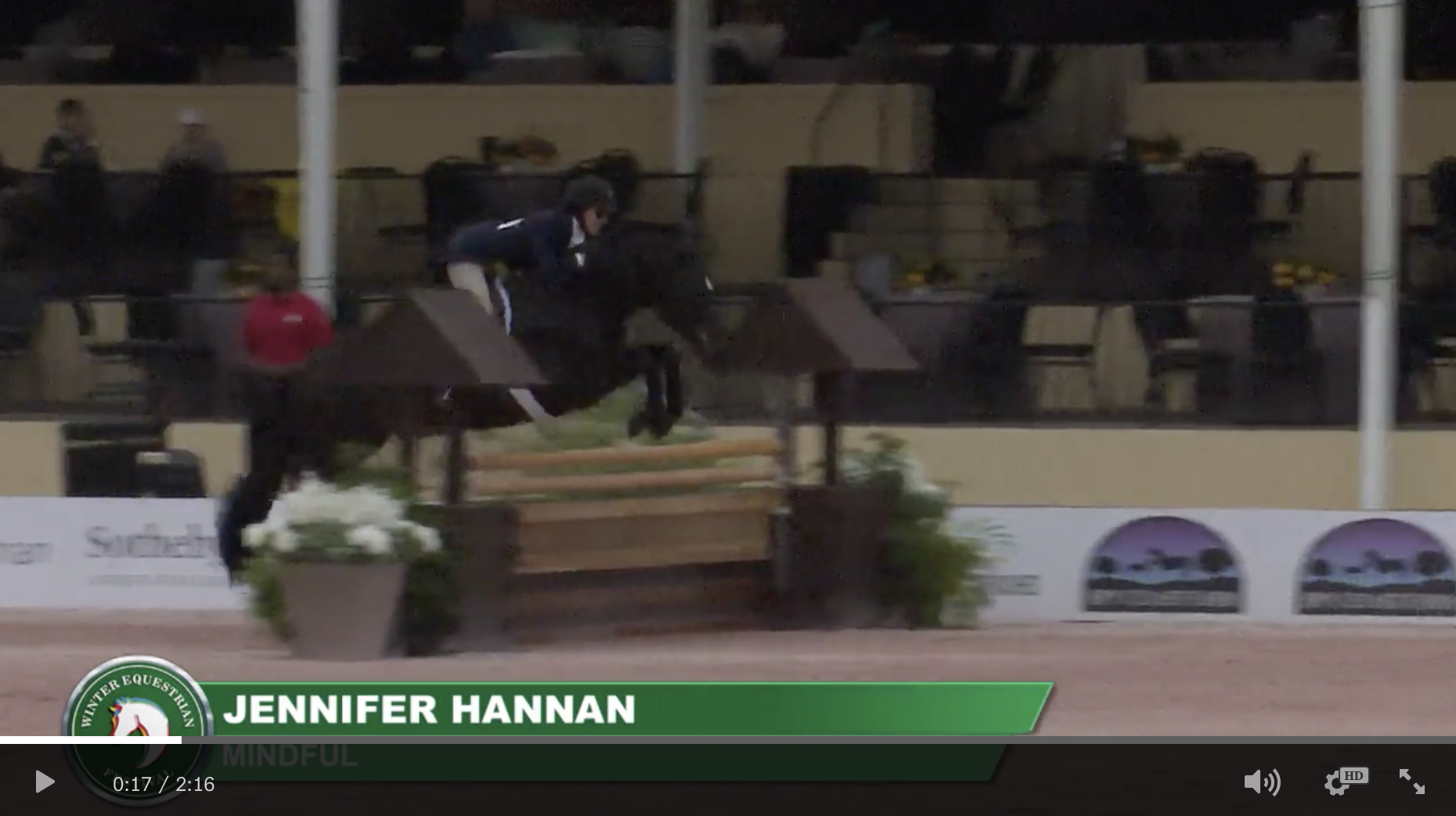 Click to here to watch the winning round for Jennifer Hannan and Mindful!
Young professional and two-time USHJA International Hunter Derby Championship winner Victoria Colvin earned scores of 171.75 and 183 for a combined total of 354.75 to take home the second place ribbon. Colvin was aboard the Meralex Farm's nine-year-old KWPN gelding (Numero Uno x Zo-Special), El Primero.
Third place honors went to three-time USHJA International Hunter Derby Championship winner Liza Boyd with only .50 points less than Colvin. Boyd paired with Maggie Hill's eight-year-old Westphalian gelding (Cornet's Stern x Larix), Tradition, for scores of 175.75 and 178.5, and wrapping up with a total of 354.25 points.
Hannan has had previous success with Mindful in the Hunt & Go derbies as the pair captured the top ribbon in their last performance in a hunter derby during Week 12 of the 2018 Winter Equestrian Festival.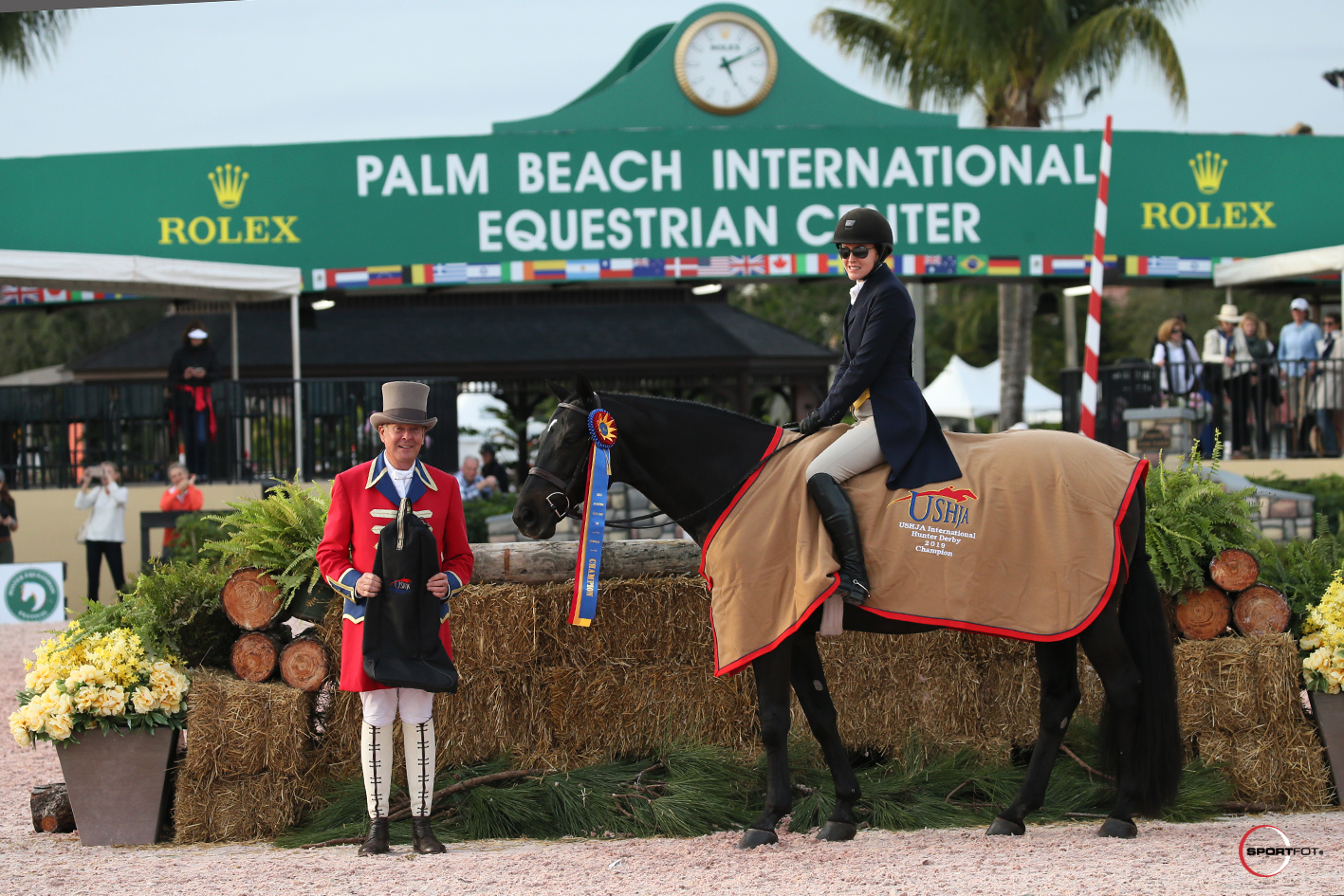 "I really enjoy the format; it gives you time to let your horse digest the first part of the round and then you start the handy," she said of the Hunt & Go class. "The course today was great, and it asked a lot of questions, so it was challenging."
Competition at the 2019 Winter Equestrian Festival will return Saturday, February 2, with the highlight event in the International Arena featuring the tenth-annual Great Charity Challenge, presented by Fidelity Investments® at 6:30 p.m.
Final Results: $15,000 USHJA International Hunter Derby Hunt & Go
1 MINDFUL, JENNIFER HANNAN, KENSEL LLC: 178.75+180=358.75
2 EL PRIMERO, VICTORIA COLVIN, MERALEX FARM LLC: 171.75+183=354.75
3 TRADITION, ELIZABETH BOYD, MAGGIE HILL: 175.75+178.5=354.25
4 QUINTESSENTIAL, PETER PLETCHER, SPRUCE MEADOWS LTD: 173+177=350
5 CONSENT, KELLEY FARMER, KENT FARRINGTON AND DAVID GLEFKE: 178.5+169.5=348
6 ANOTHER LOVE, JENNIFER BAUERSACHS, MERITAGE STABLES, LLC: 175+172=347
7 AEROPLANE, AMY MOMROW, MELISSA WIGHT: 169.5+174=343.5
8 FIBONACCI, CHRISTOPHER PAYNE, STILL WATER FARM, LLC: 174.5+164.5=339
9 BEST REGARDS, JENNIFER HANNAN, PATRICIA FULCHINO: 167+171=338
10 TRUE STORY, HOLLY ORLANDO, CATHY ZICHERMAN: 177+161=338
11 WHISPER, HOLLY ORLANDO, PRIVET FARM, LLC: 175.75+160.25=336
12 MOSTLY SUNNY, HAVENS SCHATT, CH FARM, LLC: 171.5+162=333.5
Competition at the 2019 Winter Equestrian Festival continues on Saturday with the $209,000 Marshall & Sterling Insurance/Great American Grand Prix CSI 4* and the Great Charity Challenge, presented by Fidelity Investments®, as well as the crowning of junior hunter champions in the E.R. Mische Grand Hunter Field.
Photo Credit: Photos © Sportfot, Official Photographer of the Winter Equestrian Festival. These photos may be used only in relation to this press release and must include photo credit.