For Immediate Release
Kim Beaudoin and Sabrina Brashares for Jennifer Wood Media, Inc.
January 23, 2021 – Wellington, FL – It was an action-packed afternoon on the Derby Field at Equestrian Village at Palm Beach International Equestrian Center, with McLain Ward (USA) and Contagious climbing to the top of the leaderboard in the $37,000 CaptiveOne Advisors 1.50m Classic CSI3* on Saturday, January 23.
WEF 2 CSI3* competition concludes on Sunday, January 24, on the Derby Field at Equestrian Village at Palm Beach International Equestrian Center. The feature class on Sunday is the $137,000 Restylane Grand Prix CSI3* followed by the $25,000 Hermès U25 Grand Prix. All feature classes will be available to watch for free on the livestream.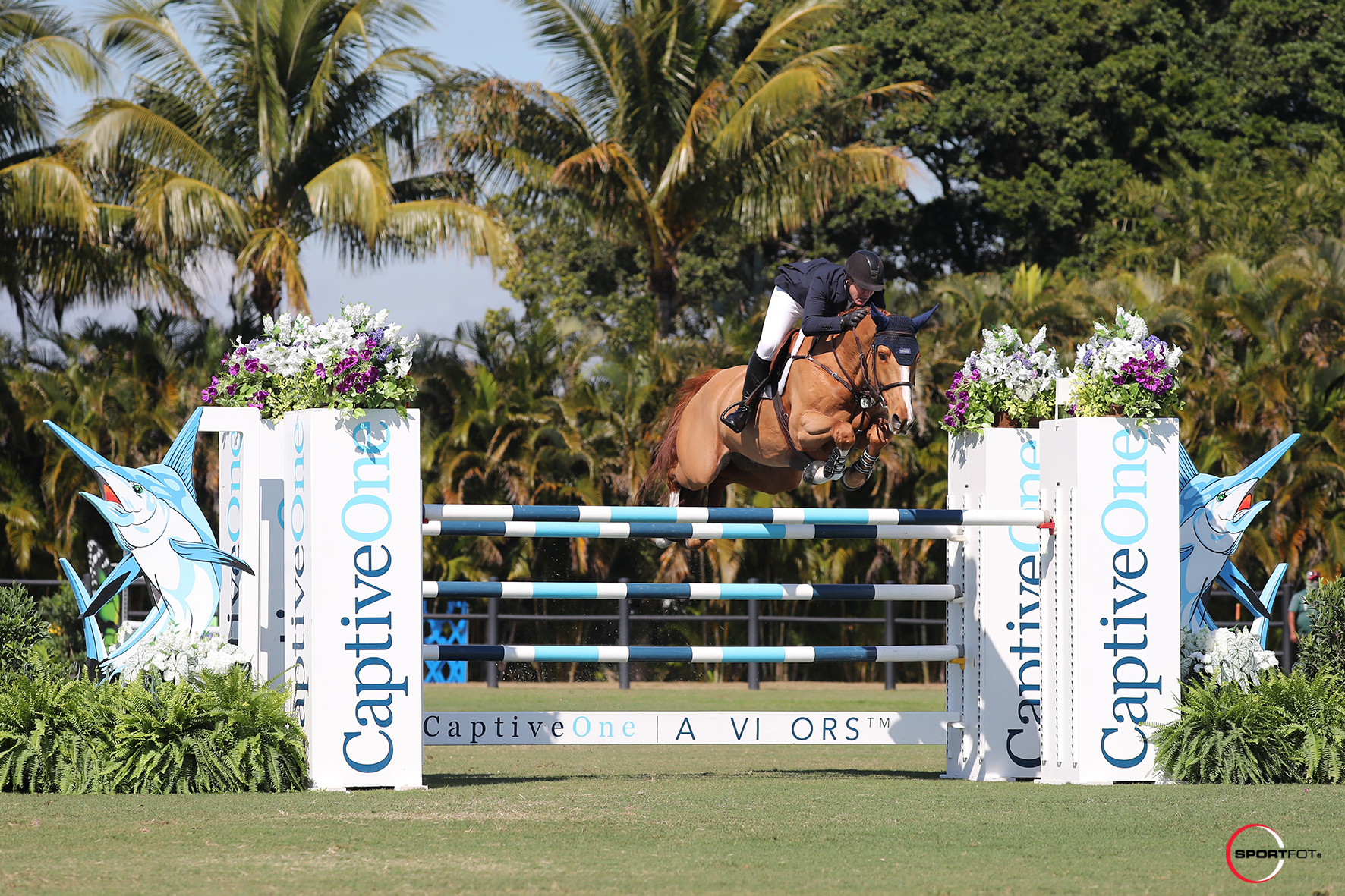 Over a course designed by Oscar Soberon (USA), 12 horse and rider combinations returned to contest the jump-off, but it was Ward and Beechwood Stables, LLC's 2009 German Sport Horse gelding Contagious (Contagio x For Mary) that gave a clear, quick performance to solidify the victory in a time of 36.83 seconds.
"My plan got a little screwed up this week. It was this horse's first time back in FEI [competition], and I didn't want to jump two big classes so I tried to use a younger horse in the qualifier," explained Ward. "Unfortunately, that horse got a little 'big eyed' and made some mistakes, so there was no grand prix for us this week."
Click above to watch McLain's winning ride!
Ward continued, "For Contagious, that wasn't the worst thing in the world, coming back to work with an important year ahead. It was a softer round for him today. I thought he was prepared well for the grand prix, which he proved today. He jumped a beautiful, easy first round, and I thought it was a nice jump-off for him. He's a careful horse, and I'm just trying to be as efficient as possible, and that worked out well today."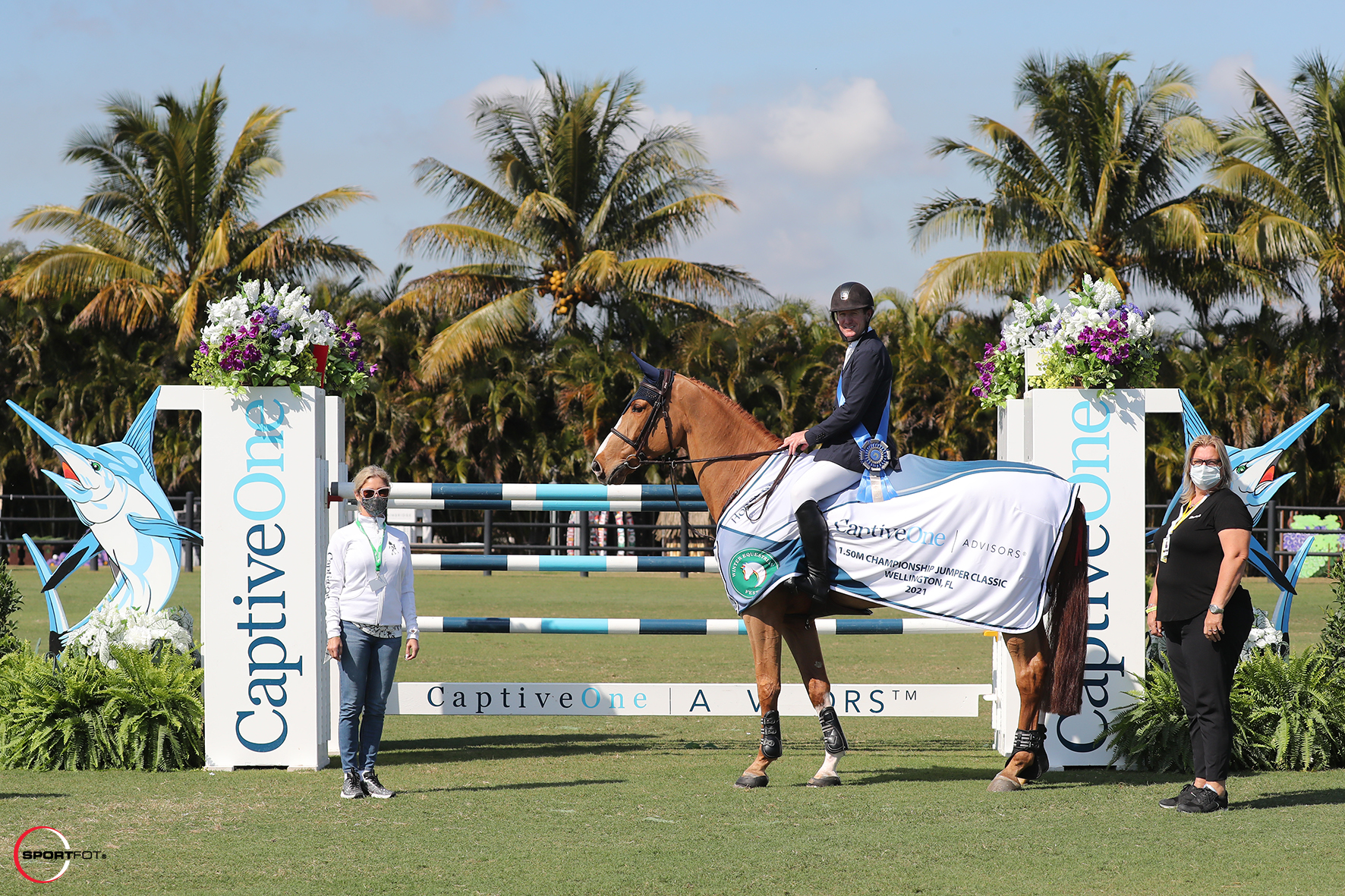 After this promising performance, the gelding will get a week off and will be back to work during WEF 4. "He gets a week off now," said Ward, "and then we'll do the four-star in two weeks. I won't make the same mistake. He'll be the one doing the qualifier and hopefully the grand prix, and then we'll do the second big five-star. After that we'll see where we are at and go from there."
Second place in the $37,000 CaptiveOne Advisors 1.50m Classic CSI3* went to Shane Sweetnam (IRL) and Ideal, a 2012 Swedish Warmblood gelding (Cardento x Paskitt) owned by Sweet Oak Farm and Seabrook LLC, who crossed through the timers in 37.26 seconds. Sweetnam also rounded out the top three aboard The Blue Buckle Group's 2008 Belgian Warmblood mare Indra van de Oude Heihoef (Casantos x Favorite Van De Kapel). They completed their jump-off in 37.84 seconds.
Final Results: $37,000 FEI CaptiveOne Advisors 1.50m Classic
1. CONTAGIOUS: 2009 German Sport Horse gelding by Contagio x For Mary
MCLAIN WARD (USA), Beechwood Stables, LLC: 0/0/36.83
2. IDEAL: 2012 Swedish Warmblood gelding by Cardento x Paskitt
SHANE SWEETNAM (IRL), Sweet Oak Farm and Seabrook LLC: 0/0/37.26
3. INDRA VAN DE OUDE HEIHOEF: 2008 Belgian Warmblood mare by Casantos x Favorite Van De Kapel
SHANE SWEETNAM (IRL), The Blue Buckle Group: 0/0/37.84
4. GIOLITA: 2011 KWPN mare by C-Ingmar x Briolita
BERTRAM ALLEN (IRL), Ballywalter Stables: 0/0/37.88
5. VINCI DE BEAUFORT: 2009 Selle Francais gelding by Diamante de Semilly x Uvelle
DARRAGH KENNY (IRL), Devon Macneil: 0/0/37.91
6. URIS DE LA ROQUE: 2008 Selle Francais gelding by Capital x Medine D'Amaury
MARIO DESLAURIERS (CAN), Aram Ampagoumian LLC: 0/0/38.76
7. BERDIEN: 2011 KWPN mare by Bustique x Queen Z
MOLLY ASHE CAWLEY (USA), Louisburg Farm: 0/4/38.93
8. PALOMA: 2006 Holsteiner mare by Canaletto S x H Lila M
LAUREN HOUGH (USA), Kathleen Kamine: 0/4/39.06
9. HOPE STREET: 2009 Holsteiner mare by Casall x Quick Nick
LUCAS PORTER (USA), SPR Fund One: 0/0/39.46
10. FREAKY LIEFHEBBER: 2010 KWPN gelding by Darco x Unisound
JACQUELINE STEFFENS (CAN), Jacqueline Steffens: 0/4/40.00
11. CHUCK 27: 2007 Hanoverian gelding by Cassus x Ravenna
HILARY MCNERNEY (USA), Hilary McNerney: 0/4/40.78
12. CON PLEASURE 5: 2009 Westfalen gelding by Contendro x Funny Fashion
FLO NORRIS (GBR), Cisca Norris:0/0/77.17 RT
12. DARRY LOU: 2008 KWPN stallion by Tangelo Van de Zuuthoeve x Venus
NAYEL NASSAR (EGY), Evergate Stables, LLC: 0/0/78.88 WD

Ashley Vogel and Sophia Studd Dominate the First Day of the Hermès U25 Series
In the $10,000 Hermès U25 Welcome, Ashley Vogel (USA) and Bellissimo Z flew through the timers in 67.49 seconds, besting a competitive class of 54 entries. Second place was awarded to the USA's Tanner Korotkin on Deauville S, a 2006 Holsteiner gelding (Diamant de Semilly x Touch of Class) owned by Castlewood Farm Inc., who completed the track in 68.87 seconds. Third place went to Charlise Casas (USA) and Always Faithful Equine LLC's 2008 Holsteiner gelding Diamond M (Numero Uno x Zarina M), ending on 70.21 seconds.
This was Vogel's first U25 class ever, and she was thrilled with the result. "I thought the ride today was great," she began. "Bellissimo jumped amazingly, and it was a good course for her, a good warmup for tomorrow's U25 Grand Prix. I couldn't be happier with her! I've never ridden in the U25 before. It was a good note to start on, but it helps to have a horse like Bellissimo. It's a fun series to have. It's very competitive and a great opportunity for us to get more miles and experience."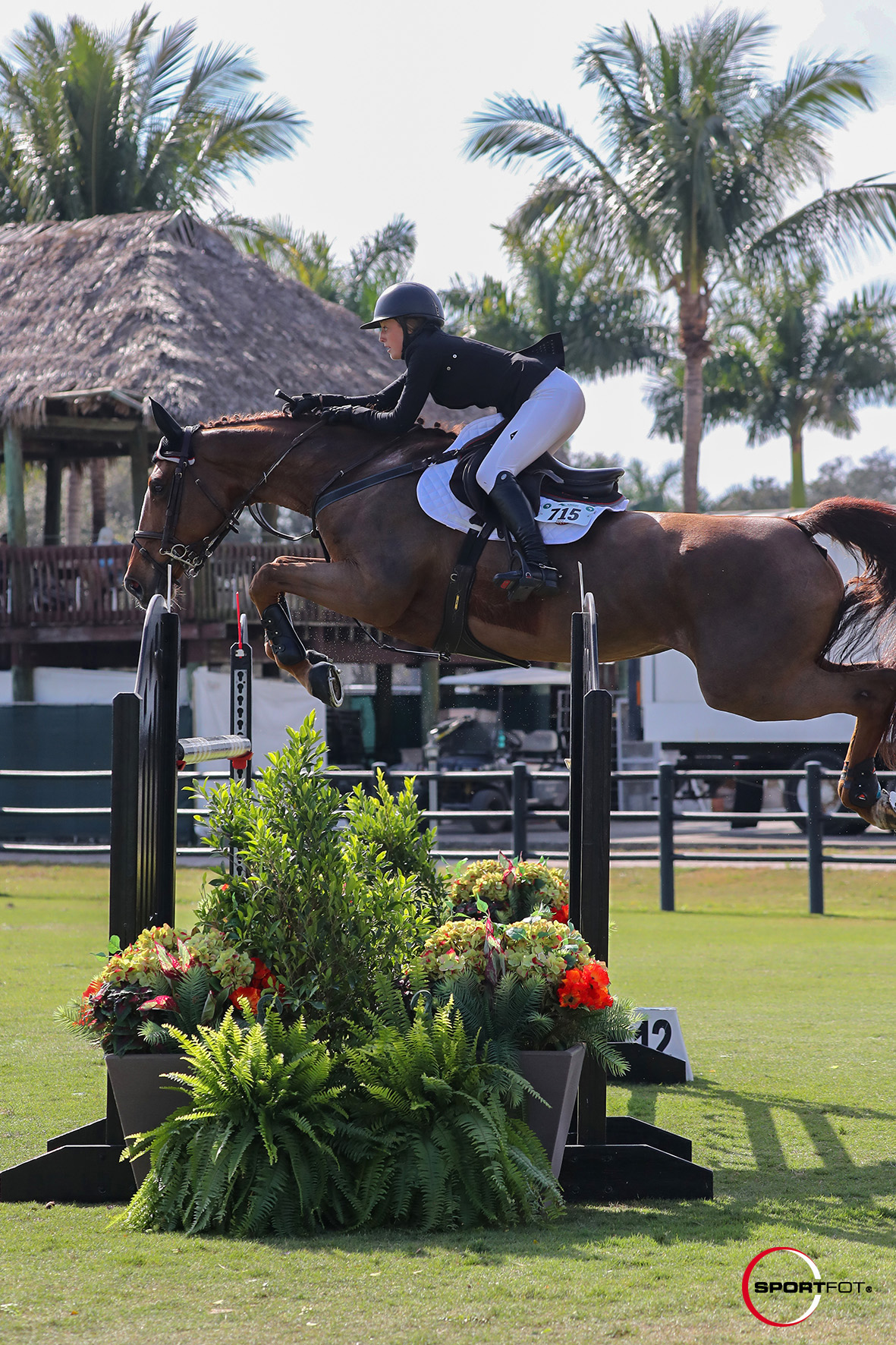 Vogel, who rides with Shane Sweetnam at Sweet Oak Farm, has been partnered with the mare since June and has been spending some time getting to know her before moving up. "We have just recently started stepping up and doing more FEI classes together," she continued. "It really helps going in to these bigger tracks with a horse that knows what she's doing. She's teaching me a lot. She has her quirks, but she's really incredible. She always gives it her all and jumps 10 out of 10 for me. She's sweet on the ground and is a smart horse. She knows her job."
Her goal with the 2009 Zangersheide mare (Bamako de Muze x C'est Elle Z) is to remain consistent in the U25 series and beyond. "I might also be throwing a three-star in there, and I've never jumped one, so I think that'll be really exciting. It's been a good start. She's been putting in some good results, and I'm looking forward to seeing what the season brings!"
In the $1,000 Hermès U25 1.40m, Sophia Studd (DEN) and the 2009 Danish Warmblood mare Holsteins Matina (Party Dance x Mont Clarissa) owned by Marie Botved Studd captured the win, crossing through the timers in 67.70 seconds. Hunter Champey (USA) and Caprice, a 2007 KWPN mare (Kashmir Van Schuttershof x Jalisca Houtheem Z) owned by MDHT Equestrian, LLC, took second place in 78.65 seconds. Third place went to Eric Krawitt (CAN) piloting Godfather B Bellesbat (Numero Uno x Ustasia), a 2011 KWPN mare owned by AES Equestrian.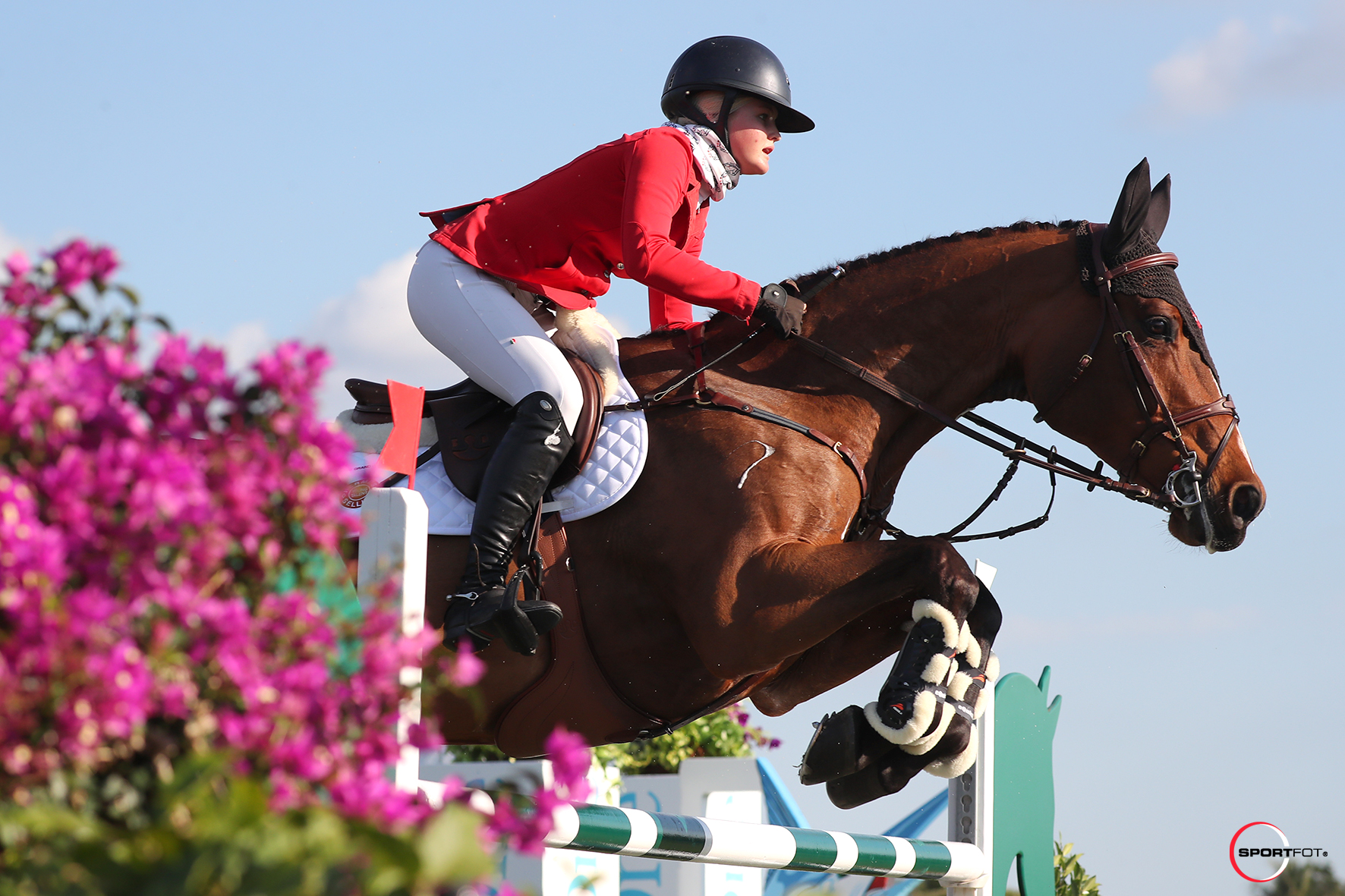 "My mare is amazing!" began Studd. "She jumped so well, and I'm so happy with her. She's so good about going forward; the jumps just seem easy for her. We're ready for the Grand Prix tomorrow! She has great energy, and she just springs over everything. She's not spooky. She's just perfect."
Studd has been partnered with the mare for a year and one day and is enthusiastic about the fact that their hard work is paying off.  "These U25 classes are so helpful, instead of jumping right into the big ring with everyone. It gives us a balance, a chance to compete against peers," she said. Studd plans to keep going with the U25 series and has a busy season with other mounts that she will compete in 1.40m and FEI classes, as well as a few in the seven-year-old divisions.
Becky Gochman Rides Mythical to the Championship in the Amateur- Owner Hunters 3'3" 36 and Over
Hunter riders entered the E.R. Mische Grand Hunter Ring on Saturday to compete for the tricolor ribbon in the Amateur-Owner Hunter 3'3" 36 and Over division. After two days of competition, Becky Gochman and Gochman Sport Horses LLC's Mythical received first, second, and fifth place ribbons to earn the championship title.
Gochman, of Wellington, FL, and Mythical have been partnered for several years and are no strangers to the winner's circle. Mythical is considered an important member of the Gochman family, having also been ridden by both Mimi and Sophie Gochman.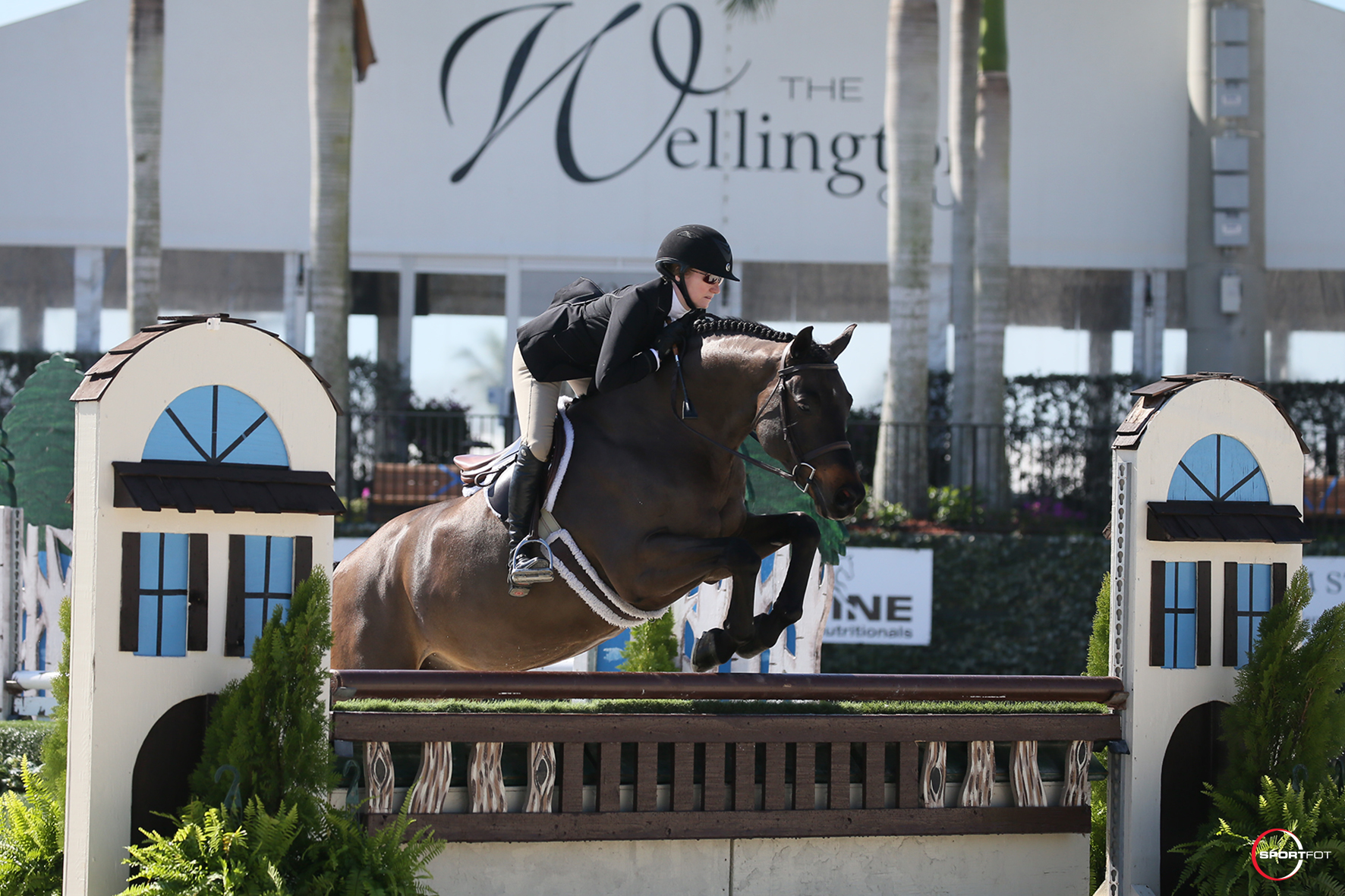 He is really a favorite of our barn," commented Gochman of the 17-year-old Westphalian gelding by Cornet Obolensky. "He comes out and knows his job, and I just have to let him be who he is. We know each other so well by now, so I trust him completely. He is just so special. He's like a big pony, and I'm so thankful for him. He is one of my best friends."
The pair produced a beautiful round on the first day of competition, earning a score of 85 to take home a red ribbon. On the second day, Gochman piloted Mythical to a high score of 88 to win an over fences class.
"By the time we went in for our second round, we were both more aware and awake and we knew what our job was," explained Gochman. "He really fulfilled any ask that I gave him. He was beautiful, and it was really fun to end on a good note."
Gochman aims to continue having a successful season, while also keeping her horses happy and healthy.
"My goals with all my horses are just to have a good time. It's all icing on the cake at this point," described Gochman. "We all have fun, human and horse, and that's my major goal. This year I'm mainly just thrilled that horse showing is one of the sports that can happen during this pandemic, and I think that WEF has done a wonderful job."
Reserve champion of the division went to Nancy Hooker of Wellington, FL, and Richard Prant's Winter Stroll. Hooker piloted Winter Stroll to a first and second place.
Sunday will be the final day of competition for second week of WEF, with the $137,000 Restylane Grand Prix CSI3* and the $25,000 Hermès Under 25 Grand Prix happening on the Derby Field at Equestrian Village. The $30,000 CP Grand Prix will take place in the International Ring and the Junior Hunter 3'3" 15 and Under champion will be named in the Rost Arena.