For Immediate Release
Lindsay Brock, Sabrina Brashares, and Emily Randolph for Jennifer Wood Media, Inc.
Wellington, FL – February 14, 2020 – It was a sweet victory for Jessica Springsteen (USA) and Volage du Val Henry in the $137,000 Grand Prix CSI3* at "Friday Night Stars" in the Global Ring at Equestrian Village (home to the Adequan® Global Dressage Festival) during week six of the Winter Equestrian Festival (WEF) on Friday, February 14.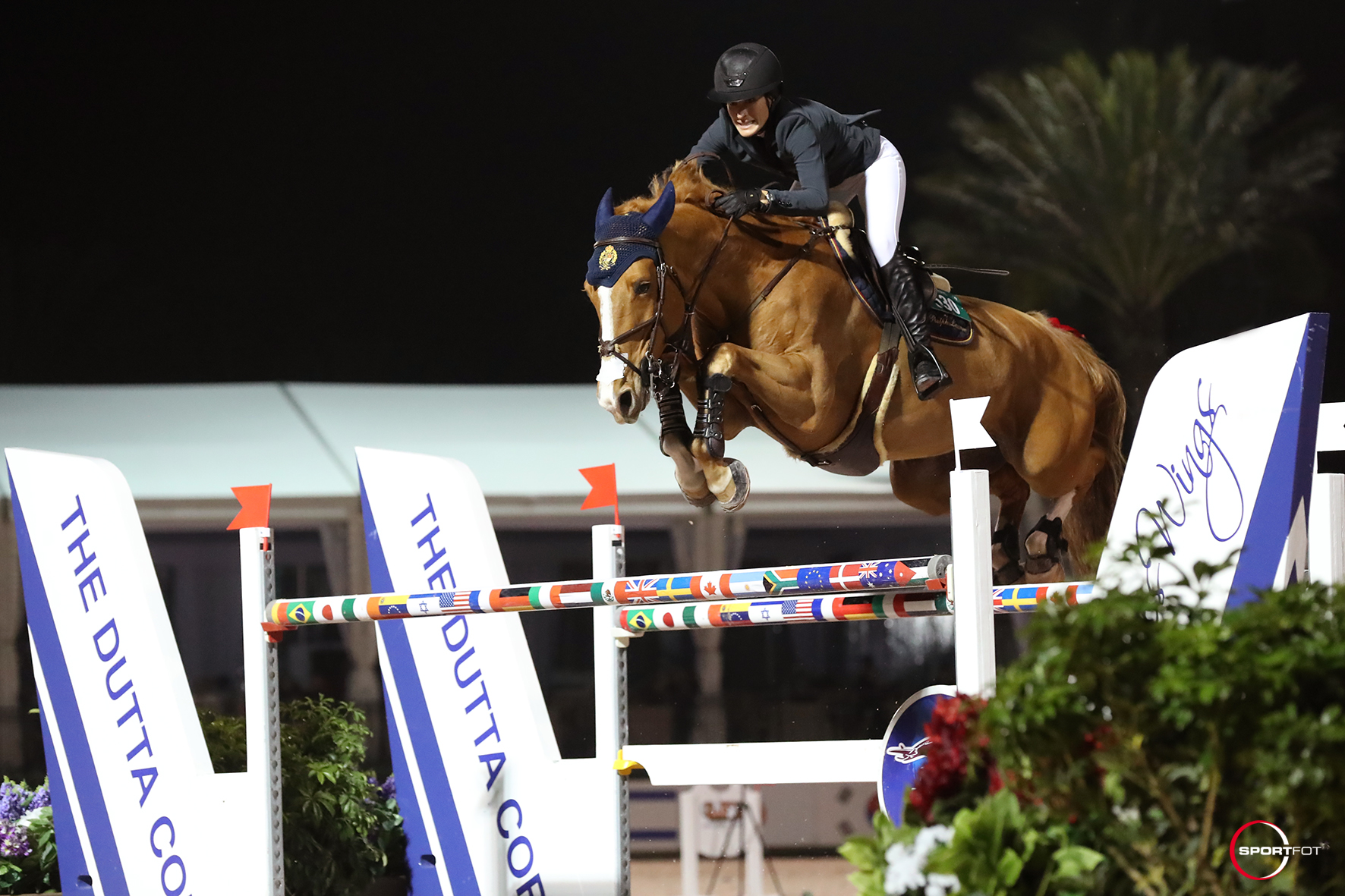 WEF continues through March 29 at the Palm Beach International Equestrian Center (PBIEC) in Wellington, FL, with 12 consecutive weeks of world-class competition and $13 million dollars on offer. The sixth week of competition runs February 12-16, and features World Championship Hunter Rider (WCHR) events, as well as CSI3* jumper competition.
Highlights of the week still to come include the $100,000 WCHR Peter Wetherill Palm Beach Hunter Spectacular on Saturday, February 15, at 6:35 p.m. in the International Arena during "Saturday Night Lights." Sunday, February 16, will welcome the $25,000 Hermès Under 25 Grand Prix and $25,000 CP Grand Prix, on the grass Derby Field.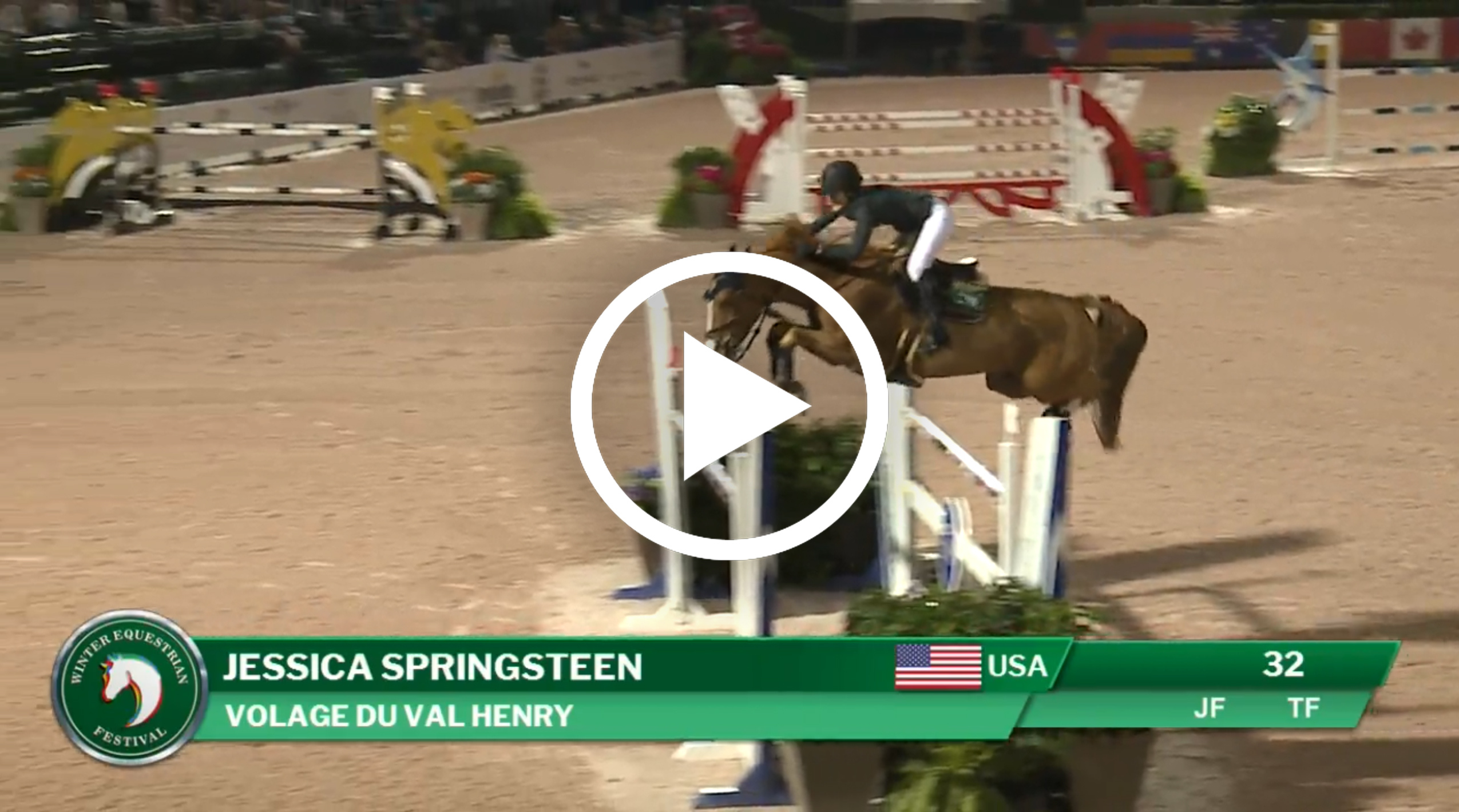 North American ladies dominated the podium in the pinnacle jumper event of week six with Canadian rider Rachel Cornacchia finishing the runner-up aboard Valkyrie de Talma and U.S. rider Ali Wolff rounding out the top three riding longtime mount Casall.
From a starting field of 37, nine horses advanced to the tie-breaker over tracks set by course designer Ana Catalina "Catsy" Cruz Harris (MEX). With only one to follow behind her, Springsteen wowed the crowd by taking over the lead by less than one-hundredth of a second in 36.04 seconds.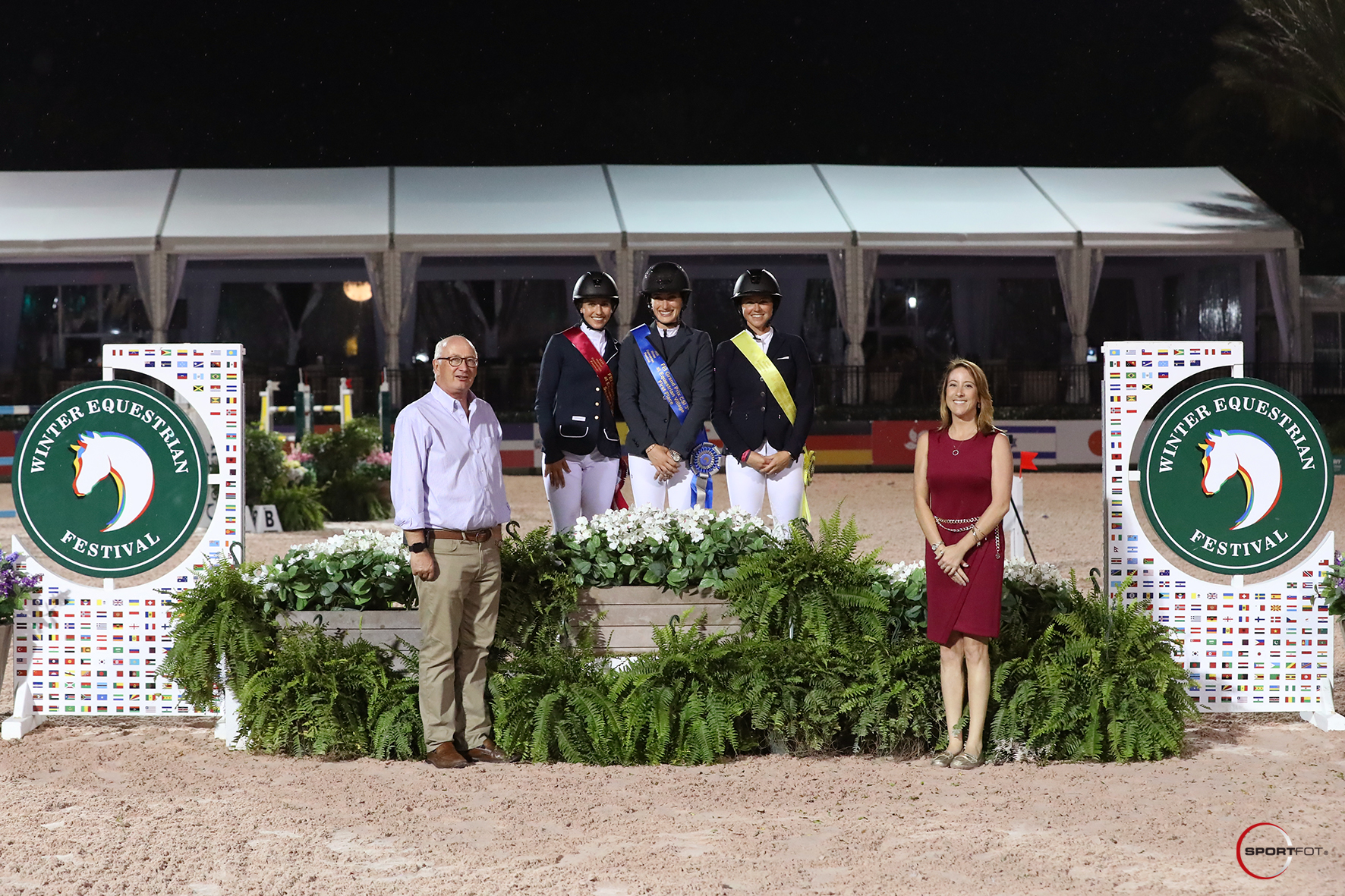 "I thought I would still try to go fast in case I knocked one down because she's such a fast mare," said Springsteen of her plan for Volage du Val Henry, an 11-year-old Selle Français mare (Quidam de Revel x Cassini I), owned by Stone Hill Farm. "I thought I had fence one down and got really distracted, but she jumped amazing. I'm really lucky to have her; she's such a talented mare, and she really tried her heart out tonight."
Springsteen has had the ride on Volage du Val Henry since the mare was eight years old and knows her inside and out. "In the beginning, she was a little bit difficult; she had a tricky mouth, and it took me some time to get to know her," said Springsteen. "Things really clicked this fall, and she's just been jumping unbelievable – clear round after clear round. She's so consistent, and I can really rely on her. She's careful, but she has a lot of heart and always tries so hard to win."
Springsteen is in the middle of a WEF season marked with consistent top finishes, a highpoint on her road to the short list for the Olympic Games in Tokyo. "My dream is always to represent the United States in championships, so I am definitely always working toward that. I feel like I have a really good group of horses jumping great right now, so I am hoping to make that short list. I will just keep doing my best."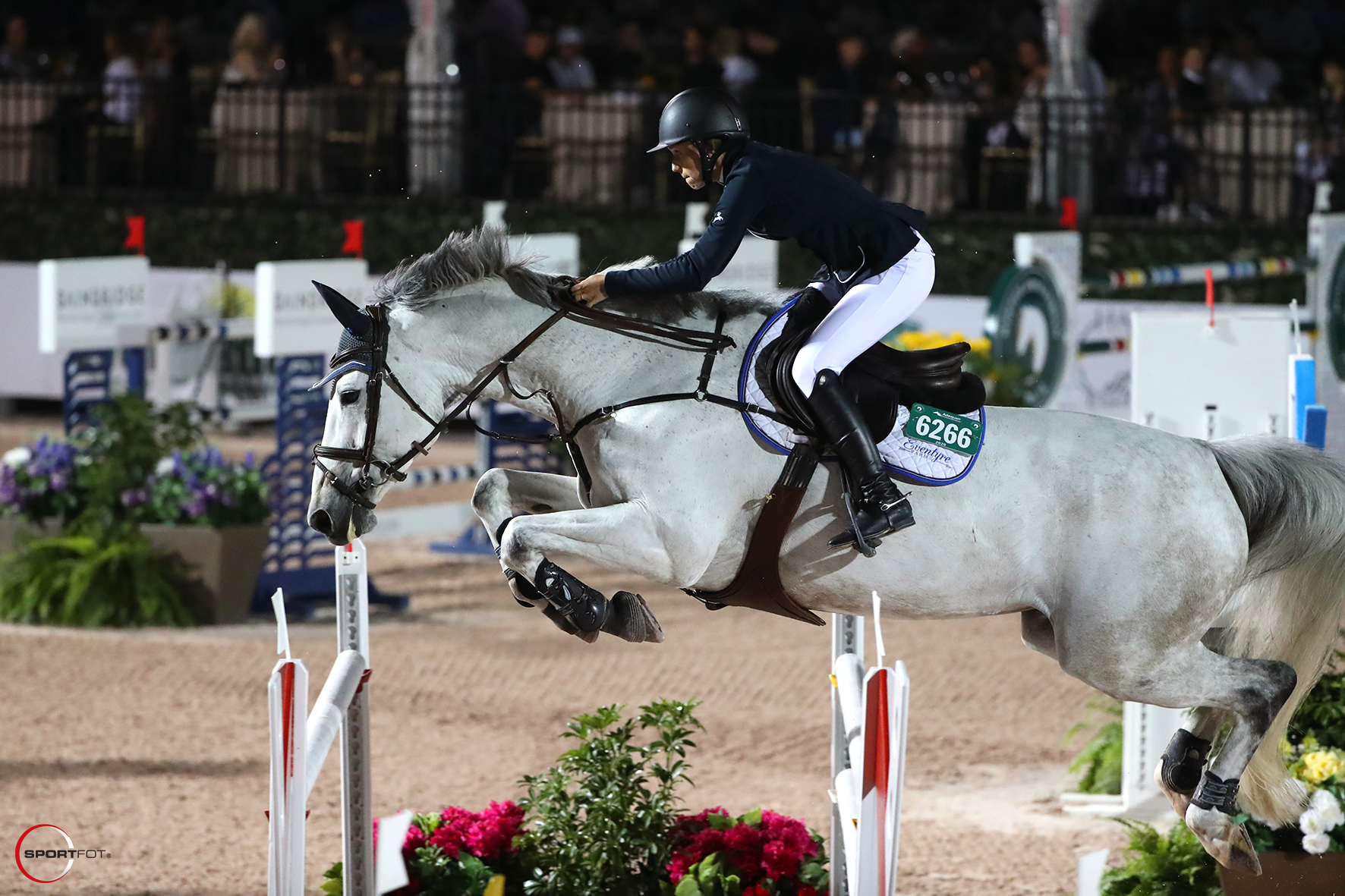 Springsteen's performance bumped Cornacchia to a close second in her debut season at WEF. She and Valkyrie de Talma, an 11-year-old Selle Français mare owned by Eventyre Farms, stopped the clock at 36.13 seconds.
"This is actually my very first time in Florida," said Cornacchia, who hails from Calgary, AB. "So far I am loving it, and this was a great start! We felt like we had the horses and wanted to step it up a little bit this winter, so we decided to make the trip here. It's just an amazing venue, the whole concept of this horse village is incredible."
Celebrating her third anniversary with Valkyrie de Talma, Cornacchia believes that the mare is really coming into her own of late.
"I didn't watch anybody go; I just stuck to my plan, and it worked out," she said of the only double-clear performance behind Springsteen's. "I jumped my very first 1.40m junior/amateur class on this horse, and now we're at this point. It's pretty exciting. She has a lot of heart. She's a super talented mare, and I feel incredibly lucky to have the ride on her."
Cornacchia will compete at WEF for the remainder of the season with a goal to compete in the CIS5* ranks.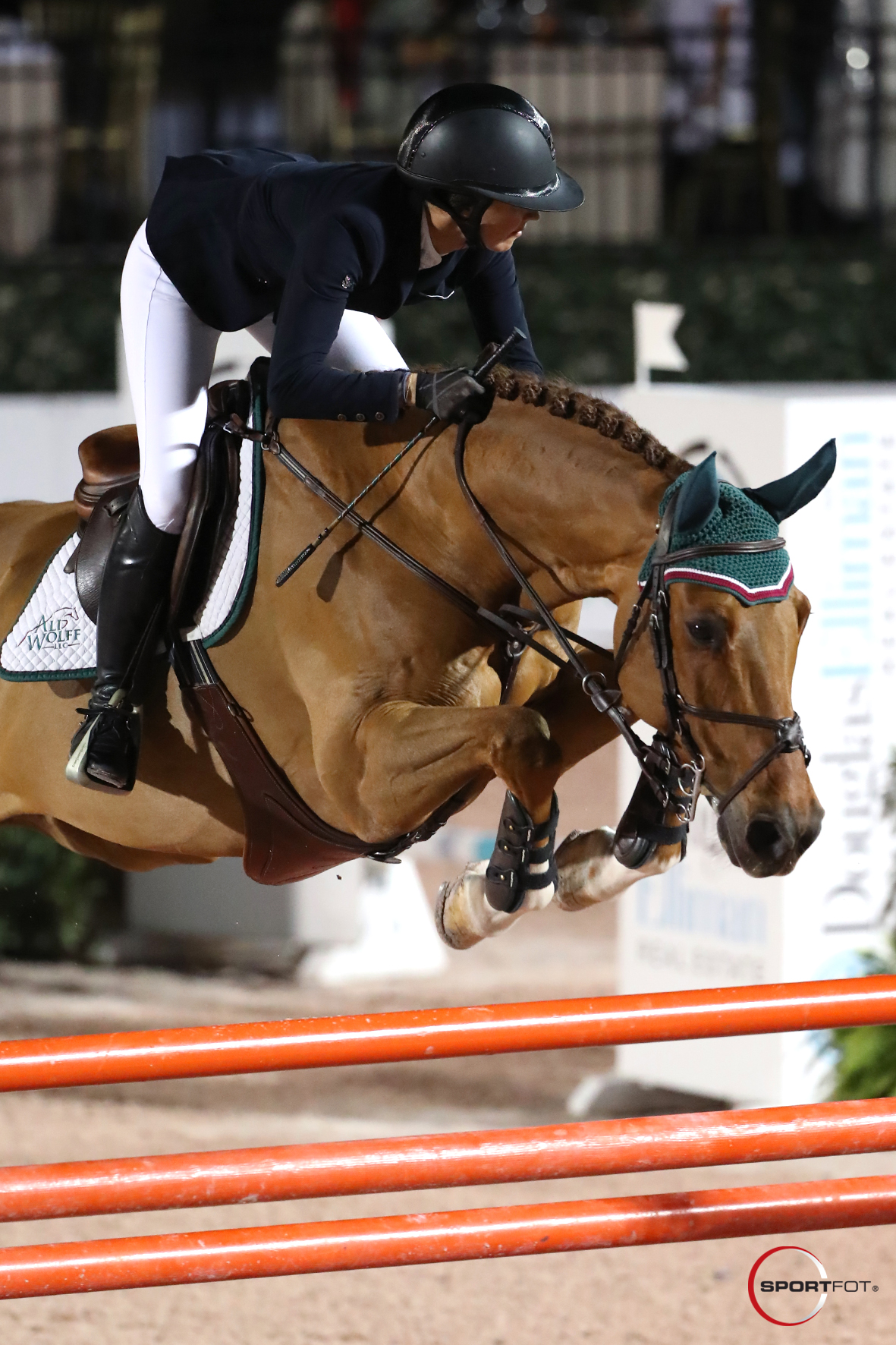 Posting the fastest four-fault jump-off round of the evening, Wolff and Casall rounded out the podium. Their eight-year partnership has produced many top finishes with more to come. "I know him pretty well; we try to use him sparingly, but he still has a lot left in the tank," she said of the 15-year-old Holsteiner gelding. "I always have to go in riding my own ride, and he's gotten quicker and quicker through the years.
"I should have added one, but I kind of went for it because I knew there were a lot of strong competitors behind me," continued Wolff of her heartbreak rail that fell in the double combination. "We'll practice that for next time. [Casall] gets a little bit of a break and will come back out at the end of the circuit."
Both finishing on four faults over the short course, Todd Minikus (USA) placed fourth riding Amex Z, owned by Bit By Bit Group, in 33.95 seconds, while Jim Ifko (CAN) rounded out the top five on Un Diamant des Forets in 33.98 seconds.
In a special award presentation, Canada's Vanessa Mannix was named the Martha W. Jolicoeur Leading Lady Rider after consistent top finishes in the Equinimty WEF Challenge Cup Round 6 and the Grand Prix CSI3* aboard Catinka 25.
For full results, visit www.PBIEC.com.
Final Results: $137,000 Grand Prix CSI3*
1 VOLAGE DU VAL HENRY: 2009 Selle Français mare by Quidam de Revel x Cassini I
JESSICA SPRINGSTEEN (USA), Stone Hill Farm: 0/0/36.05
2 VALKYRIE DE TALMA: 2009 Selle Francais mare by Diamant De Semilly x Reggae De Talma
RACHEL CORNACCHIA (CAN), Eventyre Farms: 0/0/36/13
3 CASALL: 2005 Holsteiner gelding by Casall ASK x Capitol I
ALI WOLFF (USA), blacklick Bend Farm: 0/4/33.19
4 AMEX Z: 2009 Zangersheide Mare by Andiamo Z x Landaris
TODD MINIKUS (USA), Bit By Bit Group: 0/4/33.96
5 UN DIAMANT DES FORETS: 2008 Selle Francais stallion by Diamant De Semilly x Grace
Des Forets
JIM IFKO (CAN), Eventyre Farms: 0/04/33.99
6 STALANDO 2: 2008 Oldenburg gelding by Stakkatol x Landlady 55
MARTIN FUCHS (SUI), Gospodardstwo Rolne Andrezej Oplatek: 0/4/34.405
7 HH CALLAS: 2007 Oldenburg mare by Albatros x Quattro B
MEGAN MCDERMOTT(USA), Counter Balance LLC: 0/8/38.22
8 TRADITION DE LA ROQUE: 2007 Selle Français mare by Kannan x Oberon du Moulin
LAUREN FISCHER (USA), Lauren Fischer: 0/12/39.96
9 TOY BOY: 2008 BCP gelding by Unknown x Unknown
JORGE MATTE CAPDEVILA (CHI), Jorge Matte Capdevila: 0/EL
10 CATINKA 25: 2009 Oldenburg mare by Catoki x Luxano
VANESSA MANNIX (CAN), Vanessa Mannix: 1/75.64
11 VERTIGE DE VIGNUEL: 2009 Selle Français gelding by Ogano Sitte x Axion du Gue
NICOLETTE HIRT (USA), Nicolette Hirt: 1/75.84
12 CACHAREL: 2007 KWPN mare by Vingino x Clinton
KELLY SOLEAU-MILLAR (USA), Bridge Brook Arms and Donna Vanderwoude-Dyment:
1/76.39
Amateur and Junior Hunter Riders Show Off in International Arena on Friday of WCHR Week
Amateur and junior hunter divisions took center stage in the International Arena on Friday to mark the third day of the World Championship Hunter Rider (WCHR) week. Riders continue to compete for a spot in the coveted $100,000 United States Hunter Jumper Association (USHJA)/WCHR Peter Wetherill Palm Beach Hunter Spectacular, which will take place on Saturday night.
The first division to compete in the International Arena on Friday was the 3'3" Junior 15 and Under Hunters, and the class was held in a California-split format due to the high number of entries. Top honors in Section A went to Sterling Malnik of Ocean Ridge, FL, and Rockette, owned by Ramble On Farm.
Malnik rode the 12-year-old mare to two firsts, a second, and a ninth-place finish, and she is thankful to have the experienced mare as her partner.
"I thought yesterday she was so perfect and jumping amazing!" said Malnik. "Both of our rounds were really good, and in the International Arena today she really took care of me."
The Section B championship went to Raina Swani aboard Fetching, owned by Shadowfax Equestrian LLC. Swani, of Ponte Vedra Beach, FL, and Fetching earned a first, second, fourth, and fifth place in the division. Swani has only been riding the 11-year-old Holsteiner gelding (Catoki x Riene I'Ve) since December when she took over the ride from her sister, Isha Swani.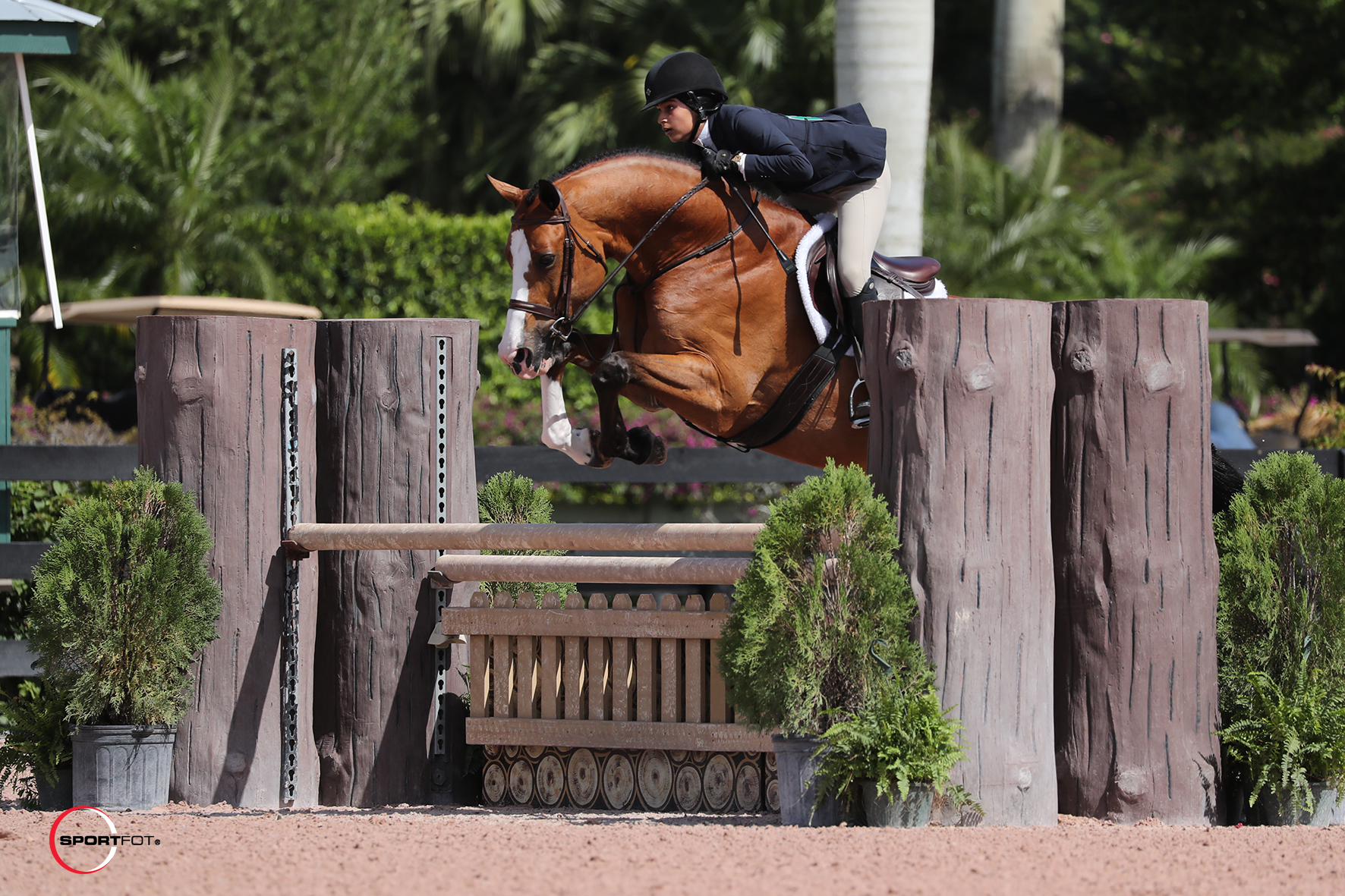 "He's a really good horse and really tries for you in the ring," Swani explained. "Geoffrey Hesslink, my trainer, always tells me that he just channels his nerves into having a good round, so I tried to do that today, and it worked out."
Swani also received the reserve championship with Brendan William's Knightly. Swani and Knightly earned a first, second, and fourth place in the division. The reserve champion of Section B was Elle Gibbs aboard her mount Candid. Gibbs, of Charlotte, NC, rode Candid to a first, fourth, and seventh place ribbon.
Caroline Tinsley and Tristram 7 were the next champions to be crowned, after they topped the 3'3" Junior 16-17 Hunters Section A. Tinsley rode Holly Hill Farm's 13-year-old gelding (Ramsey x Atlantis) to win all three over fences classes and to finish second in the under saddle. Tristram 7 is a catch ride for Tinsley, who is only showing the horse for this week.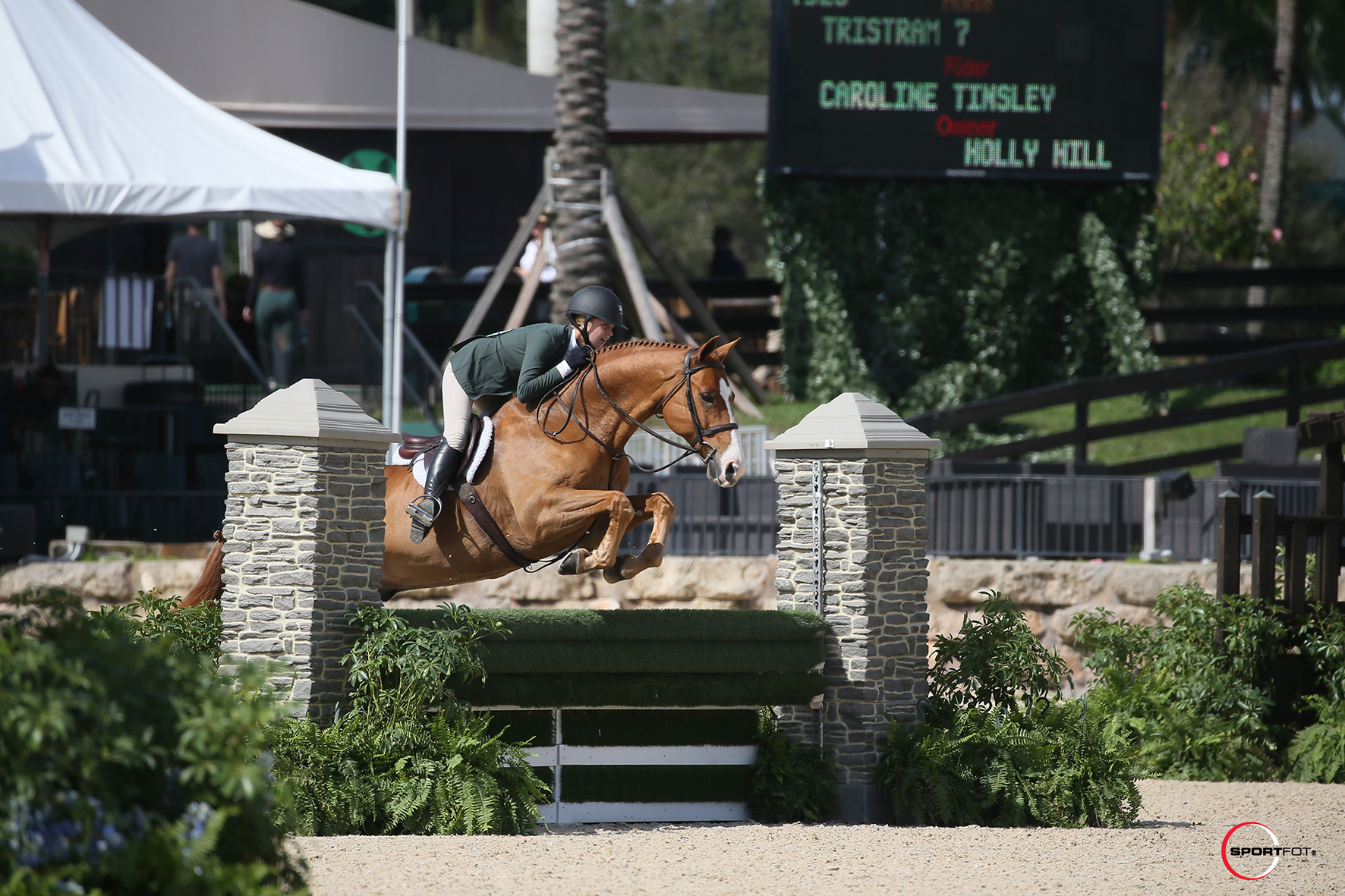 "He was jumping really well yesterday, and today he came out here like a pro and like he'd been doing it his whole life," Tinsley, of Sudbury, MA, explained. "The best of the best are here, and given that I don't know the horse, I was really happy with how he went and how I was able to ride him."
Alexander Goet of Delmar, NY, rode Augustine Walsh's Stakkato Grande to the reserve championship honor in Section A. The duo earned two thirds and a seventh to claim the reserve title.
The tri-color ribbon for Section B of the 3'3" Junior 16-17 Hunter division, sponsored by Bruno Delgrange, went to Susannah Gerhardt and Madison, owned by Christopher Payne. Gerhardt, of Warrenton, VA, is very thankful for Madison and also her trainer, Jonelle Mullen, for getting them to this point.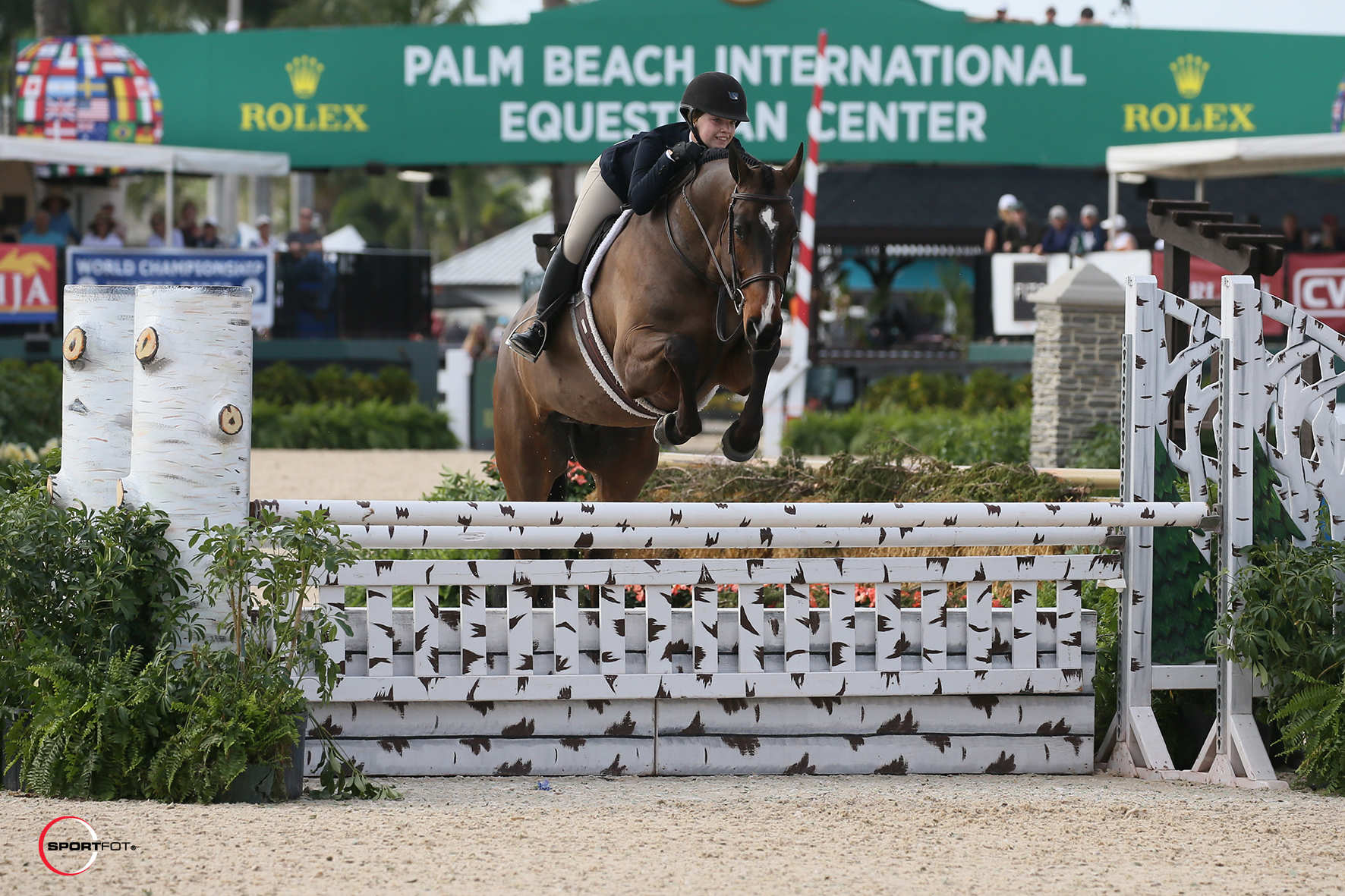 "That was [Madison]'s first time ever showing in the International Arena!" said Gerhardt. "I took him in there, and he was awesome. He just jumped around like he had been in there a million times."
Hensley Humphries, of Austin, TX, rode Curill to the reserve championship in the division. Humphries and Curill, owned by Raquel and Alexandra Lopez, Inc, received a first, third, sixth, and eighth-place ribbon.
The amateurs were the next to step into the International Arena, with Stephanie Danhakl riding to both the champion and reserve titles in the 3'3" Amateur-Owner 18-35 Hunter division, sponsored by Adequan.
Danhakl, of Pacific Palisades, CA, took top honors with her horse Enough Said, receiving three firsts and a third. Quest and Danhakl took home the reserve with two seconds and two third-place finishes. Both horses have been competing with Danhakl for the past seven years.
"They give it their all week in, week out. I'm so lucky to have them and have them still going as well as they are going. I think Enough Said really loves this ring; there's a lot of space to flow. I was really happy with him," Danhakl said of the 14-year-old Warmblood gelding.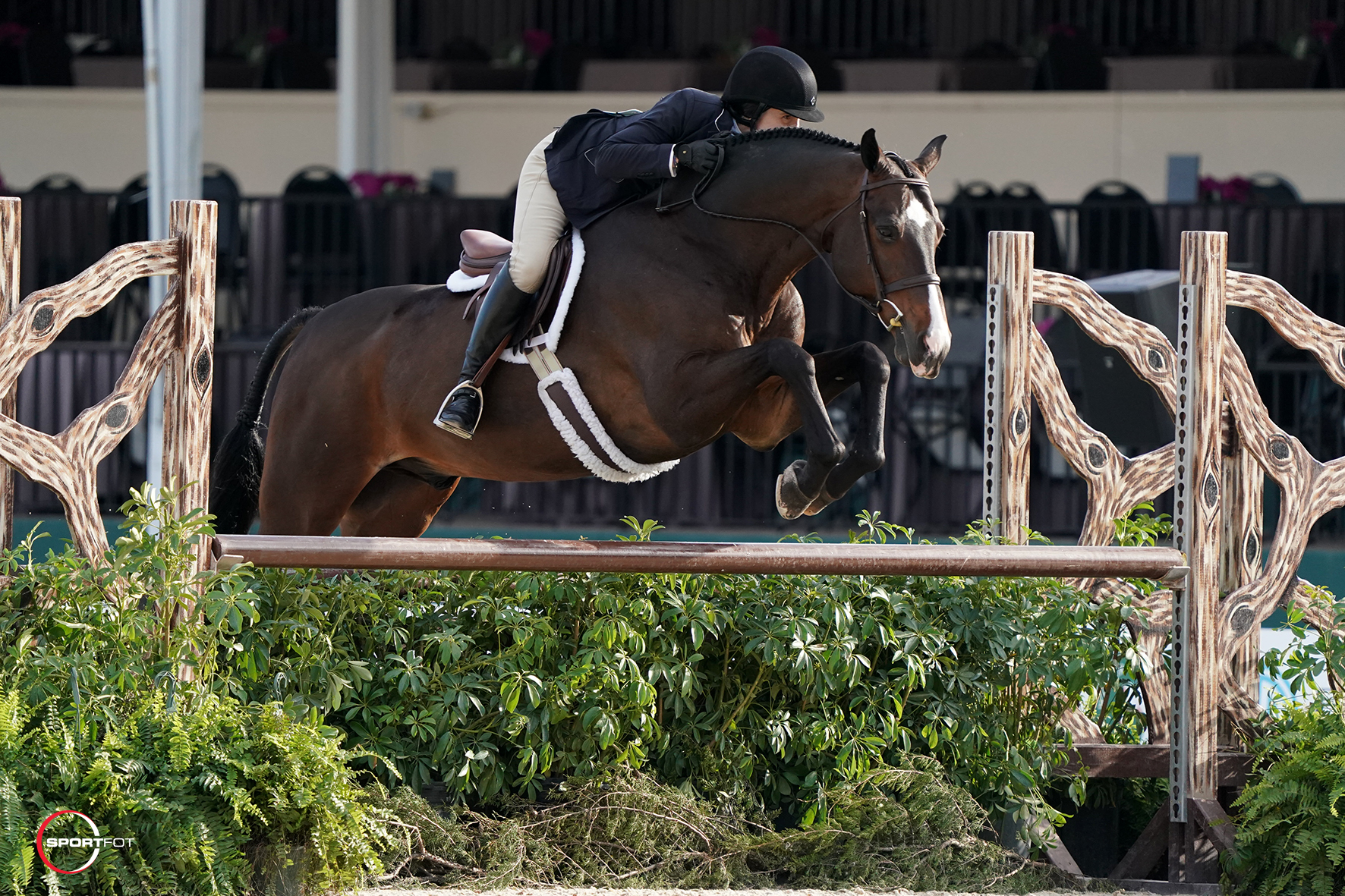 Ellen Toon and JT Farm's Gabriel took home the championship in the 3'3" Amateur-Owner 36+ Hunter Division, sponsored by Equiline. Toon rode the nine-year-old Dutch Warmblood gelding (Azteca VDL x Ribaliah H.B.) to two scores of 87 to win two over fences classes, as well as receive a third place.
Toon, of South Salem, NY, is thankful for her trainers: her husband, Jimmy Toon, as well as Rodney Bross, who have been instrumental in her success with Gabriel.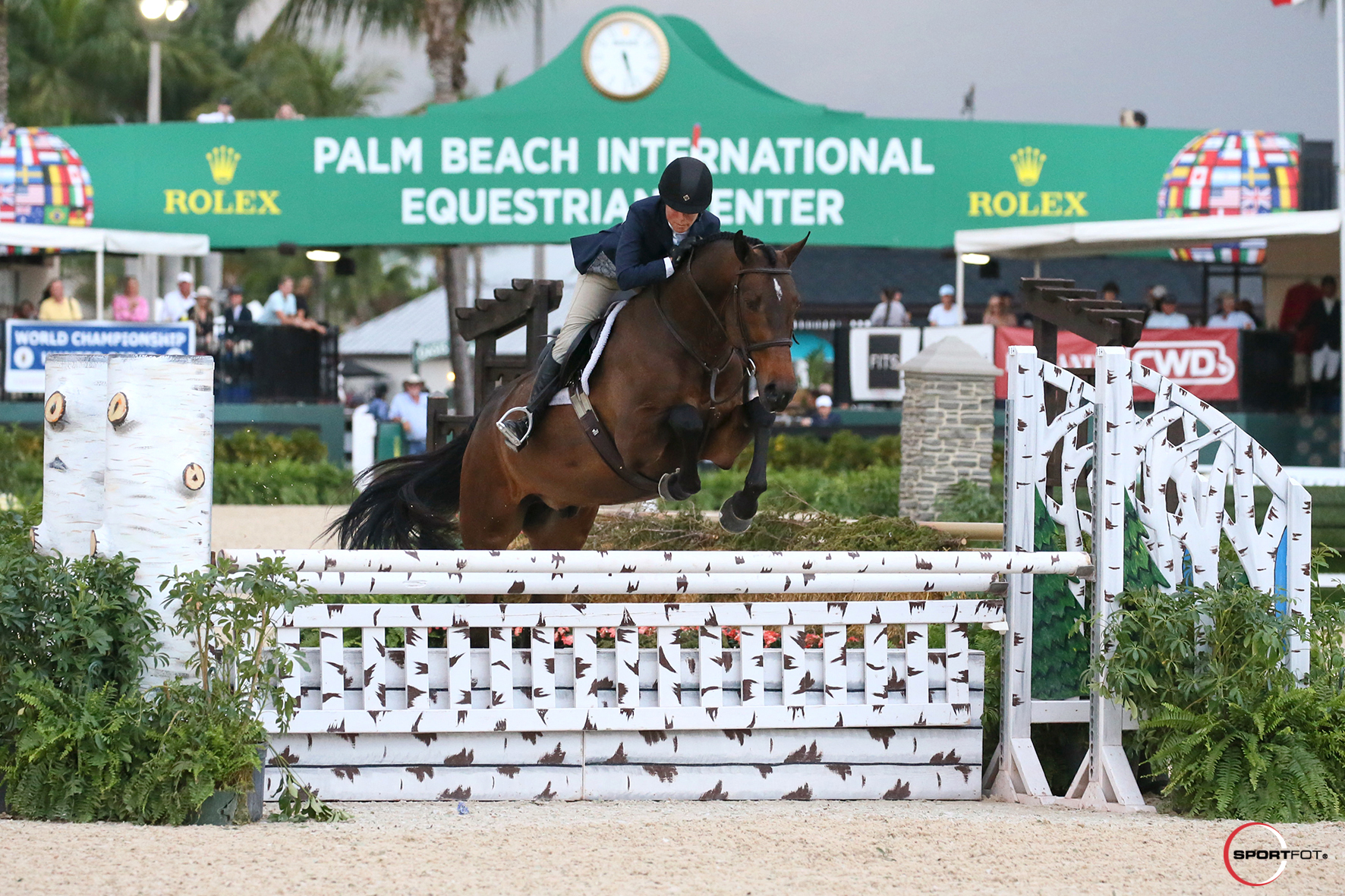 "[Gabriel] is on your side," said Toon. "He doesn't look to do anything bad. When he goes how he was tonight, which we weren't expecting because we have never shown him this late, then anybody could ride him. He was so easy."
Not far behind in points were Becky Gochman and Last Man Darling. Gochman, of Wellington, FL, rode Gochman Sport Horses LLC's 14-year-old gelding to a first, third, and sixth place finish.
The final victory of the evening went to Martha Ingram, who topped 35 entries to win the $5,000 WCHR Amateur-Owner 3'3" Hunter Classic riding Airport 48.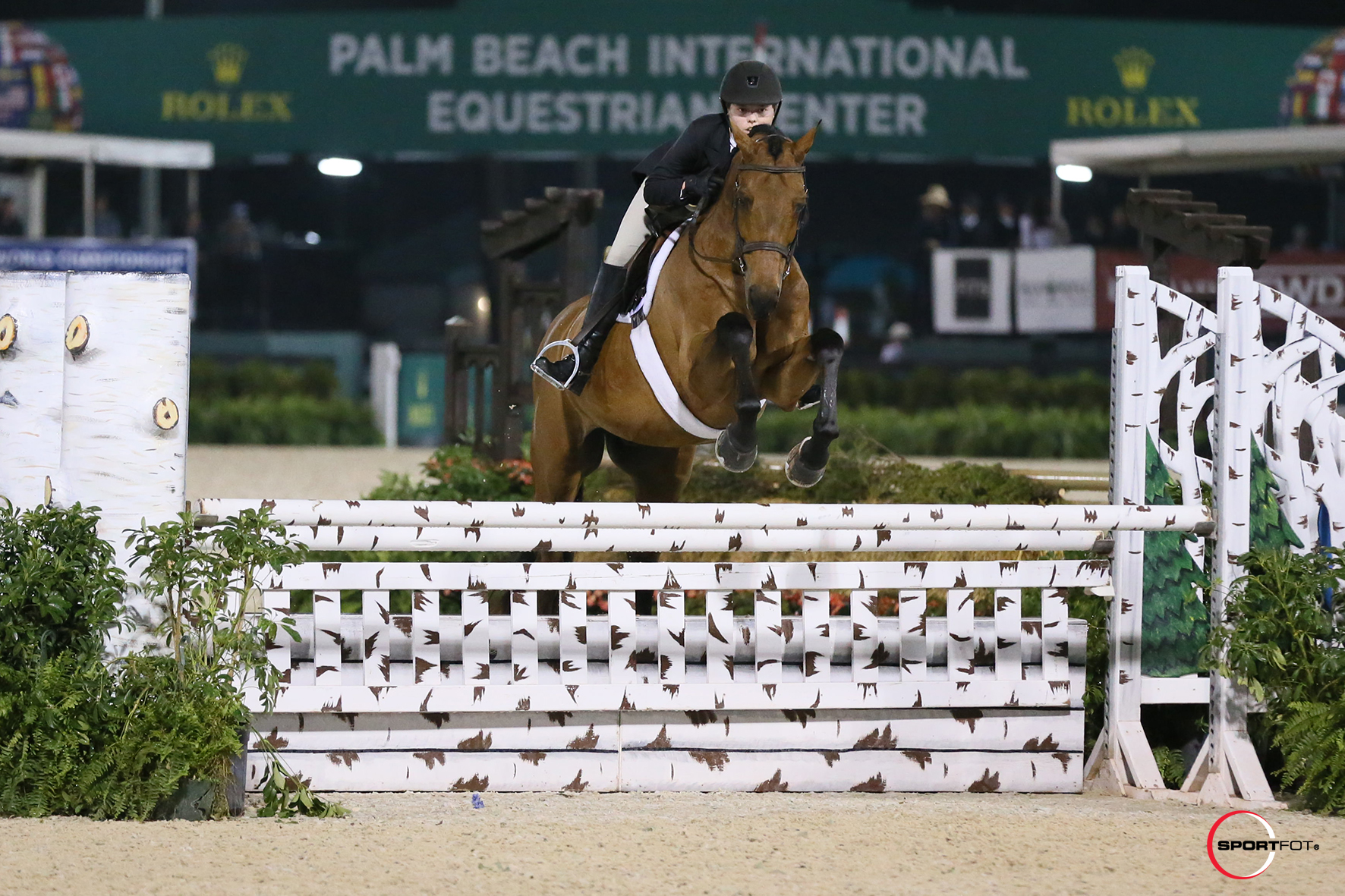 Ingram and the 17-year-old Holsteiner gelding, owned by John & Stephanie Ingram, earned a first-round score of 90. When the top 12 returned for a second course, they pocketed a second-round score of 83.5 for a 173.5 total and the victory.
"There are so many amazing riders here and so many good competitors; a lot of them are my friends too, so it's just really fun," said Ingram following her victory. "It's an honor to win, especially in this big ring too. It means a lot."
Second place with a 171 total score went to Grace Tuton and Sorbet, owned by Nicodemus Farms, and Kate Ellis and her own Valhalla rounded out the top three with an overall score of 170.5.
Find full results from Friday's hunter competition online at www.PBIEC.com.
Photo credit: Photos © Sportfot, official photographer of the Winter Equestrian Festival. These photos may be used only in relation to this press release and must include photo credit.