For Immediate Release
Summer Grace and Emily Riden for Jennifer Wood Media, Inc.
Wellington FL — February 16, 2019 — Young hunter professional Victoria Colvin piloted her 2018 USHJA International Hunter Derby Championship mount, Private Practice, to the victory in the $100,000 USHJA/WCHR Peter Wetherill Palm Beach Hunter Spectacular at the 2019 Winter Equestrian Festival (WEF). While the hunters dominated the International Arena at the Palm Beach International Equestrian Center (PBIEC), FEI jumper competitors took to the grass at Equestrian Village for the $36,000 CaptiveOne Advisors 1.50m Classic where Capt. Brian Cournane and Penelope Cruz took home the win.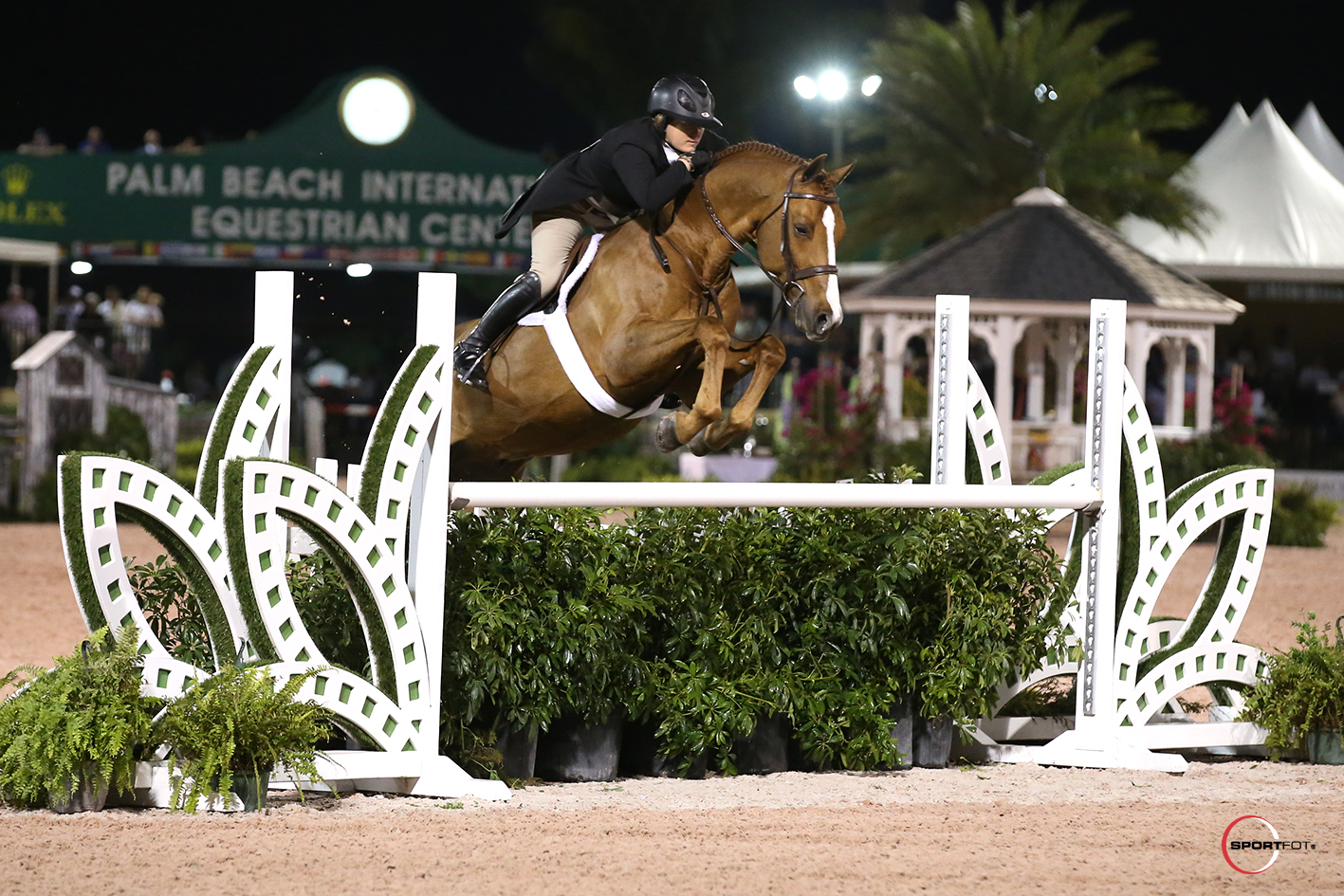 The Saturday night event is the highlight of the Winter Equestrian Festival's (WEF) WCHR Hunter Week. The week features the hunter discipline and gives junior, amateur, and professional hunter riders the chance to introduce their horses to the International Arena while FEI riders compete at Equestrian Village, which is typically home to the Adequan® Global Dressage Festival. The sixth week of WEF will wrap up on Sunday, February 17, but competition will continue through Week 12 ending March 31. 
Thirty-two of the week's most successful juniors, amateurs, and professionals contested the round-one course designed by Ken Krome. The top 12 combinations qualified to return for the second round of competition. Both rounds were offered at three heights (3'6", 3'9", and 4"). Judges for the event consisted of Chris Wynne and John French in one panel, Jim Clapperton and Shane George in a second panel, and Rachel Kennedy and Rick Fancher in a third panel.
Amanda Steege of Bedminster, NJ, and Lafitte De Muze held the early lead into the second course as the pair received a high score of 92.00 in the first course. Designer Ken Krome gave returning competitors plenty of options to show off their horses' abilities with several long approaches to gain speed and a rare bounce-jump feature made of hay bales halfway through the second round handy test. Junior rider Jordan Allen of West Bloomfield, MI, ascended to a top three finish on Kind of Blue, owned by Float On Equestrian LLC. As the second-to-last to return, 21-year-old Victoria Colvin of Loxahatchee, FL, and Brad Wolf's Private Practice performed a flawless round to win the event with judge's scores of 93, 94, 91 and a final two-round total of 182.66. 
"This is the first year that I've won as a professional, and I think it almost means more to me now than it did when I was a junior," said Colvin, who won the Hunter Spectacular a stunning four times in a row from 2012 to 2015. "When I competed in it as a junior, I knew it was an amazing class, but I probably didn't realize how significant and amazing it is."
"We showed this horse last year in this event as well, but we had just bought him and he was right out of being a jumper," she added of the nine-year-old Holsteiner gelding by Lordanos. "He was a lot more tame today, and he went around like a champ. His handy round felt like he did at Derby Finals, so I think it was as good as he could have gone."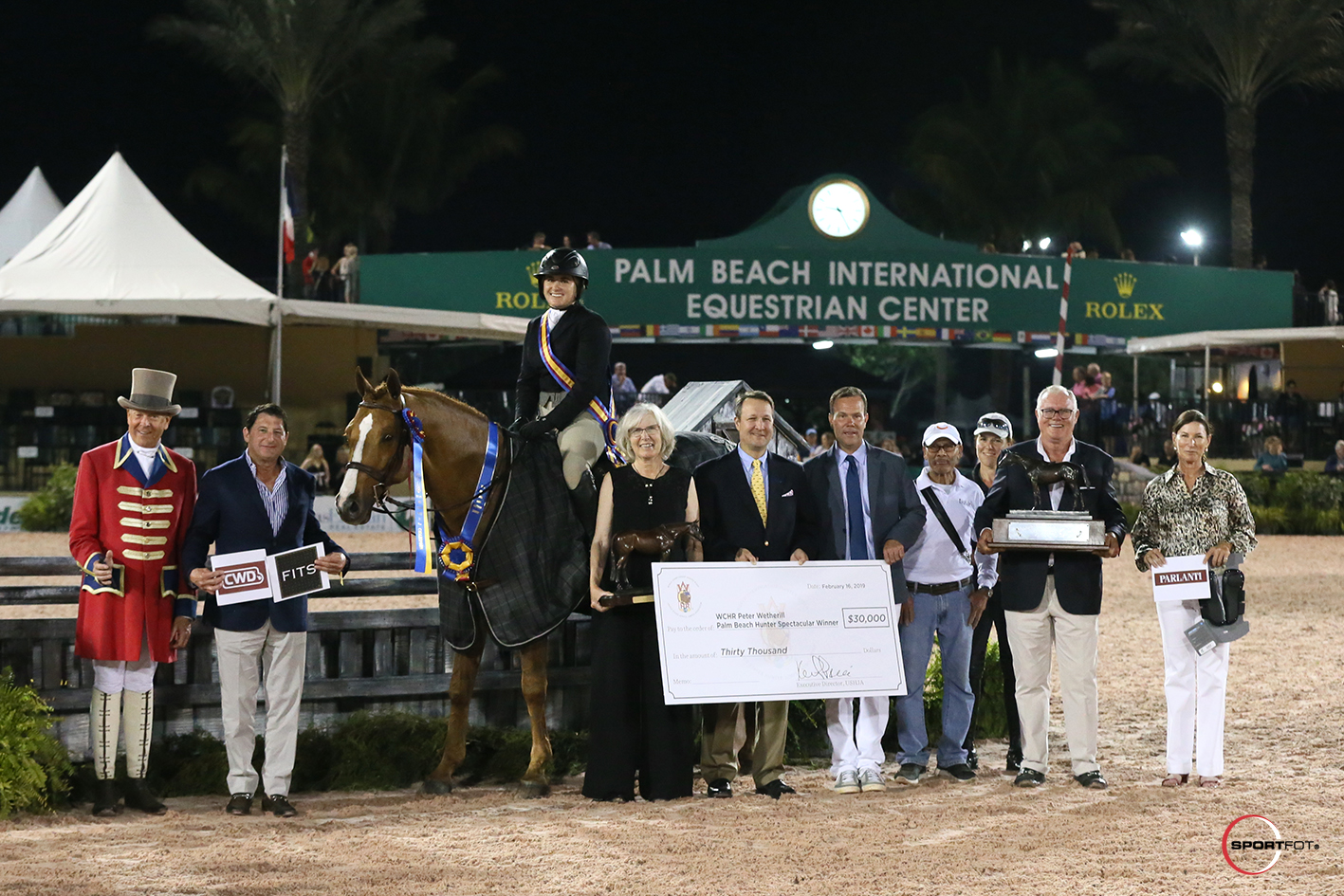 Steege and the eight-year-old Belgian Warmblood gelding (Darco x Everlychin De La Pomme) gave it their all in the final performance, but fell just short of overcoming Colvin and Private Practice, totaling a final result of 182.16. 
"I was hoping he would come out and be a competitor out there tonight, and I think it's needless to say he far exceeded my expectations," Steege commented. "When we competed in this last year, he was a first-year horse and it was only his third show in America. It's incredible to feel how much more mature he is a year later."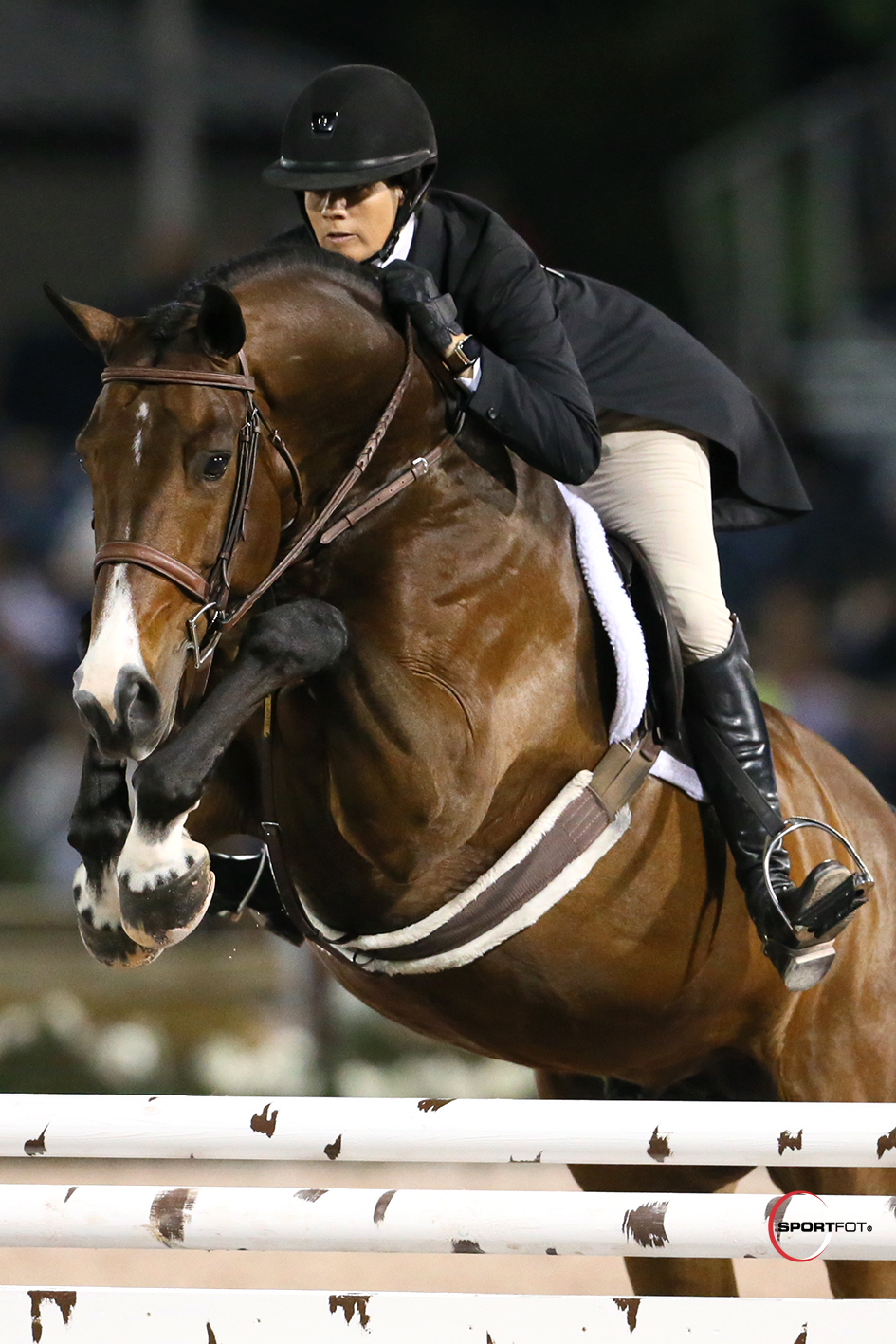 "I was really happy with my round in the handy; I thought he jumped amazing," she continued. "I made the conscious choice to go around the red vertical on the way to jump one because my horse is a little less experienced than Tori's and I just wanted to make this the most positive experience possible for him." 
Allen, who is a working student for Ken and Emily Smith at Ashland Farm, took third place aboard Kind of Blue with an overall score of 177.57.  
"It's beyond exciting to be here and do so well in this event," Allen said. "I thought he was amazing in both rounds, obviously, but in the second round I think he really stepped it up with the brilliance. It's my final junior year and everything is shaping out!"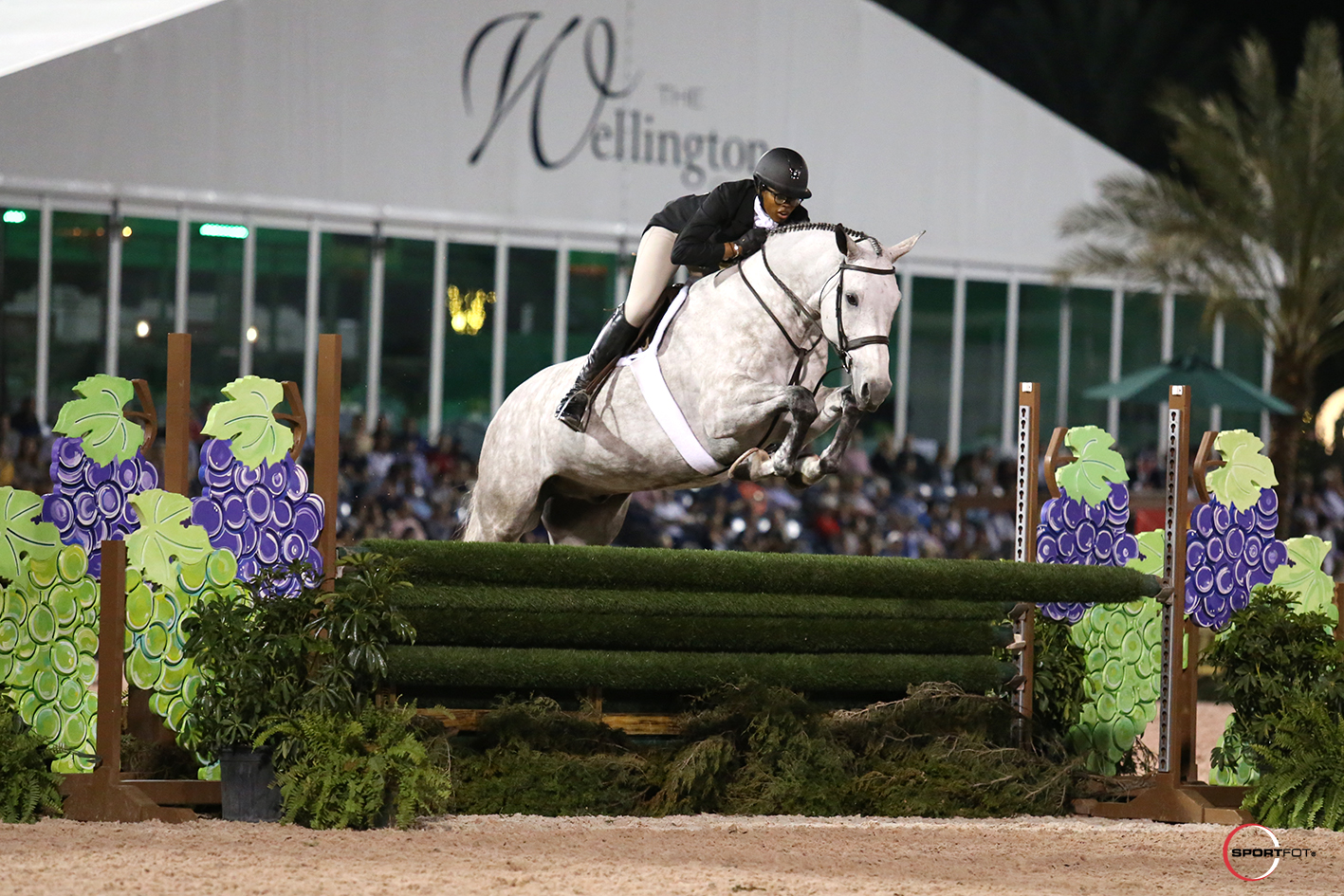 Allen credits the opportunity to show the seven-year-old Swedish Warmblood gelding (Bravour x Caresse Tau) to her "second family" at Ashland Farm, trainer Brady Mitchell, Alvin Menendez, Adam Graham, and the gelding's owner, Dana Schwarz.
"I can't put into words how grateful I am for all of the opportunities they've given me," Allen enthused. "I don't own any horses and each week they have horses for me to show. This is by far one of the greatest accomplishments."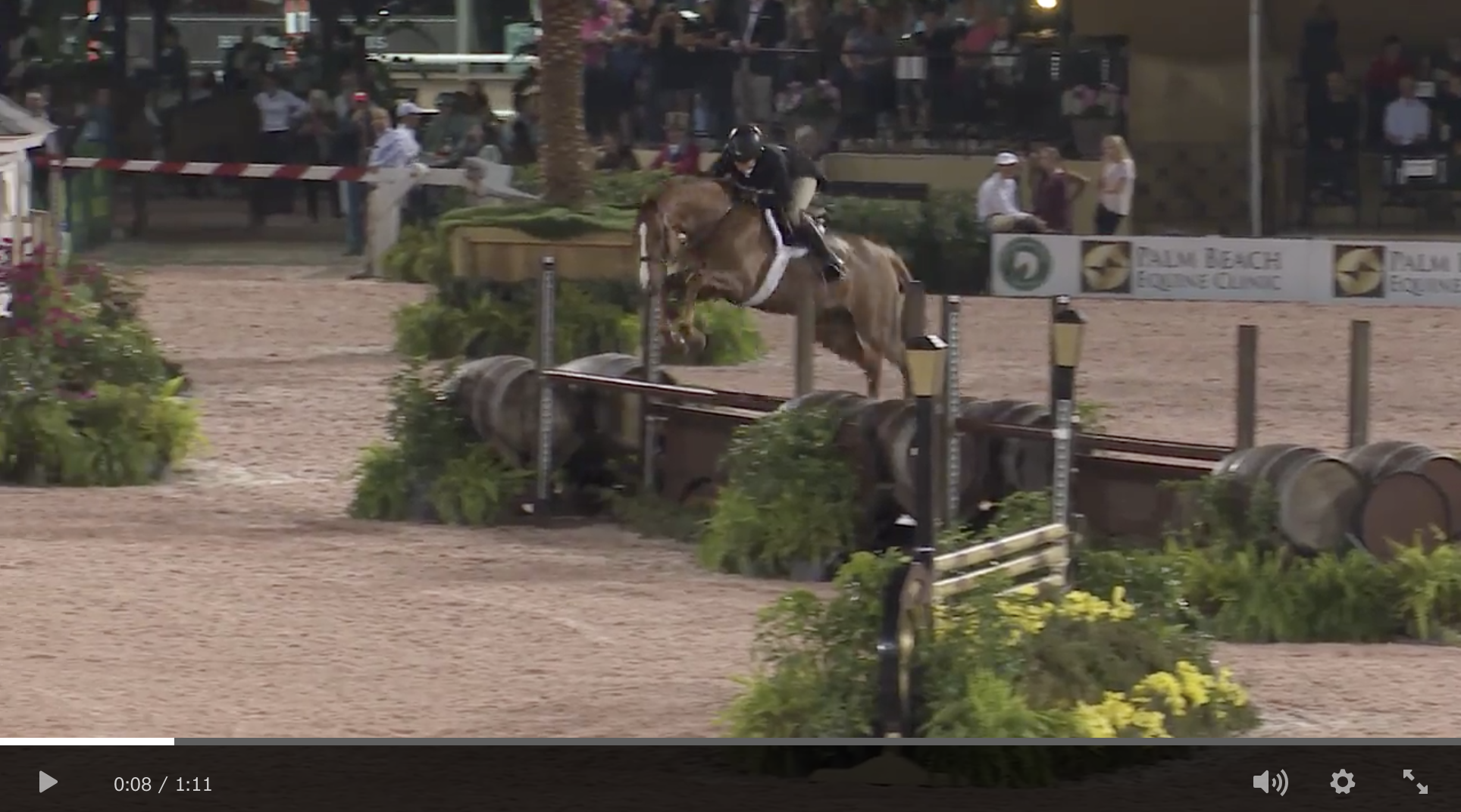 Final Results: $100,000 USHJA/WCHR Peter Wetherill Palm Beach Hunter Spectacular
Horse, Rider, Owner
Round 1 judges score, Round 1 total
Round 2 judges score, Round 2, Overall total
1 Private Practice, Victoria Colvin, Brad Wolff
89.00 92.00 89.00, 90.00
93.00 94.00 91.00, 92.66, 182.66
2 Lafitte De Muze, Amanda Steege, Cheryl Olsten
92.00 95.00 90.00, 92.33
92.00 88.50 89.00, 89.83, 182.16
3 Kind of Blue, Jordan Allen, Float On Equestrian LLC
86.25 90.00 92.00, 89.41
87.50 88.50 89.00, 88.16, 177.57
4 Tradition, Elizabeth Towell Boyd, Maggie Hill
87.00 85.00 88.00, 86.66
89.00 90.00 86.00, 88.33, 174.99
5 Small Anecdote, Jamie Taylor, Iwasaki and Reilly
85.25 87.50 86.50, 86.41
87.00 88.00 90.00, 88.33, 174.24
6 SKF On My Own, Maria Rasmussen, Sunset View Farm LLC
84.75 89.00 87.00, 86.91
91.00 87.00 84.00, 87.33, 174.24
7 Bright Side, Scott Stewart, Stephanie Danhakl
86.50 86.00 86.00, 86.16
86.50 86.00 87.50, 86.66, 172.82
8 Cassanto, Elizabeth Towell Boyd, Maggie Hill
85.00 88.00 85.00, 86.00
85.00 84.00 85.00, 84.66, 170.66
9 Consent, Kelley Farmer, Larry Glefke and Kent Farrington LLC
78.00 79.00 84.00, 80.33
86.00 85.00 87.00, 86.00, 166.33
10 Hobbs Lane, Maria Rasmussen, Sunset View Farm LLC
84.00 75.00 80.00, 79.66
83.00 82.00 78.00, 81.00, 160.66
11 Small Occassion, Augusta Iwasaki, Iwasaki and Reilly
86.00 87.00 83.00, 85.33
71.00 70.00 74.00,71.66, 156.99
12 Bond, Isha Swani, Shadowfax Equestrian LLC
81.00 82.00 82.00, 81.66
67.00 65.00 68.00, 66.66, 148.32
Capt. Brian Cournane Captures Win in $36,000 CaptiveOne Advisors 1.50m Classic CSI3*
Capt. Brian Cournane of Ireland and his mount, Penelope Cruz, topped a 40-horse starting field to win the $36,000 CaptiveOne Advisors 1.50m Classic CSI 3* held at the Derby Field at Equestrian Village on Saturday afternoon.
Cournane and the 11-year-old Irish Sport Horse mare, owned by Mr. and Mrs. Robert Stiller, were one of seven entries to advance to the jump-off after navigating the first-round, Ana Catalina "Catsy" Cruz Harris (MEX) designed course without fault. Time proved to be a bit of a factor over the opening course, with four additional entries kept from the jump off by just one time fault apiece.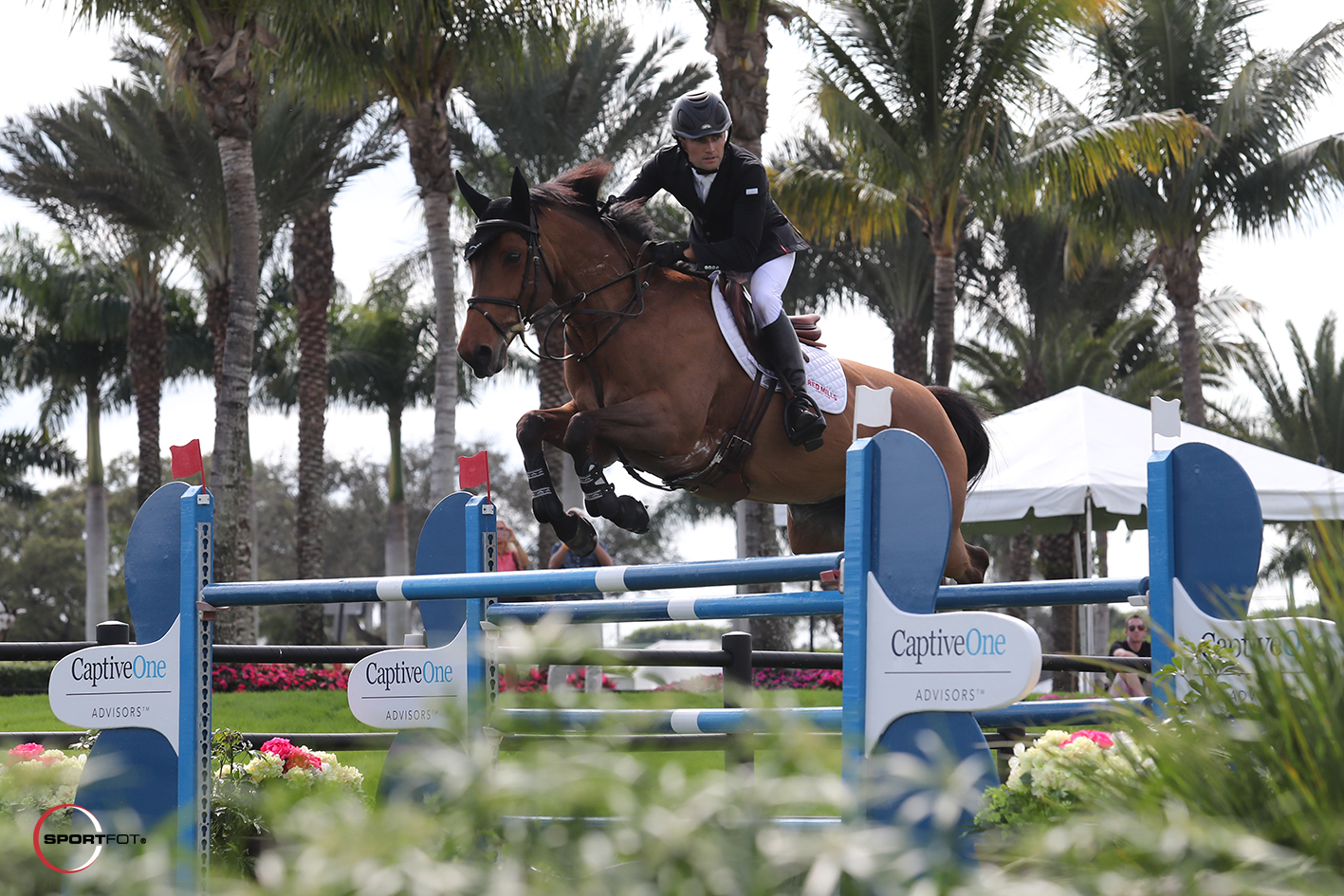 When Cournane returned to the grass field midway through the jump-off order, the time to beat had been set at 45.25 seconds by Liza Finsness (USA) and her own longtime mount, Shiver. Cournane and Penelope Cruz, however, swiftly took over the lead with a time of 44.89 seconds, and while three riders would follow Cournane, none would catch either he or Finsness, securing him the victory and Finsness the second-place honor. Finishing in third on a time 45.43 seconds were Mattias Tromp and Eyecatcher, owned by Beyaert Farm Inc.
"In the jump-off round, I tried to set a fast pace from the start, because really you were galloping jump to jump, and again, the course designer used the full field, which was really nice," said Cournane, who has had the ride on Penelope Cruz for the past year, after acquiring her from Ireland's Darragh Kerins, who had produced the mare to that point.
"She's a wonderful, generous mare," said Cournane of his winning mount. "She's quite a small mare. Looking at her in the stable, you think she's a bit of a plain Jane, but when you get up and start jumping her, she's a great horse. She's only 16.1, but when you're on her, she grows! She feels a lot bigger."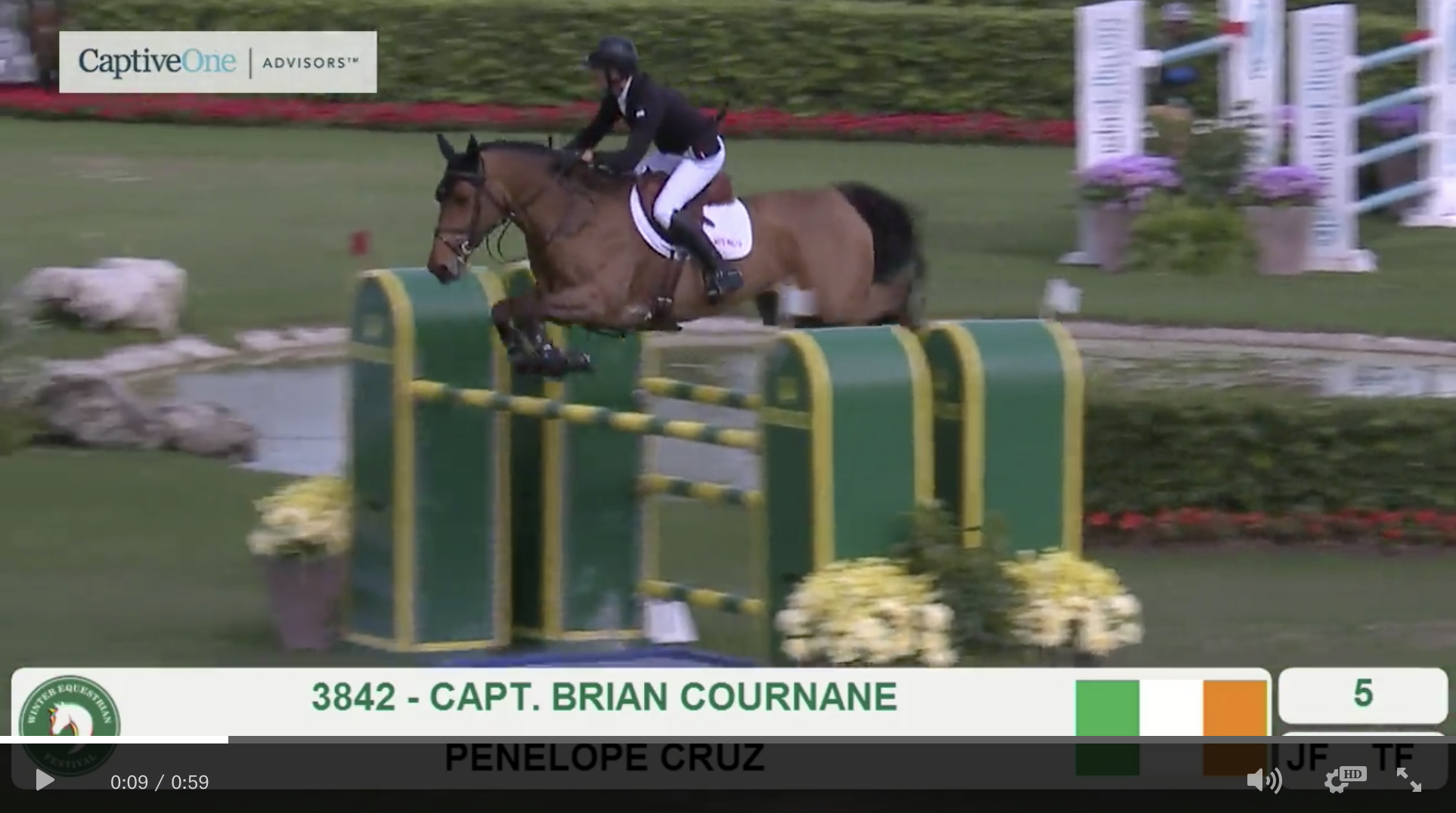 Click here to watch the winning round!
Cournane has seen great success in the International Ring at PBIEC throughout the 2019 WEF season, including earning a top three finish in the $72,000 NetJets Grand Prix CSI 2* during week two, but he enjoyed the change of venue at the Derby Field on Saturday.
"It's wonderful out here because it's just a nice, big field, and the horses love jumping on grass," said Cournane. "I love jumping in the stadium as well, but this just gives us a bit of variety."
Whether in the ring or on grass, Cournane has found that Penelope Cruz excels, and he is looking forward to the remainder of the circuit with the mare.
"She's so confident on grass, indoors, outdoors," said Cournane. "She's great because she can win a class like this, and then she can also – if my other horses can't jump the grand prix – she can go and jump the grand prix. I'd like to think there's a grand prix win in her. I'd love to do that just for the mare because she's such a good mare. I'd love to win a grand prix for her."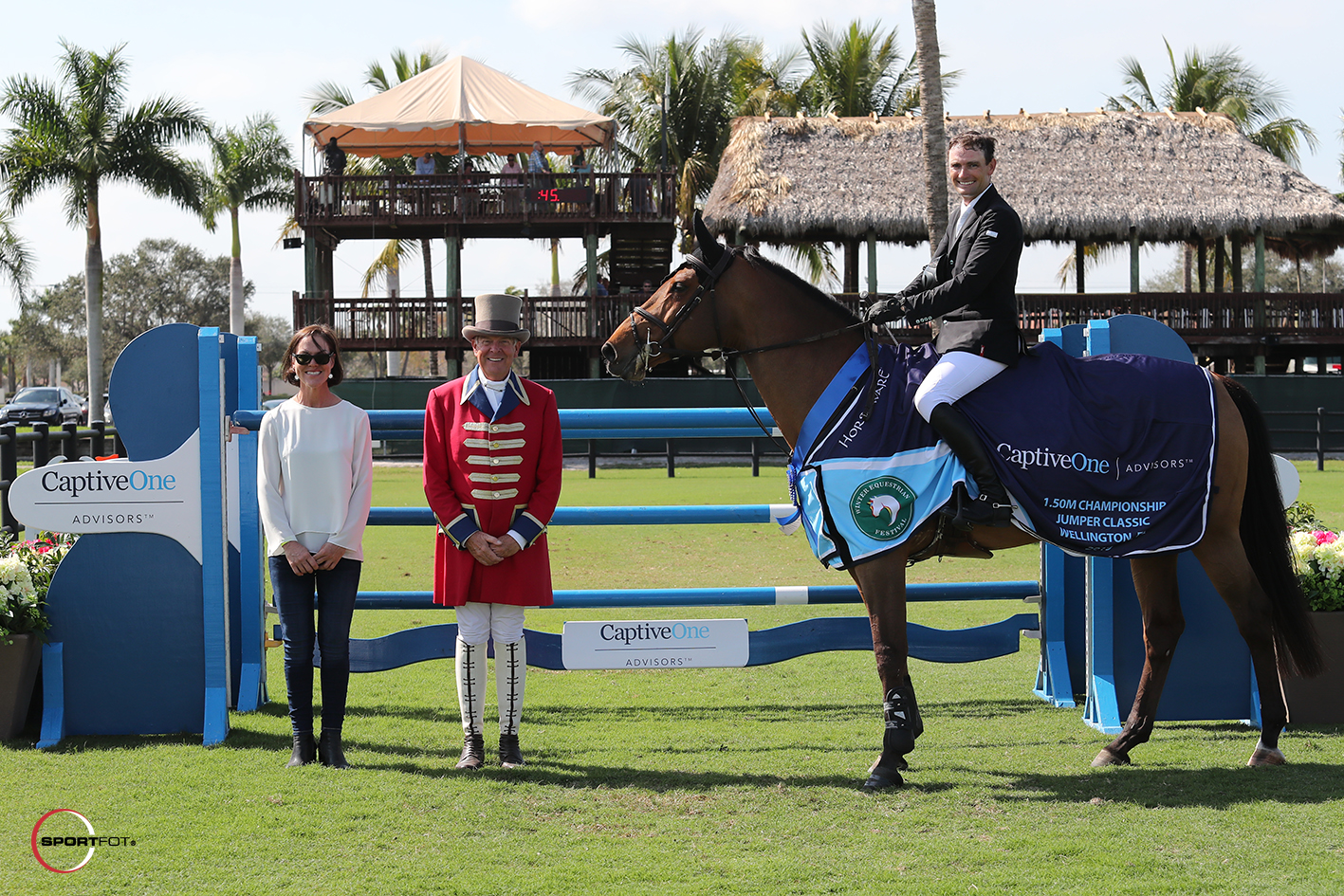 Prior to Cournane's win on Saturday, Ireland's Daniel Coyle bested a field of 49 top under 25-year-old riders to win the $10,000 Hermès U25 Grand Prix Series Welcome CSI U25 aboard his own CHS Krooze.
Coyle, 24, and his nine-year-old Irish Sport Horse mare tripped the speed class timers in 64.67 seconds to take the win, while Brian Moggre (USA) and MTM Flutterby, owned by Major Wager LLC, finished just tenths of a second behind Coyle in 64.94 seconds to take second. Rounding out the top three were Alex Matz and Cashew CR, owned by D.D. Matz, with a time of 65.89 seconds.
WEF week six competition concludes on Sunday, February 17, with featured events of the day including the $25,000 Hermes U25 Grand Prix CSI U25, the $25,000 CP National Grand Prix, the $5,000 World Championship Hunter Rider (WCHR) Adult Hunter Classic, and the $5,000 WCHR Junior 3'3" Hunter Classic.
Final Results: $36,000 CaptiveOne Advisors 1.50m Classic CSI3*
1 PENELOPE CRUZ: 2008 Irish Sport Horse mare by Ustinov x Peter Pan
CAPT. BRIAN COURNANE (IRL), Mr. & Mrs. Robert Stiller: 0/0/44.89
2 SHIVER: 2005 Hanoverian gelding by Stakkato x Grannus
LIZA FINSNESS (USA), Liza Finsness: 0/0/45.25
3 EYECATCHER: 2009 KWPN mare by Harley VDL x Orthos
MATTIAS TROMP (USA), Beyaert Farm, Inc.: 0/0/45.43
4 CORNWALL BH: 2008 Holsteiner stallion by Con Air x Cambridge
AMANDA DERBYSHIRE (GBR), Gochman Sport Horses LLC: 0/0/46.73
5 EXCELLENT: 2009 KWPN gelding by Cicero Z van Paemel x Ahorn
PETER LUTZ (USA), Bosch Sport Horses: 0/0/46.88
6 HITCHCOCK VD BROEKKANT: 2007 BWP gelding by Canturo x Heartbreaker
ALISE OKEN (USA), Hi Hopes Farm LLC: 0/0/48.24
7 CALLE 67: 2009 Westphalian gelding by Carell x Capitalist
MARKUS BEERBAUM (GER), Michaels & Beerbaum GmbH: 0/4/50.23
8 FAIR PLAY: 2010 KWPN gelding by Gaillard de la Pomme
AIDAN KILLEEN (IRL), Andrea Hippeau Vogel: 1/87.09
9 MAGNOLIA MYSTIC ROSE: 2009 BH mare
FRANCISCO JOSE MESQUITA MUSA (BRA), Haras Mystic Rose: 1/87.91
10 REDMOND: 2006 Selle Français gelding by Neo d'Aunou x Joly Jumper
FREDDIE VAZQUEZ (PUR), G6 HOLDING & FREDDIE VAZQUEZ: 1/88.65
11 RMF CHACCO TOP: 2009 Hanoverian stallion by Chacco Blue x Graf Top
WILLIAM WHITAKER (GBR), Rushy Marsh Farm LLC: 1/89.13
12 BILLY DORITO: 2010 Anglo European Studbook gelding by Billy Mexico x Vechta
DARRAGH KENNY (IRL), Vlock Show Stables LLC: 4/80.23
Junior and Amateur Riders Vie for Weekend Championships
Competition on Saturday at the 2019 Winter Equestrian Festival once again saw junior and amateur hunter riders vying for a championship title amongst the steep competition at the show's WCHR Hunter Week. Classes ran throughout the day leading up to the special "Saturday Night Lights" event, the $100,000 USHJA/WCHR Peter Wetherill Palm Beach Hunter Spectacular.
Leading off competition in the International Arena, Augusta Iwasaki and Small Occasion started the day by taking the champion title in the Palm Beach International Academy Large Junior Hunter 15 & Under 3'6". Iwasaki also took the reserve champion title with her other mount Wheels Up, a 11-year-old Westphalian gelding (Lordanos x Lisboa) owned by Vantage Point Equine Corp.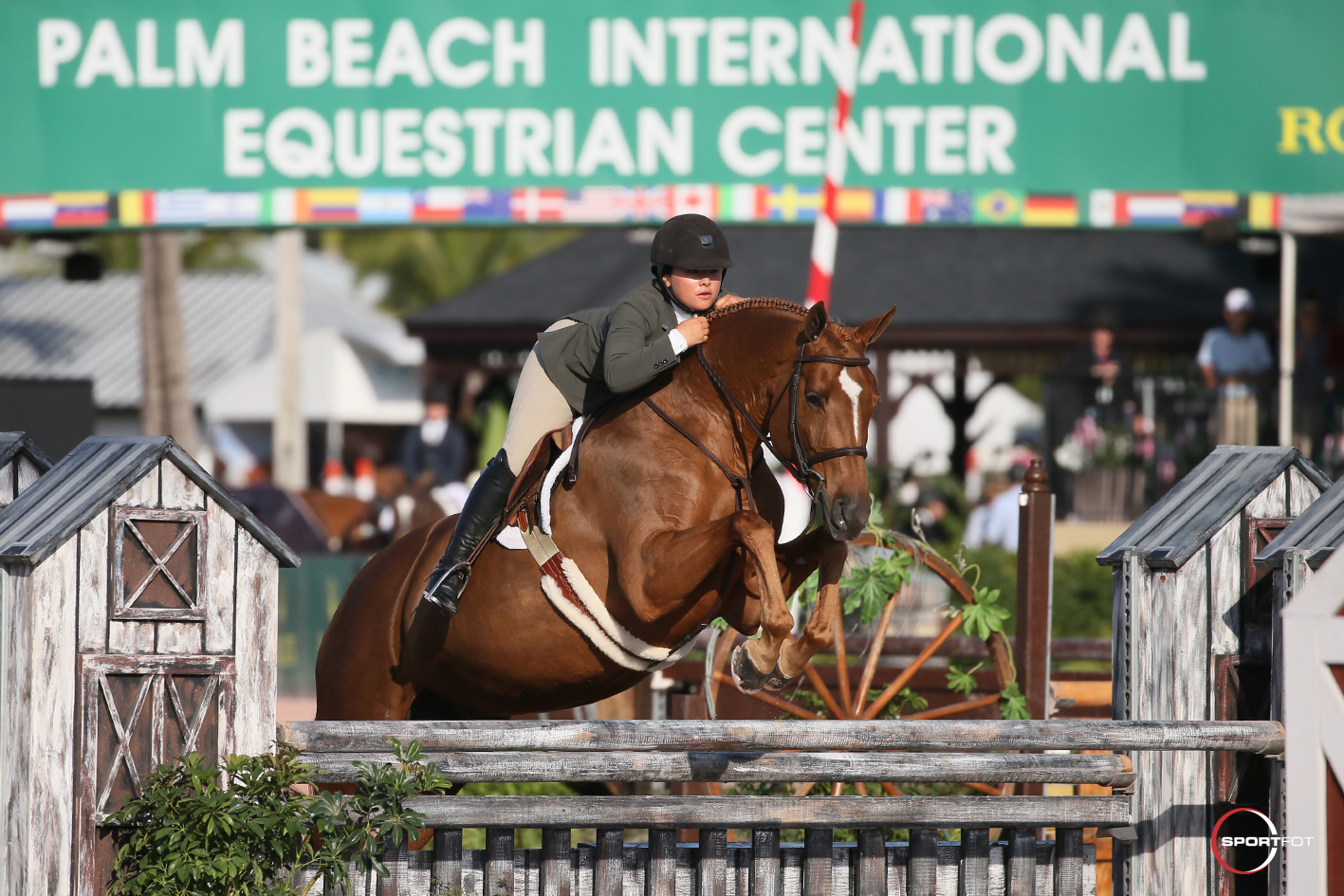 "Occasion was really, really good. In the first round we had a little bit of a hard rub, but in the handy and today she was amazing, so I'm very happy with her," said Iwasaki of her nine-year-old Holsteiner mare (Cosido x T-Cosmea). "She's a bit sassy. I've had her for over a year now, and I just love her so much. My goal is to do well in the Spectacular; that would be really nice."
The Small Junior Hunter 15 & Under 3'6" champion ribbon went to Mimi Gochman and Evermore. "Yesterday the first two rounds were very good and we were second in both; he also won the hack, which helped," said Gochman of her rides on her partner, a nine-year-old Bavarian gelding (Empire x Daphne). "Today I was a little off and I had a swap in the two stride, but all around he was wonderful. I think it's harder to ride in the International Arena because it's such a big field, and you have to gauge the gallop to decide where you slow down and where you move up.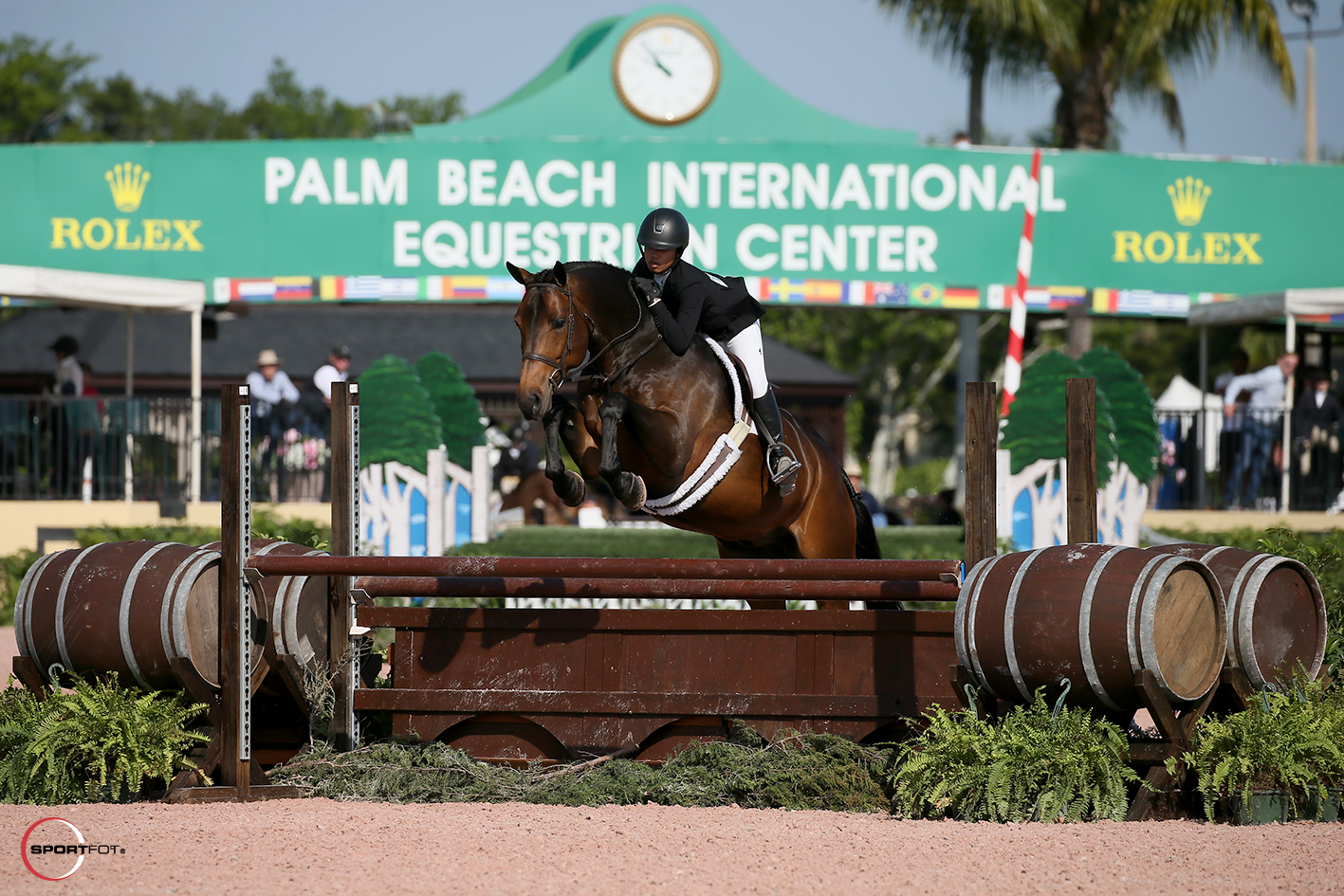 "He's always really good and reliable," continued Gochman. "My goal is to qualify for indoors and for Devon, and my plan is to just be consistent and keep him happy. I trust him, and he trusts me so we're good friends."
Lindsay Maxwell and High Society started off the morning in the Grand Hunter Ring by capturing the championship in the Amateur-Owner 18-35 3'6". "I've had High Society since May of last year. He was doing the jumpers, and we brought him over to the hunter ring. He took to it beautifully," said Maxwell of her 10-year-old Oldenburg gelding (Diarado x Chance For Ever). "He hasn't even been doing the hunters for a year yet, so I really just wanted to go consistently and put in solid rounds this week.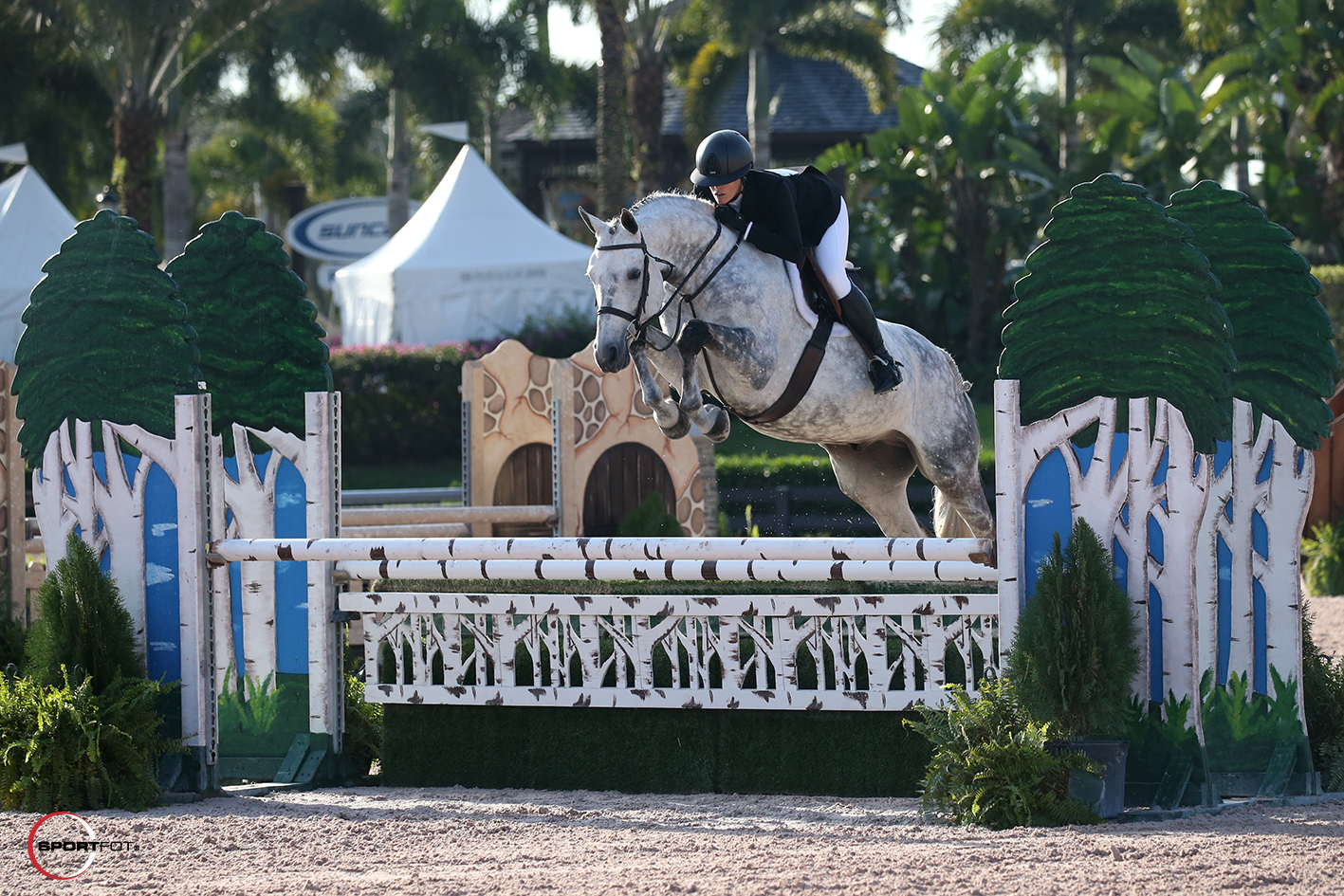 "The courses were great, the jumps were beautiful, and I'm thrilled with how he went. He stepped up every time I asked him to and jumped beautifully, and I couldn't be happier with the horse. I can't say enough good things about him," continued Maxwell. "Blue [High Society] is a very kind horse, he's a total gentleman, and can definitely be a ham in the barn. He loves attention, and the [Equine Elixirs] Tidbit treats are definitely his favorite."
Already a famous name in the hunter sport, Catch Me and Becky Gochman secured another champion ribbon as the pair dominated the Hunt Limited Amateur-Owner 36 & Over 3'6" division. Gochman and the Gochman Sport Horse LLC's 11-year-old Holsteiner gelding (Casiro I x Wonne I) earned a top-three placing in three of the four division classes. The reserve championship went to the pair of Clementina Brown and Eagle.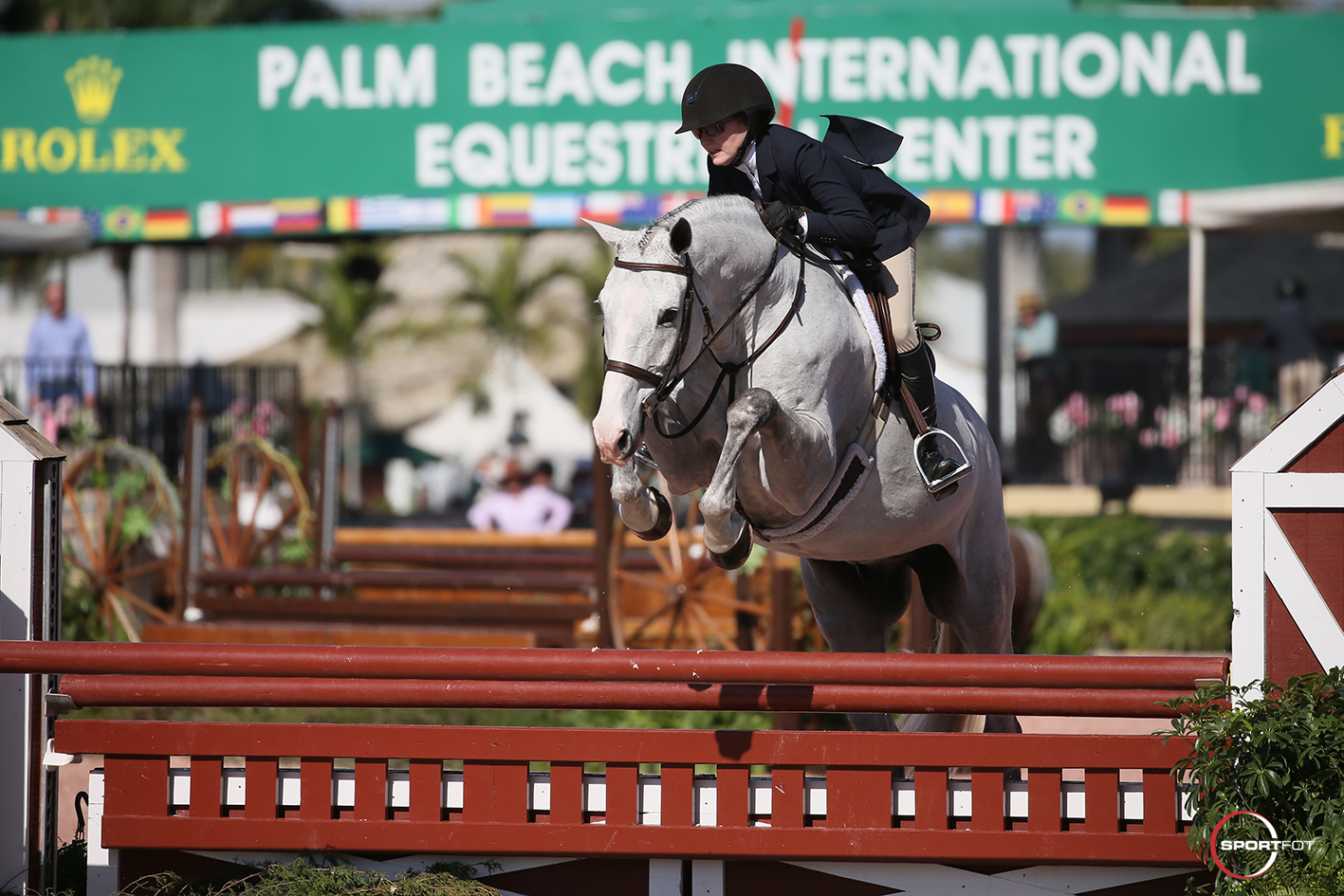 Catch Me has been famous in the hunter rings under the guidance of the Gochman family and trainer, Scott Stewart. "My week was a little up and down, so it was nice to come back and have a championship in this division because it is full of very experienced horses and riders," Gochman commented. "I just went in there and relaxed a lot more, and I felt like he tried extra hard today to make up for having a rail yesterday. In this division we are all pretty seasoned riders, but we enjoy what we do so much that the competition is fun."
Jordan Allen and Kind of Blue received the champion honors in the Bruno DelGrange Large Junior Hunter 16-17 3'6". "Kind Of Blue has been not only this week, but throughout the whole circuit, just the most incredible hunter ever. Yesterday we were second in the first class and then he won the handy and the under saddle," said Allen of her partner, an eight-year-old Swedish Warmblood gelding (Bravour x Caresse Tau) owned by Float On Equestrian LLC.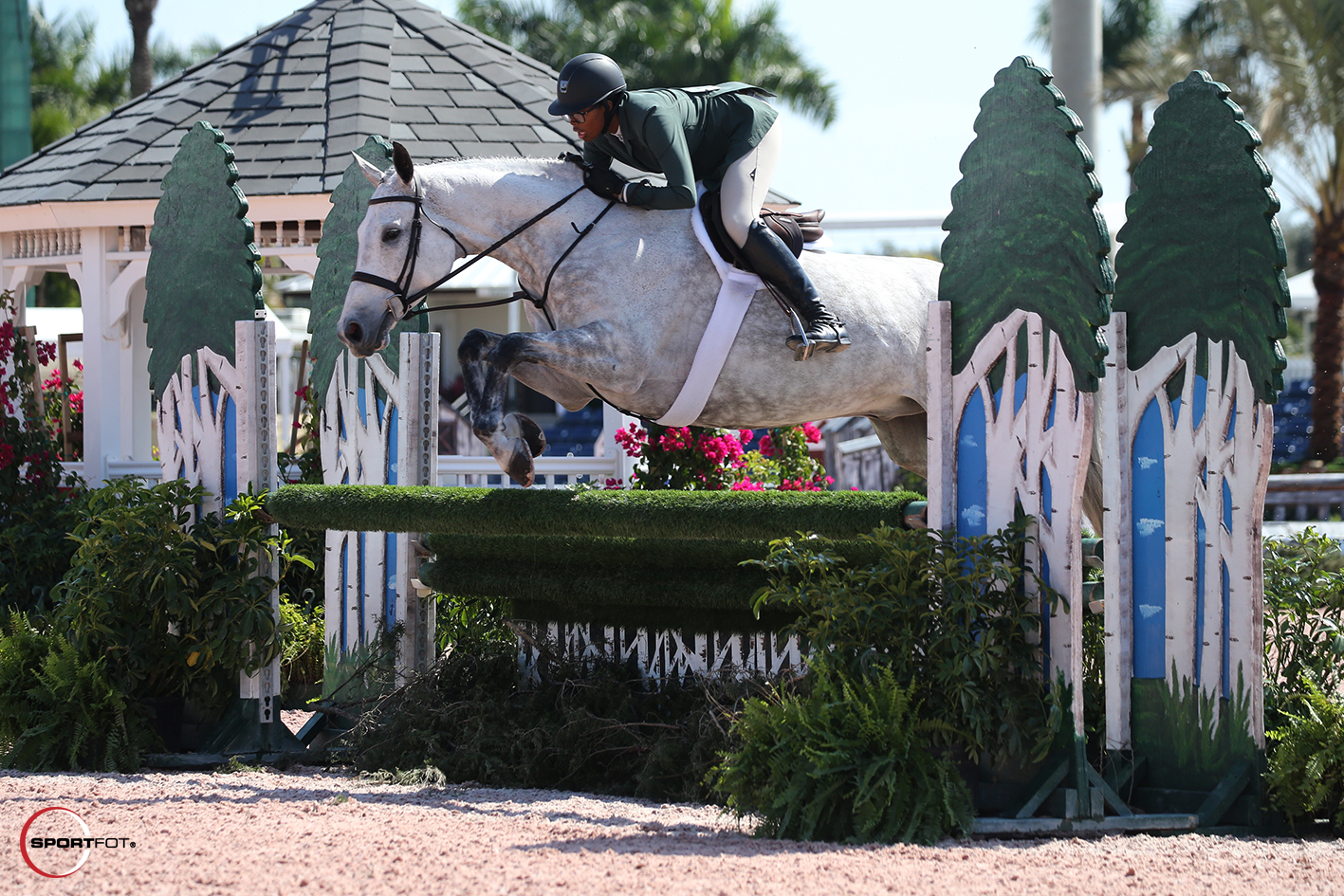 "I'm really excited for [the Spectacular], and right now that's my biggest goal. I'm hoping to have two consistent rounds tonight, and then just consistent weeks following," said Allen of her goals with Kind of Blue. "I ride a lot of different horses, but I've ridden him for a while so we really have a relationship. When I come to the ring, he knows it's time for work, and we get along really well when I go to the farm. I love riding him, and I'm so lucky."
The Small Junior Hunter 16-17 3'6" division championship went to the 17-year-old Holsteiner gelding, O'Ryan, with rider Maggie Hill. The gelding is owned by Stella Styslinger, leased by Hill, and the pair train under the supervision of top hunter rider, Liza Boyd.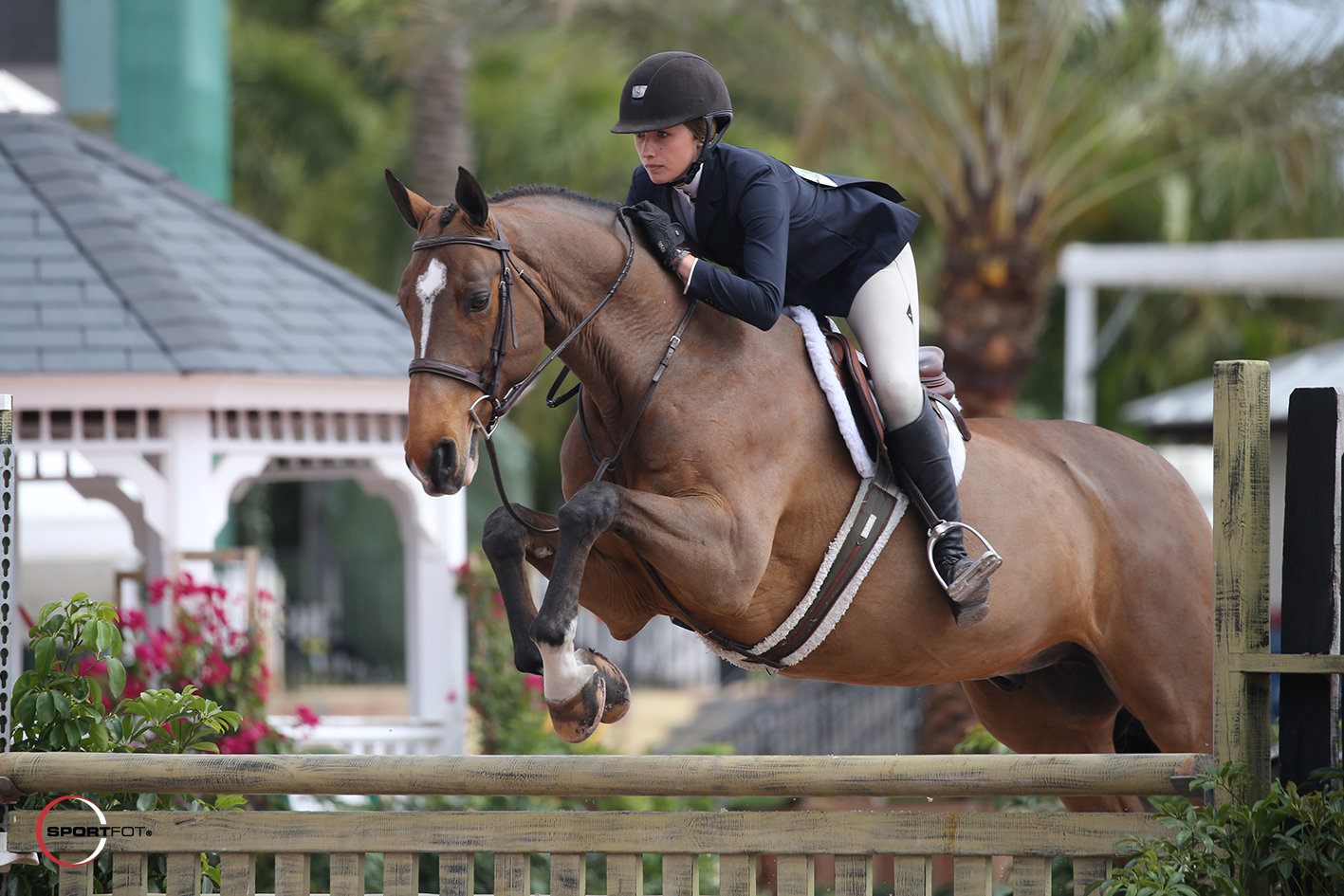 "O'Ryan is a total professional that has been consistently champion this entire season," Hill said. "He has shown three of the six weeks so far and was champion each week because he really just knows his job so well."
"I'm very much looking forward to the Hunter Spectacular with him; it is a little bit nerve-wracking because there are more people watching, but it's fun to be under the lights," she added. "I have all my trust in him and his experience, so I know he will be amazing and he can hold my hand a little bit throughout the night."
The final day of competition for the WCHR Hunter Week will kick off at the Palm Beach International Equestrian Center on Sunday, February 16, with the $5,000 Peggy Cone Memorial WCHR Adult Hunter Classic.