For Immediate Release
Jennifer Wood and Summer Grace for Jennifer Wood Media, Inc.
Wellington, FL – February 10, 2018 – Week 5 of the 12-week 2019 Winter Equestrian Festival (WEF) circuit concluded on Sunday, February 10, at the Palm Beach International Equestrian Center in Wellington, FL. Kristen Vanderveen (USA) and Bull Run's Prince of Peace were victorious in the $72,000 CaptiveOne Advisors 1.50m Classic, marking Vanderveen's fourth FEI victory in WEF 5. Catherine Tyree (USA) and BEC Lorenzo took the win in the $50,000 Rushy Marsh Farm Grand Prix CSI 2*.
WEF continues on Wednesday, February 13, through February 17 with week 6 competition featuring the $134,000 CabanaCoast Grand Prix CSI 3* in the Global International Arena at Equestrian Village on Friday, February 15, at 7 p.m. and the $100,000 USHJA/WCHR Peter Wetherill Palm Beach Hunter Spectacular on Saturday, February 16, at 6:30 p.m. as part of the "Saturday Night Lights" series.
Catherine Tyree and BEC Lorenzo Take the Win in $50,000 Rushy Marsh Farm Grand Prix CSI 2*
Out of the 45 entries in the $50,000 Rushy Marsh Farm Grand Prix CSI 2*, 11 went clear to contest the jump-off. As the final competitor to enter the jump-off, 25-year-old Catherine Tyree (USA) rode Mary Tyree's BEC Lorenzo to the top time of 40.05 seconds.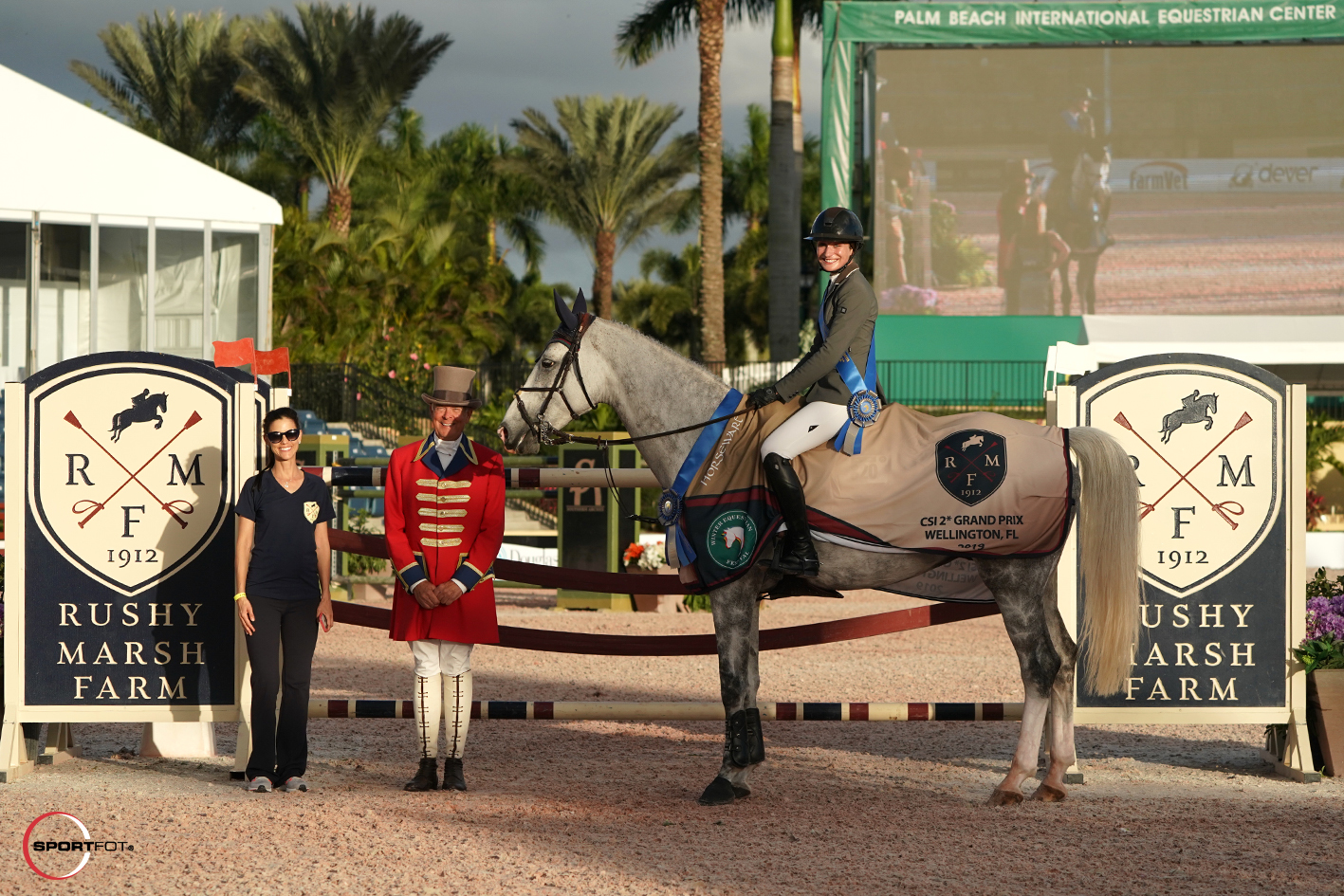 She was chasing a time of 40.24 seconds set by Lacey Gilbertson (USA) and Seabrook LLC's Baloppi, who would settle for second place. Third place went to Ali Wolff (USA) riding Double H Farm's HH Venice Beach, who were clear in 40.35 seconds.
"I saw Ali's jump-off," Tyree recalled. "I didn't get to see Lacey's, but she wins so much with that horse and she's very fast. I actually didn't quite like the jump-off for my horse. We have a little bit of a hard time turning, but he was really great with that today, and I was able to use that to my advantage one to two. I did seven strides there, and I think everybody else did eight. He was really game and answered all the questions that I asked."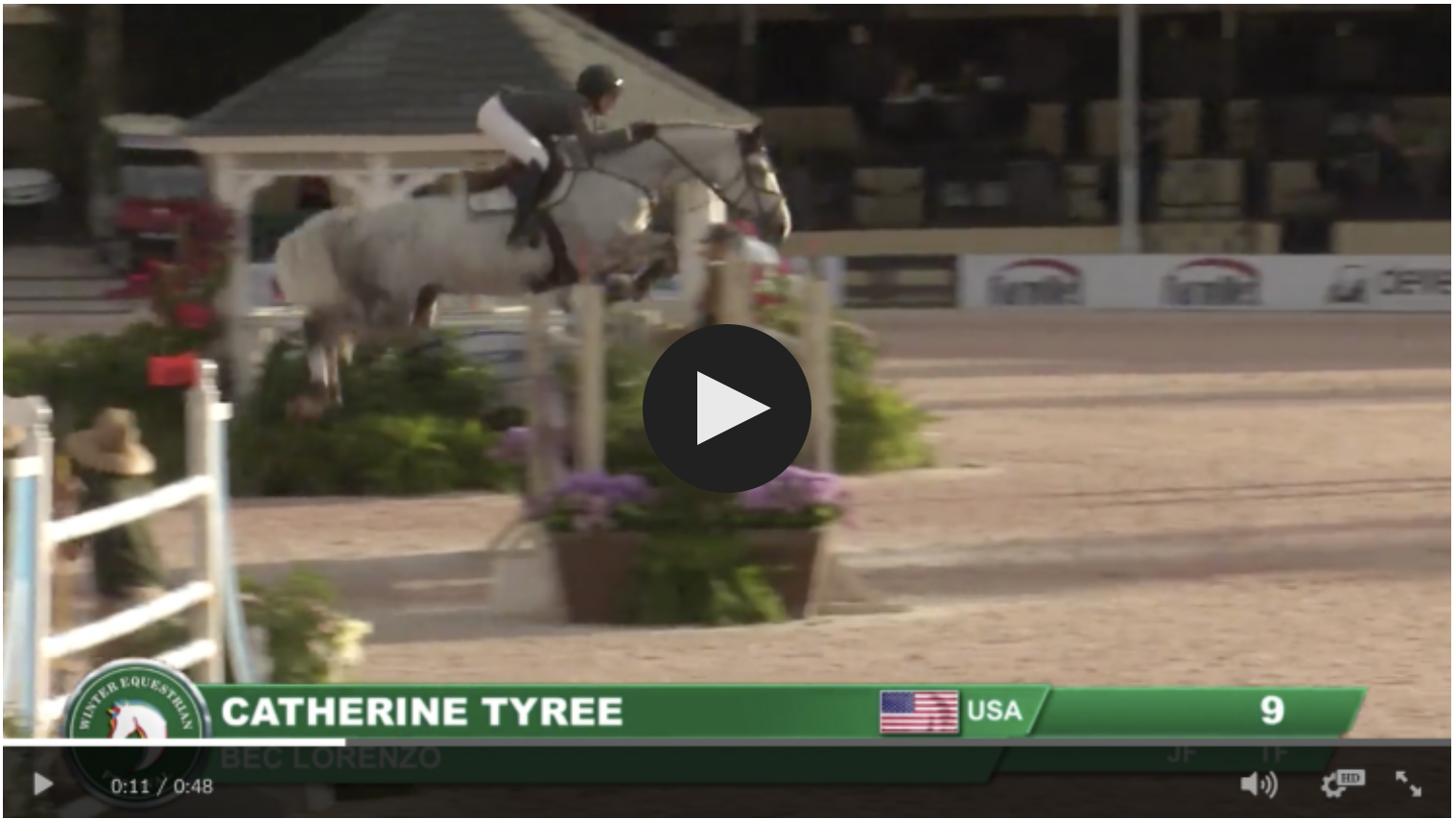 This was the first FEI-level grand prix for BEC Lorenzo, a nine-year-old Irish Sport Horse gelding by Livello x Guidam. Tyree is excited for his future and pleased with the progress they have made in the past year. "It's really gratifying to know that the hard work has paid off," she said. "We've all put a lot of effort into him, and I have to give a big thank you to John Brennan, Missy Clark, and his groom Ally Bradley."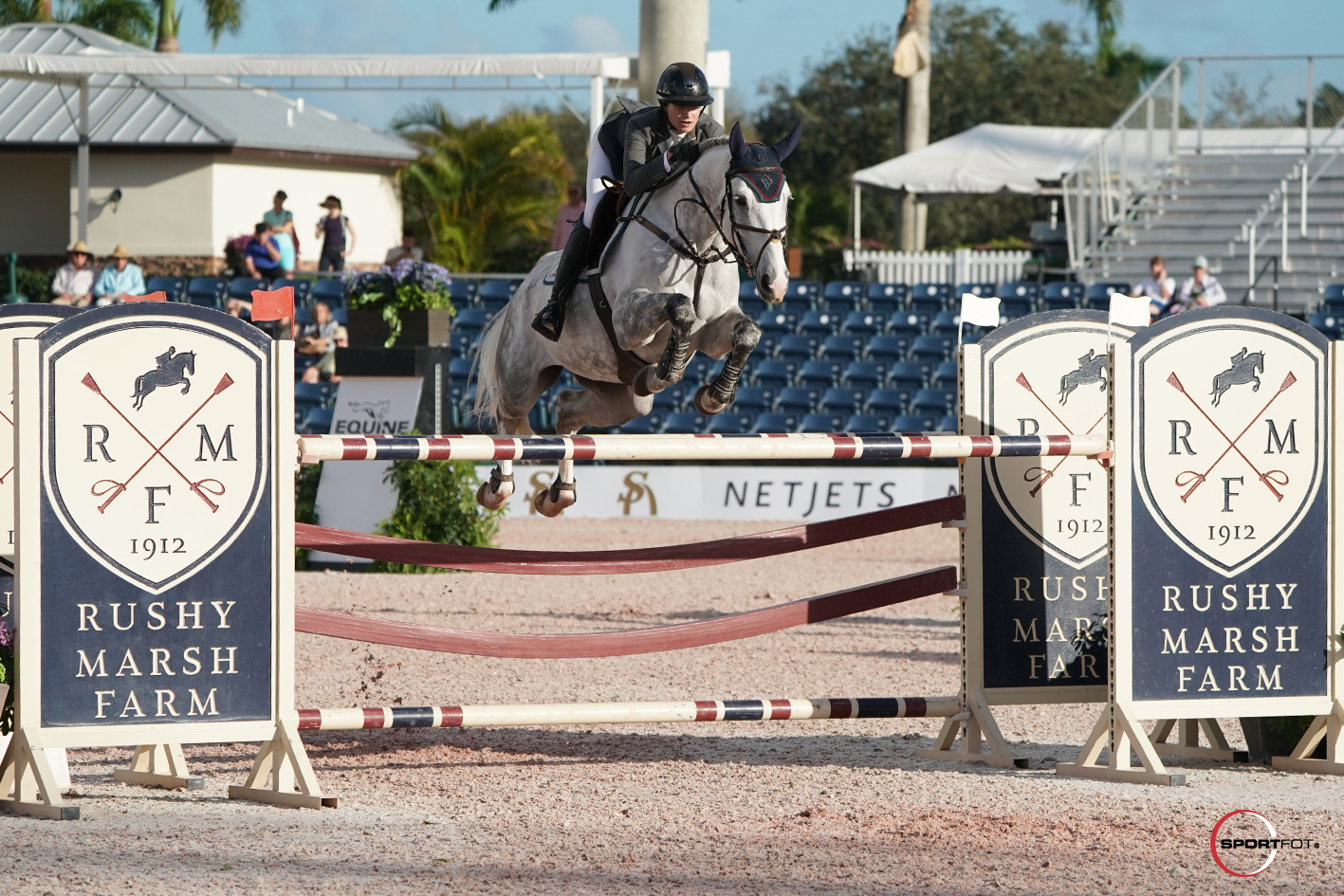 Fellow 25-year-old rider Gilbertson relied on her longstanding relationship with Baloppi, her 12-year-old Danish Warmblood mare. They had great success in the Hermès Under 25 Grand Prix Series in 2018, which Gilbertson believes helped prepare them both for bigger competition.
"I loved the Under 25 [Series]," she stated. "It's such a good transition between the highs and these bigger classes. It teaches you how to go fast and be competitive. I started jumpers a bit late when I was 19 so I never had all those years of running around in the [Low Jumpers]. It's nice to have that."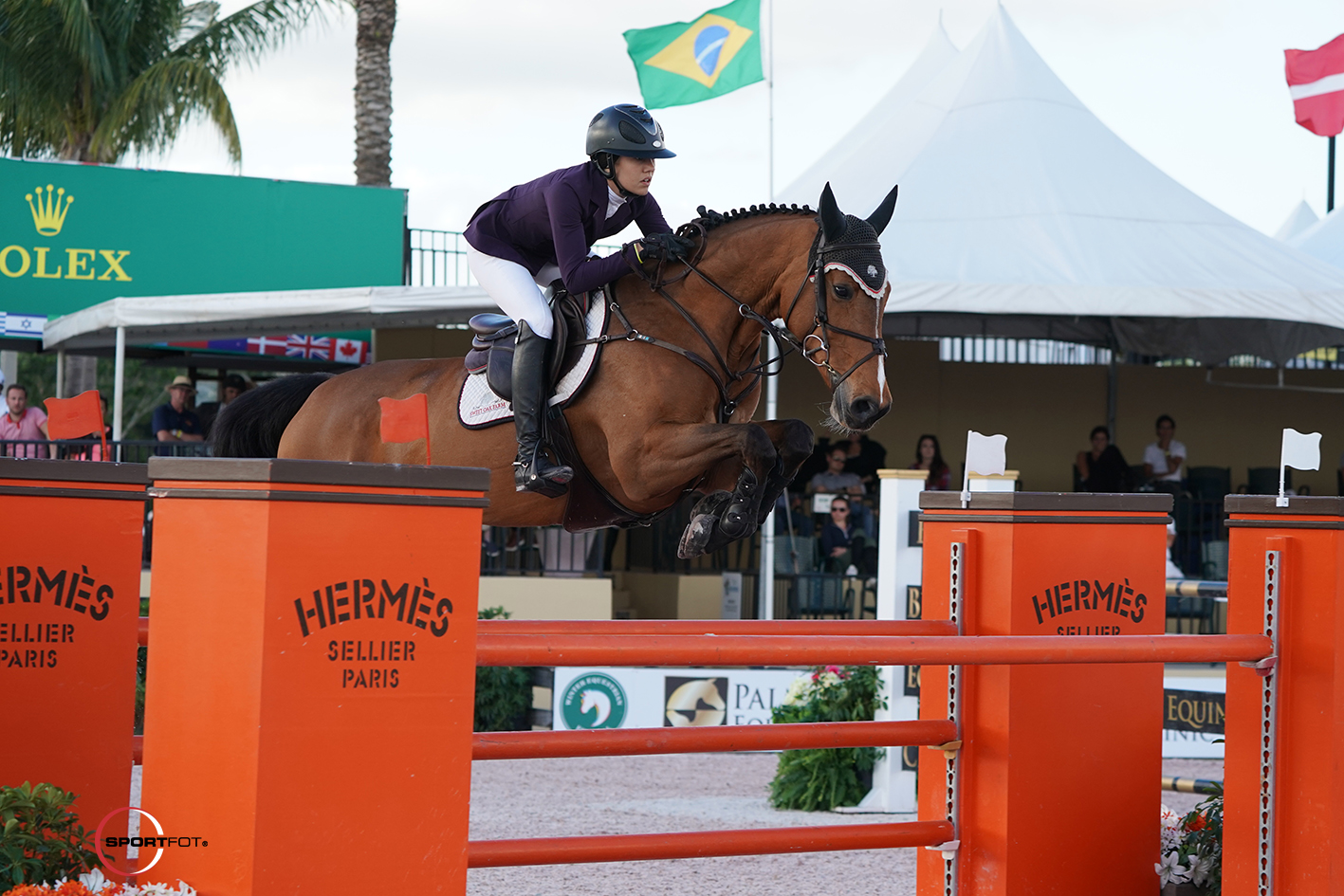 Gilbertson terms Baloppi as "magical" and continued, "She's amazing. She's so consistent; it doesn't matter what ring it is, whether it's a small indoor or a stadium or on the grass. Every single time she walks into the ring she is always game, she always tries her hardest, and she's very forgiving when I make a mistake."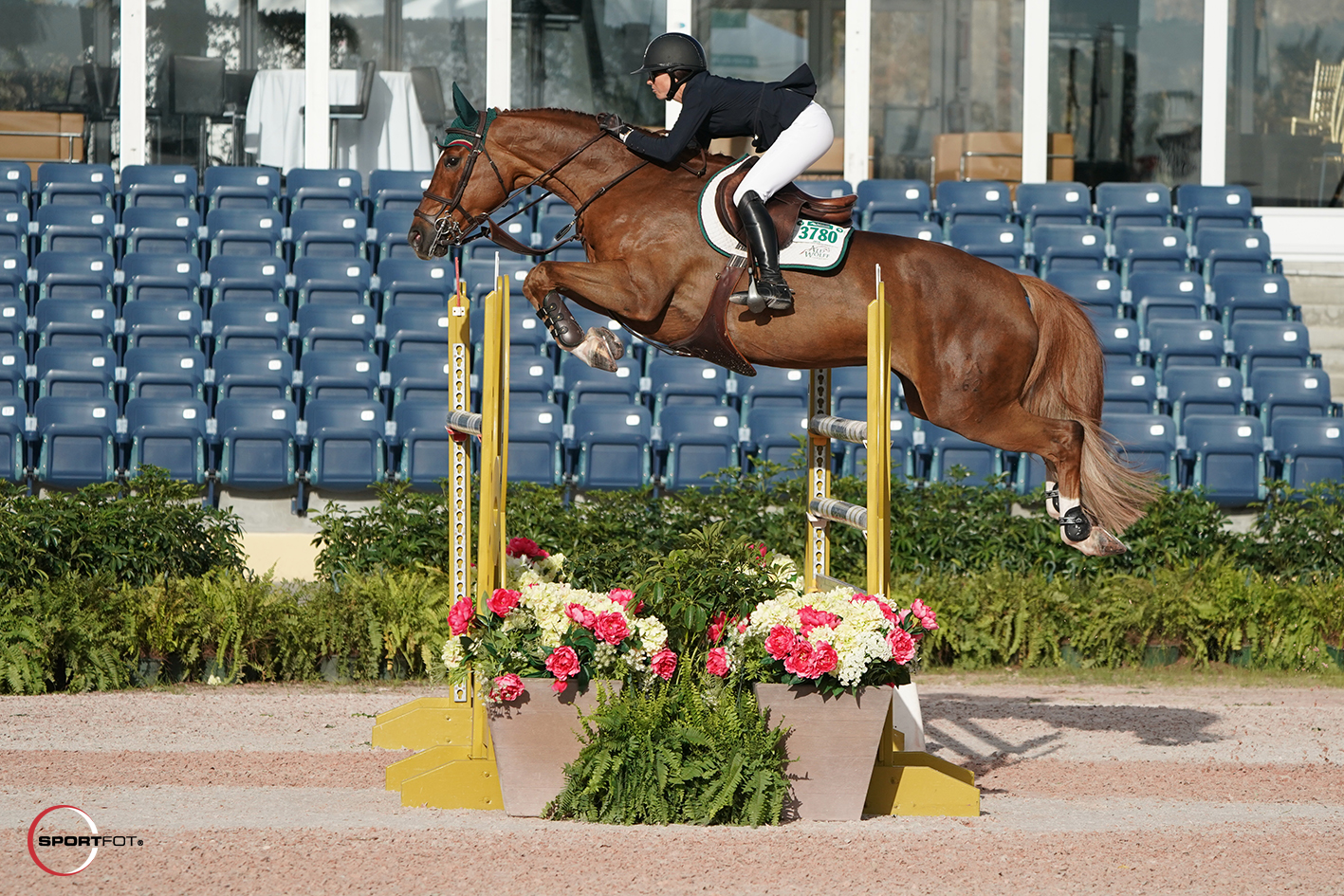 Wolff (29) just got the ride on HH Venice Beach in December 2018 when Double H Farm rider/trainer Quentin Judge asked her to take over the ride as the horse is for sale. "He thought it was more of a girl's ride," said Wolff. "She's like a wind-up toy. She loves her job and wants to win all the time. If I don't get in the way she most likely will. I pulled and that's probably why I was third instead of first. She has the biggest heart and such a great attitude."
Final Results: $50,000 Rushy Marsh Farm Grand Prix CSI 2*
1 BEC LORENZO: 2010 Irish Sport Horse gelding by Livello x Guidam
CATHERINE TYREE (USA), Mary Tyree: 0/0/40.05
2 BALOPPI: 2007 Danish Warmblood mare
LACEY GILBERTSON (USA), Seabrook LLC: 0/0/40.24
3 HH VENICE BEACH: 2009 Hanoverian mare by Voltaire x Escudo I
ALI WOLFF (USA), Double H Farm: 0/0/40.35
4 CALIFORNIA 19: 2009 Oldenburg gelding by Cornets Prinz x Grannus
RODRIGO PESSOA (BRA), Pessoa Stables LLC: 0/0/40.98
5 ALL IN: 2005 KWPN gelding by Aachen x Indoctro
KATHERINE STRAUSS (USA), Katherine Strauss LLC: 0/0/41.07
6 FAIR PLAY: 2010 KWPN gelding by Gaillard de la Pomme
AIDAN KILLEEN (IRL), Andrea Hippeau Vogel: 0/0/41.33
7 LUIS P: 2009 German Sport Horse gelding by Lord Pezi
CHLOE REID (USA), Live Oak Plantation LLC: 0/0/43.75
8 LE VIO: 2009 Hanoverian gelding by Van Gogh x Drosselklang II
PABLO BARRIOS (VEN), Gut Einhaus LLC: 0/4/40.65
9 EXTRA MINKUS: 2009 KWPN gelding by Carthino Z x Emilion
JOHN PEREZ (COL), John Perez: 0/4/41.67
10 ILUNA: 2008 BWP mare by Emerald van't Ruytershof x Darco
RAMIRO QUINTANA (ARG), Smith Hogan LLC: 0/4/43.26
11 VALENTINO D'ELTE: 2009 Selle Francais gelding by Castronom Z*de Hus x Windsor
VANESSA MANNIX (CAN), Vanessa Mannix: 0/8/44.64
12 CAPTAIN COOPER: 2007 KWPN gelding by Namelus R x Corland
HILARY MCNERNEY (USA), Hilary McNerney: 1/71.14
Vanderveen Bookends Week 5 FEI Wins with 1.50m Victory on Bull Run's Prince of Peace
There were 47 entries in the $72,000 CaptiveOne Advisors 1.50m Classic on Sunday morning, all attempting to have a clear round to advance to the jump-off. Only nine were able to find that clear path and returned to contest the shortened course designed by Kelvin Bywater of Great Britain.
Riding out of the fourth spot in the order, Vanderveen and Bull Run's Prince of Peace were able to speed around the jump-off clear in 39.42 seconds for the win. Second place went to Darragh Kenny (IRL) on Kerry Anne LLC's Important de Muze, who stopped the timers in 40.28 seconds. Shane Sweetnam (IRL) and Alejandro, owned by Sweet Oak, Spy Coast, Seabrook LLC, placed third in 40.58 seconds.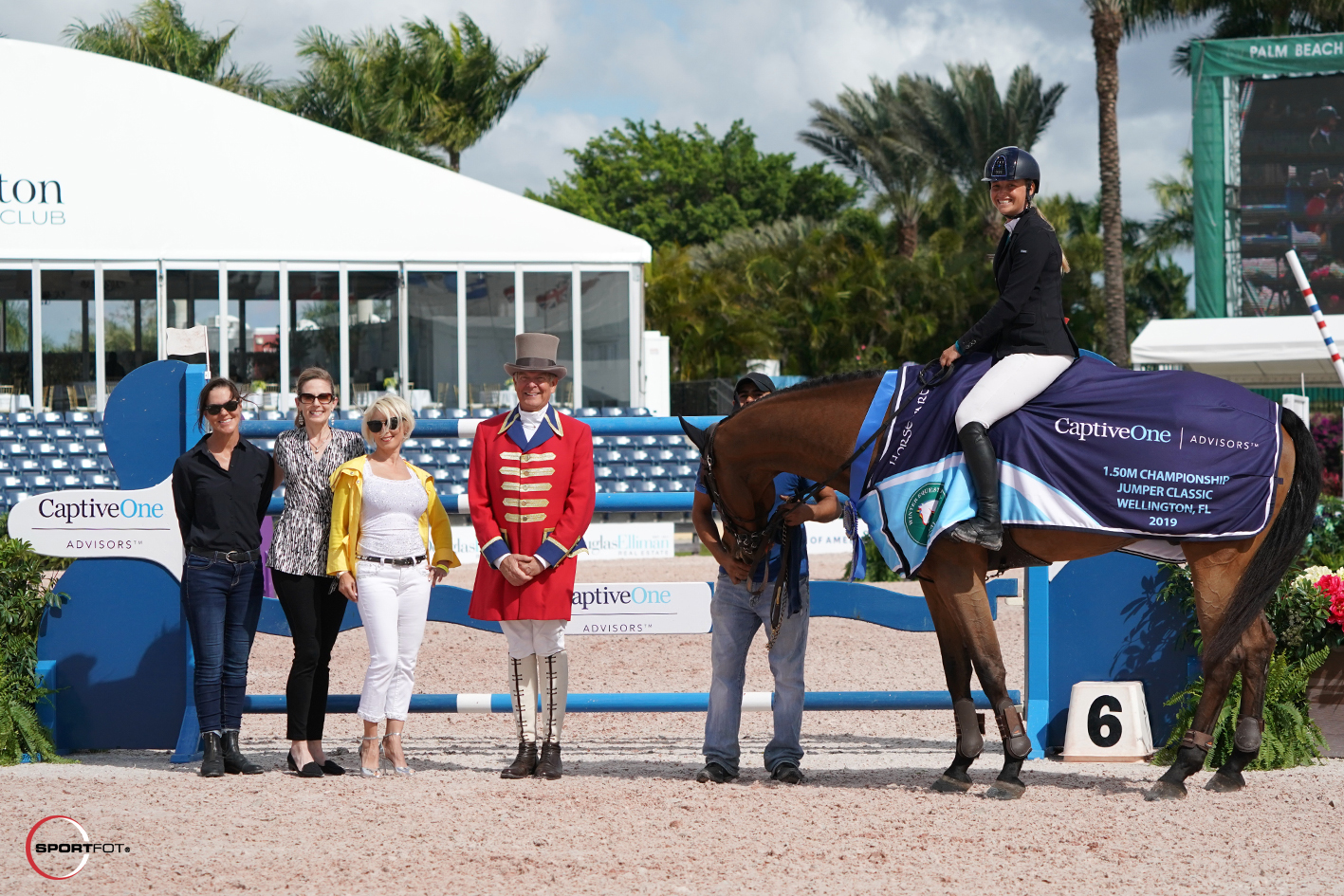 This was Vanderveen's fourth FEI class victory at WEF 5. She and Bull Run's Almighty won the Douglas Elliman Real Estate 1.45m on Wednesday and she picked up the win with Prince of Peace in the opening day 1.40m class. On Friday, she and Bull Run's Faustino de Tili won the Bainbridge 1.45m Classic.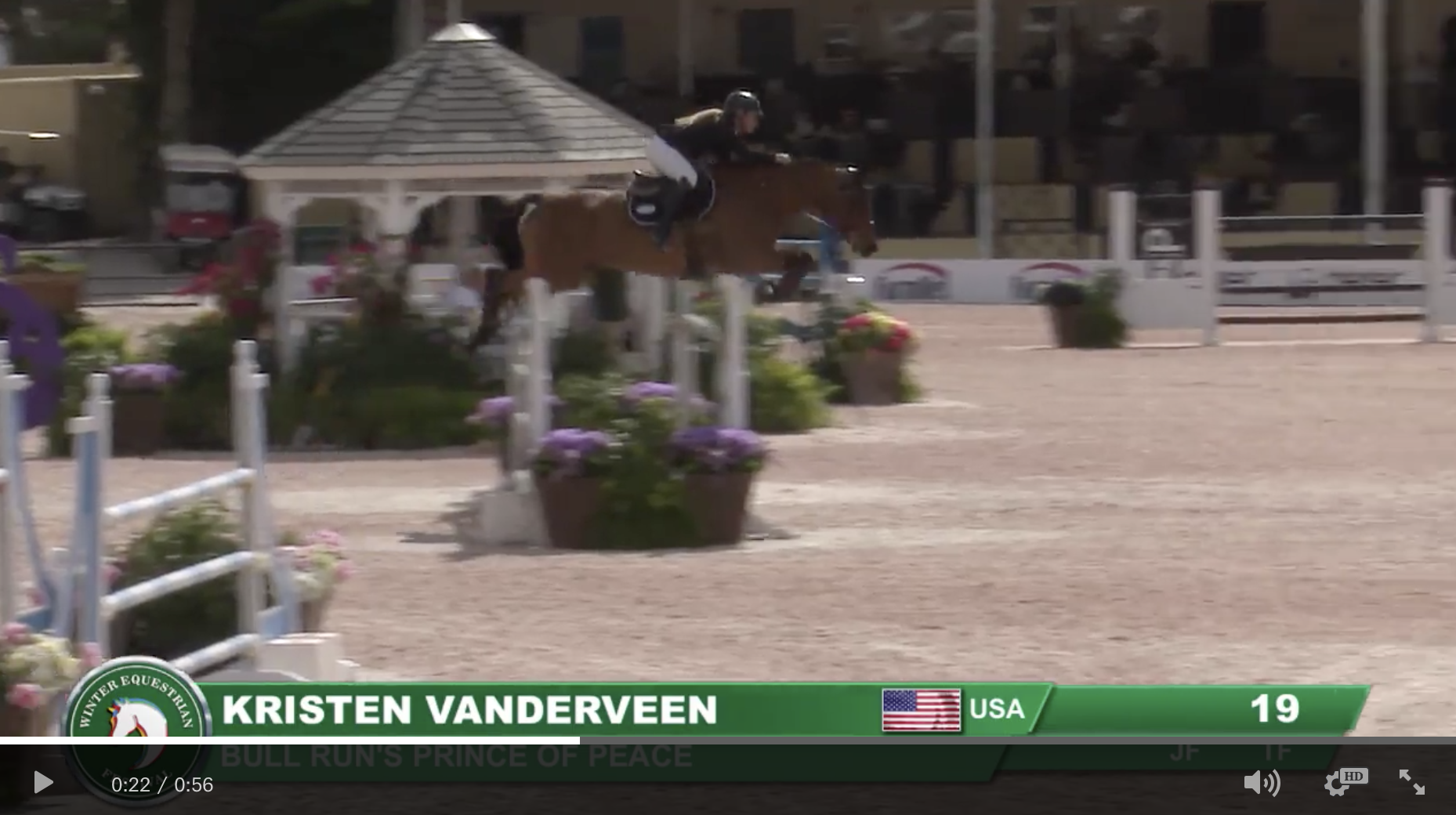 "I don't think I've had a week like this before," Vanderveen noted. "I'm trying to recall if I've ever won even two ranking classes in a week. It was nice to see all of the horses were peaking this week. It was great that the plan worked."
Vanderveen noted that Prince of Peace is a "naturally fast horse and very careful," which helped in this jump-off. She explained, "There were a lot of tight rollbacks to the verticals and [it was] quite a careful jump-off while being fast. I figured to push him a bit and see where we're at. In the turns, I was able to keep everything pretty tight. There weren't a lot of places to leave out strides. He's brilliant about staying careful off the jumps so I can kind of just keep kicking and he backs right off."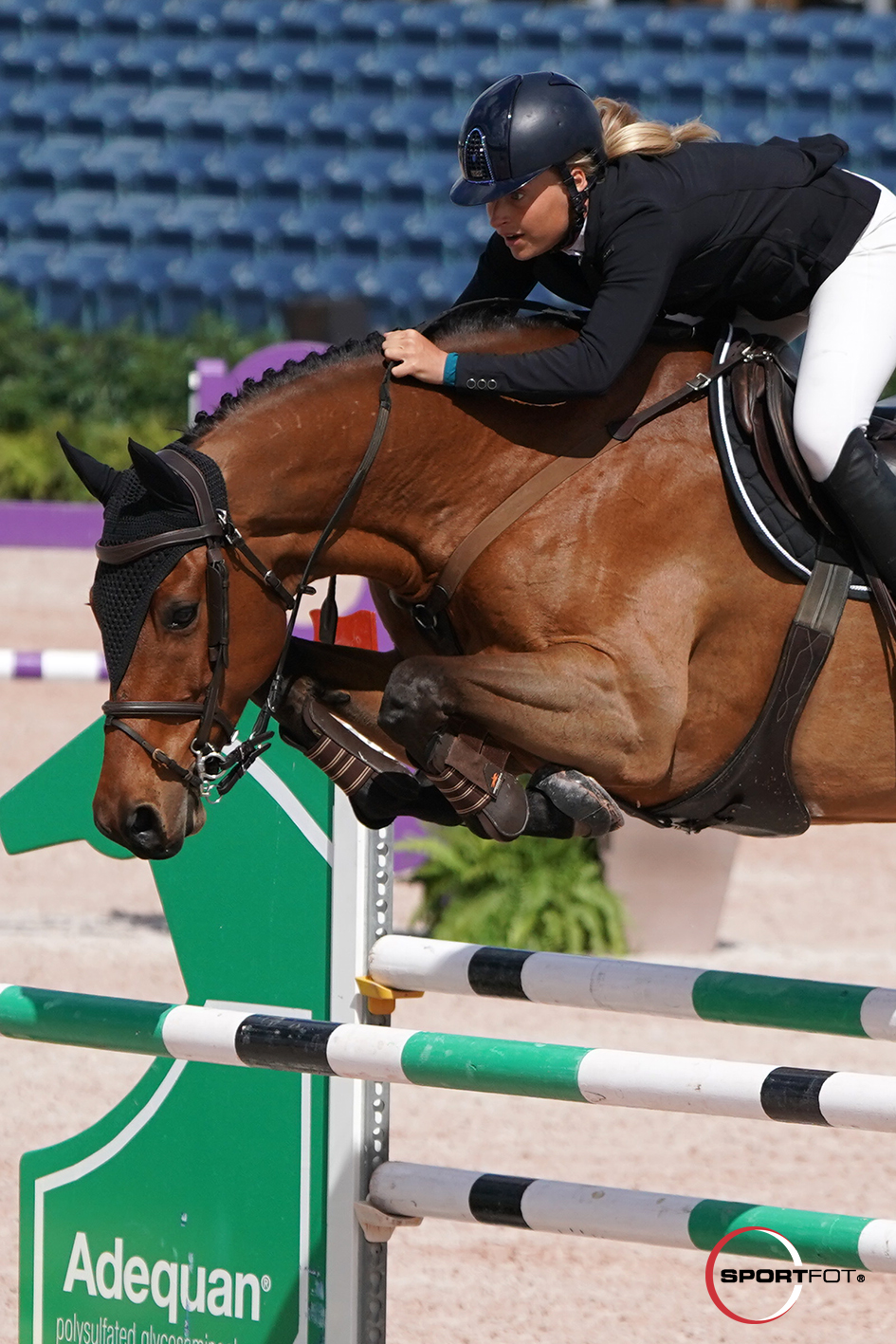 Bull Run's Prince of Peace, a 10-year-old Holsteiner gelding by Cardenio x Contender, is a horse in Vanderveen's string that she has been developing for two years.
"For sure this is the biggest track that I've done with him now," she said. "I was quite excited just to get to show him over some bigger jumps and see how he handled it. After the first round, it felt so comfortable to me, I was going to give it a go in the jump-off. I have high hopes that he'll turn into one of my big-time horses."
Final Results: $72,000 CaptiveOne Advisors 1.50m Classic CSI5*
1 BULL RUN'S PRINCE OF PEACE: 2009 Holsteiner gelding by Cardenio x Contender
KRISTEN VANDERVEEN (USA), Bull Run Jumpers Six LLC: 0/0/39.42
2 IMPORTANT DE MUZE: 2008 BWP gelding by Erco van't Roosakker x Nabab de Reve
DARRAGH KENNY (IRL), Kerry Anne LLC: 0/0/40.28
3 ALEJANDRO: 2009 Rheinländer gelding by Acorado's Ass x Contanga
SHANE SWEETNAM (IRL), Seabrook, SpyCoast Farm and Sweet Oak Farm: 0/0/40.58
4 SX HIDALGO VG: 2007 Belgian Warmblood gelding by Quadrillo x Andiamo
LORENZO DE LUCA (ITA), Stephex Stables: 0/0/40.84
5 CARLITO'S WAY 6: 2010 Holsteiner gelding by Casall x Lordanos
MARKUS BEERBAUM (GER), Michaels and Beerbaum GmbH: 0/0/42.11
6 KOSS VAN HEISTE: 2009 Belgian Warmblood gelding by Breemeersen adorado x Contact vd heffinck
CONOR SWAIL (IRL), Eadaoin Collins: 0/0/43.24
7 COLESTINA H: 2010 German Sport Horse mare by Colestus x Cardenio 2
DANIEL BLUMAN (ISR), Blue Star Investments and Kim Douglas: 0/0/51.07
8 CRISTO: 2007 Oldenburg gelding by Cristo x Stakkato
MARTIN FUCHS (SUI), Jacques Bodenmuller: 0/8/44.59
9 CESSNA 24: 2009 Hanoverian mare by Contagio x Elba GEORGINA BLOOMBERG (USA), Gotham Enterprizes, LLC: 0/8/47.26
10 SO WHAT HP Z: 2010 Zangersheide mare by Sandro Boy
LUIZ FRANCISCO DE AZEVEDO (BRA), Santa Cecilia Stables: 1/80.28
11 H5 JUST THE MUSIC: 2009 BWP gelding by Tornedo FCS x Quidam de Revel
CARLOS HANK GUERREIRO (MEX), H5 Stables: 4/76.27
12 DORYANE HDH: 2008 KWPN mare by Vleut x Indoctro
PETRONELLA ANDERSSON (SWE), Stephex Stables: 4/76.50
Google It and Hannah Lloyd Victorious in Week 5 Children's Hunter Older Division
The Children's Hunter Older division kicked off competition on the final day of week 5 at WEF in the FarmVet Ring 7 as 16 combinations contested for the champion ribbon. With a two-point lead over the division's reserve champion, Hanna Lloyd and Google It produced 22.5 points across the division to earn the champion title.
Lloyd teamed up with James Lala and Virginia Confer's seven-year-old Dutch Warmblood gelding for the first time this weekend under the tutelage of trainer Jeff Di Carlo. With two first places and a fourth over fences and a sixth under saddle, they brought home the championship ribbon.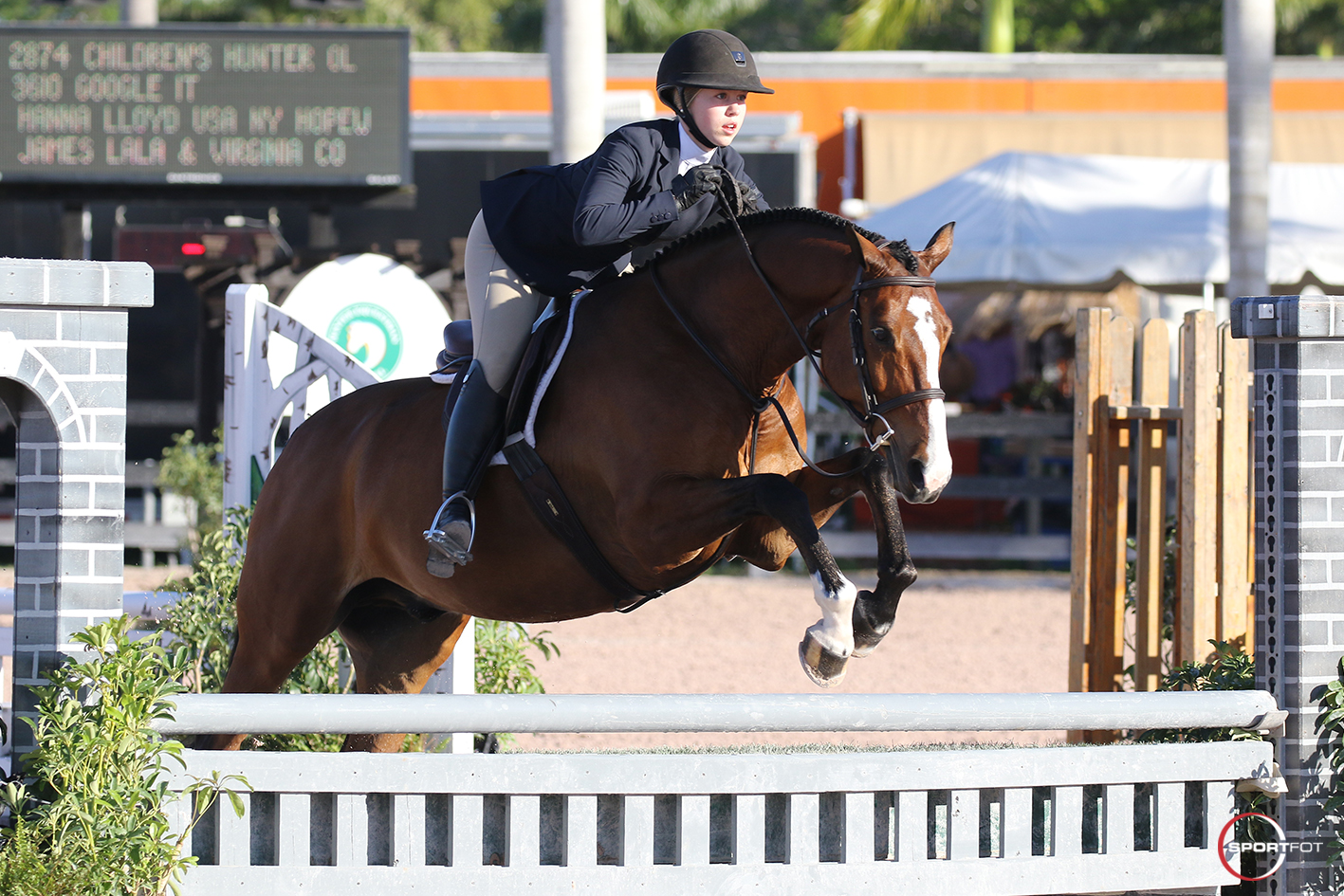 The division win was extra special for Lloyd as this was her first weekend showing at WEF this season and the gelding is entirely new for her. "I've only ridden him four times total," she explained, "I was supposed to show him two weeks ago, but it was cancelled due to weather. This is the first weekend I have been able to come down and ride him since then."
As a full-time student in Hopewell Junction, NY, Lloyd is only able to travel down for the circuit on weekends. She keeps her junior hunter horse, Belle-Aire, stabled up north for the winter so that she is able to ride during the week and weekends that she is not able to come to Wellington.
"My goal is to come down as often as I can to show, and to do the best I can while I am here. This weekend was an incredible start that I didn't expect, but this horse is so wonderful," Lloyd said. "I really love being here and the energy of this show; everyone here has the same purpose because they want to be here and perform well."
Lilah Bass of Magnolia, TX secured the reserve champion ribbon aboard Natalie Bass's 11-year-old Trakehner gelding (Donaudeen x Tivoli), Zeppelin. The pair completed the division on a total of 20.5 points with a first, second, third, and sixth place.
Competition will return to the Palm Beach International Equestrian Center on Wednesday, February 13, for Week 6, also known as WCHR Hunter Week. Top hunter horses and riders will take the spotlight as those competitors will have a chance to perform in the International Arena in preparation for Saturday evening's $100,000 USHJA/WCHR Peter Wetherill Palm Beach Hunter Spectacular.