For Immediate Release
Summer Grace, Emily Riden, and Jennifer Wood for Jennifer Wood Media, Inc.
Wellington, FL – March 2, 2019 – In the 18-year history of the Nations Cup at the Winter Equestrian Festival (WEF), there had only been one jump-off to determine the gold medal. On Saturday, March 2, 2019, another jump-off took place and garnered the United States of America their seventh victory in the history of the class. The team, consisting of Wilton Porter, Beezie Madden, Adrienne Sternlicht, McLain Ward, and Chef d'Equipe Robert Ridland, took the gold medal in the $150,000 Nations Cup CSIO4*, one of the highlight events of week 8 of WEF.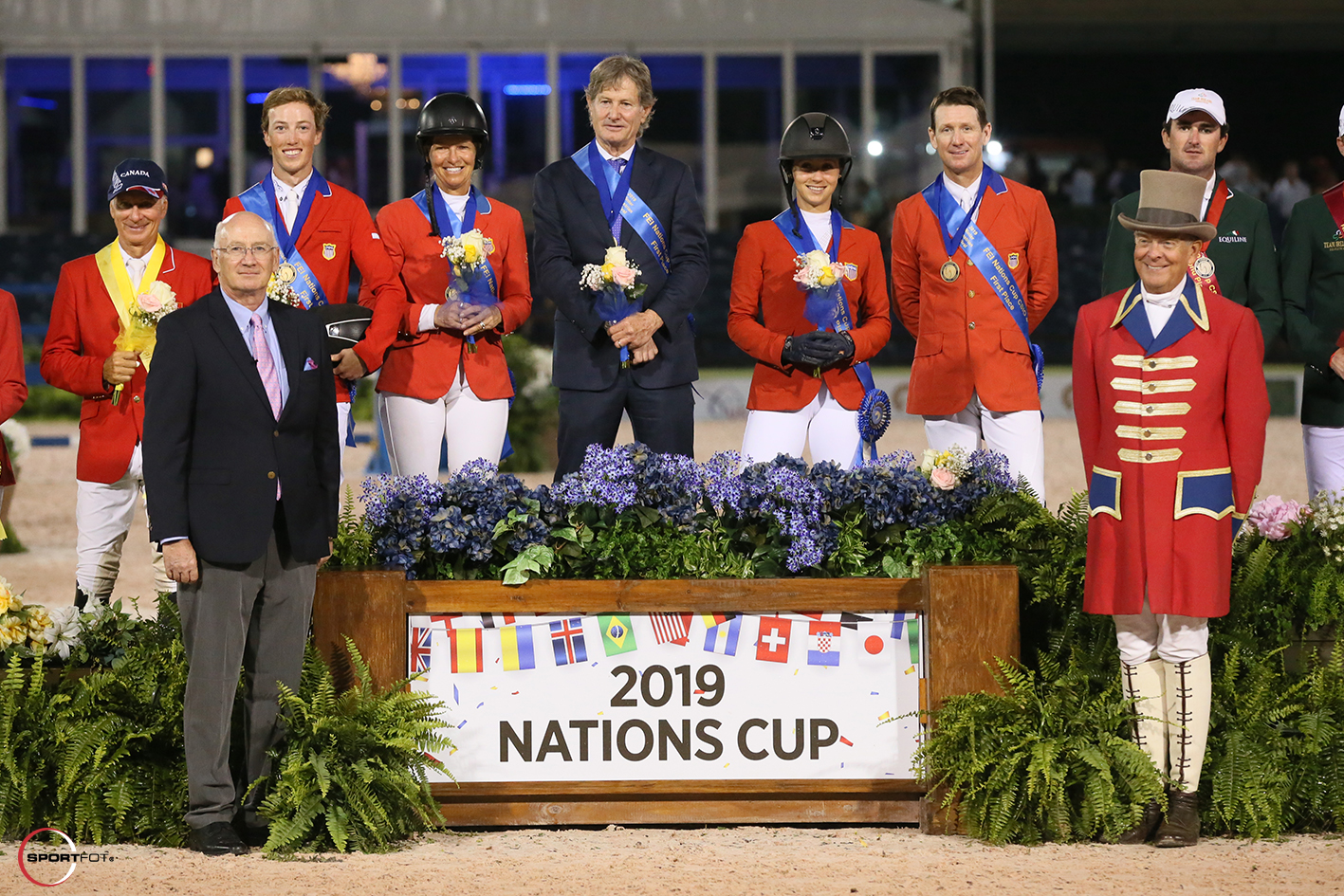 The eighth week of competition at WEF concludes on Sunday, March 3, with the $209,000 CSIO4* Grand Prix, presented by Lugano Diamonds at 1 p.m. WEF hosts hunter, jumper, and equitation competition until March 31 and offers more than $9 million in prize money.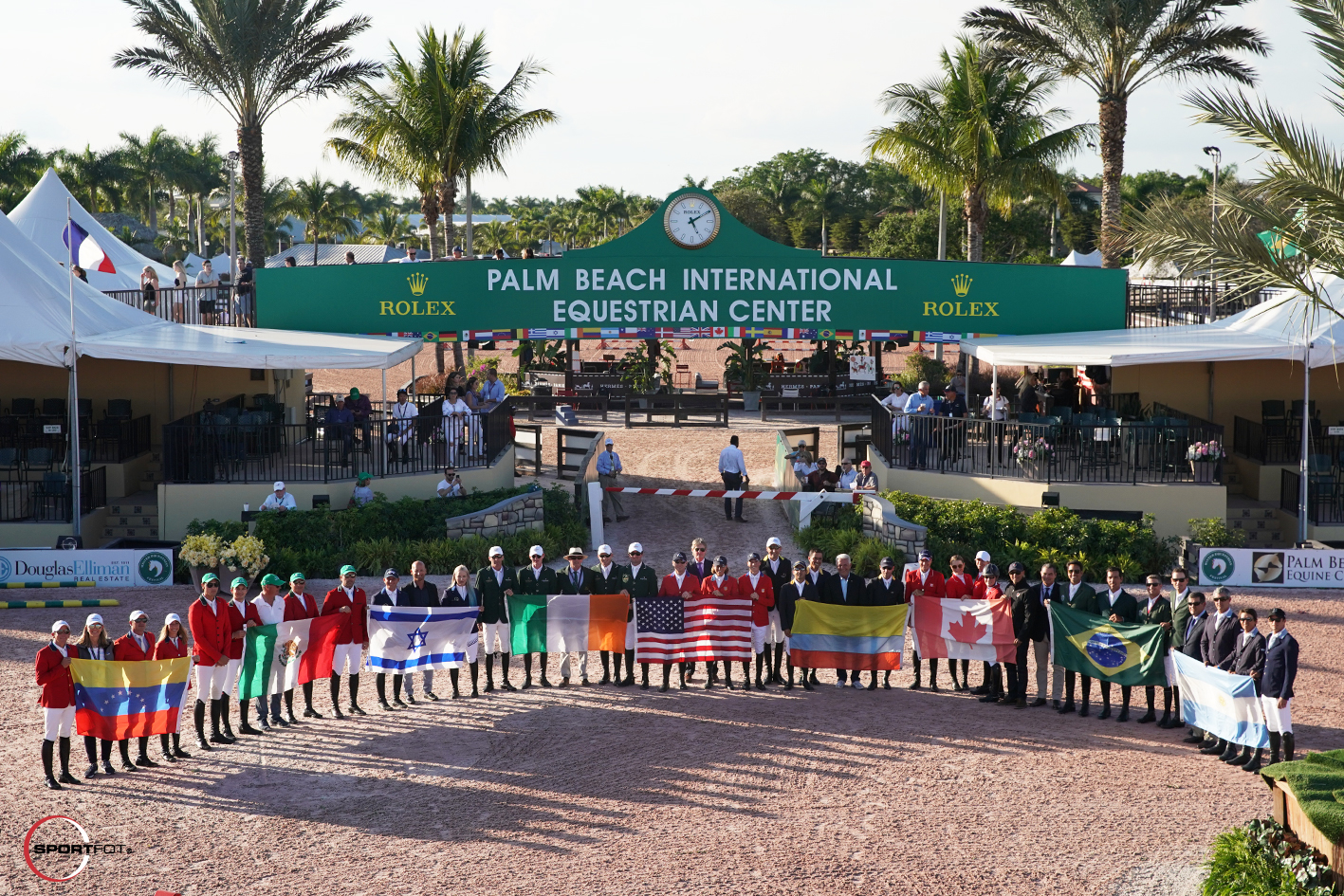 Saturday's Nations Cup consisted of two rounds over a course set by Steve Stephens and Nick Granat (USA). Teams of four represented the nations of Argentina (the exception, which had three riders), Brazil, Canada, Colombia, Israel, Ireland, Mexico, the United States, and Venezuela. After the first round, each team dropped their highest score. In the second round, the top six teams returned in order of highest to lowest total faults. The winner was determined by the lowest total of each team's top three riders from each round.
The six teams that returned for the second round in order from most faults to least were Mexico, Colombia, Israel, Ireland, Canada, and USA.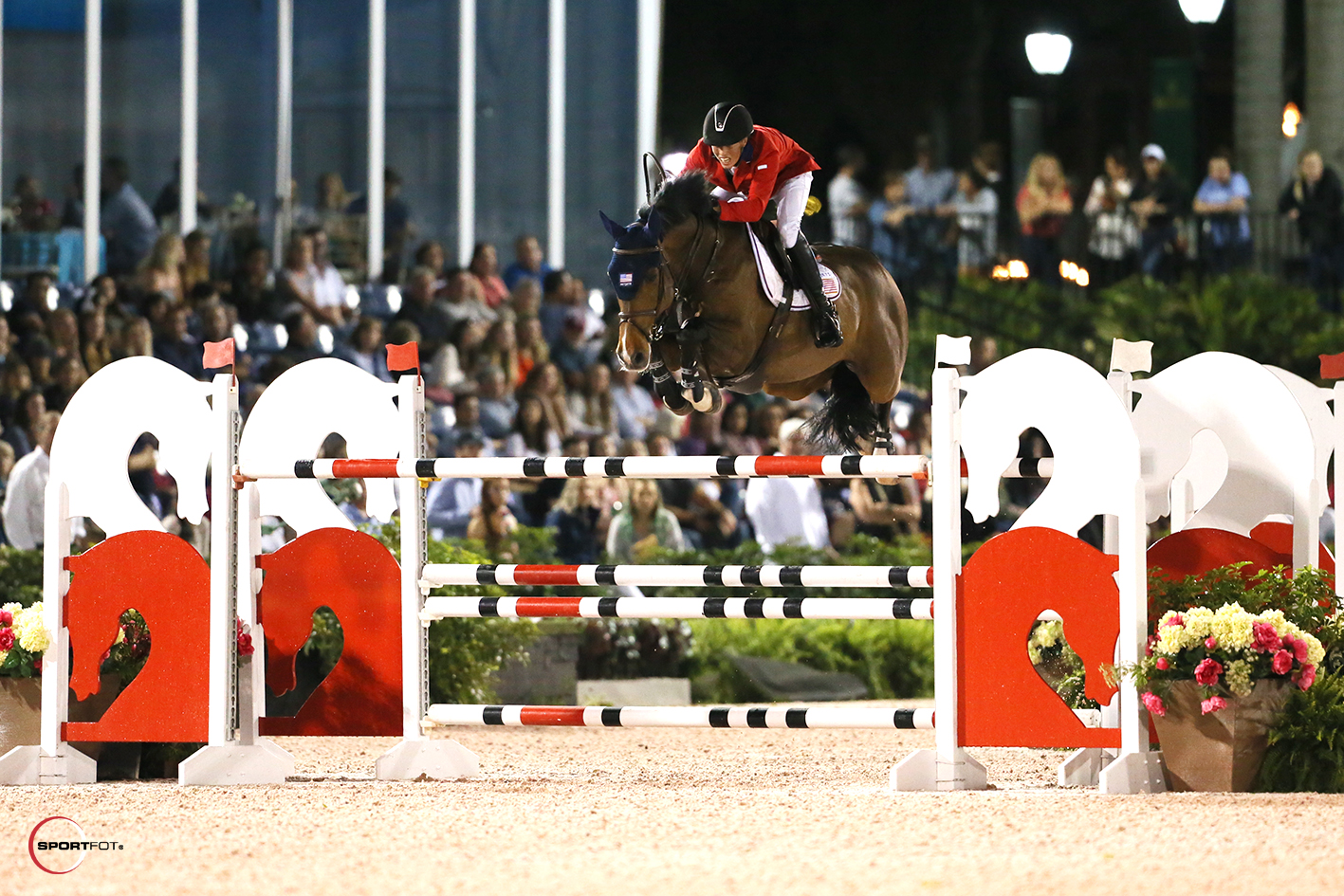 The winning nation was represented by Porter on Caletto Cabana, owned by Sleepy P Ranch LLC, Madden on Abigail Wexner's Chic Hin D Hyrencourt, Sternlicht riding Toulago for Starlight Farms 1 LLC, and Ward on the Beechwood Stables LLC-owned mount, Contagious.
The U.S. team led in the first round with a four-fault total, but they were tied with Canada and Ireland. Ward and Contagious were the pathfinders, putting in a clear in the first round but dropping the back rail at the final oxer in the second round.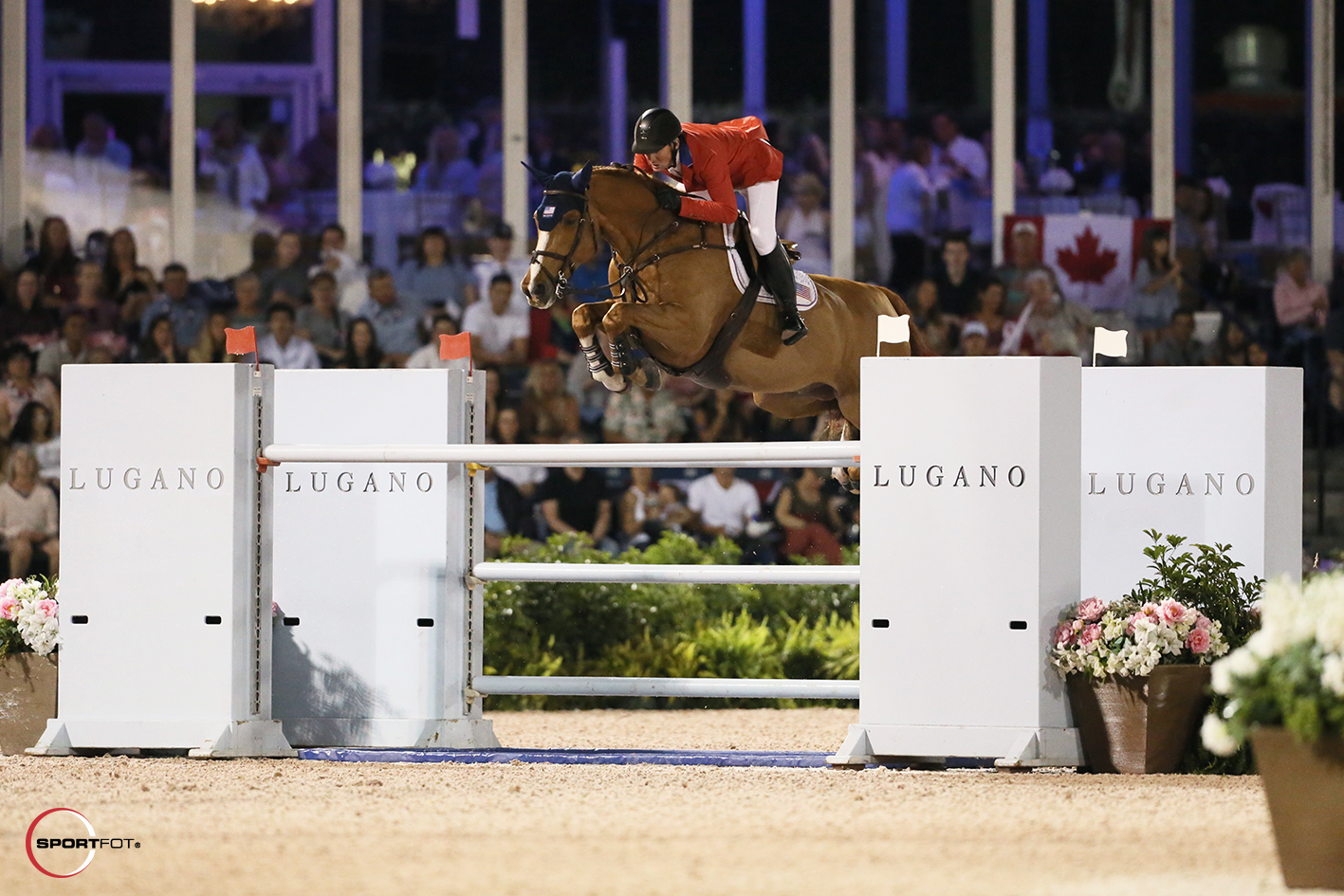 "My horse was a little nervous and needed a little bit of hand-holding," said Ward. "I thought he jumped a much better round in the second round, and I think I thought it was done and just took it a bit for granted. He's not really gone two rounds like that before in one evening."
Porter, riding in his first senior Nations Cup competition, piloted Caletto Cabana, a 12-year-old Holsteiner gelding by Cassini I, to double clear rounds.
"I'm very excited to say the least," said Porter. "I'm honored to have been able to ride with three riders who have gold medals in senior championships. That's a pretty big honor for me, so I definitely felt like the rookie coming into it, but I have a great horse and he gave me a lot of confidence to get the job done tonight."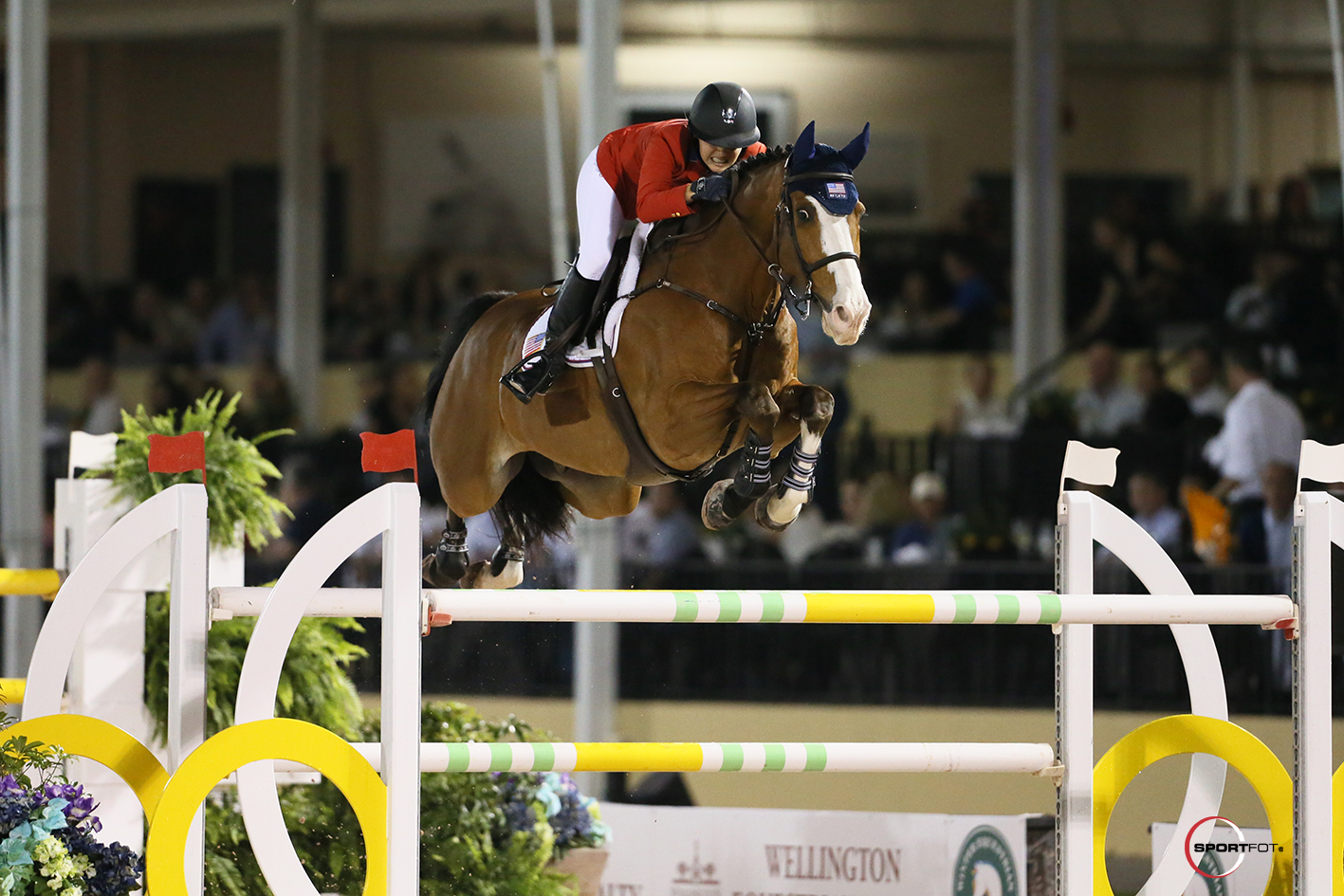 Sternlicht and Toulago had nine faults in the opening round and contributed four faults in the second. "I heavily relied on my teammates tonight for our win so I'm very grateful to them," said Sternlicht. "My horse is kind of a steady eddy. He's so reliable. I always know what I'm going to get from him. That being said he was unexpectedly spooky at the water tonight. It's definitely something I have to address, but again I was really happy with my horse and the way he jumped the rest of the course. I'm grateful for my teammates putting in super performances."
As the anchor, Madden and her mount had four faults in the first round and clinched the all-important clear in the second round to take the U.S. into a jump-off with Ireland as both teams ended the two rounds with eight total faults.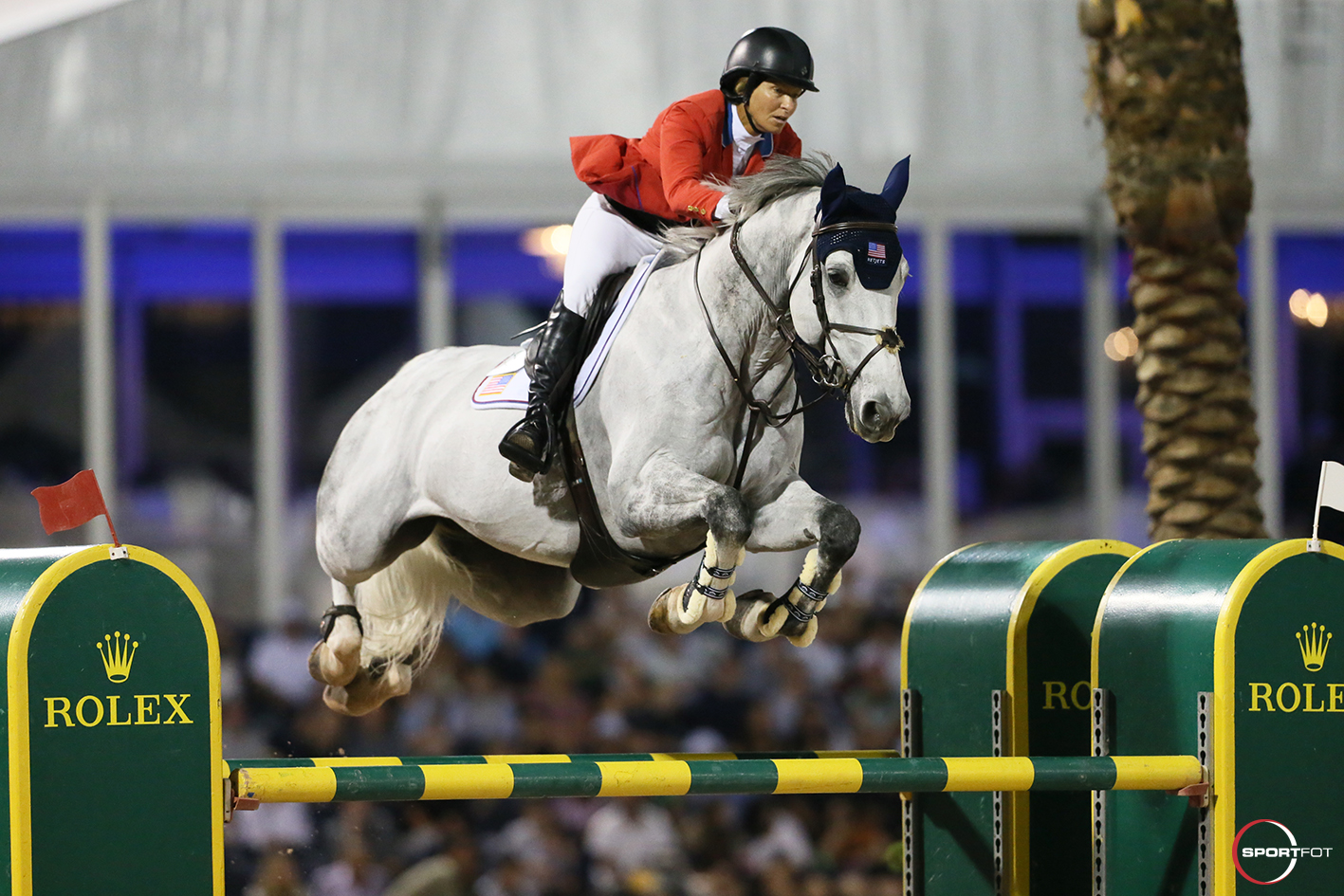 "I was hoping for a double clear," said Madden. "He was a little wound up with the atmosphere tonight for the first round and didn't have the best warm-up. I felt like he was intense the first round, and I just tried to keep it more relaxed the second round; there were less horses out there warming up for the second round. I think he went the way he typically goes for that round."
In the jump-off, Daniel Coyle and Ariel Grange's Farona showed fatigue and ended up with 12 faults in 41.80 seconds. Ward and Contagious were able to cruise around clear in 43.69 seconds to secure victory.
"When Robert said there was a jump-off, I actually jumped at the opportunity because I felt he was jumping better each round," said Ward. " [The jump-off] was not such a hard job. But I thought it was nice the horse jumped his best round in the third round. I'm excited for all of his owners, and he's got a great future."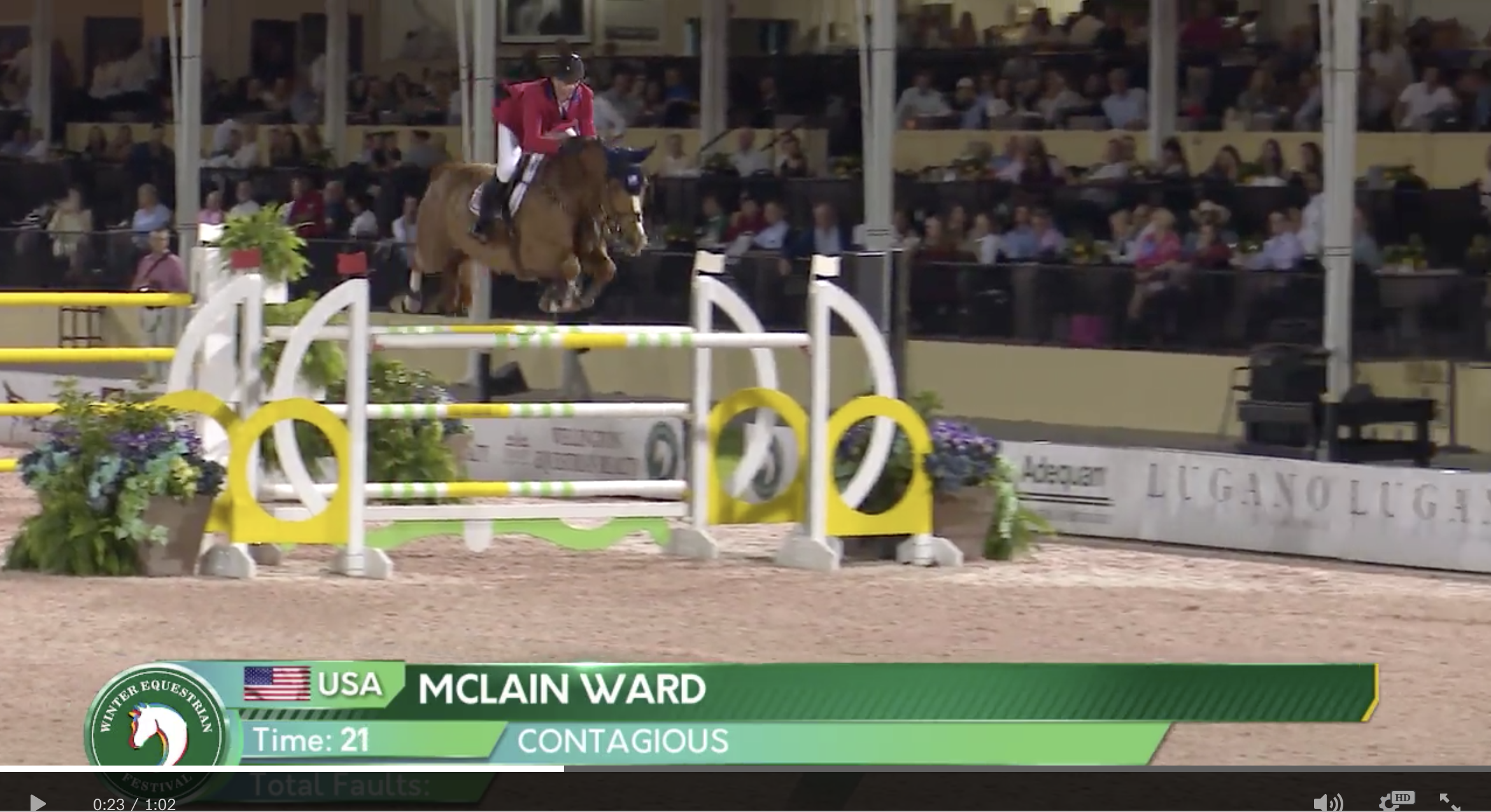 Click to watch McLain's winning jump-off ride!
"This is what we were planning!" said Ridland. "It was a good day."
Ireland finished second with a team of four riders competing on horses that had never been in a Nations Cup competition before. Coyle, along with Lorcan Gallagher and Dacantos Group's Hunters Conlypso II, were double clear. Shane Sweetnam and Spy Coast Farm LLC's Kirschwasser SCF had four and eight faults, and Paul O'Shea riding Tequestrian Farms LLC's Imerald Van't Voorhof contributed four faults in both rounds.
Gallagher, who was competing in only his second senior Nations Cup, stated, "It's a bittersweet night, but I'm very happy and proud with my own horse tonight and the American team was very competitive. We were all on horses that were competing in a Nations Cup for the first time. Obviously we are disappointed we didn't get the win when we were that close. Each round, a couple of rails fell that maybe wouldn't have another day, but it's great to have this competition here for us and to see what the horses are capable of. [We are] building towards qualifying for Barcelona and for the European Championships to qualify for the Olympics. We still haven't done that, so that is the main goal."
Third place went to Canada on 13 total faults, led by the double-clear effort from Nations Cup rookie Nikki Walker riding her own Falco van Spieveld. Beth Underhill and Sandy Lupton's Count Me In had zero and four faults, Amy Millar and AMMO Investments's Heros tallied 12 and five faults, and anchor Mario Deslauriers rode Amsterdam 27, owned by Wishing Well Farm LLC, to four and eight faults.
"I thought he was very good in the first round but even better in the second round," said Walker. "He's such a reliable horse. I had a lot of fun with him tonight. It was very enjoyable."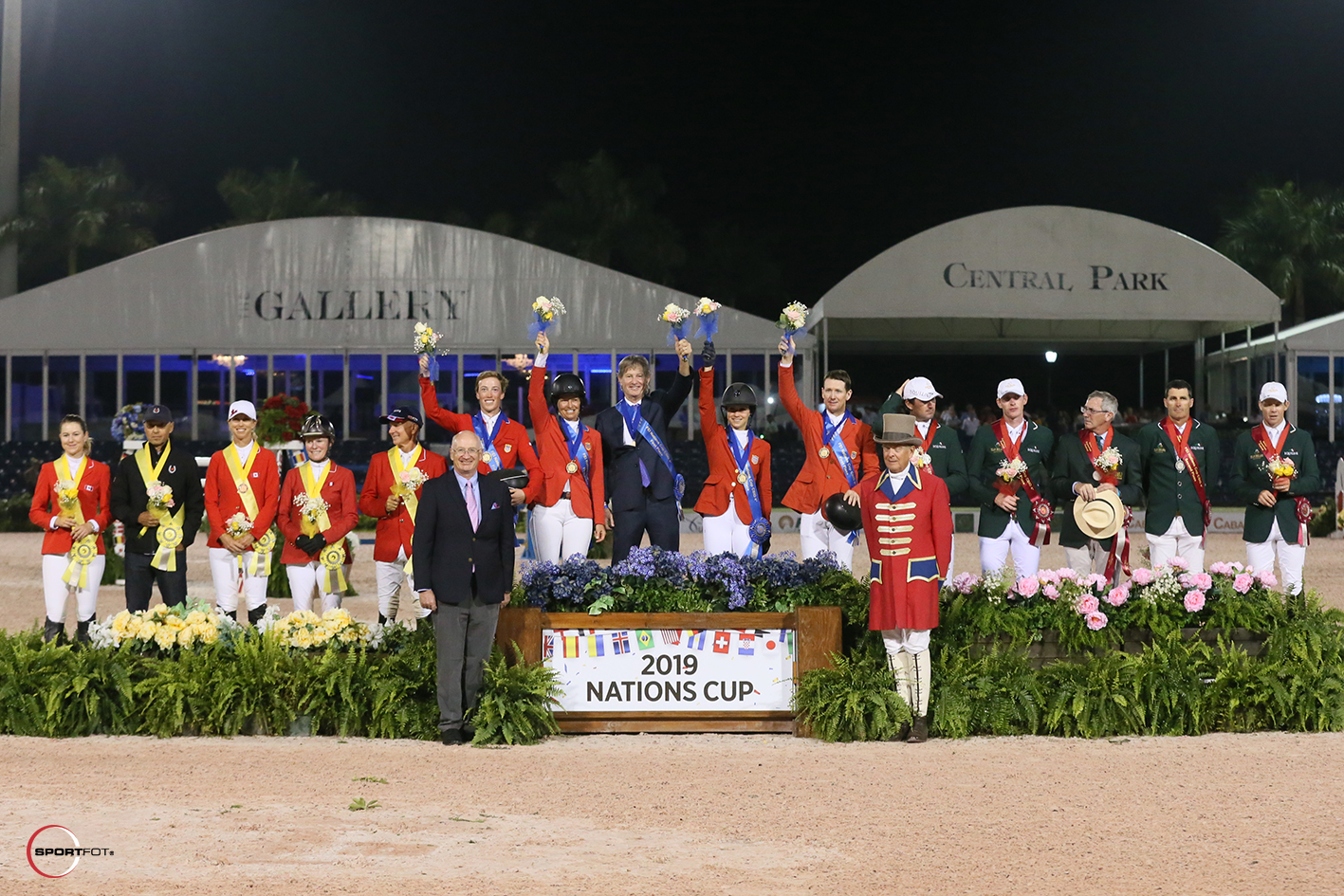 CLICK HERE to view the final results from the $150,000 Nations Cup CSIO4*.
Martin Fuchs and Faberlys Find Victory in $50,000 CaptiveOne Advisors 1.50m Grand Prix
Switzerland's Martin Fuchs and his mount, Faberlys, owned by SPCS, topped a 39-horse field to win the $50,000 CaptiveOne Advisors 1.50m Grand Prix on Saturday afternoon in the International Ring.
Of those 39 entries, six navigated the first round, Steve Stephens and Nick Granat-designed track without fault to advance to the jump-off, where Fuchs had what he considered the advantage of returning second to last. With the time to beat set at 44.14 seconds by Canada's Tiffany Foster and Caipiranja, owned by Artisan Farms, LLC, Fuchs elected to go for it, shaving nearly two seconds off of Foster's time to finish in 42.22 seconds for the win. Foster's time held up for second place, while third place with a time of 44.77 seconds went to David Blake of Ireland riding Keoki for owner Pine Hollow Farm.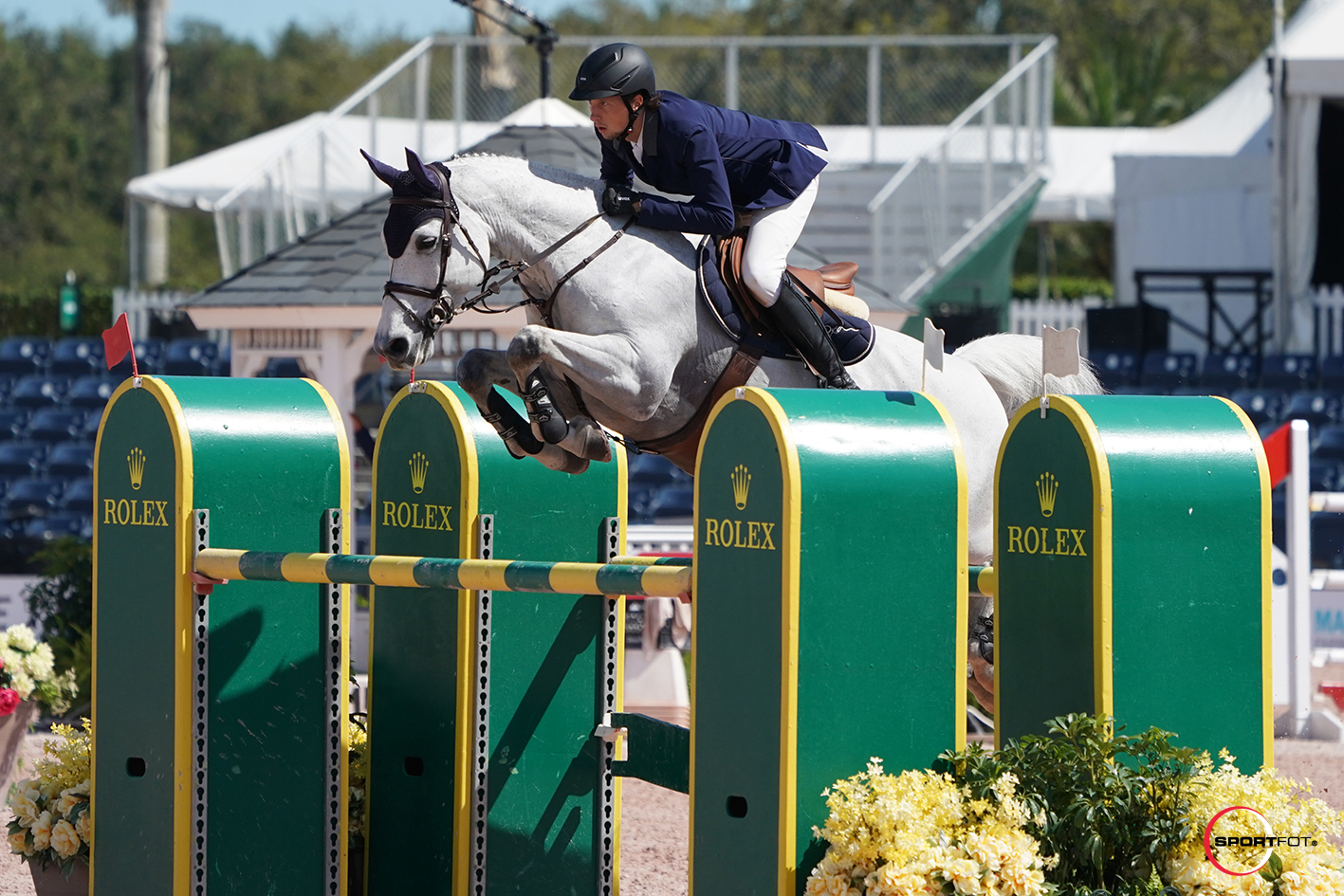 "I didn't really know how quick Adrienne Sternlicht after me would be," said Fuchs, who is currently ranked 11th in the world. "I thought, 'Okay, I'll go for it.' I tried not only to beat the first one, but also to take some seconds off of them."
Fuchs's plan proved a success, garnering Faberlys another top result in a string of recent successes, including a third-place finish in Thursday's $25,000 ProElite® 1.45m Jumper Classic.
"He's just stepping up into the bigger level, so that's obviously a very nice feeling," said Fuchs of the nine-year-old gelding by Cornet Obolensky, the same sire as Fuchs's top mount, Clooney. "Since he's been over here in America, he's jumped one clear after another. He won at The Ridge, the national grand prix there; he was fifth place in the last national grand prix [at WEF] on the derby field, and he won today!"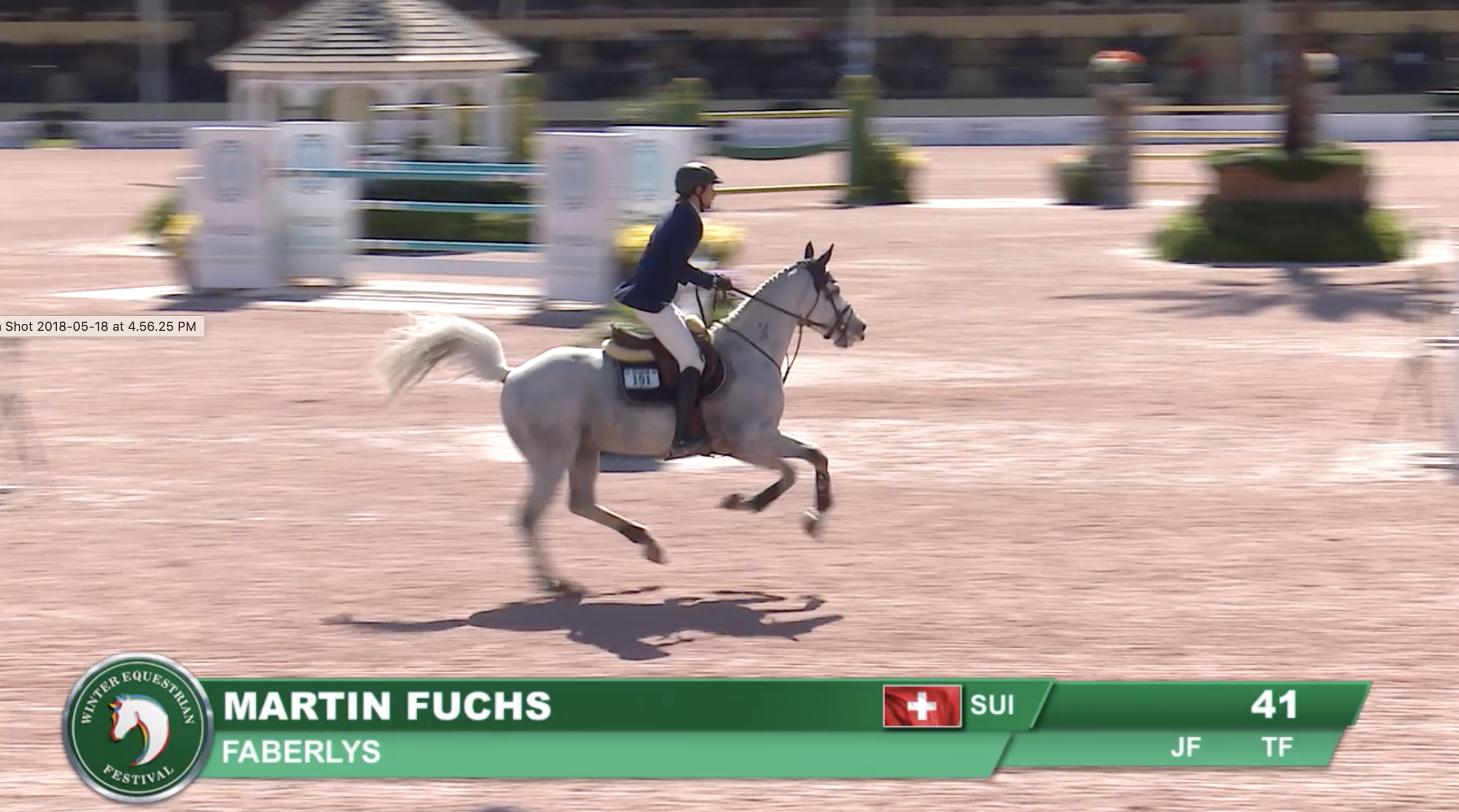 Watch Martin Fuchs's winning ride!
Fuchs has had the ride on Faberlys for only eight months but is excited for the future with the young horse, particularly following the gelding's continued success at WEF.
"We meshed quick enough, but it really clicked when I brought him over here," said Fuchs. "It's been really good for him, especially because you get to show as much as you want and in whatever classes you want to. I started him the first week in the 1.35m and realized right away he's good. Then the next class he won already; I kept stepping him up.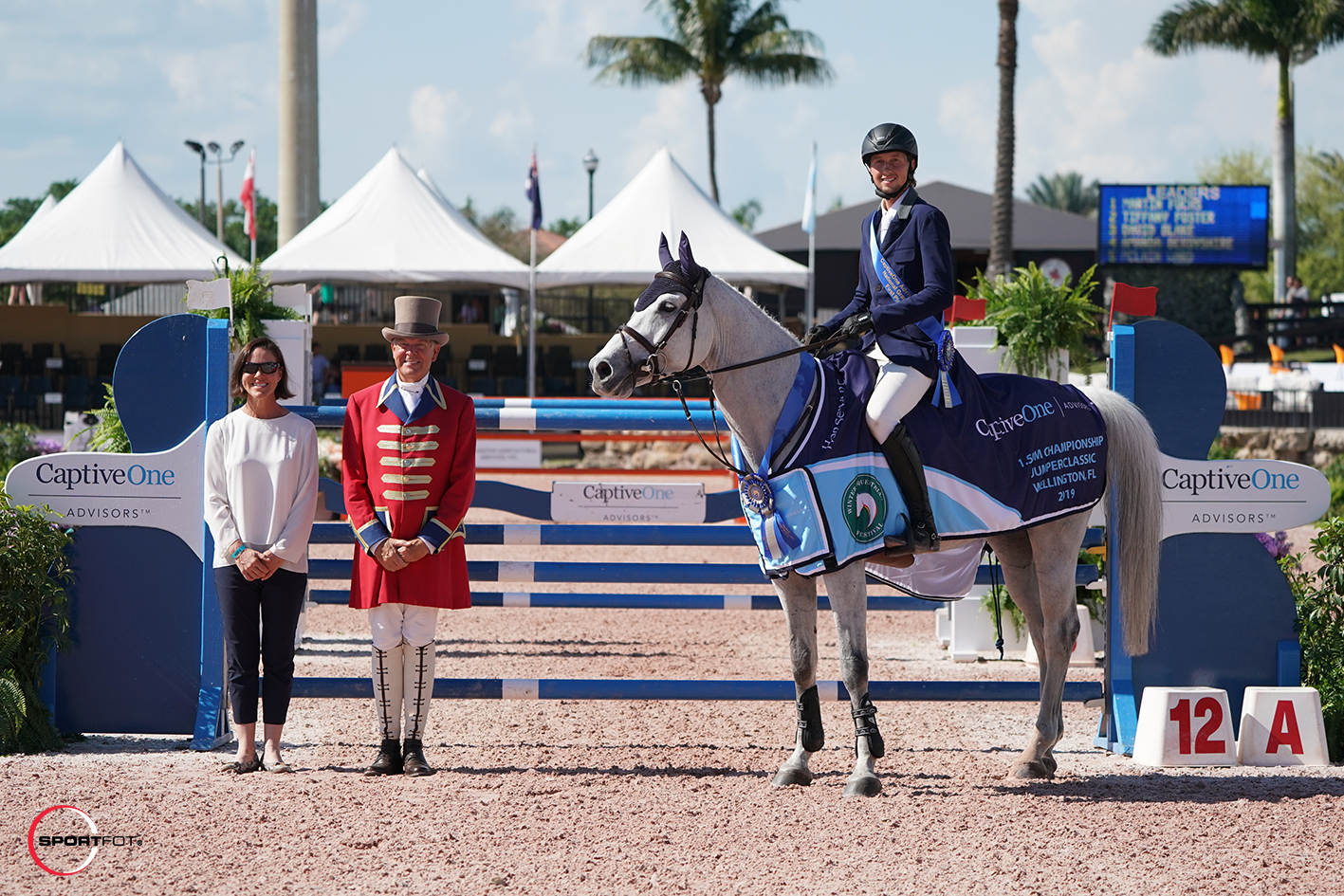 "It was a pretty big course today, especially for a national class, but we could expect it already after Thursday which was a tough class," continued Fuchs. "Today was even bigger and more money in it, so I kind of knew what was waiting for us, so that's why I'm even happier to bring such a young horse that's inexperienced in this level and to win in front of good riders like McLain. Now [Faberlys] is going to have a break for two weeks. Then I come back for Week 11 and 12, and we're here showing again."
Final Results: $50,000 CaptiveOne Advisors 1.50m Grand Prix
1 FABERLYS: 2010 gelding by Cornet Obolensky
MARTIN FUCHS (SUI), SPCS: 0/0/42.22
2 CAIPIRANJA: 2008 Belgian Warmblood mare by Taran dl Pomme x Darco
TIFFANY FOSTER (CAN), Artisan Farms, LLC: 0/0/44.14
3 KEOKI: 2009 Holsteiner gelding by Catoki x Cassini I
DAVID BLAKE (IRL), Pine Hollow Farm: 0/0/44.77
4 OASIS SPIRIT: 2010 Irish Sport Horse mare by Cobra
AMANDA DERBYSHIRE (GBR), Amanda Derbyshire: 0/0/45.13
5 RAPIDASH: 2010 Zangersheide gelding by Chaqui Z x Lancelot
MCLAIN WARD (USA), McLain Ward: 0/4/44.87
6 CADANS Z: 2009 Zangersheide mare by Carosso VDL x Navarone
ADRIENNE STERNLICHT (USA), Starlight Farms 1, LLC: 0/16/61.48
7 TOY BOY: 2008 BCP gelding
JORGE MATTE CAPDEVILA (CHI), Jorge Matte Capdevila: 3/76.55
8 SX HIDALGO VG: 2007 Belgian Warmblood gelding by Quadrillo x Andiamo
LORENZO DE LUCA (ITA), Stephex Stables: 4/67.01
9 COLUMBCILLE DE REVE: 2008 Irish Sport Horse mare by Hermes de Reve x Errigal Flight
NICHOLAS DELLO JOIO (USA), Crooks Show Jumping LLC: 4/70.92
10 FIREWALL: 2010 KWPN gelding by Lexicon x Padinus
THEO GENN (USA), Eduardo Leon: 4/71.40
11 A TOUTE VITESSE: 2010 KWPN gelding by Arthos R x Lancelot
PAIGE JARDINE (AUS), FJ Equine, LLC: 4/71.98
12 FARRERO: 2010 gelding by Boss x Indorado
RODRIGO PESSOA (BRA), Hillside Farm, LLC: 4/72.39
Rindy Dominguez and MTM Casablanca Emerge Victorious in the Hunt Ltd. Amateur-Owner Hunter 3'6" 36 & Over
Competitors in the Amateur-Owner Hunter 3'6" 36+ division returned to the E.R. Mische Grand Hunter Field on Saturday to contest the final three classes of the division for a chance at the champion and reserve titles. With two first place ribbons, Rindy Dominguez of Barrington, RI, took the champion title aboard her own MTM Casablanca.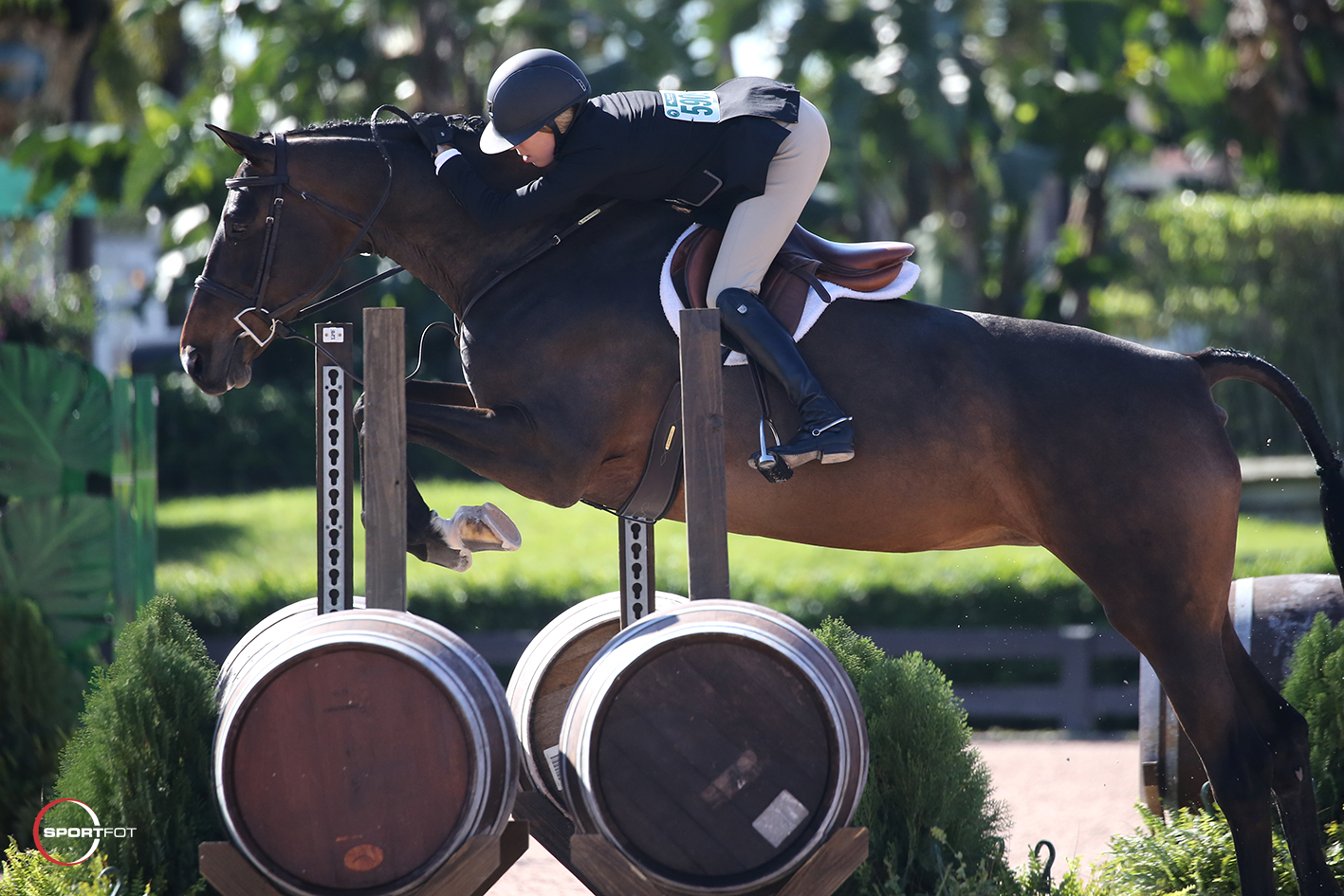 Dominguez and the 11-year-old bay mare earned two firsts, a fourth, fifth, and eighth over the two days of competition which left them 2.5 points ahead of the reserve winner. The mare has been paired with Dominguez for approximately a year and a half but is just making her first Winter Equestrian Festival debut this season.
"She was imported as a jumper, but I bought her about three weeks after she was imported. We've spent the fall learning how to be a hunter," Dominguez explained. "She's been so lovely. This is her first experience at WEF and her first time at the 3'6" height, which is also something I haven't done in about two years so it's very exciting."
Dominguez is excited for the mare's future after ending the 2018 season as the Zone 1 Champion in the Amateur-Owner 3'3" 36+ division.
"She's just lovely," she said. "The more she shows, the more she is figuring it all out and just continues to get better. The incredible thing about her is no matter where she leaves the ground to jump, she always jumps the same, so you can be a little tight or long and she will still make it beautiful."
"She is going to go home, have a huge pile of hay, and rest in preparation for the next class," Dominguez joked.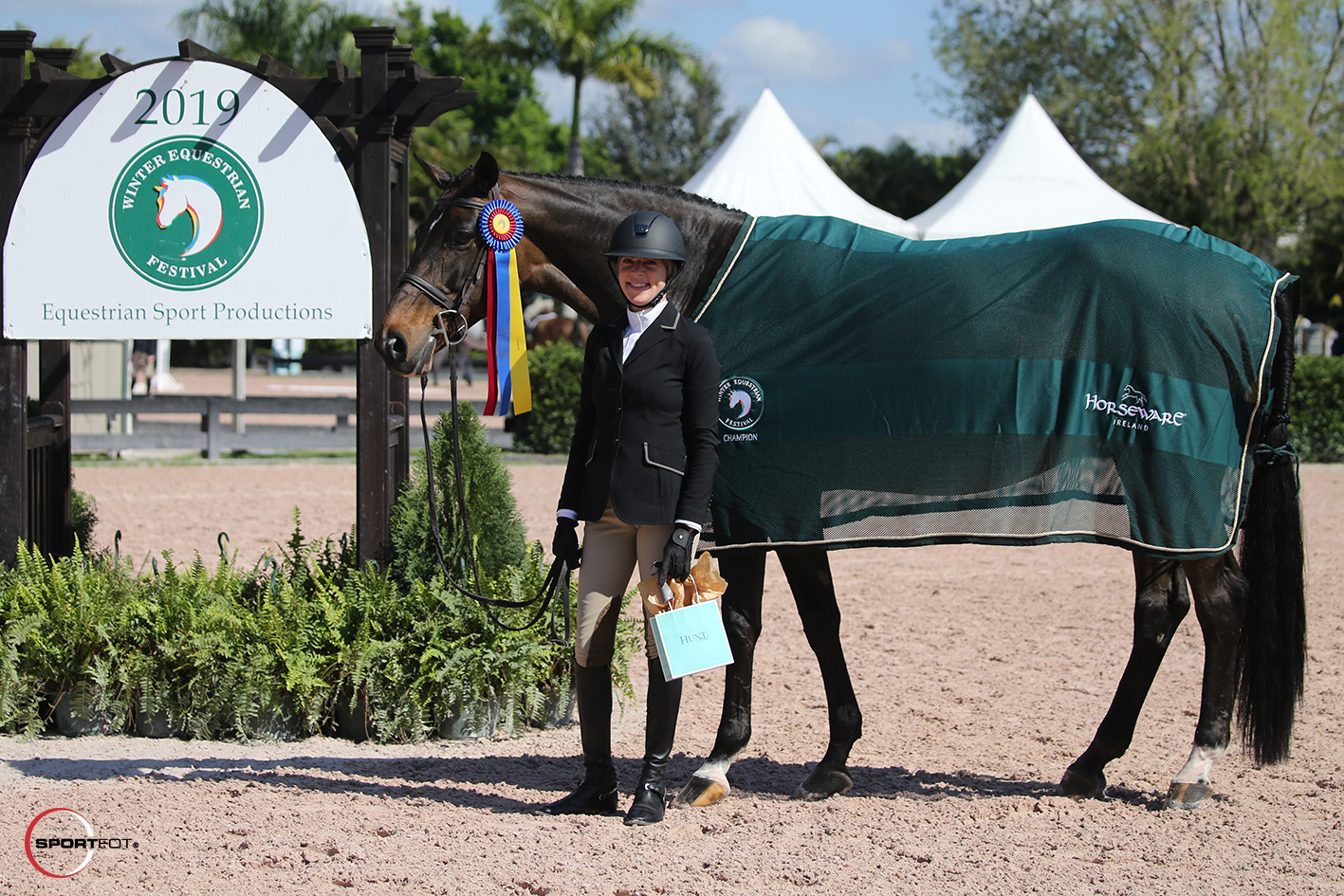 The reserve title was awarded to Tina Allen and Sinatra. She and the seven-year-old Westphalian gelding (Last Man Standing x Lovely) were the only other combination to secure two blue ribbons in the division, along with a sixth place.
In the Amateur-Owner Hunter 3'3″ division, the winners of the stake class, Christina Plichta and Kingsford, were presented with the Champion Equine Insurance Hunter Style Award by Laura Fetterman.
The final day of competition at Week 8 of the 2019 Winter Equestrian Festival will kick off Sunday, March 3 with one last day of CSIO 4* competition, as well as national hunter, jumper, and equitation classes.