For Immediate Release
Lauren Fisher and Sara Cook for Jennifer Wood Media, Inc.
Wellington, FL – January 12, 2017 – Day two of the 2017 Winter Equestrian Festival (WEF) in Wellington, FL, saw a win for USA's Todd Minikus riding Valinski S in the $35,000 Ruby et Violette WEF Challenge Cup Round 1 in the International Arena at the Palm Beach International Equestrian Center (PBIEC). The 12-week WEF circuit runs through April 2, 2017, featuring competition for hunters, jumpers, and equitation, with over $9 million in prize money up for grabs.
Week one highlights include Saturday night's $75,000 Wellington Regional Medical Center Battle of the Sexes at 7 p.m. and Sunday's afternoon's $75,000 Rosenbaum Mollengarden PLLC Grand Prix starting at 2 p.m. Both events can be viewed live online HERE.
2016 Olympic course designer Guilherme Jorge (BRA) set the track for Thursday's $35,000 Ruby et Violette WEF Challenge Cup to start the 12-week series, with a win for Todd Minikus aboard Wyndmont's 15-year-old Dutch Warmblood gelding Valinski S (Nijinski x Julius). The horse, an Olympic veteran that competed in Rio de Janiero with Australia's Matt Williams in 2016, is a new mount for Minikus in January. The pair is already on its second win of the season after also topping the $50,000 Nutrena National Grand Prix at Equestrian Sport Productions' Holiday Finale last Sunday.
On day two of WEF, fifty-two entries started in round one of the WEF Challenge Cup, with ten advancing to the jump-off and another six clear rounds over the short course. Second to go, but first to clear the shortened track, Minikus and Valinski S set an unbeatable pace of 37.99 seconds for the win.
Marilyn Little (USA) and Karen O'Connor's Clearwater finished second in 38.33 seconds. Emanuel Andrade (VEN) and Dipssy placed third with their time of 40.99 seconds. Shane Sweetnam (IRL) and The Blue Buckle Group's Cobolt, Emily Moffitt (USA) and Poden Farm's Harriri, and Quentin Judge (USA) aboard Double H Farm's HH Quatuor rounded out the top six with double clear rounds. Minikus had another Wyndmont mount, Zephyr, in the jump-off as well and finished seventh with a fast time, but one rail down.
Remarking on his win, Minikus stated, "Valinski also won the grand prix last week, so that's two classes in a row for him, which is outstanding. Wyndmont has a great team getting those horses ready for me. I just ride them here in the ring. They are doing a good job and making it easy for me, so I can't take all the credit.
"He has always been a very good horse," Minikus continued. "When they first got him years ago, Michael Dorman rode him, and I always really liked him. I even asked about him a couple years ago and then it's funny how things come around. They called a couple weeks ago and asked if I would ride him. Obviously he jumped great for Matt at the Olympics, so it's not a fluke. He is a top horse."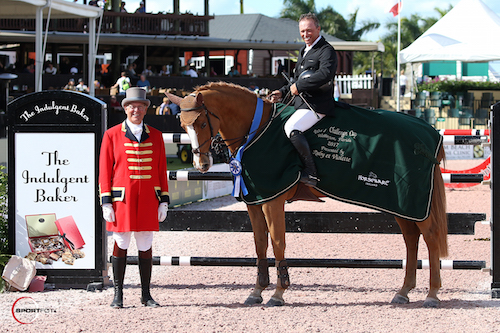 Todd Minikus in his winning presentation (aboard Zephyr) with ringmaster Steve Rector.
Speaking of his strategy for the jump-off Minikus detailed, "He went so fast for me last Sunday to win that $50,000 class. Basically it is just, 'Put your foot to the floor and hang on.' A couple weeks ago when I showed him, I think he didn't understand how fast I really wanted to go when I said I wanted to go. I think he thought I was joking a little bit, but I think he is getting the drift of it now because that was really fast today."
Also competing in the International Arena on Thursday, the morning began with a victory for Peter Wylde (USA) riding Beechwood Stables LLC's Shakira Z in the $8,000 Douglas Elliman 1.45m jump-off. Minikus was also the winner of the afternoon's $6,000 Illustrated Properties 1.40m jump-off riding Wyndmont's Cas.
Scott Stewart and Celebration Take Top Honors in Equine Tack & Nutritionals Green Hunter 3'6" Division
The Equine Tack & Nutritionals Green Hunter 3'6" division finished Thursday morning with Scott Stewart of Wellington, FL, taking the championship aboard Dr. Betsee Parker's Celebration. Over the two days of competition, the pair placed first under saddle, second in the handy, second in the stake, and first and second over fences. Stewart also took reserve honors on Rivers Edge's Luster, who earned second under saddle, first in the handy, seventh in the stake, and third and fifth over fences.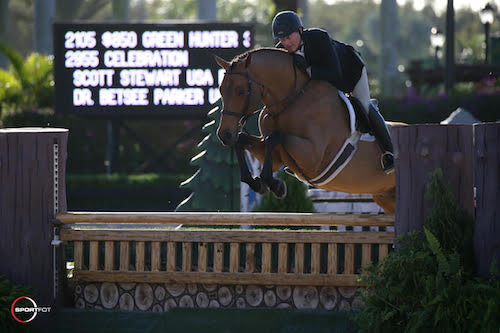 Scott Stewart and Celebration
Winning runs in the family for Celebration, as he is the son of Dr. Betsee Parker's extremely successful horse, Dedication. Celebration is a seven-year-old Wurttemberg gelding.
"Betsee bought him as a coming three year in Germany," Stewart said. "He did well in the Pre-Greens, and last year I did him just two times in the First Years and he was a little green still, so we reinstated him."
Stewart had nothing but praise for Celebration saying, "He's really sweet and laid back. He's really brave. He doesn't do a warm-up or anything. He's nice to ride."
Looking forward with his mount, Stewart highlighted week six WCHR World Championship Hunter Week, when hunters show in the International Arena. "We try to peak for week six, and we'll do the First Years," said Stewart.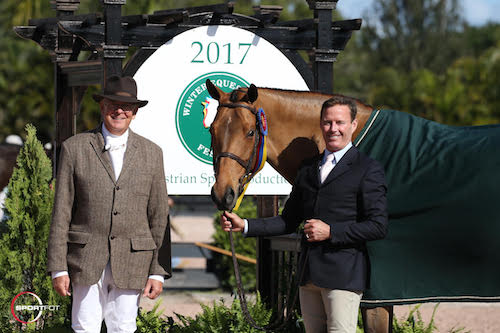 Scott Stewart and Celebration in their championship presentation with ringmaster Steve Rector.
The first week of WEF continues on Friday with the Engel & Völkers High Amateur-Owner Jumpers featured in the International Arena and the Triple Crown Adult Amateur 36-49 Hunters crowning championship honors in the E.R. Mische Grand Hunter Ring. For full results, please visit www.PBIEC.com.
Final Results: $35,000 Ruby et Violette WEF Challenge Cup Round 1
1. VALINSKI S: 2002 KWPN gelding by Nijinski x Julius
TODD MINIKUS (USA), Wyndmont: 0/0/37.996
2. CLEARWATER: 2007 Holsteiner gelding by Clearway x Come On
MARILYN LITTLE (USA) Karen O'Connor: 0/0/38.337
3. DIPSSY: 2005 Warmblood mare by Unknown x Unknown
EMANUEL ANDRADE (VEN), Emanuel Andrade: 0/0/40.992
4. COBOLT: 2006 Swedish Warmblood gelding by Cyklon 1083 x Camaro M
SHANE SWEETNAM (IRL), Shane Sweetnam & The Blue Buckle Group: 0/0/41.029
5. HARRIRI: 2007 Belgian Warmblood mare by Nabab de Reve x Darco
EMILY MOFFITT (USA), Poden Farms: 0/0/43.472
6. HH QUATUOR: 2004 Selle Francais gelding by Col Canto x Rosire
QUENTIN JUDGE (USA), Double H Farm: 0/0/45.859
7. ZEPHYR: 2004 Dutch Warmblood gelding by Landor S x Calvados
TODD MINIKUS (USA), Wyndmont: 0/4/40.074
8. AIMEE: 2005 KWPN mare by Solitair x Silvio II
PETER WYLDE (USA), Aram Ampagoumian LLC: 0/4/41.377
9. BOKAI: 2006 KWPN gelding by Up To Date x Ferro
CATHERINE TYREE (USA), Mary & Joe Tyree: 0/4/42.864
10. RETIRO: 2005 Warmblood gelding by Rockefeller Z x Play Boy
PETER LUTZ (USA), Katherine Gallagher & Michael Meller: 0/8/44.574
11. CONTESSINA DELLA CACCIA: 2008 Selle Francais mare by Contefino x Cassini
MCLAIN WARD (USA), McLain Ward: 1/80.572
12. BALLYQUIRKE TIPP TOP: 2006 Irish Sport Horse gelding by Courage II x Ballyquirke Mover
ASHLEY BAKER (USA), Ashley Baker: 3/82.339