Todd Minikus and Babalou 41 Win $130,000 Adequan® Grand Prix CSI 3* at the 2016 Winter Equestrian Festival

Richard Spooner and Mighty Mouse Take $35,000 Douglas Elliman 1.45m Classic; Emma Kurtz Dominates the Charleigh's Cookies Large Junior Hunter 15 & Under Division Aboard Fredrick
For Immediate Release
Lauren Fisher and Callie Seaman for Jennifer Wood Media, Inc.
Wellington, FL – January 30, 2016 – For the second week in a row, USA's Todd Minikus was the big winner of the Saturday night grand prix at the 2016 Winter Equestrian Festival (WEF). During week two of the winter circuit, held at the Palm Beach International Equestrian Center (PBIEC), Minikus topped the $86,000 Marshall & Sterling Insurance Grand Prix CSI 2* riding Quality Girl. For his win in week three, the rider guided Babalou 41 to a thrilling victory in the $130,000 Adequan® Grand Prix CSI 3*. Laura Kraut (USA) and Nouvelle finished second, and Chloe Reid (USA) and Codarco placed third.
Week three of the Winter Equestrian Festival, sponsored by Adequan®, concludes on Sunday, January 31, with the $35,000 Suncast® 1.50m Championship Jumper Classic. The 12-week WEF circuit runs through April 3 offering more than $9 million in prize money.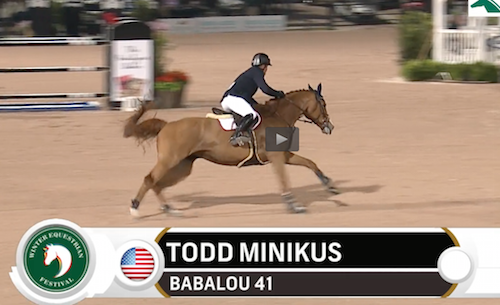 Click here to watch Todd Minikus and Babalou 41 in their winning jump-off round!
Luc Musette of Belgium set a challenging track for the 44 competitors in Saturday night's highlight event under the lights of the International Ring at PBIEC. Seven entries cleared the first round course to advance to the jump-off.
Paris Sellon (USA) and Adare were the first pair to tackle the short course, jumping without fault in 44.19 seconds, to eventually finish sixth. Reid and Codarco jumped next, clear in 42.92 seconds, to take third place honors. Scott Keach (AUS) followed with a clear round in 43.18 seconds aboard Southern Cross Equestrian LLC's Fedor to place fourth. Kraut briefly took the lead with a time of 41.87 seconds riding the Evita Group's Nouvelle, but settled for second place in the end. Conor Swail (IRL) followed with a time of 44.08 seconds to take the fifth place prize riding Rubens LS La Silla for Vanessa Mannix. Meredith Michaels Beerbaum (GER) and Artemis Equestrian Farm LLC's Comanche 28 were next, but a drive by at the second to last fence gave the pair four jumping faults and six time faults to finish seventh. Last to go, Minikus and Two Swans Farm's Babalou 41 blazed through the course for the win in 41.15 seconds.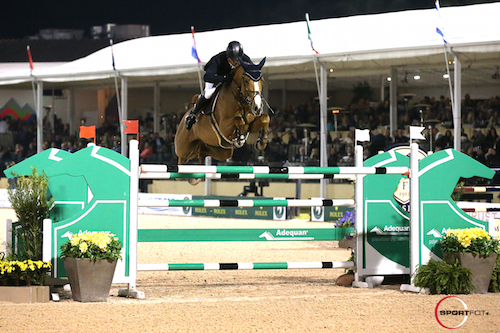 Todd Minikus and Babalou 41
Babalou 41 is an 11-year-old Oldenburg mare (Balou du Rouet x Silvio I) that Minikus has brought along for the last several years. The mare had a fantastic WEF circuit in 2015, including a win in the $150,000 Grand Prix CSIO 4* presented by Lugano Diamonds during week eight's competition. She also jumped double clean that week to help team USA win the $100,000 Nations Cup, presented by Kingsland Equestrian. The pair went on to compete in the FEI World Cup Finals in Las Vegas in April, and represented team USA in Nations Cup competitions three more times throughout the year in Hickstead, Dublin, and Calgary.
When Minikus had a fall in September that caused a severe groin injury, he was forced to take some time off, but noted that the break may have been a benefit to his horses, which have come back fresh and in winning form for the winter.
"I thought Babalou was fantastic tonight, and I would like to thank the whole team at Two Swans Farm," Minikus stated Saturday night. "My wife and kids could not be here tonight, but I would like to thank them for putting up with me. It is always a team effort, from the blacksmiths, to the veterinarians, to the Adequan® that we use, to show management – there are a lot of people involved and a lot of people who deserve credit."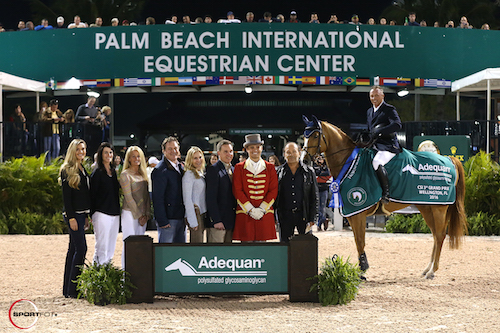 Todd Minikus and Babalou 41 in their winning presentation with (left to right) Audrey Bolte, Associate Brand Manager for Luitpold Animal Health, Caroline Hogan, Kathy Serio, Senior Territory Manager for Luitpold Animal Health, Equestrian Sport Productions CEO Mark Bellissimo, Wellington Equestrian Partners principal Katherine Bellissimo, Allyn Mann, Director, Luitpold Animal Health, ringmaster Christian Craig, and Babalou 41's owner Enrique Cadena.
"She had a great winter last year and an awesome summer," Minikus said of Babalou. "Then I fell off of her jumping literally a two-foot fence before the LA Masters and this is her first show back since then. It probably was a blessing in disguise because now I have a very fresh horse."
"She was always a good horse," Minikus continued. "She is very explosive with her jump and it took a while to get her to come down a bit. She always over-jumped too much, but we worked that out and here we are."
Since he is coming back from an injury and the Olympic Games in Rio are coming up this summer, Minikus is also getting some extra help from trainers Katie and Henri Prudent this winter.
"I think I'll get it back this winter," Minikus said of the setback. "Katie and Henri are helping me, which I have never really had someone help me from the ground. This was their first week helping, so I'm sure they are happy. I am trying to be very serious about Rio. I think this is an important year and it can't hurt to have an extra set of eyes on the ground."
Heading into Saturday's jump-off, Minikus had the advantage of going last, although he did not get to see Kraut's round, which held the lead.
"Laura and I have been in a lot of jump-offs and she is always blazing fast," Minikus stated. "I did not get the chance to watch her, but I just assumed that it was fast and you just gotta go for it."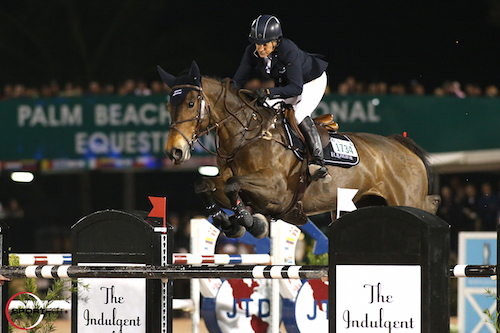 Laura Kraut and Nouvelle
Commenting on her round with Nouvelle, Kraut detailed, "I knew Chloe was very quick, and you have Conor, Todd, and Meredith behind you, so I went as quick as I thought I could tonight. This is her fourth class back since September, and I did not really get the plan I wanted this week due to the rain. I said to Todd that I chickened out a bit to the last fence. When I came out of the ring I said I deserved to be beat because I gave it a good run at the second to last (jump) and then I thought I got lucky, so I pulled on the reins. He should have beat me."
For 19-year-old Chloe Reid, the night's third place finish was her best yet in a WEF grand prix. Last year she jumped her first Saturday night class and fell off, so this night was an improvement.
"Being here tonight is incredible," Reid stated. "I have had Codarco for a little over a year. The past six months we were in Germany competing with Markus Beerbaum and Meredith Michaels-Beerbaum and that experience was incredible. I learned so much over there. To be able to come back to Florida this circuit and show all my friends and other competitors what I learned this summer has been so much fun."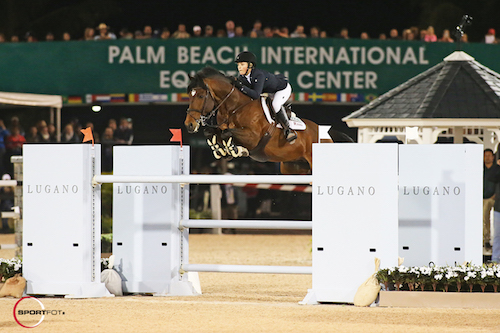 Chloe Reid and Codarco
The riders commented on the course set by Luc Musette, which challenged many of the competitors.
"I thought it was very difficult," Minikus said. "Walking it I thought it was a little on the big side, but I did not think it would ride so technical. Obviously accuracy counted to the triple. It was a pretty good field and he did not get that many clean, so it was difficult."
Kraut added, "He is a great course builder, and we are really lucky to have him. He built a really great course because the fences fell down all around the course. I'm always happy when he is the course builder."
Allyn Mann, Director of Luitpold Animal Health, the makers of Adequan® (Polysulfated Glycosaminoglycan), was on hand for the fantastic competition and praised the riders on a great night of equestrian sport.
"It is really amazing. Last night we had the dressage freestyle across the street and that facility was packed and you had these great horses with great riders doing some amazing things, and then you come over here and it is a completely different energy," Mann noted. "It is a huge facility with all the people just really making this feel so electric. Then to get to watch some of the greatest riders and some of the stars of the future make it such a wonderful evening, I would have to say, to me, this was an amazing journey to be on. Thank you for making this evening wonderful for everyone. And Mark (Bellissimo), thank you for your vision to bring all this together so we could all be here having the time of our lives."
Spooner Takes 1.45m Speed
The $35,000 Douglas Elliman 1.45m speed competition was held Saturday afternoon with a win for Richard Spooner (USA) aboard Gerardo & Alfonso Pasquel's 10-year-old Zangersheide stallion Mighty Mouse (Quartz Adelheid Z X Codexco). Out of 44 entries, eight cleared the course without fault and another six were clear over the fences but incurred time faults. Spooner and Might Mouse sped through the course in the winning time of 67.70 seconds.
Paris Sellon (USA) and Belle jumped into second place with a time of 71.33 seconds at the end. Cian O'Connor (IRL) and Nicole Walker's Saphir finished third in 71.90 seconds, and Shane Sweetnam and Spy Coast Farm LLC's Eregast van't Kiezelhof placed fourth with a time of 72.18.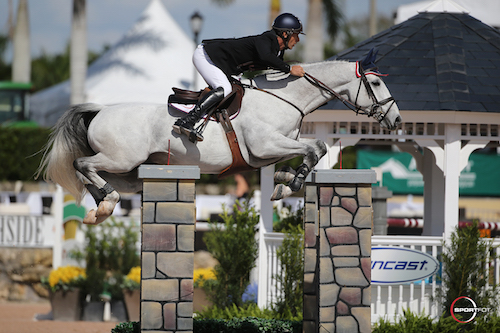 Richard Spooner and Mighty Mouse
Spooner is competing for the entire WEF circuit in Wellington for the first time since 2011. The rider is happy to be back and off to a great start with a promising young mount.
"Mighty Mouse is exciting," Spooner praised. "I rode him a couple of times last year in Del Mar and he won one class there. Then he went back his owner, Gerardo, who rode him in some shows. He is a very versatile horse. Gerardo is not a professional and he wins a lot with that horse, but he had to have surgery on his knee, so I am lucky enough to get to ride the horse a little bit for the circuit."
"I have to say, it was a very difficult speed course because he used the triple combination, which is kind of abnormal," Spooner said of the class. "It was oxer-vertical-vertical, so it was not too scopey or anything, but anytime you put a triple in a speed round it is kind of like speed bumps at Walmart – you have to really hit the brakes."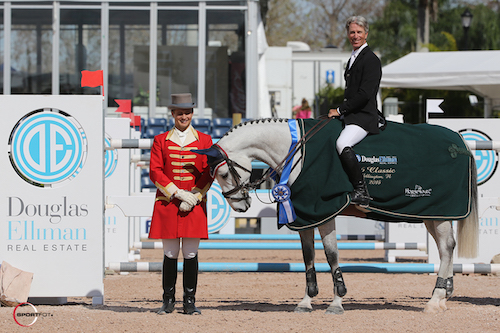 Richard Spooner and Mighty Mouse in their winning presentation with ringmaster Christian Craig.
"I think that is why a lot of people had time faults because it wasn't in the beginning, it was right in the middle of the course, so you can't go tearing around in the beginning," Spooner continued. "I tried to go kind of medium in the beginning, and then once I got through the triple I relaxed and let him open up a little bit for the last few lines."
Spooner has high hopes for Mighty Mouse, stating, "I would say he is a grand prix horse for sure. He can jump 1.50m, 1.55m, I think 1.60m. He has not really done that yet, but he is just 10 years old and he is pretty spectacular. His name is fitting. He is little, but mighty."
Also competing in the International Ring on Saturday, Alise Oken and Hi Hopes Farm LLC's Belmont topped the $15,000 SJHOF High Amateur-Owner Jumper Classic, sponsored by MAYBACH – ICONS OF LUXURY. Lucy Matz and Janice Aron's Bailey VI were victorious in the High Junior Jumper speed class, sponsored by Sleepy P Ranch.
Emma Kurtz Dominates the Charleigh's Cookies Large Junior Hunter 15 & Under Division Aboard Fredrick
Junior rider Emma Kurtz was crowned champion of the Charleigh's Cookies Large Junior Hunter 15 & Under division this morning aboard David Gochman's horse Fredrick. Kurtz swept the division, riding the 12-year-old gelding to an impressive four wins over fences and a third place finish in the under saddle.
Kurtz, of Hudson, OH, first partnered with the chestnut gelding at the end of the 2015 WEF circuit. It has proven to be a successful pairing over the last year with blue ribbon wins at Junior Hunter finals. The pair also earned the Large Junior 15 and Under championship at The Pennsylvania National Horse Show.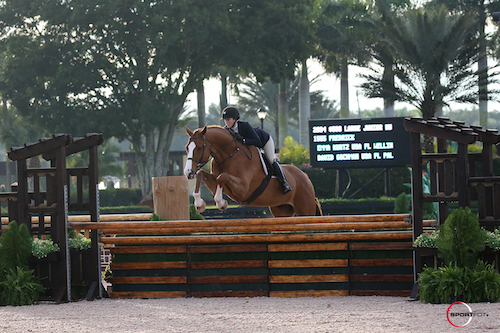 Emma Kurtz and Fredrick
"He's been really good for me," Emma stated about riding Fredrick. "He's so sweet on the ground," she added affectionately.
Fredrick put on quite a show this week proving to be unbeatable over fences. While Kurtz claims her mount was "a little nervous about the shadows in the second class today," she was quick to add that, "he was fantastic other than that."
"When he goes well he's amazing," Kurtz stated. The pair will continue to show together for the rest of the WEF season.
McKayla Langmeier and Cuba, who is owned by Missy Clark and North Run, also performed consistently this weekend. The pair earned a sixth, third and two second place ribbons over fences to settle for the reserve champion honors.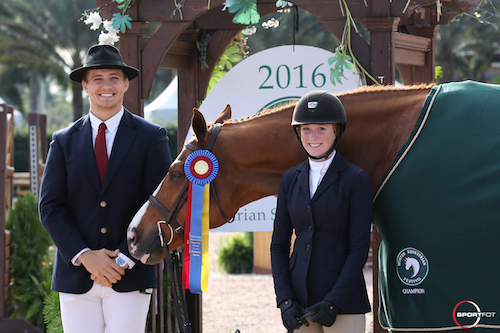 Emma Kurtz and Fredrick in their championship presentation with ringmaster Christian Craig.
Hunter competition will continue on Sunday of WEF 3, with the amateur and junior divisions crowning their champions throughout the day on Sunday, including the Visse Wedell and Douglas Elliman sponsored Small Pony Hunters. The $35,000 Suncast® 1.50m Championship Jumper Classic will be the final class featured in the International Ring for week three. For more information and full results, please visit www.PBIEC.com.
Final Results: $130,000 Adequan® Grand Prix CSI 3*
1. BABALOU 41: 2005 Oldenburg mare by Balou du Rouet x Silvio I
TODD MINIKUS (USA), Two Swans Farm: 0/0/41.15
2. NOUVELLE: 2004 KWPN mare by Solitair x Contango
LAURA KRAUT (USA), Evita Group: 0/0/41.87
3. CODARCO: 2007 Irish Sport Horse gelding by Darco x Orame
CHLOE REID (USA), Chloe D Reid LLC: 0/0/42.92
4. FEDOR: 2005 Belgian Warmblood gelding by Kashmir van Schuttershof x Orkaan
SCOTT KEACH (AUS), Southern Cross Equestrian LLC: 0/0/43.18
5. RUBENS LS LA SILLA: 2006 SLS stallion by Rebozo LS La Silla x Cash
CONOR SWAIL (IRL), Vanessa Mannix: 0/0/44.08
6. ADARE: 2005 KWPN mare by Royal Bravour x Burggraaf
PARIS SELLON (USA), Paris Sellon: 0/0/44.19
7. COMANCHE 28: 2006 Oldenburg gelding by Coupe de Couer x Baloubet du Rouet
MEREDITH MICHAELS-BEERBAUM (GER), Artemis Equestrian Farm LLC: 0/10/57.25
8. WILLOW: 2003 KWPN gelding by Guidam x Little Rock
KENT FARRINGTON (USA), Amalaya Investments: 4/68.94
9. WINN WINN: 2003 AES mare by Chin Chin x Wagenaar
ANDREW RAMSAY (USA), The Winn Winn Group: 4/69.41
10. ROSANA DU PARK: 2005 Selle Francais mare by Kannan
ERIC LAMAZE (CAN), Artisan Farms LLC: 4/69.94
11. CARRABIS Z: 2003 Zangersheide stallion by Canabis Z x Grannusso
RICHIE MOLONEY (IRL), Equinimity LLC: 4/70.00
12. FERRO CHIN VH LINDENHOF: 2005 Belgian Warmblood gelding by Chin Chin x Nimmerdor
RODRIGO PESSOA (BRA), Vanam Int'l Hamleoot & Rodrigo Pessoa: 4/70.01
Final Results: $35,000 Douglas Elliman 1.45m Classic
1. MIGHTY MOUSE: 2006 Zangersheide stallion by Quartz Adelheid Z x Codexco
RICHARD SPOONER (USA), Gerardo & Alfonso Pasquel: 0/67.70
2. BELLE: 2006 KWPN mare by Numero Uno x Voltaire
PARIS SELLON (USA), Paris Sellon: 0/71.33
3. SAPHIR: 2006 Hanoverian gelding by Salito x Escudo I
CIAN O'CONNOR (IRL), Nicole Walker: 0/71.90
4. EREGAST VAN'T KIEZELHOF: 2004 Belgian Warmblood gelding by Thunder van de Zuuthoeve x Latano
SHANE SWEETNAM (IRL), Spy Coast Farm, LLC: 0/72.18
5. AANWINST: 2005 KWPN mare by Odermus R x Jackson
JORDAN MACPHERSON (CAN), JEM Stables Inc: 0/72.68
6. CAVALIA: 2007 KWPN mare by Vittorio x Jonggor's Ajonc
LAURA KRAUT (USA), Hi Hopes Farm LLC: 072.89
7. TRISKEL DE KERLIVEN: 2007 Selle Francais gelding by Mylord Carthago*HN x Barabbas du Ter
JAMES CHAWKE (IRL), M. Jean-Pierre le Bot et M.Stephane Pasco: 0/75.07
8. ACAPULCO Z: 2005 Zangersheide stallion by Action-Breaker x Lux II Z
DANIEL ZETTERMAN (SWE), Gyllebo Farm LLC: 0/75.48
9. APSARA: 2006 Holsteiner mare by Ephebe For Ever x Calido I
MEREDITH MICHAELS-BEERBAUM (GER), Artemis Equestrian Farm LLC: 1/78.21
10. CADALORA P: 2007 KWPN gelding by Namelus R x Furore
TIFFANY FOSTER (CAN), Artisan Farms LLC: 1/78.23
11. PRINCESS DE REVEL: 2006 BH mare by Cardento
MARCOS RIBEIRO JR. (BRA), Milela Cintra: 1/79.27
12. CHESNEY: 2007 KWPN gelding y Indoctro x Kannan
TIFFANY FOSTER (CAN), Artisan Farms LLC: 1/79.59
Photo Credit: Photos © Sportfot, An Official Photographer of the Winter Equestrian Festival, sportfot.com. These photos may be used only in relation to this press release and must include photo credit.