Wellington, FL – March 1, 2015 – The 2015 Winter Equestrian Festival concluded its eighth week of competition on Sunday with a win for Todd Minikus (USA) and Two Swans Farms' Babalou 41 in the $150,000 Grand Prix CSIO 4*, presented by Lugano Diamonds. The pair led a 10 horse jump-off with a top three finish for the United States in this week's final CSIO competition. Beezie Madden (USA) and Simon finished second, and Meagan Nusz (USA) and Dynamo placed third.
The Hollow Creek Farm Children's, Junior and Young Rider Grand Prix classes as well as the conclusion of their Nations Cup team events were also held on Sunday. Team USA swept all three Nations Cups, while Thales Gabriel de Lima Marino (BRA) won the Children's Grand Prix, Juan Pablo Gaspar (MEX) topped the Junior Grand Prix, and Spencer Smith (USA) was victorious in the Young Rider Grand Prix.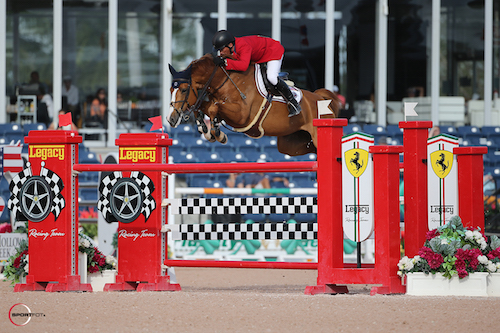 Anthony D'Ambrosio (USA) was the course designer for international competition in week eight. In Sunday's CSIO 4* grand prix, D'Ambrosio saw 49 starters with ten clear rounds. The top three U.S. entries were the only ones to jump double clear over the short course.
Nusz and Amalaya Investments' Dynamo were the first pair to go clear in round two and set the pace at 38.71 seconds, eventually placing third. Two rounds later, Minikus upped the leading time to 35.77 seconds with Babalou 41. Last to go, Madden and Abigail Wexner's Simon stopped the clock in 37.47 seconds to move into second place. Andres Rodriguez (VEN) had the fastest four-fault round in the jump-off with Arao Enterprises' Caballito to place fourth in 36.86 seconds. McLain Ward (USA) and Double H Farm's HH Carlos Z had the fastest round in 35.42 seconds, but dropped two rails along the way to finish eighth.
Watch Todd Minikus and Babalou 41 in their jump-off round here: http://bit.ly/1wC7D3k
After jumping double clear rounds to lead the U.S. team to victory in Friday night's $100,000 Nations Cup, presented by Kingsland Equestrian, Minikus and Babalou 41 continued their top form into Sunday afternoon. Minikus spoke about how the 10-year-old Oldenburg mare (Balou du Rouet x Silvio I) was carefully brought along, competing in the schooling jumpers for a long time before stepping up to higher levels. The time and effort have paid off, and Babalou is showing more experience and maturity with every outing.
"That was a nice week. I would like to thank Lugano Diamonds for their support today, and I would like to thank Two Swans Farm and Purina," Minikus acknowledged after Sunday's win. "Quality Girl got the week off, and Babalou is starting to step up into the big leagues and she is doing a great job of it. I am very excited about her. I kind of took it easy with her at the beginning of the circuit and hopefully she can continue to be strong here at the end of the circuit. There are some bigger things coming, so I could not be happier. She has been fantastic."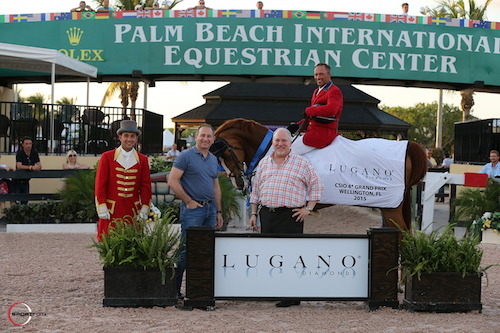 "She was too exuberant about her jump when she was younger, so we had to tone it down a little bit, which is usually not the story," Minikus detailed on Babalou's development. "She always was a little bit of a fractious mare, and she has really calmed down now. She was always nervous about everything – the surroundings, the tractor, the water truck, that kind of thing, so now she barely notices that kind of stuff, which is just maturity."
Commenting on his jump-off round, Minikus explained, "I saw Meagan go from outside in the schooling area, and Meagan looked like she had a real nice round. I don't really learn a jump-off until after I go clean. That is a superstition I have, so I was trying to figure out how the eight (strides) was going to work from the oxer to the combination and that kind of stuff. Then I looked around the schooling area and I see Beezie Madden, McLain Ward, the little kid from Chicago-Kent Farrington – Rodrigo Pessoa, I'm like, 'Oh my god this is going to get fast!'
"One was a difficult jump, the way it sat on an angle. You had to kind of be cautious to one," Minikus continued. "Then two was a hard turn. After the double then I really kind of floored it, if you will, did seven to the vertical and tight as I thought I could to the red (oxer). Then for sure that was a horse race across the ring. Then she slowed down and got real patient to the last jump, so that was a sign of her maturity again. Then the rest of it was just nail-biting in the schooling area. McLain had the time. He got a little unlucky and had two down. For sure my time was fast. You would have to go fast to catch her, but some days you're the bug and some days you're the windshield, and that's how it works."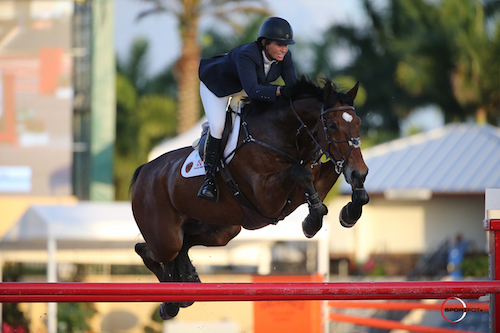 Madden knew she had a very fast time to chase, going last with Minikus in the lead, but she was happy with Simon's efforts and a good finish.
"He is feeling great. He was actually kind of fresh again today in the schooling area. He was playing after the fence a lot, but he feels in good shape," Madden noted. "I have to say, I didn't see all of Todd's round in the jump-off, but every time I looked up at the screen he was pushing her to go faster. I knew I was probably going for second because when he is that fast it is really difficult to catch him. I kind of have to do what I feel like I can do with Simon because he can get quite strong and nervous, but I felt that he handled going pretty fast today well. Over to the last line I took a good shot and he handled it great, so I am really happy with how he went."
Watch Beezie and Simon's jump-off round here: http://bit.ly/1BP9RhR
Nusz had one of her biggest grand prix finishes in Sunday's class with her mount, Dynamo, and was thrilled to be in the presence of two of the sport's greats with her top three placing behind Minikus and Madden.
"First of all, to jump in this class with these guys and jump clean is a feat in itself, so that was exciting," Nusz stated. "Then I went early in the jump-off, so I made my plan with Kent (trainer Kent Farrington) and just stuck to my plan. I hoped to put in a tidy, clean round and make them chase me and see if they could leave the jumps off. My horse could not have been better. He really jumped great both rounds and really helped me out. He stepped up where I needed him to. He is a special horse for me. I have had him since he was seven, so we have a really great partnership. I trust him and he trusts me and when we have good days, it's the best, so I'm really happy with him."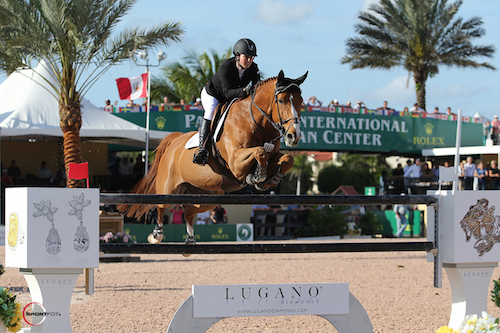 "Kent just said stick to your plan," Nusz said of Farrington's advice. "You know your horse and you know your step. My horse is a bit of a slow moving horse. He's not as fast off the ground as say Todd's horse. He is a little bit slower in the air as well, but the way that I can be fast is to leave out strides. Kent and I said, 'Let's just do what we can do and hope for the best,' and it was a great finish. I am really happy with it. This is probably one of my best grand prix finishes, especially with the 10 that were clean. I'll take it. To be sitting here is super exciting."
Several special awards were presented to conclude CSIO week at the 2015 WEF. Nusz was named Leading Lady Grand Prix Rider for week eight, an award presented by Martha Jolicoeur of Illustrated Properties in memory of Dale Lawler
Another special award was presented to Ireland's Kevin Babington as the top Irish rider during the CSIO Nations Cup week. Babington was presented the Niall Grimes "CHEERS" Perpetual Trophy.
Nicolas Pizarro (MEX) was presented the Kate Nash Boone Style Award as the international equestrian who exemplifies best style of riding along with maintaining a sportsmanlike composure while competing in the CSIO during Nations Cup Week.
USA Sweeps Hollow Creek Farm Children's, Junior and Young Rider Nations Cup Competition
Three separate Nations Cup competitions were held for the Children, Juniors, and Young Riders this weekend thanks to the generous sponsorship of Hollow Creek Farm and the Andrade Family. Competition consisted of two rounds for each division shown over courses set by USA's Anthony D'Ambrosio. After each round, each team dropped their highest score. The winner was determined by the lowest total of each team's top three riders from each round.
Due to the severe weather that rolled into PBIEC Saturday afternoon, the classes were reformatted and rescheduled so that they could continue on Sunday after competition was ultimately cancelled Saturday evening. In all three divisions, the second round for riders on Nations Cup teams also acted as each division's Grand Prix class. If riders had a clean trip in the second round of competition, they moved forward to the jump-off for their respective classes' Grand Prix.
Equestrian Sport Productions would like to thank the maintenance crew and ring crew for their long hours and hard work to get the facility ready for competition on Sunday after Saturday's rain.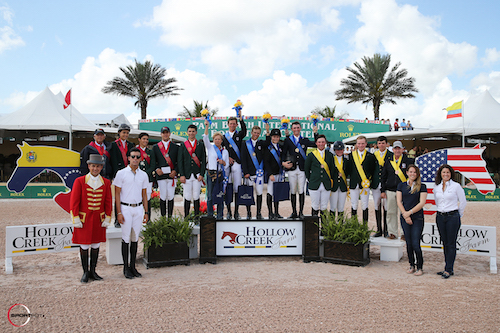 Concluding the Nations Cup competition this year, the $10,000 Hollow Creek Farm Young Rider Nations Cup saw a win for Team USA for the third year in a row led by Chef d'Equipe DiAnn Langer. The team, made up of Shawn Casady and Cavallo Farms LLC's Twister, Spencer Smith and Wyndmont's IV Ever, Chloe Reid and Chloe D Reid LLC's Athena, and Michael Hughes aboard Christina Fried's Luxina, had a perfect score in round one and finished on just four faults in round two to win overall.
Casady, Smith and Reid were all clear in round one, leaving anchor rider Michael Hughes no need to jump. In round two, Casady and Twister had one rail down, Smith jumped a second clear round, Reid and Athena accrued four faults, and Hughes jumped a clear with Luxina.
"It was a great day, and it has been a great week all the way through," Langer said this afternoon. "I want to thank Hollow Creek for the vision and commitment to the developing riders. Without them, this might never have been possible, so thank you to them. The teams I thought were just the best of the best. We go through quite a process to get to the teams. We look at a lot of results before we choose them. I came into this competition feeling very confident, but then again, you never know. They all came through, and I was so excited. I am very pleased."
In addition to putting in two clear rounds for the team competition, Wellington's Spencer Smith (18) won the jump-off for the grand prix class with the fastest clear round aboard IV Ever. He was presented a special award as the leading rider in the young rider division for a clean sweep in all of the classes, also topping the welcome class on Thursday with a clear round.
"I started riding him at the beginning of circuit and we have had good results, so I am very pleased," Smith stated. "I have probably only done four jump-offs with him, but he is a really tidy horse for his size and he was good to me today."
Commenting on the team competition, Smith added, "I thought the course was a really good test of everybody's consistency and today it worked best for us."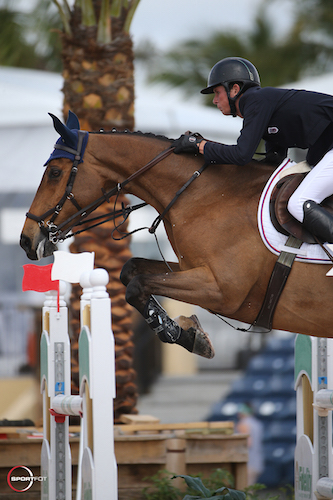 Hughes (19), of Allendale, NJ, was aboard Luxina, a mare that he has been riding for five years. "She has been a really good horse," Hughes acknowledged. "It's amazing to be on a team; especially a team like this. It is so different from anything else. It is a lot harder to get on a team like this."
Casady (20), of Midtown, TN, was aboard Twister, a horse that he has had success with throughout the year. "I have been doing him since the beginning of the summer, and we had really good results," Casady noted. "He has been really consistent, which I think got me on a team like this."
Reid (18), of Washington, D.C., has ridden her mount Athena in this competition before, jumping in the junior Nations Cup last year. "I have had her for a little over a year. I did the junior competition last year and we were second, so every year she comes out and gives me all she can and I love her so much," Reid praised. "Unfortunately, I think the course caught up with me at the end today. After the water my horse got a little strung out, but I am really proud of how we did and our amazing team. Winning as a team is unbelievable."
"I just want to thank DiAnn for the opportunity to be on this team," Reid added. "It is an opportunity to represent our country, and it is an amazing honor. It is very different than when you are just going by yourself in a regular round. You have all these guys standing behind you. All of these competitions, like the Artisan Farms Under 25 series and the Young Rider championships in the summer and every other team class, are great practice for what I think we all hope to do in the future in Nations Cups."
Brazil finished the young rider team event in second with a score of 24. Their team included Andre Reichmann and Elle de Laubry, Yasmin Almendros and Piaf de Quintin, Luis Antonio Piva Filho aboard Zaterdag Cooper, and Joao Victor Castro with Wamira. The team finished on four faults in round one and a 20-point total in round 2. Reichmann and Elle de Laubry went on to represent Brazil in the grand prix jump-off and finished third individually.
The team from Ireland was third with 28 faults. Cormac Hanley and Navy Blue Tarroy, Oliver McCarthy and Crossfire 10, Jenny Rankin and Eddi Maserati, and Tom Foley with Petrushka III finished on 20 faults in round one and 8 faults in round 2. Rankin and Eddi Maserati finished second in the grand prix jump-off.
$2500 Junior Grand Prix & Second Round Nation's Cup
Team USA added another win in the Hollow Creek Farm Nation's Cup series, this time in the Junior class as Lucas Porter (Wellington, FL), Kelli Cruciotti (Elizabeth, CO), Lauren Fischer (Bedford Hills, NY), and Madison Goetzmann (Skaneateles, NY) rode to victory. This group of riders with significant team competition experience handled the big track with ease. Team Ireland finished just behind Team USA in second, and Team Brazil rounded out the top three. Juan Pablo Gaspar Albanez (MEX) won the $2,500 Junior Grand Prix and also took home the Overall Leading Rider Award.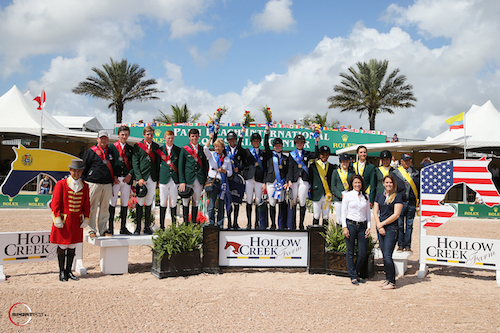 This group of U.S. Junior riders has a wealth of experience in the team competition atmosphere considering their young ages, as each has represented the U.S. or their respective zones at the FEI North American Junior Young Rider Championships (NAJYRC) or in other team competitions. Lauren Fischer and Offenbach Du Granit are one of those pairs; "I've had him for about a year now. We bought him last year in Wellington. We've had a lot of firsts, we did NAJYRC together, Prix des States, and he took me around my first 1.50m Grand Prix, so he's really special and I couldn't ask for a better horse."
Lucas Porter is no stranger to besting pressure situations, as he is a rising star in the jumper world and experiences like Nation's Cup continue to improve his riding, "A team ride is definitely different than an individual ride. I've been fortunate enough to compete on a few teams now here in Wellington and at NAJYRC. The pressure of the team and the pressure to put in two clear rounds is very different than individual riding because you not only have your team, but there are so many other people counting on you," he stated. "I really want to thank everyone for helping me get here; John Roche, Chelsea Sundius, my parents, and Sleepy P Ranch for making this all possible."
"It's a whole different level when you can't only worry about yourself, but you have a group of people who need you to perform well," said Kelli Cruciotti who rode Chamonix H for Team USA. "It is definitely an experience and the more you do it, the more you can get comfortable with it. It's still always a little nerve-wracking going in though."
The course tested the riders at each fence, which is exactly what is needed in a Nation's Cup class at this level according to all of the riders. "The triple combination was tricky because I didn't want to go in too flat, but I have a small-strided horse so I went for eight (strides)," said Porter about his ride on Phineas. Goetzmann had a strong showing aboard Wrigley and agreed with her teammates about the layout of the course, "The most difficult part for me was after the water and then going to the short six. My horse likes to get little bit ahead of herself with the water and getting her back and ready for the six (strides) was difficult, but the rest of the course was great."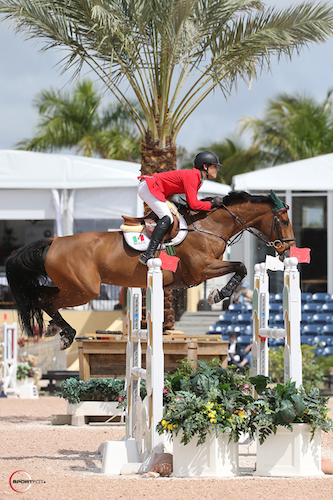 Albanez has competed in Nation's Cup classes for Mexico for the past two years and had his best showing yet at the 2015 $2,500 Junior Grand Prix competition. He crossed the timers in the jump-off at 31.627 seconds aboard Charlotte to take home the top prize. "My horse is really great. She's very fast, and I trust that she can do it. She's young, she's only seven, so I'm excited to continue riding her," he remarked.
He has had top 10 finishes at large competitions in the U.S. including the 2014 and 2013 NAJYRC where he came in 6th and 7th respectively. Even though the Grand Prix was based on individual scores, Albanez enjoys riding in the team atmosphere, "It's always a good time, and we're really good friends. We didn't have the best year this year, but that's okay because its good experience to ride as a team."
Sixteen-year-old Albanez plans to return to Mexico to finish his studies before deciding where he will compete for the summer season. "When I get home it will be about finishing school and then who knows, we'll just have to see!" he smiled.
Hollow Creek Farms Children's Grand Prix & Second Round Nation's Cup
The latter half of the first round and the full second round of the Hollow Creek Farm Children's Nation's Cup continued today after the class was postponed due to Saturday's storms. Team USA took the win in the Children's divisions thanks to the riding of Yasmin Rizvi (Greenwich, CT), Catalina Peralta (Geneva, FL), Charles Jacobs Jr. (Boston, MA), and Sheer Levitin (Delray Beach, FL) with Team Brazil finishing in second and Team Argentina following in third.
Thales Gabriel De Lima Marino (BRA) took the win in the Children's Grand Prix and
Alejandra Godoy (VEN) received the Overall Leading Rider Award for her combined performance throughout the week.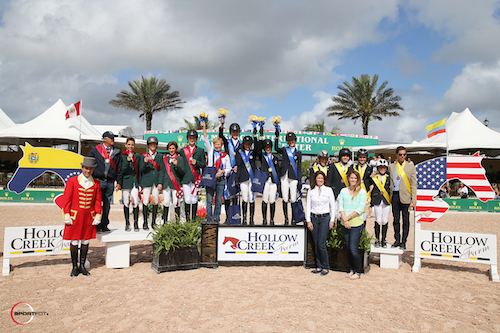 This was the first time a majority of the selected group of children's riders representing the United States Team had ever been named to compete in team competition format. "It's an honor to win my first Nation's Cup," smiled Levitin, who rode Nabuco in the class. "Thank you so much to Hollow Creek Farm for sponsoring this event and the entire team that made it possible."
Team USA put in a great effort to best the other seven teams from around the world competing at PBIEC this weekend. "It feels great to come out with a win considering there were so many other great rounds from other teams today," stated Jacobs who rode Campesino IV. "It's just awesome to be here." Peralta reiterated the sentiment, saying she was so proud of the way her horse, Merlin, performed considering their partnership is relatively new. "We've had newfound success already in our career together, which is really exciting and to do it at a Nation's Cup was even better," she remarked.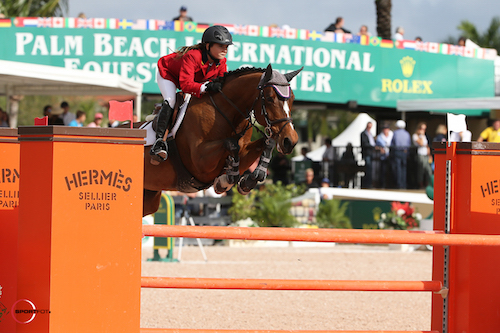 Each of the riders commented on the experience of competing as a team versus as an individual. Rizvi, who competed with her horse Delilah, elaborated nicely when describing the experience, "I put a lot more pressure on myself because we were competing as a team, and I didn't want to let anyone down. Once we won, it was really fun because we did it together and feeling like it was a group effort was a nice change."
Thales Gabriel De Lima Marino made the trip from San Paulo, Brazil, to compete in the WEF 8 Nation's Cup competition. The winner of the Children's Grand Prix, Marino rode quickly and accurately in the jump-off round aboard Balla 12 in 30.407 seconds to take the class. "My horse is really fast, and I thought the course was very good," explained Marino. "The most difficult parts for me were Fences 8, 9, & 10. They were tough lines, but my horse is very good and it was a good ride."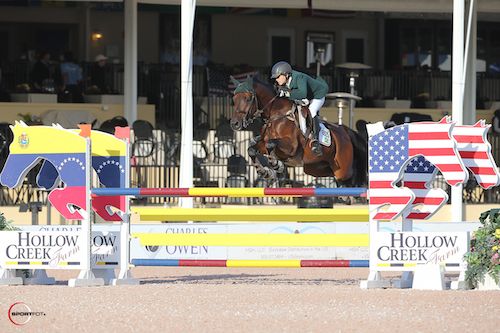 Marino, who enjoyed his time in Wellington for the past two weeks, will return to San Paulo tonight and will continue riding when he returns home. "My horse has a lot of energy so riding here in Florida was very fun. I will be excited to come back," he smiled.
Casanova and Sophie Gochman Conclude WEF 8 as the Autism Speaks Small/Medium Children's Hunter Pony
On Sunday afternoon Sophie Gochman, form New York City, piloted Romy Lauer's pony, Casanova, to the Autism Speaks Small/Medium Children's Hunter Pony championship. Casanova won the under saddle class and was third in two over fences classes.
Christina Rogalny and 3 Wishes finished the day as reserve champions. Elm Creek Holdings' entry took home the blue in the final over fences class, paired with a second over fences yesterday.
The 2015 Winter Equestrian Festival continues with its ninth week of competition, sponsored by Douglas Elliman, on March 4-8, 2015. The week will feature the $372,000 FEI World Cup™ Grand Prix CSI-W 5*, presented by Douglas Elliman, on Saturday, March 7. For full results and more information, please visitwww.pbiec.com.
Final Results: $150,000 Grand Prix CSIO 4* presented by Lugano Diamonds
1. BABALOU 41: 2005 Oldenburg mare by Balou du Rouet x Silvio I
TODD MINIKUS (USA), Two Swans Farm: 0/0/35.77
2. SIMON: 1999 KWPN gelding by Mr. Blue x Polydox
BEEZIE MADDEN (USA), Abigail Wexner: 0/0/37.47
3. DYNAMO: 2003 BWP gelding by Skippy II x Lys de Darmen
MEAGAN NUSZ (USA), Amalaya Investments: 0/0/38.71
4. CABALLITO: 2002 Holsteiner gelding by Contendro x Argentinus
ANDRES RODRIGUEZ (VEN), Arao Enterprises LLC: 0/4/36.86
5. TINKABELL 12: 2005 KWPN mare by Casco x Ekstein
RODRIGO PESSOA (BRA), Rodrigo Pessoa: 0/4/39.77
6. CALVIN KLEIN: 2004 Swedish Warmblood gelding by Cardento x Feliciano
JONATHON MILLAR (USA), Millar Brooke Farm Ltd: 0/4/42.44
7. URUS 2: 2005 Oldenburg gelding by Canturo x Cento
LJUBOV KOCHETOVA (RUS), Ljubov Kochetova: 0/4/42.99
8. HH CARLOS Z: 2002 Zangersheide gelding by Chellano Z x Voltaire
MCLAIN WARD (USA), Double H Farm: 0/8/35.42
9. ROYCE: 2004 Oldenburg stallion by Café au Lait x Grandilot
MARGIE ENGLE (USA), Elm Rock LLC: 0/8/42.75
10. GAZELLE: 2006 Belgian Warmblood mare by Kashmir Van Shuttershof x Indoctro
KENT FARRINGTON (USA), Robin Parksy: 0/14/59.81
11. ABUNOLA: 2005 KWPN mare by Numero Uno x Voltaire
LUIS PEDRO BIRABEN (ARG), Luis Pedro Biraben: 4/76.80
12. COLASKO: 2005 Oldenburg stallion by Coleman x Granus
NICOLAS PIZARRO (MEX), Monica Burillo Eguia Lis & Nicolas Pizarro: 4/77.50
Final Results: $10,000 Hollow Creek Farm Young Rider Nations Cup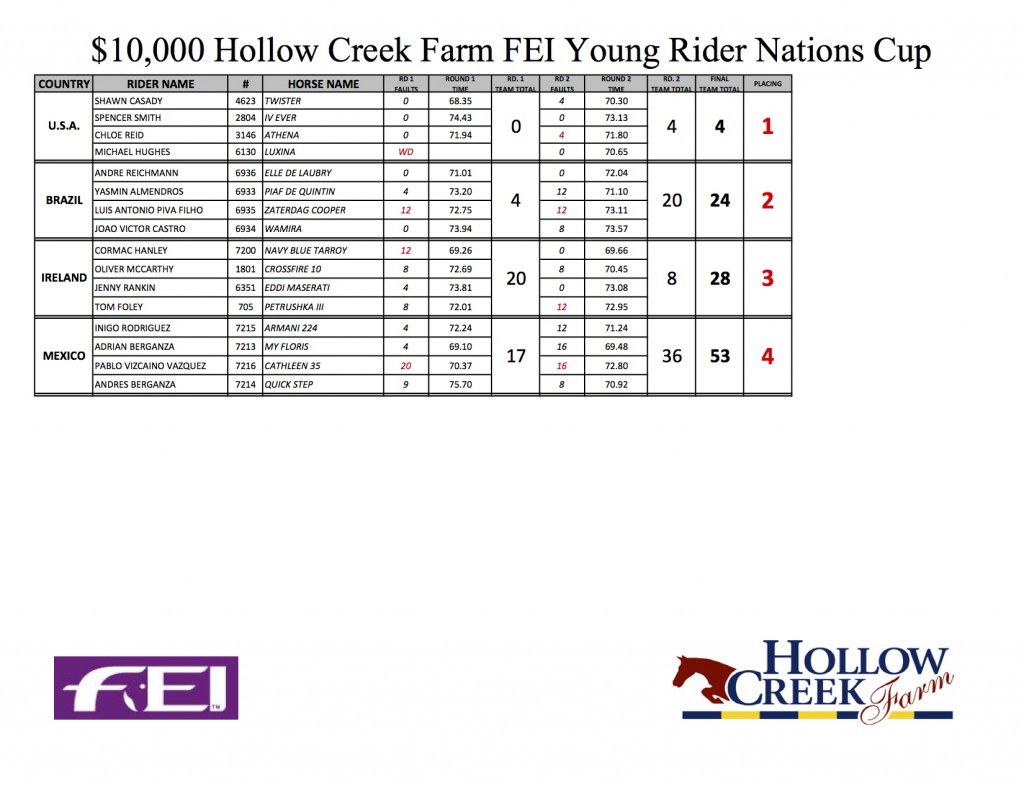 Final Results: $5,000 Hollow Creek Farm Young Rider Grand Prix
1. 2804 IV EVER SPENCER SMITH (USA) WYNDMONT: 0/0/32.84
2. 6351 EDDI MASERATI JENNY RANKIN (IRL) RICHARD BOURNS: 0/0/33.89
3. 6936 ELLE DE LAUBRY ANDRE REICHMANN (BRA) FELIPE REICHMANN: 0/0/33.98
4. 6130 LUXINA MICHAEL HUGHES (USA) CHRISTINA FRIED: 0/4/33.67
5. 7200 NAVY BLUE TARROY CORMAC HANLEY (IRL) KEVIN BABINGTON: 0/8/33.56
6. 4623 TWISTER SHAWN CASADY (USA) CAVALLO FARMS LLC: 4/70.30
7. 3146 ATHENA CHLOE REID (USA) CHLOE D REID LLC: 4/71.80
8. 1333 CHIN CHIN 24 PAIGE MAWSON (CAN) MAWSON SPORT HORSES: 4/73.95
9. 1801 CROSSFIRE 10 OLIVER MCCARTHY (IRL) MCLAIN WARD: 8/70.45
10. 7214 QUICK STEP ANDRES BERGANZA (MEX) JORGE BERGANZA & LILIA ANDERHUB: 8/70.92
11. 6934 WAMIRA JOAO VICTOR CASTRO (BRA) JOAO VICTOR CASTRO: 8/73.57
12. 5117 CASSINO LISBETH HAZOURY (USA) LISBETH HAZOURY: 8/73.67
Final Results: $2,500 Hollow Creek Farm Junior Nations Cup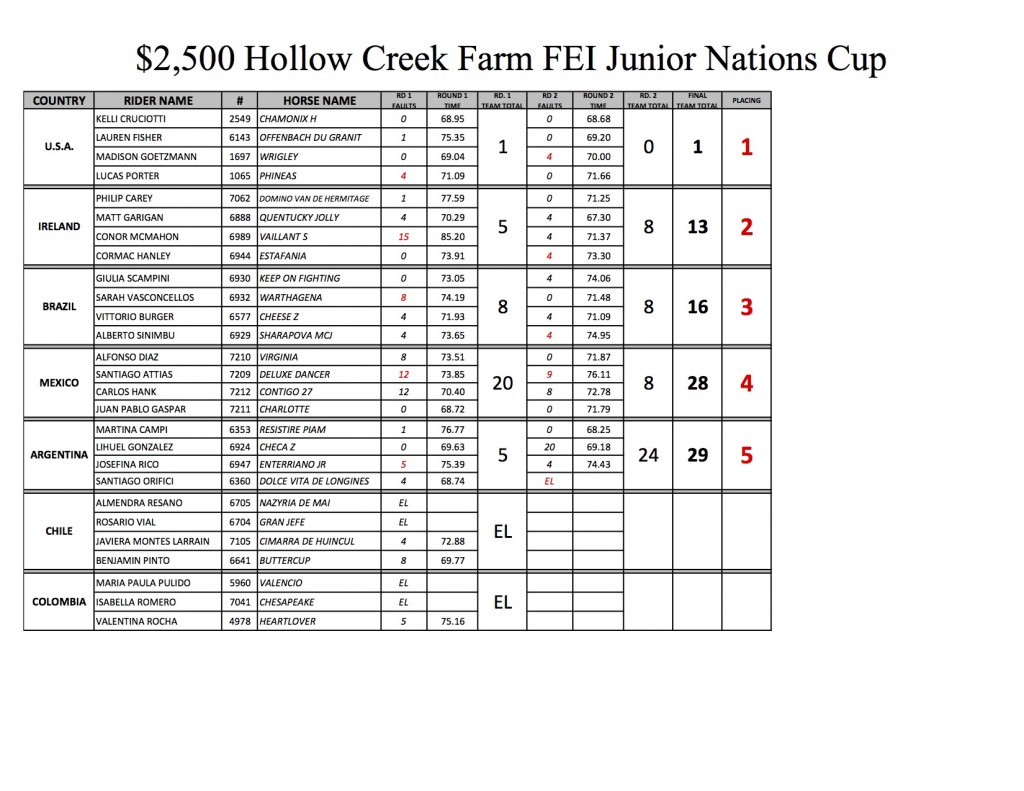 Final Results: $2,500 Hollow Creek Farm Junior Grand Prix
1. 7211 CHARLOTTE JUAN PABLO GASPAR (MEX) ALBERTO ALDANA: 0/0/31.62
2. 6353 RESISTIRE PIAM MARTINA CAMPI (ARG) OSVALDO CAMPI: 0/0/31.97
3. 6641 BUTTERCUP VD HEFFINCK BENJAMIN PINTO (CHI) ASH LEE CORP: 0/0/32.44
4. 7210 VIRGINIA ALFONSO DIAZ RIVERA (MEX) ALFONSO DIAZ: 0/0/35.45
5. 7062 DOMINO VAN DE HERMITAGE PHILIP CAREY (IRL) OAKLAND VENTURES LLC: 0/4/31.56
6. 2549 CHAMONIX H KELLI CRUCIOTTI (USA) SERENTIY EQUESTRIAN VENTURES: 0/4/32.05
7. 6259 CASTILLIO JULIA TOPS (CAN) ZIEDLER FARM CANADA LTD/TOPS HORSE TRADING BV: 0/4/32.69
8. 6932 WARTHAGENA SARAH ROCHA VASCONCELLOS (BRA) L. COLLINS/M. COLLINS: 0/4/33.09
9. 6143 OFFENBACH DU GRANIT LAUREN FISCHER (USA) LAUREN FISCHER: 0/8/30.51
10. 1065 PHINEAS LUCAS PORTER (USA) SLEEPY P RANCH LLC: 0/8/33.60
11. 6888 QUENTUCKY JOLLY MATT GARIGAN (IRL) MARTIN GARRIGAN: 4/67.30
12. 4709 LAGRAN SILVANA CABRAL (PAR) MARK BLUMAN: 4/68.62
Final Result: Hollow Creek Farm Children's Nations Cup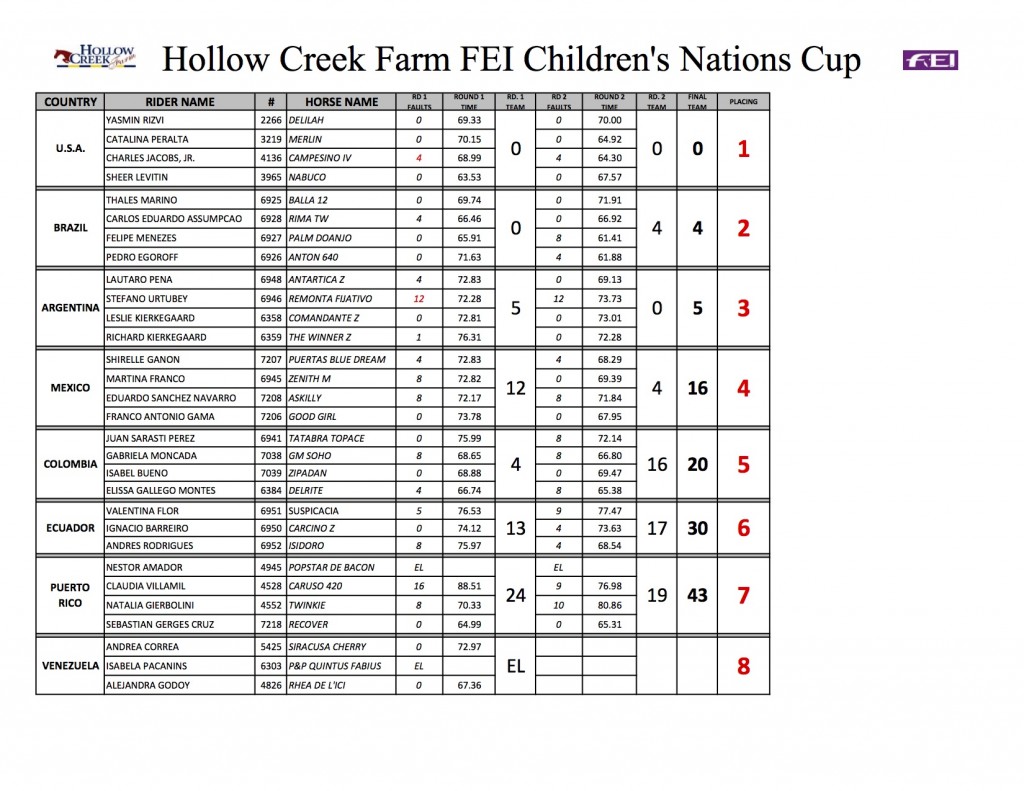 Final Results: Hollow Creek Farm Children's Grand Prix
1. 6925 BALLA 12 THALES GABRIEL DE LIMA MARINO (BRA) MARIO S. CARLOS: 0/0/30.40
2. 2266 DELILAH YASMIN RIZVI (USA) PEACOCK RIDGE LLC: 0/0/30.59
3. 7039 ZIPADAN ISABEL BUENO (COL) ISABEL BUENO: 0/0/31.79
4. 5427 BELINA LUKENE ARENAS (GUA) ENRIQUE ARENAS: 0/0/31.81
5. 6358 COMANDANTE Z LESLIE KIERKEGAAR (ARG) PEDRO S.A.: 0/0/32.07
6. 4826 RHEA DE L'ICI ALEJANDRA GODOY (VEN) FRANCIS CLEMENT: 0/0/32.44
7. 6359 THE WINNER Z RICHARD KIERKEGAA (ARG) PEDRO S.A.: 0/0/33.31
8. 6948 ANTARTICA Z LAUTARO PENA BRUNO (ARG) MARIE HELENE MELCHIOR/PEDRO S.S.: 0/0/33.74
9. 6945 ZENITH M MARTINA FRANCO STEPHAN (MEX) ANDREA SOL THOMAS: 0/0/33.86
10. 6928 RIMA TW CARLOS ZANIBONI DE ASSUMPCAO (BRA) RICARDO AUGUSTO CATELAN: 0/0/34.55
11. 3965 NABUCO SHEER LEVITIN (USA) SHEER LEVITIN: 0/4/27.91
12. 3219 MERLIN CATALINA PERALTA (USA) FANCES LAND: 0/4/31.70
Photo Credit: Photos © Sportfot, An Official Photographer of the Winter Equestrian Festival, us.sportfot.com. These photos may be used only in relation to this press release and must include photo credit.