For Immediate Release
Lindsay Brock and Sabrina Brashares for Jennifer Wood Media, Inc.
Wellington, FL – January 26, 2020 – Canadian Olympian Tiffany Foster guided new mount Northern Light to a win in the $37,000 CaptiveOne Advisors 1.50m Classic to close out week three of the 2020 Winter Equestrian Festival (WEF) on Sunday, January 26.
WEF continues through March 29, with 12 consecutive weeks of world-class competition and $13 million dollars on offer. The fourth week of competition at WEF will run January 29 through February, is sponsored by Marshall & Sterling Insurance/Great American Insurance Group, and recognized as a CSI4* by the Fédération Equestre Internationale (FEI).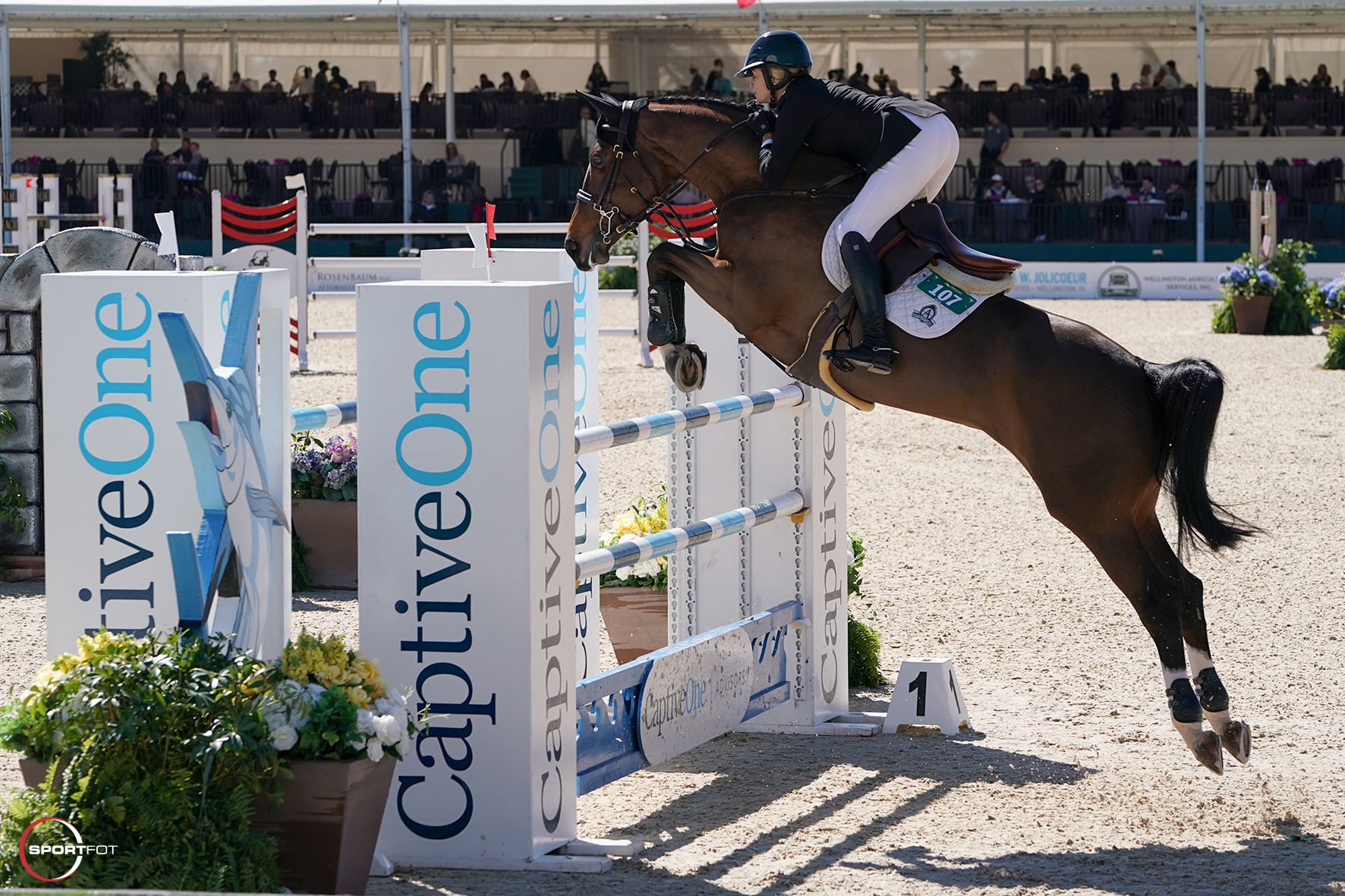 From a starting field of 66, 10 horses advanced to course designer Kelvin Bywater's (GBR) jump-off track. Returning second, Foster put the foot speed of Northern Light, a nine-year-old Swedish Warmblood mare (Plot Blue x Contender) to good use and stopped the clock clear in 42.47 seconds over runner-up Catherine Tyree (USA) and BEC Lorenzo, owned by Mary Tyree.
Foster got the ride on Northern Light from owners Andy and Carlene Ziegler of Artisan Farms at the end of September. The mare is the former mount of Olivier Philippaerts (BEL) and was a match with Foster from the very beginning.
"When I rode her for the first time, I had a very good feeling," said Foster. "You get the feeling that she's a really intelligent horse. She knows where the jumps are and she is the same every time you get on her."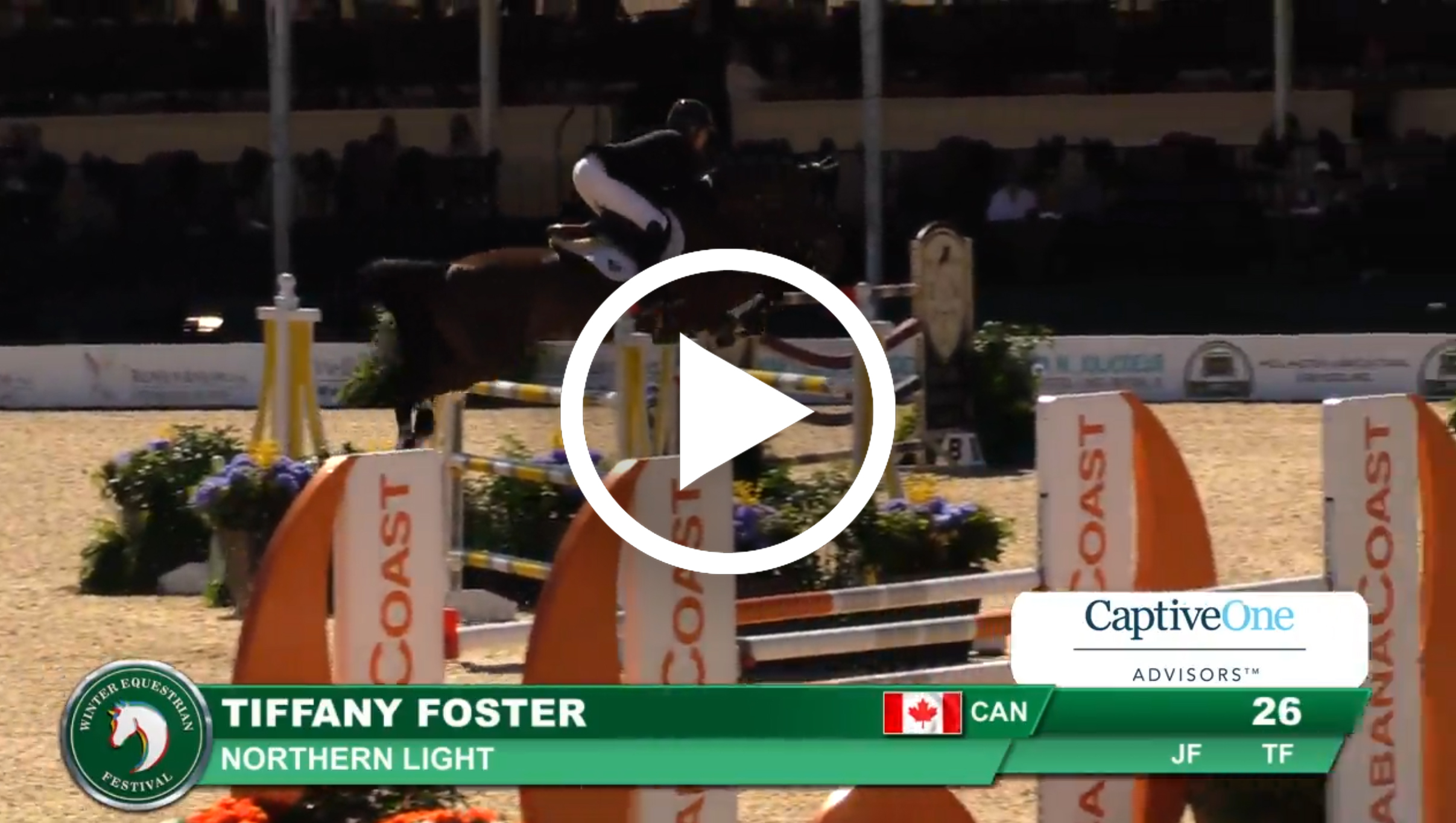 Sunday's 1.50m was only the second class of that height for Northern Light during her tenure in the competition ring. "It was also our first jump-off together," said Foster. "I'm pretty surprised. She's really quick across the ground and in the air, and has a huge stride. I knew if I got a good shot at the last line we would be fast. She's the type of horse you don't have to tell to turn, you just think it and she goes."
Foster is introducing a string of developing horses into the grand prix ranks this season, saying, "We bought this group as six, seven, and eight-year-olds so we are the point now where they are being able to compete and win. It's really exciting to see them develop and really step up. It's been a long process and any owner that's been as patient as Andy and Carlene deserves this kind of success. I'm hoping that with the group I have, they are going to get it."
Tyree posted a time of 42.56 seconds to finish fractions of a second off the lead, while Great Britain's Emily Moffitt jumped into the top three with Carlson 86 on a clear jump-off performance in 43.41 seconds for owner Poden Farms. Canadian Olympic champion Eric Lamaze took fourth riding Coco Bongo in 44.17 seconds for owner Artisan Farms, LLC, and Jonathan McCrea (USA) capped the top five on Aristoteles V, owned by Windsor Show Stables, in 44.28 seconds.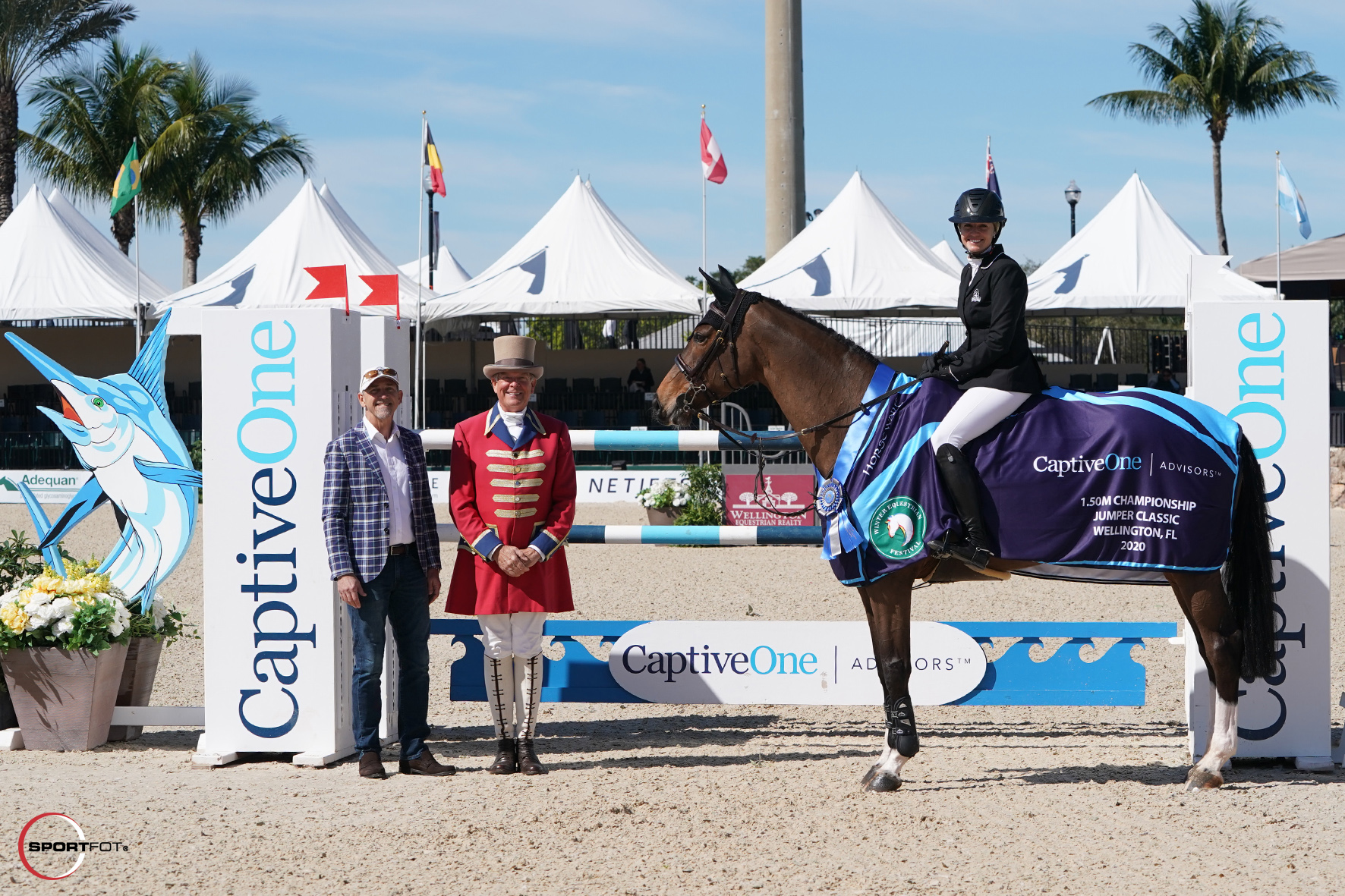 Also winning in the International Arena, Madison Rauschenbach (USA) won the $10,000 SJHOF High Junior Jumper Classic, presented by Griffis Residential, riding her own Gillette B, while Lacey Gilbertson (USA) topped the $10,000 Medium Amateur-Owner Jumper Classic, presented by Celebrity Cruises, aboard Viti de Longa, owned by Seabrook LLC.
Final Results: $37,000 CaptiveOne Advisors 1.55m Classic CSI3*
1 NORTHERN LIGHT: 2011 SWB mare by Plot Blue x Contender
TIFFANY FOSTER (USA), Artisan Farms LLC and Tiffany Foster: 0/0/42.47
2 BEC LORENZO: 2010 Irish Sport Horse gelding by Livello x Guidam
CATHERINE TYREE (USA), Mary Tyree: 0/0/42.56
3 CARLSON 86: 2008 German Sport Horse gelding by Colorit x Auftritt
EMILY MOFFITT (GBR) Poden Farms: 0/0/43.41
4 COCO BONGO: 2005 Rheinlander gelding by Caretino x Calido
ERIC LAMAZE (CAN), Artisan Farms, LLC: 0/0/44.17
5 ARISTOTELES V: 2005 KWPN stallion by Padinus x Lux
JONATHAN MCCREA (USA), Windsor Show Stables: 0/0/44.28
6 CASSINJA S: 2006 Dutch Sporthorse mare by Carinjo x Cassini I
CHARLES JACOBS (USA), CMJ Sporthorse, LLC: 0/0/45.61
7 NEBEL VAN HET POSTHUIJS: 2009 KWPN mare by Numero Uno x Argentinus
EDUARDO MENEZES (BRA), Eduardo Menezes: 0/4/39.30
8 URIS DE LA ROQUE: 2008 Selle Français gelding by Capital x Quick Star
MARIO DELAURIERS (CAN), Aram Ampagoumian LLC & Mario Deslauriers: 0/4/42.72
9 TOY BOY: 2008 BCP gelding by Unknown x Unknown
JORGE MATTE CAPDEVILA (CHI), Jorge Matte Capdevila: 0/8/41.29
10 STRANGER 30: 2006 Hanoverian gelding by Stakkato x Cheenook
ANDREW RAMSAY (USA), The Stranger Group: 0/8/41.55
11 CLOUD 39: 2011 Holsteiner gelding by Clarimo x Quintero
MARIO DESLAURIERS (CAN), Wishing Well Farm LLC: 1/75.16
12 HOPE STREET: 2009 Holsteiner mare by Casall x Quick Nick I
LUCAS PORTER (USA), SPR Fund One: 1/75.53
Sterling Malnik Rides Rockette to the Junior Hunter 3'3" 15 and Under Championship
Week 3 of WEF came to a close with Sterling Malnik and Rockette claiming the Junior Hunter 3'3" 15 and Under championship in the E.R. Mische Grand Hunter Ring. The pair earned two firsts, a second, and a fifth-place ribbon.
Malnik, trained by Bill Schaub, has only had Rockette for about one month. She recently purchased the 10-year-old mare from Ramble On Farm. Malnik is thrilled to have such a kind and talented new mount for this season. "She just blows my mind and always jumps incredible!" described Malnik.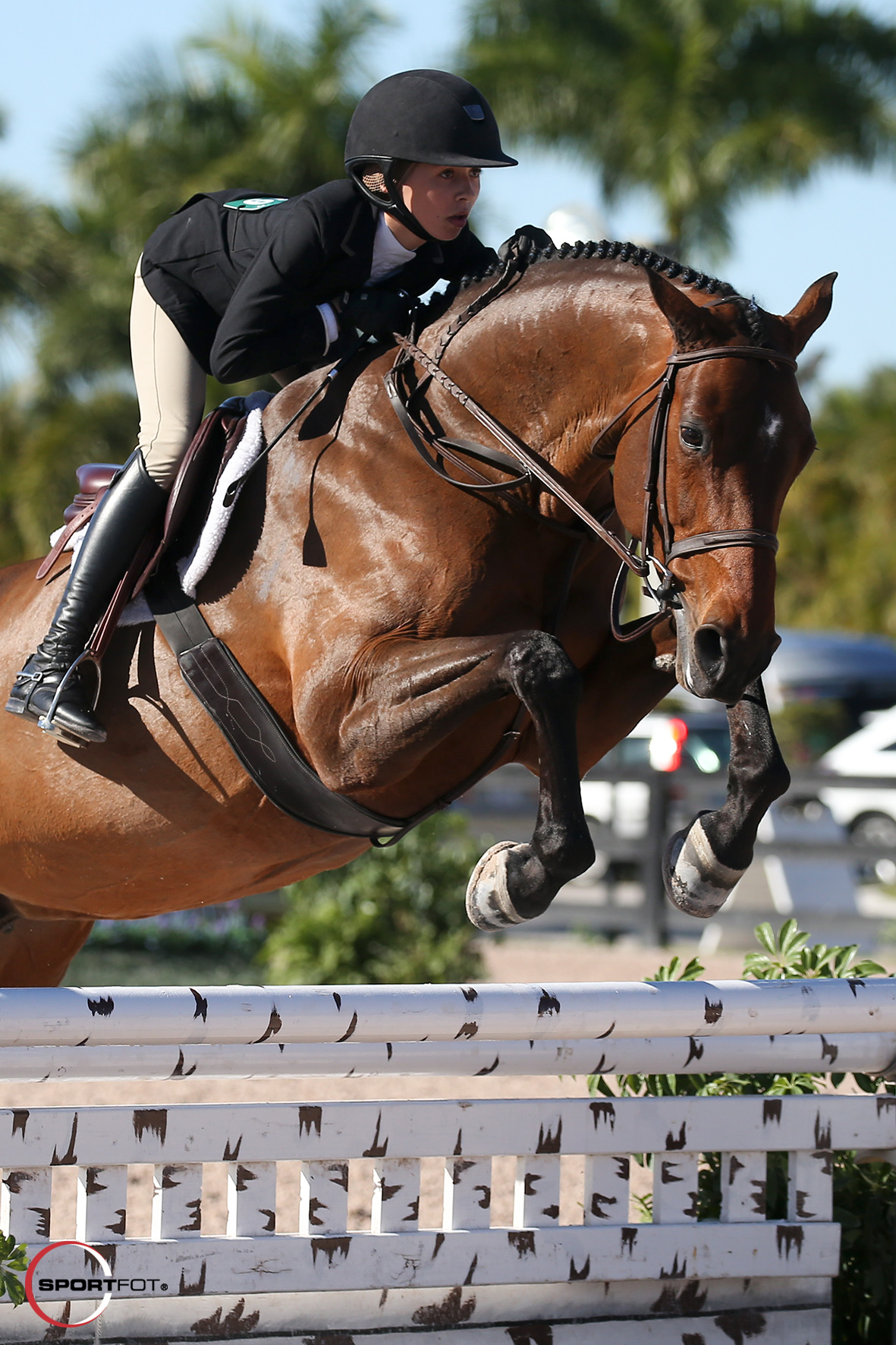 Rockette and Malnik just started competing in the Junior Hunter 3'3" division this circuit and are already off to a great start. "She's a proper lady; if you respect her, she'll respect you," said Malnik of Rockette.
The pair had consistent rounds throughout the two days of competition and also won the under saddle. Malnik believes that it was Rockette's jump and their combined "cuteness factor" that made them stand out to the judges. "She is amazing and I think she jumps better than any other horse out there," the rider commented.
Malnik, of Ocean Ridge, FL, plans to continue to show Rockette in the Junior Hunter 3'3" division for the rest of the 2020 Winter Equestrian Festival season. She is hoping that they can continue to produce good rounds and earn circuit champion in the division. "Hopefully next year we can move up to the 3'6" Junior Hunters and qualify for Devon and indoors," Malnik explained.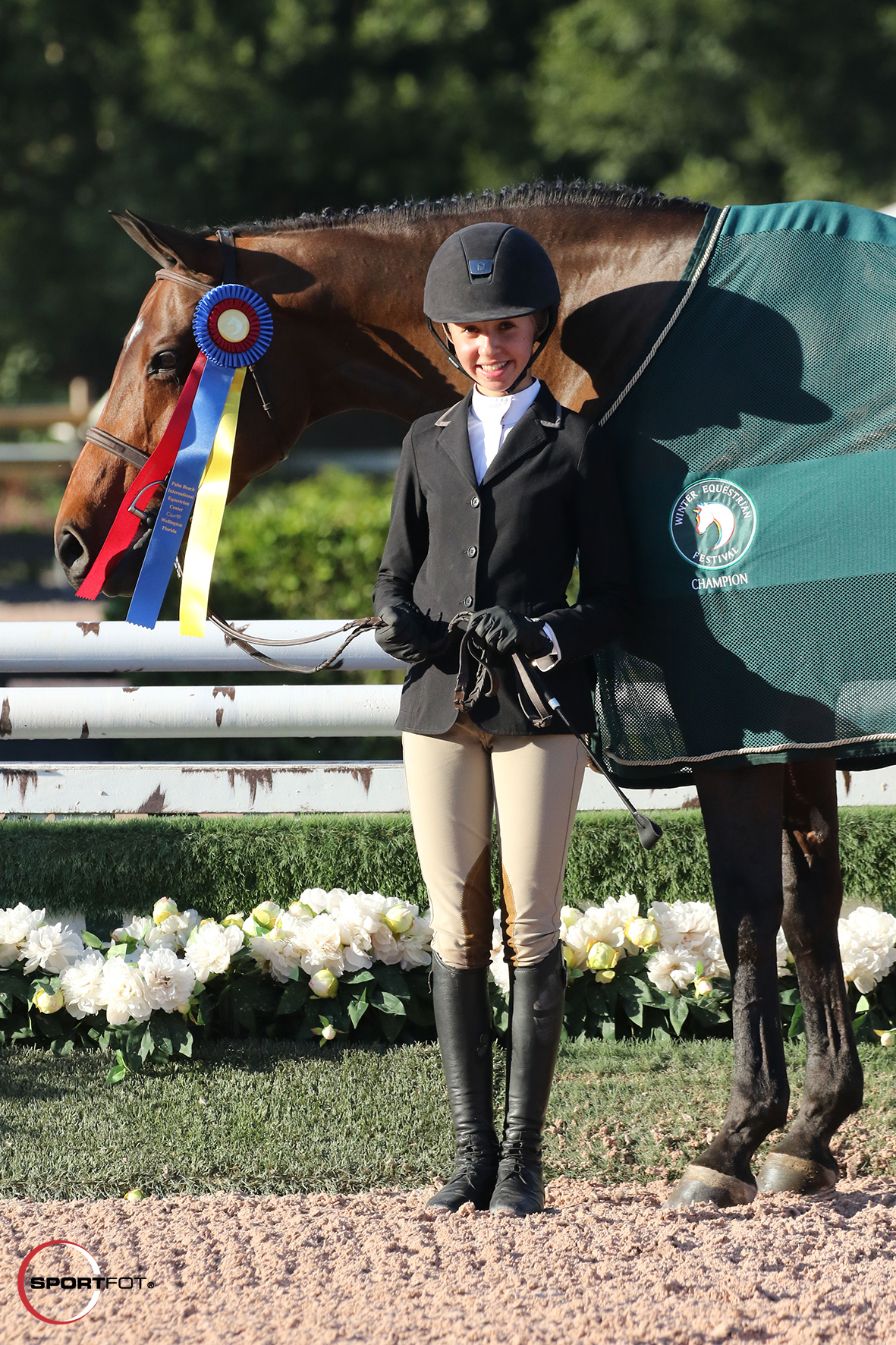 Right behind Malnik in points was Raina Swani and Stately, owned by Shadowfax Equestrian LLC. Swani, of Ponte Verda Beach, FL, and Stately received a second, third, fourth, and eighth place to earn reserve champion.
The fourth week of the Winter Equestrian Festival kicks off with hunter, jumper, and equitation competition Wednesday, January 29, and runs through Sunday, February 2. Classes that will be held on the Derby Field on January 29 through February 1 include the $6,000 Bainbridge 1.40M Jumpers (Wednesday, 10 a.m.), $73,000 Equinimity WEF Challenge Cup Round 4 (Thursday, 10 a.m.), $73,000 CaptiveOne Advisors 1.50m Classic (Friday, 10 a.m.), and the $214,000 Marshall & Sterling Insurance/Great American Insurance Group Grand Prix CSI4* (Saturday, 11 a.m.). The Great Charity Challenge, presented by Fidelity Investments will take place during "Saturday Night Lights" at 7 p.m. on February 1 in the International Arena.
For full results, visit www.PBIEC.com.
Photo Credit: Photos © Sportfot, Official Photographer of the Winter Equestrian Festival. These photos may be used only in relation to this press release and must include photo credit.