For Immediate Release
Kate Pettersen and Sabrina Brashares for Jennifer Wood Media, Inc.
February 7, 2021 – Wellington, FL – Daniel Deusser (GER) and Killer Queen VDM, owned by Stephex Stables, flew to the top spot in the $214,000 Marshall & Sterling/Great American Insurance Group Grand Prix CSI4* on the grass Derby Field at Equestrian Village on Sunday, February 7, to close out the Marshall & Sterling/Great American Insurance Group Grand Prix CSI4* week at the 2021 Winter Equestrian Festival (WEF).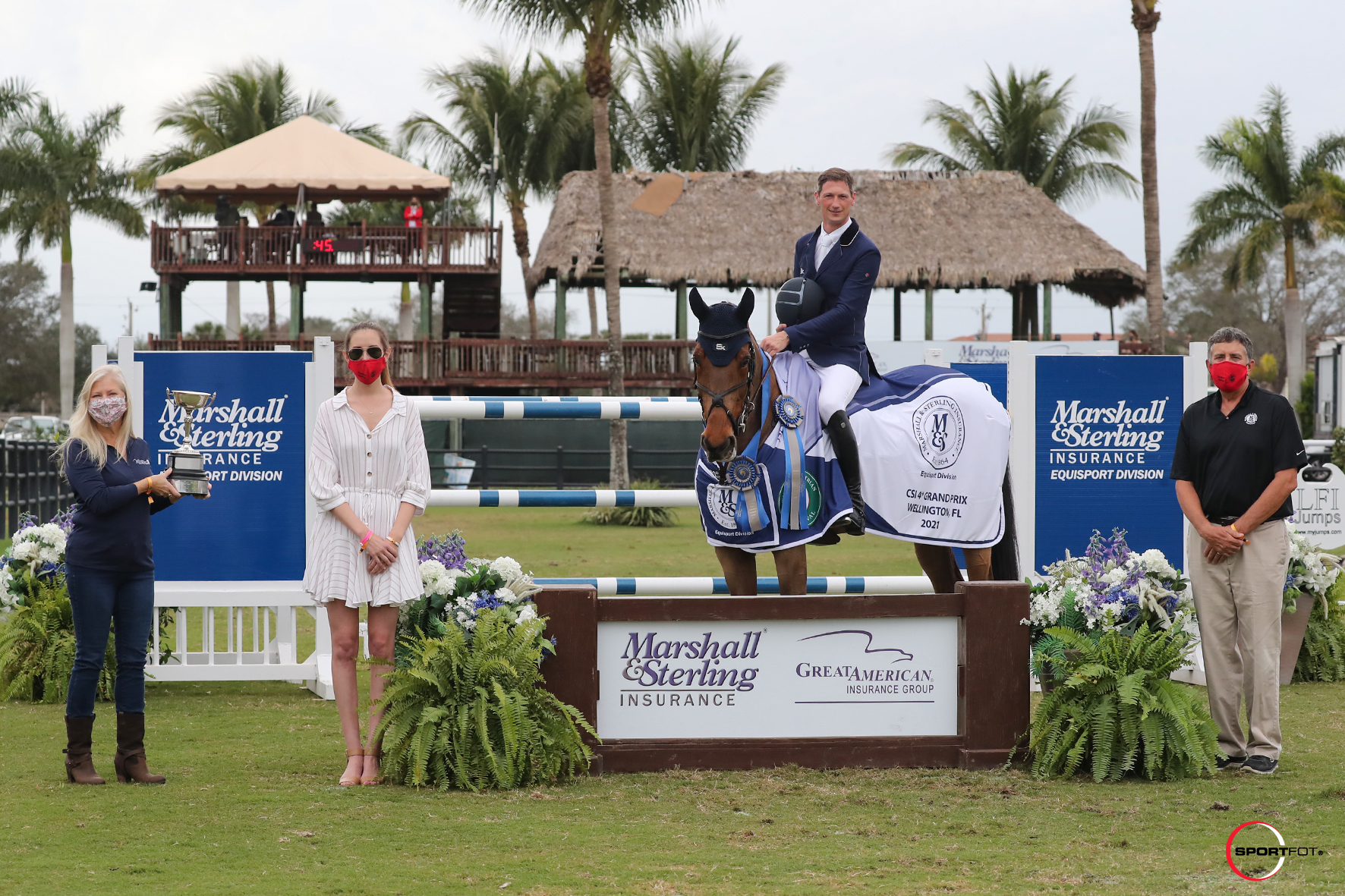 Coming up next week, it's the first CSI5* of the season at the 2021 WEF, sponsored by Douglas Elliman Real Estate with a concurrent CSI2* running as well, sponsored by Restylane. The action begins on Wednesday, February 10, in the International Arena at the Palm Beach International Equestrian Center (PBIEC), with the $37,000 Douglas Elliman Real Estate 1.45m Classic CSI5*, followed by Thursday's $73,000 Adequan® WEF Challenge Cup Round 5. On Friday is the $37,000 Bainbridge 1.45m Classic along with the $37,000 Restylane 1.45m Qualifier CSI2*.
On Saturday night, the schedule features $401,000 Douglas Elliman Real Estate Grand Prix CSI5* under the lights in the International Arena. The week ends with an exciting Sunday lineup with the $73,000 CaptiveOne Advisors 1.50m Classic and the $50,000 Restylane Grand Prix CSI2*. Spectators can watch a live stream of feature classes, which are also available on-demand.
The test set by Anderson Lima (BRA) featured 16 jumping efforts with a shortened jump-off course boasting seven obstacles and included an exciting gallop home to the Marshall & Sterling/Great American Insurance Group oxer. Eight nations were represented in the dozen qualified to return for the featured class jump-off.
Deusser and Killer Queen VDM, an 11-year-old Belgian Warmblood mare by Eldorado Vd Zeshoek x Derly Chin De Muze, galloped swiftly across the track, leaving all the jumps in their cups. The pair stopped the clock in 39.98 seconds making them the only combination of the day to crack the 40-second mark.
Watch the winning jump-off ride here!
"I'm very happy with Killer Queen today," said Deusser. "She arrived two weeks ago. I took her to other places to work with her on the grass, and she took it very well this weekend. At the end she is just an unbelievable horse. She has all of the things that a good show jumper needs; she's very scopey, she's careful, she has a huge stride, and she can be fast easily."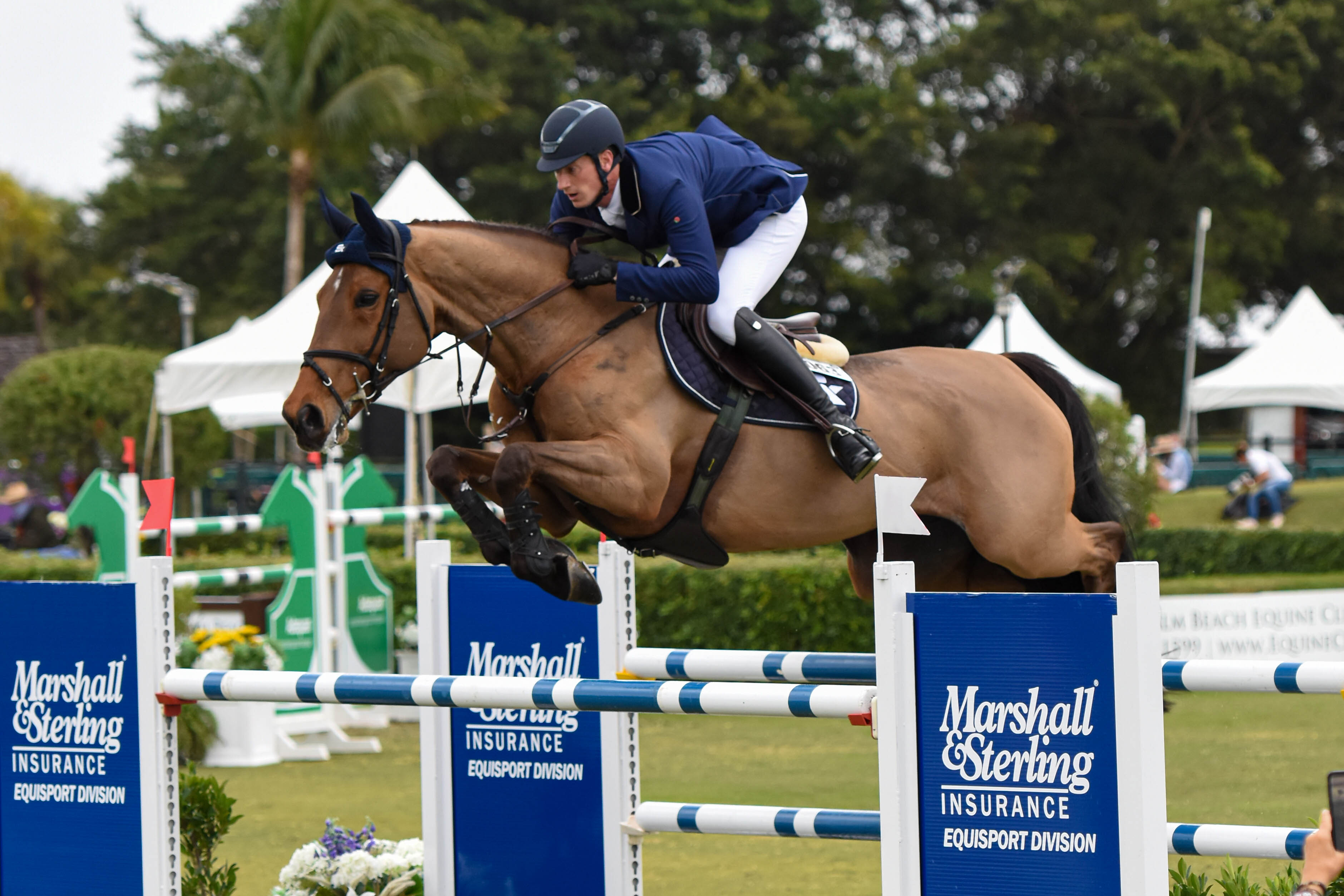 Ashlee Bond (ISR) and Donatello 141, a 10-year-old Westphalian gelding by Diarado x Lamoureux I owned by Little Valley Farms, gave it their best effort, flying over the final jump on course to finish in 40.41 seconds. Their impressive performance marks the first time the pair has competed in an FEI event since winning the CSI5* grand prix during WEF 9 at the 2020 WEF.
"My plan was just to run, kick as hard as I could, and turn as fast as I could," Bond said with a smile. "My horse is little. He's like 15.3hh and doesn't have a very big stride, but he is game, so I just took a chance and would have been happy wherever I ended up because he's such a good boy."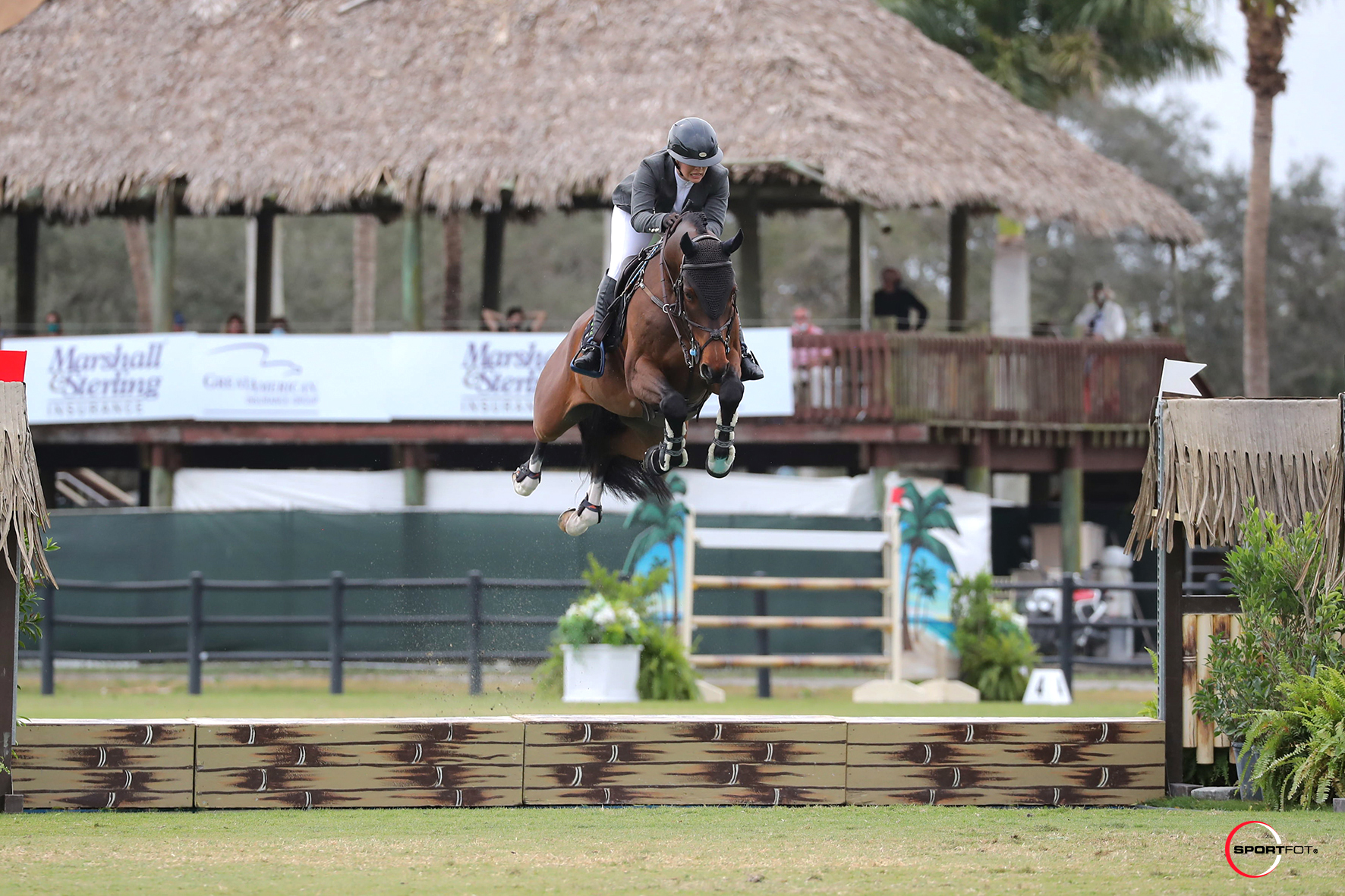 "I think that Andersen [Lima] Is a genius course designer," Bond continued. "Every horse that I watched this week, including my own, just got better as they went on. The courses are smart, they ask tough questions of the horses, but they're not unfair. There are faults all over the course, and I really enjoy riding his tracks. It was a blast to be able to go up against riders like Daniel and McLain. There was so much talent out there."
Taking the final spot on the podium was the aforementioned McLain Ward (USA) aboard Contagious, a 12-year-old Rheinlander gelding by Contagio x For Mary owned by Beechwood Stables, LLC, crossing the finish line in 40.66 seconds.
"I was thrilled with Contagious," said the two-time Olympic team gold medalist. "We gave him a bit of a rest in the fall. We've been building him back up, and we're thrilled with him. I thought he jumped really spectacular. I was a little chicken to the last fence in the jump-off, and I took away his wind a little bit. This year WEF is so competitive, and we're seeing a level higher of competition than ever because we're lucky enough to still be able to compete, so everyone has come to Florida. It's exciting."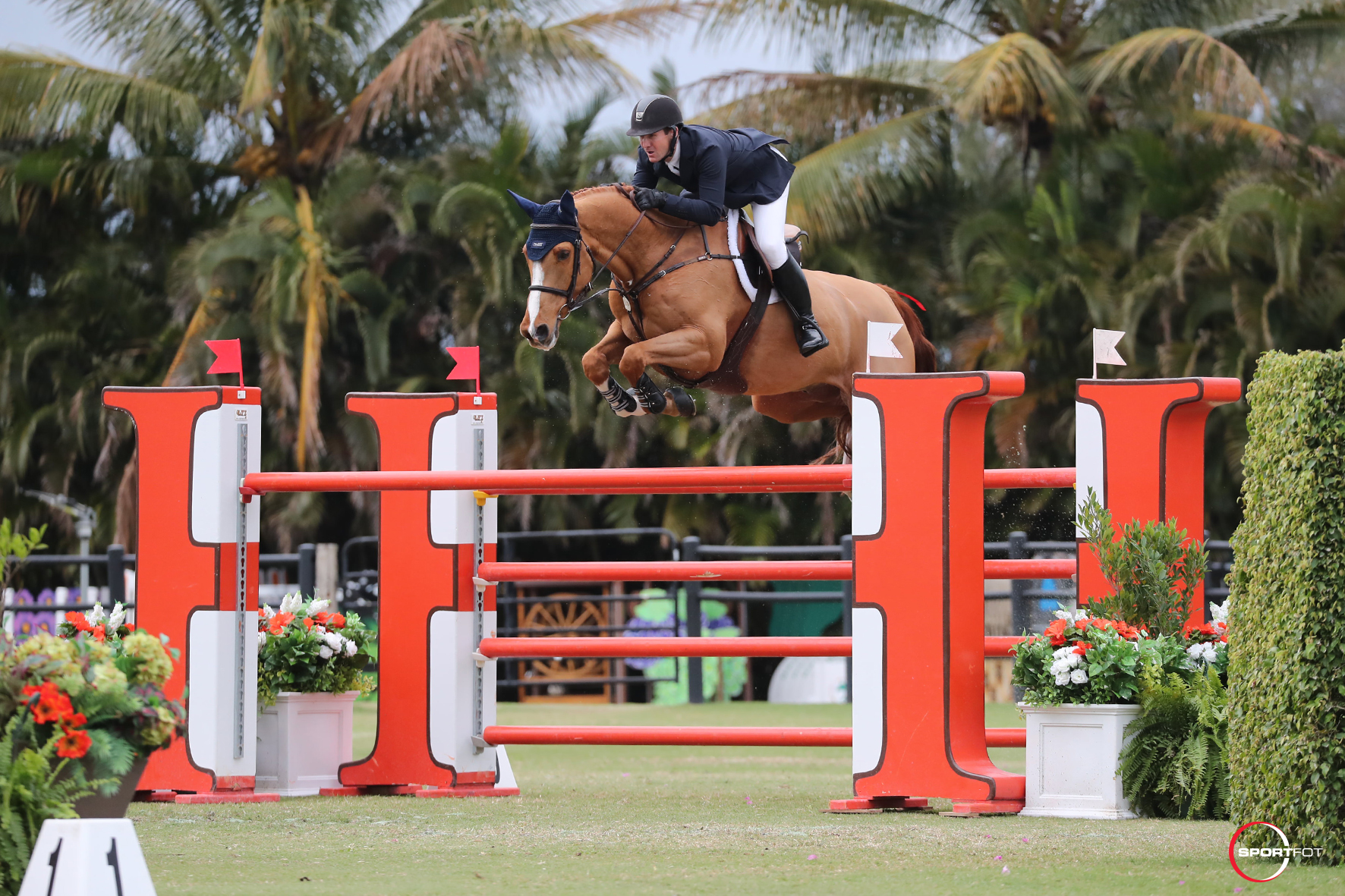 Horses and riders enjoyed their second opportunity to jump on the grass Derby Field and will have two more weeks of competition on the turf during WEF, which runs until April 4.
"I think it's great," said Ward of the opportunity to spend more time on the Derby Field. "The footing is pretty spectacular, it's a beautiful setting, and it's nice to have a variety of places to jump to keep the horses interested, engaged, and fresh. I thought Anderson [Lima] did a great job today. The time allowed was probably a little bit friendly in the end and maybe opened the door for a few more into the jump-off."
Sunday's win marks a welcome return for Deusser, the third-ranked rider in the world, who is competing at WEF for the first time in four years.
"I have to admit that I missed it a little bit," said Deusser. "Everything around this facility is fantastic. There are fantastic rings here and the circumstances around the world are difficult right now, so we are very happy to be here and that we can compete here."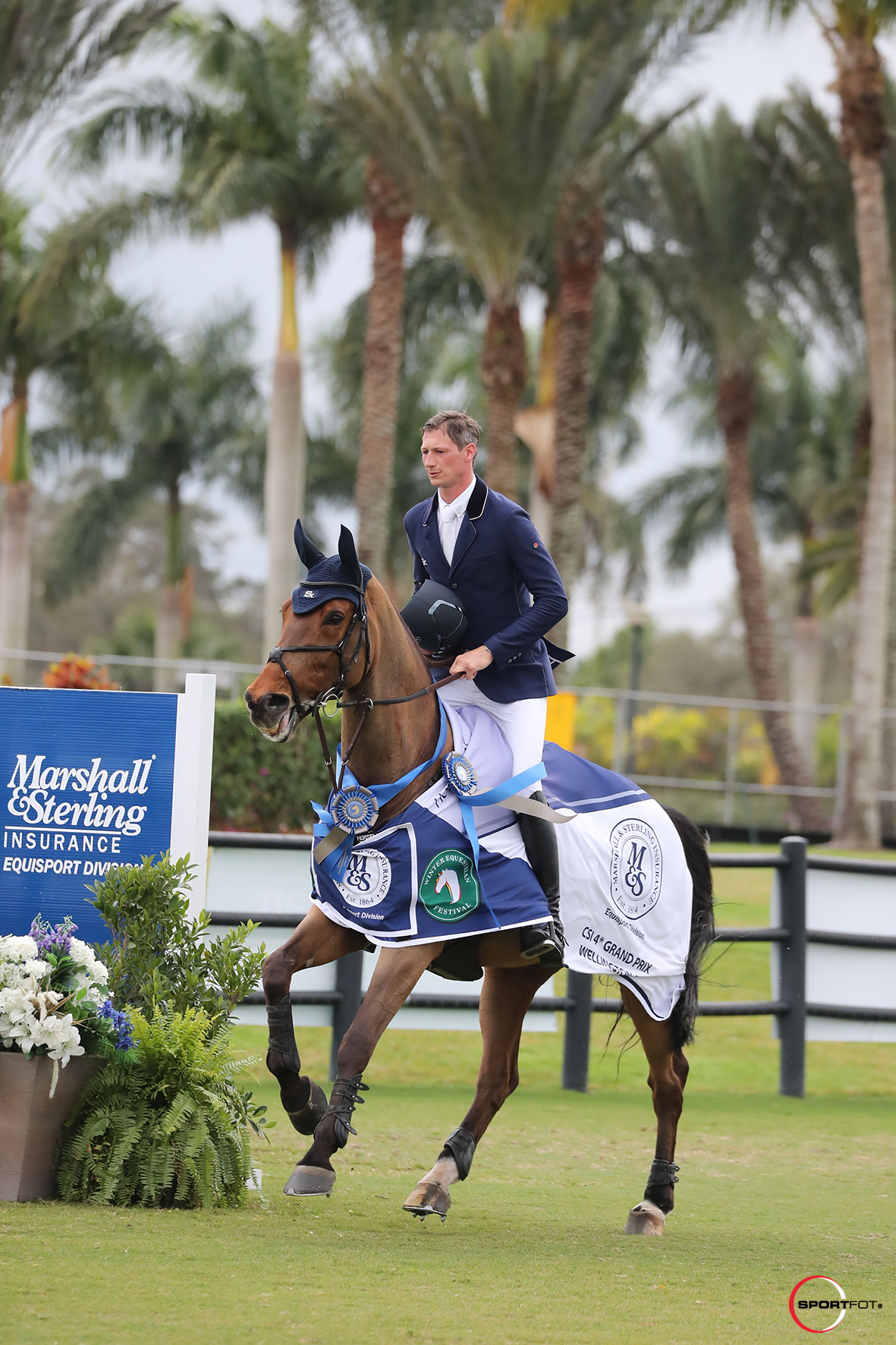 After a successful Sunday, Deusser is already looking ahead, hungry to add to his collection of accolades.
"I will continue with Killer Queen in the CSI5*, and after that she will have a couple weeks off and then I will work with some of my other horses during that time," he said.
Following the class, Deusser was also recognized with The Village of Wellington Cup, an award established in 1998 by the Village of Wellington that is presented annually by the Mayor of Wellington to the winning rider of the WEF 4 Grand Prix.
Final Results: $214,000 Marshall & Sterling/Great American Insurance Group Grand Prix CSI4*
1. KILLER QUEEN VDM: 2010 BWP mare by Eldorado Vd Zeshoek x Derly Chin De Muze
DANIEL DEUSSER (GER), Stephex Stables: 0/0/39.98
2. DONATELLO 141: 2011 Westphalian gelding by Diarado x Lamoureux I
ASHLEE BOND (ISR), Little Valley Farms: 0/0/40.41
3. CONTAGIOUS: 2009 Rheinlander gelding by Contagio x For Mary
MCLAIN WARD (USA), Beechwood Stables LLC: 0/0/40.66
4. HESTER: 2005 Belgian Warmblood gelding (Wandor van de Mispelaere x Palestro vd Begijnakker)
LUCY DESLAURIERS (USA), Lisa Deslauriers: 0/0/40.68
5. NORTHERN LIGHT: 2011 SWB mare by Plot Blue x Contender
TIFFANY FOSTER (CAN), Artisan Farms, LLC: 0/040.96
6. CHIC CHIC: 2011 Westphalian stallion by Comme Il Fault x Contendra
DARRAGH KENNY (IRL), Vlock Show Stables LLC: 0/0/41.72
7. LEONE JEI: 2012 KWPN gelding by Baltic Vdl x Dara
MARTIN FUCHS (SUI), Aldofo Jui: 0/0/44.45
8. TRUMAN: 2009 Selle Francais gelding by Mylord Carthago*HN x Kolibri
AMY MILLAR (CAN), Millar Brooke Farm Ltd: 0/0/46.08
9.  SKYHORSE: 2007 Belgian Warmblood gelding by Calvaro x Quidam de Revel
LILLIE KEENAN (USA), Chansonette Farm LLC: 0/0/46.53
10. DUBAI: 2008 KWPN gelding by Cardento 933 x Ozella
SAMUEL PAROT (CHI), Samuel Parot: 0/4/43.72
11. COSA NOSTRA: 2010 Oldenburg mare by Conthargos x Quintender
ALBERTO MICHAN (ISR), Alberto Michan: 0/4/44.42
12. DARRY LOU: 2008 KWPN stallion by Tangelo van de Zuuthoeve x Nabab de Reve
NAYEL NASSAR (EGY), Evergate Stables, LLC: 0/EL
Karen Polle and Jet Run Fly High in the $50,000 Palm Beach Equine Clinic 1.45m Grand Prix CSI2*
Kicking off the day in fine form, Karen Polle (JPN) and her own 11-year-old gelding Jet Run captured the $50,000 Palm Beach Equine Clinic 1.45m Grand Prix CSI2* with a stellar double clear effort.
Anderson Lima's (BRA) artistry was put to the test once again with 16 jumping efforts featured in the first round of competition. There were 45 combinations in the starting field with a total of 15 qualifying to jump off over a shortened track that offered opportunities for tight turns and spots for a big gallop across the stunning grass field. The fastest of the day was Polle riding Jet Run (Chacco-Blue x Peisha), finishing in 37.52 seconds.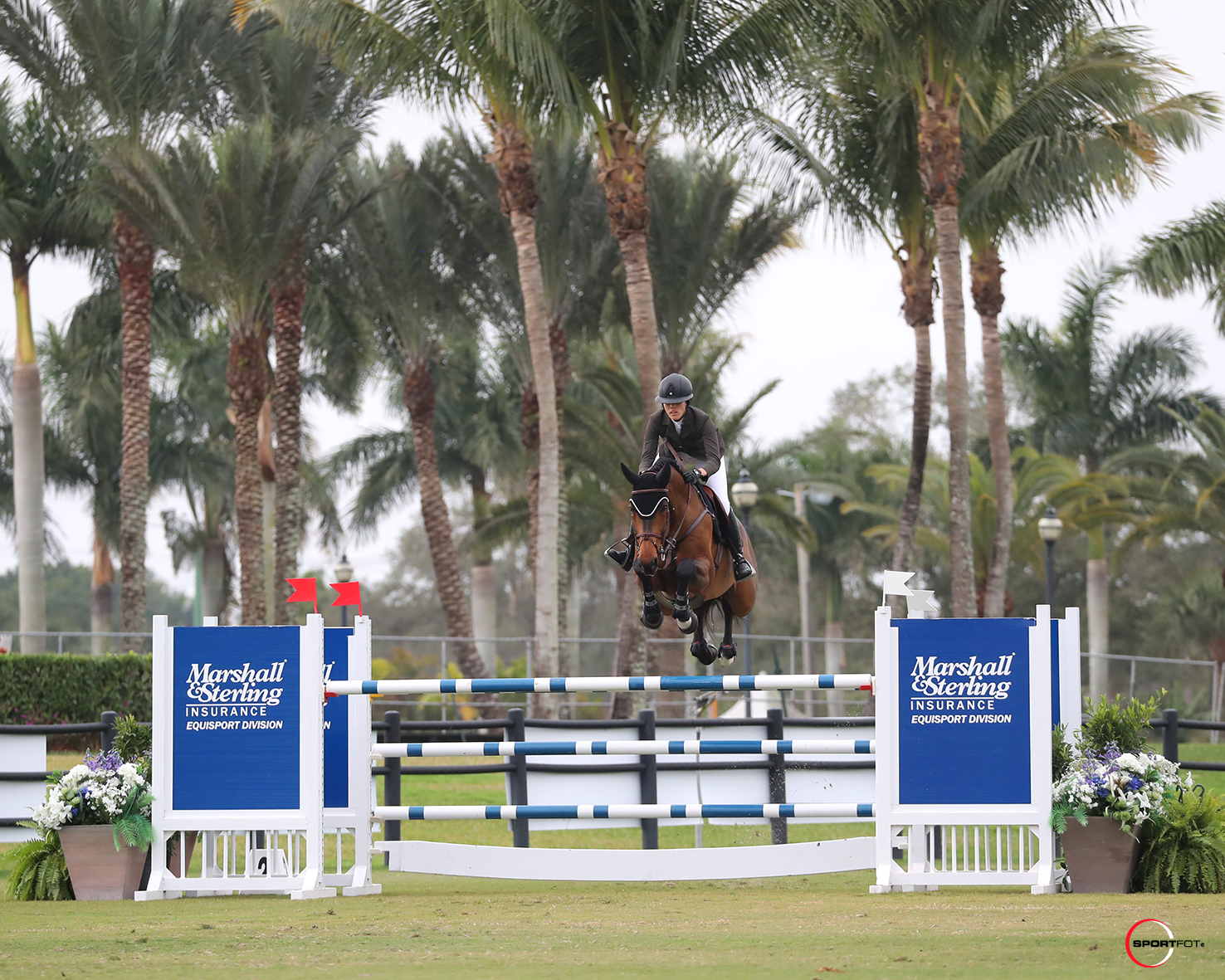 "I thought the course was pretty challenging, and it was a fair test," she said of the1.45m track. "I was a little bit surprised there were so many clear actually and a lot of fast riders in the jump-off, so I was definitely a bit nervous. My horse has a lot of ability, and he's very experienced so even though we're still a relatively new combination, I have a lot of faith in him, so I felt good going in. I stuck to my plan in the jump-off, but the last line ended up a lot shorter for me than I expected so I was lucky my horse was good there."
Watch Karen Polle's winning jump-off ride here!
Of the seven nations represented in the second round, it was a second-place finish for Great Britain as Jessica Mendoza guided Casanova 499, a 10-year-old Holsteiner gelding by Clarimo x Wencke owned by Carly Day, to a double-clear effort, finishing just off the mark in 37.68 seconds. Representing the host nation, Sloane Coles (USA) rounded out the all-female podium with a third-place finish aboard De Vleut, a 13-year-old gelding by Vleut x Rolina owned by Avalon Partners BV, stopping the clock in 38.29 seconds.
Jet Run was previously campaigned by Spanish rider Sergio Alverez Moya and joined Polle's string just over a year ago. As the pair continues to get acquainted with each other, their consistent finishes throughout the past week and their win on Sunday has the rider's confidence trending in the right direction.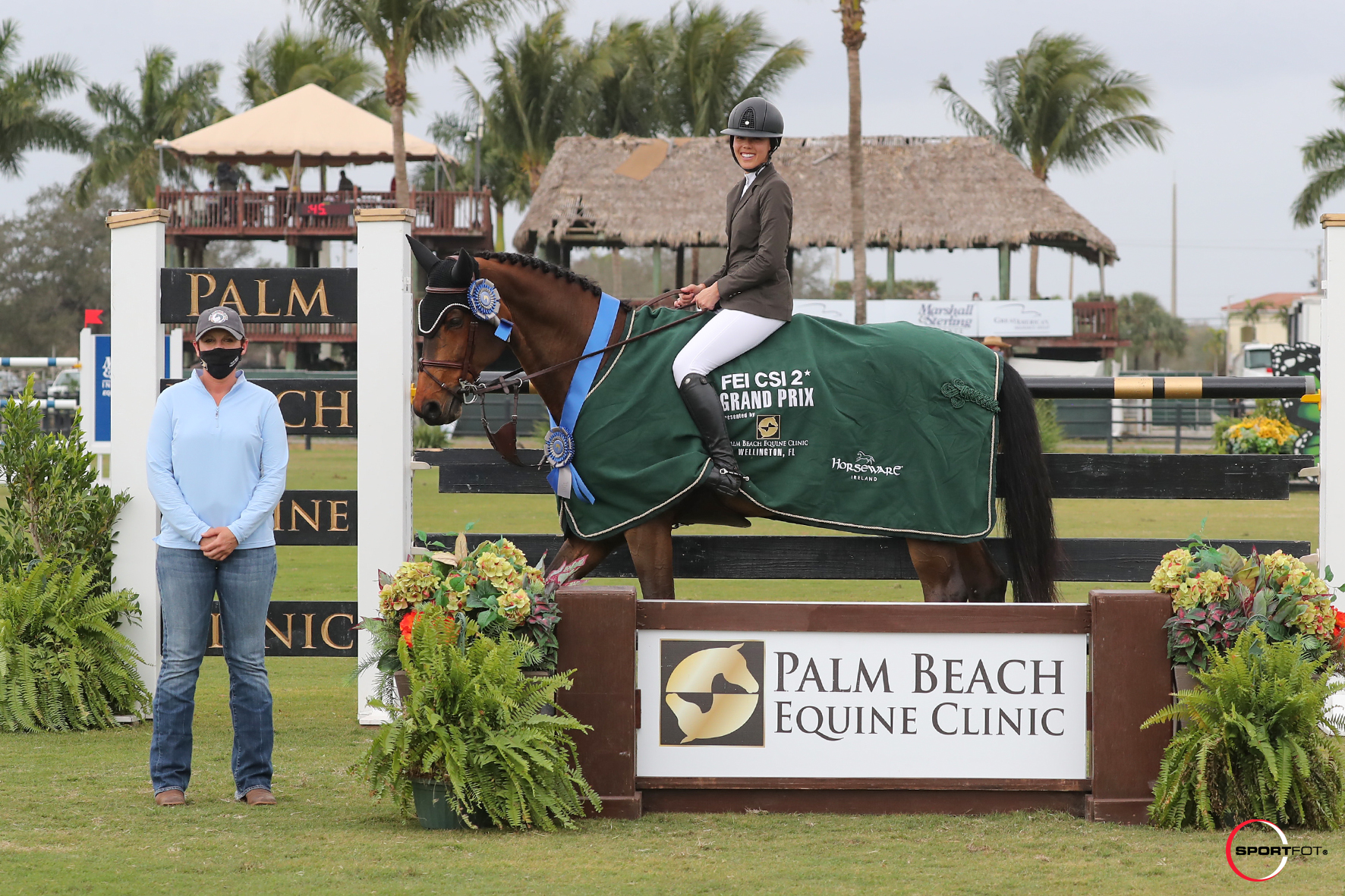 "My rounds in the qualifier and in the two rounds today, I really felt like I had the connection right with my horse and I felt like he was really listening. In the jump-off I felt like I could run but then get him back if I needed, so this is the most comfortable I've felt with him."
It has been a work in progress to get to this point, and Polle credits her recent success to finding the right bit after a series of trial and error.
"I've been playing around the past couple months with different bits," she said. "I jumped in a different one in the warm-up class the first day, switching it [to a Kimberwick] for the qualifier and that worked well so I used the same one again today. I needed to work on his flatwork as well. We've been spending a lot of time on that, so it's really nice to see it coming together."
They'll continue to campaign throughout the winter circuit at WEF and hope to keep riding the wave of their increased confidence and synergy.
Final Results: $50,000 Palm Beach Equine Clinic 1.45m Grand Prix CSI2*
1. JET RUN: 2010 Oldenburg gelding by Chacco-blue x Peisha
KAREN POLLE (JPN), Karen Polle: 0/0/37.52
2. CASANOVA 499: 2011 Holsteiner gelding by Clarimo x Wencke
JESSICA MENDOZA (GBR), Carly Day: 0/0/37.68
3. DE VLEUT: 2008 KWPN gelding by Vleut x Rolina
SLOANE COLES (USA), Avalon Partners BV: 0/0/38.29
4. TUPAC VAN DE VROMBAUTSHOEVE Z: 2010 Zangersheide gelding by Thunder Vd Zuuthoeve x Oma Vd Vrombautshoeve
KEVIN MEALIFF (IRL), Oakmont Stables, LLC: 0/0/39.09
5. SUPER CHILLED: 2008 Irish Sport Horse gelding by Gelvin Clover
JONATHAN CORRIGAN (IRL), Debra Wycoff: 0/0/39.72
6. BIBLOU DU PERRON: 2011 Selle Français gelding by Old Chap Tame x Jenny de la Cense*hn
STEVEN BLUMAN (ISR), Steven Bluman: 0/0/41.38
7. CANDESCO: 2012 Hanoverian gelding by Grey Top x Future
HAYLEY BARNHILL (USA), Alice Lawaetz: 0/0/41.73
8. SOUPER SHUTTLE: 2011 Hanovarian mare by Stakkato x Luise Marie
CHLOE REID (USA), Live Oak Plantation: 0/4/36.58
9. ZARINA DE VIDAU: 2011 CDE mare by Diamant de Semilly x Carina XXXVii Ch
GRACE DEBNEY (GBR), Temple Equestrian, LLC: 0/4/36.59
10. MENDINI DR: 2012 BWP mare by Hunters Scendix x Cleopatra Van Spalbeek
CONOR O'REGAN (IRL), Dynomite Ranch, LLC: 0/4/39.64
11. SCATO VAN DE MOLENBRUG Z: 2010 Zangersheide stallion by Scendix x Cleopatra
JENNIFER WAXMAN (USA), The Scato Group, LLC: 0/4/39.74
12. MARCIANO MVF: 2011 Zangersheide gelding by Stakkato x Leberoi H
HEATHER CARISTO-WILLIAMS (USA), Stephanie Bulger: 0/4/43.58
Julia Weiss Pilots Catena 5 to Victory in the Adequan® Amateur-Owner Hunter 3'3" 18-35
Sunday was the final day of competition for the fourth week of the Winter Equestrian Festival, and Julia Weiss and her own Catena 5 ended the week on a high note. The pair earned the championship title in the Adequan® Amateur-Owner Hunter 3'3" 18-35 division after receiving three first place ribbons.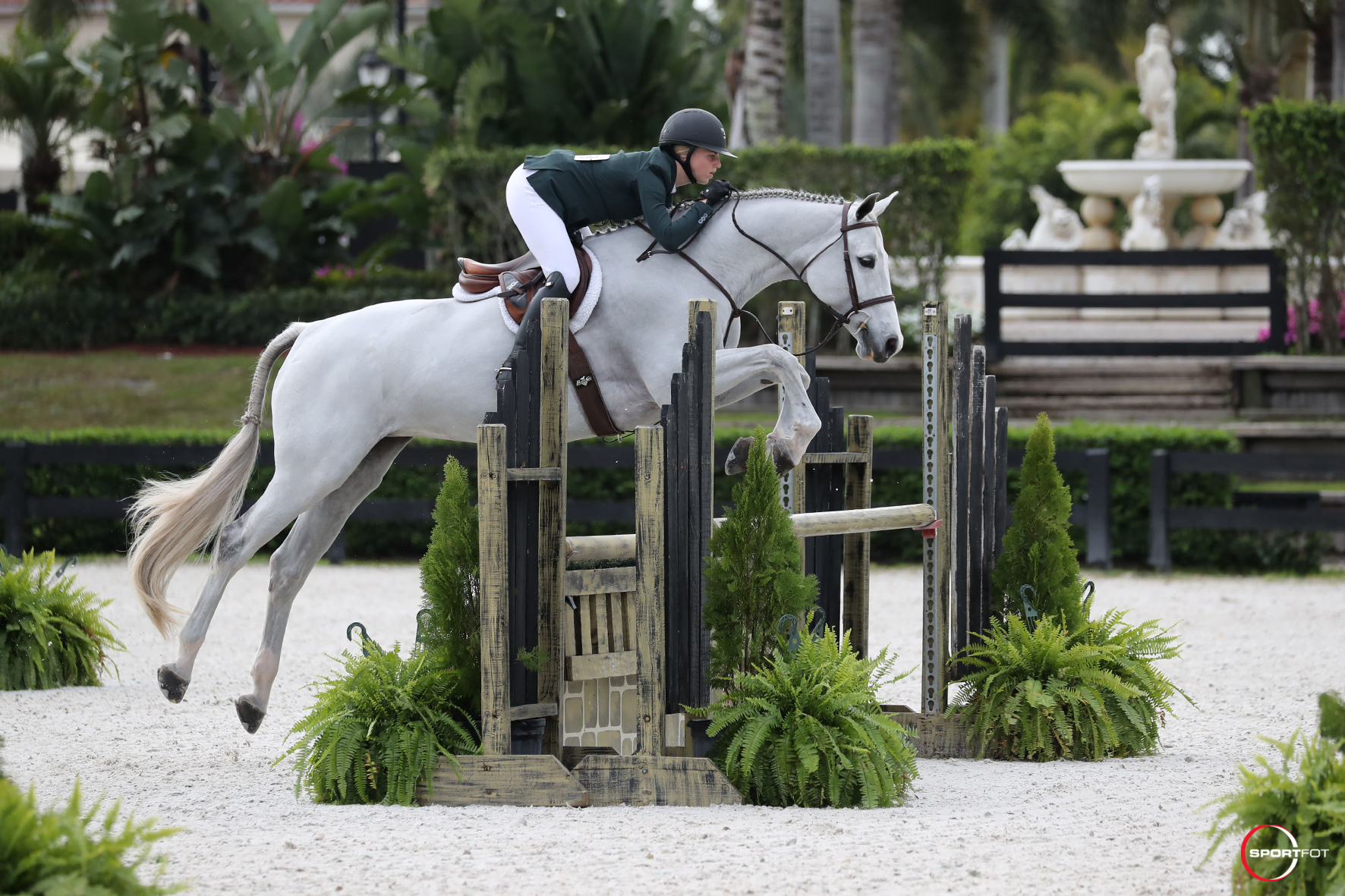 Weiss, of Amagansett, NY, and Catena 5 have successfully showed in the hunters, jumpers, and equitation. Originally, Weiss rode Catena 5 in the Low and Medium Amateur-Owner Jumpers but recently discovered that the mare also excels in the hunter and equitation rings. The pair won the Bruno Delgrange Palm Beach Adult Medal during Week 3 of WEF and are now rising to the top of the hunter divisions.
"One day I wasn't able to make it to my jumper class because of work, so I showed her in the hunters instead and she won two classes, so now she's my hunter!" said Weiss of the 11-year-old Holsteiner mare by Calido I. "Last summer in Kentucky we did both the hunters and jumpers, but then we made the official switch to the hunters last year at WEF."
The duo proved to be a competitive hunter match and won three out of the four over fences classes in the division. Weiss is going into her fifteenth year riding with Valerie Renihan at Findlay's Ridge LLC.
"Since she is just coming back from an injury, we were just kind of feeling it out yesterday and then today she felt a lot smoother," explained Weiss. "I think every time we go in the show ring it's about making sure that she's taking her time and not thinking that it's a jumper class. She really was so good both days."
Weiss is looking forward to the pair's first full year doing the hunters together and hopes to stay consistent with Catena 5 this season.
"We started this week in the 3'3" hunters because she is just coming back, but we will hopefully move up to the 3'6" division," commented Weiss. "I would love to qualify for the night class on her, go to Devon, and maybe enter some derbies."
Margaret Oberkircher and Southfields Farm LLC's Patriot took home the reserve champion title. Oberkircher, of Collegeville, PA, and Patriot received two firsts as well as second and sixth place ribbons.
Hunter, jumper, and equitation competition will start again for the fifth week of the Winter Equestrian Festival on Wednesday, February 10, and continue through Sunday, February 14.